Today it's all about the metal! Metal furnishings are durable, stylish, and often ideal for the outdoors. From frilly iron pieces to sleek minimalist modern selections, a range of styles can be evoked by metal craftsmanship. Today we zone in on pieces with contemporary flair, as well as unusual items that can't help but catch the eye.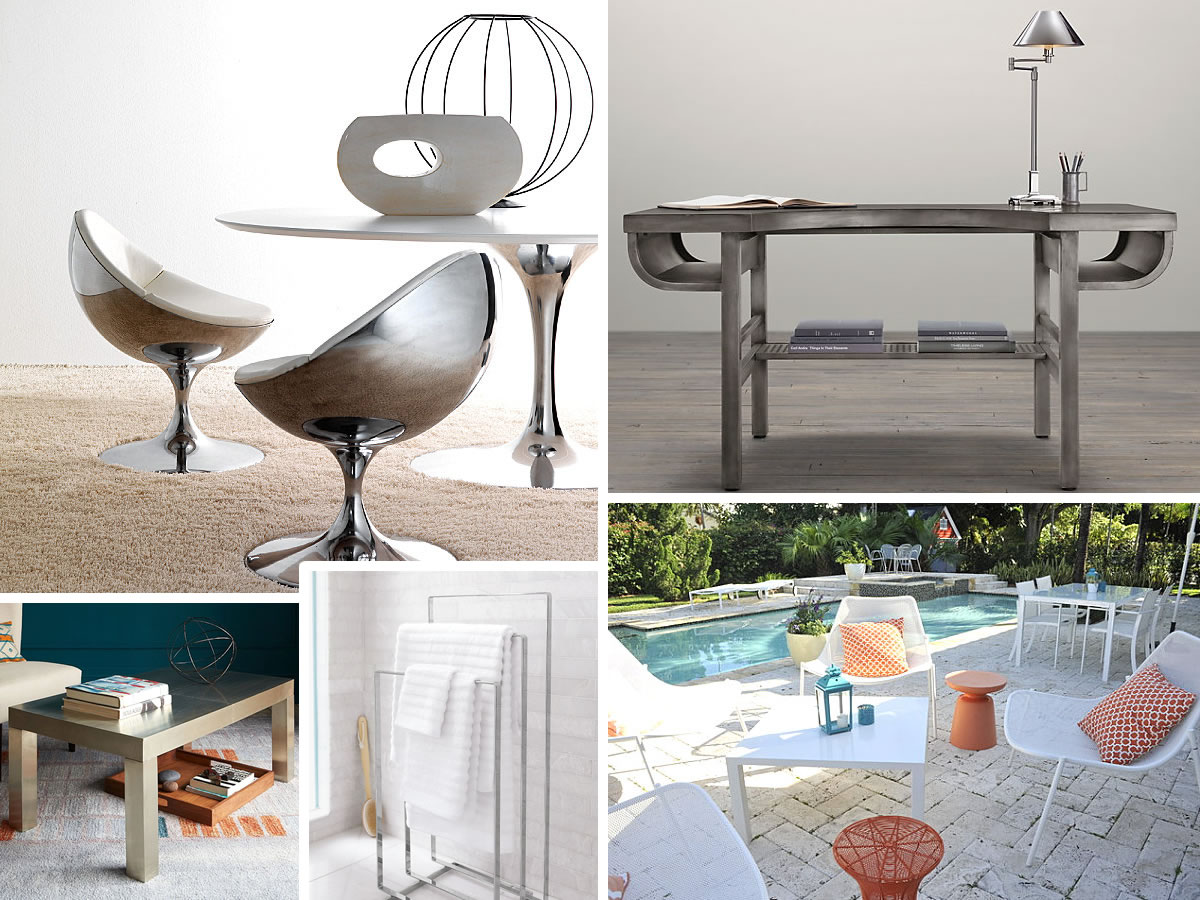 Not to mention, we can't forget about the modern vintage feel of metal furnishings with Mid-Century or industrial style. Many pieces–even new ones–channel the past. How can you use metal furniture to add a creative touch to your home? Check out the featured selections below and see for yourself!:
Modern Metal Furniture
We begin with modern metal furnishings that bring a refreshingly contemporary look to your interior! Like the sleek dining chairs and bar stools in the image below. Note how seat cushions soften each piece. [from Homes by Avi]
With a dazzling octagonal shape and unique legs, the Glass Top Modern Table by Alex Sacchetti is a design marvel. Talk about creative geometry! [from DEMAGZ.com]
The contemporary table and chairs by Esedra 2 bring a gleaming shine to your space while evoking iconic design motifs, such as the modern flair of Saarinen's pedestal table. [from Codet.com]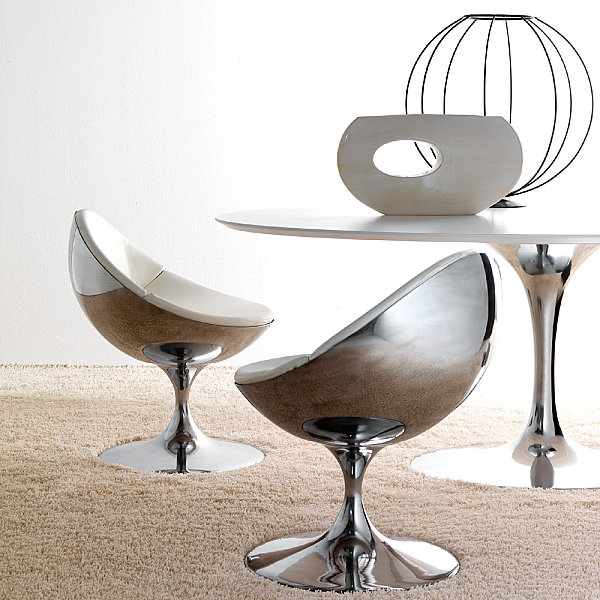 This next item is a real showstopper! Spherical forms combine to create the Cloud Chair by Richard Hutten, which is the ultimate conversation piece. While it will do just fine in your living room, we can't help but think it would also shine in a museum! [from Emily Henderson]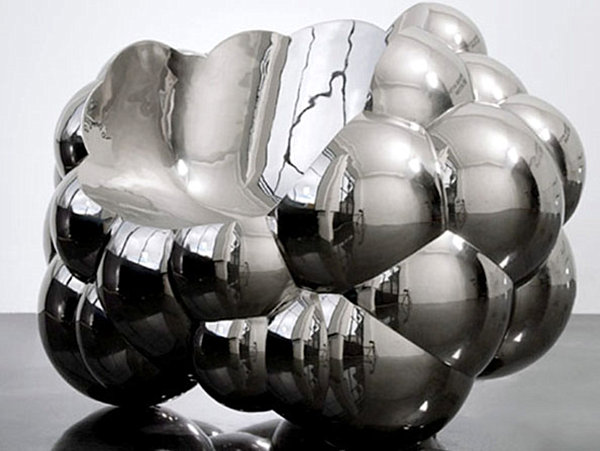 Ooh la la! The Martini Side Table has become ever popular in recent years, and this cast aluminum piece comes in a variety of finishes so you can find the look that is best for your interior. Choose from silver, antique brass, white, lemon and persimmon. We're a bit partial to the brass… [from West Elm]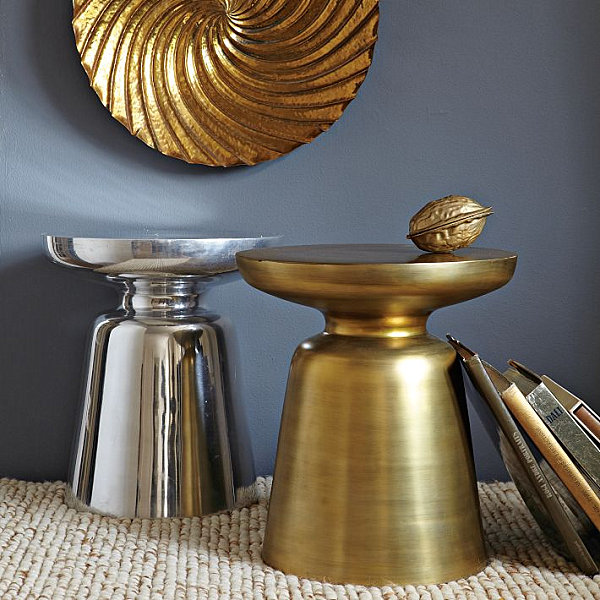 With legs as thick as its top (a defining quality of Parsons design), this Parsons Rectangular Coffee Table in wrapped metal is crafted of engineered wood underneath it all. [from West Elm]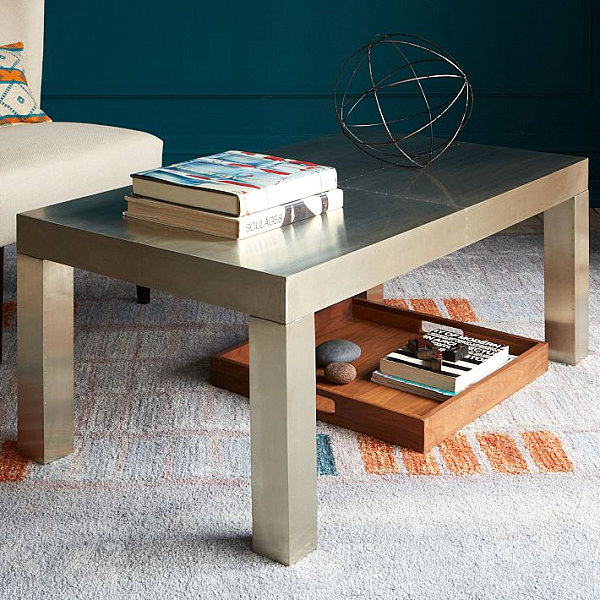 The Industrial Metal TV Cart is compact and perfect for small spaces. Constructed of raw steel and glass, this piece reminds us that metal furniture can easily go vintage when channeling industrial design. [from West Elm]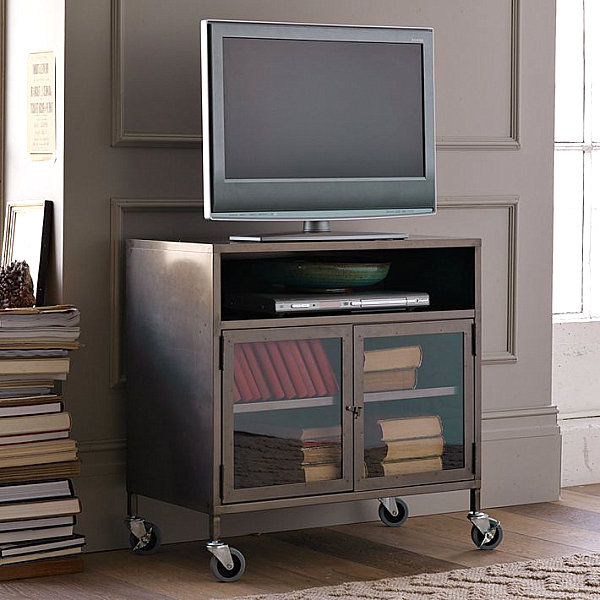 On that note, the 60″ French Factory Metal Desk in gun metal evokes industrial age style with a few surprises built in, such as curved storage compartments! [from Restoration Hardware]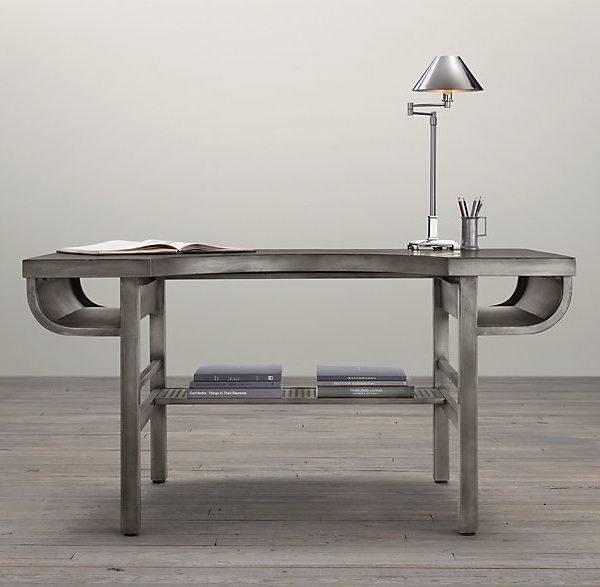 Vintage Style
With several of the pieces above channeling vintage style, we can't help but delve into the retro allure of metal furnishings. For example, the living room below showcases iconic modern metal pieces, including the Eileen Gray Table, the Arco Floor Lamp and the Barcelona Chairs by Ludwig Mies van der Rohe. Modern reproductions make vintage metal flair accessible to all! [from Tuthill Architecture]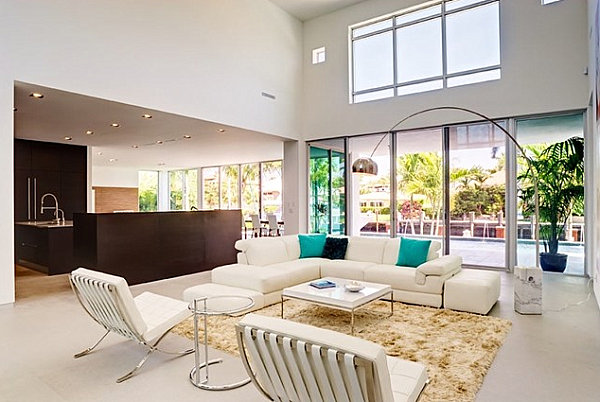 Another vintage-style trend? Painted metal pieces! Whether they be actual retro finds or new items with bright finishes, colorful and refurbished metal furnishings are ideal for spaces such as home offices, as shown in the next image. [from Kailey J. Flynn Photography via Houzz]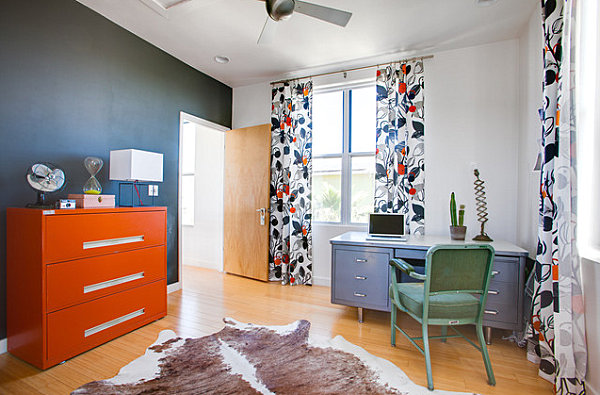 Nobody has embraced vintage metal style quite like Restoration Hardware, which digs into the past for inspiration. For example, the Metal Schoolhouse Chair below is based on a classroom design from nearly a century ago. [from Restoration Hardware]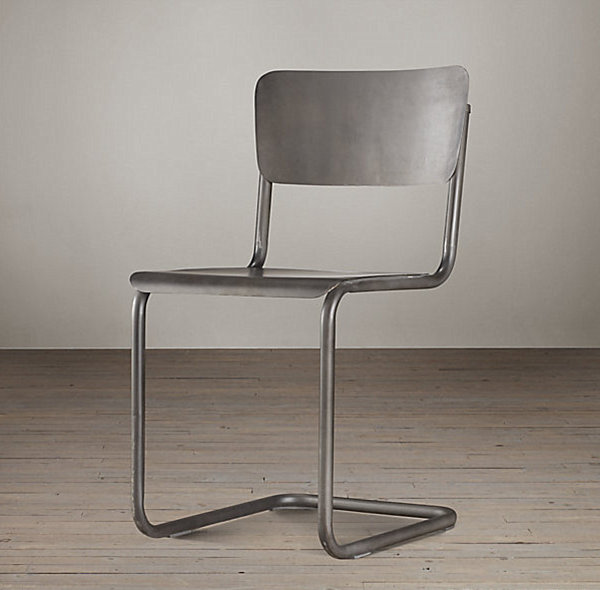 The industrial bar stools in the next interior blend seamlessly with the room's updated vintage style. Note how the light wooden seats are perfectly compatible with the room's abundance of muted shades and earth tones. [from Incorporated]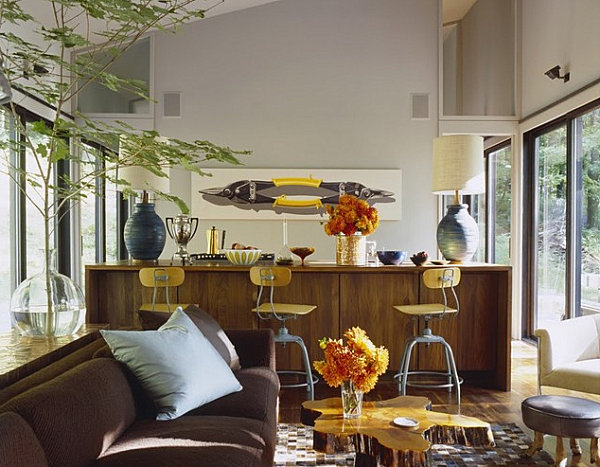 We end our celebration of vintage style with one more piece from Restoration Hardware. The 1950s French Metal Wire Chair is based on a design from the Mid-Century offices of a Paris museum. Wire grid construction is softened by an optional cushion, shown in black below. [from Restoration Hardware]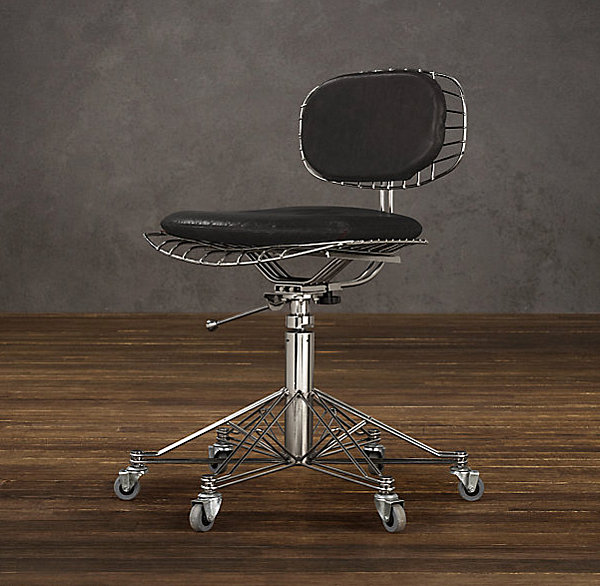 Metal Outdoor Furniture
Don't forget the outdoors! A popular choice for exterior style, metal pieces can often withstand the natural elements. They can also be used to add contrast, as shown in the next image. Note how the curves and frills of the white furniture below stands out against the modern construction of the home it flanks. [from Segev Photography]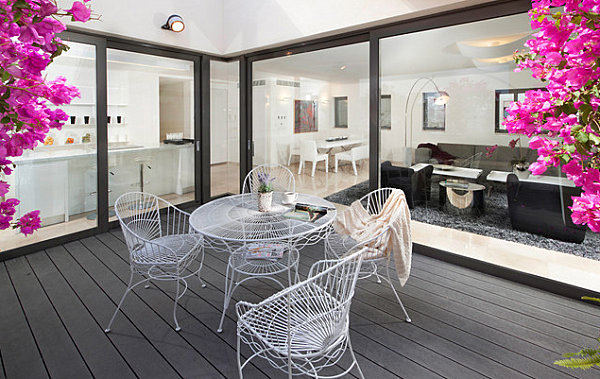 Outdoor furniture can also reinforce the architectural style of a home, as shown with the modern dwelling (and modern metal furnishings) below! [from Segev Photography]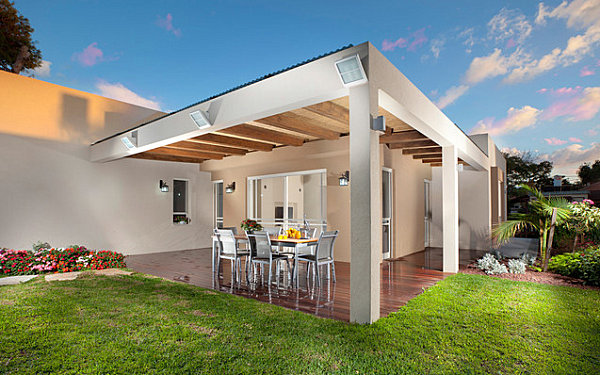 Don't forget to add color! Orange and white are the metallic colors of choice in the next featured space, an outdoor oasis with contemporary flair. [from B. Design via Houzz]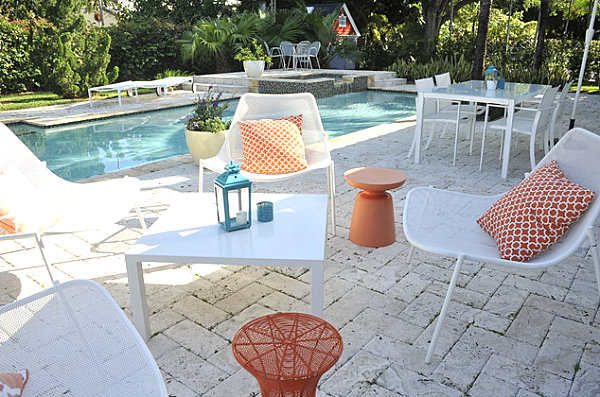 Metal Decor
We finish our metal furniture fest with a look at accent pieces that truly stand out. Like the Metal Floor Mirror with brushed nickel trim, an easy piece to integrate, as it leans simply against a wall and adds instant shine to your interior. [from West Elm]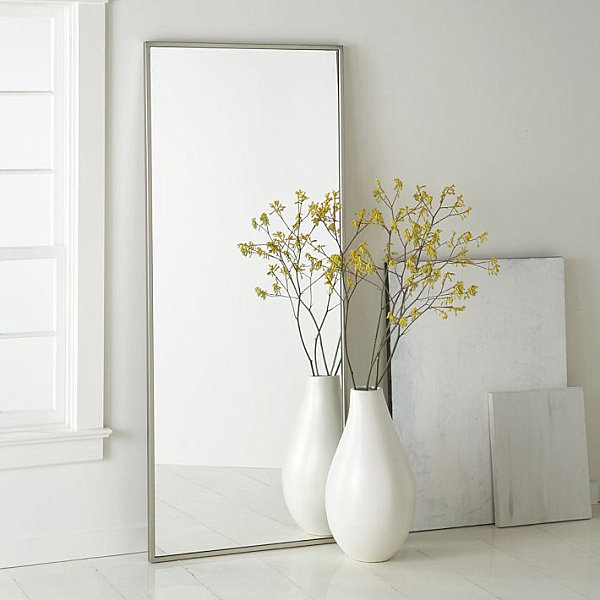 The Industrial Metal Wall Mounted Bookcase is a great way to display decorative objects on the wall. Free up surface space and add 3-dimensional style to your wall art display! [from CB2]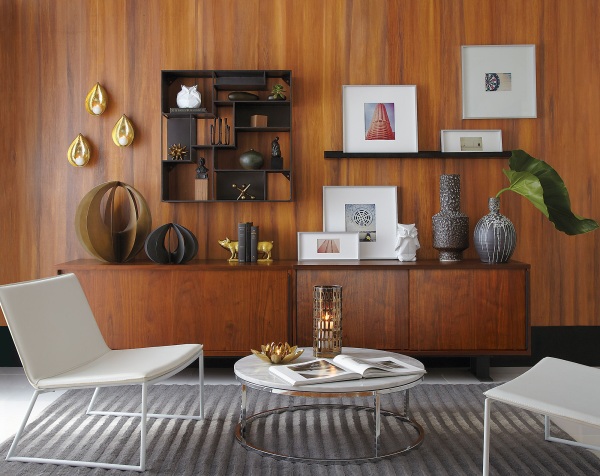 Bring metal style into the powder room with this Chrome Towel Rack. Fluffy towels can't help but add a sense of decadence and luxury–make sure you display them with sleek flair… [from CB2]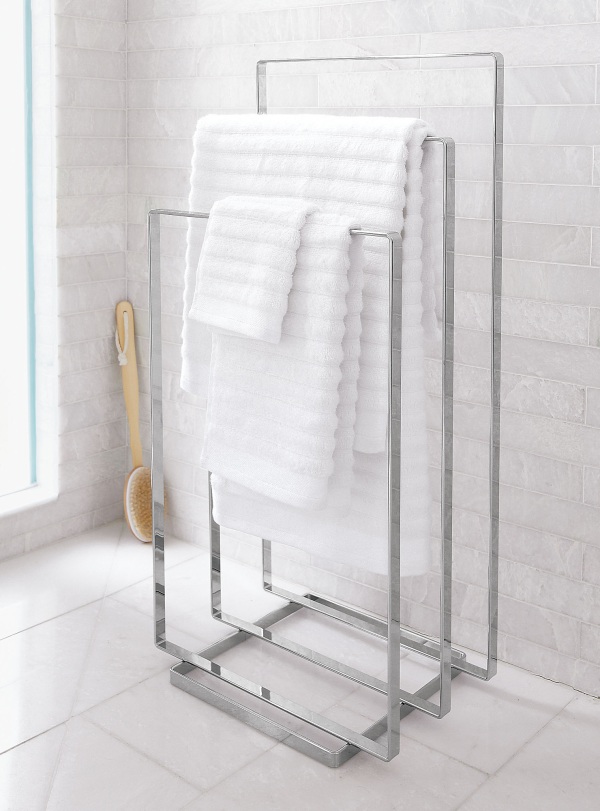 Practical storage space has never been more stylish. The Carson II Blue Tower stands proudly with its metal frame and blue powdercoat finish. Make a statement by placing two or three of these pieces side by side, as shown below. [from CB2]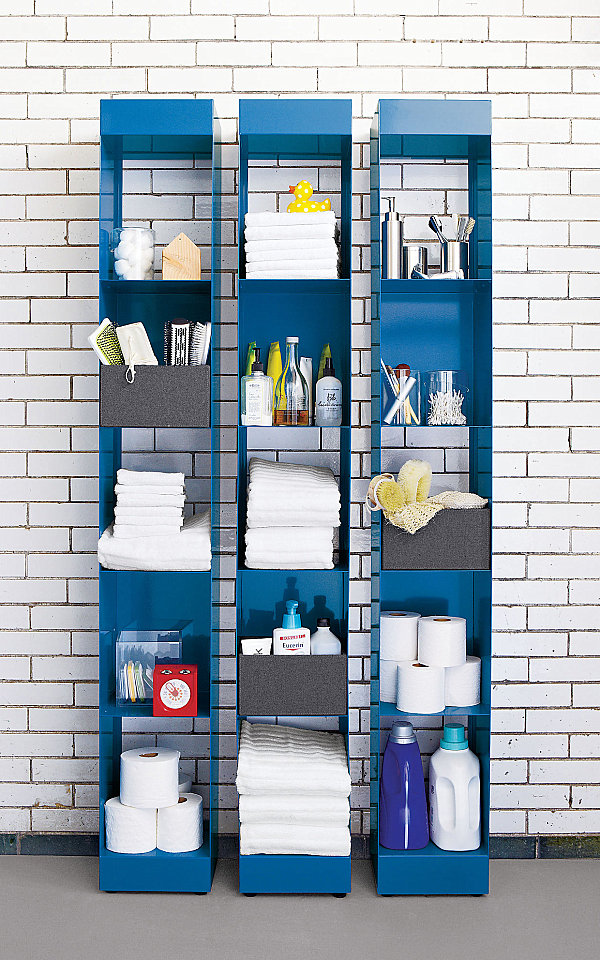 Don't forget that you can easily mix metal items with other furnishings, such as wooden pieces. For example, place metal chairs around a solid wooden dining room table for variety and dimension. Or purchase one selection made of both metal and wood! After all, there is power in contrast…
Liked the story? Share it with friends.