A contemporary home is much more than the mere essentials such as the kitchen, dining space and the living room. While these are the things that occupy our mind to a large extent while planning for a new home, there are plenty of add-ons that you can opt for as well. Each us has our own eccentricity and while some build elaborate gaming rooms to showcase their passion, others go in for amazing media rooms and home theaters. But if books are your passion, then you can go in a whole different direction.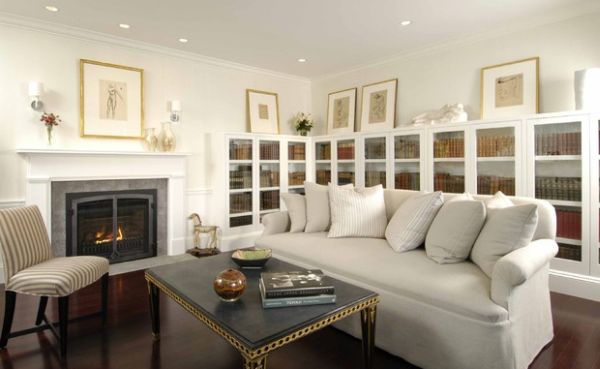 by Charlie Allen Restorations Inc
While sporting an awesome and elaborate home library would be great, not all of us are blessed with the space and the resources to get one. The nest best option is to obviously go in for a gorgeous bookcase which seem all the more elegant when encased in glass. They seem to bring in a particular sense of 'timeless charm' along with them. Always relevant, here are a few way in which you can add class to your interiors by incorporating bookshelves with glass doors –
Transparently Brilliant Bookcases!
by Domiteaux + Baggett Architects
This is a lovely way of adding bookshelves to your living room without disturbing the existing style of your home. These sleek bookcases in white with glass doors bring a sense of contemporary style along with them, which is simply perfect for this house. Matching furnishings and decor in neutral tones further accentuate the beauty of the room. A stone fireplace along with some wall art complete the 'picture perfect' setting.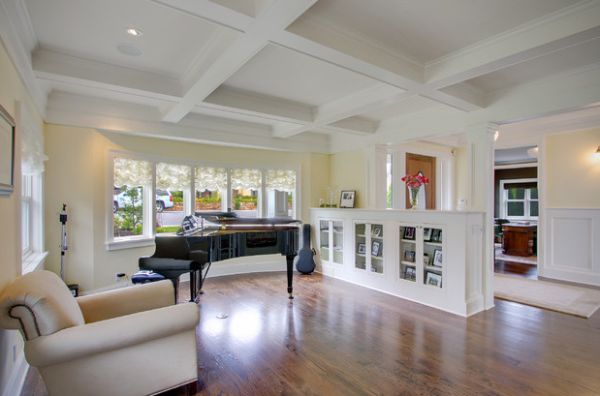 A half wall that separates the entry from living room is used to sport gorgeous bookshelves with glass doors. This is a style that again fits in perfectly with most modern homes that prefer shelf spaces with clean and well defined lines. The idea also saves up on space and gives you a stylish display area that you can use in various forms!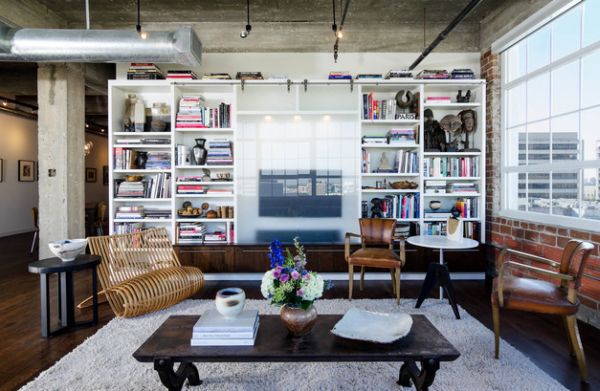 by Content Architecture
An exposed brick wall, an interesting mix of décor and an ultra-modern wall unit give this room a very 'eclectic' atmosphere. There is a blend of various textures and styles that ensure loads of variety. The tempered glass doors with satin finish slide over the bookshelves when needed and offer this space an inimitable and unmatched appearance.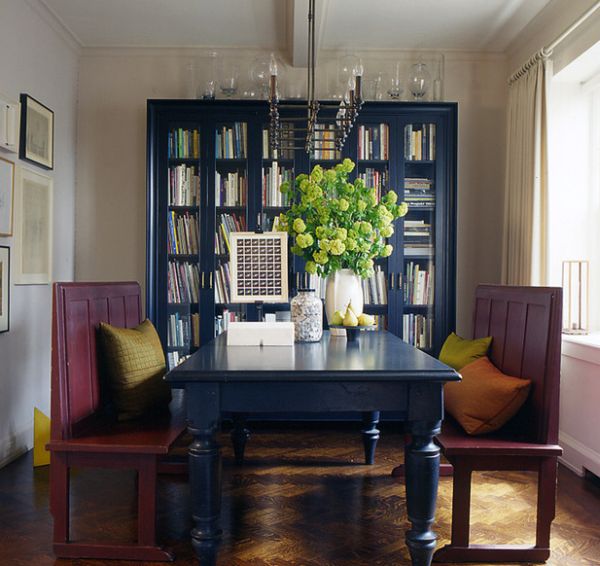 Living room is not the only place where you can fit in a bookcase with glass doors. For those who prefer to catch up on their favorite titles while grabbing a bite, the dining room can be a good place as well. Of course, you can always add a plush seating unit to turn the space into a temporary reading room when not in use. This navy blue bookcase with glass doors fit in well the existing theme of the dining space.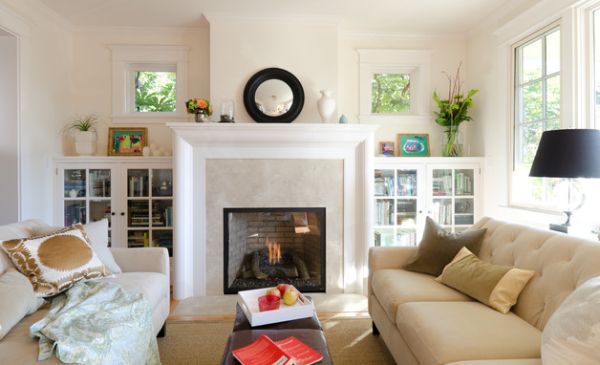 Adding bookshelves to the hearth area might sound a bit dangerous, but most contemporary homes seem to do it in a stylish and safe fashion. The two bookshelves flanking the fireplace here add a sense of symmetry to the room. There is a lovely visual balance created along with ample shelf space. The glass doors are of course as must, as they not only add to the aesthetics, but ensure there are no flaming mishaps!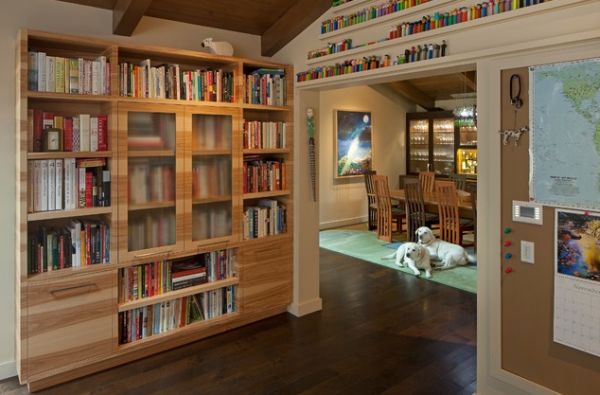 Glass doors need not cover your bookcases entirely and a custom design like the one above is brings along with it a sense of uniqueness and creativity. The stained glass doors in the center turn a seemingly mundane bookshelf into an addition that stands out in the room. The owner of this particular home has filled this space with her most cherished cooking books. You obviously can go in a different direction!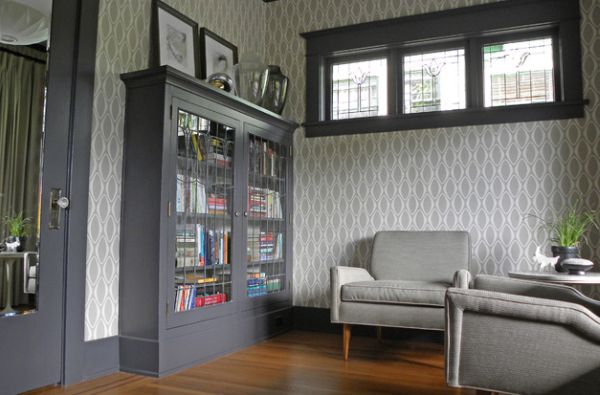 by Sarah Greenman
It is pretty easy to turn a small nook of space into a home library. It might not be extensive or jaw-dropping, but you will still have a cozy niche where you can flip over your favorite books. Just by adding a couple of lounge chairs or a plush couch along with custom-built matching bookcases and wallpaper, one can create their own little home library with ease. The bookshelf with glass doors above is set in a similar backdrop and seems to work beautifully.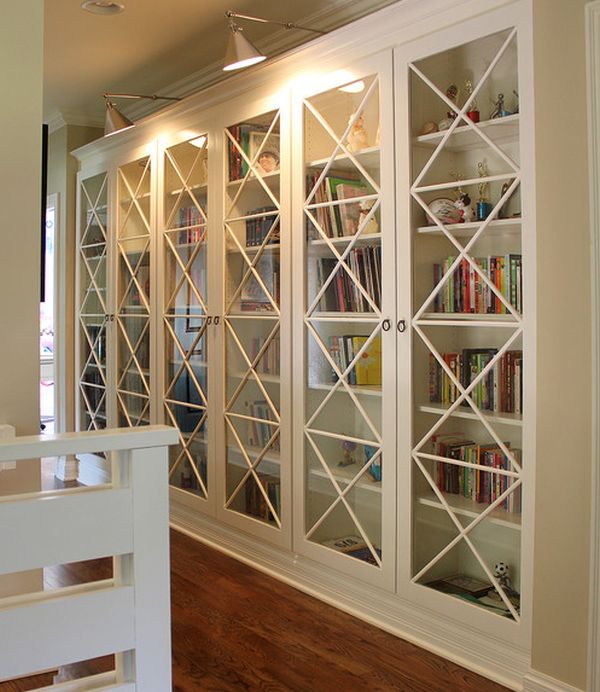 by Stacy Jacobi
Adding a distinct design pattern to your glass door bookshelves is a simple way to ensure that your interiors stand out from the crowd. The 'X' motif used here for the glass doors along with library lighting are fine touches that turn a regular bookcase into something exceptional.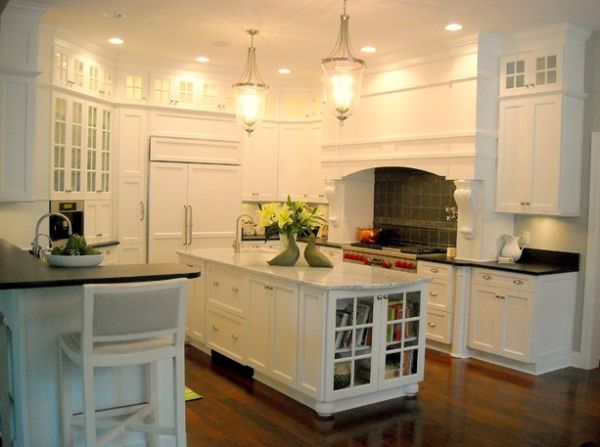 by Shannon Poe
While corridors and living rooms are the places where you often find bookcases with glass doors, there is no reason why you cannot add one to your kitchen. That is especially true for those who wish to showcase their wonderful collection of cookbooks. This kitchen island sports a bookshelf with glass doors at the end that gives you ample display space.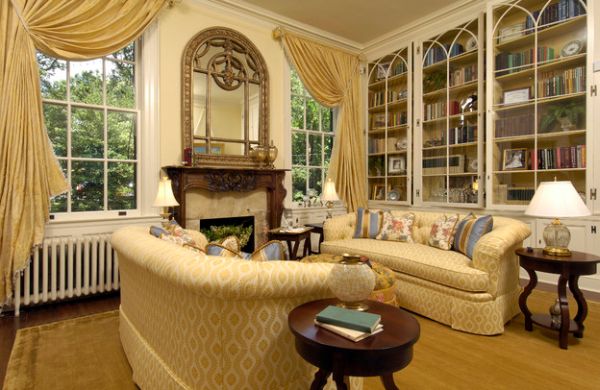 by Paula Grace Designs
Bookshelves encased in glass work pretty well in contemporary settings. But they seem to come into their own when placed in homes that sport a more traditional look. The living room above looks both classic and timeless as its warm hues and inviting appearance are enhanced by prominent bookshelves. The arched motif on the glass doors also adds to the stunning appeal!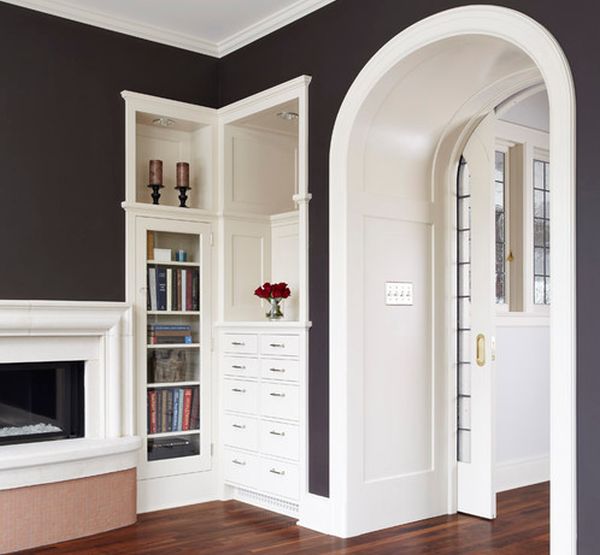 by Ingrained Wood Studios: The Lab
Space is an absolute premium in most modern apartments and houses. It is imperative then that we make most of every available corner. Turn one of those dull and ignored corners into a bookcase and it will instantly transform the appeal of the room. Corner spaces are perfect for L-shaped bookshelves with glass doors, which are both ergonomic and easy on the eyes.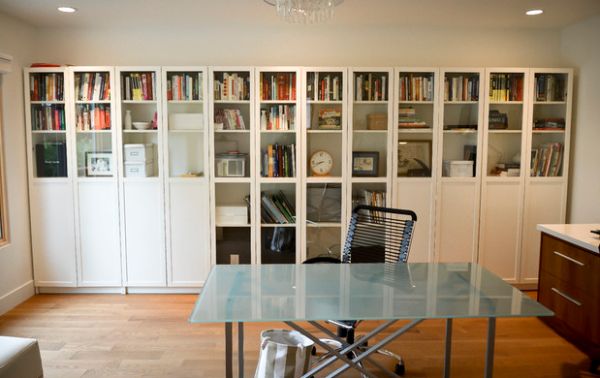 Home offices are not just a perfect way to get some work done while away from workplace, but they also offer an ideal setting for elaborate bookshelf designs. Turn an entire wall in your home office into shelf space by adding bookcases with glass doors. This way, you can keep all your work far more organized with utilizing the room to the hilt.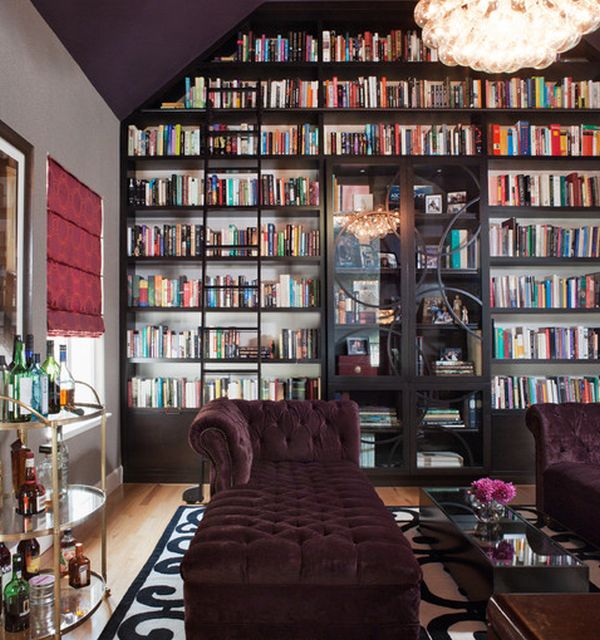 by Lizette Marie Interior Design
While we have talked about bookshelves with glass doors being incorporated into various rooms of the house, here is a home library that uses the glass doors in an innovative new way. While most of the bookshelves here remain open, a custom-designed glass door in the center adds a glossy twist to the design.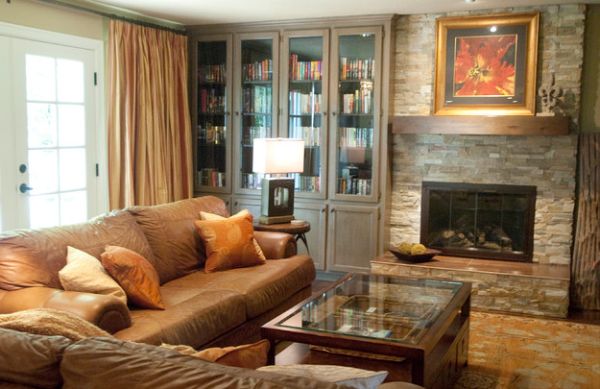 by GPPhotographers
Instead of leaving the wall next to the fireplace open, this home owner has decided to use the space to add compact book shelves. The built-n bookcases blend in perfectly with the hues of the stone fireplace and the decor in the room, making it a perfect match!