Today's post may as well be called "The Many Looks of Lacquer." Yes, we're rounding up the most gorgeous lacquered images we can find, thanks to a plethora of shiny furniture. When many people imagine a room filled with lacquered pieces, they envision a truly sophisticated space. But what if lacquer could be used to achieve a variety of looks that range from clean and modern to luxuriously decadent? Today's featured pictures prove that lacquer is a versatile material.
When choosing lacquered pieces, remember that even though many of them are solid in color, they are often anything but subtle. Then again, why would you surround yourself with gleaming objects if you were going for a subtle effect? That's not to say you can't start small… Begin your lacquered library by collecting a small piece or two, such as a nightstand or an end table. You can always work your way up to the headboards and cabinetry. Happy browsing!
Clean and Modern
We begin with a lacquered look that doesn't always get the attention it deserves. It's hard to beat the combination of clean lines and unmistakable shine! In fact, the space below uses lacquered kitchen cabinets to create a powerful contrast to the room's natural elements, such as stone and wood. The result: an interior filled with depth and interest. [from DKOR Interiors]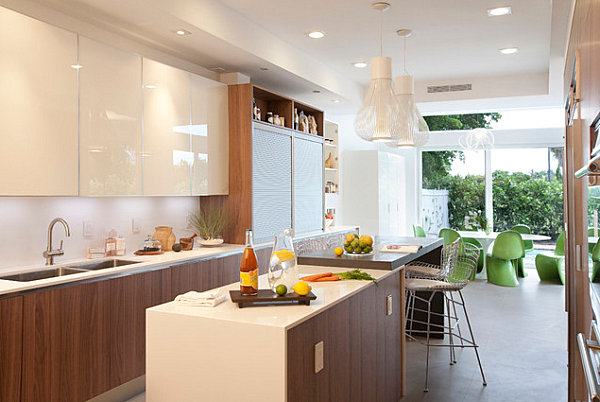 Lacquered cabinets are often used in modern kitchens to add contemporary flair. In the space below designed by Isolina Mallon, an unusual shade of pink is the perfect complement to taupe floral wallpaper.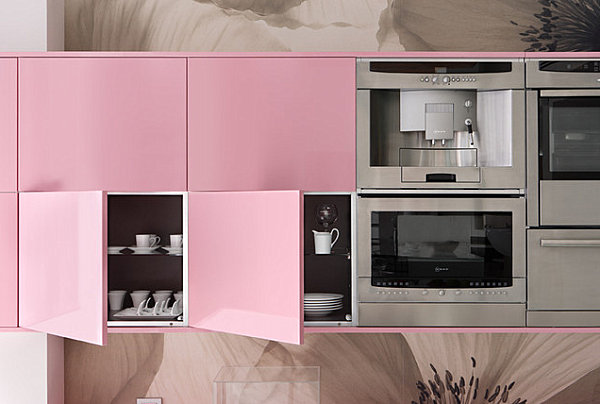 Another popular design technique involves the use of a lacquered coffee table in a clean-lined space. In the next room, we see a long black lacquered piece that beautifully fits the interior, especially since a lengthy couch runs alongside it… [from Segev Photography]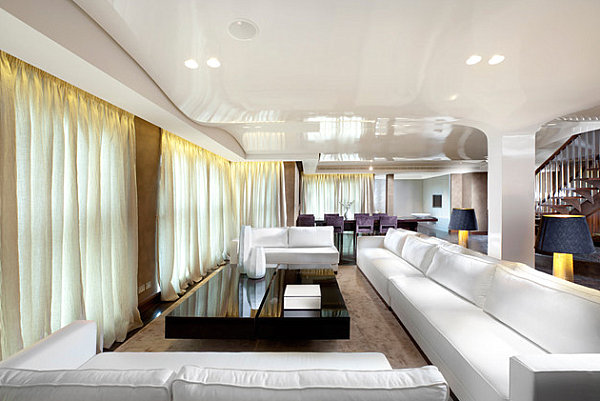 Red lacquer is eye-catching, powerful and bold. We're loving the monochromatic look created by the red lacquered coffee table and red bowls below. A strong dose of color is very appropriate for an all-white modern space. Plus, the clean lines of the table nicely blend with the other contemporary pieces in the room. [from Binyamin Adam via Houzz]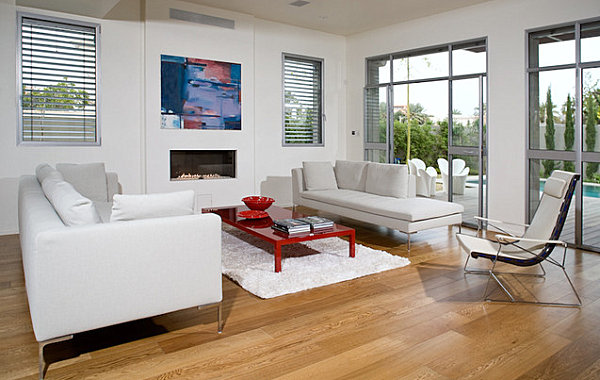 It's hard to top a room with a view! This black lacquered coffee table in the image below is compact, leaving plenty of space in the room–a strategic choice for an interior that seeks to create an open feel that mirrors the open water outside. [from Mahoney Architects & Interiors]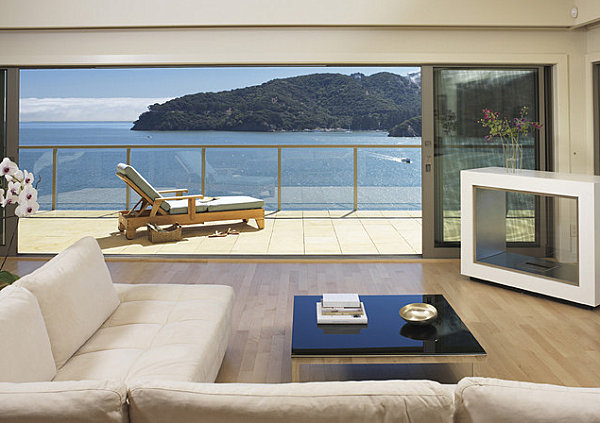 The next lacquered piece is low to the ground, much like the white seating that surrounds it. We're also crazy about the use of brown to warm up the otherwise black and white palette in this contemporary room. [from Segev Photography]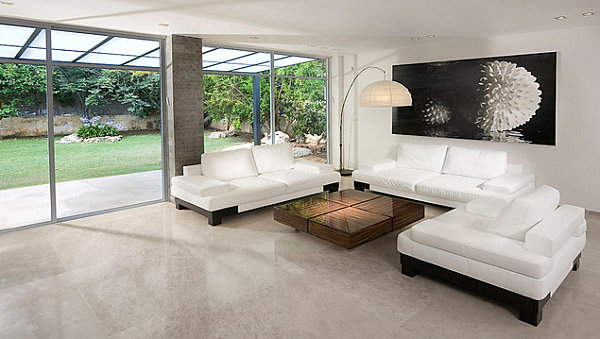 In this next space designed by Adrienne Chinn, a white lacquered buffet matches the white chairs that surround the glass dining table. Note how the shiny compact buffet is an ideal choice for a modern dining room that is clean-lined rather than ornate.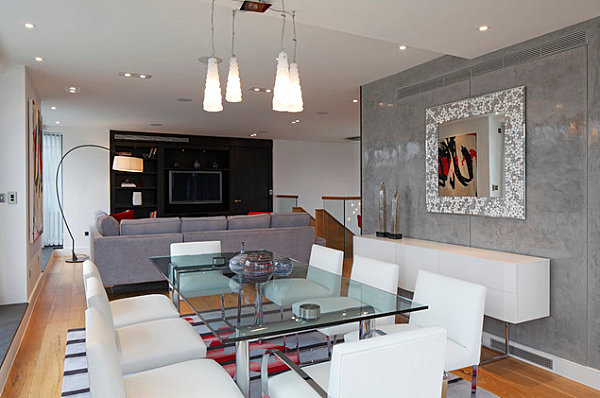 We end this our modern lacquered section with a boudoir designed by Adrienne Chinn. Note how the white end table below manages to be clean and modern while also adding an element of texture to the space, thanks to the lines that decorate it. Also note the use of textured bedding, which adds dimension to the room.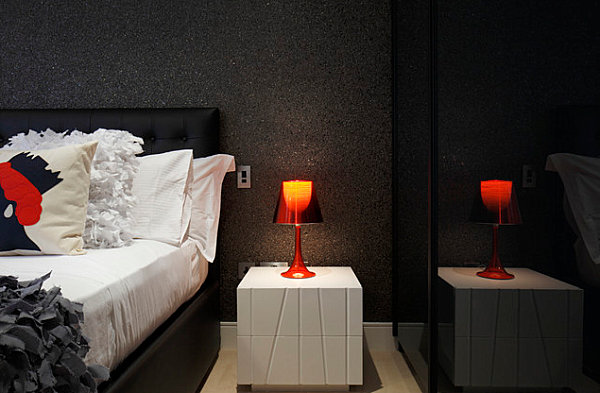 Sleek and Sophisticated
Our next batch of rooms with lacquered flair represents a style that is sleek and sophisticated. We begin with the shiny sapphire room below, created by Lea Bassani Design. In fact, this space doesn't stop with gleaming paint. A lacquered desk and coffee table add plenty of reflective style. And a painting of a sheep adds plenty of fun!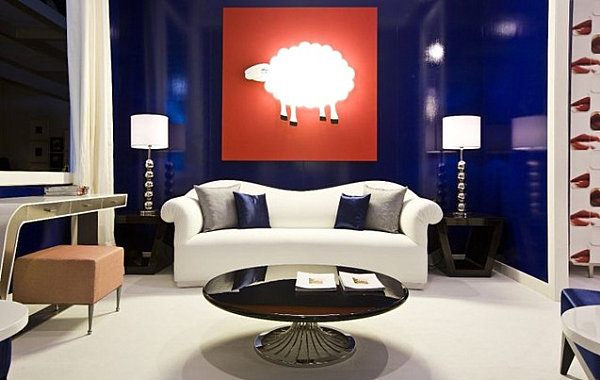 Speaking of fun, this next space from Naked Decor is another room that doesn't take itself too seriously. But that doesn't mean sophisticated furniture isn't welcome! In fact, the use of a white lacquered sofa table helps to solidify the room's white-on-white palette. Not to mention, the piece nicely contrasts the more playful elements of the space.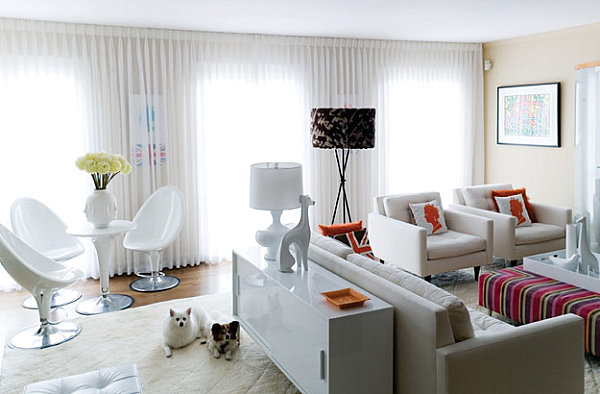 Ever consider using automobile paint to add shine to your furniture? Not a bad idea! Below we see a media room for a client in the music industry. Take a closer look at the desk… It's finished in azure blue car paint. The result: double the glimmer! [from Tracy Murdock Design & Management]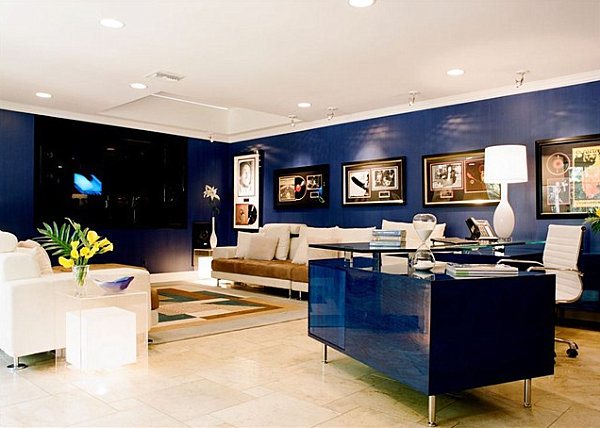 We're loving the sophisticated look of this beachy bedroom, complete with white lacquered furniture to add a glamorous touch. Yet this space doesn't veer into frilly territory–the bedding is as cushy as it gets. The clean lines of the furnishings keep the embellishments in sleek check. [from 2id Interior Design]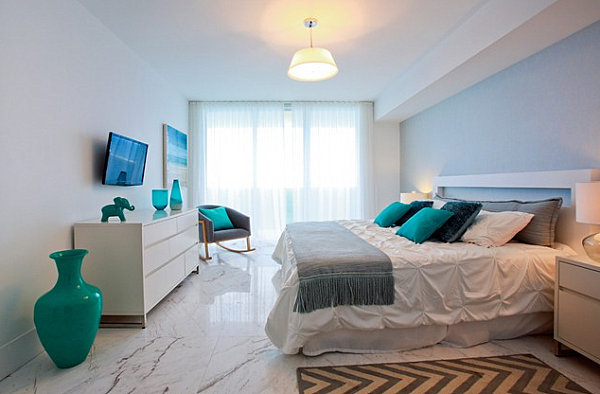 The family room in the next image is a warm space with plenty of eclectic style. Don't forget that one chic lacquered piece can elevate a space to the level of sophistication. Especially if you go with an eye-catching shade like Kelly green! [from Stephanie Wiley Photography]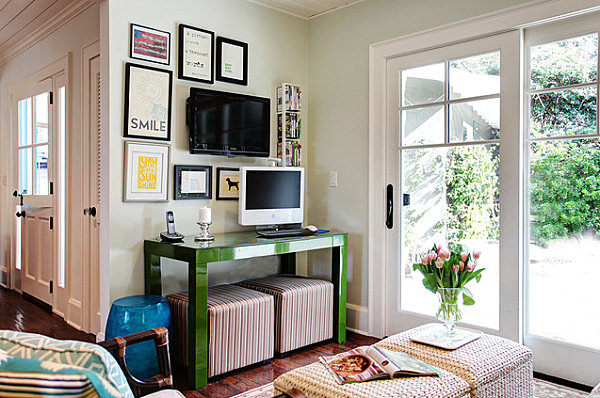 Elegant and Luxurious
Out last group of rooms veers into luxury territory. And it's hard to beat the luxury of elegant furnishings with mirrored shine. The black chandelier in the space below sets a glitzy tone. Good thing black lacquered tables are on hand to cement this glamorous look… [from Segev Photography]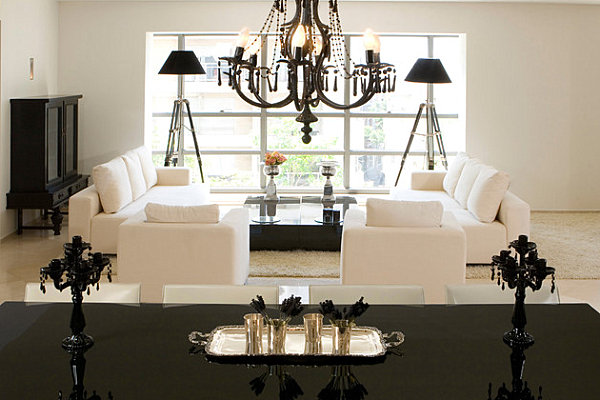 This next luxury living room from ADG Interiors features mirrors, ornate pendant lighting, brocade wallpaper, gleaming tiles, and the perfect lacquered coffee table statement to tie it all together…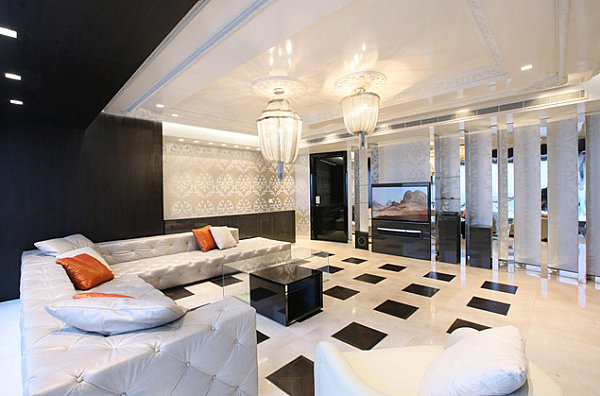 One place we regularly see luxurious lacquered furniture is in the bedroom. A lacquered bed covered in elegant linens is calming and decadent. Your bedroom is your haven. Why not dress it in style? The bedding below is from the Hotel Collection. Note how its plush texture is the perfect complement to the clean-lined furniture in the space: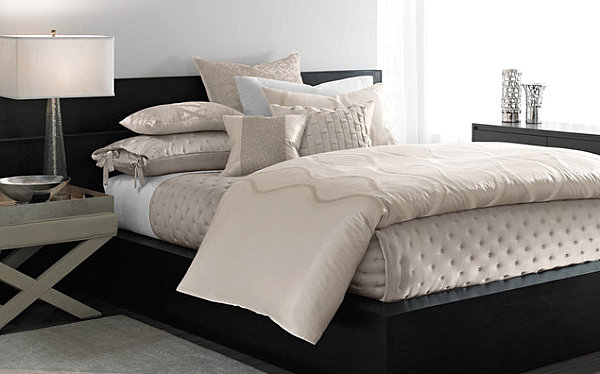 It's hard to get more luxurious than silk curtains, a lacquer and mohair headboard, and a vintage lacquered side table. Throw in a pewter, silver and antiqued gold palette, and you have a room fit for royalty. [from Adrienne Chinn]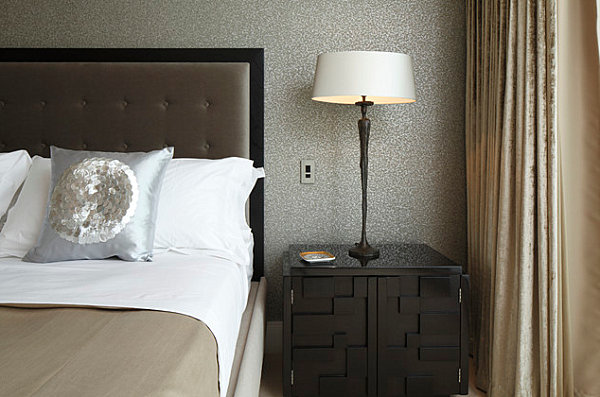 Which lacquered look above is your favorite? Do you prefer clean and modern, sleek and sophisticated or elegant and luxurious? Share your thoughts by leaving a comment below…