In some ways, the honeycomb pattern has never gone out of style! From the hexagonal tiles of the early 20th century to the current six-sided patterns that exemplify modern flair, the honeycomb has re-emerged with a vengeance in today's design world. And we're seeing an exciting new take on this pattern that is minimalist, modern and organic…
Today we take a look at the versatility of the honeycomb. We're crazy about the way it can evoke vintage, Moroccan, Hollywood Regency and ultra contemporary styles. From wallpaper and tile to throw pillows and ceramics, the honeycomb graces a variety of surfaces. Not sure if you want to cover the ceiling with six-sided forms? No problem! Select a vase or a bowl for starters, then work your way up to larger patterns. Even if you miss this season's batch of honeycomb merchandise, this geometric motif is sure to come back around in no time…
Honeycomb Ceilings, Wallpaper and Tile
We begin with a powerful honeycomb presence–on the ceiling, walls and floor. In fact, the geometric nature of this pattern makes it ideal for architectural statements, such as the ceiling below from Akke Woodworks. Note how the wooden motif adds texture and depth to this monochromatic room… [photo by Robert Lowell]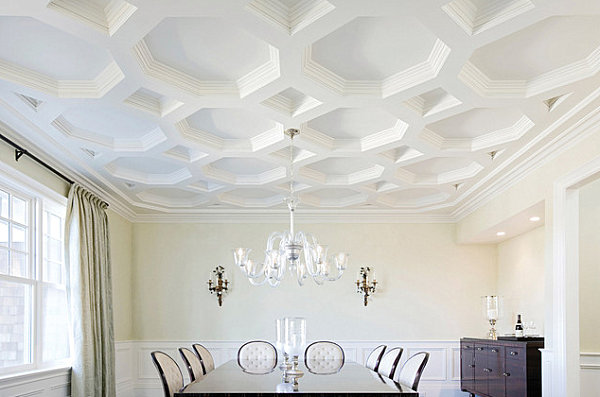 There's something a bit Hollywood Regency about honeycomb wallpaper, especially when presented in crisp tones and complemented by reflective surfaces such as mirrors. And you can't get more crisp than black and white, or more reflective than mirrors and countertops. No wonder the bathroom in the next image is so design-perfect! [from Diane Bishop Interiors]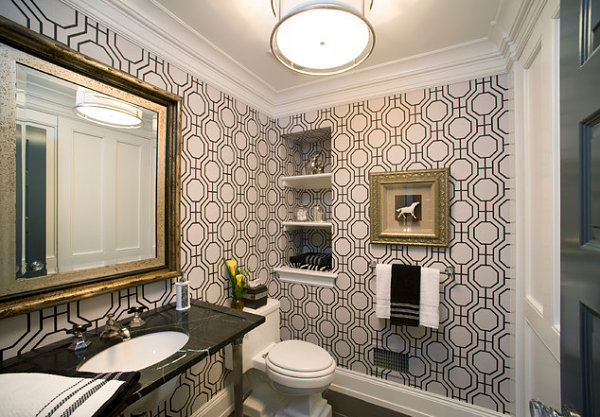 If you think you see wallpaper below, think again. You're looking at Paccha concrete tile by Popham Design, available through Ann Sacks. This Moroccan-style pattern has a modern twist, especially since it's presented in colors such as icicle blue, smoke and milky white. [via Houzz]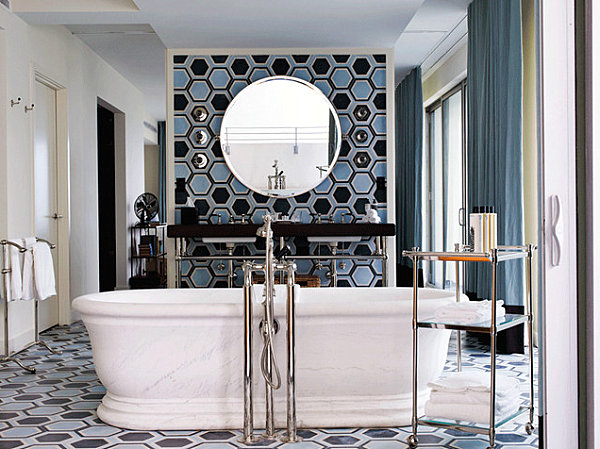 It's amazing how much texture and color are conveyed in each one of the honeycomb tiles below from Apavisa. The result: a contemporary yet earthy look that's perfect for the modern space they inhabit. Note how soft white walls and accents are the ideal counterpart to the bronze-y, metallic tones that anchor the room: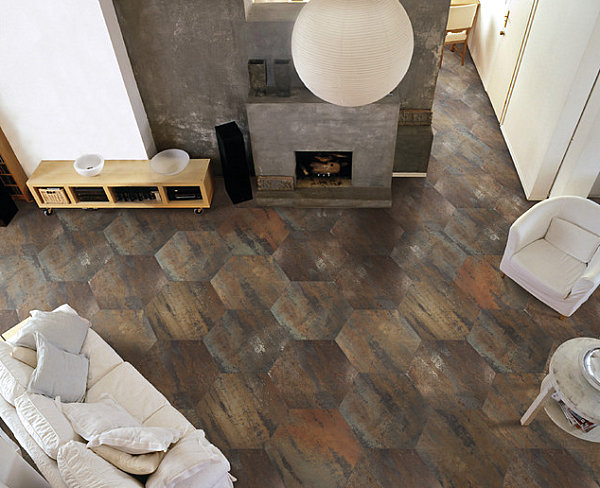 Honeycomb Decor
We now move on to honeycomb furnishings, rugs and accent pieces. Remember how we mentioned that the honeycomb can evoke a Hollywood Regency vibe? Nothing illustrates that style more clearly than the swanky bedroom below, complete with mirrored cabinets and a chandelier to play up the reflective properties of the furniture. Throw in some hotel-style bedding and you have one classy space! [from Covenant Millwork Inc.]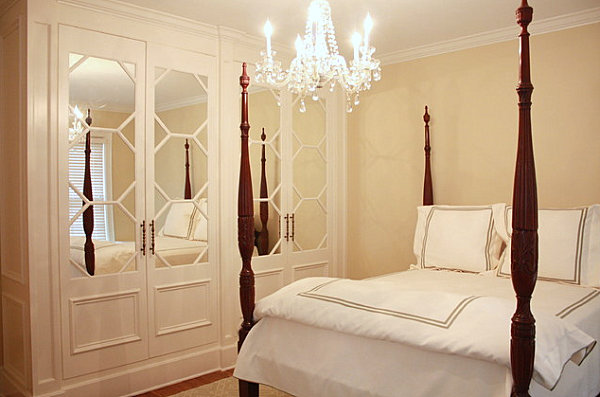 There's something fun about the elongated honeycomb pattern on the kitchen runner below. We love the way the pattern is echoed by the honeycomb shelving under the television, complete with many compartments for stashing books and other smalls. [from Tanya Schoenroth Design]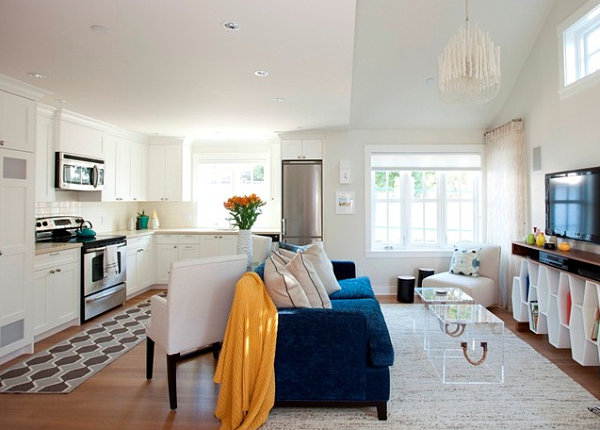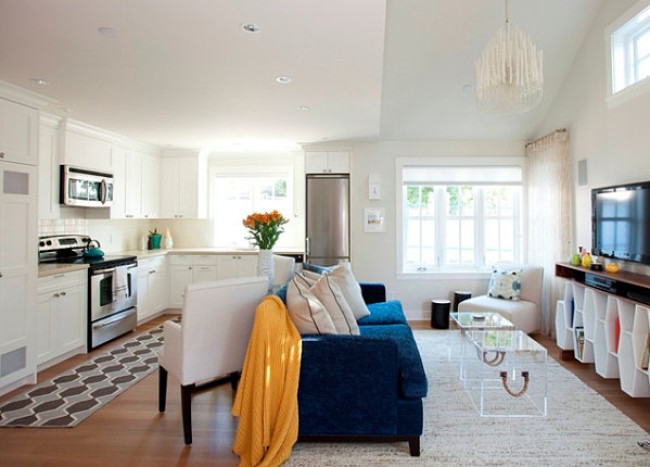 Want to create some honeycomb shelving of your own? If you're feeling crafty, check out this DIY Honeycomb Shelves project from A Beautiful Mess, constructed of fencing planks and a range of tools. A little patience is required, but we think you'll agree the results are stunning. And sculptural!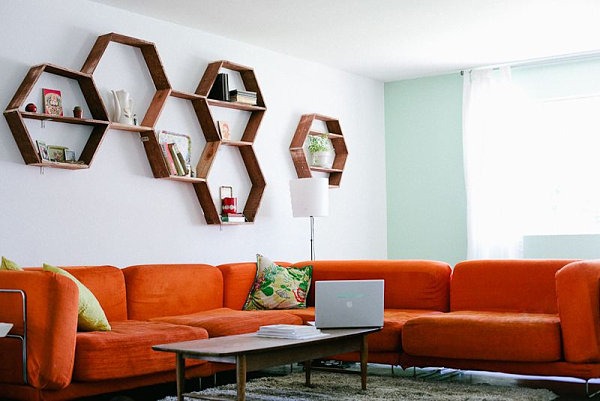 Did you ever notice how the use of a honeycomb pattern is doubly effective when two or more items are featured in one space? Like the rug that adorns the stairs in the room below and the pendant light that hangs above the bench. [from Brian Watford Interiors]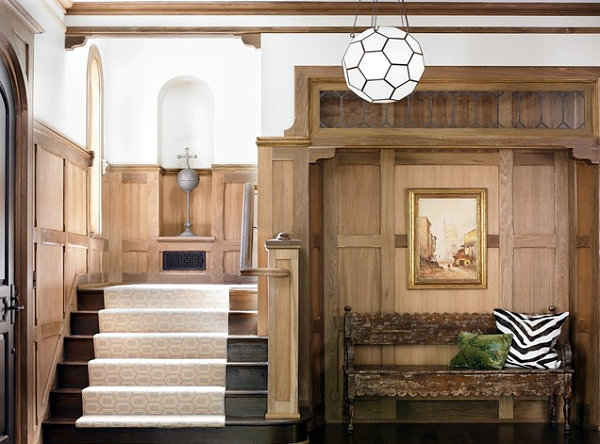 Honeycomb Items for Sale
It's fun to look at pictures for inspiration, but what if you're looking to purchase honeycomb items at this time? You're in luck! There's a slew of products available for purchase this season! Like the Honeycomb Tile Silk Pillow Covers from West Elm. Not only does this basic pattern go with a range of styles, there are two different color schemes in 100% silk to ensure you find just the right look for your space…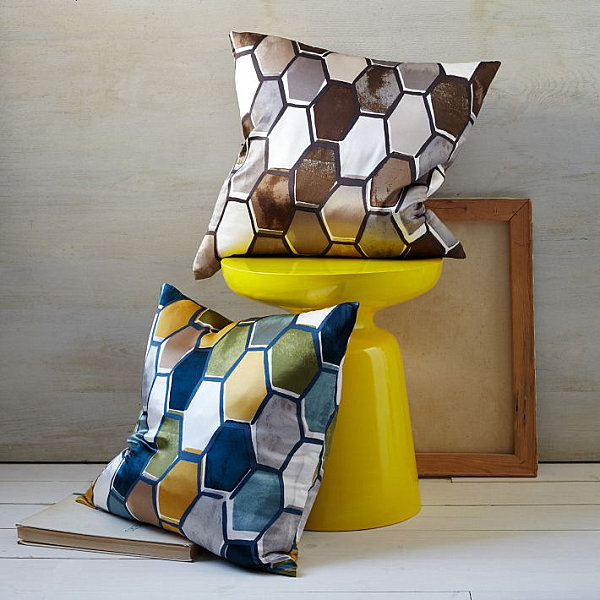 Even Jonathan Adler is bringing the honeycomb back! His Multi Bargello Honeycomb Pillow and Blue and Grey Bargello Honeycomb Pillow give the motif a hand-embroidered look, thanks to the use of long stitches. Very retro, don't you think?! Side note: these pillows were featured in a previous Decoist post on fabric patterns that are back in style.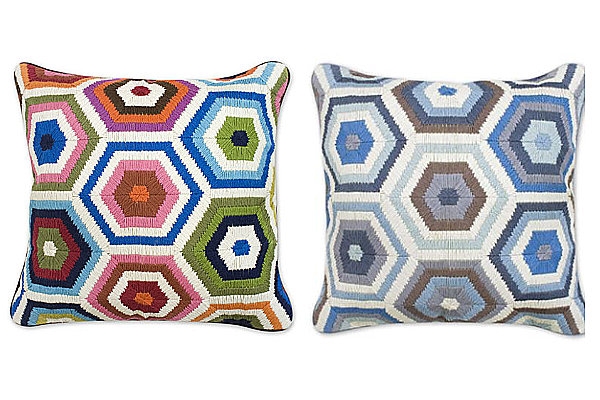 For a small honeycomb statement, check out the Textured Dip Bowl from West Elm, crafted of glazed ceramic. Perfect for prepping or serving, these bowls come in a range of textures and motifs. As you may have guessed, we prefer the honeycomb pattern, shown below: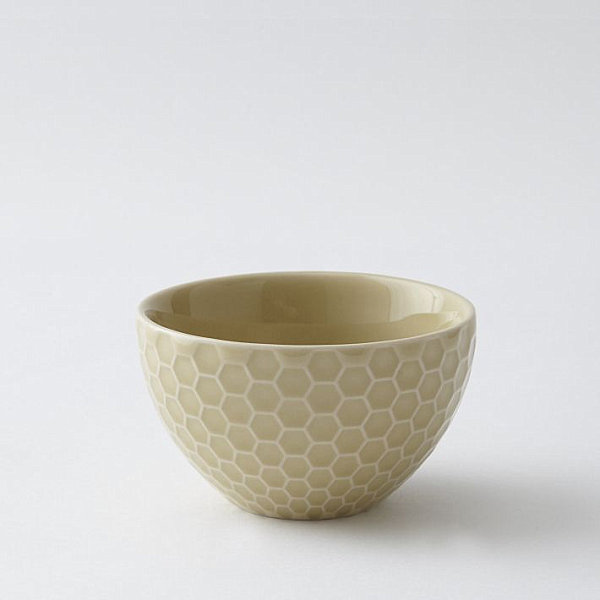 Our last featured hexagonal-motif items are the Threshold Honeycomb Vase and Threshold Ceramic Lamp Base from Target, both made from gleaming ceramic. These all-white items are soft in color yet bold in presence, thanks to a geometric repetition of honeycomb forms. Perfect for the design enthusiast who wants a subtle honeycomb statement…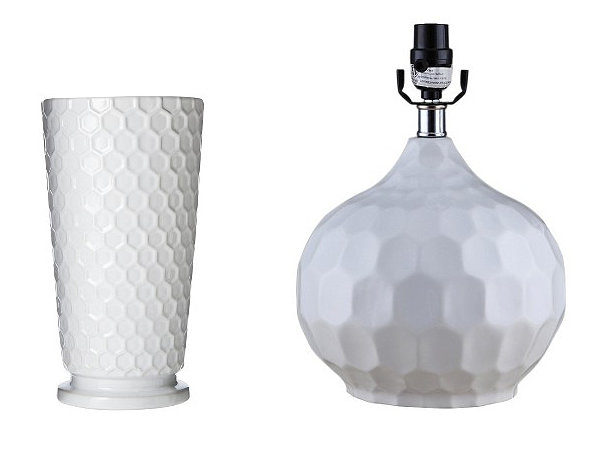 When it comes to honeycomb decor, which take on the pattern do you most adore? Do you enjoy a vintage hexagonal look? How about honeycomb tile with Moroccan flair? Or possibly a glamorous Hollywood Regency take on the motif? Maybe you like the way the pattern has re-emerged with contemporary style! Share your thoughts by leaving a comment below…