Corner fireplaces have the power to make a powerful statement in the rooms they inhabit. Often a corner fireplace becomes the main focal point of the space. In fact, some people prefer to orient their furniture toward the fireplace, celebrating the hearth of the home. At other times, a corner fireplace can be a challenge to decorate. In fact, this article was inspired by the new home of my aunt. Not only does the living room of this home feature a corner fireplace, there is actually space in between the fireplace and the corner, creating an interesting and potentially problematic nook.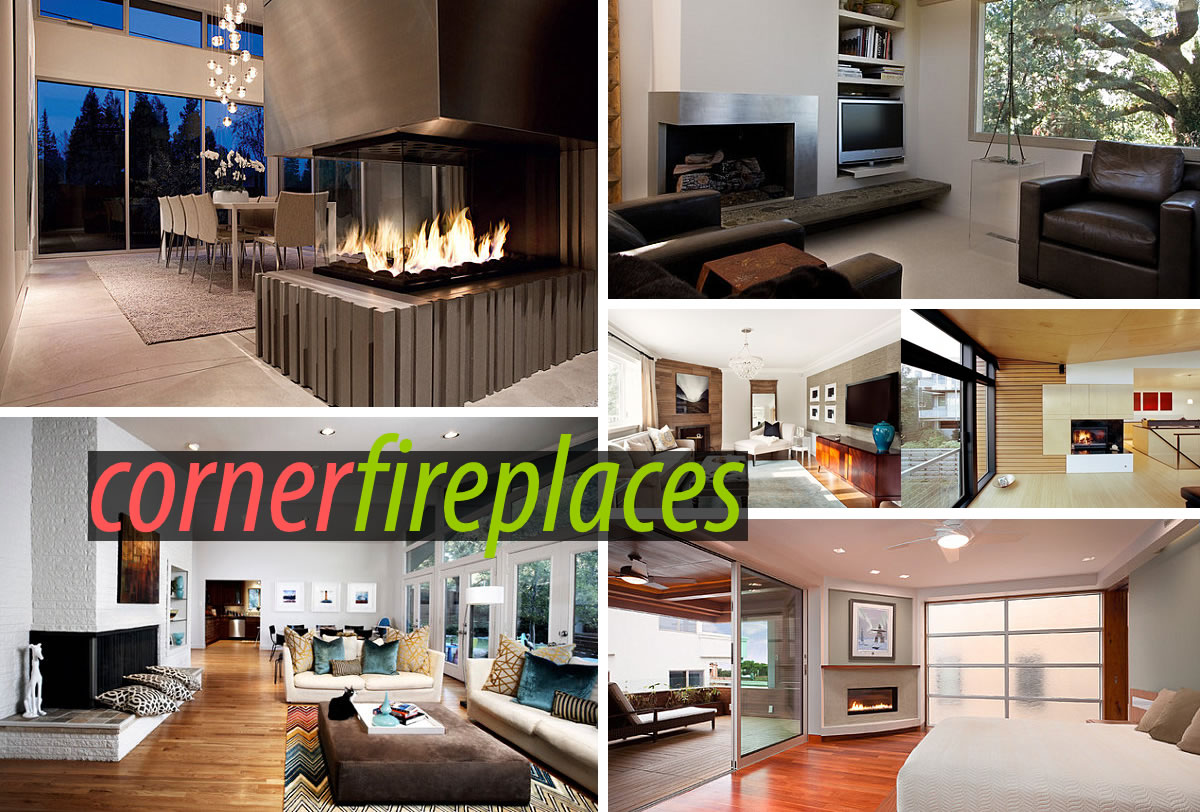 However, not all fireplaces are as difficult to embellish. Today's featured images reveal the power of a dazzling piece of art, a reflective mirror or a base that can double as a useful ledge or helpful seating. As you scan the images below, note the decor that surrounds each corner. These fireplaces are modern and sleek, so it doesn't take much to dress them up. Sometimes less is more. Then again, it never hurts to be grand…
Corner Fireplaces with Artwork
One of the most popular ways to dress up a fireplace is to hang a piece of artwork over the mantel. As is often the case, the more modern the fireplace, the more modern the art. The fireplace below is an interesting example, as it contains traditional elements, such as a warm wooden mantel. Yet an abstract piece of art carries the eye upward, making a geometric statement that reinforces the contemporary features of the space. [from Dan Waibel Design Builder]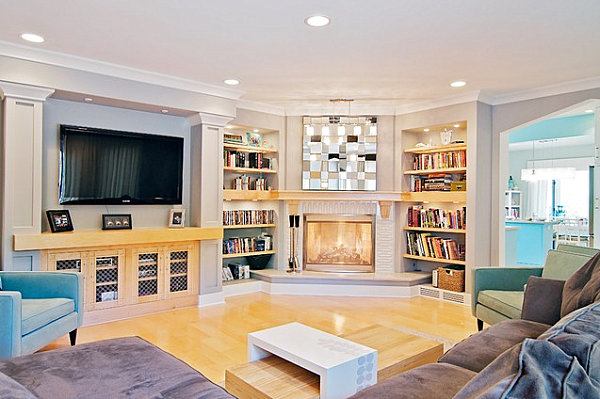 The next fireplace features a floating mantel. A perfect square canvas hangs overhead, calling attention to the room's sleek forms, especially the rectangular build of the fireplace itself. [from Laura Burton Interiors]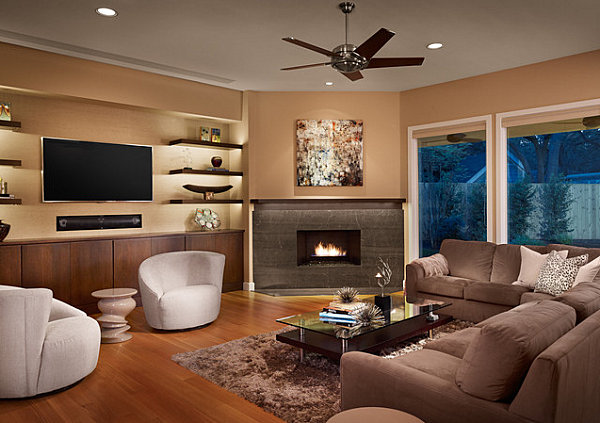 This next featured space from Lapis Design Partners adds a serene note to the bedroom. A vertically-oriented piece of art balances out the horizontally-oriented fireplace and reinforces the bluish tones of the room.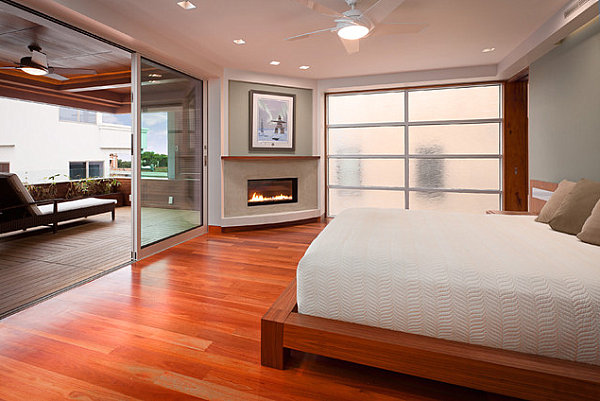 It's hard to say what the bigger scene-stealer is in this next space: the fireplace or the modern painting that hangs above it. The room below has a retro-meets-modern look that is perfectly complemented by the built-in fireplace with remote ignition. [from Studio Schicketanz Architects & Designers]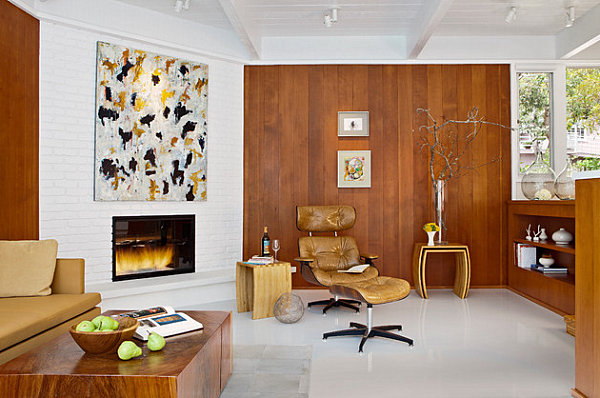 This next modern space has a rustic element, thanks to natural wooden ceiling beams and other earthy features. The room's textured fireplace truly shines under a painting that reinforces the beauty of nature, complete with a golden sunset glow that mirrors the glow of the fire! [from Jade Design Group]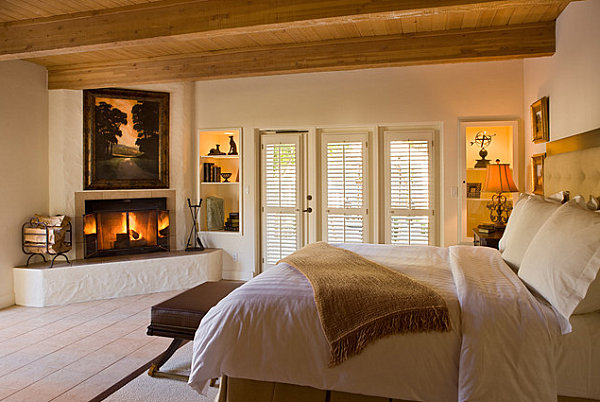 Ready for a room that's on the traditional side, yet still a bit modern? The fireplace tile below frames the burning wood in a sleek way, yet molding creates a softness that fits with the rest of the space. Also of note: the oil painting on the mantel, perfectly flanked by a trio of contemporary ducks. [from Farinelli Construction]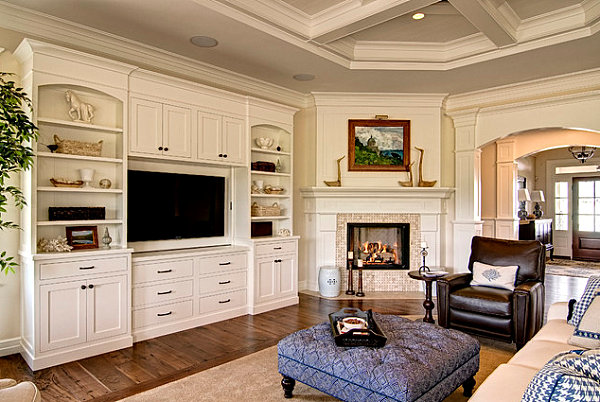 The only thing better than a modern corner fireplace is an accent wall to give it oodles of prominence! The horizontal wooden planks on the wall below ensure that both artwork and fireplace take center stage in this phenomenally designed space. [from Elizabeth Metcalfe Interiors & Design]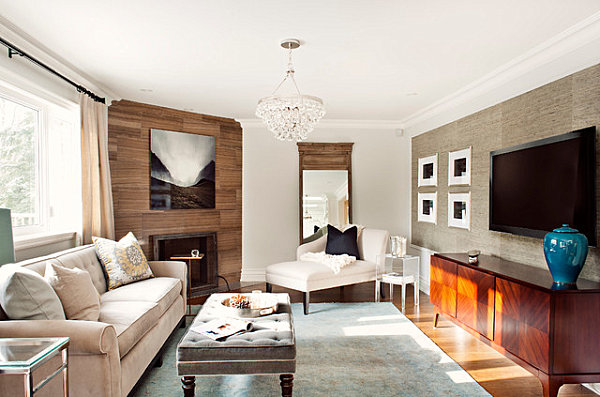 Corner Fireplaces Featuring Mirrored Accents
Some hang artwork above the fireplace. Others use the space to display a flat screen TV. Then there are those who make a reflective statement with a mirror. Or two, as shown in the room below from KannCept Design, Inc.: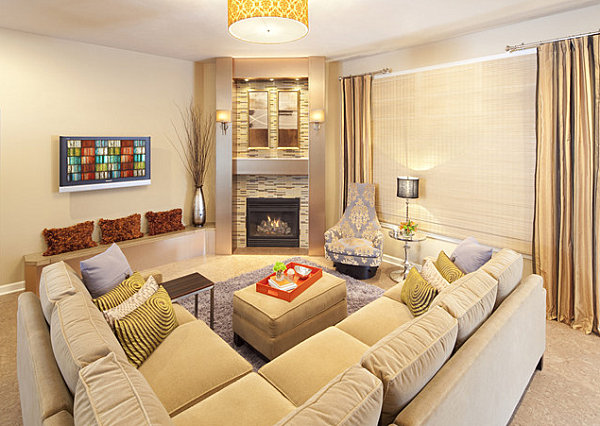 In a room with Greek key motifs on metal console tables and modern squares on the rug, it makes sense that an interesting geometric shape such as a quatrefoil would appear in mirrored form above the fireplace. [from ASD Interiors]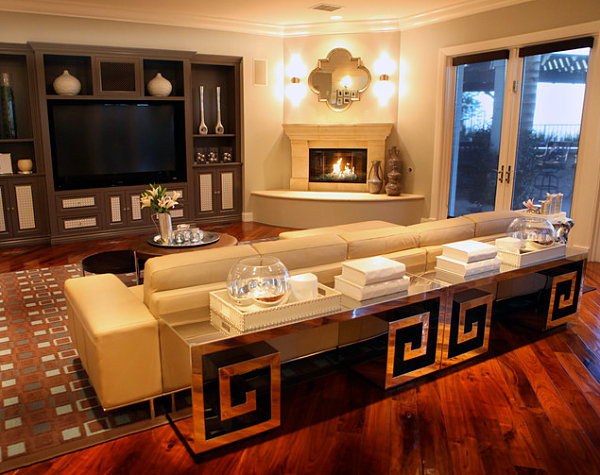 A round mirror is the perfect accent in the next space, which features an assortment of circles, ovals, squares and rectangles. Adding a round component to the fireplace wall is a great balance to the angles below. [from Visbeen Associates, Inc.]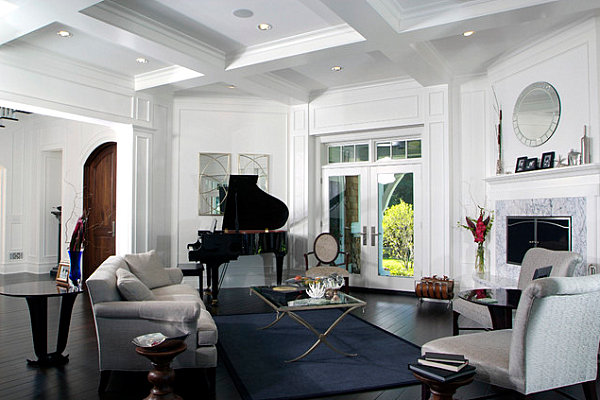 Don't forget that a mirror can open up the room, as well as add drama. Placing candles in front of a mantel mirror can compound the soft flicker of flames, adding a glow that rivals the burning fire. [from Ted Knude Photography for Cedar Glen Homes]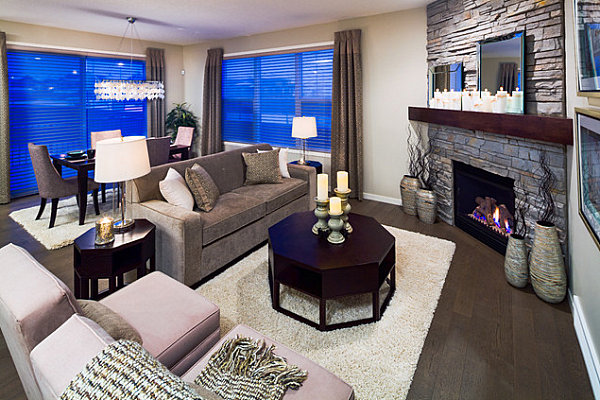 Peninsula Corner Fireplaces
Peninsula fireplaces have three sides, creating an appearance of protruding from the wall rather than fitting into the corner. These statement fireplaces are architecturally interesting and often appear at the ends of accent walls constructed of material such as stone. [from Warmington & North]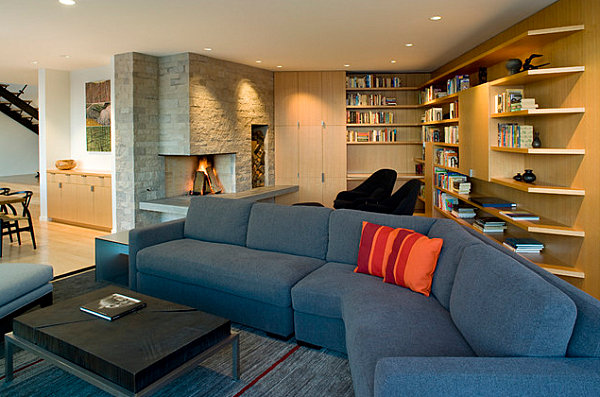 In other words, peninsula fireplaces appear at the corner of a wall that juts out into the space, making them extra dramatic! Often no decor is needed, especially if the wall is made from a material that contrasts the rest of the room. [from Mark Brand Architecture]
This peninsula fireplace is outlined in metal, which helps it to pop and serve as a true focal point in the room. Note the ledge below, which adds interest with a contrasting color and texture. [from Modern House Architects]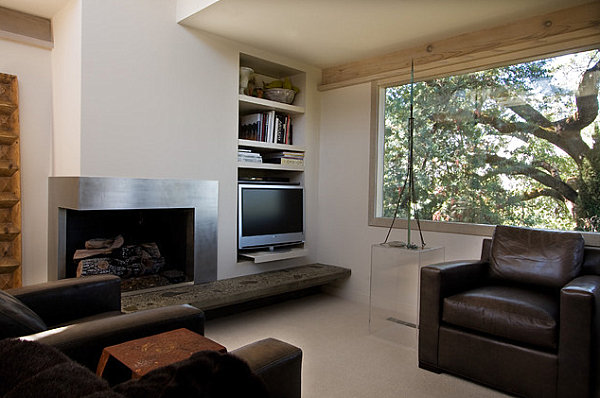 This next fireplace is also outlined in metal, yet it seems to fit seamlessly into the slate grey wall that surrounds it. Warm, peachy tones in the room are the perfect contrast, yet the glow of the fire ties it all together. [from Steinbomer, Bramwell, & Vrazel Architects]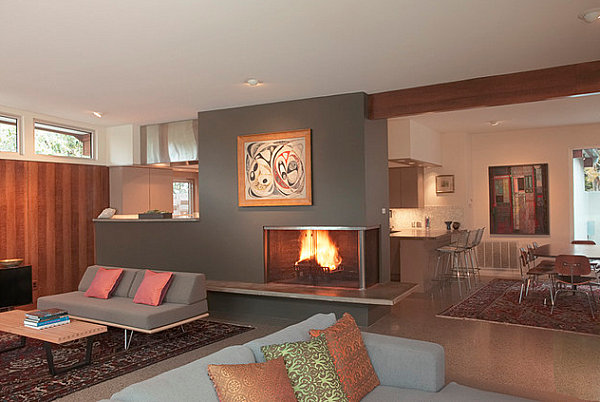 The corner fireplace below is built into a brick wall that is painted the same color as the rest of the space. Bronze-hued artwork hangs overhead, while pillows adorn the tile ledge, providing extra seating. Of course, removing the pillows when it's time for a fire is recommended! We think the ceramic dog in the corner would agree… [from Pulp Design Studios]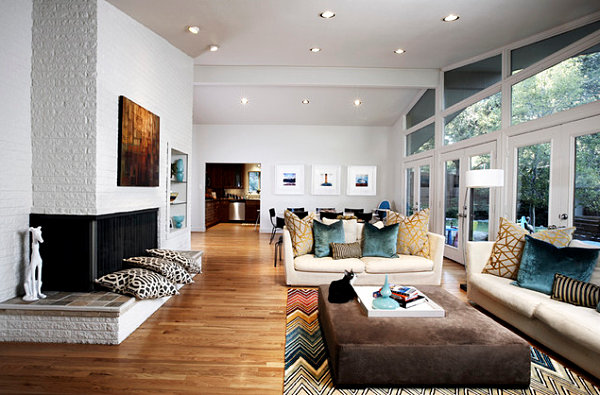 Minimalist is the word of choice in this next space. Every element counts, from the dots on the canvas over the fireplace to the objets d'art that adorn the mantel. When the view outdoors is that stunning, it's best to keep it simple inside, don't you think? [from David Churchill Architectural Photographer]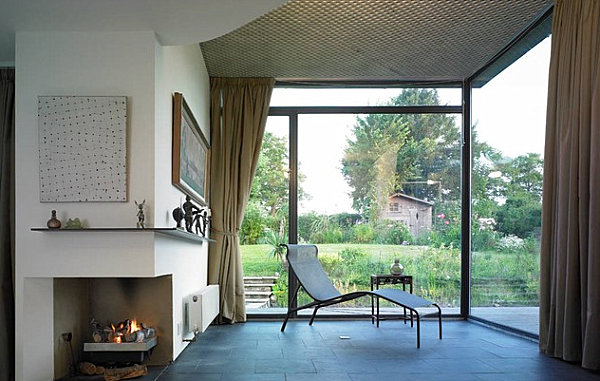 What could be more interesting than a corner fireplace on a wall built from multiple materials? Wood, tile and a smooth white surface make the fireplace stand out in the most clever of ways, while the room somehow maintains its modern simplicity, thanks to a lack of clutter. [from Eggleston Farkas Architects]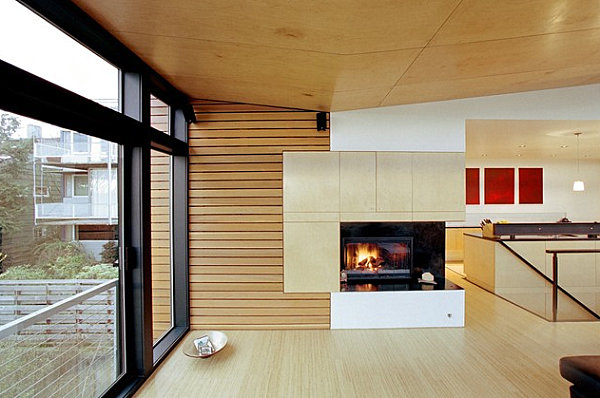 Glass and metal reign in this next featured space. A silver and gray palette is enhanced by vibrant red chairs. But the glass peninsula fireplace is the real scene-stealer. Wondering what the fireplace wall is made of? Those are custom-built aluminum panels! [from Beyond Home Theater]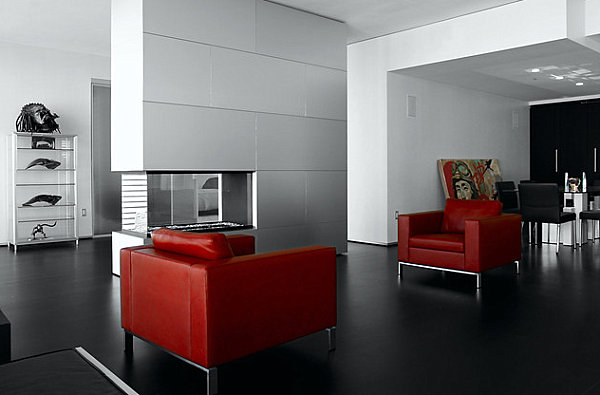 We end with a real showstopper, custom-designed by Mark Rogero of Concretework in San Francisco. The fireplace itself is by Montego, with a surround by Concreteworks Studio. The only thing in that room that rivals the fireplace is the chandelier, featuring a series of illuminated orbs. [from California Home + Design via Houzz]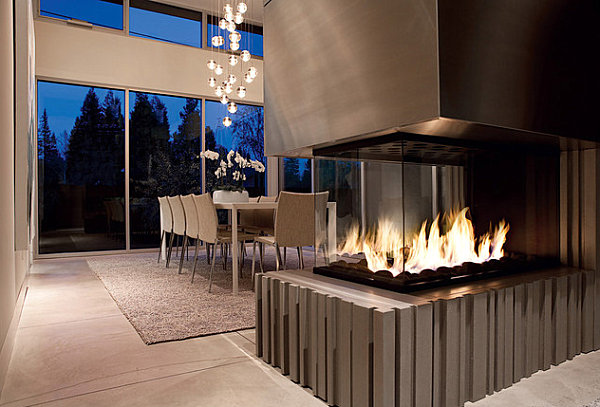 How would you embellish your corner fireplace? Keep in mind that there are a variety of ways to celebrate this warming feature. Do you prefer minimalist decor and a fireplace that speaks for itself, or would you surround your fireplace with decor to add interest? Share your thoughts by leaving a comment below…