Today it's time for a little pillow talk… Spring throw pillows, that is! The new season has ushered in a slew of new pillow finds, from the geometric to the floral. Why are these cushy products so popular? Because they represent an easy way to add a dash of spring style to your decor! While you may envision pastels and candy colors when it comes to springtime, for 2013 it's all about powerful hues. Think blues, greens, yellows, reds and oranges. Or neutrals that sing with style. Sometimes the best way to catch the design realm off guard is to go with the unexpected. And this season's pillow finds are anything but trite…
Bold Spring Pillows
We begin by spotlighting the bold and the beautiful. Like these vibrant offerings from CB2! We call special attention to the Ombre Fossette 20″ x 12″ Pillow by textile designer Liora Manné, shown in the foreground below. This pillow combines shades such as yellow, blue and mint, which might as well be CB2's signature color palette this season!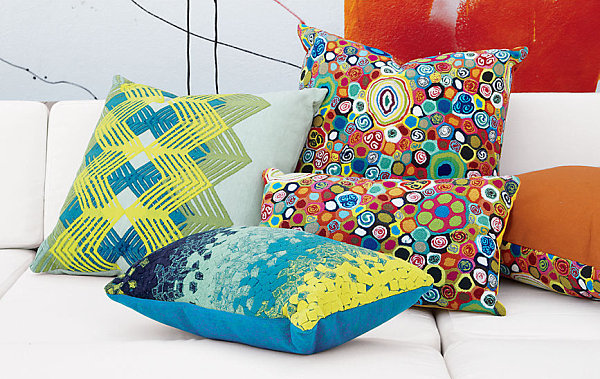 Talk about knocking you over with style! The Eclipse 16″ Pillow features a pattern of kaleidoscopic petals. Bold shades of orange and yellow pop against a background of mint green. This piece is 100% cotton: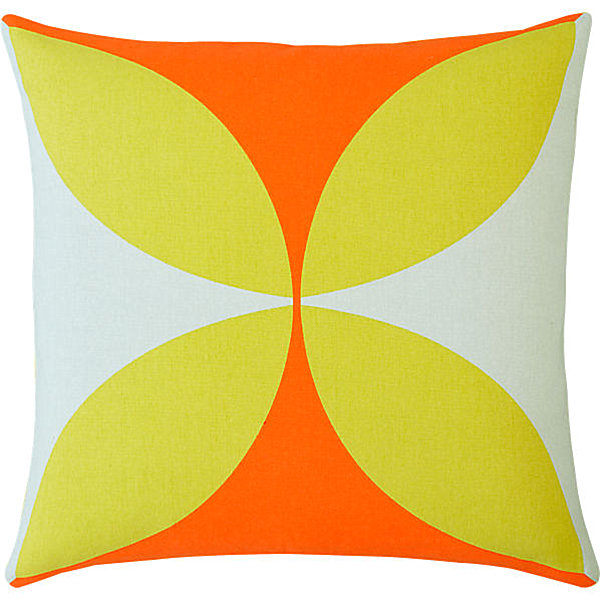 It's no secret that blue is one of the "it" shades for spring! The Cell Peacock 18′ Pillow (shown below, right) features white hexagonal embroidery on peacock blue cotton. Also shown is the Bouclé Swoon 20″ Pillow, which stylishly conjures the textural feel of a 1960s suit using super soft acrylic: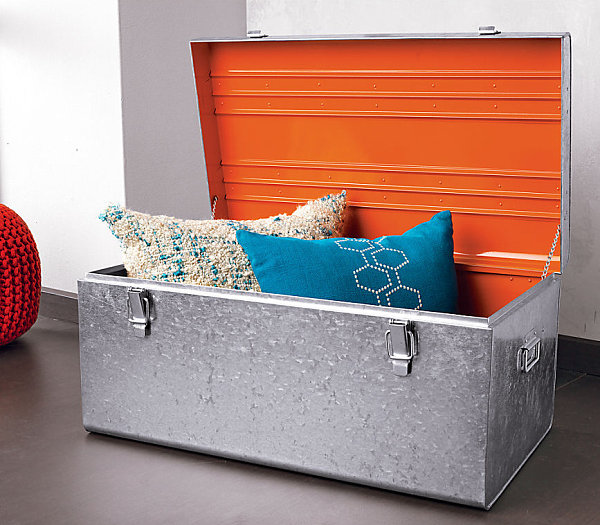 What if your favorite tile floor appeared in pillow form? The Block Print Orange and White 20″ Pillow boasts a geometric pattern that recalls the intricacy of a mosaic. And we can't deny the appeal of that radiant fire orange…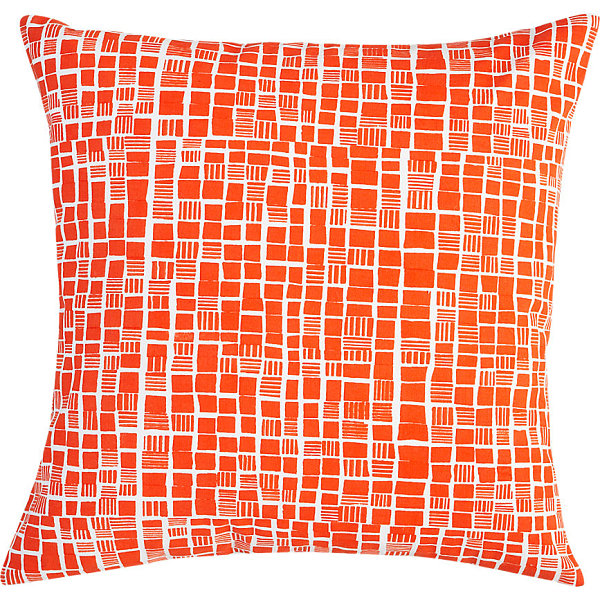 We get another dose of primary color flair with the Serena Cushion from Laura Ashley. Appliqued and printed flower-head designs give this pillow its unique look: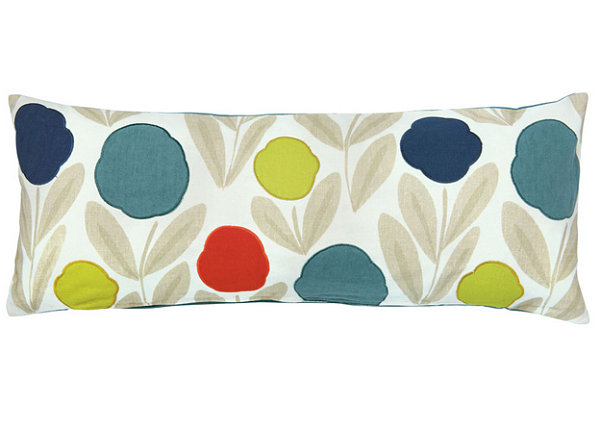 Spring Throw Pillows in Neutral Shades
There's nothing wrong with stepping back from the bold and letting earth tones speak for themselves. We begin with a series of gorgeous pillows offered by West Elm, all of which are inspired by the first blooms of spring. Like the Vine Flower Silk Pillow Cover, which is based on an original watercolor and screen printed on pure silk: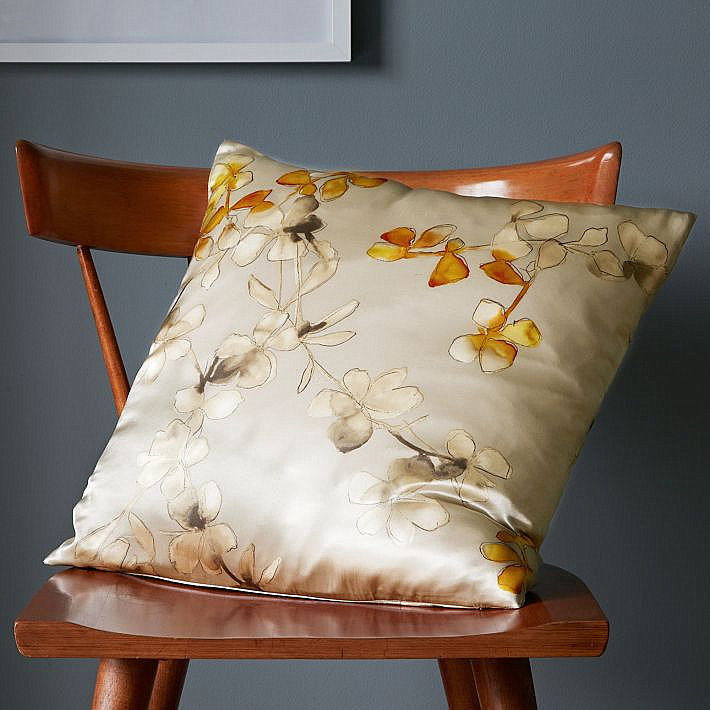 Mix the pillow above with our next featured selection, the Stalk Flower Silk Pillow Cover. A steel gray color is the perfect backdrop to offset the orange and yellow tones of the pillow's flowers…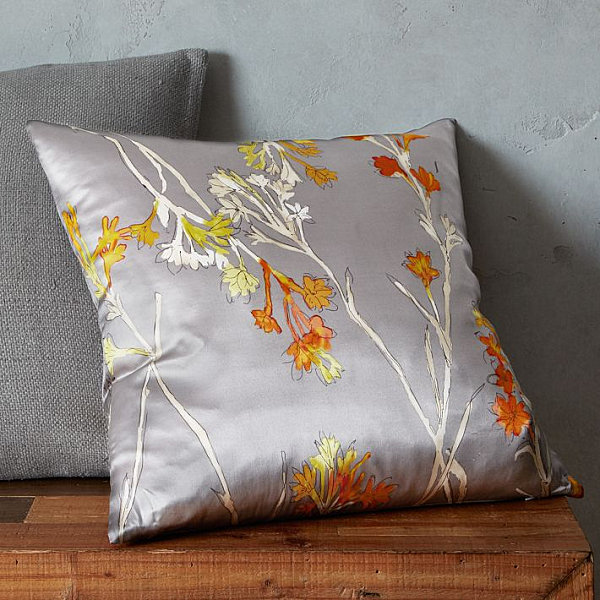 The Iris Silk Pillow Cover showcases a vivid assortment of iris. As with the pillows above, this piece features a zipper closure and is machine washable: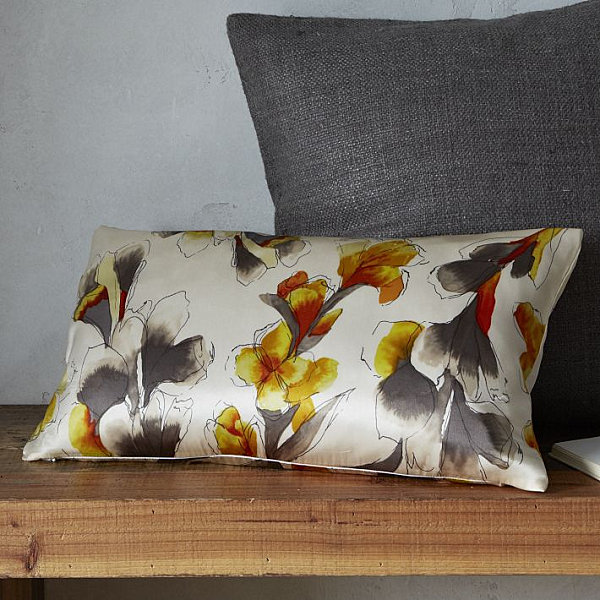 Subtle, charming and modern, the Nightingale Cushion from Laura Ashley depicts a metallic bird against a refreshing off-white shade. The sweetness of this item makes it a perfect fit for a bedroom throw pillow and could work in a child's room as well. Or let the cushion take center stage in your living room!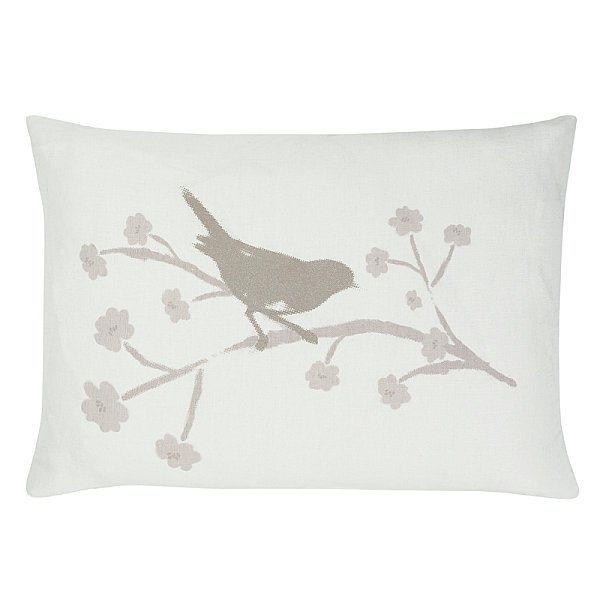 Throw Pillows in Shades of Yellow and Blue
Next we highlight pillows that play up the colors of the sky: the glow of the yellow sun and the soothing blue that envelopes the clouds. Crate & Barrel offers many pillows that showcase these two shades, sometimes alone and sometimes together. The Link 24″ x 16″ pillow combines blue with hues such as green and gray in a series of velvety dots and rings in vertical stripes. A feather-down insert keeps it comfy: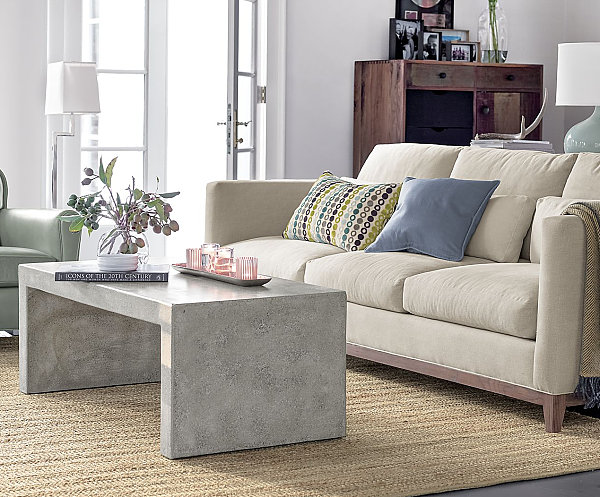 The Diagonal Yellow Pillow from Crate& Barrel offsets a gorgeous gold shade with neutral double bands of hues such as taupe-y gray. Are they candy stripes? They certainly look good enough to eat! But you'll find that these lines consist of 100% cotton.
Bring on the yellow and blue! Our third featured pillow from Crate & Barrel has the look of an abstract watercolor garden design. The Myrtle 18″ Pillow features flowers such as indigo poppies on a background of white cotton: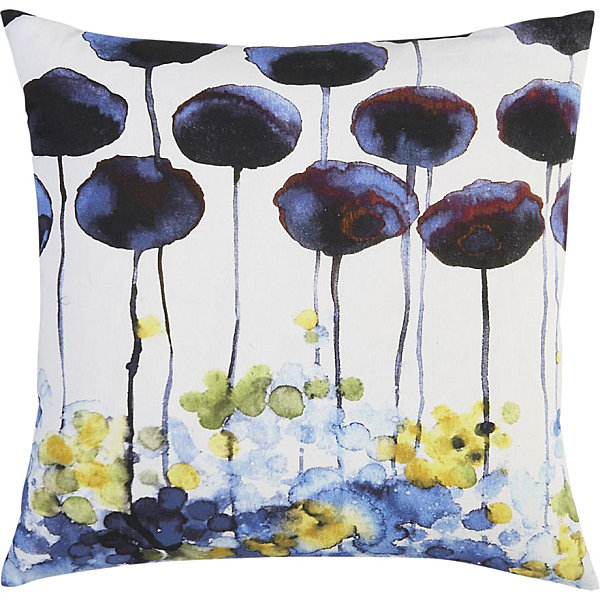 For another selection that celebrates nature, we veer into coral territory. The Blue Coral Embroidered Lumbar Pillow Cover from Pottery Barn is surrounded by a 16″ x 26″ cotton pillow cover. Satin stitching and hand embroidery embellish the piece. The insert is sold separately: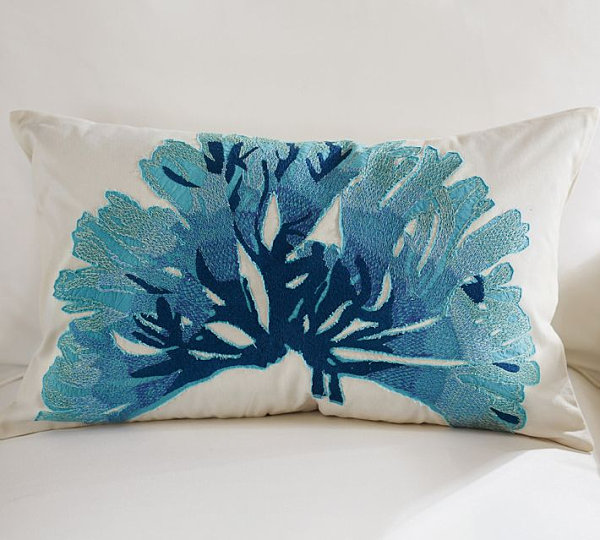 The Brasilia Arthur Pillow from Jonathan Adler also features hand embroidery, this time using a chain stitch technique in wool. The result: a geometric look that is both retro and modern: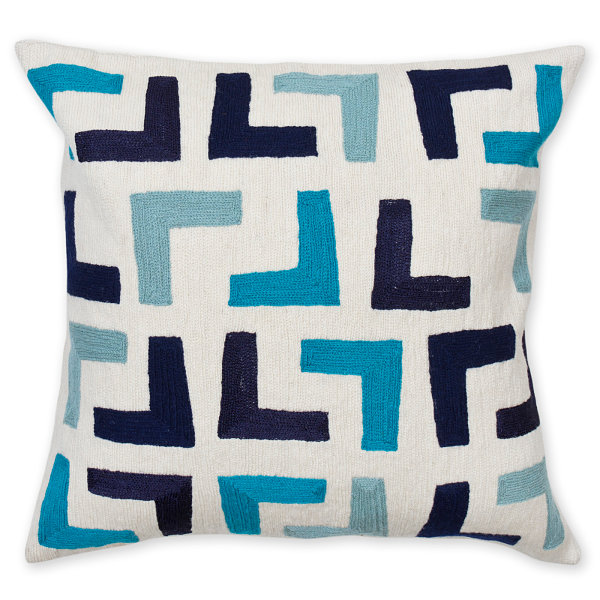 Try combining shades of yellow and blue on a sofa or a bed. These Diamond ikat Pillows from Z Gallerie come in a range of colors, including the Aquamarine and Citrus shades shown below. The pillows are covered in a crisp cotton with a gorgeous sheen, and the lattice-like embroidery mimics the look of an ikat tribal pattern: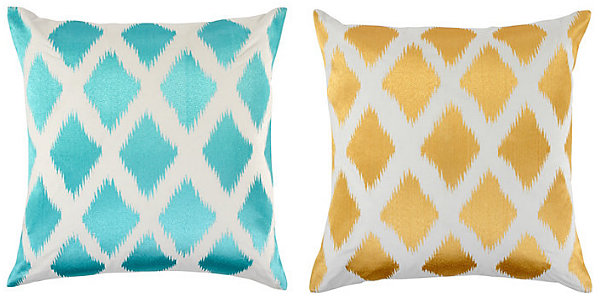 Rosy Throw Pillows for Spring
Did you know that the renowned clothing brand H&M also has a "home" line? That's right–now you can buy items such as shower curtains and pillows that are every bit as stylish and affordable as the clothes sold by the company! These Cushion covers from H&M, feature a soft rosy pink shade, as well as a minty green. The pattern is modern and geometric, and it becomes a smaller print when you flip the pillow over.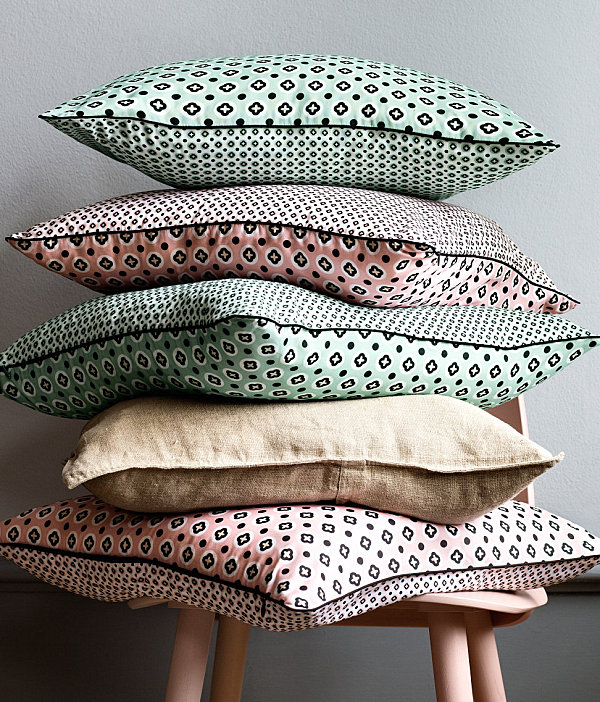 Anthropologie offers a series Ombre pillows that are subtle in their shading. Below we see hues of coral (left) and rose (right), which would make a perfect combination when placed side by side. These irresistible pillows are crafted of rayon, silk and polyester with a down fill: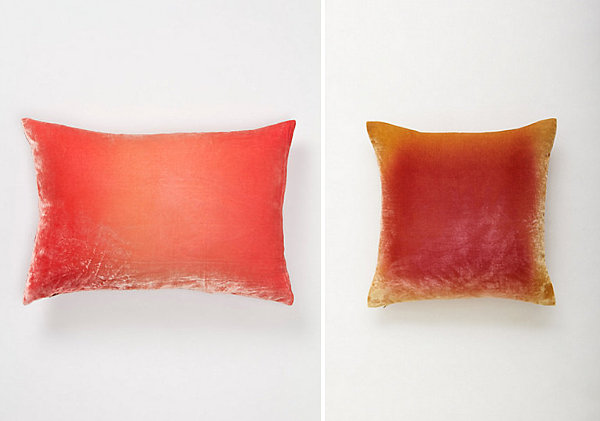 Do you ever change out your pillows for the new season? Transitional pieces are a great way to ease into a new time of the year. Some people showcase earth tones in the fall, rich hues in the winter, and brighter shades for spring and summer. Tell us about your seasonal decor by leaving a comment below…