As winter turns to spring, you may find yourself looking around your home and wondering how your interior can mirror the emerging color outside. The sky is a little brighter, the temperatures are warming, and perhaps you can even imagine the new blooms that will soon be sprouting. How can you start preparing your home for spring?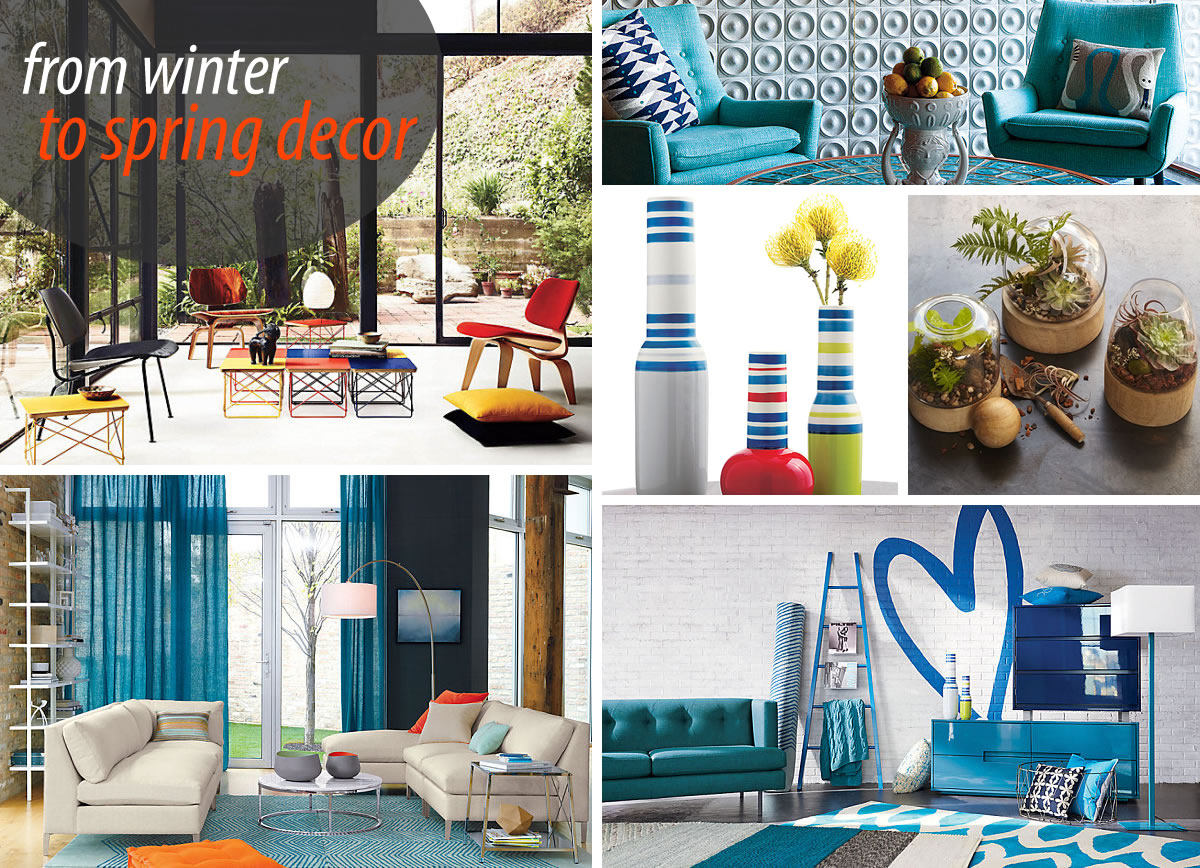 Whether you change out your decor seasonally or you stick with something you love all year round, now may be a good time to make a colorful purchase. But don't think pastels like pink, lavender and lemon yellow are the answer. Today's most popular finds are radiant in primary hues and other bold shades. In other words, strong color signals change without screaming spring. check out the furniture, textiles and accessories below, then see if you're inspired to go bright at home!
Furniture Finds
We begin by spotlighting some unforgettable furniture finds that will shine even on the grayest of winter days. Blue is the word at CB2 this season, as shown by the assortment of azure pieces below. From dressers to seating, these items add a sophisticated yet radiant touch of color–the perfect solution for an interior that needs a dash of something vibrant.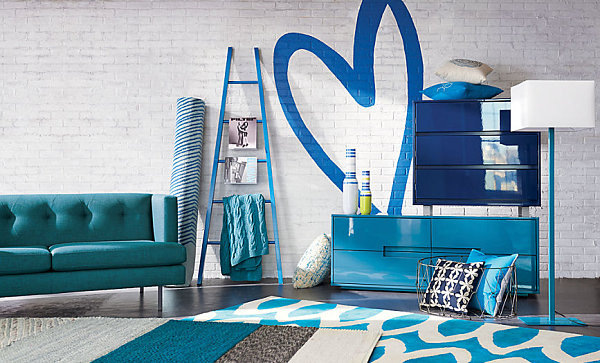 Want to get a jump start on your spring cleaning? Consider purchasing some modular shelving to help you get organized. Bright shades such as orange and white will remind you that spring is around the corner, and by the time it's here you'll be that much closer to a tidy interior. Below we see the Elston Engine Modular Shelf, designed by Mark Daniel of Slate Design. These individual L-shaped units are crafted of engineered wood with a bright matte finish. Combine them to create something special… [from CB2]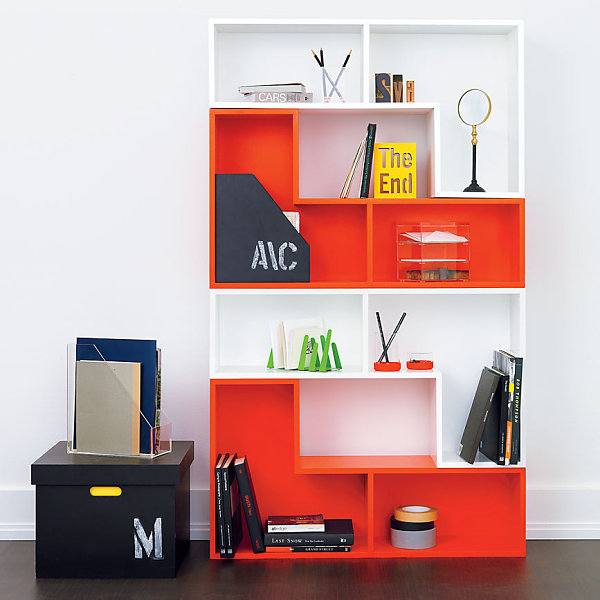 We recently featured the Herman Miller Select Eames Wire Base Low Table in our post on new colorful furniture finds. Available in primary colors, these modern tables are just 10 inches high. Their industrial yet mellow construction is influenced by Japanese forms. Buy one, or purchase a group and arrange them to create an eye-catching centerpiece in the middle of the room!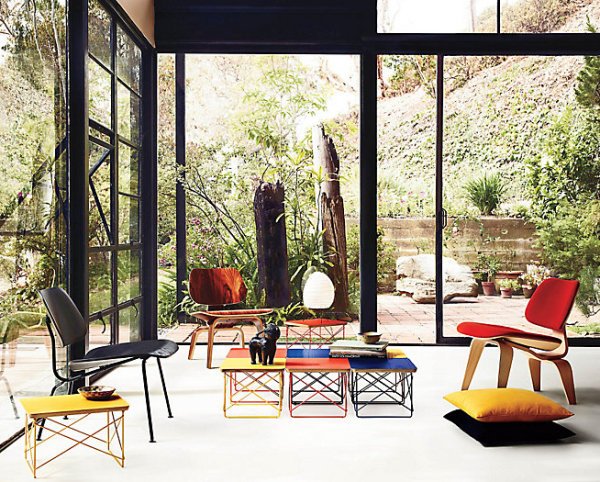 Consider updating your seating with a bright upholstered piece, such as one of the radiant selections offered at Jonathan Adler. In fact, many of Adler's pieces are available in a wide range of colors, so you can find the perfect winter-to-spring shade for your space.

In fact, below we see the power of upholstered furniture in a private New York residence with interior design by none other than Jonathan Adler. There's just something about bright orange, don't you think?!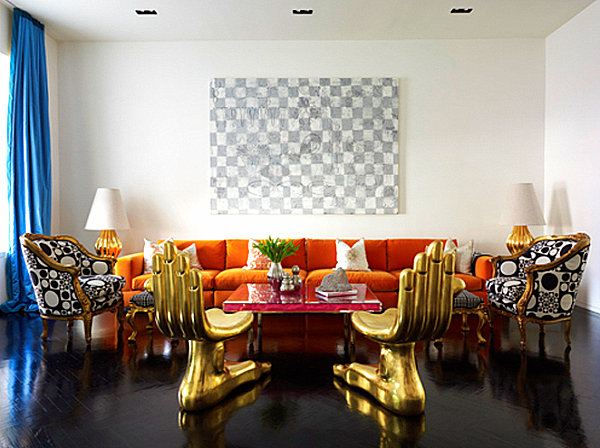 Rugs and Pillows
As the seasons change, many interior design lovers switch out their textiles to capture the mood of the moment. Winter is still in the air, yet there is a hint of the brilliant color that will soon blanket the outdoors. Which is why royal blue is the perfect shade for this transitional time. After all, it's bright without knocking you over. Below we wee the Abacus Dhurrie in Regal Blue from West Elm. Made in India, this handcrafted piece is 80% wool and 20% cotton.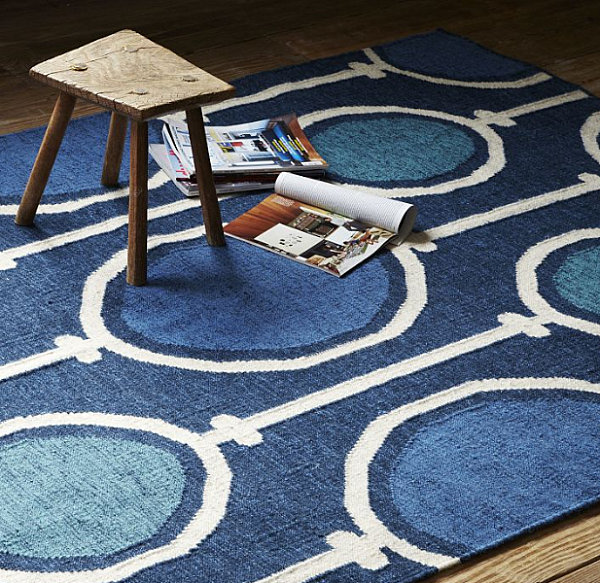 For a rug in a lighter blue, check out the Casablanca Dhurrie Rug from Z Gallerie, showcased in the room below. The geometric pattern mimics the look of tile while brightening your interior with the color of the sky: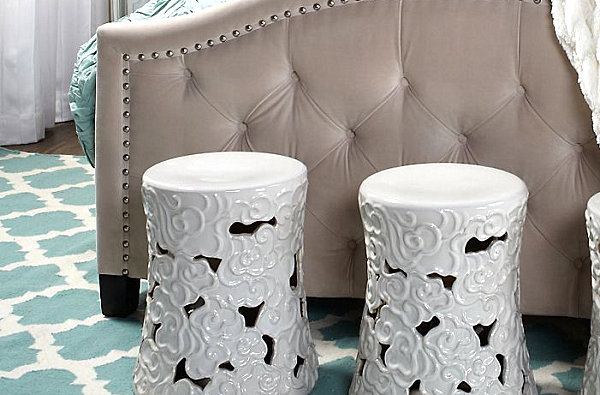 What's the perfect complementary color for blue? Orange! Don't hesitate to combine these two shades in your interior. They are some of this year's most popular hues. In the next featured living room, we see the Velvet Orange Floor Pillow and the practical comfort it can add to your space. This tufted square is finished in a raw edge for a contemporary look. We also love the blue Seismic Rug that ties this room together… [from CB2]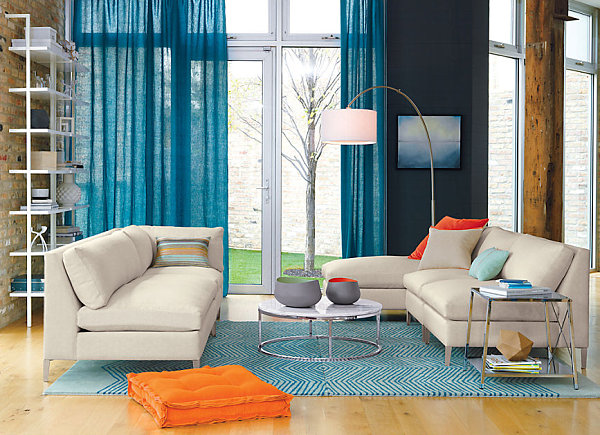 Why not add a festive pillow to your sofa to welcome the new season? The Love Birds Silk Pillow Cover is decorated with an image based on an original watercolor design. The blooms on this pure silk piece could almost look like snowflakes falling behind the perched birds. But as you look a little closer, you see the outline of whimsical flowers. Winter or spring, this pillow is perfect! [from West Elm]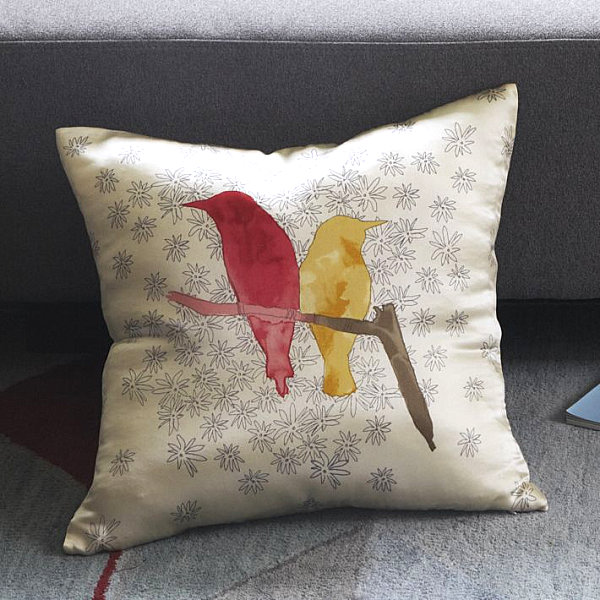 Don't forget to celebrate the outdoors as you start spending more time on your patio or porch. Now may be the time to freshen those outside chairs with a new accent, such as the La Mer White Outdoor Pillow shown below. Crafted of spun polyester, this cushy find can be used indoors as well! [from Crate & Barrel]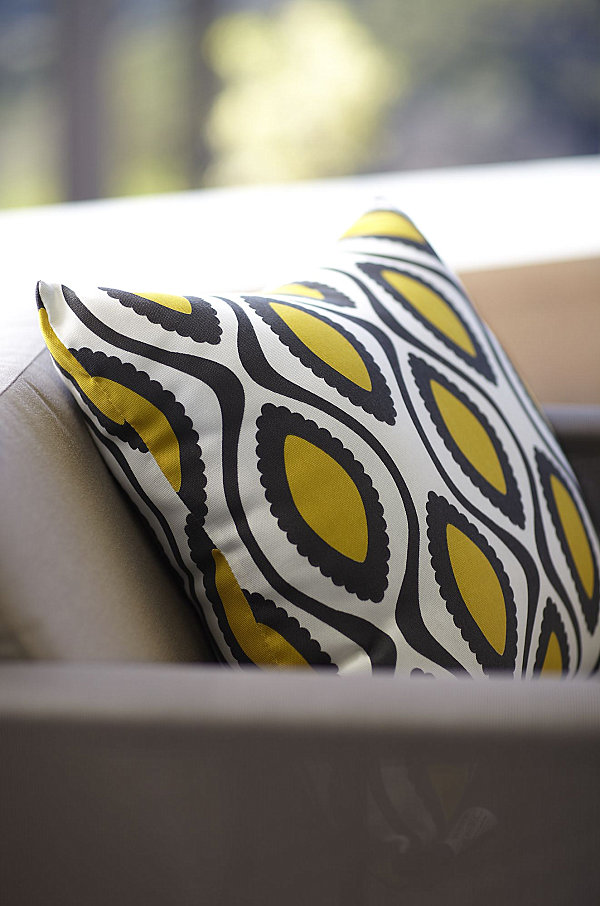 Winter to Spring Accessories
What's an easy way to add a dash of color as spring approaches? Purchase a tabletop accessory or two! Like these square lacquer trays, which come in a variety of colors. Why not integrate a little orange or blue to celebrate the season's hottest hues? [from West Elm]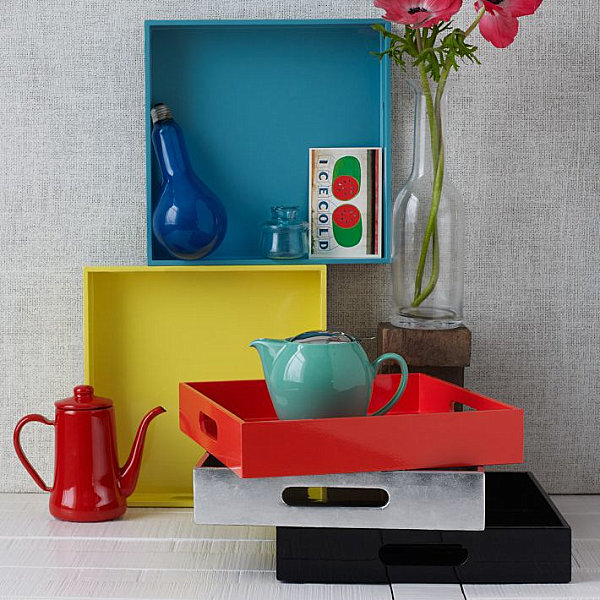 Speaking of trays, what if you could arrange them like puzzle pieces to create a surface-top work of art? Now you can! These Kaleido Trays are designed by Clara von Zweigbergk for Hay. Modular, stackable and nestable, they are crafted of powder-coated steel. Brighten up your coffee table with an assortment of trays that add a dose of artistic color while empowering you to organize your space. Yes, these beauties are perfect for holding small items such as keys and pens. [from Design Within Reach]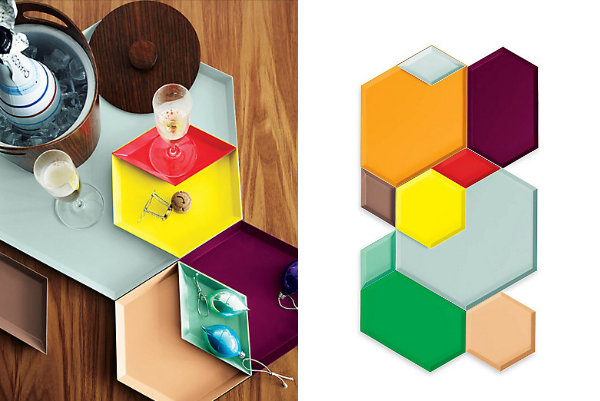 It's all about the stripes! Once again, we note the effect of powerful color, this time in round bands that decorate these festive Cirque Vases from CB2. In fact, these earthenware pieces are embellished with hand painted bands. Purchase all three and let them be the focal point of your living room. Fill them with branches for winter and fresh blooms for spring: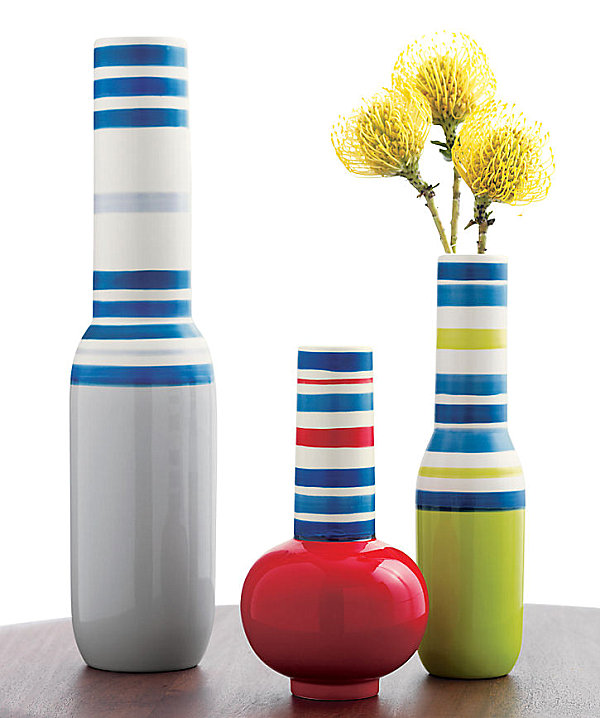 In fact, we see a Cirque Vase make an appearance below, but this time we spotlight the Kalisi Candleholder. Made of bright yellow enamel, this item neatly holds one taper while injecting a petite yet noteworthy burst of color to the space of your choice. Haven't seen the sun in awhile? Make it shine in your living room with this sunny accessory! [from CB2]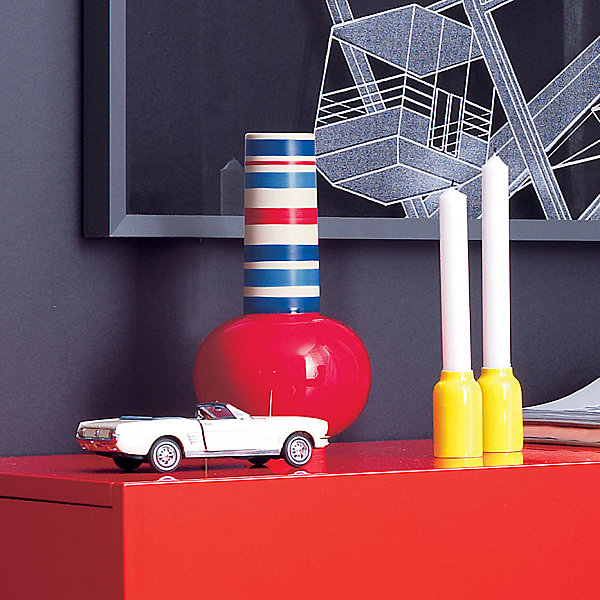 Nothing signals the promise of spring like a new piece of artwork. In fact, the items below come from Dwell Studio,and we're loving the way the abstract black and orange watercolor (shown below, right) brightens up the darker, more neutral shades in the vignette. A new season is the perfect time to introduce a scene-stealing piece of artwork to your interior.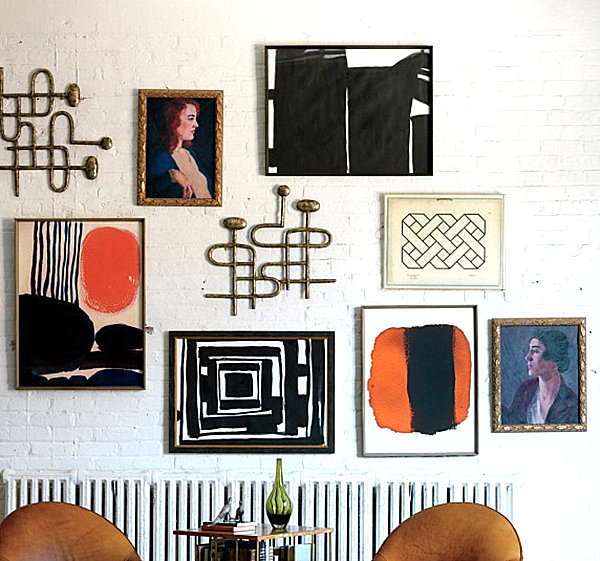 Or try this colorful print from Crate & Barrel. In fact, this piece is a giclée print of an original acrylic painting by artist Deb Haugen. A white matte frame allows the black, brown and yellow shades of the artwork to truly shine. Especially the golden tones!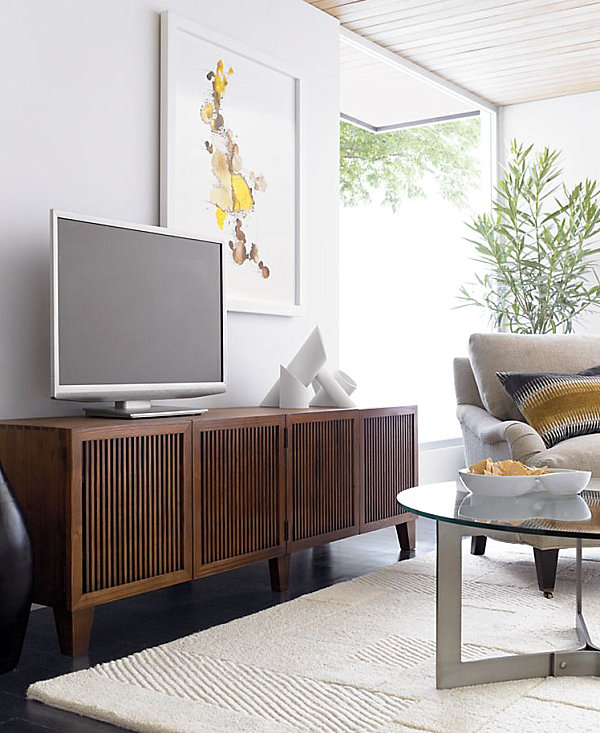 Another way to introduce the new season? Bring a bit of the outdoors inside, or at least a hint of what's to bloom outside once the temperatures rise. Purchase a glass terrarium from West Elm, complete with a wooden base. In fact, this hand blown glass piece comes with a mango wood pedestal, and it's perfect for plants such as succulents and ferns. Even better if your bowl runneth over with fronds: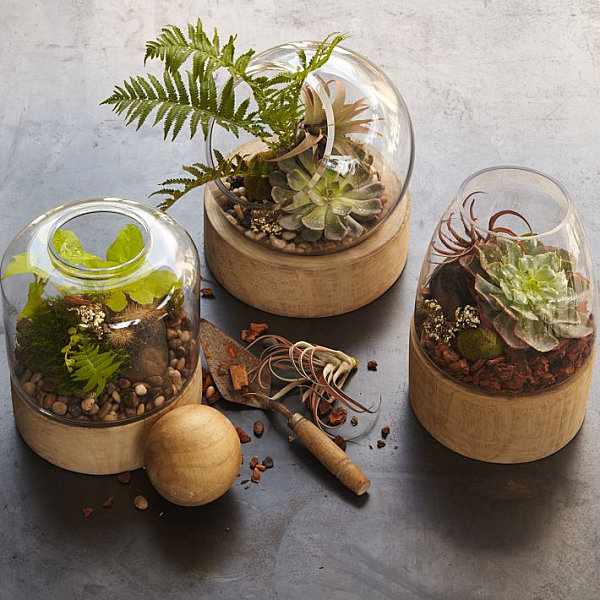 We end by celebrating the power of outdoor decorative accents. Like these Exbury Planters from Pottery Barn. Crafted of fiberglass with a hand painted finish, they are perfect for hearty greenery that can withstand the last cold temperatures of winter yet flourish in the warmer spring weather. Try filling them with bushy plants that stay green all year long, then groom them to rounded forms that add a bit of English garden style to your patio, porch or walkway…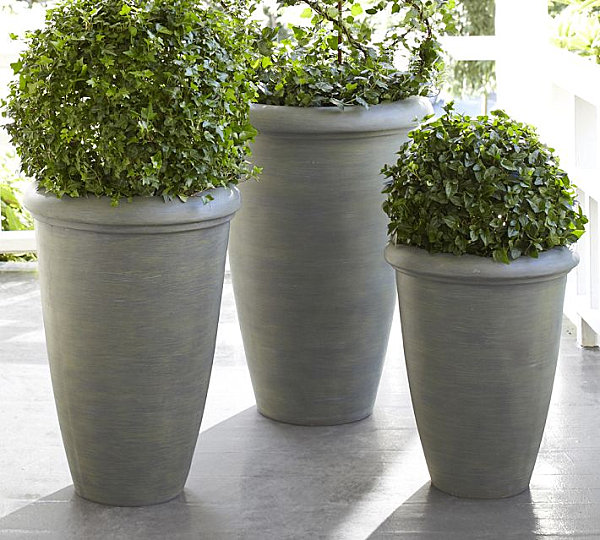 How do you transition your home from winter to spring? Do you change out your pillows and bedding, or do you stick with a few small updates, such as a colorful tabletop item or two? Share your thoughts by leaving a comment below…