With the weather getting warmer, DIY fever is hitting household after household! What spring projects are you pondering? Perhaps you've begun planning your spring garden, or maybe you've started a little bit of spring cleaning… What about some spring building? Today we feature 10 tree house plans that put the style in family project time. And what better way to spend time with the kids than embarking on a backyard building endeavor?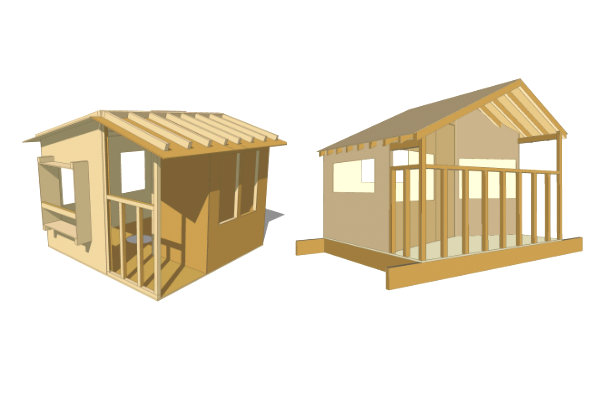 From small structures that are supported by one tree to larger two-tree designs, the plans below represent a range of styles and ideas. If you have a modern design sensibility, perhaps you'll gravitate toward a tree house plan that celebrates modern architecture. Or maybe you favor traditional design. Check out the plans that follow and imagine which one just might be the centerpiece of your backyard…
Tree House Plans from Treehouse Guides
We begin by taking a closer look at three designs from Treehouse Guides, two of which are shown at the top of this post. The San Pedro tree house is affixed to a single tree, and it offers 64 square feet of floor space, including some outdoor square footage. Six windows and a landing with railings are additional highlights. [from Treehouse Guides]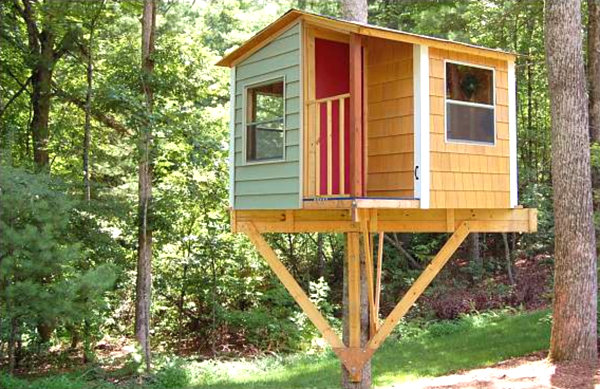 Next we have the Zelkova treehouse, which is built across two trees and features four windows that let the sunlight in. A covered deck is a key feature of this eye-catching design, which also offers 64 square feet of floor space. [from Treehouse Guides]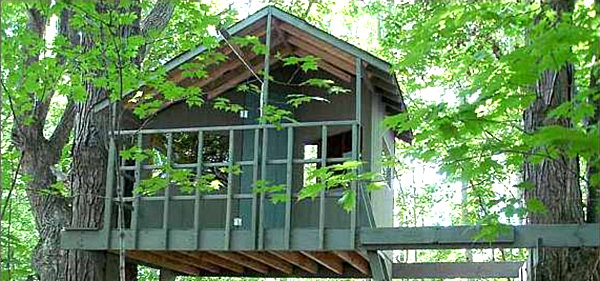 The Outpost tree fort provides 42 square feet of floor space, and while there is no roof, this fort is surrounded by railings for safety purposes. A ladder guides inhabitants through a trap door in the floor for a grand entrance that is truly fort-worthy! [from Treehouse Guides]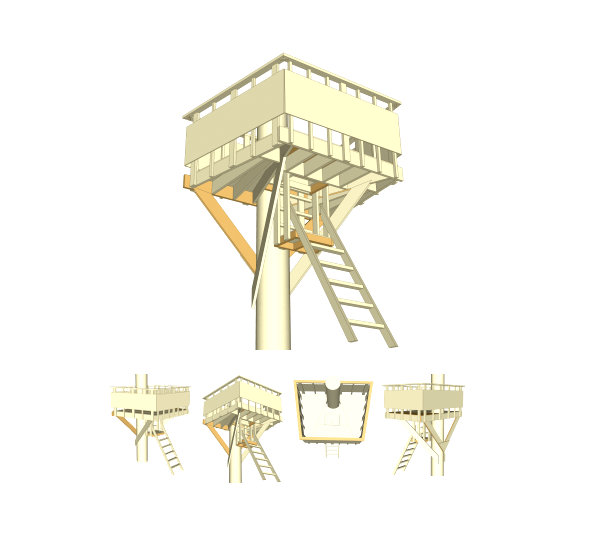 Tree House Plans with Prominent Railings
Like the fort above from Treehouse Guides, many a tree house incorporates a sturdy railing into the design. Like this Salt-Treated Lumber tree house from JCM Enterprises! The plan is easy to read, and the dwelling features beautiful salt-treated lumber. Build this structure on a solid tree base, on stilts, or on the ground: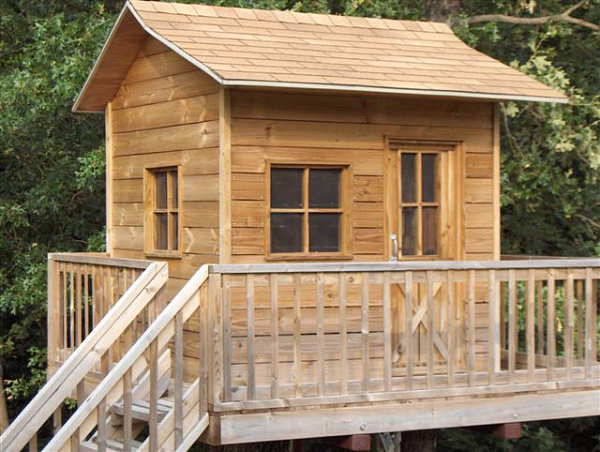 Our next DIY tree house endeavor comes from EZ Treehouse Plans, and it features a traditional railing, as well as an abundance of lattice siding. An open layout with a front and back deck are design highlights: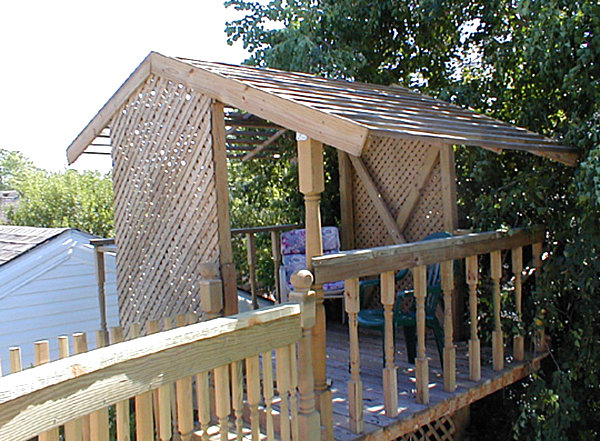 Tree House Plans from Nelson Treehouse and Supply
Our next three tree house designs come from Nelson Treehouse and Supply. Below we see the Methow tree house (left) and the Omak tree house (right). Both plans showcase a modern sensibility, as well as a wonderfully sloped roof. Although not evident from the picture, the Omak features a large window, and it can fit a queen bed, two chairs, and a small table.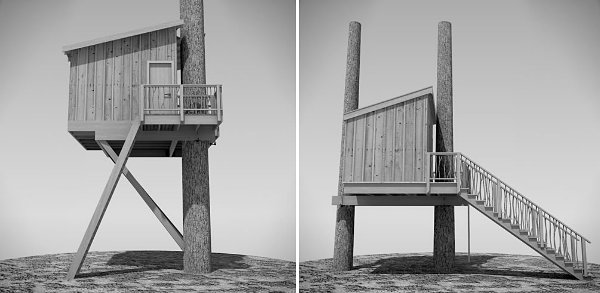 The Oso tree house also boasts a sloped roof, as well as a series of windows that welcome the sunlight and add a true retro effect to the design. This design benefits from the support of multiple trees, as shown below: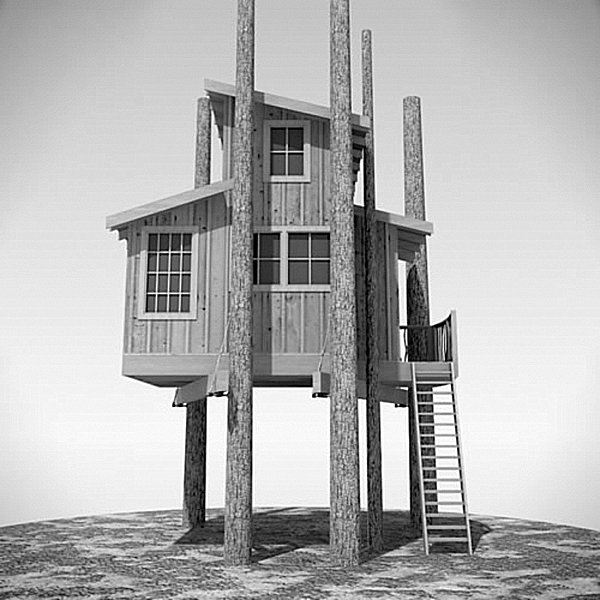 Tree House Plans from The Wood Plans Shop
We end by showcasing The Wood Plans Shop, which features amazing designs that would brighten any backyard. The best part: they're free! First we have these Deluxe Tree House Plans, the finished product of which is shown below. The design is lofty in style but definitely grounded in reality: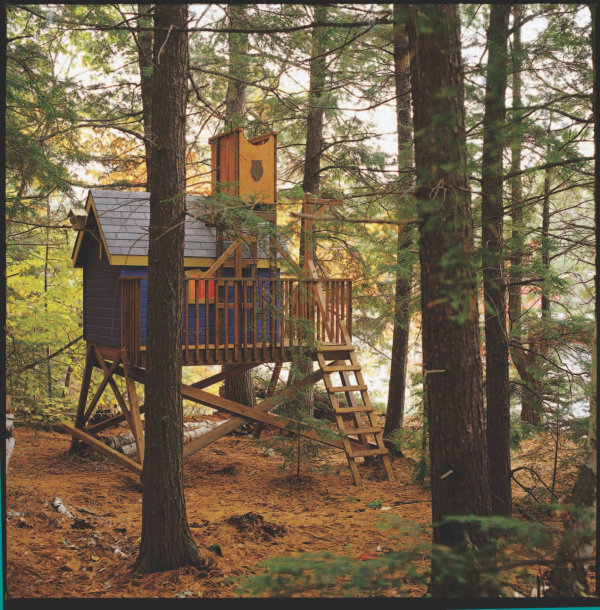 Zoom in a little closer, and you'll see that the tree house above includes a lookout tower. Thanks to The Wood Plans Shop, these Tree House Look Out Tower Plans can be yours for free! Love the owl, don't you?!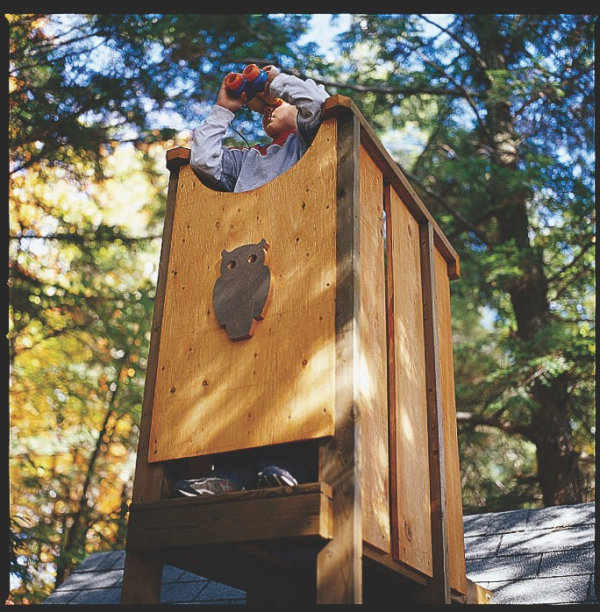 Tree house plans take the guesswork out of your building endeavor, and they give you a formula to follow, ensuring that each step serves a distinct purpose. Did any of the designs above grab your attention? Furthermore, have you ever built a tree house using your own design? Share your thoughts by leaving a comment below…