There's nothing like a glorious spring wedding! With the DIY and indie craft movements that have taken creative communities by storm in recent years, it's no wonder there are a slew of DIY project options for many facets of the wedding day, including guest favors. When purchased online, wedding favors can be pricey. While it's often possible to personalize them with the names of the couple, many of these favors that are ordered in bulk can have a generic quality.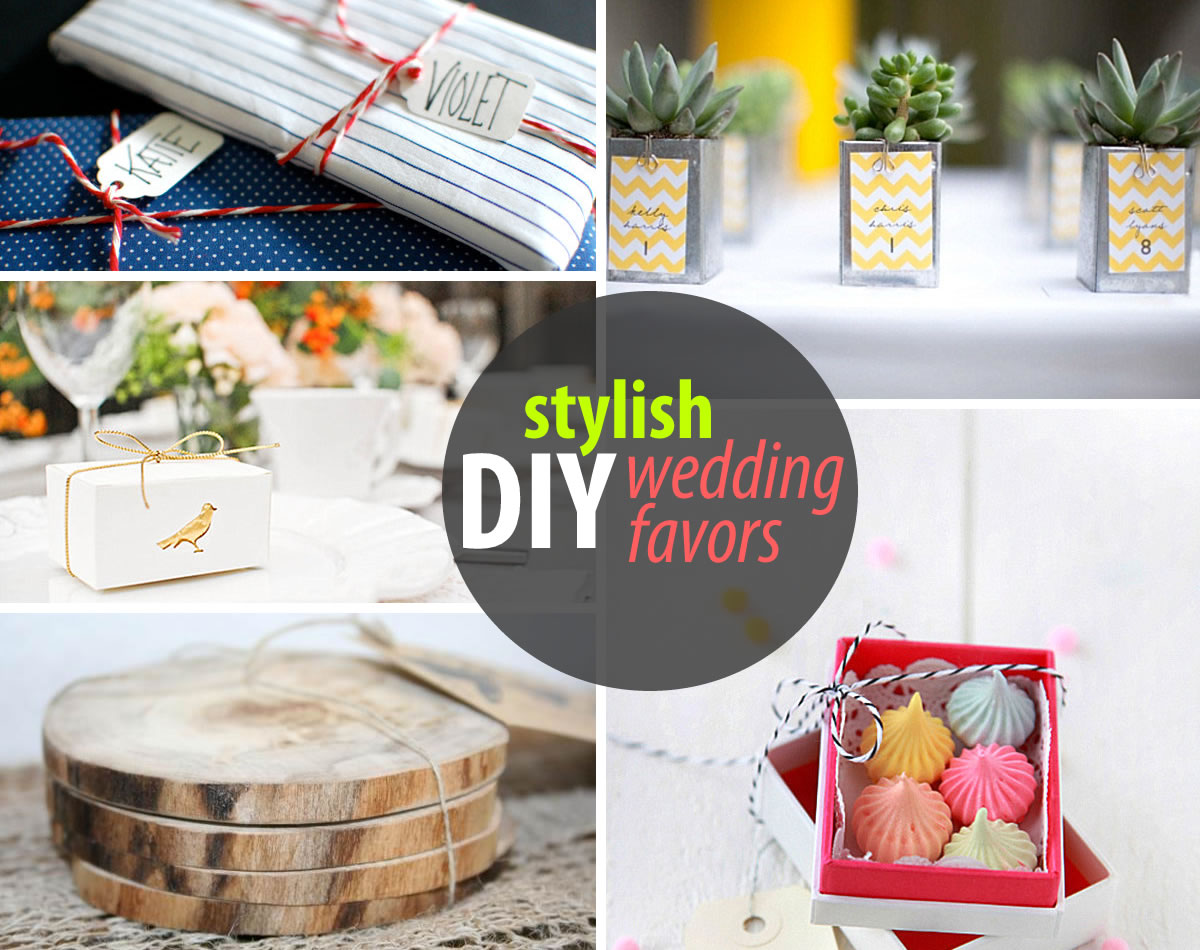 Enter the DIY wedding favor! Personal, creative and wonderfully handmade, DIY favors are a way to beautifully commemorate the bride and groom's special day. If true consideration and thought are put into the project, guests walk away with an amazing token of the festivities, appreciative of the care that went into crafting their thank-you gifts. Plus, many DIY projects are much more budget-friendly than their store-bought equivalents. Creative and budget-friendly? What's not to love?!!!
DIY Wedding Favors for the Home
We begin with a DIY project that takes one of today's most popular (and expensive) decor fads and gives it a do-it-yourself angle. The designer store-bought version of this project can be $70 or more apiece, but these shell-topped bottles are more budget-friendly. Collect some vintage glass bottles and shells, then purchase some Bondo and twine, and watch as wedding favor magic is born! Check out the full tutorial at Wedding Chicks: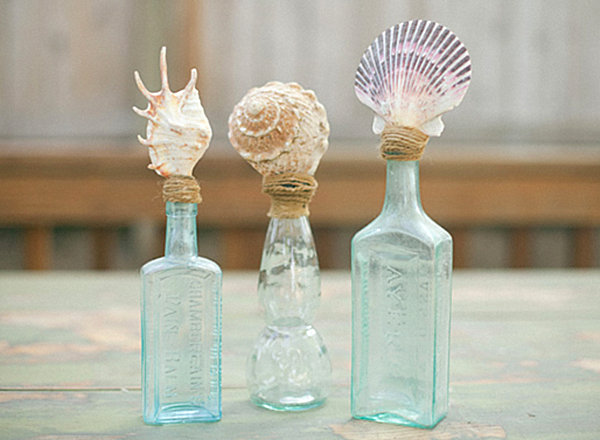 This next project is perfect for those who have extra wood or downed trees in the yard. These DIY wooden coaster wedding favors are super affordable. Got wood and a saw? You're ready to go! For a full tutorial, visit Ruffled.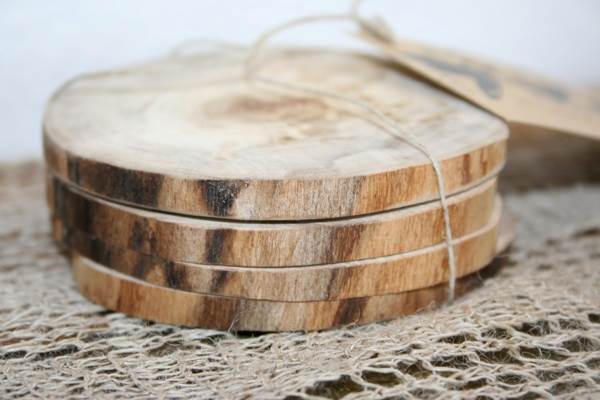 One sure-fire way to give wedding guests a memorable favor is to gift them with something they can truly use. And who couldn't benefit from an extra refrigerator magnet or four? These Scrabble Magnet Favors from Project Wedding are easy to make. Present them in handy tins by arranging the letters into nuptial-themed words, and you've got yourself a memorable takeaway gift: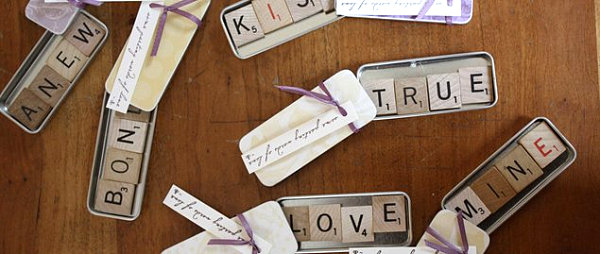 Candle holders are compact and useful. And these DIY Lace Cement Votives from Say Yes to Hoboken are pretty amazing! With some cement, disposable containers and lace, you can create a truly unique favor idea that is both sturdy and innovative. [via Emmaline Bride]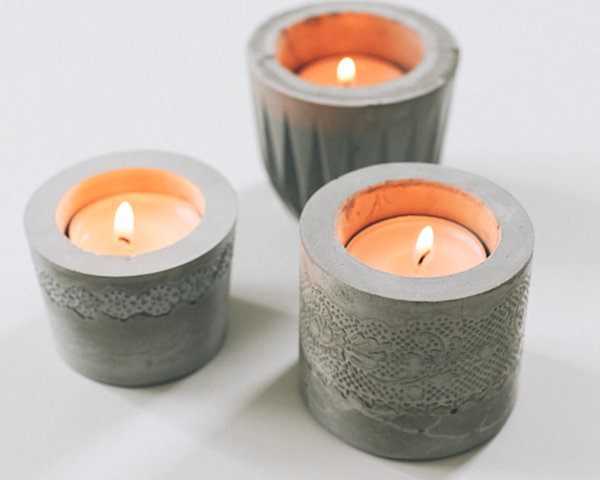 From candle holders to matches… One way to gift with affordable yet memorable favors is to personalize an item that everyone needs. An item that can be kept in a drawer if guests don't have tabletop space in their homes for another decorative piece. Print up or order some customized matchbook covers, and you're set! [from Offbeat Bride via Hybrid Photography]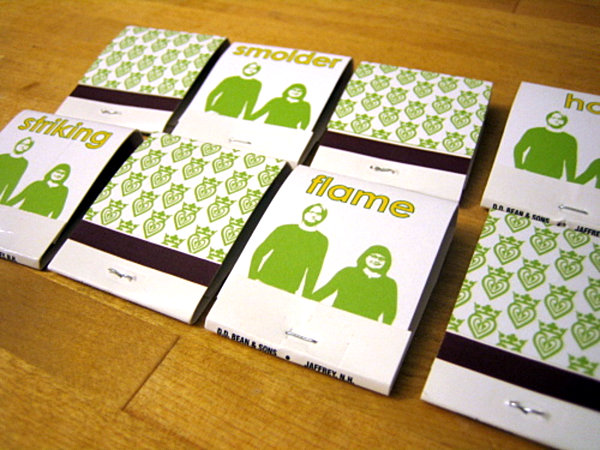 If you're handy with string and your wedding isn't too large, why not opt for crafting some crocheted river rocks? These beautiful items can be displayed at each place setting to add a lacy quality to your wedding tables, or you can make a smaller batch for an event such as a wedding shower. These items were originally sold on Etsy, but try making your own if you're feeling extra crafty… [from Baby Green]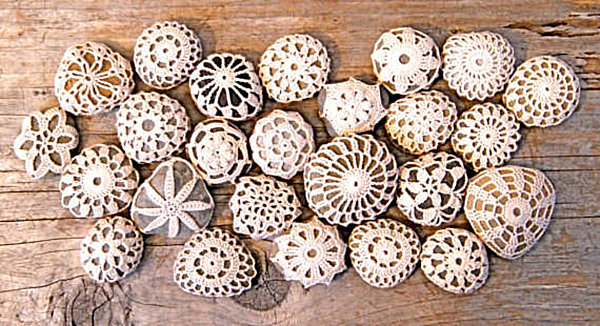 Not feeling like making all of your wedding favors? Perhaps you're up for making your own wedding favor boxes… These DIY Bird Favor Boxes are easily crafted by starting with a simple truffle box, using a bird-shaped hole punch, adding some gold foil to the inside, and topping it all off with gold string. Check out all of the handy details at Wedding Chicks.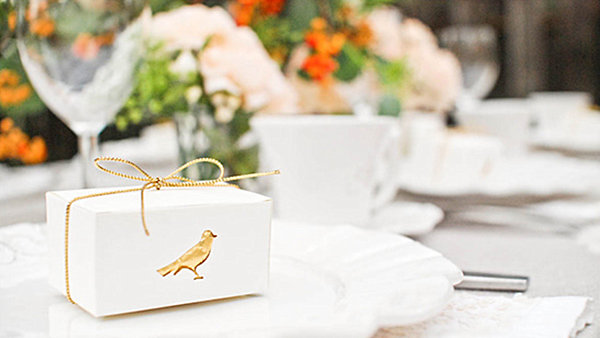 DIY Wedding Favors That Bloom and Grow
Everyone loves a little bit of nature, especially if greenery is low-maintenance. These DIY Terrarium Place Holders are cleverly made from clear glass Christmas ornaments, mason jar lids for stabilization, and corks. With ingredients like crepe paper flowers and moss, low-key is the word! For a full tutorial, visit Wednesday: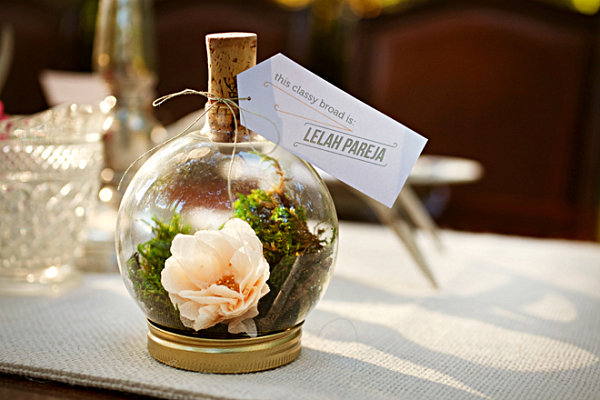 Or give guests a terrarium that can attach to the fridge! These DIY Wall Garden Favors, or vertical terrariums, are made with magnetic metal tins, gravel, decorative moss and air plants. Check out the full DIY at Ruffled: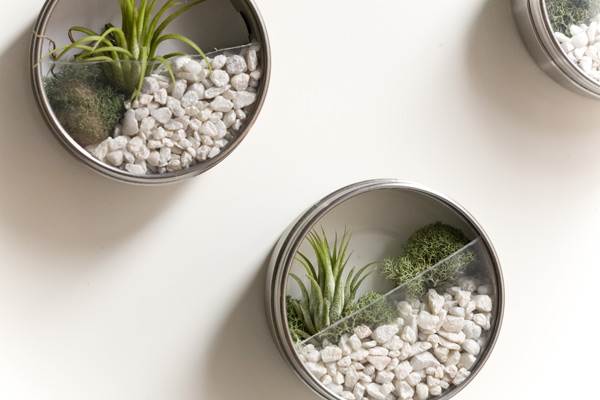 Will your love continue to bloom and grow after the big day? Absolutely! So gift guests with special plants that will do the same. These DIY Wedding Favor Tin Can Plants can be made using simple metallic cans. Strawberry plants are a great choice for fillers, and adorable mini-flags add festivity. [by Melanie Blodgett from You Are My Fave via Ruffled]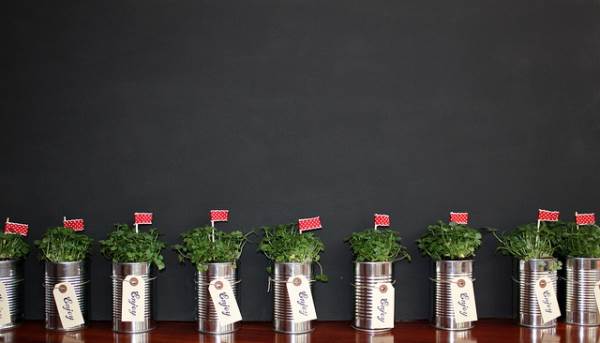 Succulents are a favorite of today's design lovers, and one succulent can make a big statement, even when presented in a little container. These DIY Succulent Wedding Favors are easy to craft, and if you're tired of the chevron print, you can easily go with a paper design in another pattern. [from The Knot via Weddings by Lily]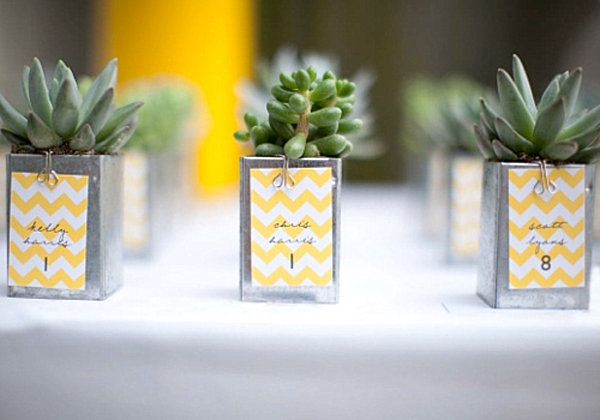 As with the DIY project above, these Succulent Place Cards double as favors. Funny what decorative moss. a mini mason jar and a plant with modern flair can do! Add a name card to the mix, and you've got your wedding centerpieces, place cards, and guest gifts combined in one lovely package. Check out the tutorial on Wedding Chicks…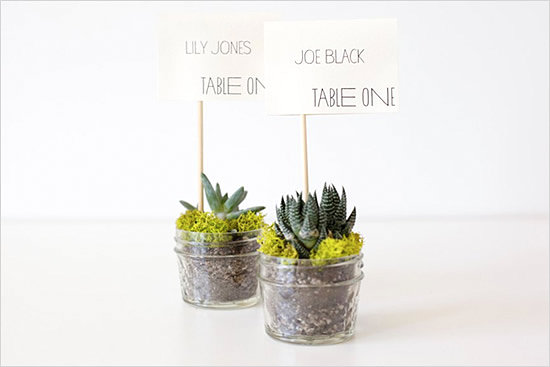 The next two DIY projects combine living things with a bit of paper for a beautiful finished product. On the right, we have the Bright Bulbs favor that combines bulbs, candle holders, and paper flowers that hint at the blooms that will soon follow. Additional details can be found at Martha Stewart Weddings. On the left we see Small Plant Favors that are neatly made with purchased paper leaves that hold plantable seeds. Place them in a contemporary cup filled with dirt, and you've got an attractive favor that will continue to bloom! See the details here.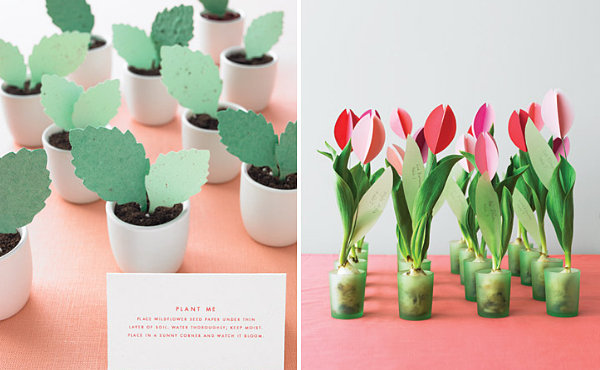 DIY Wedding Favors for Foodies
We end with a series of wedding favors for foodies who appreciate the value of good design. Check out these DIY sharpie mugs, which are made by simply by decorating white porcelain mugs with sharpies. Bake them in the oven to help the design set, then send them home with your guests, who will enjoy drinking coffee or tea from a whimsical receptacle. For a full tutorial and crafty tips, check out A Beautiful Mess.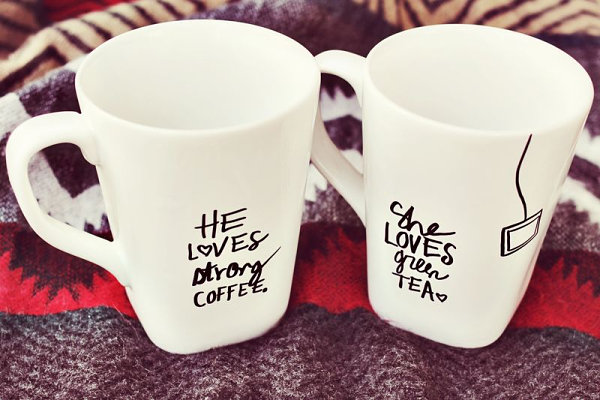 These bright meringues are perfect for foodies, yet the packaging is what makes them ideal for design lovers. A doily-lined box, string, pom-poms and a card with an interesting geometric design are quirky highlights that seal the deal. Truly one-of-a-kind! See all the creative details at decor8.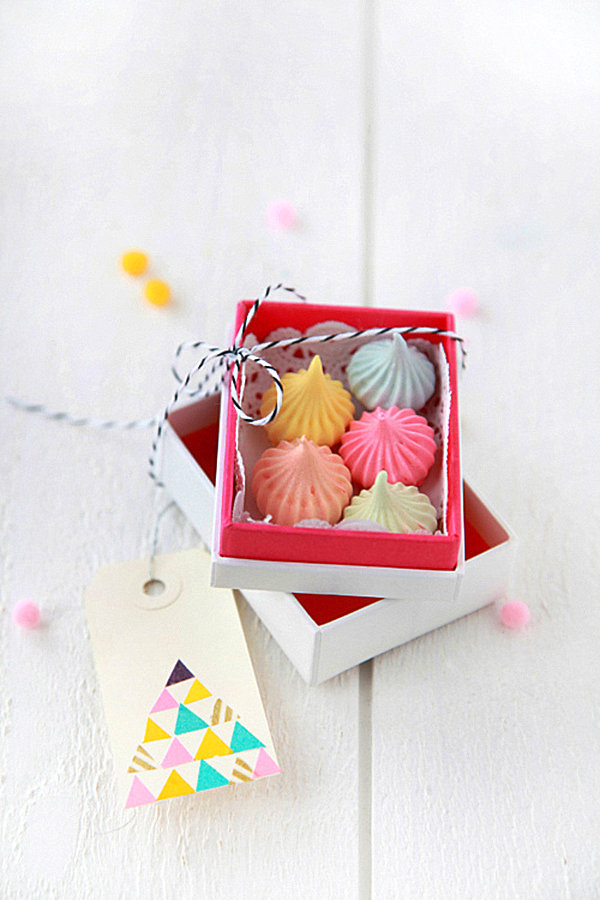 This next DIY wedding favor project comes from Chelsea at Frolic via Delightfully Engaged. Purchase chocolate bars in bulk, then wrap them in charming fabric. Tie with an eye-catching ribbon and personalize each favor with a name card to top it all off. Don't forget to iron the fabric for a smooth look!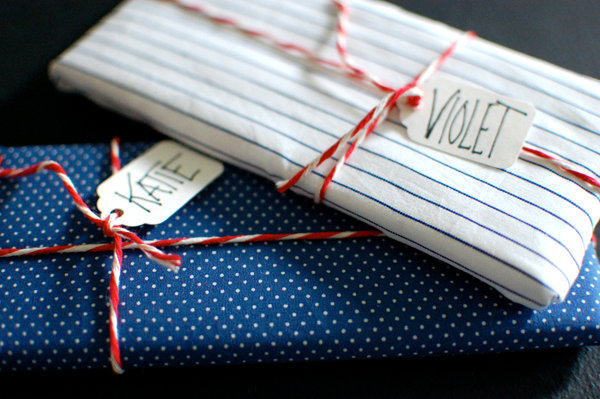 To keep it simple and foodie fabulous, make your favorite lemonade, fill Italian bottles with your tasty concoction, decorate them with a label, and watch as guests flock to the favor table to get their own delicious treats! For more details, check out Project Wedding…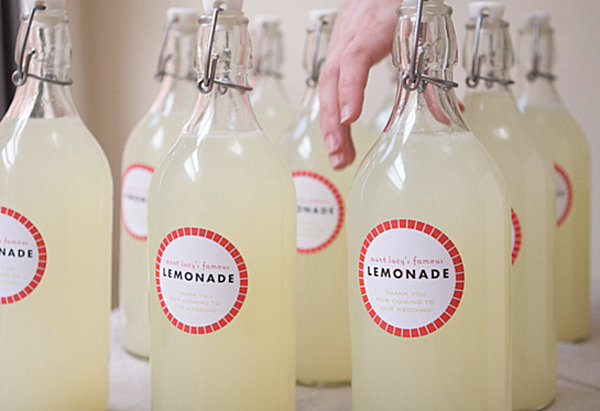 The wonderful thing about going the DIY route for wedding favors is the fact that you can choose to make as little or as much as you like. Not up for hand-squeezing lemons to fill containers that will go home with each guest? Purchase your favorite lemonade in bulk, use it to fill attractive bottles, then personalize each with a label. Having a large wedding? Craft your own wedding favor boxes, but rather than undertaking a massive baking endeavor, purchase small decadent sweets such as truffles to fill each container. When it comes to DIY design, the possibilities are endless, and you can tailor project ideas up or down to fit your comfort level. A winning plan with beautiful results!