The invitations are out, the party theme has been decided, and all that's left is to finalize the decoration details. With so many ideas to choose from, the options can be overwhelming. You might want something that screams over the top or you might be looking to take a more subtle approach.
Either way, we know you would like your party to be unforgettable, so we found some DIY party decoration ideas you'll love and that will make it just that!
DIY paper chain garland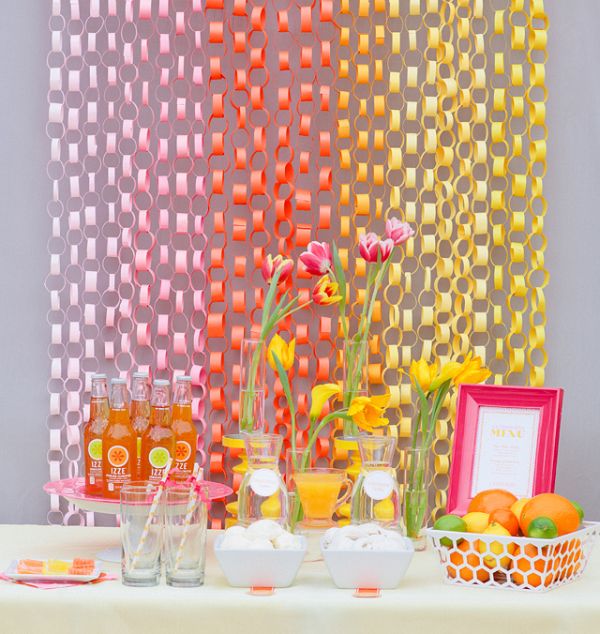 Nostalgia is likely to set in with this paper chain party decoration. As kids, we use to make these paper chains out of scraps of paper just for the fun of it. Well now it's time to put those repressed skills to good use as you create a festive party decoration. You can use this project to line walls or doorways or you can hang them from the ceiling to add a little extra pizzaz. [Courtesy of FloridianWeddings]
Repurposed Lit Umbrellas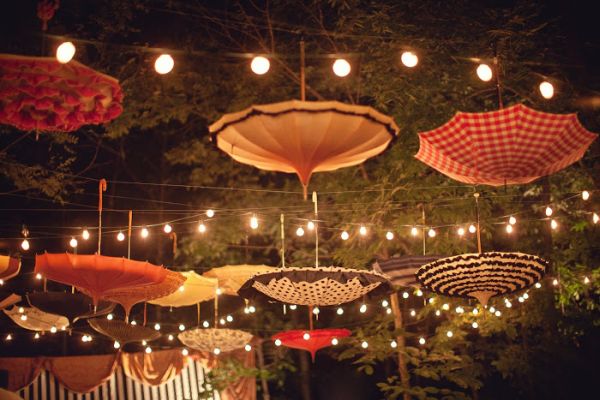 Another creative idea that will achieve a charming ambiance uses umbrellas bought or rented then hung upside down among cafe bulb lights. This idea is fairly easy to duplicate and will wow your guests. Hang them outside for a summer party or over a dance floor for a little extra fun. [We need to thank Erin for the great idea]
DIY 3D doilies look great at any party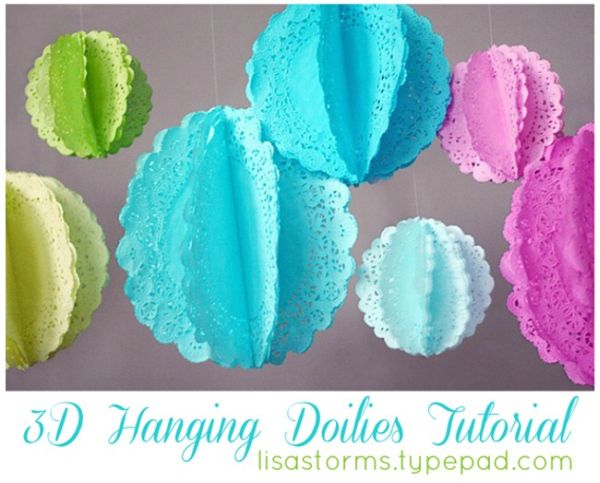 This crafty idea would look great at any party. The intrinsic design on the delicate doilies really adds that extra touch you've been looking for. All you'll need is paper doilies (use different sizes if you want to create the look here), food coloring, a glue stick, and some string for hanging. Make sure to visit UCreate for the full tutorial.
DIY umbrellas hung from the ceiling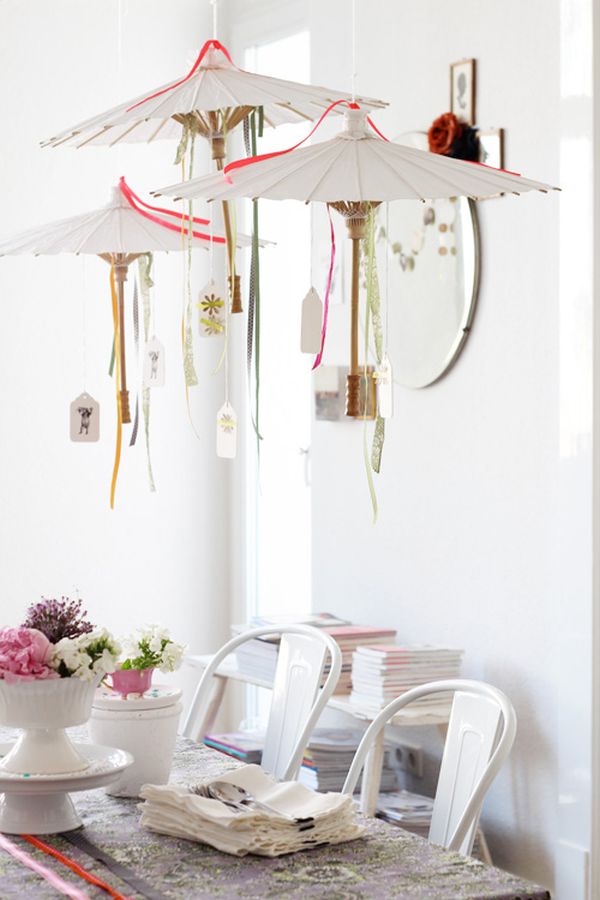 Straight out of the Netherlands, Decor8 brings us this cool idea that can be made using paper parasols or round paper lanterns found at a store like IKEA. You'll need parasols, ribbon, transparent cord from the craft store, scissors, tags, fabric scraps and screw hooks. Before long, you'll have a set of party decorations everyone will envy.
DIY yarn lanterns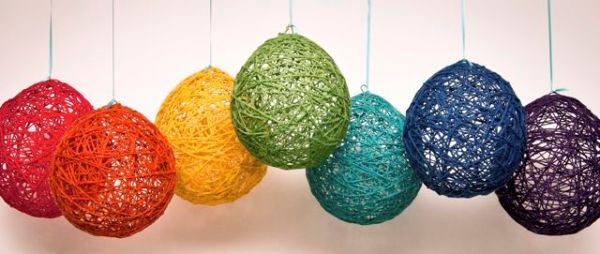 Yarn lanterns are fun, very festive ways to decorate for your next party. They're unique and will have your guests asking where you found such great decorations! You'll need thin cotton yarn, balloons, craft glue, newspaper, wax paper, clothespins, and clothes hangers for this project. Make sure to check out this tutorial for step-by-step instructions.
Wine barrels for a vintage table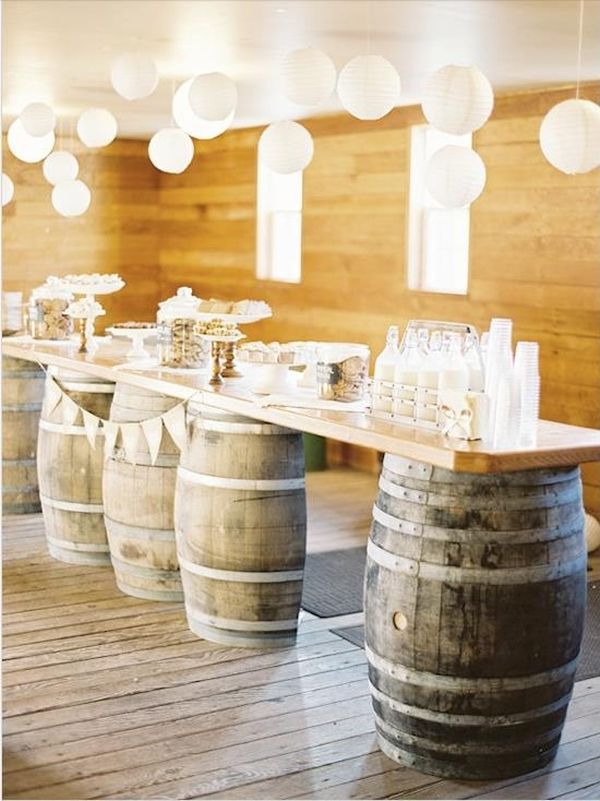 Indulgy brings us this awesome idea that anyone who can aquire a few empty wine barrels can make. Your guests will feel like they've entered a vintage high-class party once they lay eyes on this design. Once you have gotten your hands on those wine barrels, all that's left to do is lay a flat piece of wood or other hard surface over the top to create your unforgettable table. If you're looking to add a little extra flare, try hanging lanterns above it. This will draw a little more attention to the area, making it a sure focal point of the party.
DIY balloon chains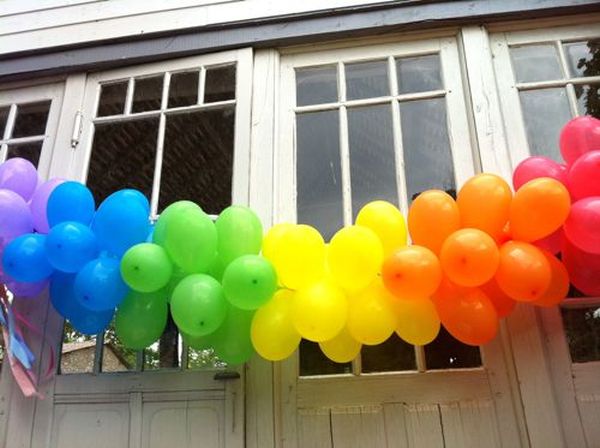 Such an affordable, easy-to-make party decoration comes to us from designmom.com. To create this idea, you'll just need balloons in every color, string, and a needle to thread the balloons together. This balloon banner is simple but sure to be a hit at your next party.
DIY Christmas Party Ideas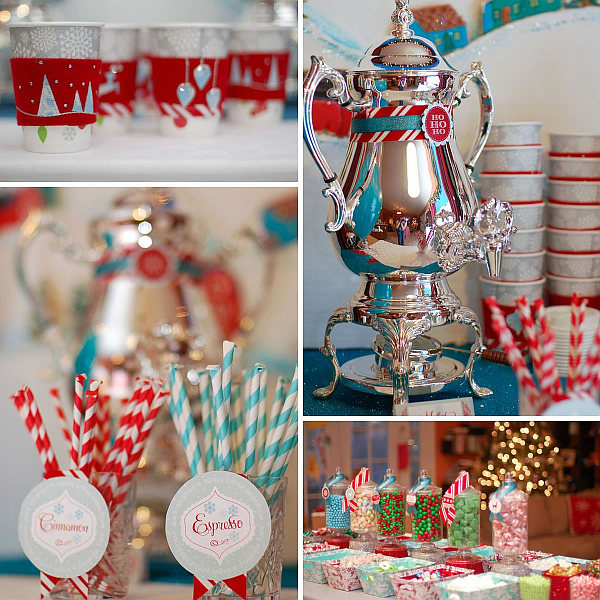 Whether you're throwing the ultimate Christmas party or just looking for a few great party ideas, these examples are perfect! Colorful candy jars at a snack station or party favor table make a great decoration. You can also create pixie sticks – or "mixie sticks" – with paper straws by filling them with flavor add-ins for coffee or hot chocolate. Use your festive party plates and cups to bring a little extra cheer to the room while they are also used for their practical purpose. Make sure you check out some of Kara's other party ideas here.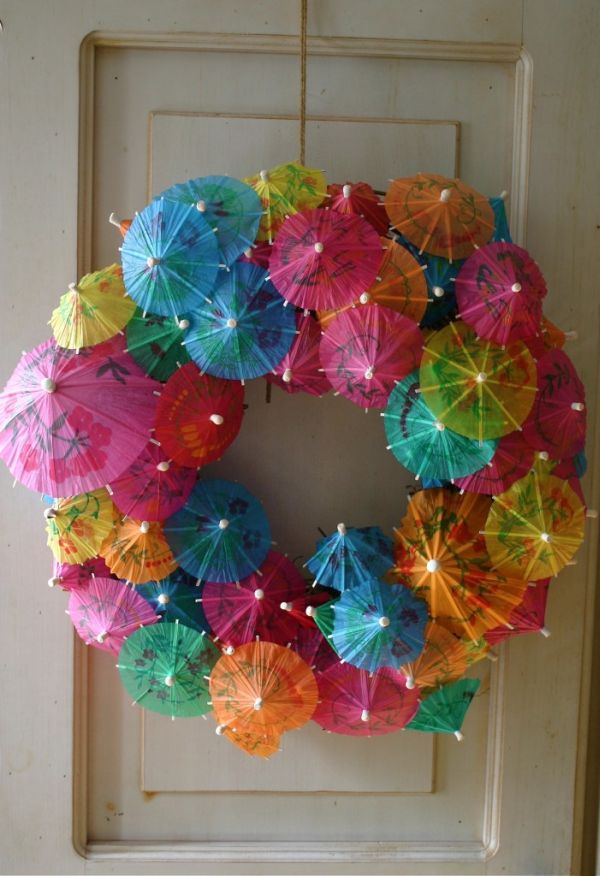 Make an unforgettable party wreath using paper cocktail parasols! It's simple, fun, and your guests will love it. This affordable idea would be perfect for a summer party or other themed event, so be sure to visit cfabbridesigns.com to get started making your own.
DIY napkin wallflower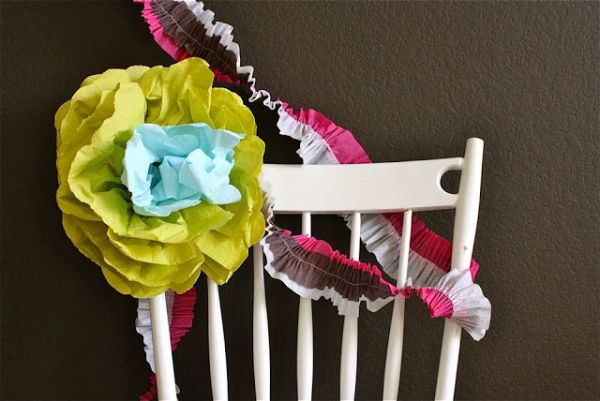 This Wallflower is the perfect accent to all party decorations. An eye-catching design like this can take a little bit of time, but it's well worth the effort! Don't be intimidated by the looks of this project, it's simple enough that you can get started on your own in no time!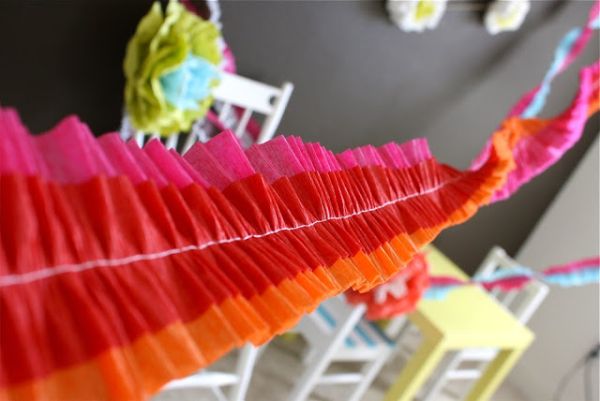 Streamers are a popular party decoration but multicolored ruffled streamers will help to take your party up a notch. These great decorations can also be re-used as many times as you like as long as your careful when taking them down. For the full tutorial click here.