Ah, the beauty of a wallpapered room! There's nothing like a dazzling pattern on the wall to set the stage for a gorgeous interior. And today's featured patterns represent a wide range of styles, from traditional and swirly to modern and geometric. Not to mention, there isn't a room in the house that can't benefit from a crisp wallpaper. Living rooms, dining rooms, bedrooms and bathrooms….they all shine when complemented by a stunning embellished wall.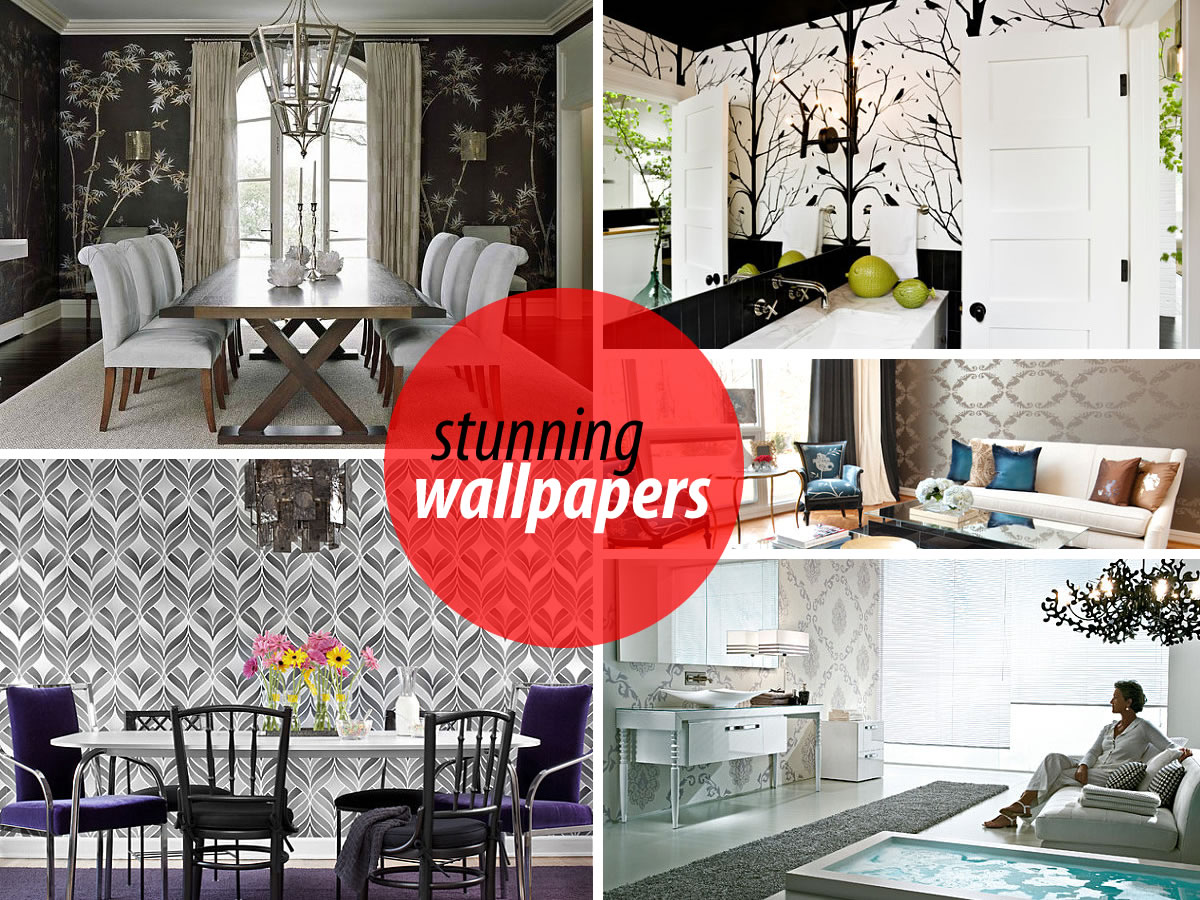 Not sure if your entire room can handle a bold patterned wallpaper? Go with a softer style, or try wallpapering a smaller space, such as the inside of a bookshelf. Wallpaper one wall rather than all four, or create a series of wallpaper panels. As you'll see below, the possibilities are endless. We hope you find these images to be as inspiring as we do…
Wallpapered Living Rooms
We begin with the living room, where people gather to chat, rest, read…or admire the amazing walls that surround them! It's easy to admire this shiny wallpaper, which is subtle with monochromatic style yet bold in its repetitive pattern. In fact, this striking combination of subtle and bold is perfect for a space that combines modern and traditional elements, such as mirrored coffee tables and formal upholstered chairs. [photography by Matthew Dandy, from Design Loft Interiors]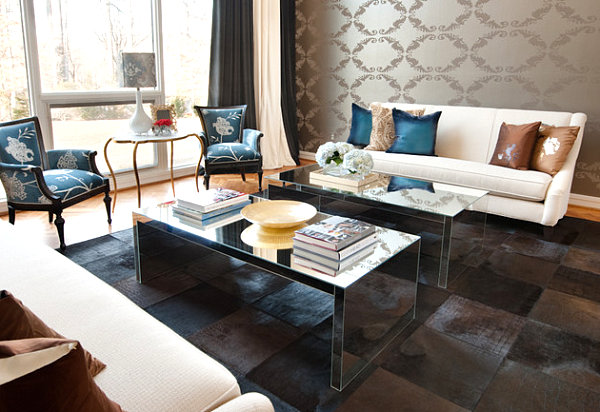 This lacy wallpaper creates a similar effect, although the beige-gold pattern really pops against its white background. Note how the ornate design is nicely complemented by flourishes such as a crystal chandelier. [from Fotograf Lisbet Spörndly]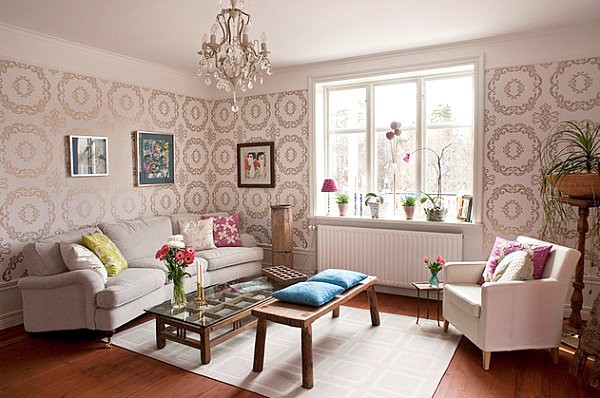 If you really want to go bold, opt for strong outlines, as shown in the Sutherland Large Swirl wallpaper from Cole & Son. In fact, an unexpected wallpaper can serve as an artistic backdrop for the rooms furnishings, such as the earthy chair and floor lamp below. [via Corea Sotropa Interior Design]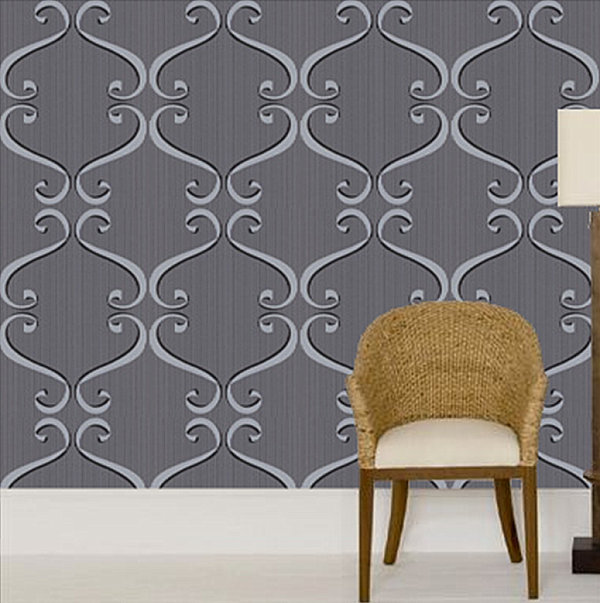 Some wallpaper selections create a mural effect in the room they inhabit, much like the tree blossom paper in the next image creates an epic feel in this elegant space from Dana Tydings Design: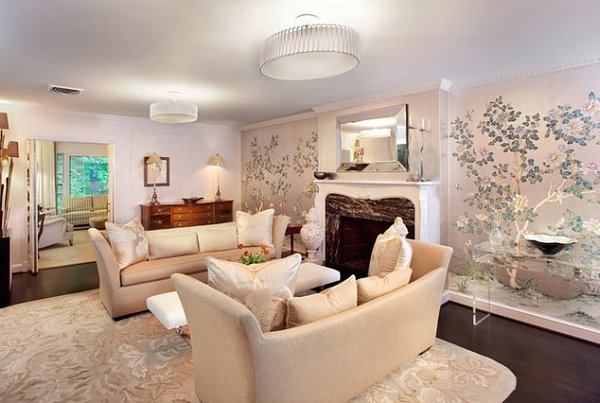 If the paper is particularly eye-catching, one wall may very well get the job done. The geometric wallpaper below is an ideal counterpart to other geometric flourishes in the space, such as floor-to-ceiling shelving. A true retro effect is created. [from Love, Thomas via Houzz]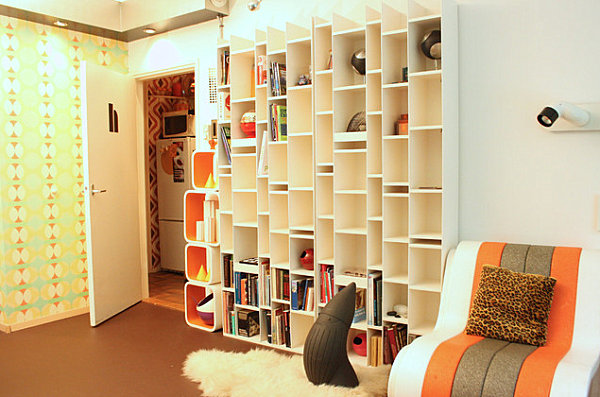 While the bohemian study below technically isn't a living room, it certainly qualifies as a living space. In this interior, beloved multi-stem patterned wallpaper by Orla Kiely is a true highlight, enveloping the space in vivid color and form. [Photography by Annie Schlechter, from Incorporated]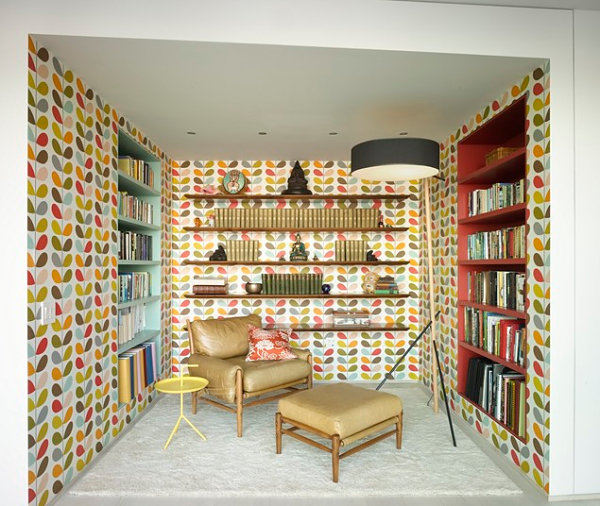 Wallpapered Dining Rooms
What could be more appetizing than a dining room that truly decks the walls?! The wallpapered spaces that follow range from elegant to modern. We begin with a paisley design in black and white, the perfect backdrop to a modern dining table and chairs. A red-orange bowl is the one pop of the color the room truly needs. [from Emerick Architects]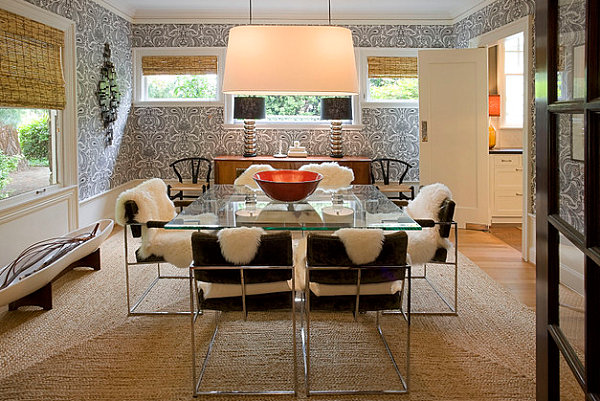 We continue with the ornate by featuring a room surrounded by wallpaper that celebrates vegetation. The small pattern of the paper is an ideal size for the addition of a plush rug featuring a larger design. Branches of flowers on the table mimic the print on the walls. [from J & J Design Group]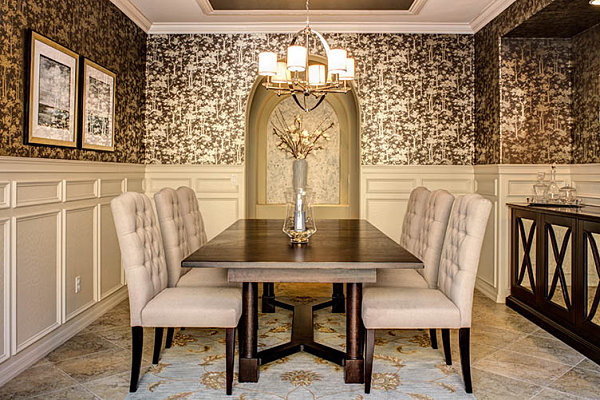 Would you ever feature hand-painted wallpaper in your home? There's nothing like the elegance of a hand-painted design that celebrates chinoiserie, as shown in the room below. Bamboo plants and birds are striking points of interest. [from American Home Living]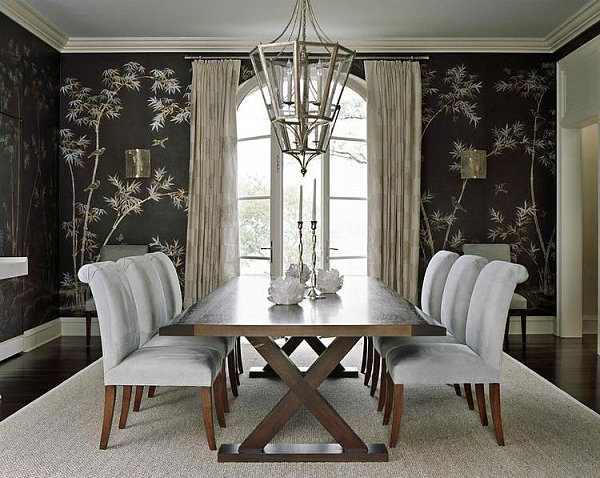 One possible wallpaper solution: create a series of panels by framing large sections of paper. This strategy turns the wallpaper into a true work of art and prevents the design from overtaking the room. Below we see a room designed by id 810 Design Group featuring trellis wallpaper from Osborne & Little. [from Alexander Johnson Photography]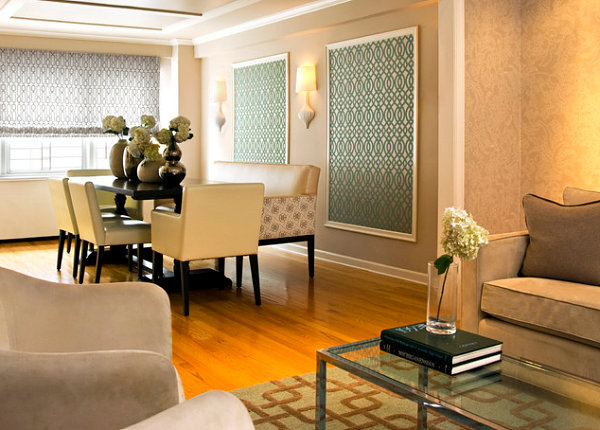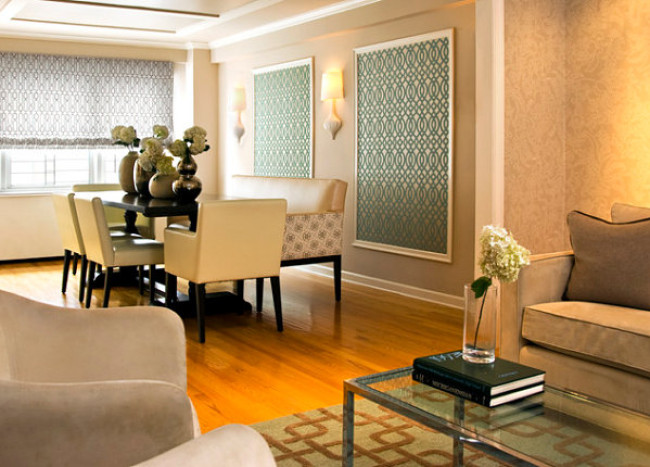 Don't be afraid to go bold! The grey wallpaper below celebrates a range of shades and serves as a striking yet neutral backdrop for other brights such as pink, yellow and cobalt blue. [from HGTV.com]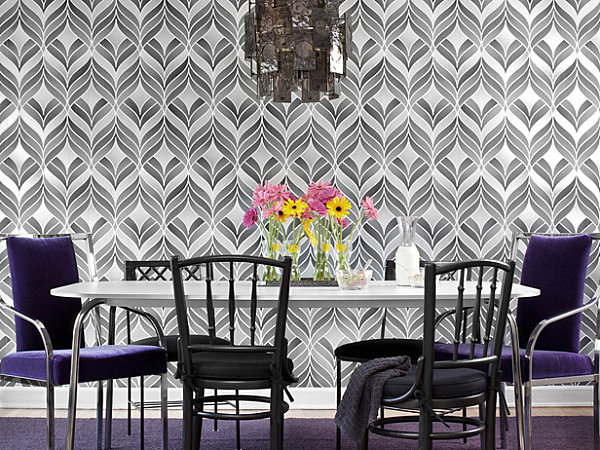 Wallpapered Bedrooms
Wallpaper in the bedroom can add elegance, transforming the space into a true haven. Below we see custom hand-painted living room wallpaper from CBI Design Professionals. Yellow proves to be a pleasant, soothing base for the floral details, creating a calming effect that is also decadent!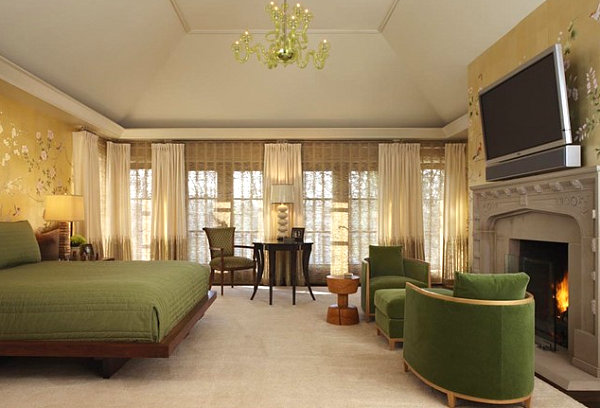 This royal blue wallpaper from California Home & Design has a whimsical, folksy look. Paired with the red bed throw below, it ensures that the bedroom is a vivid, enchanting place to get a great night's sleep!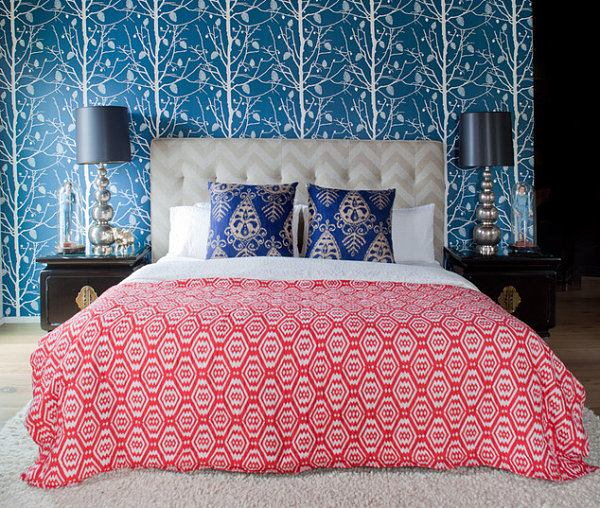 Are you seeing green? We are green with envy for this lime patterned wallpaper. The grey bed and bedding are the perfect counterparts to the radiant hue of the paper, and crisp white paint ties it all together while helping the verdant wall to truly pop. [from Todd Davis Architecture]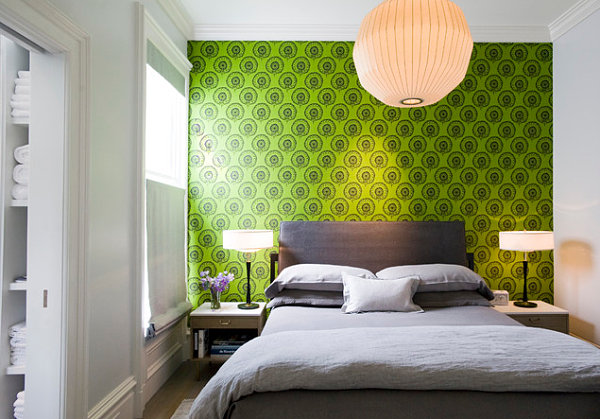 Wallpapered Bathrooms
No space is too small for wallpaper! In fact, many people are more willing to try out patterned paper in a bathroom than in a larger space. Below we see shades of aqua, white and green combine in a wallpaper called Ming Cherry Blossom. This selection can be found at F. Schumacher & Co. [photo by Shannon Fontaine via Leland Interiors]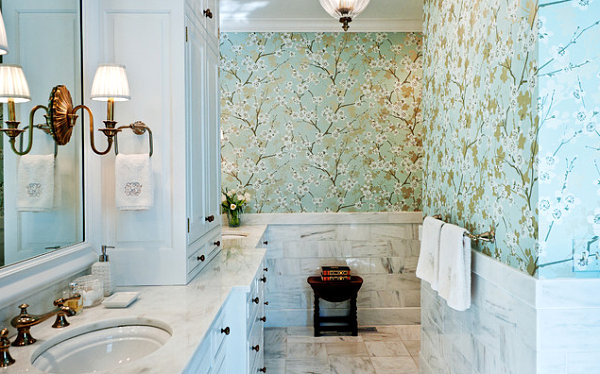 Chinoiserie style is alive and well in the next luxury bathroom. Neutral tones keep the space serene, while trees and birds grace the walls of the space, anchoring the room's varied elements. [from Neuhaus Design Architecture, P.C.]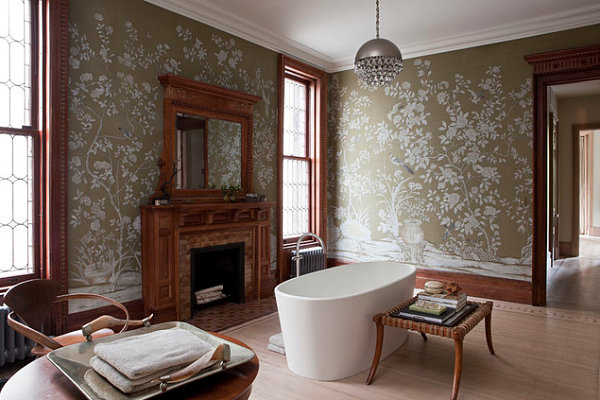 This interesting lavender and white wallpaper graces an accent wall in the bathroom below. Note how the purple shade is an ideal complement to gold and brown accents, such as a bold mirror and the sconces that rest on either side of it. [from Alex Amend Photography]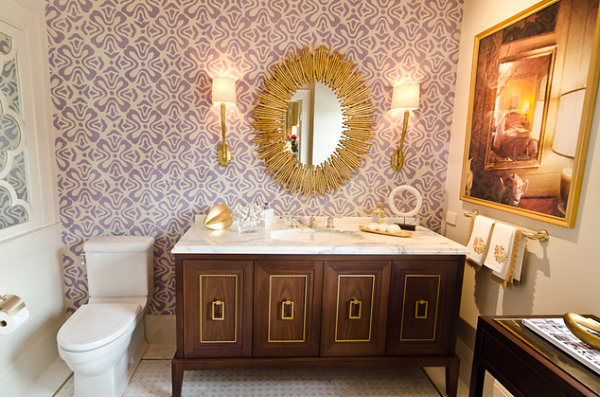 In what seems to be a tile-like pattern featuring a scroll motif, the wallpaper in the next featured space adds a feminine element to the room, acting as a soft backdrop to more clean-lined pieces. However, a large pendant light mimics the ornate pattern introduced by the wallpaper, tying the room together. [from See Materials]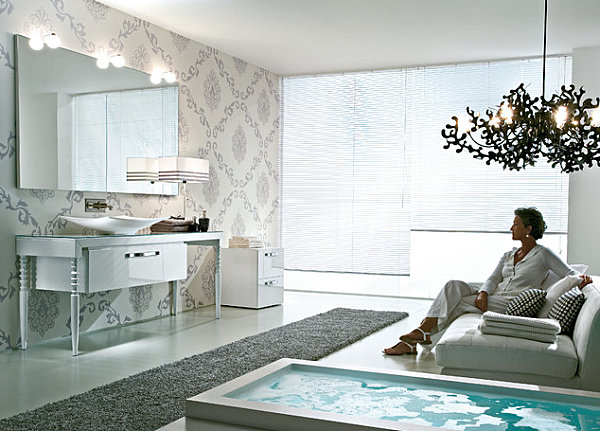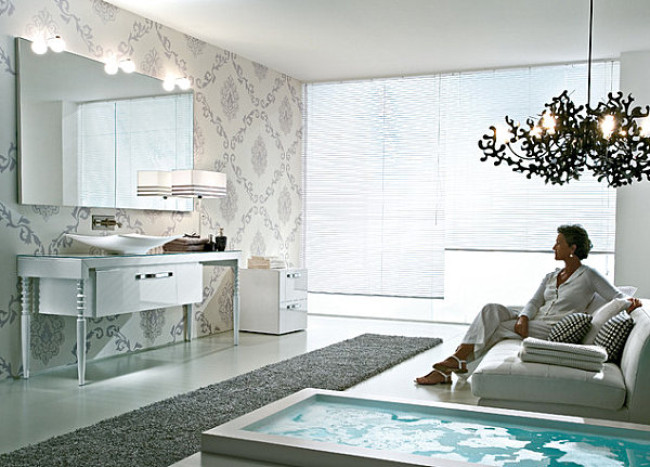 The next featured wallpaper pattern is elegantly geometric, creating a Hollywood Regency look in this fresh space. The paper was ordered through Sherwin Williams, and we love the way it unifies the other black and white elements in the room. [from Diane Bishop Interiors]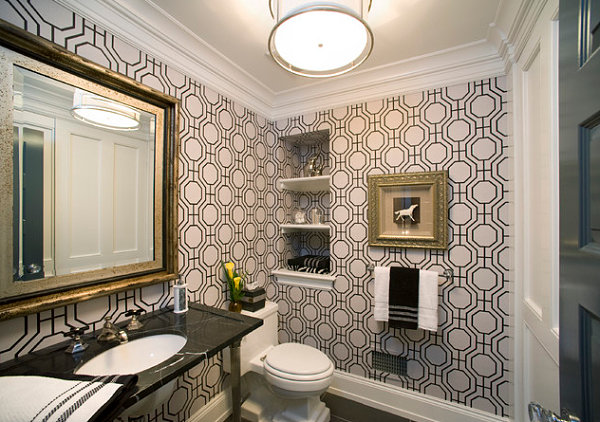 We end with a striking bird and branch wallpaper in black and white. This bold color combination is perfectly accented by lime green pieces, such as the fresh greenery and the fish figurines that rest on the counter. [from Jessica Helgerson Interior Design]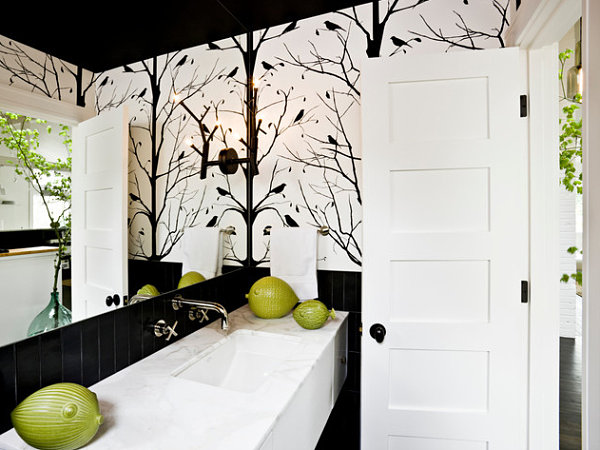 Did any of the wallpaper patterns above spark your creativity? Do you prefer large, mural-like patterns or tighter geometric designs? Is your taste more traditional or modern? Share your thoughts by leaving a comment below…