While once thought to be outdated or old fashioned, wallpaper is now back with a vengeance! A slew of beautiful options makes the patterns all the more enticing, and designers have found ways to enhance their effect. For example, juxtaposing modern with traditional styles can give wallpaper a contemporary look. Try placing a '50s Modern chair in front of a floral or damask wallpaper pattern. Or better yet, cover the walls in a modern, organic pattern, then offset its effect with a piece of antique furniture.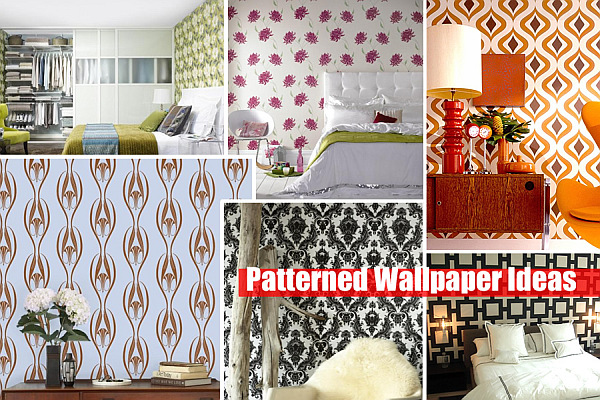 When it comes to incorporating wallpaper into interior design motifs, the possibilities are endless. A stylish wallpaper pattern can set the tone for an entire room or serve as the key piece in a larger design puzzle. We've selected some of the most interesting patterns to inspire you in your design endeavors. Sometimes less is more, but in the case of wallpaper, "more" can be just what a room needs!
Floral Wallpaper
Floral wallpaper is not what it used to be. Country prints have given way to modern forms, or at the very least, patterns featuring intriguing color combinations. Take the wood-grained chocolate background of the print below, a selection called Bloomer by Graham and Brown. The yellow-cream flowers pop in the foreground. [from Designyourwall.com]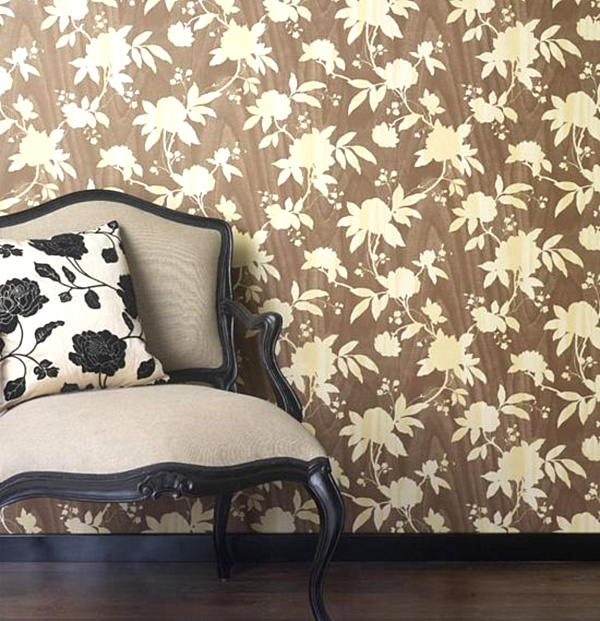 Speaking of pop, the Parlay Pop Flowers motif has a true Pop art effect! A white frame brings this wallpaper pattern into the foreground, and an angular black chair asserts the room's contemporary look. [from Designer Wallcoverings ad Fabrics]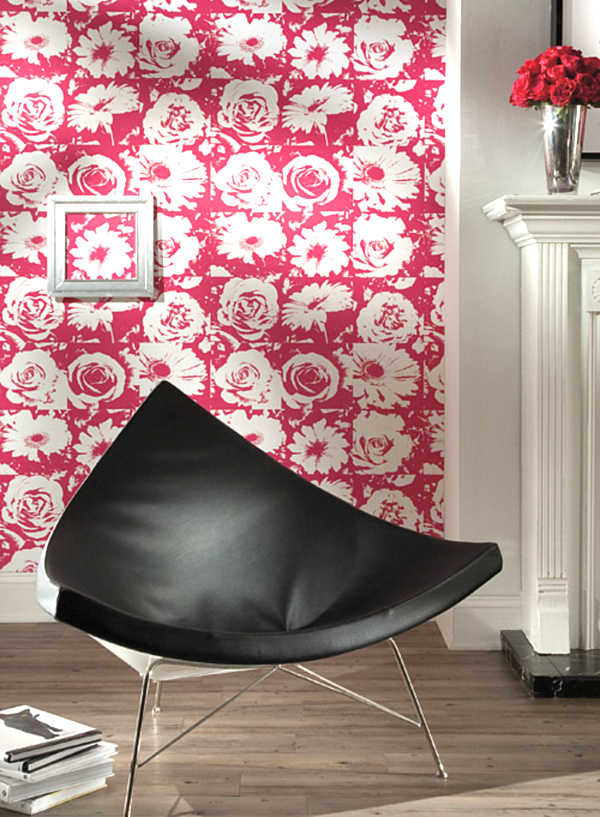 The olive green color scheme in room below is brought to life by textiles and wallpaper. This floral pattern is decidedly modern, yet the design has a softness, much like the textured throw that covers the bed. [from trendzona]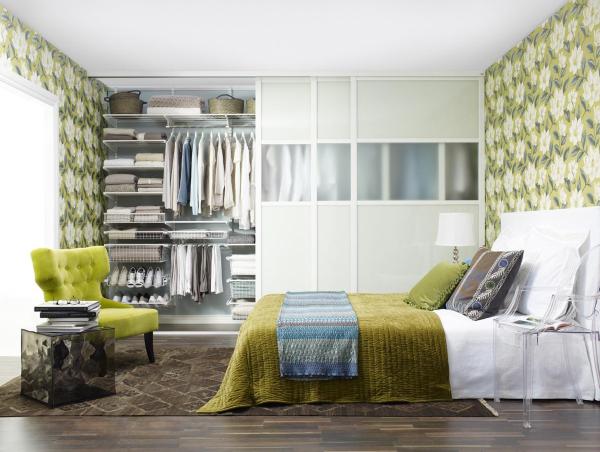 Chrysanthemums get an update in Eve wallpaper by the Hanami Collection. This Japanese-style pattern features a wonderfully whimsical design, and the the evenly-spaced flowers create a sparse effect that is refreshingly modern. [from Wallpaperking]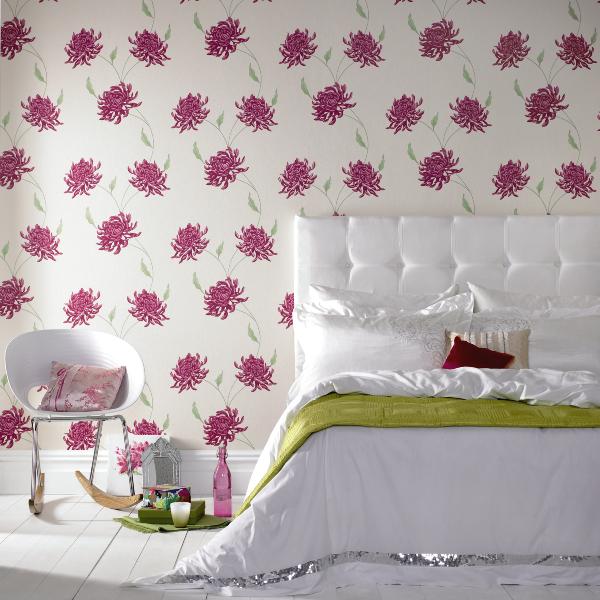 Don't forget the power of framing wallpaper for an artistic feel. To achieve the look, set the wallpaper in place, then surround it with trim molding. The result of this endeavor is a lovely, paneled room, yet some prefer to frame the wallpaper in one large piece for a giant artwork presence. [from Design Public]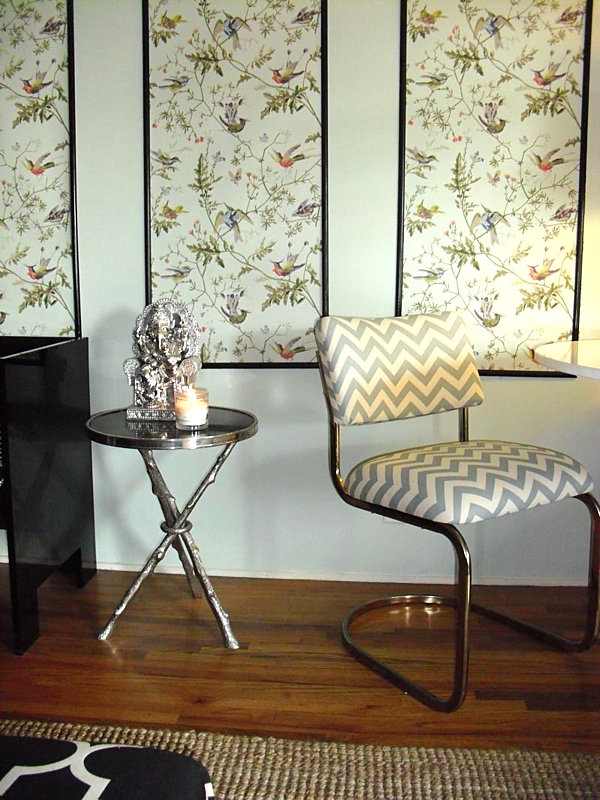 Scroll Wallpaper
The curves and curlicues of scrolled forms have a classic, ornamental look. Yet new configurations of this design, as shown by the Ulf Moritz wallpaper below, have freshened the motif, making it desirable for today's home. [from Decorpaint]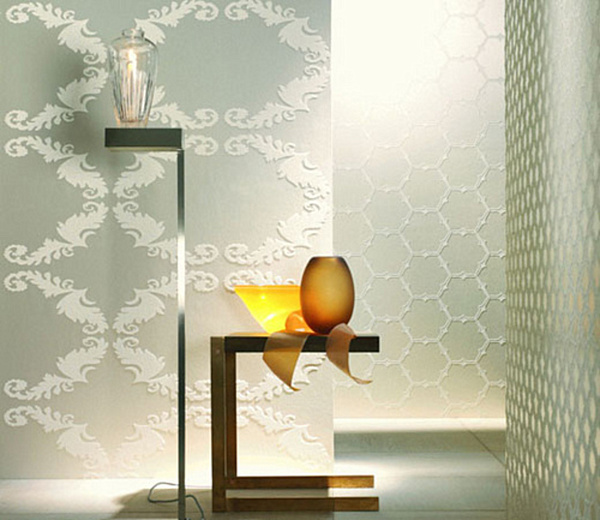 Geometry meets scroll work in the wallpaper design below. Called Mystique, this pattern in avocado is equal parts mysterious and powerful. [from Target.com]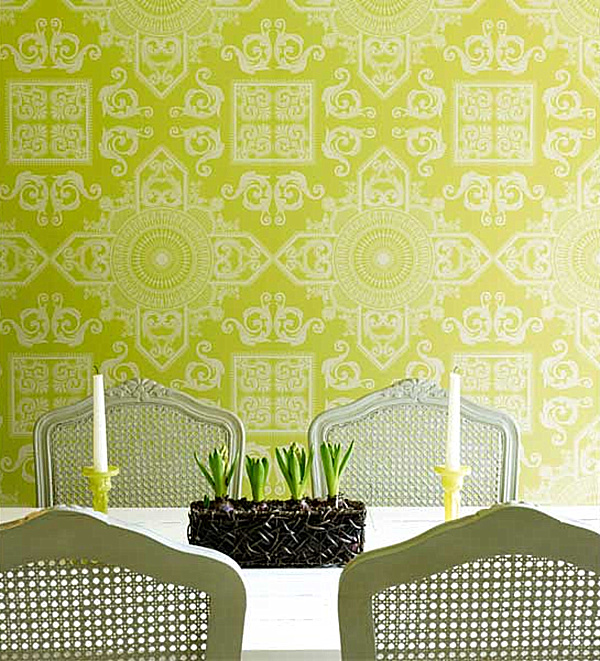 Damask patterns have exploded onto the scene in recent years. This red and white wallpaper has a fresh yet vintage look, especially when paired with crisp blue and white decor, as shown in the kitchen below. [from live, an IKEA blog]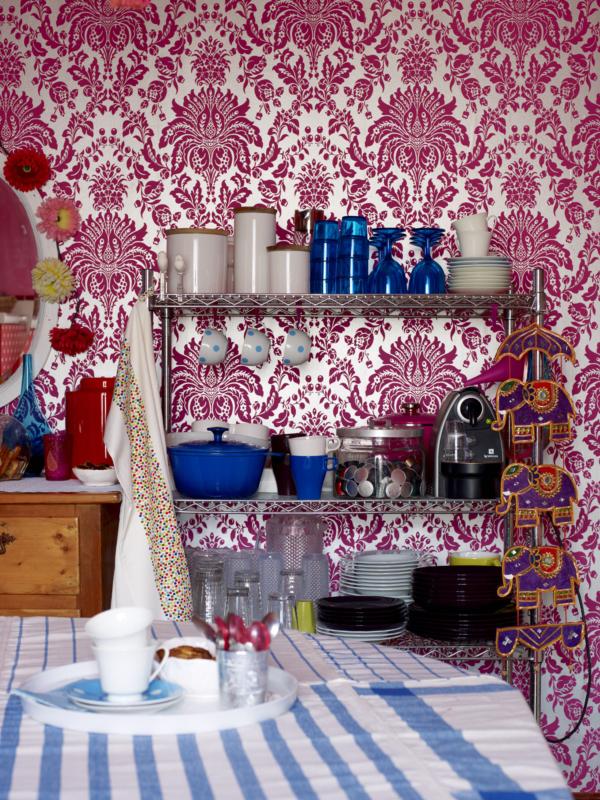 Gold on gold hues add subtlety to the damask pattern below. Each form seems carefully placed on the paper, creating a spacious, glamorous effect. Further elegance is achieved by pairing the selection with a golden headboard and textiles. [from Target.com]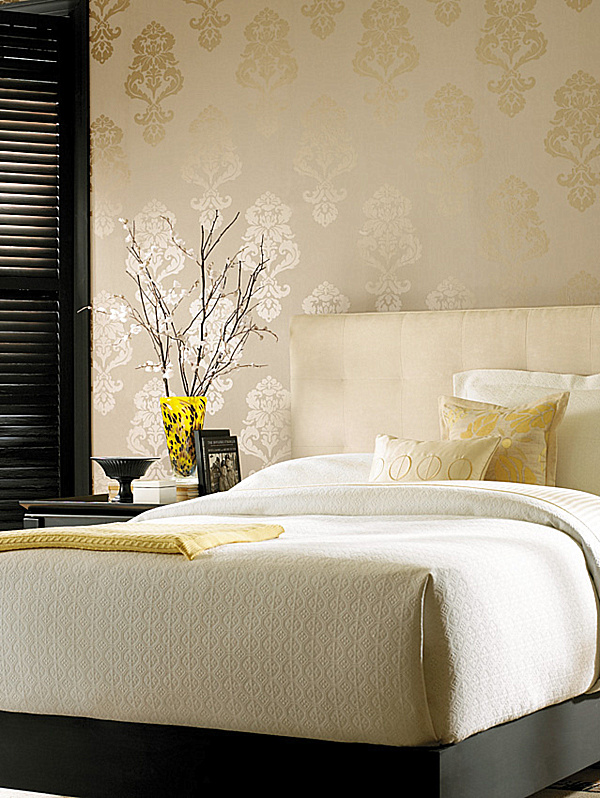 For a modern take on scroll work, try a wallpaper that features plentiful curlicue forms with a trendy update, such as the bold peacock feather motif below. [from Trendzona]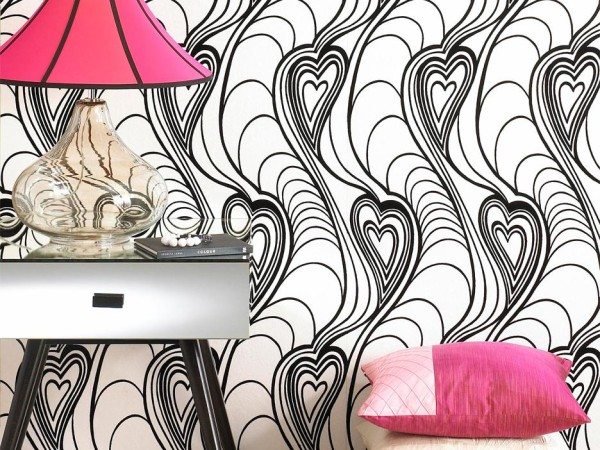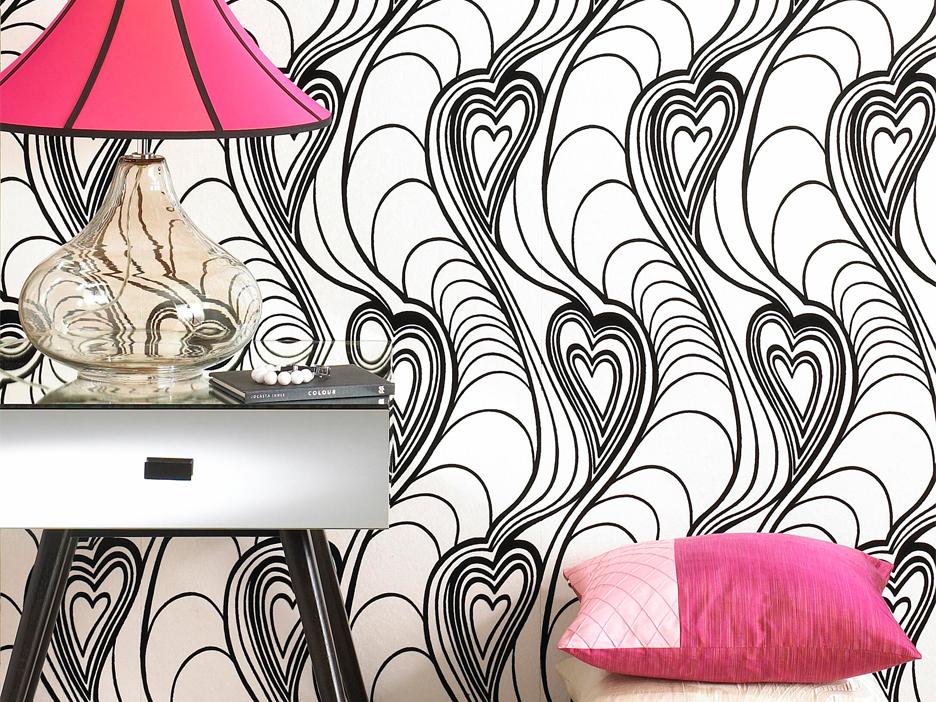 Geometric Wallpaper
Geometric wallpaper adds an undeniably modern backdrop to an interior. Take the Graham and Brown Trippy Wallpaper below, with its '70s-style design. The pattern is retro-fabulous in orange, brown and white, setting the stage for funky ceramics and lighting. [from Target.com]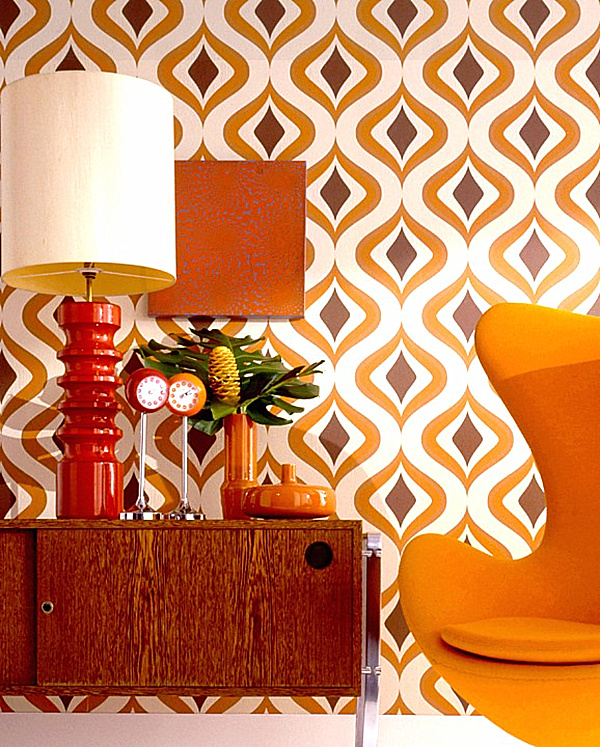 With a hint of Old World charm, Fracto Shoot wallpaper is a celebration of intricate form. Inspired by botanical fern leaves, the pattern combines angular designs with incredible detail. [from Designyourwall.com]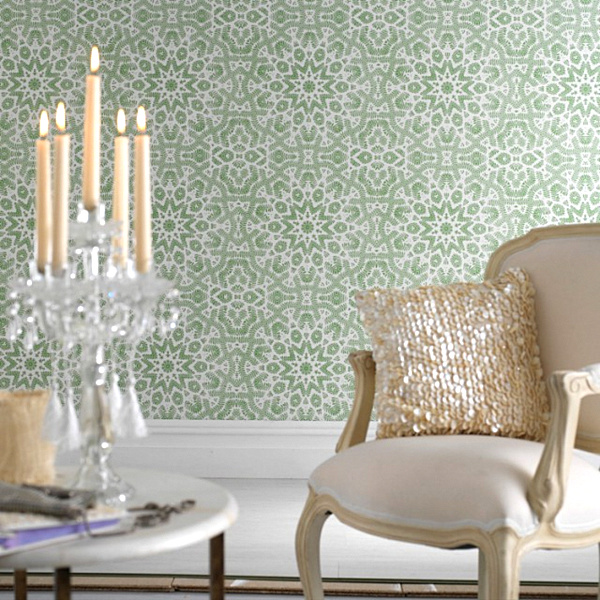 Be they leaves or petals, the repetition of forms below creates a stunning wallpaper design in eggplant. While the purple hues are anything but ordinary, the paper manages to be a neutral backdrop for a burnt orange rug and a fire-red chair. [from Frenzedwaters]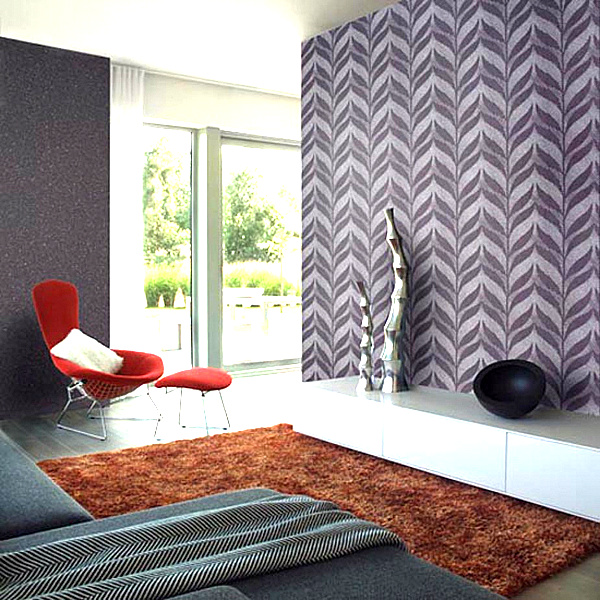 Designer Jonathan Adler works his magic on the room below, combining a patterned wallpaper with larger shapes on pillow and rug. A red, white and blue color scheme ties it all together. [from Jonathan Adler]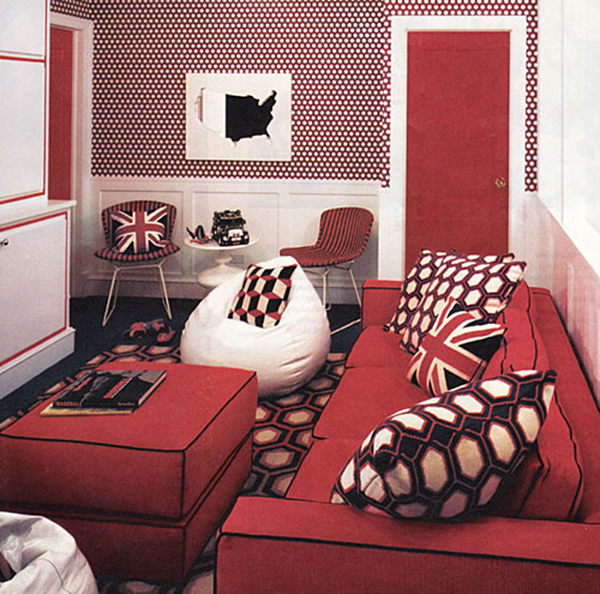 Who says you have to stick with one wallpaper design? In the image below, stripes and dots add modern simplicity to the space, reinforcing the fact that two unique personalities share the room. [from IKEA]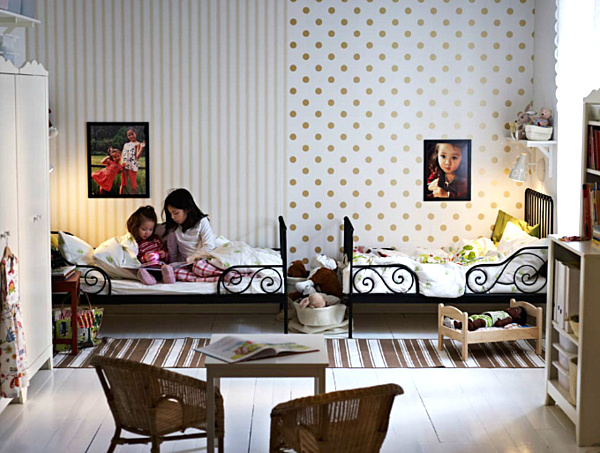 Lattice Wallpaper
When it comes to angles and lines, few wallpaper patterns have achieved the popularity of the lattice. A display of interlocking forms, this design manages to convey many looks, from modern to retro to tropical. In the room below (designed by Sara Gilbane), a tan and white lattice print sets the stage for a bold teal and plum color scheme. [from TheLennoxx.com]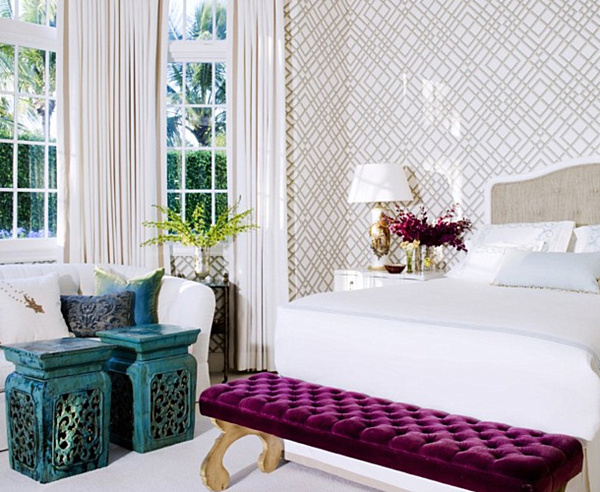 A larger lattice pattern can be powerfully striking, as shown in the room below, designed by Katie Rosenfeld. Note how diamonds merge with octagons, creating an interconnected feast for the eyes. [from Decorpad.com]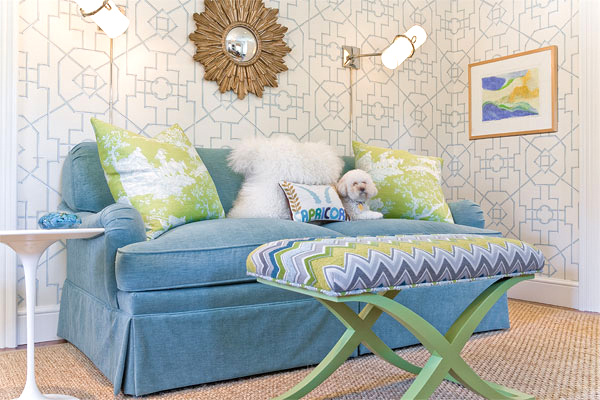 Resort-style elegance emanates from the Spring Lake collection's Bamboo Lattice pattern. The coral color scheme creates a summery effect. Add a palm plant to the space, and the vacation vibe is reinforced. [from Thibaut]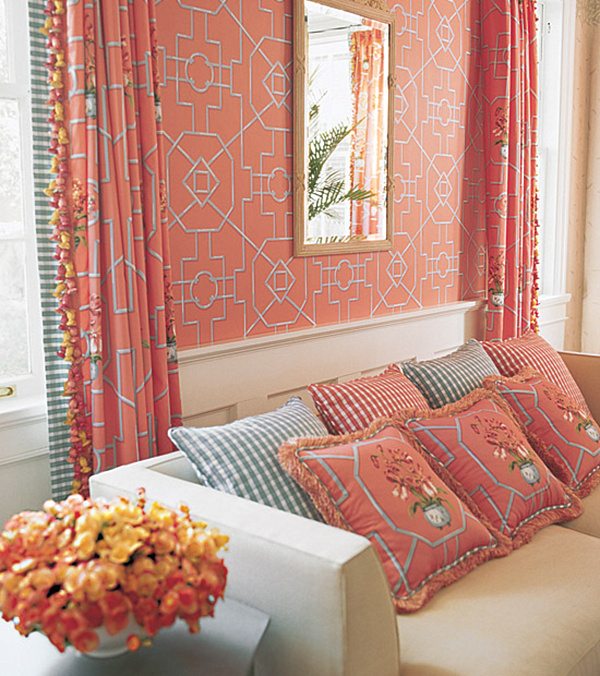 With a hint of '60s style, chocolate and cream wallpaper brings pure geometry to a room with crisp bedding. Note the absence of diagonal lines in the print. [from Caitlin Creer Interiors]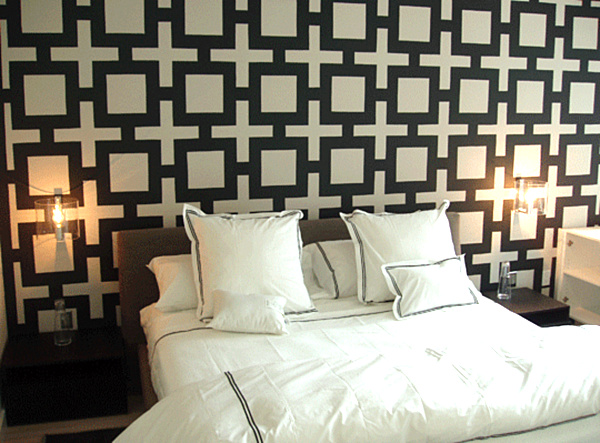 For a subtle take on lattice patterning, check out the beige on cream wallpaper below. Its effect is so subtle, the paper can accompany floral bedding without overpowering it. [from IKEA]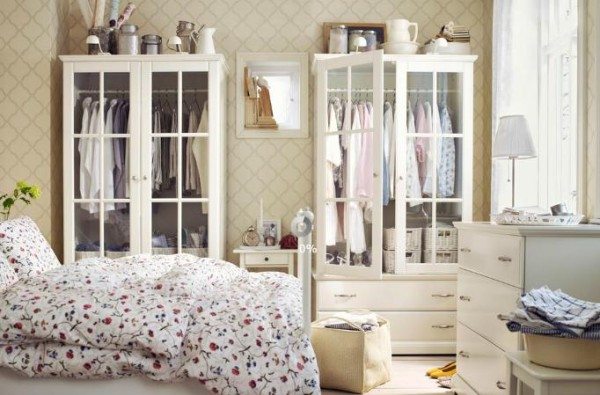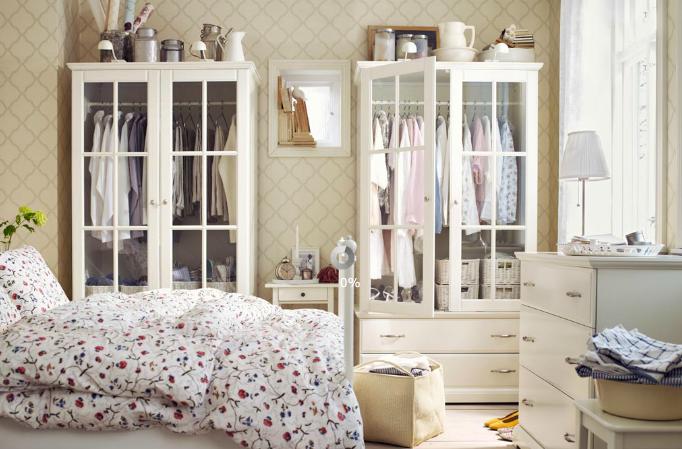 Temporary Wallpaper
If you once shied away from wallpaper for a fear of being stuck with it, think again. Temporary wallpaper, often self-adhesive, makes the days of paste obsolete. Perfect for renters, this paper can peel right off when it's time to change the look. Even with the promise of easy removal, make sure you research different brands before purchasing, as some temporary paper may still leave behind unwanted marks. The Geo Temporary Wallpaper below nicely accompanies '50s Modern decor with its silver pattern. [from Designer Wallcoverings and Fabrics]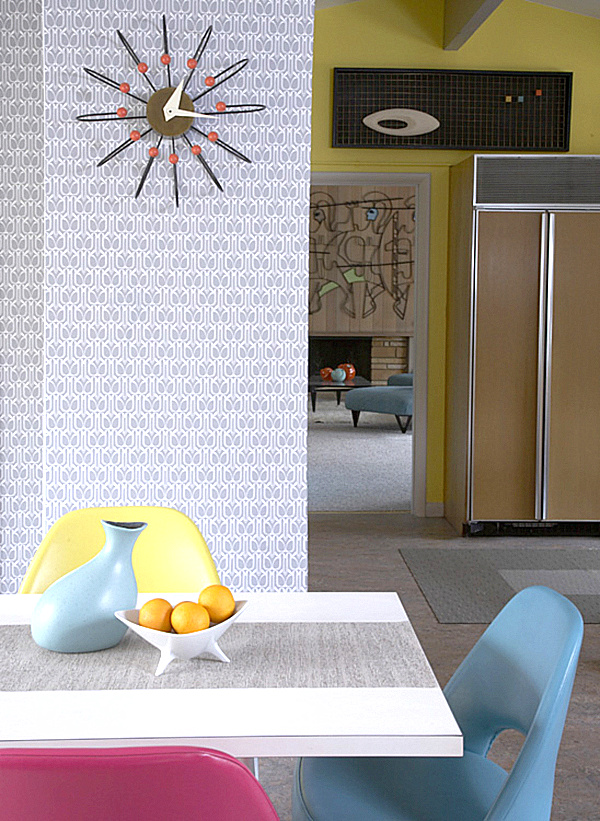 Etta temporary wallpaper is a bit Art Nouveau yet undeniably contemporary. A powerful blue and brown color combination is the ideal backdrop for rich wooden furnishings. [from Designer Wallcoverings and Fabrics]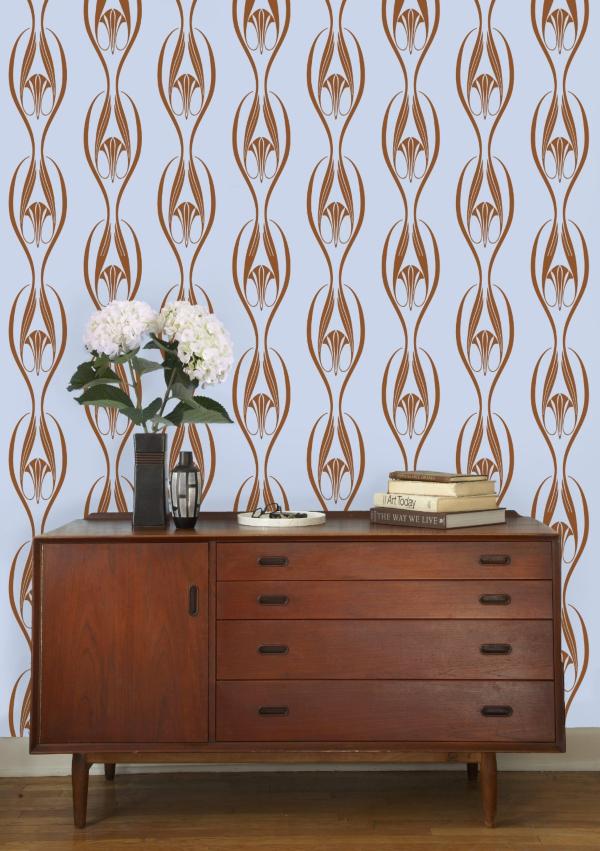 For more damask fun without the commitment, try the Tempaper Damsel wallpaper below. If it seems the print veers into traditional territory, think gain. A fuzzy modern chair looks surprisingly at home against the black and white pattern. [from ThisNext.com]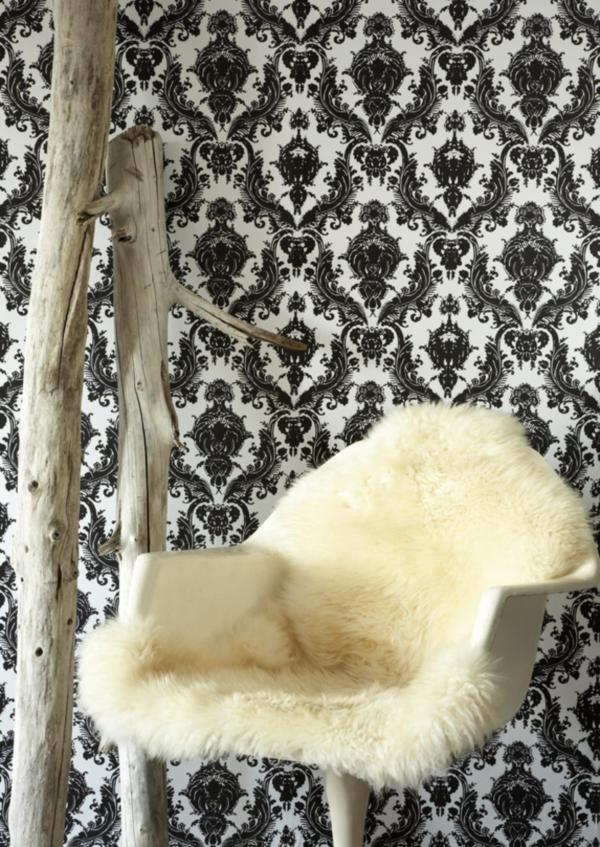 We can't deny the design possibilities that wallpaper brings to the rooms of children. Take the whimsical fish of the Currents pattern. The waves and undersea forms create an aquatic feel in a youthful space. [from Designer Wallcoverings and Fabrics]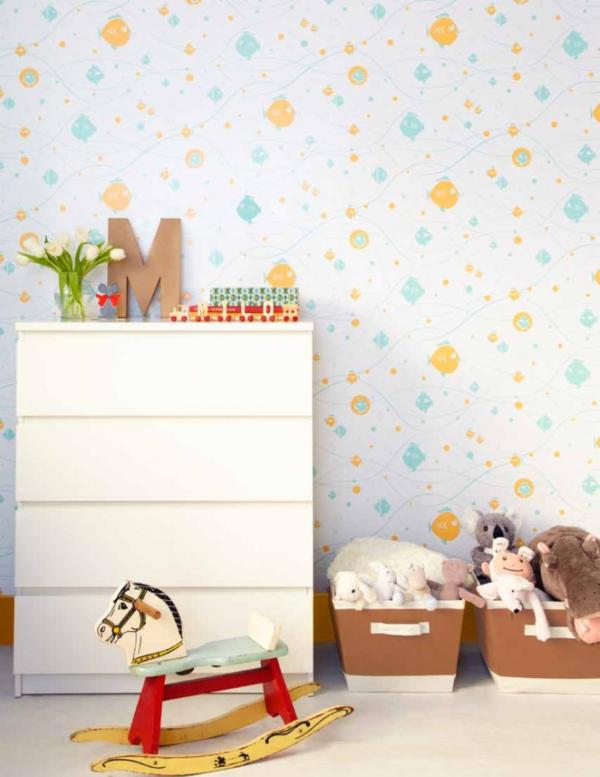 Speaking of youthful, nothing says sunshine like the ultra-bright Rainbow Blue paper below. The best part: it's peel and stick vinyl! [from Wallcandy Arts]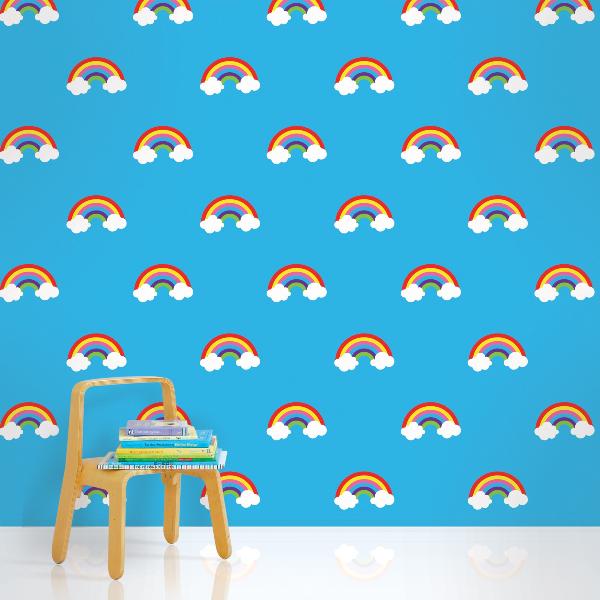 When it comes to wallpaper patterns, there's an amazing array of choices for your space. Choosing a print can seem overwhelming, but considering the colors and furnishings of the room can help narrow your options. Take note of any patterns introduced by bedding, drapes and other textiles, making sure the wallpaper is a complement to the space. Furthermore, don't be afraid of bold colors, and note the power of furniture to bring out the best in the paper!