We at Decoist love to profile innovative homes! Today we shine the spotlight on underground dwellings, from stunning residences to boldly designed hotels. In fact, there's nothing like a cozy abode that makes the most of the landscape. Many of today's most interesting underground homes are eco-friendly, utilizing sustainable materials and energy sources.
It's undeniably interesting to see how architects and interior designers come together to create a groundbreaking shelter! How do you furnish an underground home? Should it blend into the landscape or stand out? Are underground homes hidden, or do they boast windows that look out onto the countryside? Browse the images below to answer these questions and more…
Switzerland's Villa Vals
We begin in Switzerland with Villa Vals, a holiday retreat built into the alpine slopes of Bals. SeARCH and CMA collaborated on this amazing dwelling, the design of which reveals a sincere respect for nature. The home's facade is made from Valser quartzite recovered from the site and found in the area's nearby thermal baths! [from SeARCH Architecture and Urban Planning]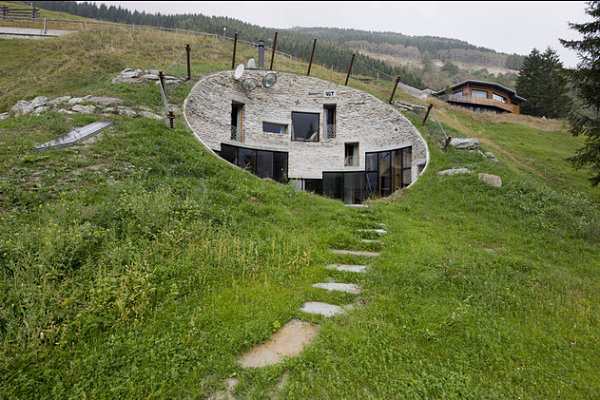 The dwelling features a stone courtyard with a natural spring hot tub, the perfect place to enjoy the breathtaking view in comfort and style: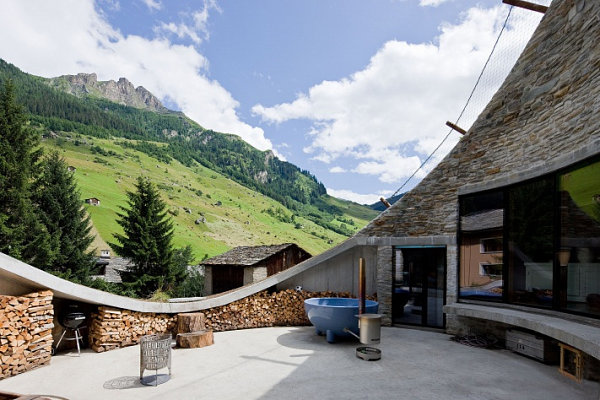 The levels of the home's interior are arranged like nesting concrete boxes. On the first floor is the living room, kitchen, and a bedroom that pulls double duty as a library. Dutch designer Thomas Eyck put his touch on the interiors. Furniture, textiles and ceramics were created by Dutch designers such as Hella Jongerius and Studio Job.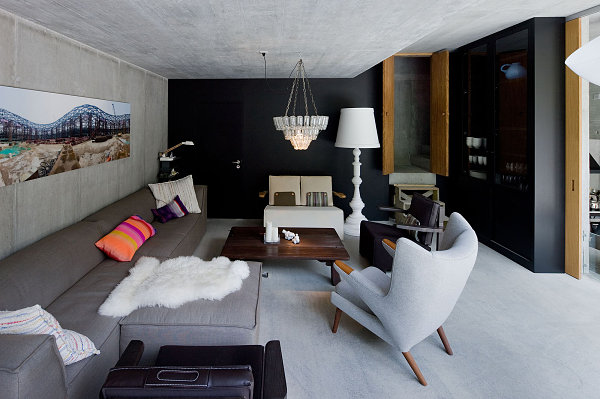 An elongated table and artistic pendant lighting grace the dining area of this vacation rental, which makes group dining a chic reality: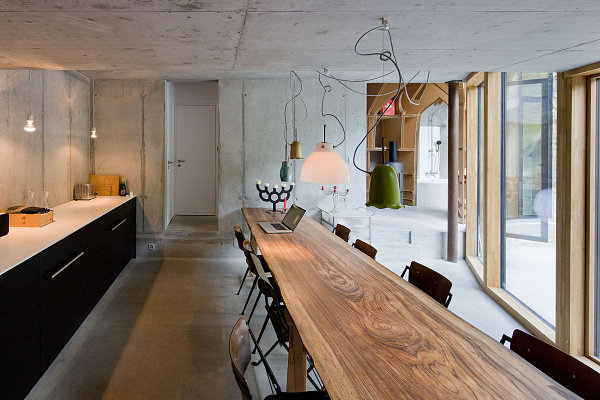 Bunk beds, elevated bathrooms, and king-sized beds on podiums are a few of the many unforgettable features of the villa's four bedrooms. Light streams in through modern windows, calling attention to nature and the beautiful views outside.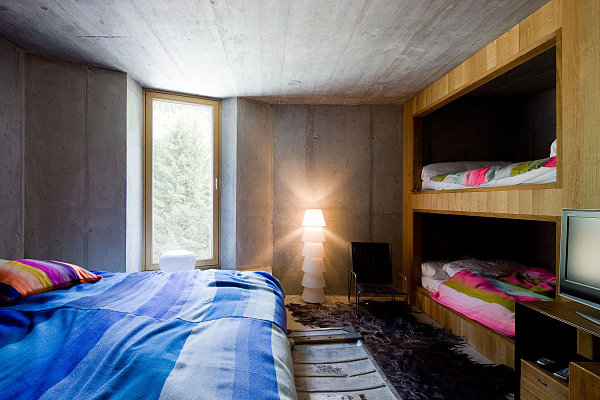 And just how is Villa Vals so eco-friendly? This retreat is thermally insulated and uses hydroelectric power, thanks to a nearby reservoir. Below we see the villa at night, an elliptical focal point against the scenic hillside…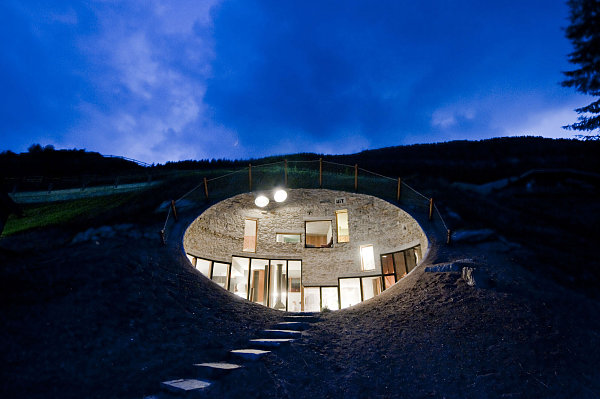 Bolton Eco House in England
Next we head to Northwest England to celebrate the wonder that is Bolton Eco House. Referred to as the "house of the future," this home is embedded into the hillside of Mount Pennine, complete with a grass roof and an 8,000-square-foot layout. The home was designed in close collaboration between the client, Bolton Council and CABE. [from Make Architects]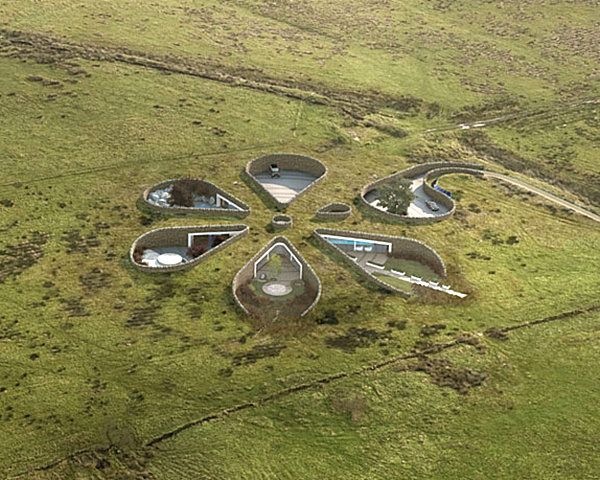 This four-bedroom, one-story home is designed to consume less energy than it generates, thanks to features like a ground source heat pump, photovoltaic panels and a wind turbine that generates renewable energy. Below we see the home's interior, complete with its contrast of dark walls and a white ceiling: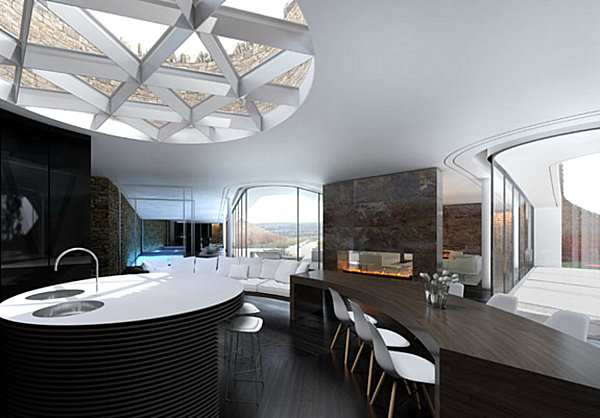 The home's exterior boasts floor-to-ceiling windows for gazing at the verdant landscape from indoors. Contemporary furnishings create the most chic of patios, and rectangular planters filled with grasses add a modern vibe to the home: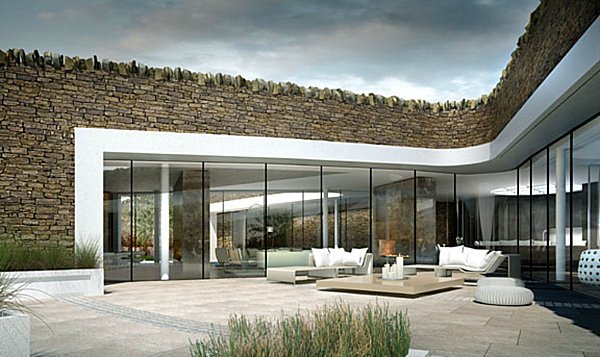 Bella Vista Hotel in Italy
For some, vacationing involves lavish hotel suites, strawberries and champagne. For others, a modern eco-friendly lodging arrangement is ideal, especially when the design is this groundbreaking! Created by architect and designer Matteo Thun, the latest KlimaHotel© in Bozen, Italy will consist of a series of 11 hillside hostels, as shown below. [from if it's hip, it's here]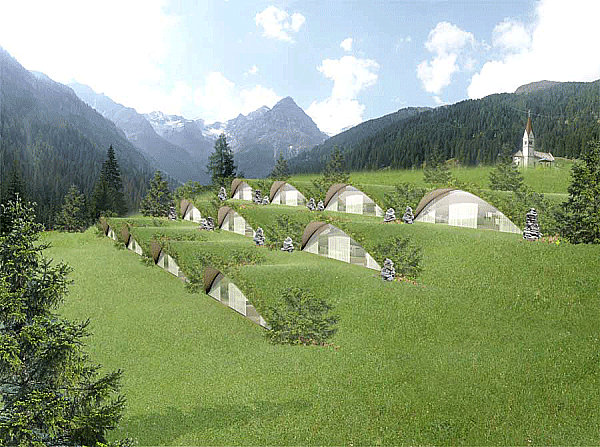 Sustainable heating and cooling are highlights of these "underground" dwellings, which manage to look both sleek and cozy in the snow: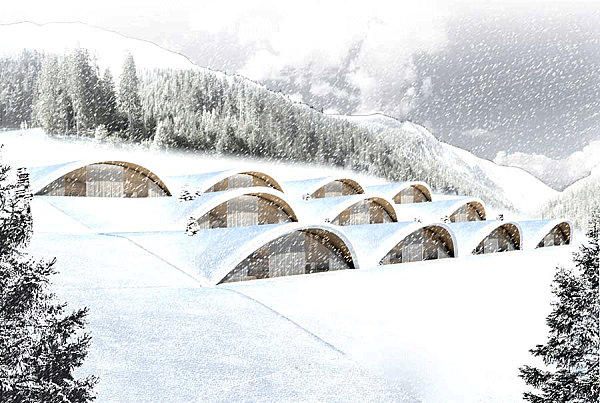 At night, the hillside is alive with the glow of occupied hostels. Floor-to-ceiling glass windows give guests a view of the scenic landscaping while creating an undeniably modern feel to these contemporary dwellings…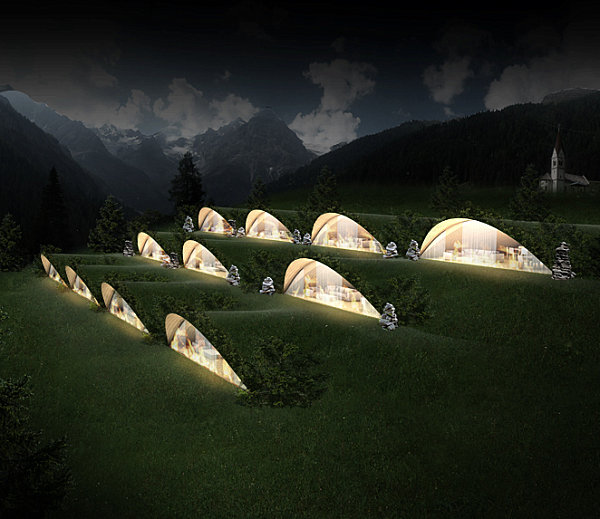 Wales' Hobbit House
What's a handy fellow to do when he has little more than a chainsaw, a hammer and a one-inch chisel? Build Hobbit House! Designed and built by Simon Dale along with family and friends, this cozy home in Wales housed Dale and family while he was doing ecological woodland management in the surrounding area. While not technically underground, it was dug into the hillside and has a true "Hobbit" feel, don't you think?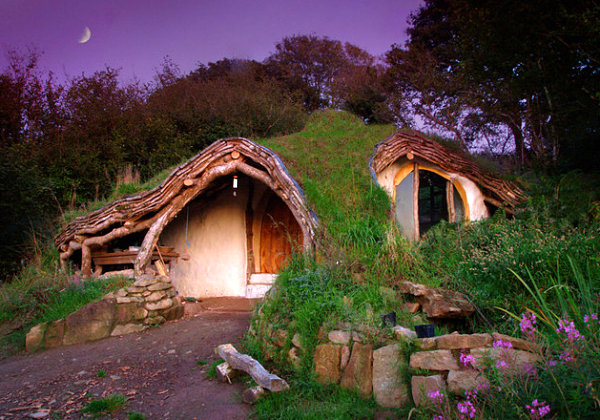 A look inside reveals a cozy living space. Wooden details create warmth, and a variety of light sources achieve a golden glow. For more details on the building of this amazing dwelling, check out BeingSomewhere.net.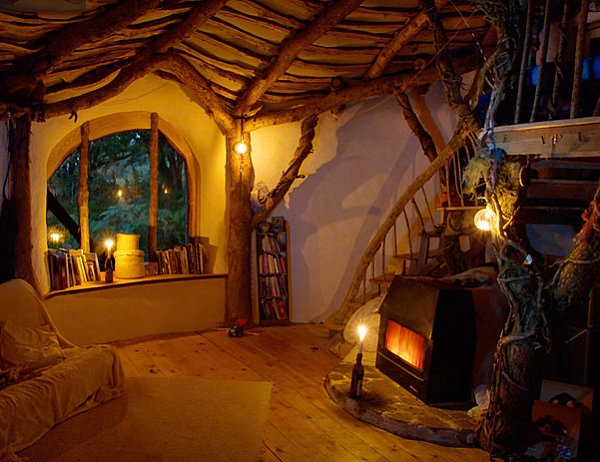 Malator in Wales
Also known as the Teletubby House, Malator rests over Wales' St. Bride's Bay, peering out from its glassy perch in a partially-hidden yet distinguished two-bedroom retreat. A metal chimney pokes out from the grassy roof, as shown below. This home was commissioned by politician Bob Marshall-Andrews and his wife, Gill. [from Architectural Digest]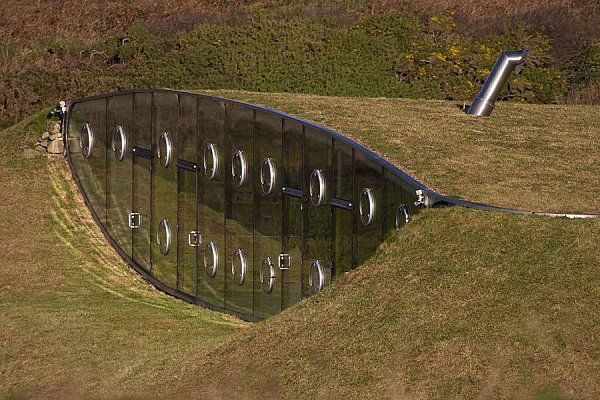 Inside, bright yellow cabinetry and shelving make a big impact in the kitchen. With a view that magnificent, it's time to go bold indoors with a color that demands as much attention as the nearby landscape! Glassware and plates are on display, making a stylish statement. [from 4Balls]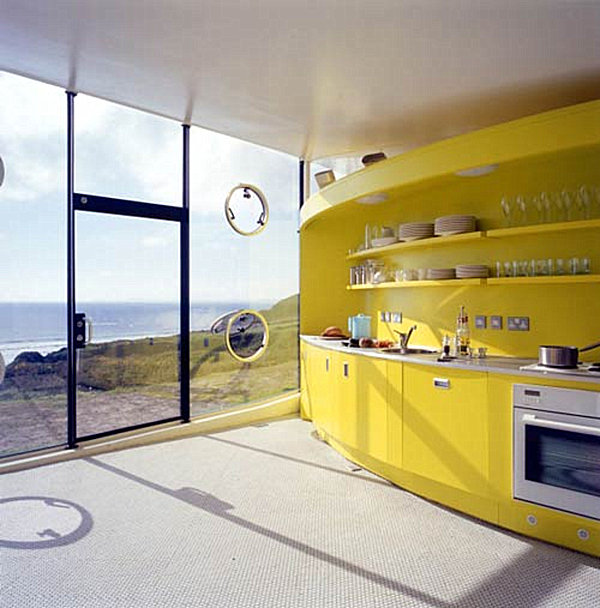 A Hidden Poolhouse in Lebanon
The next featured dwelling is a hidden poolhouse in Lebanon, described as "a submission to nature's greatness." In fact, while building the entire property, at times the designers let nature take over. We love how the structure below neatly fits into the side of the grassy lawn. Note the rock formations surrounding the poolhouse–these natural treasures greatly shaped the project! [from Francis Landscapes]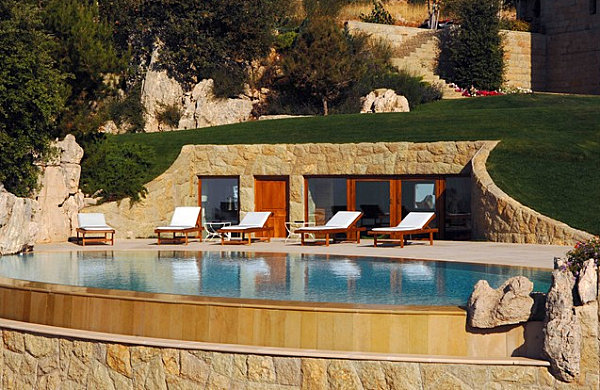 Underground Garage
We end with an underground structure that is not a home. It's a garage designed by Peter Kunz Architektur! A series of enclosures carefully houses and protects each prized car. And why would you go to the trouble of building a garage into the hillside without including windows for gazing out onto the landscape?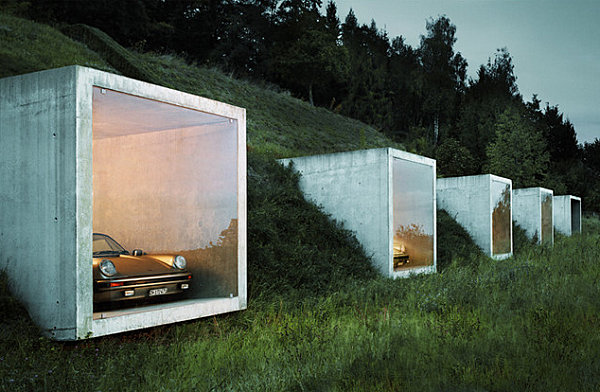 Would you live in an underground dwelling? These structures are truly innovative, and quite cozy as well. If above-ground habitats are more your speed, would you stay in an underground hotel while on vacation? Share your thoughts by leaving a comment below…