Ready to throw a party?! With spring on the way, there are many reasons to celebrate. Today we feature a variety of unique party decor options to jazz up your entertaining endeavors. In fact, in creating this post, our goal was to round up the most interesting, colorful, knock-your-socks-off images we could find, and to share them with you!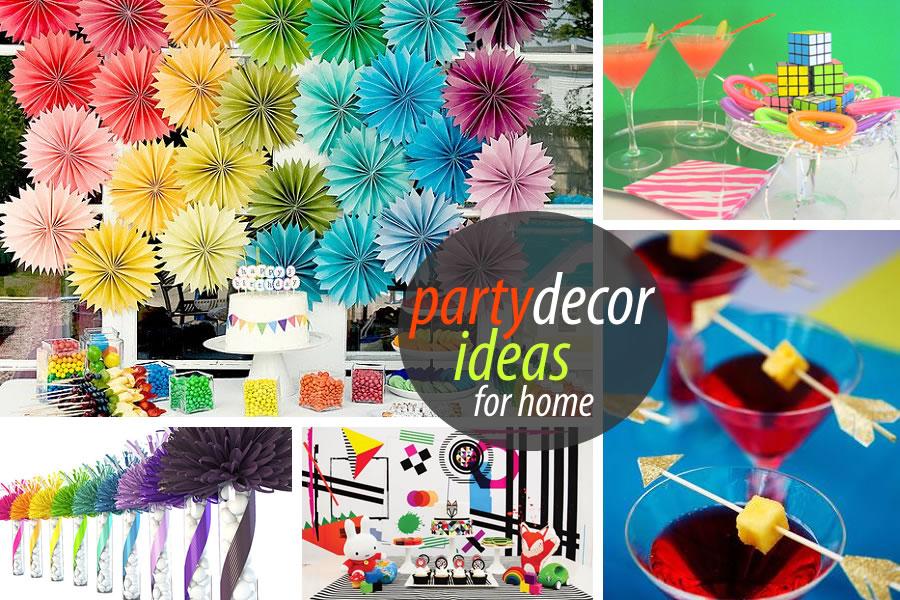 From creating decorations and backdrops that set the stage for an amazing event to presenting food and drinks with flair, these ideas will make your event a true standout. In fact, many of today's ideas are DIY projects that will inspire you to get crafty so you can personalize your party with your signature style. What impresses us most about these party ideas is the fact that each one represents creativity and innovation. Now that's something to celebrate!
Setting the Stage
We start with an important party ingredient: the decorations! In fact, now more than ever, DIY backdrops, garlands and other interesting flourishes are making a big impact on event planning. Take the paper roll backdrop below, created for a wedding packed with DIY projects. [photo by Annie McElwain for Green Wedding Shoes]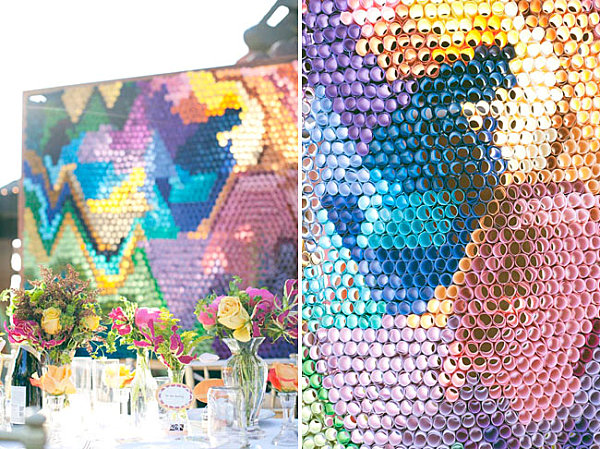 The neon and white corporate party in the next image is nothing short of an homage to radiant color. Fluorescent garlands, candles and confetti are undeniably powerful against pure white walls and tablecloths. Check out all of the details at Hey Look: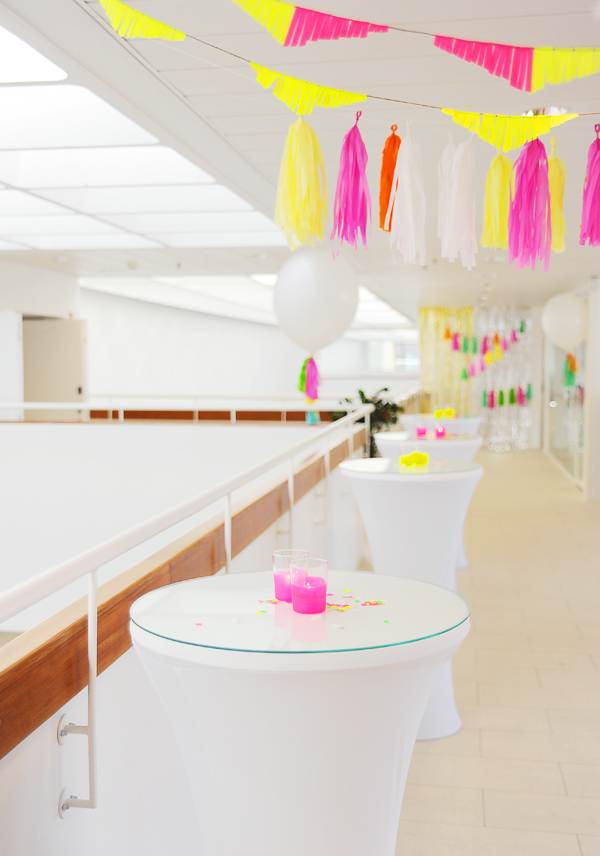 Speaking of garlands, we couldn't help but notice the metallic pom-pom effect created by this DIY fringe garland from Coco + Kelley. This party showstopper was created using mylar fringe garlands from party stores. Check out the full tutorial here.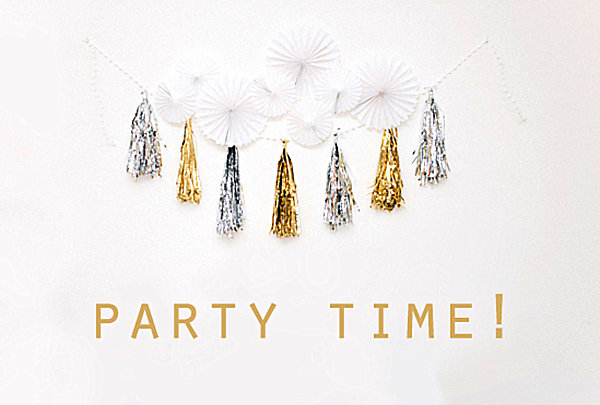 Garlands can also add a much-needed burst of color to a party. Which is why we love the peach, magenta and silver garland shown below, a DIY piece created by Jennifer King of If I Must Say So. [via Camille Styles]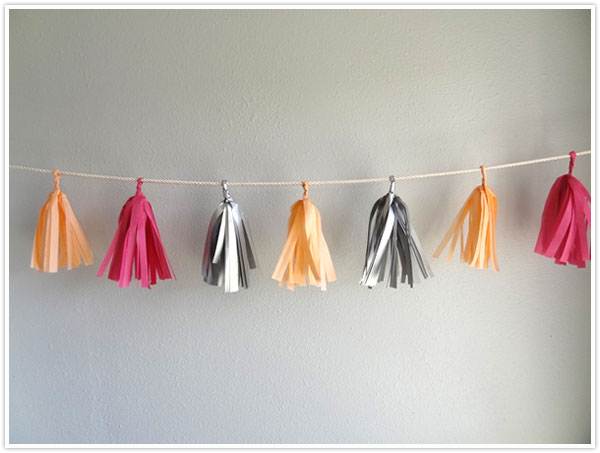 Ready for a curtain of ombre serenity? Check out this ombre crane garland DIY tutorial, showcased at Camille Styles. What could be more stunning than a suspended wall of handmade origami paper cranes arranged in a gradient of color? We think this lovely creation is perfect for outdoor gatherings, as shown in the image below: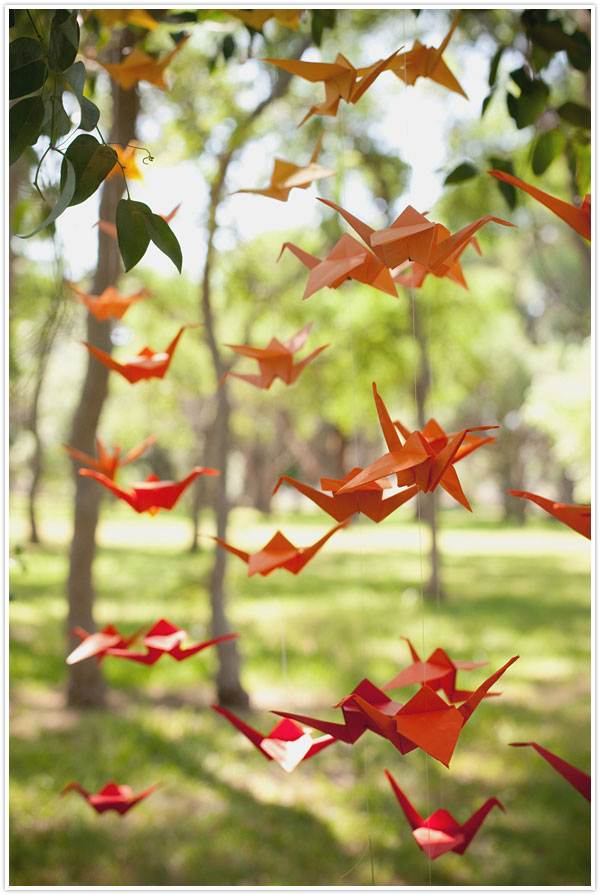 You may think this Geometric Honeycomb Decoration Backdrop was purchased at a party superstore. But what if we told you this was actually a DIY project from Confettipop? Surprised?! Yes, you too can create this intriguing party decoration with honeycomb paper, a glue gun, and a few other simple supplies. We love how a range of diamond sizes adds dimension to the vignette.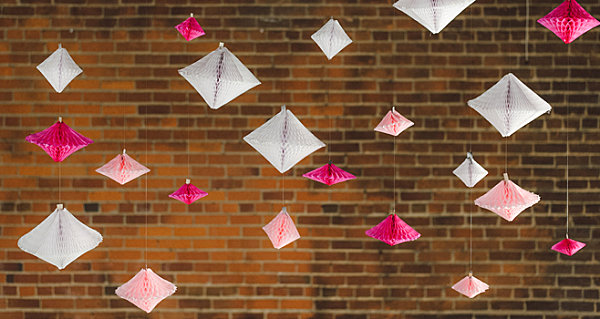 Ready for another amazing idea from Confettipop? You can't beat a creative backdrop! And it's hard to get more creative than an unconventional use of cupcake liners. Check out the cupcake liner backdrop below. Use it as a backdrop for a photo booth or party table: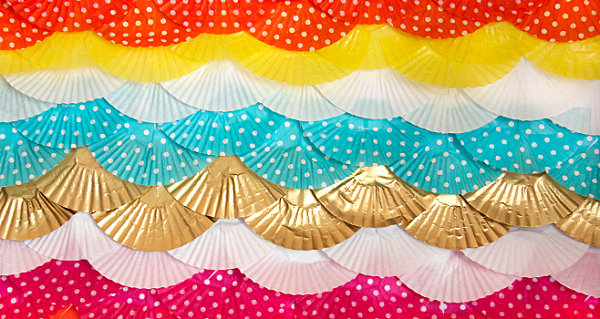 Why not treat your party as an art gallery and fill it with interesting installations? Below we see an image of balloons from Hostess with the Mostess, showcased at an event styled byXiomara of A Styled Fete. Metallic streamers give this trio of helium-filled focal points a whimsical touch.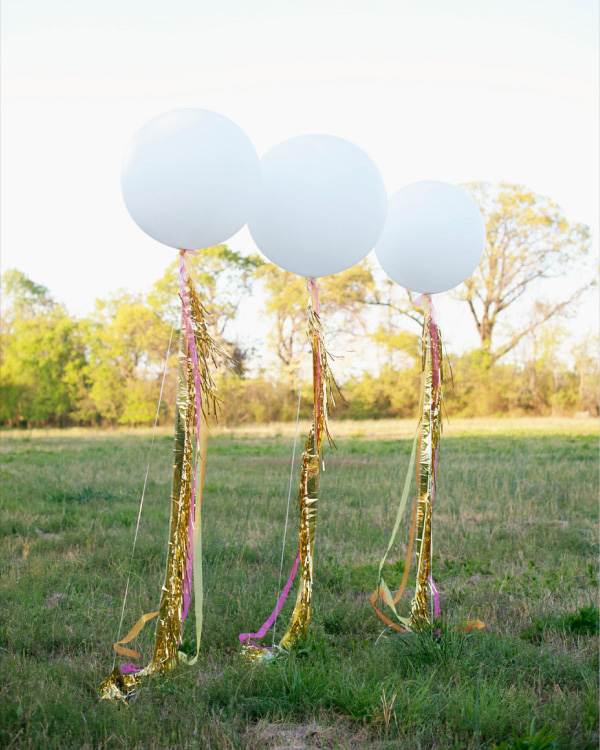 Serving the Goods
In another shot from the above event featured at Hostess with the Mostess, touches of neon illuminate a party table. In fact, we love how this table is enchanting without being overdone. Yet it's clear that every detail has been carefully planned, from the garnished cupcakes to the two-tier cake server filled with sugary treats (like vibrant macaroons).
Another amazing way to serve party food? Color-coordinate it! The rainbow party below comes from Kara's Party Ideas. Each and every consumable plays an important role in creating a spectrum of color. As you can see, powerful hues makes a world of difference, especially when mirrored in every edible!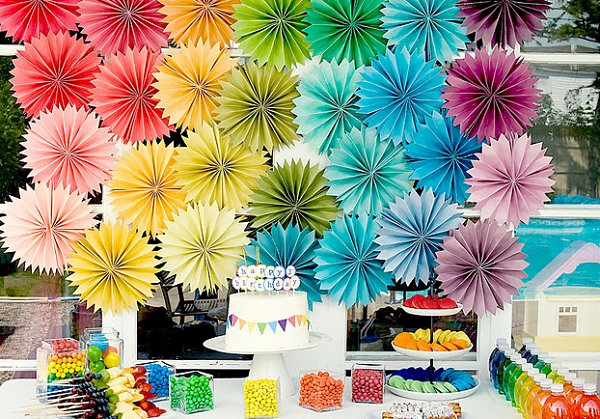 Don't be afraid to display food and drinks creatively. The gathering below showcases mod design with a hint of Pop Art. Styled by Nicole Rene Events, this spread of goodies includes colorful stacked macaroons, as well as arrow-themed cocktail stirrers that take center stage at the top of sleek martini glasses. [photo by Izzy Hudgins Photography for Ruffled]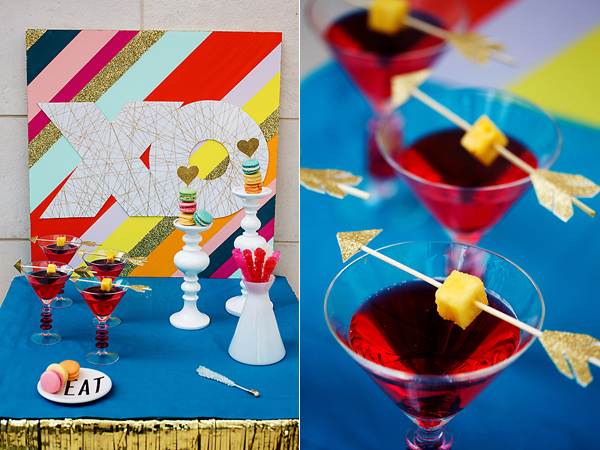 What if each food item were a true work of art? This geometric fox party by Lee Bird Photography features carefully created treat that reflect the vibrancy of youth and the creativity of modern art. Styled by Little Sooti Events, the event utilizes the power of geometry and cutting edge design. [from Hostess with the Mostess]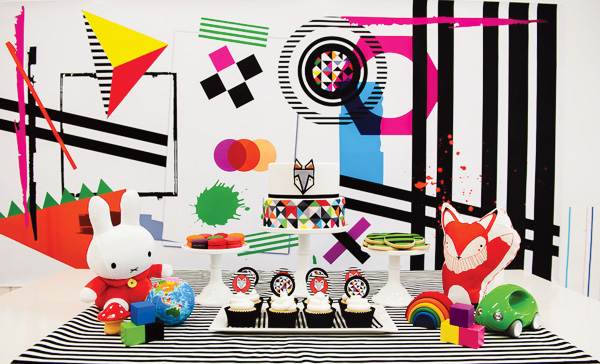 Don't forget about the option of table settings… Because making them special makes your guests feel special too! Below we see a neon table setting packed with DIY details from Emerson Events. Fluorescent accents stand out against a peach tablecloth, and gorgeous blooms add softness and elegance. [photo by Amanda Watson via Ruffled]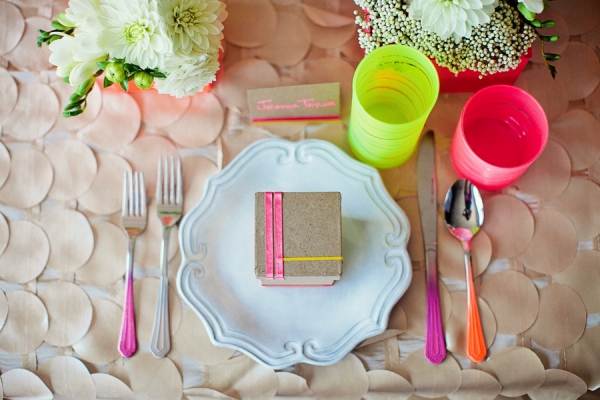 Saying Thanks
We end with a collection of party favors that are quirky enough to become part of the event decor. Geometric forms are all the rage in today's world of design. So it makes sense that they would enter the realm of entertaining. If you're looking for an eye-catching favor idea, enjoy this tutorial for DIY geometric favor boxes from Hey Look. [via Ruffled]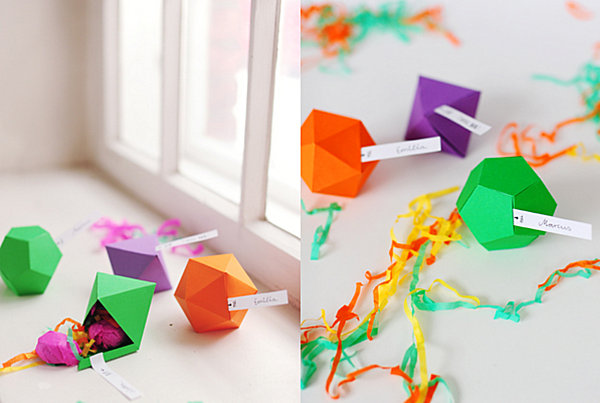 Make them pop, and discover a goodie hidden inside… Yes, it's an assortment of party crackers, but these are not store bought. Tthis tutorial for DIY party crackers tells you how to craft your own unforgettable favors. Check out all the details at The Huffington Post…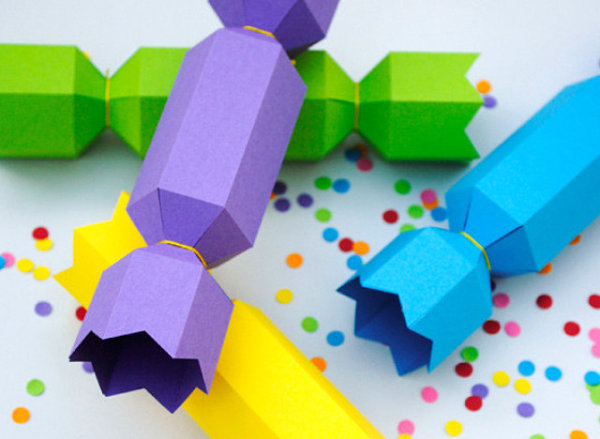 This next image reminds us of the power of rainbow design. For an interesting take on the party favor, make each treat a different color, and line them up to create a prismatic effect. Try making your own version of the favors below using ribbon, faux flowers, and containers of mints. [from Wedding Planning Ideas]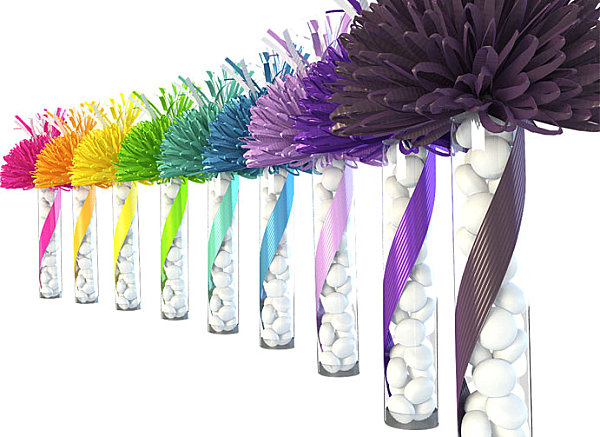 With an assortment plastic animals, boxes and paint, you too can create your very own DIY animal favor boxes. In fact, these quirky favors are true works of art, so why not make them a key part of the party display? Check out the full tutorial at Hellobee.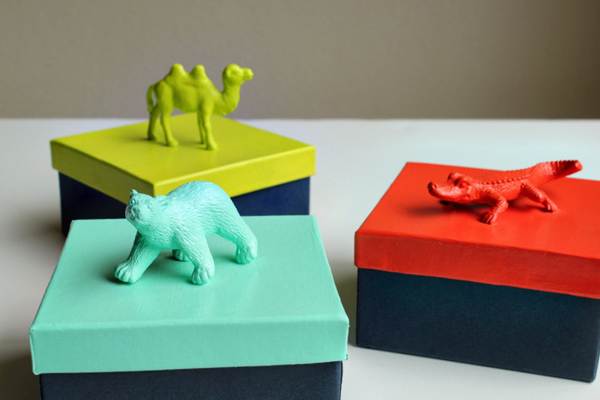 In fact, make a point of incorporating party favors into your display on a regular basis. And no, not all favors are the result of DIY projects. Don't hesitate to purchase your favors then arrange them with flair. The coil bracelets and Rubik's Cubes below can be stacked on a cake stand to create an impressive centerpiece, especially in the realm of '80s party decor! [from Mirror80]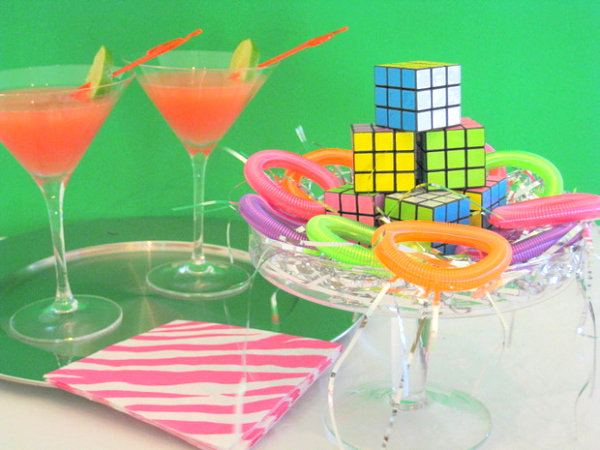 Do you have creative party ideas that have made a big impression on your guests? Are there images and ideas above that you're eager to explore for your future entertaining endeavors? Share your thoughts by leaving a comment below…