Convertible beds blend function and style to create problem-solving pieces. Just what types of problems do these transformable furnishings address? Problems such as guest accommodation dilemmas and limited space. Why not purchase a sofa that converts to a bed when overnight guests arrive? Or if you live in a studio apartment, you can maximize your space by enjoying the perks of a sofa and a bed without having to find a place for both!
Not to mention, today's most stylish convertible beds are innovative in their design, at times creating three or four separate functional options! For example, what if a sofa could transform into a bed, then into modular seating? Check out the images below for stylish space-saving solutions…
Convertible Sofa Beds
We begin with the Staple Bed by Alexander Seifried. Below we see the piece with a red frame, but this convertible bed is also available in black or white. The furnishing is a stylish sofa by day… [from Richard Lampert]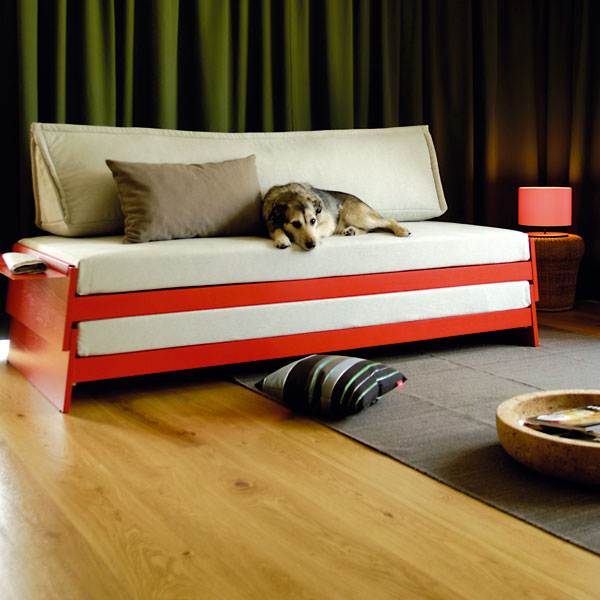 …yet it easily transforms into a bed for one at night! Simply lift the top of the sofa and voila–you have matching beds that you can place side by side! Push them together, and you create a generous double bed built for comfort. Don't forget that you can also get the "bed effect" by leaving this furnishing in sofa formation. Simply remove the backrest, and you have a twin bed sleeping experience!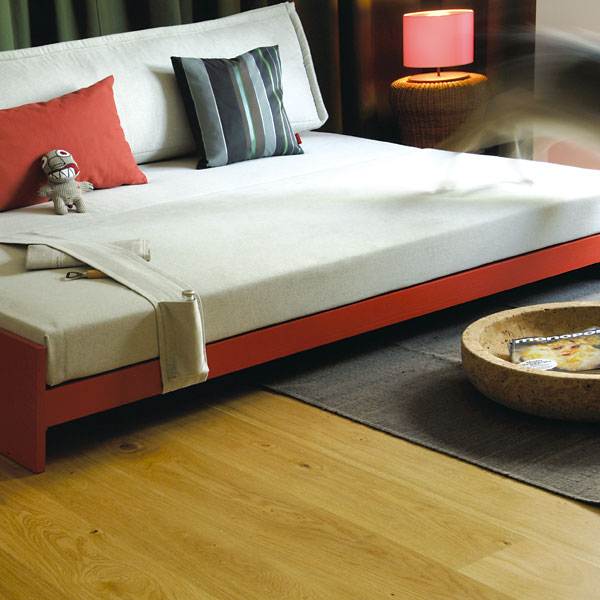 When extra company arrives, you also have the option of arranging this piece into two separate beds, clearly apart from one another, as shown below. Which is why this convertible item is absolutely perfect for kids' rooms. Your little one will always be prepared to accommodate a friend for a sleepover!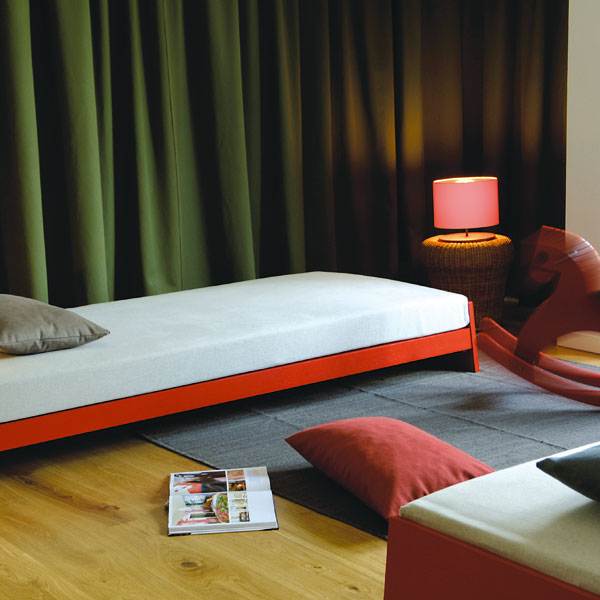 Next we have the stylish Sliding Sleeper Sofa by Pietro Arosio, featuring a patented conversion mechanism. In addition to the backrest, the piece boasts two large pillows filled with feathers. The pillows add comfort while maintaining the overall clean-lined effect. Bonus: the upholstery can be removed for cleaning! [from Design Within Reach]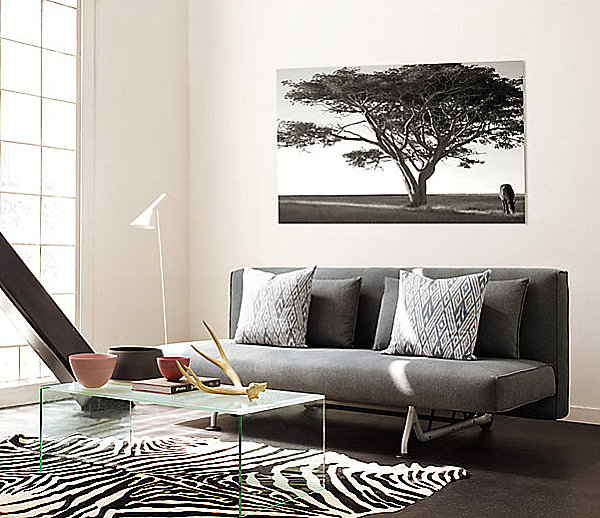 Now we see the sofa folded down into its queen bed formation. Plenty of room for restful sleeping, as you can see…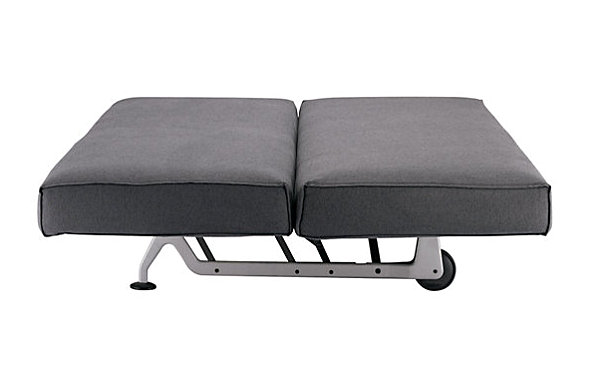 Introducing the Convertible Modern Sofa Bed from Weiku. Tufted cushions are a true highlight, as is the navy blue color that makes this piece a standout. A classic standout that makes a statement without overtaking the room, that is!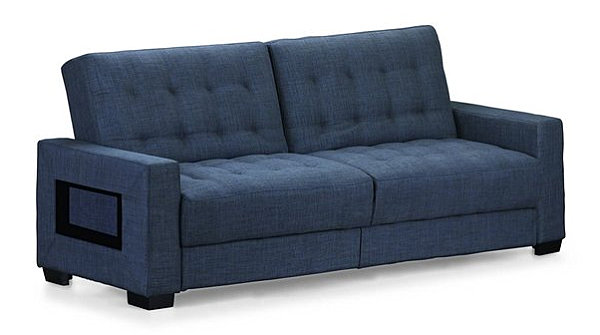 As you can see in the image below, the back of the sofa folds down, transforming the piece into a bed with a mini foot board and headboard. The comfy cushions now add substantial padding to this sleeper, creating an inviting resting spot at the end of a long day!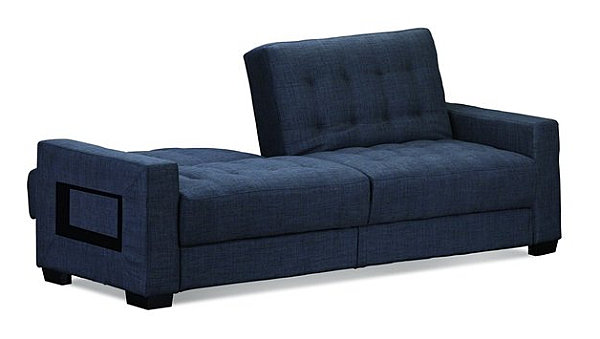 Pull up the seat cushions, and you can see just how this furnishing creates room for under-bed storage. Now you have a place for the sheets and pillows…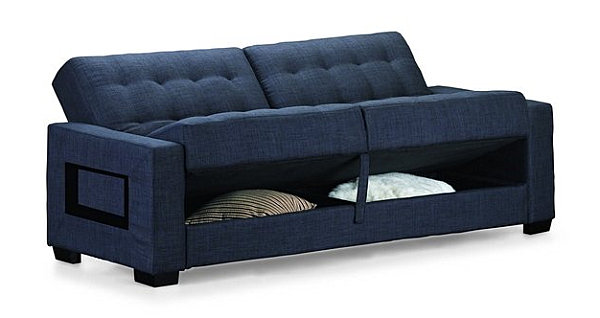 Ready for a comfy sleeper that's rich in style?! The Havana Sleeper Sofa with Storage offers a hidden under-seat nook for stashing comfy guest bed enhancements. A boxy, clean-lined look makes this piece memorable… [from Design Within Reach]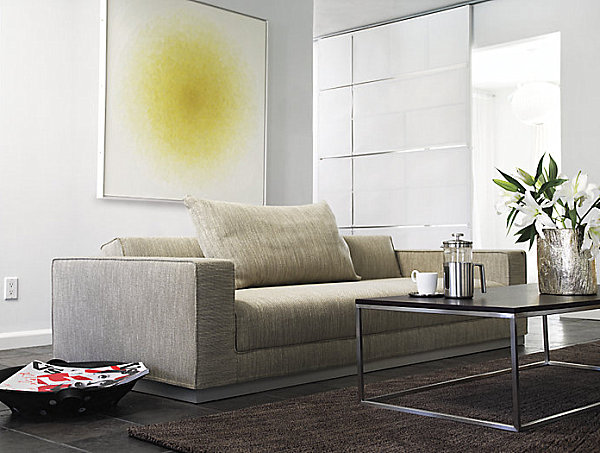 …as does its ability to convert into a chic chaise lounge or a relaxing guest bed! Especially if you remove the pillows!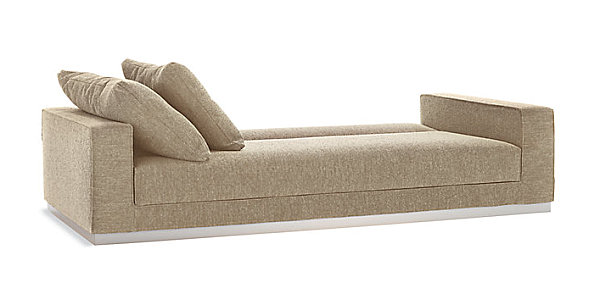 It's hard to imagine a sleeper sofa more elegant than the Sleep Sofa Bed/Daybed from Imagine Living. This piece makes a wonderful addition to the bedroom, office or living room, as you can see in the image below: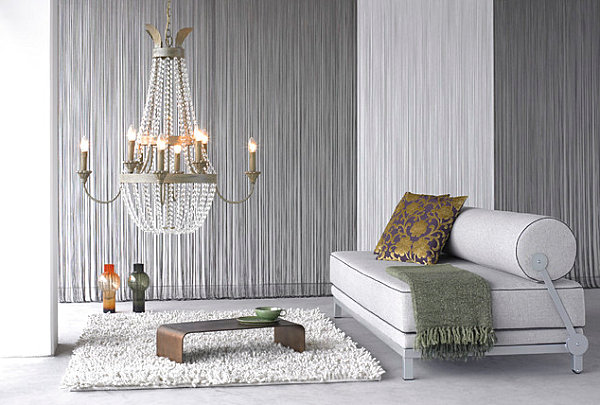 Next we see the Twilight Sleeper Sofa in Cento Fabric, likely the inspiration for the previous sofa. Designed by Flemming Busk, this item won a Danish design contest with its stunning cylinder and rectangle design. Not to mention, it can be converted into a daybed, a queen-sized bed or two twin beds with a few simple adjustments. [from Design Within Reach]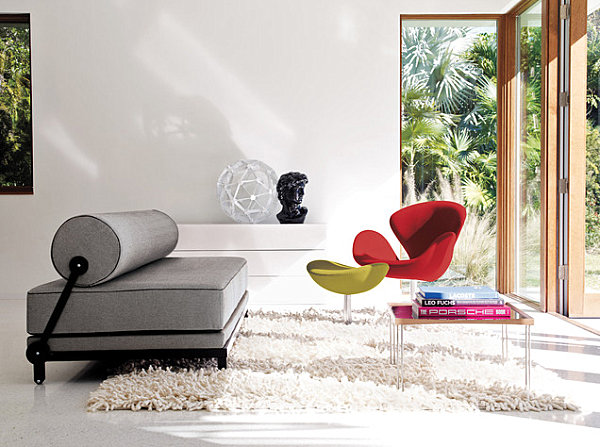 Below we see its queen-sized bed configuration, in which sofa seating and backing are placed side by side for a spacious sleeping experience: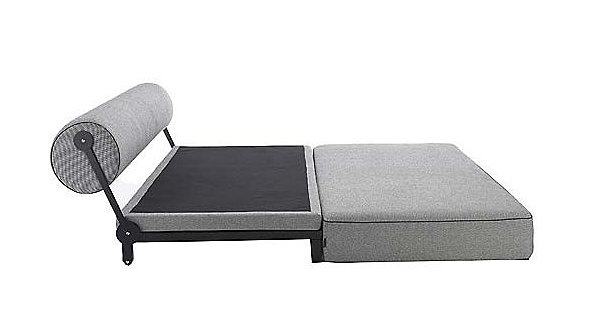 Don't forget the benefits of a convertible bed in a child's room. The compact piece below pulls out to create a colorful guest bed configuration, which is perfect for sleepover fun. Love those stripes! [from Grace Blu Designs, Inc.]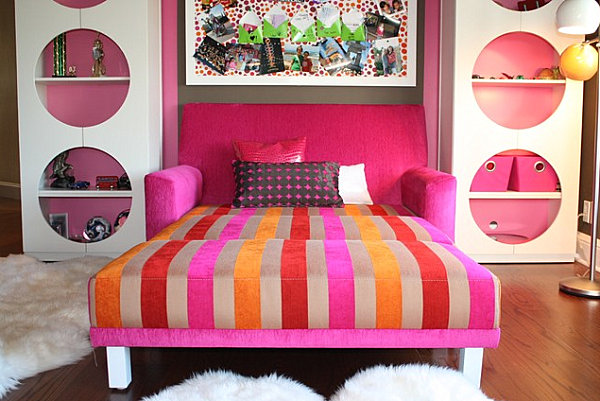 Sofas That Transform Into Bunk Beds
What if your sofa were able to convert into not one, but two beds! The Sell Bunk Bed Convertible Sofa is colorful in its dual shades of bright red and apple green. Cushions and pillows add comfort, yet they are compact enough to leave plenty of seating space on this petite piece. [from TradeNote.net]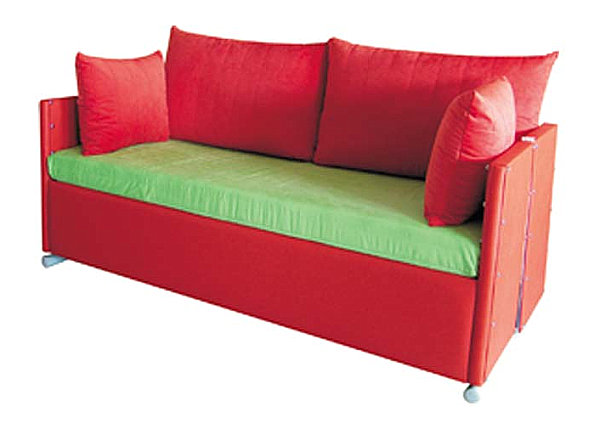 Ready for a transformation? The sofa handily becomes bunk beds with green mattresses. The red pillows make an ideal place to rest your head. Add even more color with a vibrant blanket, or keep it simple with a neutral shade, especially since this piece already showcases two vivid hues.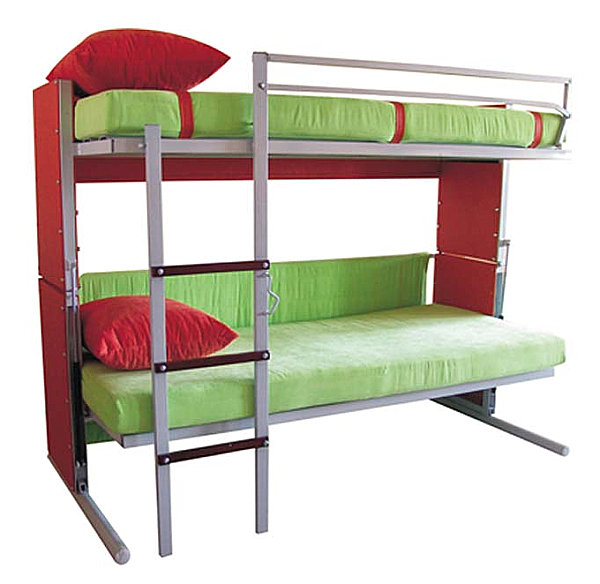 Why do so many convertible beds have a fabulous retro look? There's something a bit 1980s about the Doc XL sofa bed by Clei UK, shown below. In fact, this piece was proudly featured in a previous Decoist post. [from Homedit]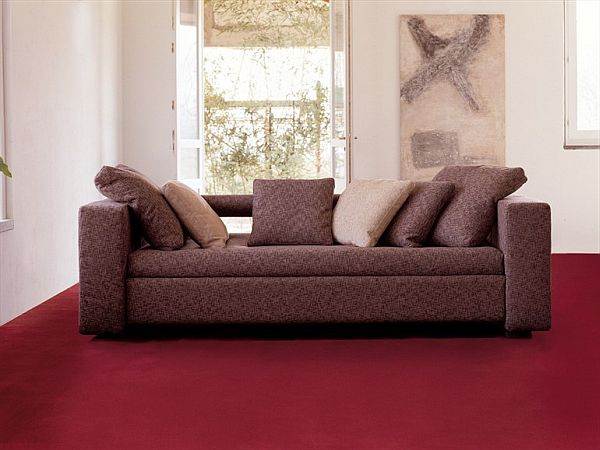 We now see the piece in transition. Is it changing from a sofa to bunk beds, or transforming from bunk beds to a sofa? You be the judge!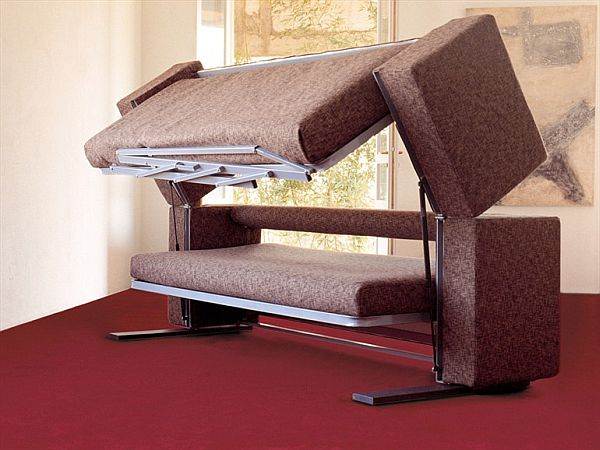 The end result: two beds with wooden slatted bases. And yes, the covers are removable for washing purposes. We can't decide if we like this convertible bed better in sofa or bunk bed form. Good thing we don't have to decide, as this piece is twice the fun!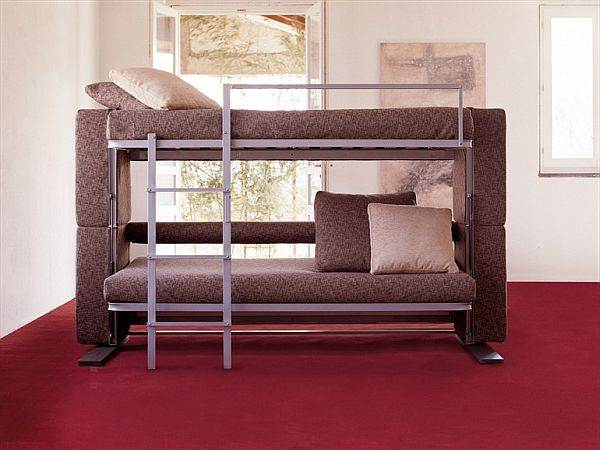 Sofa-Seating-Bed Transformations
Speaking of retro-style furnishings, this Round Convertible Sleeper Sofa from Saba Italia has a boxy look when configured as a couch, as shown below. Note its low-to-the-ground positioning. Yet just wait–there's even more interesting seating in store! [from Furniture Fashion]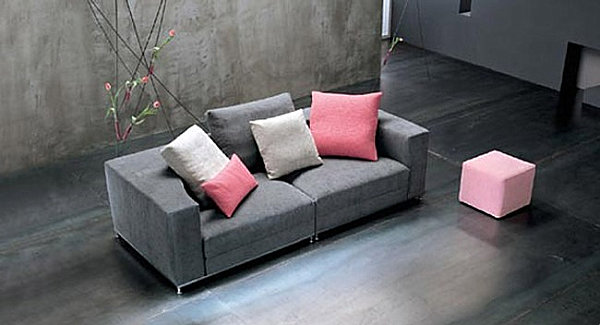 Look what happens when the furnishing is converted to a stylish round bed. Suddenly watching a movie in your pajamas seems like a comfy reality, especially since the piece's back support is still intact: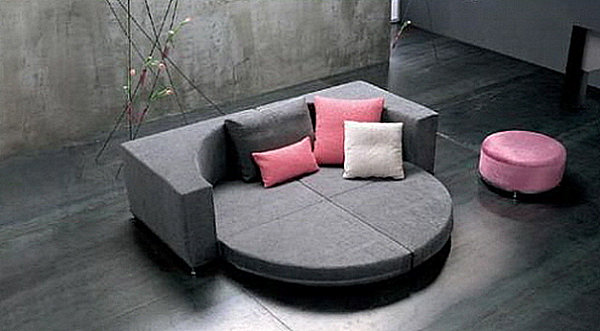 Yet look at this next configuration, which separates the seating into two distinct parts. This is '80s-style modular design at its best, especially when rosy pillows enter the mix: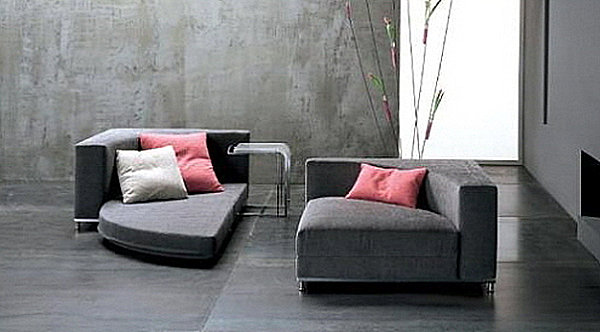 For more seating possibilities, take note of the convertible sofa by Ebuala, shown below. Two-tone cushions are a highlight, as well as the way the sofa has so many interesting arrangement options. For example, who can argue with the convenience of dual chairs and a table in the middle for holding drinks, books or other items that need to be close by? [from Le Blog Deco]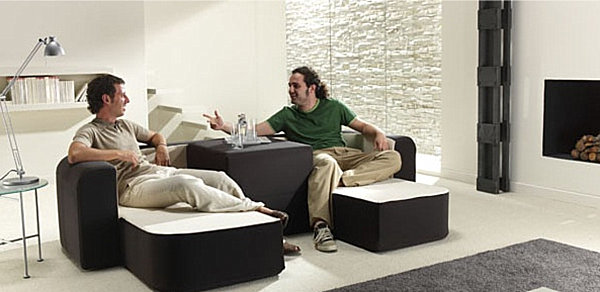 Another option: Fold up an end cushion for a chaise lounge effect. Instead of a table in the middle, this furnishing now has a side table. Good thing it doesn't get in the way of cuddling!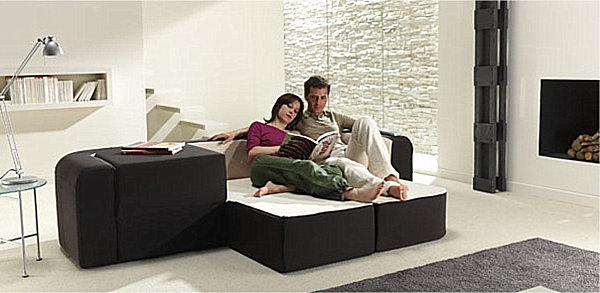 Fold down all three cushions and you have a bed, or at least a work space that gives you plenty of room to spread out as you conquer the tasks at hand. We're crazy about the white fabric on the inside of the couch, which creates a striking contrast to the black detailing.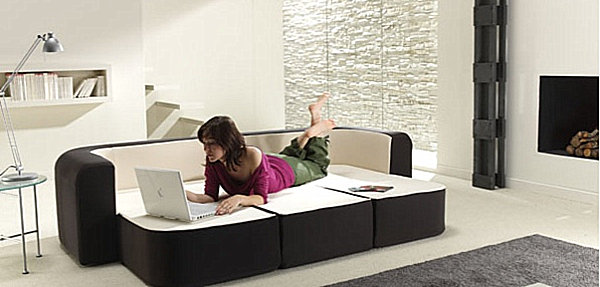 Ready to pack it up and create more room? Good thing there's an easy fold up! The best part: You can still sit on the piece when it's in storage mode…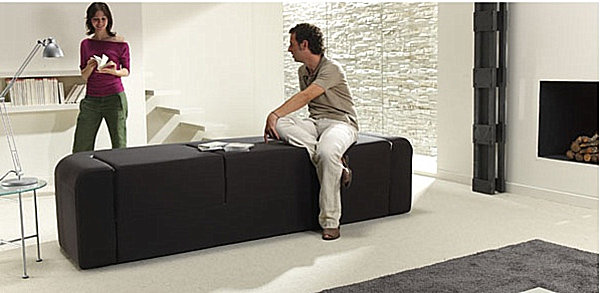 Do you own a convertible bed? If so, is the bed a twin, a double, or a bunk? Is the bed in a living area or a bedroom? Share your thoughts by leaving a comment below…