Designing a home is a task difficult enough, but it becomes all the more difficult when you have kids around. Gone are the days (much like the days when we were kids ourselves), when your parents just gave you a room and told you to make whatever you could out of it. The modern trend is to create kids bedrooms that are as special and as attractive as any other space in the house; if not even more!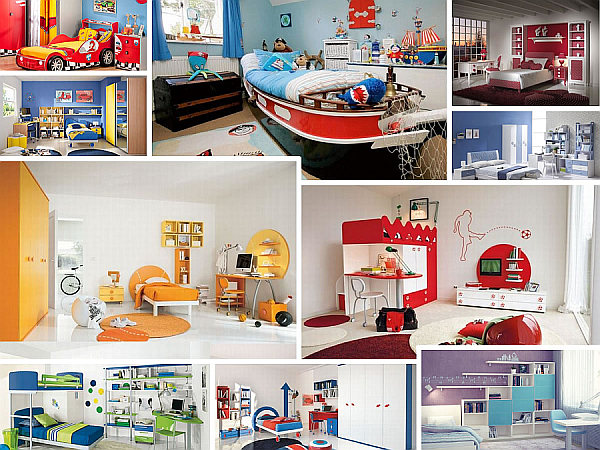 And while getting a children's bedroom spot-on gives you great satisfaction thanks to the reaction that you get, it can also be a taxing challenge thanks to the wide variety of themes and children's bedroom furniture currently out in the market. Here are 23 modern bedroom ideas for kids that will help you make the choice of what suits your home best and fits seamlessly into your existing scheme of décor. Take your pick and improvise smartly to suit your own personal requirements…
Modern Bedroom Ideas for Kids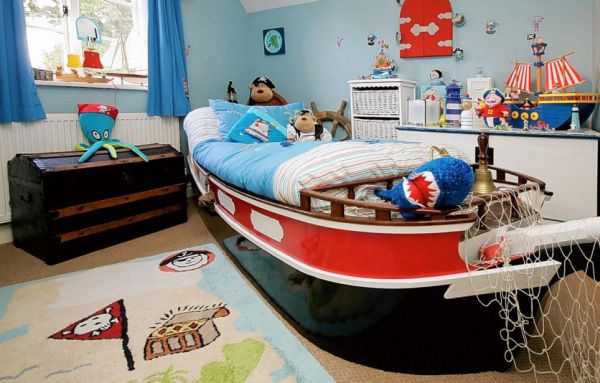 Let us start with something cute and lovely. This simple and colorful bedroom is perfect for the really young ones and the bed shaped like a ship adds to the lovely cartoony, underwater theme. Plenty of fun, no matter where you turn!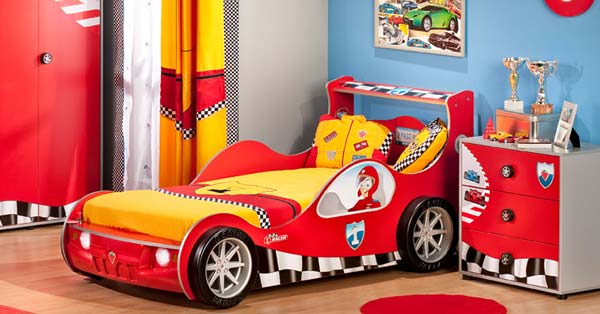 Think your kid is destined to make it big in the NASCAR world? Maybe he will take over the reins of Ferrari and rewrite the records of Michael Schumacher. The shiny red 'race car' bed along with matching closet and storage space makes it a really attractive prospect for children.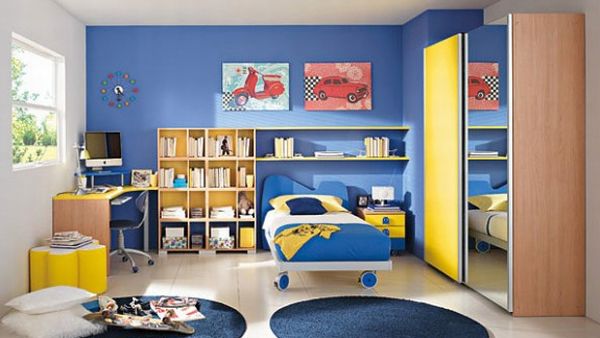 And if red is not your thing and putting on wheels in a lot subtler fashion is your thing, then this theme in cool blue is the one you can give a try. Perfect for kids between 8 and 12, it is stylish, spacious and easy on the eyes.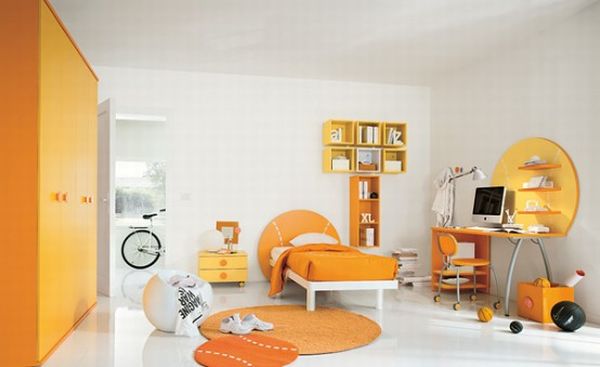 Since most homes these days tend to gravitate towards minimalism, this white and orange style is absolutely ideal as it feels like a natural extension of rest of the home. That and if you are a fan of the 'Oranje'…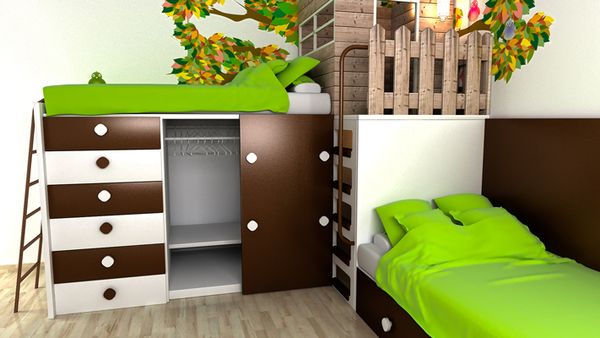 Modern living philosophy tells you that 'Green is in' and what better way to propagate that message than to do it when they are young and inquisitive. The Enfila't Tematic Child's Room uses playful greens and beautiful browns and in case you wish to add to it, then you can actually use a potted plant or too to bring in more freshness.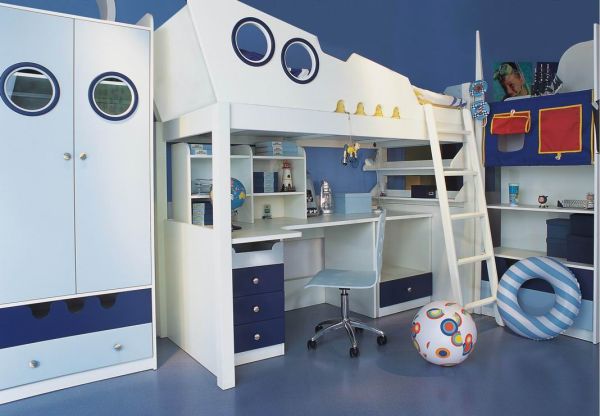 Does your kid love the ocean and never wants to leave the beach, every time you visit one? Then this refreshing blue 'Oceanic' theme will bring a big smile onto his face. Add a few shells and some wonderful framed pictures of the vast blues and you are all set.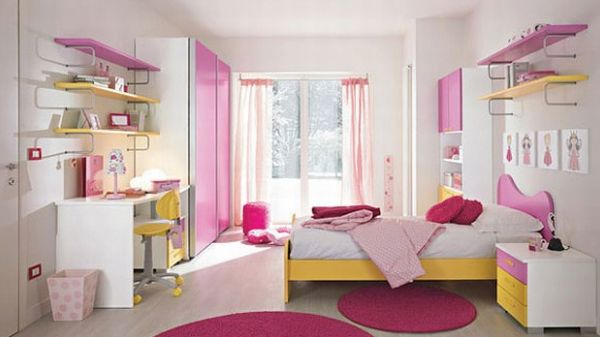 So far we have seen what the boys love. But, what about your little princess? This contemporary bedroom in pink and white is cool, comfortable and exudes a warm hue. Any little girl would adore it and decorate it further with shiny little stars sprinkled here and there…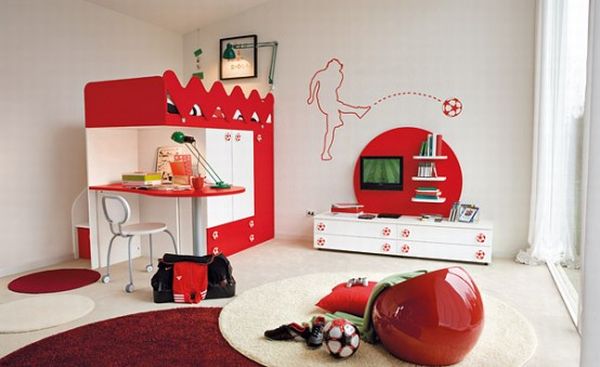 Another perfect children's bedroom design for the modern home, the bright reds are an absolute stand out here. Apart from the vivid color that will liven up your kid's day, it will also showcase his love for football.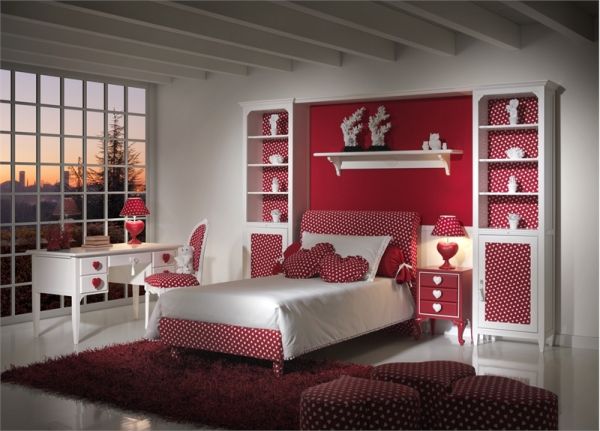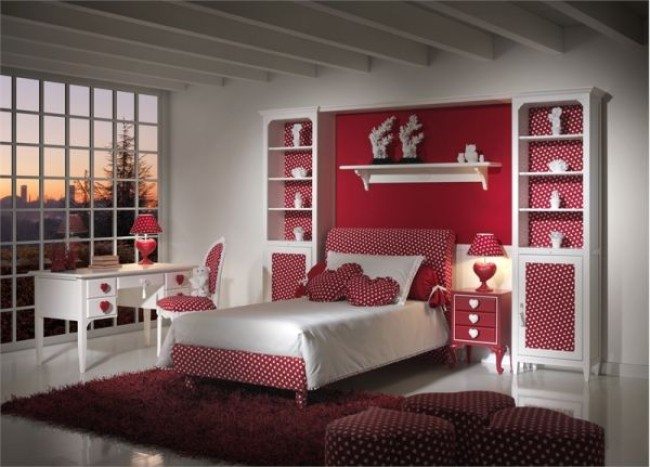 Who does not love a 'heart-themed bedroom'? We are pretty sure that there will be plenty of adults out there who would also want to have one of these… sized up of course! Once again following the dual color principle, it is both fashionable and fascinating…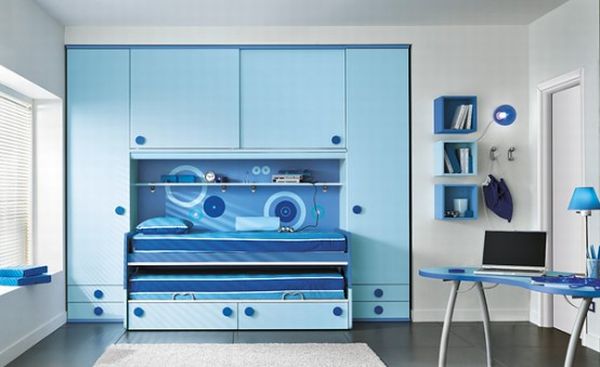 The uber-cool and ultra-modern look of this bedroom might mean that you either need a 'super clean' kid or an adult is willing to clean often enough. That apart, this might be simply the most relaxing bedroom theme we have come across so far.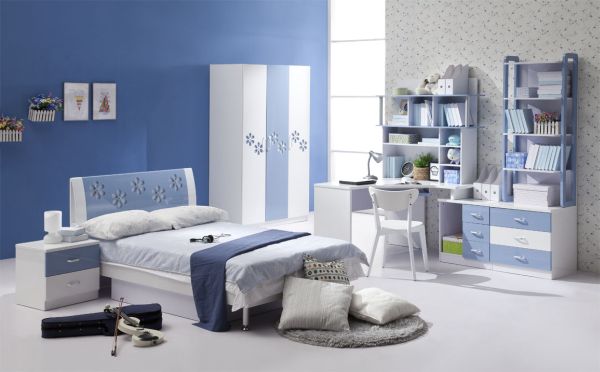 And we continue with the 'blues' by showcasing a bedroom template that is sleek, elegant and simply in a class of its own. The wonderful use of simple and soothing shades and the balance achieved is mesmerizing.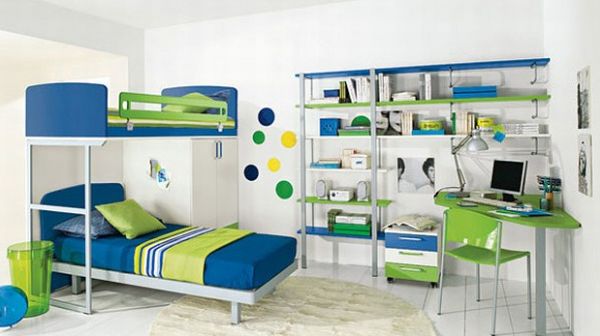 If your little Einstein is a bit too much into reading, then there is ample room here for all of his big books. This room also employs a lovely mixture of yellow, green, white and blue and breaks away from the format of design themes that just use white along with one other shade.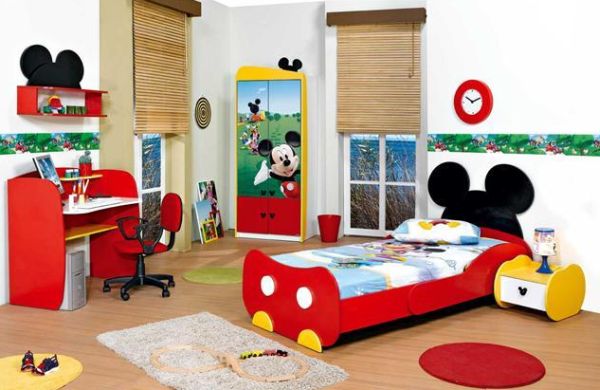 How can one have children's bedroom themes and leave out the Walt Disney classic that is the universal symbol of affection and fun! Hence the Mickey Mouse-themed bedroom makes a grand and glorious appearance. An eternal hit…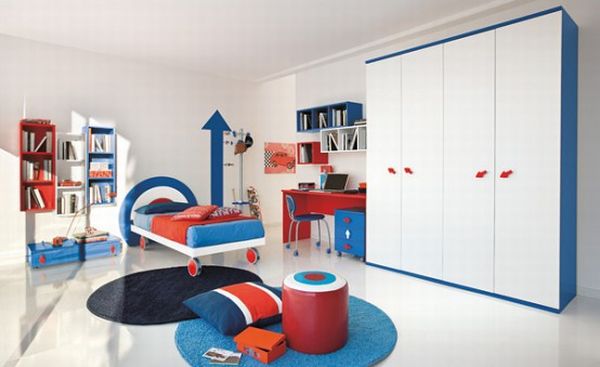 For those who have large space to spare, it is best to design a kid's bedroom that is as large as possible. It gives them much needed freedom and there is a far lesser chance of him bumping his head into anything. This fashionable design in blue, orange and white does just that.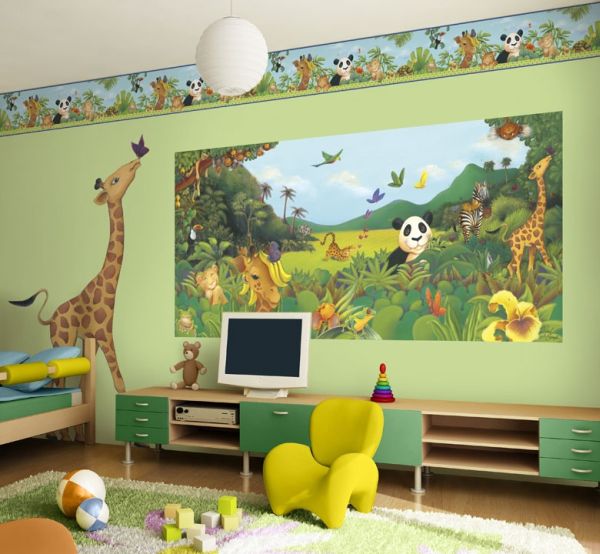 Animals are always a big hit when it comes to kids' bedroom designs and the one here follows a very basic format and keeps things both simple and cost effective. The wall art is something you can improvise on and you can even use a different shade of green, if you find this one a tad bit dull for a kid's room.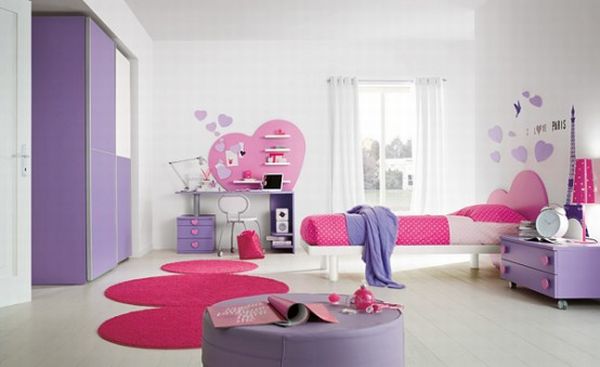 Back to the exclusive designs for girls, the bedroom here uses not just the usual pink and white along with the 'heart-shaped' décor, but also employs an extravagant splash of violet and does so gracefully.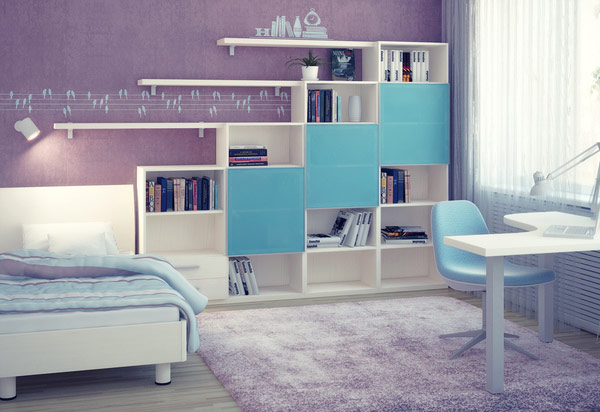 This is the Primo bedroom designed by Filippe Grandy and it showcases royal use of indigo (violet) along with a plush carpet that just seems to steal the show thanks to its apparently soft texture. All too pleasing on the eyes…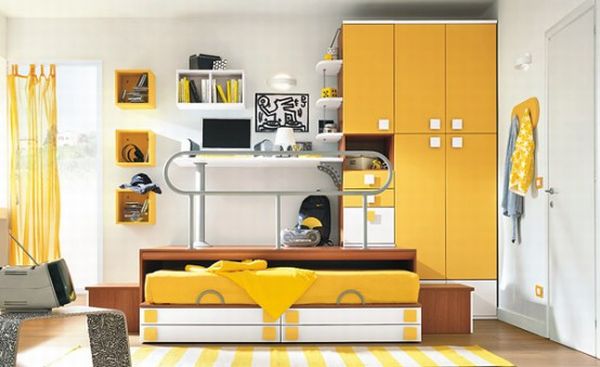 While we have showcased ample blues, a few greens, some pinks and an odd red or two, this is the first time that Yellow makes a grand and radiant entrance. The attractive aspect of this theme is the way it can be integrated into small spaces without sacrificing on the look and the symmetry.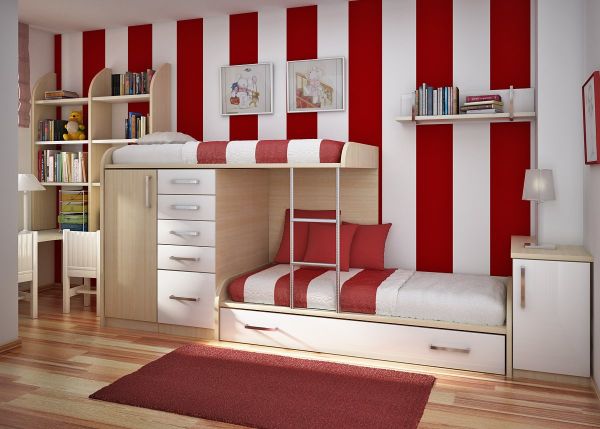 Set in strips of red and white, this room employs sleek and precise lines to create a prominent visual. The bold use of color and the way it is used will certainly appeal to kids without doubt.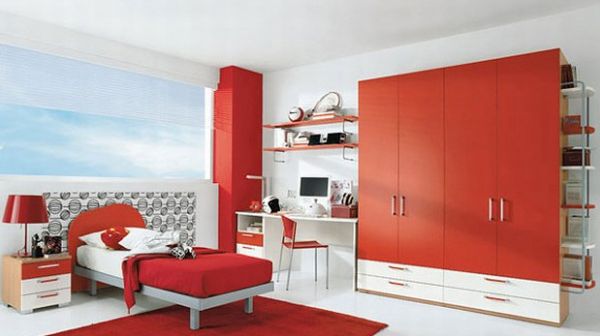 More red and white is on its way as this kids bedroom not only creates a lasting impact with its bright tones, but also employs wonderful and innovative little visual above that bed that gives the children a feeling that their room has a great view!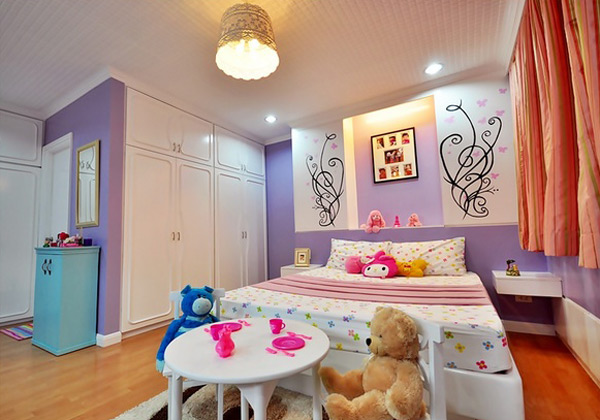 If you could bring to life a bedroom from a fairytale book or one of those images from the children's bedtime books, then this is what it would look like. Picture-perfect and artistic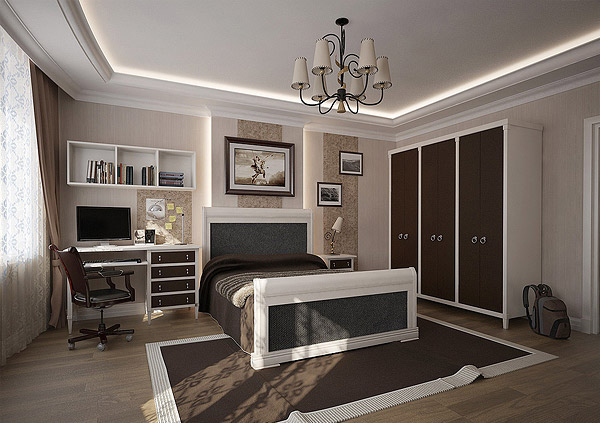 Most of the ideas and theme here might be for kids who are really young, but this one is for the kids who are getting closer to the teens. The advantage here is that you need not change the interiors way too much to turn this into an ideal teen bedroom.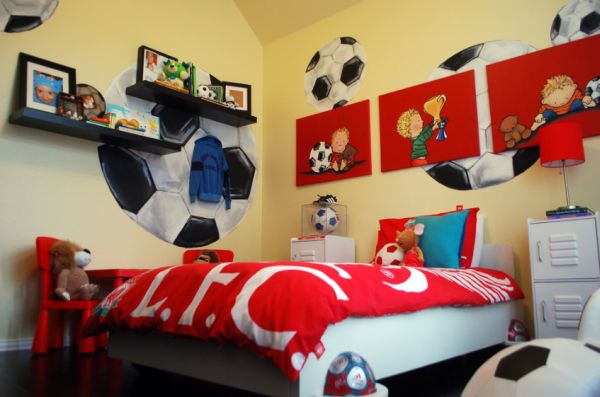 And we end the collection with a simple design idea for children who love sports; especially football. This one is not very fancy and east to mimic. Yet it seems to live and breathe the sport and offers ample excitement.