Quick survey: How many of you have ever searched a restaurant chair for a brand name in hopes of ordering your own set of chairs to bring home? I've definitely been there! In fact, one evening at a Krispy Kreme doughnut shop, I found myself strongly drawn to a set of industrial metal chairs. A quick on-the-spot search revealed their origin: Emeco, a company featured later in the post…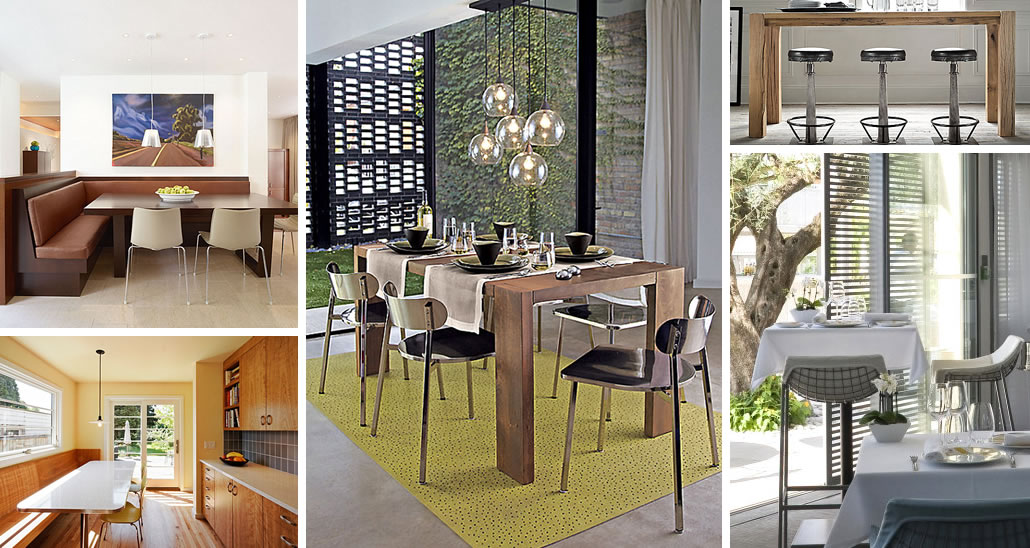 And speaking of today's post, we've rounded up a collection of restaurant table and chair ideas that easily translate to a home setting. From café-style vignettes to industrial selections, the featured items work well in modern and traditional spaces alike. And for those of you who specifically want your home to look like a restaurant, never fear! There's even a section on booth-style seating. Enjoy, and bon appetit!
Bistro Tables and Chairs
Are you a fan of the café look? Many kitchens and dining spaces, even modern ones, revel in the charm of bistro tables and seating. Below we see a French Kitchen Bistro Table featuring a white Carrera marble top. The table is paired with Vienna Black Chairs boasting a classic Bentwood design from 1859. The furnishings can all be purchased through Crate and Barrel.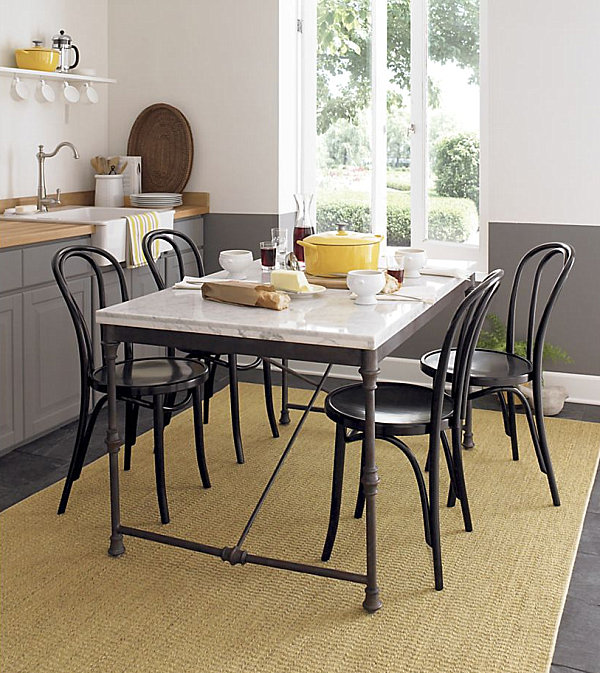 Pairing bistro chairs with a bistro table is picture-perfect. But it can be just as eye-catching to mix and match styles. In the next image, we see bentwood chairs with a natural finish. But instead of a café table, they surround a modern white Saarinen Tulip table. The result, an unexpected blend of iconic styles. [from Emily McCall]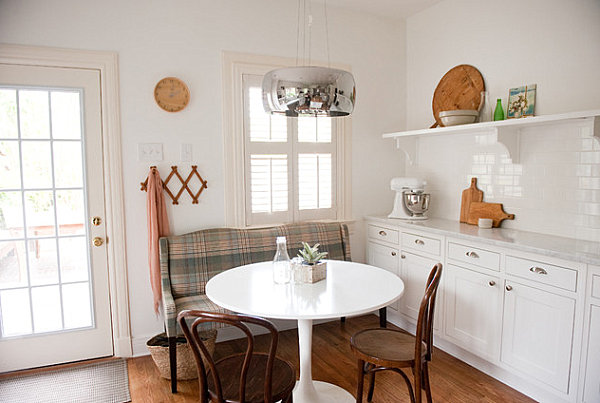 Woven bistro chairs evoke the beloved seating of a French café. Once again, a classic style is mixed with the unconventional choice of a long rectangular table with an earthy yet modern look. [from Tim Barber Ltd. Architecture & Interior Design]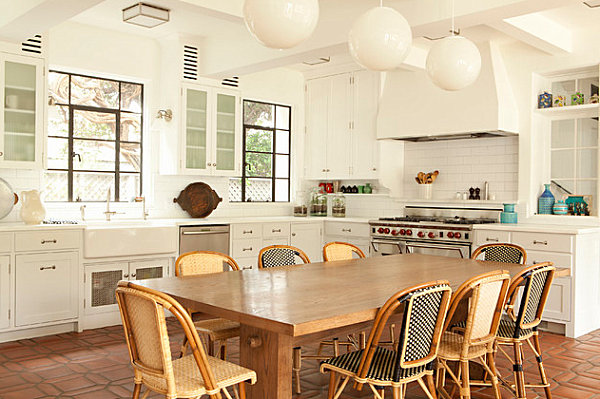 Folding café chairs have a wonderful vintage vibe. We love the way they seamlessly blend with distressed cane chairs to create a shabby chic effect featured in the image below. A painted white table unifies the look. [from Dreamy Whites]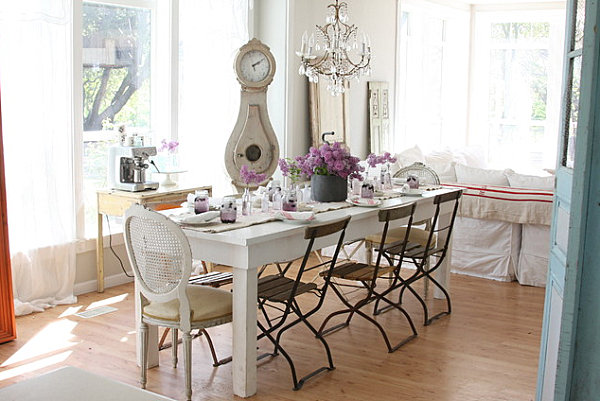 Industrial Seating and Tables
Industrial seating can range from vintage to modern in style. Remember the chairs mentioned at the very top of the post? Below we see them in red. In fact, this beloved Emeco seating, consisting of five 111 Navy Chairs, has an interesting twist in addition to a striking red hue–each piece is crafted of 111 recycled PET bottles! Notice how they are paired with a sleek wooden table in a dark finish.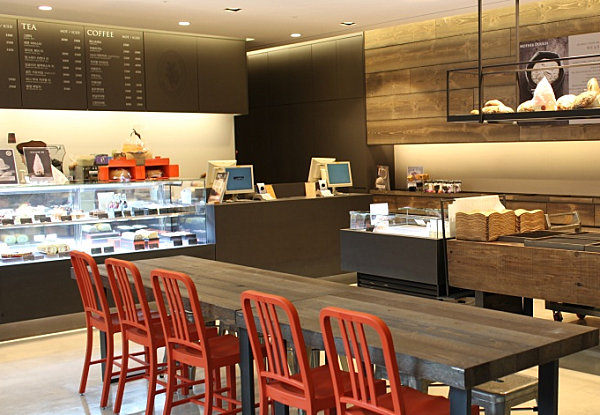 For a look that channels the past, check out the Vintage Toledo Collection from Restoration Hardware. The stools in the next image feature a bent steel base with a distressed black wooden seat. Wondering what to do for a table? No worries–you can pull these right up to the bar!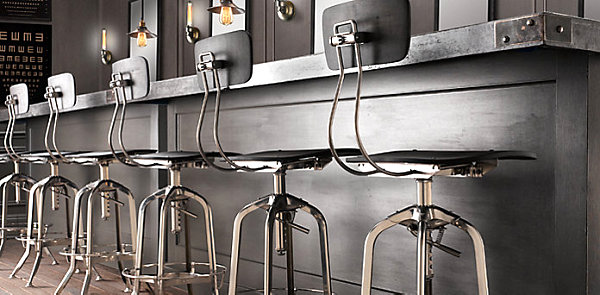 For another fabulous bar stool find, don't miss the Soda Fountain Barstools below, inspired by 19th-century soda fountain seating! Bring the vintage malt shop look home, and for an interesting variation, blend this industrial style with the Parsons Reclaimed Russian Oak Dining Table. Metal seating + wooden table = perfection.
For a look that is slightly more minimalist modern than industrial, check out this gridded seating from Emeco. White cushions and tablecloths create a crisp finish in the gray modern space below.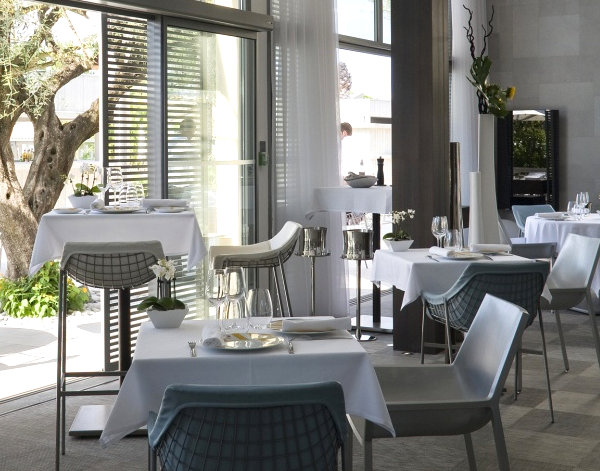 We're smitten with the Fleet Brushed Nickel Chairs featured in the next image. A familiar shape is given a modern twist with the help of nickel-plated steel, which takes center stage in the room below, along with striking pendant lighting. Designed by Jason Lewis, these chairs combine beautifully with the Blox Dining Table (all are from CB2).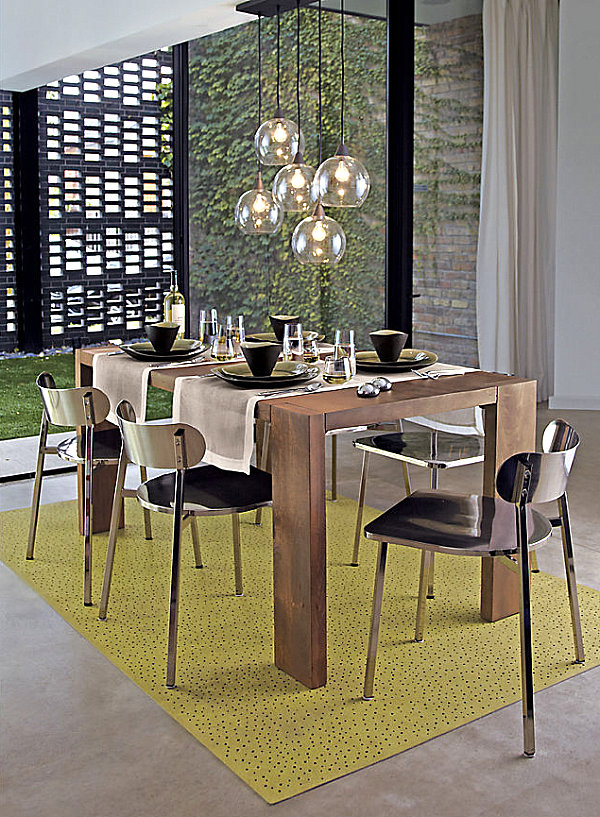 Booth Vignettes
Group seating is fun and unique with the help of a booth! That's right–booths are not just for restaurants anymore. They are increasingly appearing in residential spaces. Like the vibrant kitchen below, which also includes colorful chairs to round out the seating. [photo by Jo Ann Richards via Sky Is the Limit Design]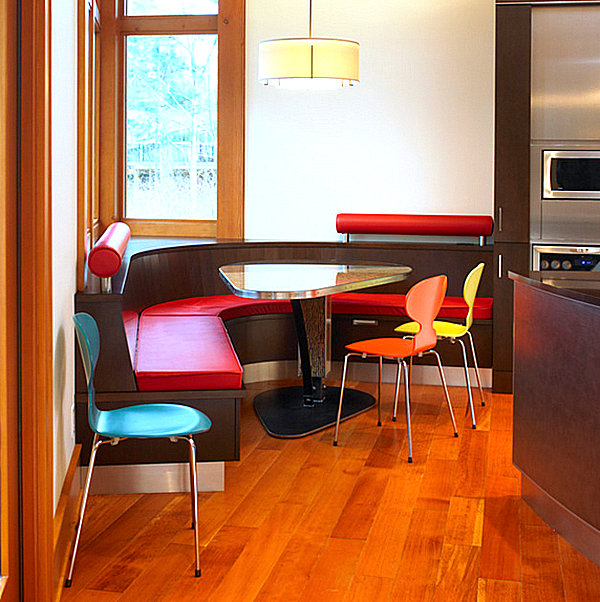 A more subdued booth arrangement is featured below, complete with neutral tones and a chic wooden table for a contemporary look. A bowl full of lime green produce makes it clear that this seating is strictly residential! [from Rockefeller Partners Architects]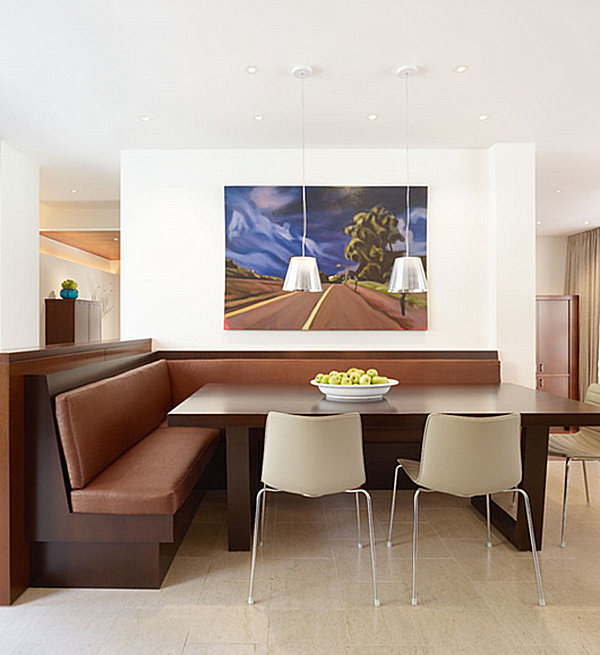 We end with a '50s-style diner table that's combined with wooden bench seating and a few restaurant-style chairs with a natural finish. Warm, rustic and vintage, this seating arrangement proves that a range of styles can blend effortlessly, thanks to the golden glow of wood that ties the room together. [from Howell's Architecture + Design, LLC]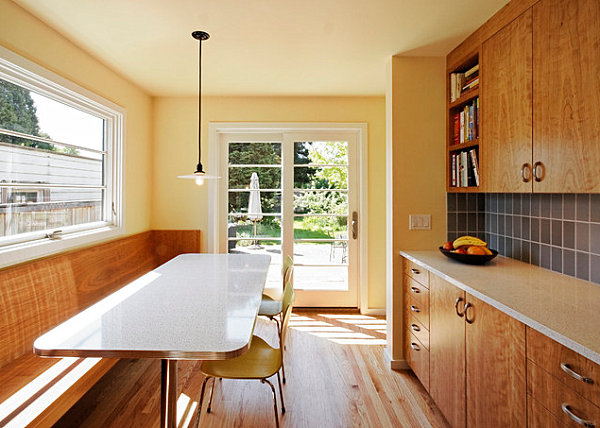 And now for another quick survey… Which of the styles above caught your eye? Do you prefer café-style tables and chairs, or are you drawn to a more modern, industrial look? Would you ever consider booth seating in your home? Share your thoughts by leaving a comment below!