Do you ever get the feeling that everything is starting to look alike? Maybe the bulk of the modern sofas you encounter look a bit too clean-lined and boxy, or the upholstered chairs you see are all covered in neutral tones… You'll be delighted to know that the featured furnishings in today's post really break the mold!
From a chair crafted of bottle caps to a table/seat/ottoman in the shape of a giant ice cream sandwich, these pieces are anything but ordinary. Which is why we love them! In fact, several of the furnishings below have multiple uses. Take a look, and you'll know that there's something extraordinary about a functional item that doubles as a showstopping conversation piece!
Unusual Seating Options
Our first piece puts the "wow" in "wowzers"! It's the Capped Out Chair from BRC Designs, constructed of bottle caps that are joined together with the help of zip ties. The chairs frame is crafted of 99% recycled steel with a white powder coated finish. Put this in your living room and you won't be short on color. Or originality.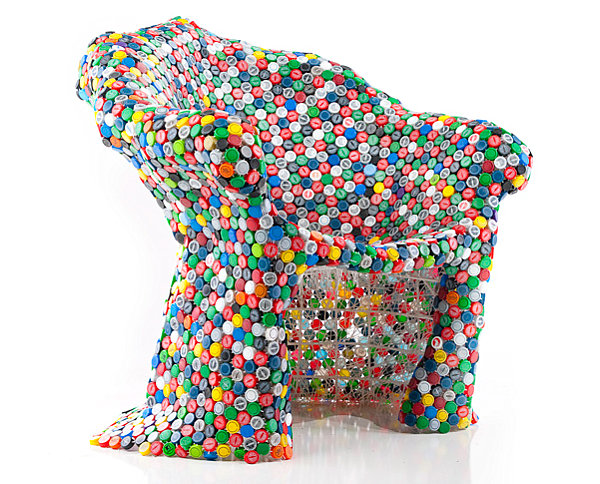 Clean curves and bold color blocking highlight the Sancal Float Sofa by Karim Rashid, which can't help but look retro in a setting that celebrates classy hues, as shown below: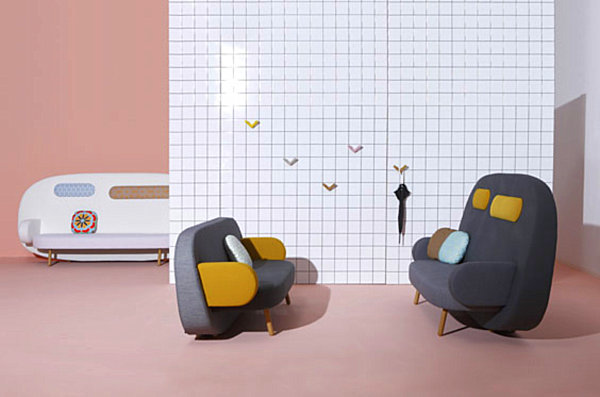 Don't forget to spread the uniqueness to your yard! The Softa Outdoor Bench by Tembolat Gugkaev is vibrant with its striking yellow hue. Made of fiberglass and carbon, this piece resists water, heat, cold and bumps! Not to mention, it's available in a variety of color options.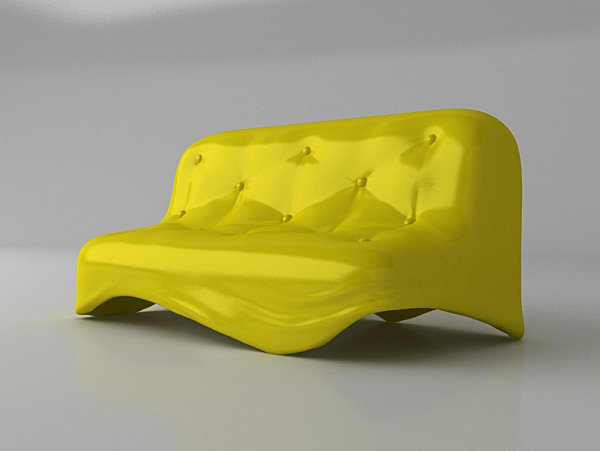 Remember those childhood days of heading to the candy shop? Relive them with the Button Bench by Jellio, which celebrates the colorful allure of button candy. White acrylic is embellished with rubber dots in shades of magenta, yellow and blue. Fun fact: the dots squish when you sit on them, then pop back up when you rise!

What happens when you cross a bookshelf with an armchair? Tatik by Tembolat Gugkaev! Looking for some good reading material? Now you don't have to get out of your seat to find it! This piece just might belong in a museum…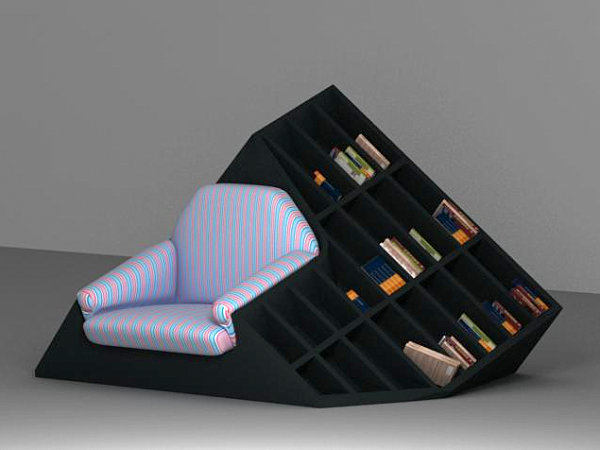 The irresistible color of the Softline Rullo Convertible Couch-Bed from Karim Rashid is definitely a selling point of the item. So is the fact that it can transform from couch to bed for your convenience!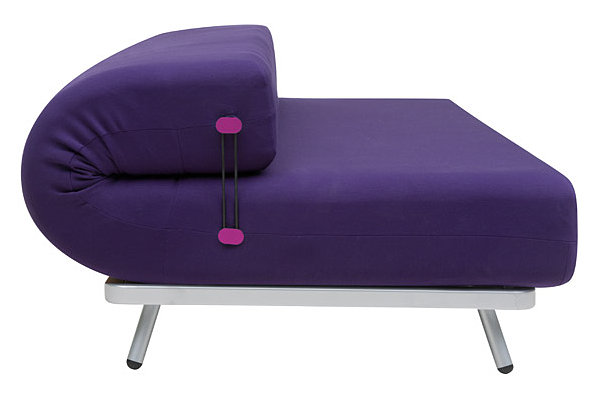 Table? Ottoman? Chair? Any and all of the above! In fact, this piece of furniture is exactly what you want it to be… And it fulfills your childhood fantasy of visiting Candyland. Yes, it's the Ice Cream Cookie by Jellio! Crafted of solid foam, the cookie portion of the item is tufted and covered in canvas, while the "ice cream center" is surrounded by velvet. Delicious!

Unique Tables, Cabinets and Seating
We now move from seating to surfaces. As you can see, the surface of the table below is made quite interesting by spiky forms rising from the top. In fact, this Protrusion Low Table from BRC Designs is crafted of 64 colorful Egyptian-inspired pyramids. Some protrude through the glass, holding the tabletop in place.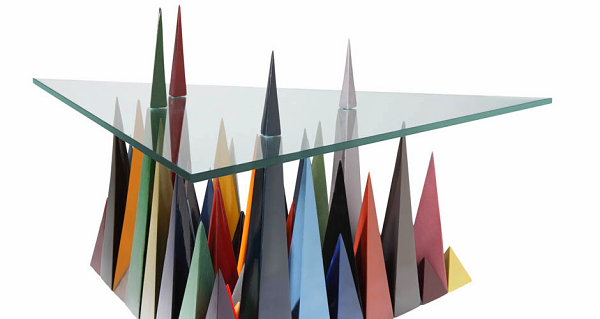 The next piece looks like something from a sci-fi movie set. In fact, the craftsmanship is so phenomenal, we had to show a close-up in the image below! Cabinet Tout van Bien was created by two furniture designers who were graphic designers, Antoine Audiau and Manuel Warosz (also known as Antoine+Manuel). On their website, the item is described as "a surprising mixture of applied arts, hieroglyphic language, contemporary graphics, fantasy and optimism." We couldn't agree more! Side note: the cabinet is also available in dark grey. [from BD Barcelona Design]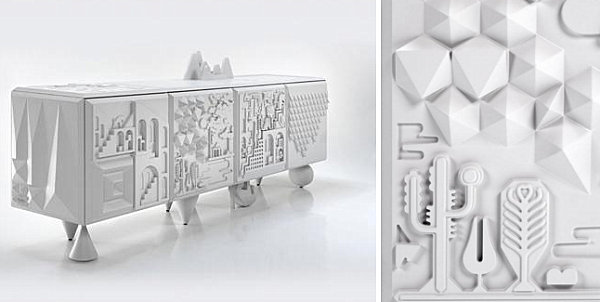 What happens when wood meets ceramic? The vivid cabinets below, created by Keramos! Their primary colors and sleek shine are hard to resist, don't you think?…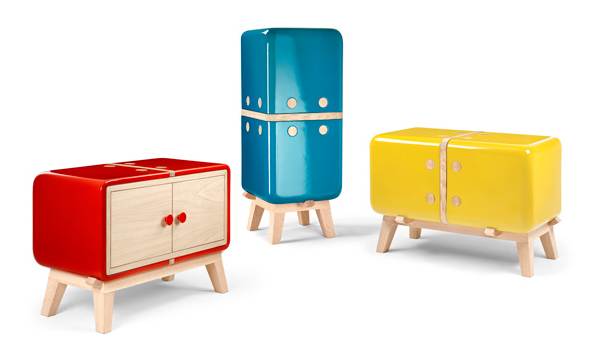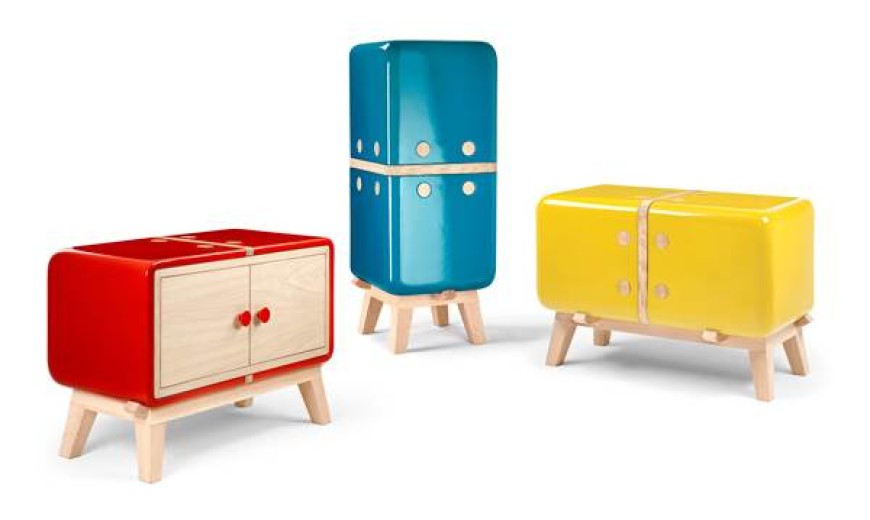 We end with the Tectonic Bookcase by Tembolat Gugkaev. Not only is this purposely disheveled piece eye-catching during the day, the shelves are illuminated at night, adding a special glow to their original design…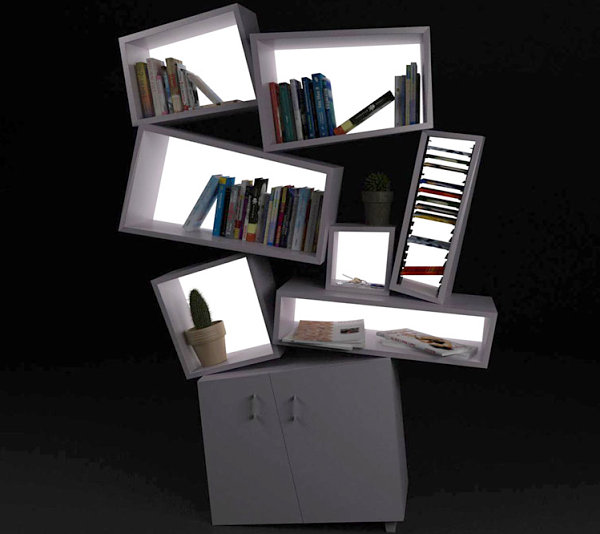 There's no doubt that the items above are amazing! We want to know if you'd showcase one or more of them in your home. Which are your favorites? Share your thoughts by leaving a comment below…