We're hooked on wall-mounted decor! Yes, we're talking about wall hooks… While it's clear that these items serve an important function, they can also add color and texture to the wall in the process. In fact, many people hang them in interesting configurations or select them based on their color, size and shape.
Today we've rounded up a collection of modern wall hooks, from natural wooden pieces to the most colorful and whimsical of designs. We've also included a few DIY wall hook projects for your crafty enjoyment. In fact, our featured selections are as artistic as they are handy. Enjoy browsing!
Wooden Wall Hooks
We begin with a series of natural-toned wooden wall hooks. The MUCHroom Wall Hook from Workerman is "inspired by mushrooms growing from a forest floor." Each box includes three hooks. After all, these ambrosia maple wonders are exquisite when displayed in a group.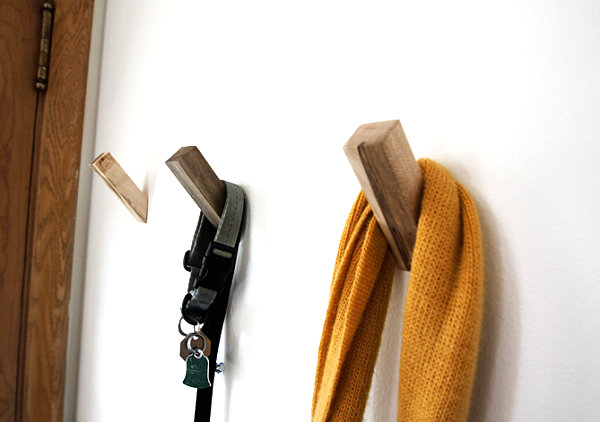 Our next featured selection consists of a series of hooks extending from a larger piece of wood. The Turned & Pegged Coat Hook from Thelermont Hupton is crafted of turned ash. The pegs are available in their natural shade, as well as white, blue and black for colorful variety: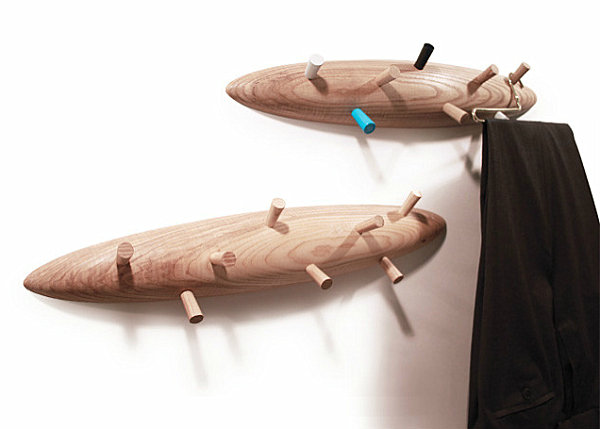 The Stone Wood Wall Hooks from Clippings are handmade of cherry wood or light ash wood. A multifaceted look reflects today's top design trends, while the subtlety of these pieces allows them to stand out without overpowering the wall.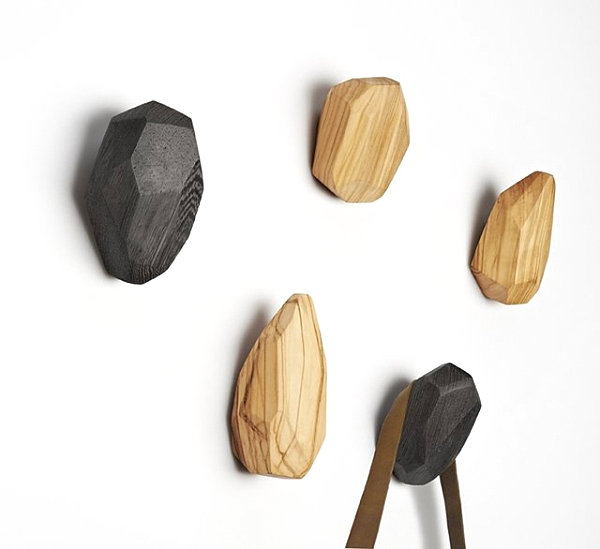 DIY Wall Hooks
Ready to get creative? Try crafting your own wall hooks from painted tree branches. In fact, a full tutorial for these cleverly designed Tree Branch Wall Hooks can be found at Scandinavian Deko. [via Curbly]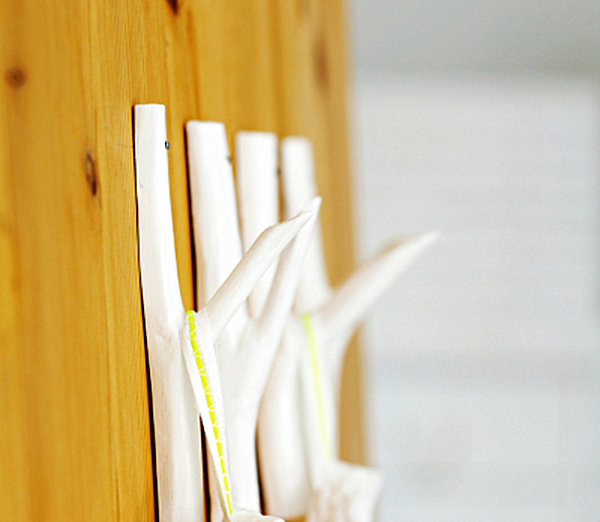 Can toys be transformed into design building blocks? The answer is "yes," thanks to this easy and fun toy block wall hook DIY project. In fact, design studio Snug recently entered their amazing wall hook design in a contest called HelloGoodbye, which focused on "ready-made design" for the entrance or hallway. Check out Remodelista for all the details.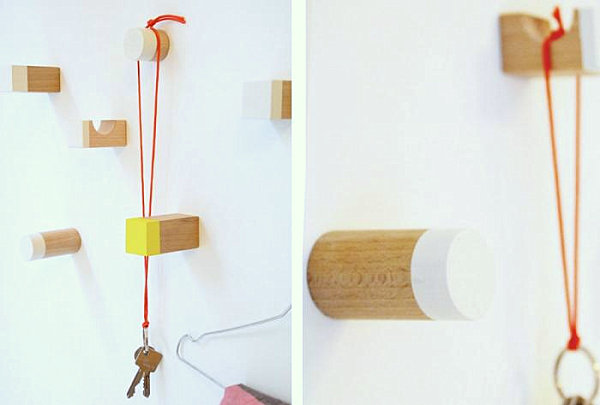 Instead of using toy blocks, feature chess pieces in a wall-mounted creation! These chess wall hooks were designed by Malin Lundmark for Karl Andersson & Soner. [via From Scandinavia With Love]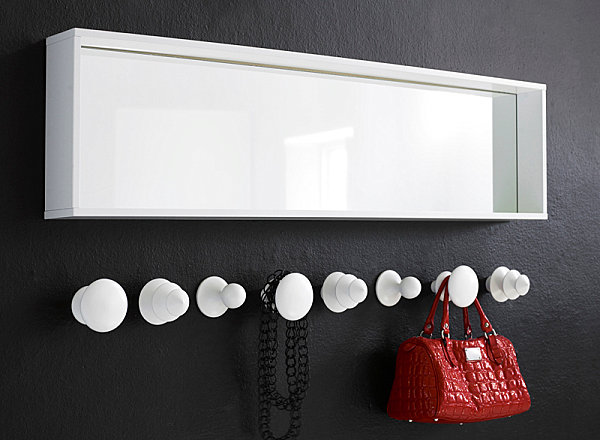 Colorful Round Wall Hooks
We now enter a world of whimsy and child-like fun. And of course, color! The Roll Hook from Thelermont Hupton includes an assortment of vibrant balls mounted on one length of wood. Wall hooks or wall art? You decide!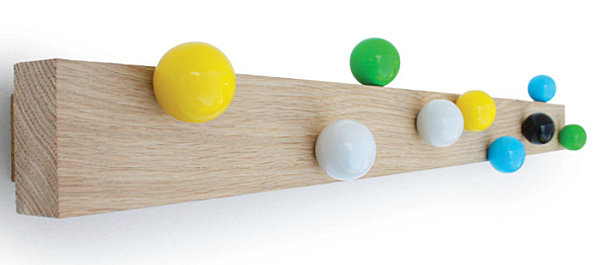 These colorful wooden wall hooks from Chocolate Creative are an easy way to add vivid geometry to a blank space: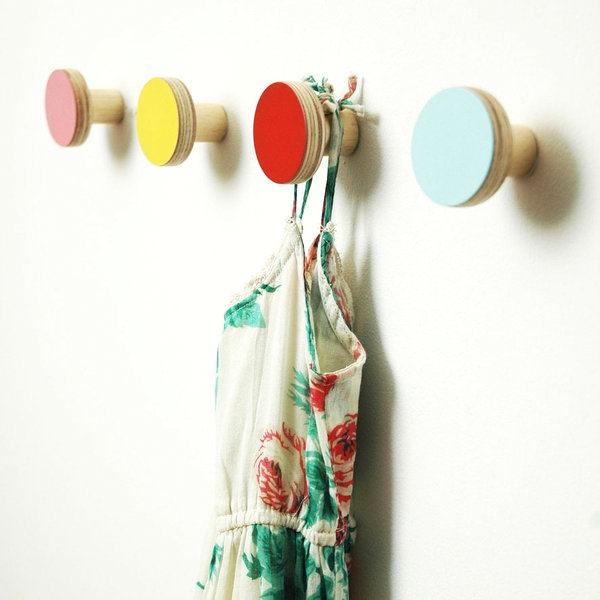 For a similar look, check out Stilleben's Large Metal Coat Hooks, which create an artistic effect when mounted on the wall as a group. Especially since they feature today's hottest neon hues. Stilleben calls their creation "the perfect replacement of the Eames coat rack." [via MAIYA]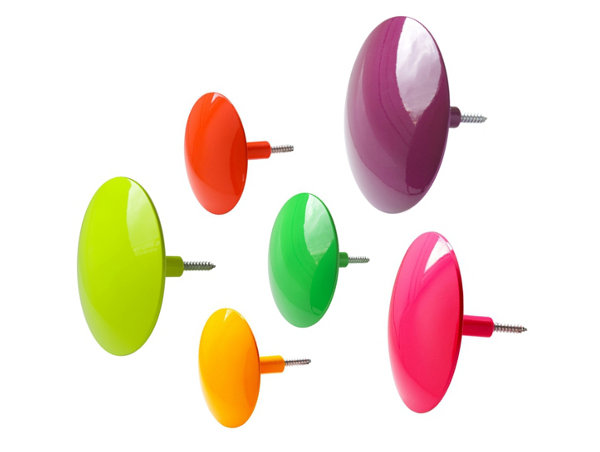 On that note, we end today's post with a tribute to the Hang-It-All Coat Rack from Charles and Ray Eames, a classic product designed in 1953. It's clear that this beloved item has as much appeal today as it did when it made its debut 60 years ago! [from Heals]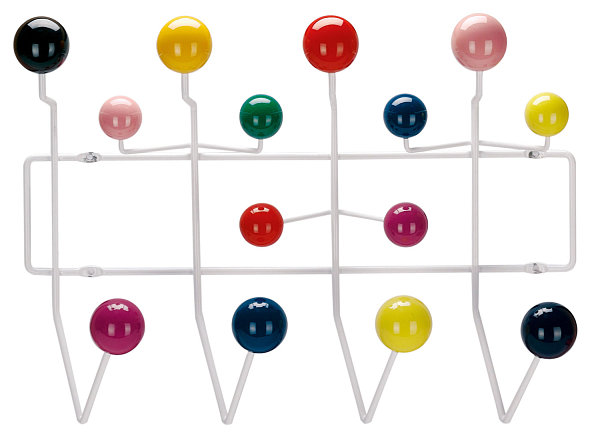 We often think of wall-mounted hooks as utilitarian products found in industrial or educational spaces, such as preschools. Yet there's no doubt that wall hooks can be equally handy in the home. Not to mention, fabulous! Keys, coats, purses–they can all hang neatly in a convenient spot with the help of well-placed hooks. Would you feature wall hooks in your home? If so, would you take the opportunity to make an artistic statement? Share your thoughts by leaving a comment below…