Sustainable. Green. Eco-friendly. These pro-Earth words mean the world to today's design lovers! Which is why it was only a matter of time before cardboard furniture became a functional and stylish way to use recyclable materials while celebrating modern design at its best. Cardboard? Yes, cardboard! Companies such as Karton are taking cardboard furniture design to new heights, incorporating geometry and sturdiness into each piece.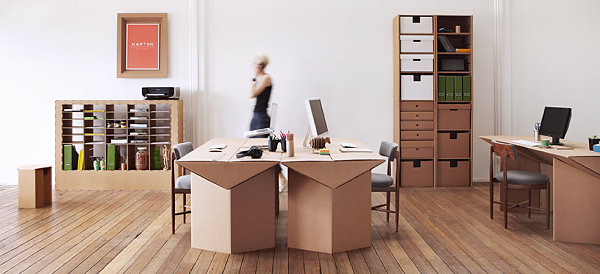 Many cardboard furnishings are super affordable, shipping in packs to maximize your money! However, we can't discount the showpieces that mix design and art. And those come with a substantial price tag. Below we feature an array of unforgettable cardboard designs, from the most budget-friendly pieces to those priceless museum-worthy selections. Cardboard furnishings ship easily, they travel well, and when you decide you no longer need them, they can be recycled. And you can't beat that!
Cardboard Seating
We start with the seating. Is cardboard sturdy enough to support human weight? You betcha! The power is in the design, like the solid construction of the Hex Stool from Karton. These stools assemble in seconds. And you can't beat the price of $78 for 6!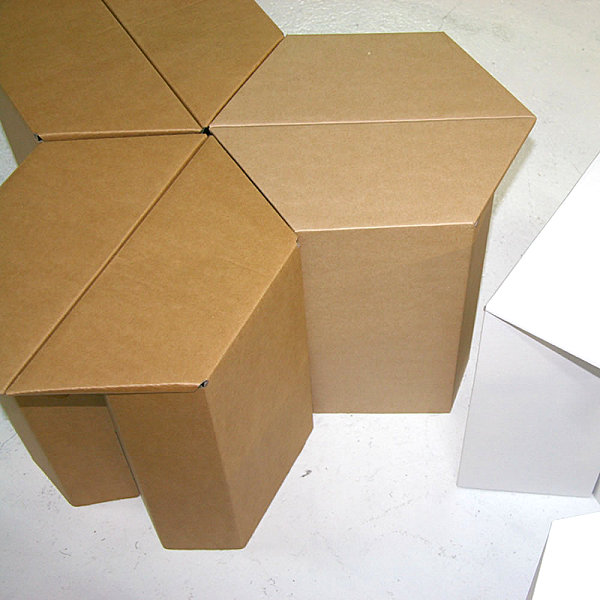 Ready to be dazzled? With the many facets of a gemstone, the Bravais Chair from Lazerian was inspired by natural forms, such as the intricate geometry of a wasp's nest. Yet rather than housing wasps, this chair is fit for an Eco-friendly king!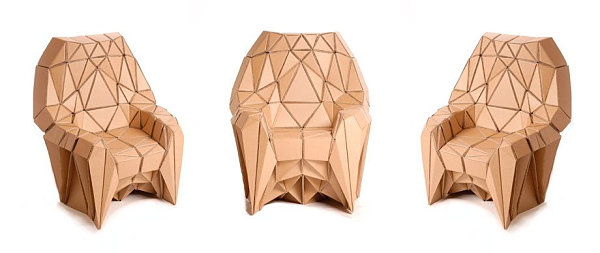 Nature's crystalline structures are once again reflected in this Radiolarian Sofa from Lazerian. As mentioned in the product description, "over two thousand components were hand cut and glued together to create [this piece]." Which is why it's priced accordingly at around $20,000…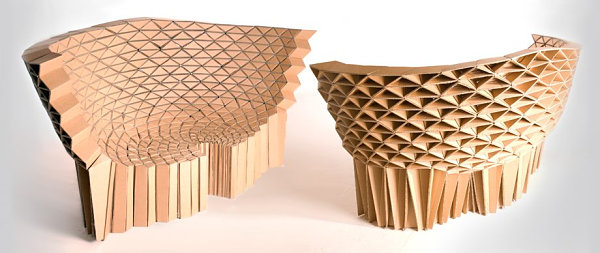 Cardboard Tables
Don't think that cardboard design has escaped the realm of tables! From the practical to the sculptural, there's a design for every room. Like the Leo Kempf Conversation Table, crafted of corrugated cardboard, hardboard, and laminated hardboard spacers. Talk about a conversation piece! [from LeoKempf.com]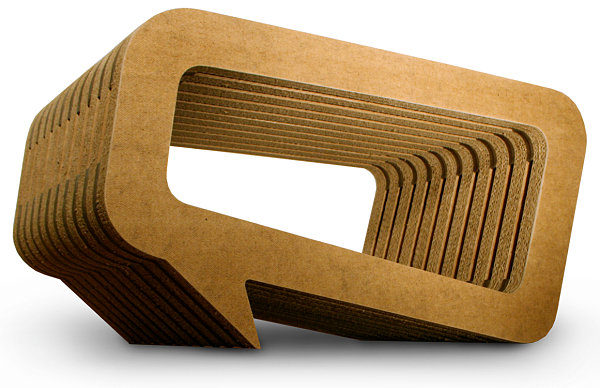 For a table that's practical, stylish and portable, check out the piece below, designed by Sruli Recht. With three collapsible drawers, this cardboard table certainly ranks high in the practicality department. The best part–it can be folded up and stored in a bag! [from Gessato]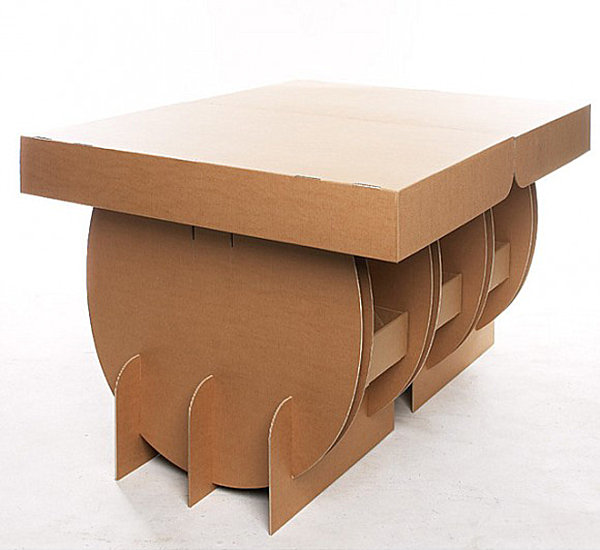 Cardboard Shelving
Cardboard shelving lends a modern vibe to the spaces it inhabits. There's something wonderfully industrial about these clean-lined pieces. For example, The Coop by Karton has plenty of space for storage, and adjustable shelving allows you to customize it to best suit your needs.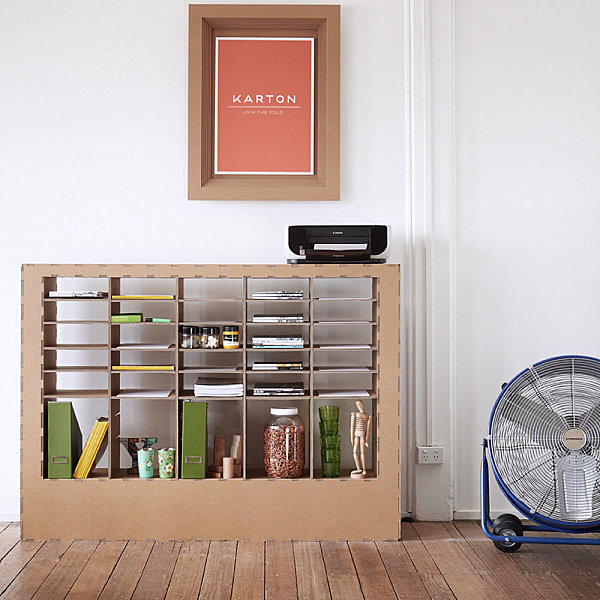 Ready to get modular? This modular shelving system from Diefabrik utilizes the power of interlocking shapes, which helps hold these contemporary shelves in place. Create your own design, then fill it with books, plants and other curiosities: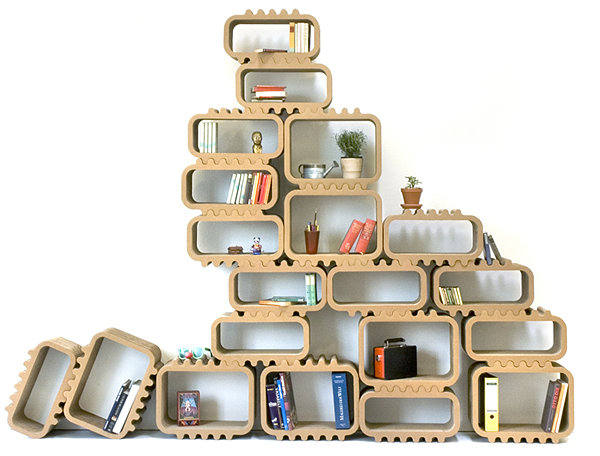 Ready for a DIY idea like no other? This Cardboard Tube Shelving Unit for the wall was cleverly designed by Tim Peet. A notch cut method is responsible for the piece's solid design. For details, see Coroflot.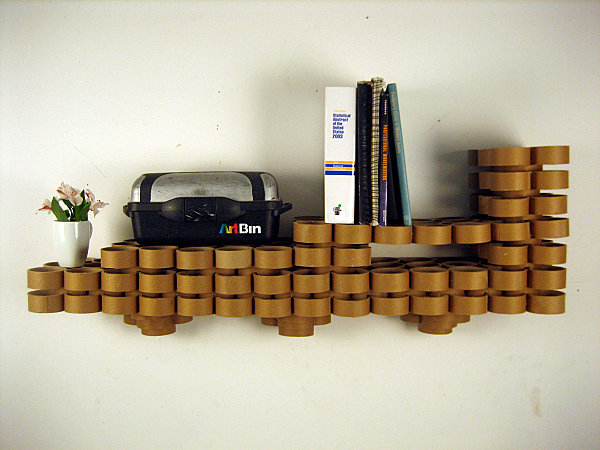 Cardboard Beds
We end today's post by welcoming cardboard into your sleeping space. Trust us, it's a good thing! The Paperpedic Bed, Drawers and Bedside Table from Karton take cardboard design to another level. After all, the bed can be converted from a single to a king in mere minutes. Not to mention, under-bed drawers make hidden storage a reality, while the table can support a lamp, books and anything else your heart desires.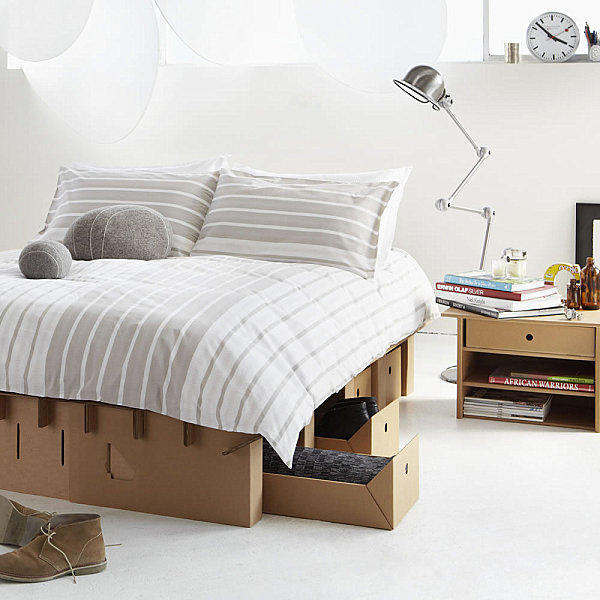 What if your living room chair could transform into a bed? Why not save space for yourself, or easily accommodate guests with this ecochair from DesignGroup5? Below we see the chair in its upright form: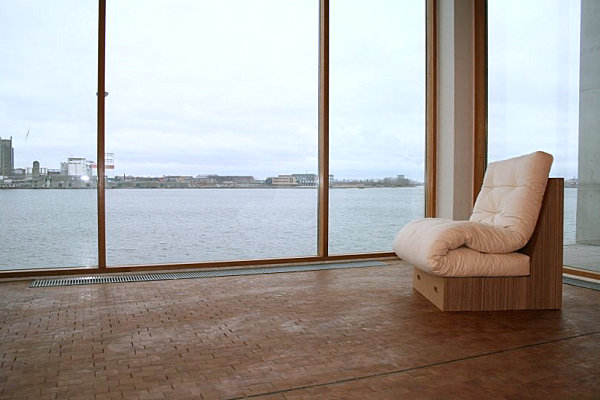 Now behold the transformation to bed status… There's also an intermediate chaise lounge stage that's perfect for curling up with a good book. Although who could truly focus on reading with a view like that?… [from Tevami]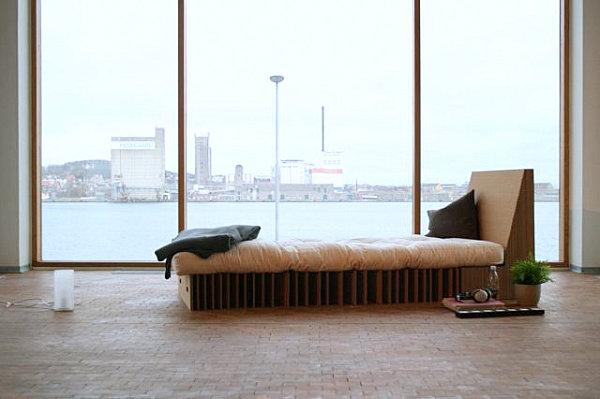 Would you ever purchase cardboard furniture for your home? We think the color of these items has an earthy, wood-like feel, while the innovative design involved in each piece can't help but make an artistic statement. What are your thoughts? Leave a comment below…