Decals. They're not just for your car! From decals for the wall to decals for the nursery, there's a decorative sticker for every room in the home. But let's not forget about your doors! An increasing number of artists are creating decals to welcome guests to the front door of the home, to personalize the interior doors of your space, and to jazz up the doors of appliances such as refrigerators!

One of the largest suppliers of door decals is Etsy, which features a variety of artists and sellers with a flair for interior and graphic design. While wall art decals create a mural effect in the home, many of today's most popular door decals revel in understated elegance. Whether they feature one brief word of text or they help label an entrance with a numerical address, these decals can add function and style in one easy peel-and-stick statement. Check out the images below for the best in door decal design:
Exterior Door Decals
There's nothing like a welcoming entrance! Why not personalize the door to your home with a charming decal that sets a stylish tone? The Custom House Number Removable Vinyl Door Decal in Floral Accent Style from Etsy shop Twistmo is perfect for painted and sealed wood and metal doors, as well as glass or acrylic. Choose from a range of colors to find the shade that is ideal for your door. Note how the white numbers below pop against the turquoise background: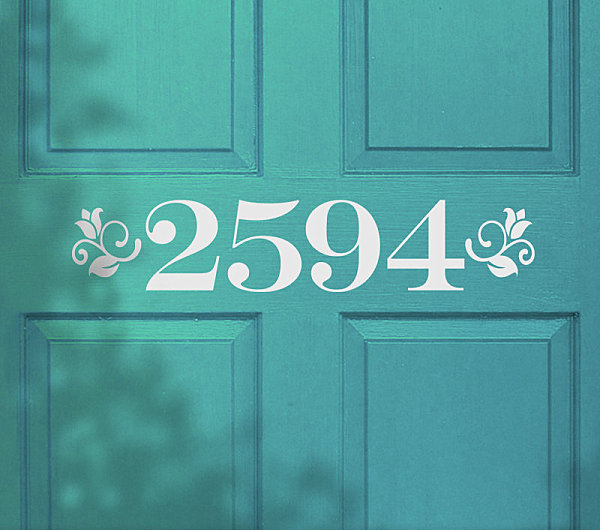 Or get playful with the Custom House Number Vinyl Door Decal in LCD High Tech Display Style, also from Etsy shop Twistmo. Who says a door decal can't celebrate modern design with a touch of sci-fi?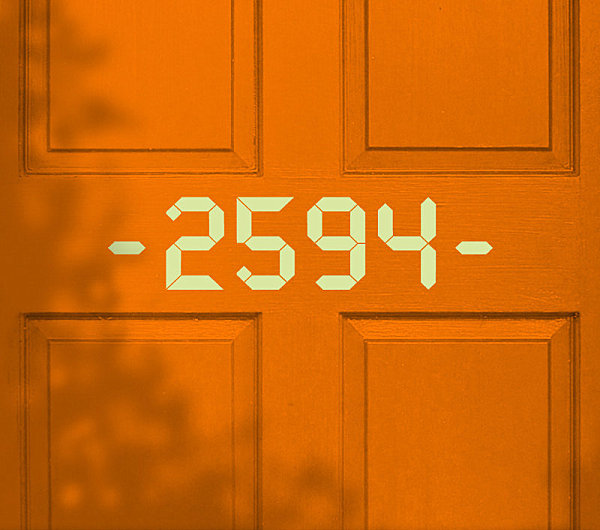 Don't mess with the hassle of stencils and paint when you can make a statement with a decal that celebrates the written word. For example, the Welcome Vinyl Decal from Etsy shop The Decal Loft displays its inviting message in the color of your choice — 35 possible colors, to be exact.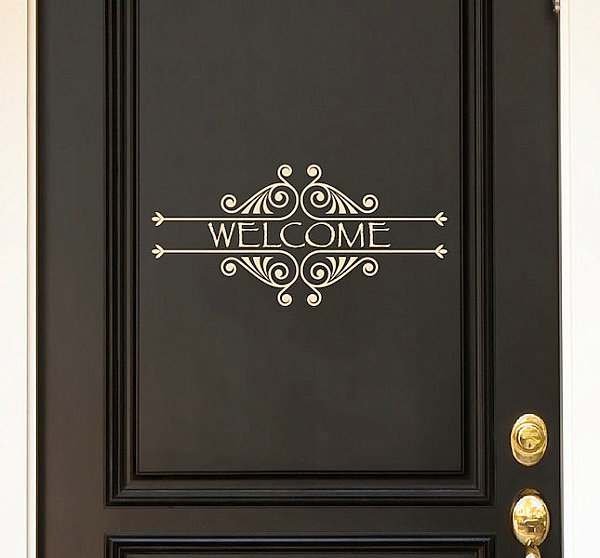 Sometimes simple is best. The Small Hello Greeting Decal from Etsy shop Zesty Graphics gets back to basics with its one-word statement. A range of color choices are available, but we're partial to the classic elegance of white, especially when placed on a vibrant door.
Stickypic puts an artistic spin on the door decal with a series of patterned creations that happen to be perfect for rectangular spaces (such as exterior doors in need of a pick-me-up). The company claims, "your door is our canvas." We couldn't agree more!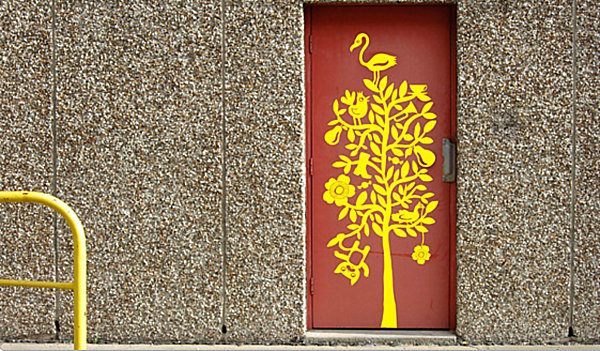 Below we see two more creations from Stickypic: Halftone #1 and Fan. Don't assume that you have to prefer red in order to enjoy these amazing decals! They come in a range of colors so you can find a shade that's just right for you. Then again, red can't help but be perfect for industrial doors that would otherwise be ignored!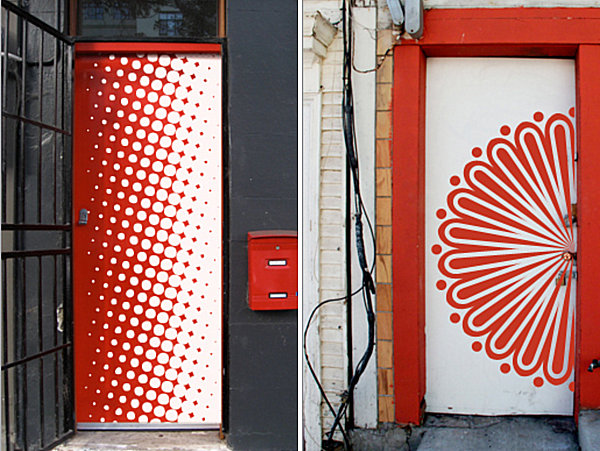 Door Decals for Your Interior
Ah, the door decal! Can you think of a better way to announce the entrance to a child's bedroom? Take the Star Trek Commanding Officer Vinyl Decal from Etsy shop Cut n Paste, shown below. Not only does this door decal reference a beloved television show, it can be personalized with your child's name in the color of your choice: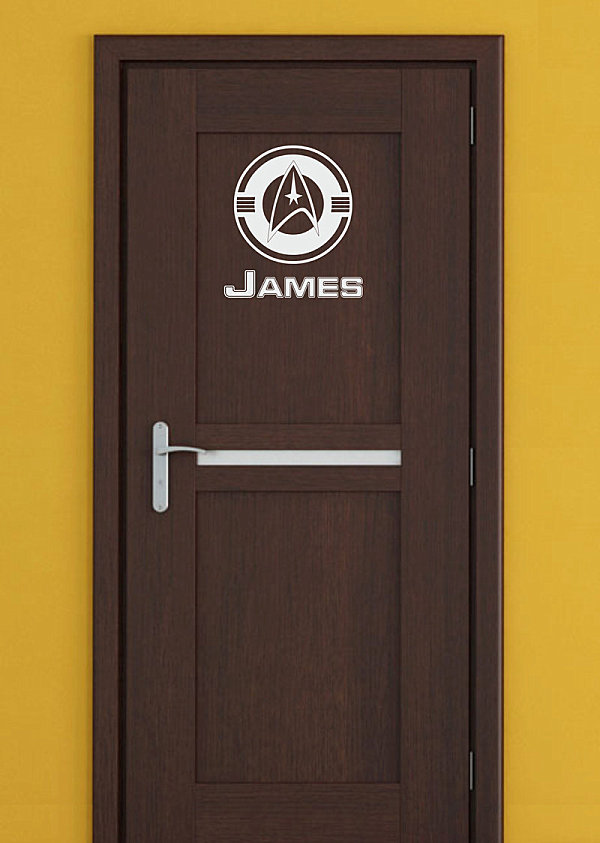 Make a cute statement on the door of your nursery with the Please Knock Softly Vinyl Wall Decal from Etsy shop Decals en Folie. Chances are you won't be knocking on the door of this room anyway, but there's no harm in stylishly reminding visitors that a little one sleeps inside: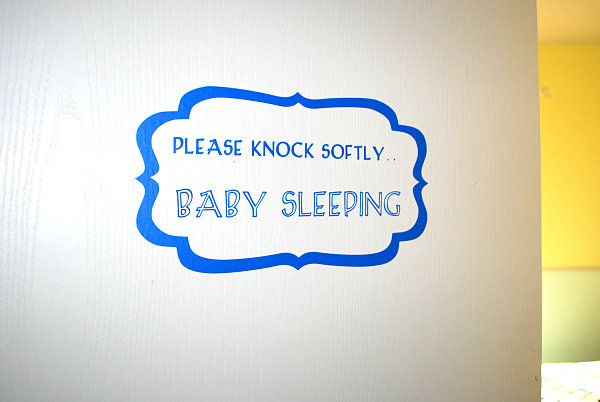 Gamers beware! Yes, with an easy-to-apply decal, you can make the door to your room resemble a Gameboy. Why not? The Personalized Game Console Gameboy Inspired Decal from Etsy shop Showcase 66 features two parts: the screen with the name piece and the control pad piece. Clever. Very clever.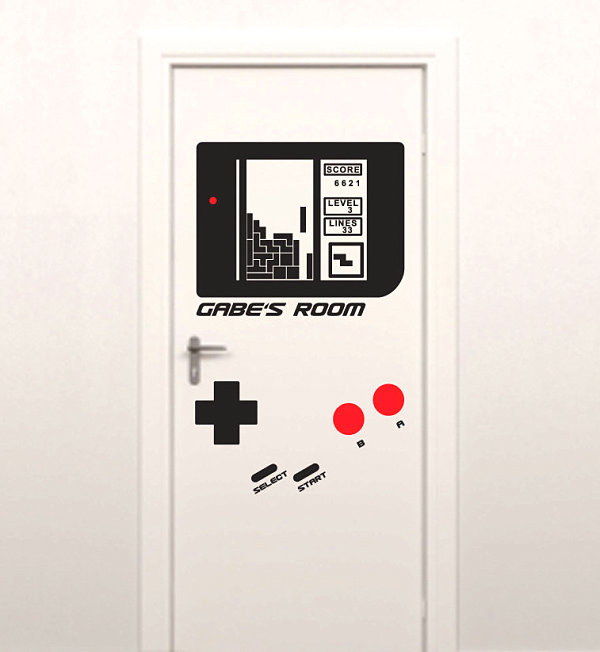 Refrigerator Door Decals
We can't forget about the other doors in your home. In fact, many of today's door decals embellish the openings of cabinets and appliances, such as refrigerators. For example, the White Fridge Door Decal from Etsy shop ADzif, fits 30-inch-wide standard refrigerators with its soothing organic design: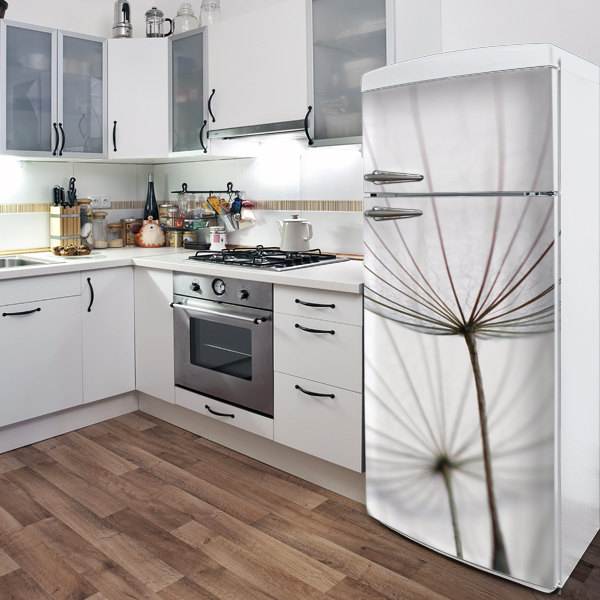 Once again, we pay homage to the joy of gaming with the Vintage Arcade Cabinet Decal from Etsy shop Walking Dead Promotions. If you can't own an arcade game of your own, you can at least transform your refrigerator into one…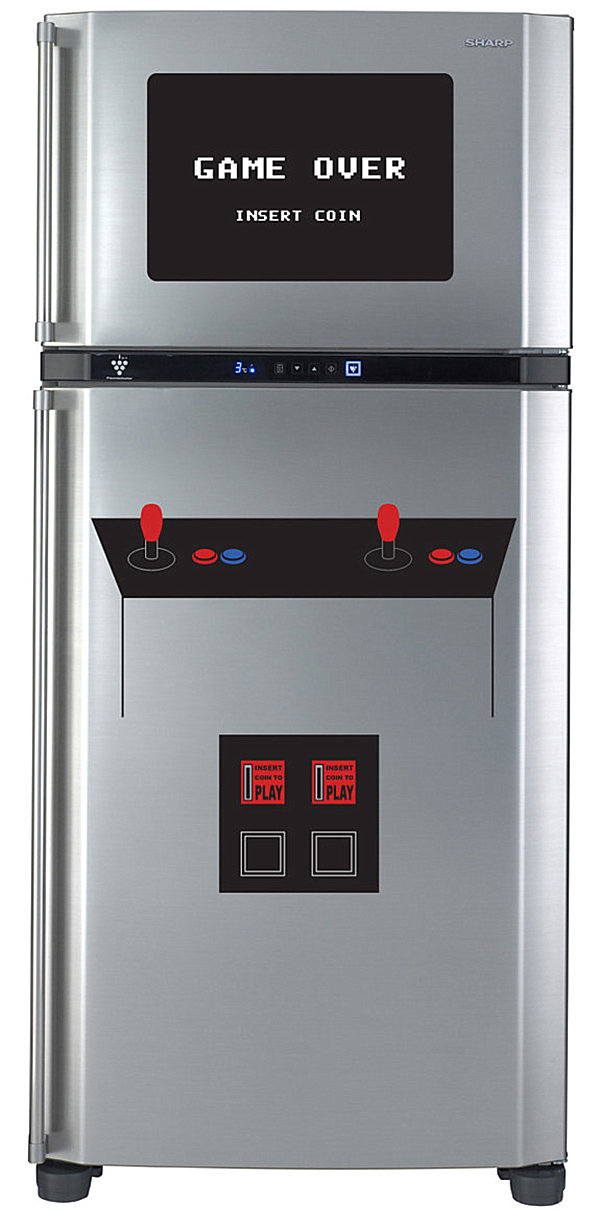 Finally, we further celebrate the "Keep Calm and Carry On" trend that has enlivened many an interior in recent years by spotlighting the Bon Appetit Fridge Door Decal from Etsy shop ADzif. Artist Lucie Gauthier puts her own twist on the motif with a culinary version of the original slogan, which appeared on a poster created by the British government during World War II. This playful version is perfect for the kitchen!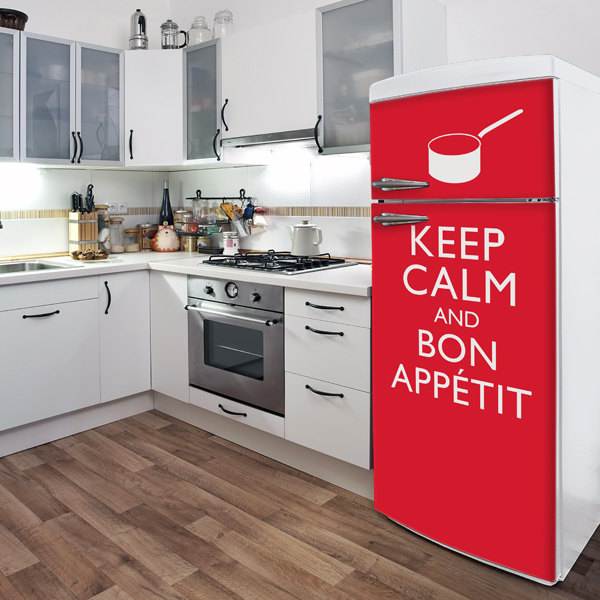 Please note that while vinyl wall decals are removable, most are not reusable. They will not damage your door should you decide to take them down, yet don't count on using them at a later point. Yet given how affordable many of these decals truly are, changing up the design is an attainable reality. And a stylish one at that!