Industrial furniture can evoke the feel of a factory, warehouse or laboratory. Quirky, unexpected and machine-like, industrial pieces add intrigue to the home. Metal and wood are two common industrial furniture materials. Since these supplies are versatile, it goes without saying that industrial pieces blend well with a variety of design styles, from the rustic to the modern.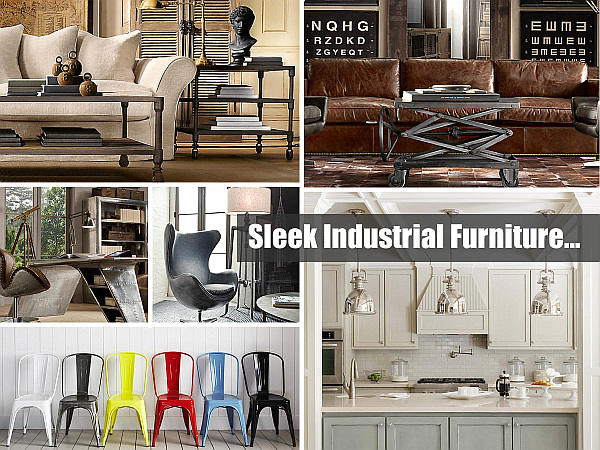 When choosing industrial pieces, don't hesitate to go vintage. While plenty of new options await you, a flea market find can be just as delightful as this season's mass-produced reproduction piece. Make sure you also consider the needs of your space. For example, an elaborate industrial item constructed of gears and pipes will be the centerpiece of a room, so it deserves a place where it can truly shine. If an accent piece is desired, there are plenty of subtle industrial selections to choose from, many of them clean-lined.
Industrial Tables
A number of industrial pieces are on casters, which make them easy to roll from side to side when movement is necessary. Below we see the Dutch Industrial Side Table, shown with the Dutch Industrial Coffee Table. Reclaimed elm and metal frames give each piece a sturdy quality. [from Restoration Hardware]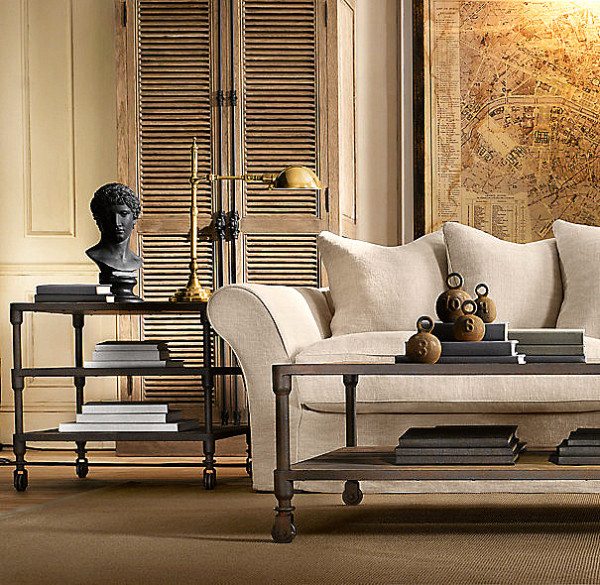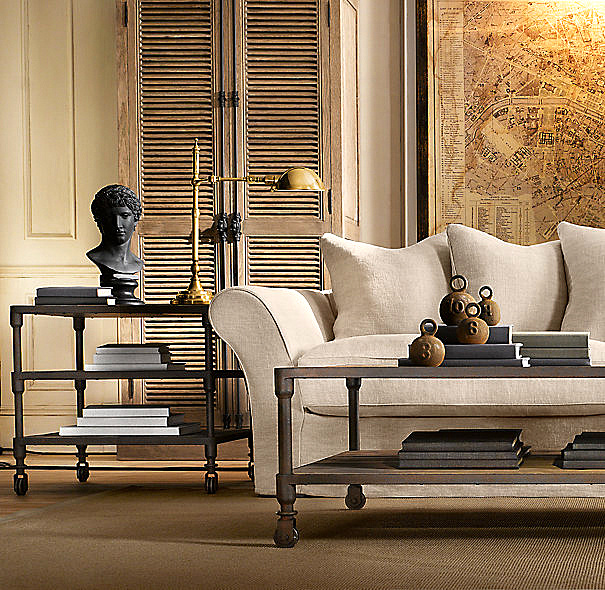 Thick wooden shelves, aged iron piping and stenciled numbers give this next item true character. Once again, casters allow for motion, which can be handy for a side table in a small space. [from Vintage Industrial]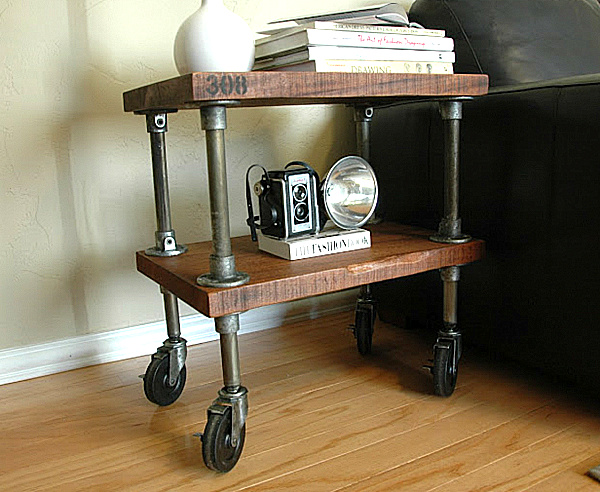 The Industrial Scissor Lift Table is undeniably industrial. Inspired by an early 20th-century American factory jack, this conversation piece will set the tone of the entire room. [from Restoration Hardware]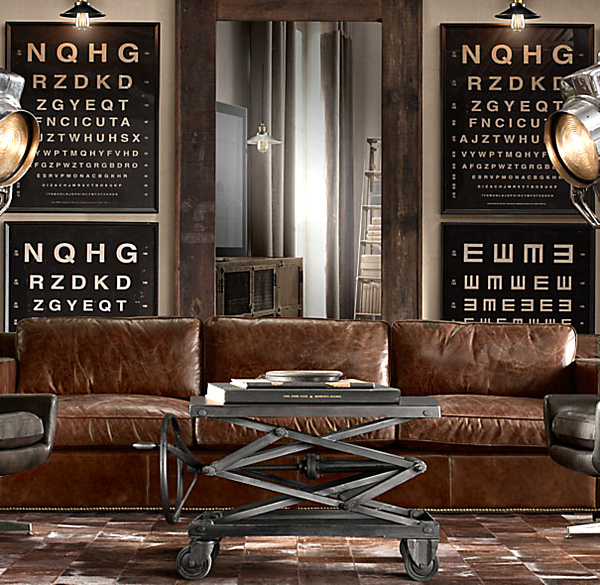 The Mid Century Modern Steel Coffee Table has removable feet, giving this piece an adjustable height. Reminiscent of machinery, its solid appearance is modern yet retro. [from Vintage Industrial]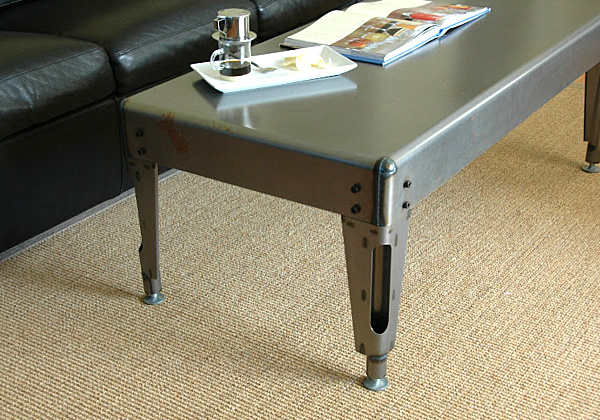 The Vintage Hendersens Industrial Console is constructed of steel. A true vintage piece from the 1940s, the table blends metallic girth with dainty curved legs. [from Modern 50]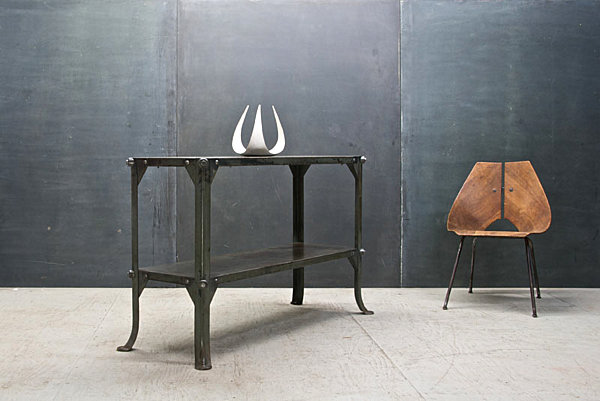 For a large industrial statement, choose a dining table with metal features. The piece below is a reminder of the power of flea market finds. The table was purchased from an artist who creates original pieces from salvaged architectural and industrial supplies. [from Caitlin Creer Interiors]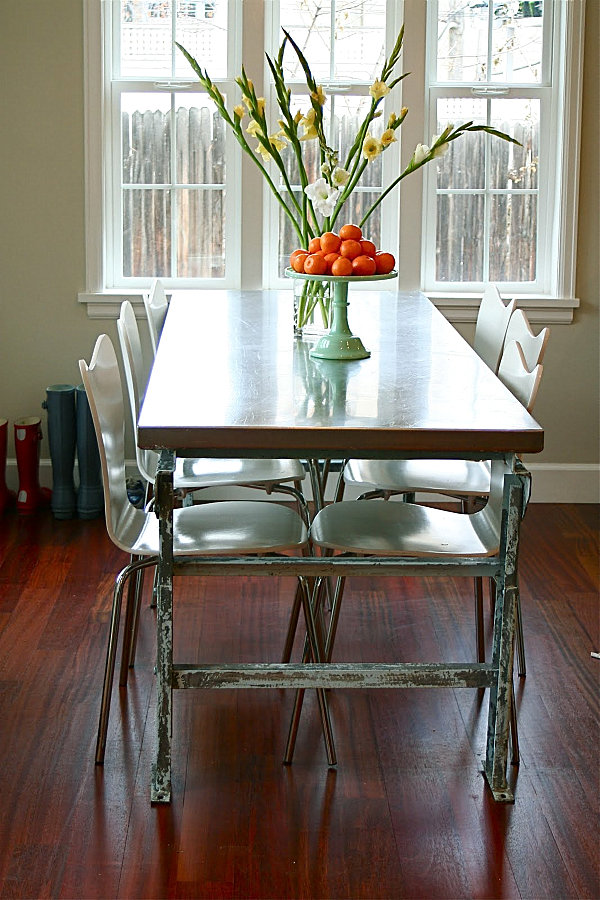 Another substantial option is the A Frame Dining Table, crafted of steel and aged sugar pine. Boasting a style reminiscent of French industrial design, the piece can also be used as a desk. [from Vintage Industrial]
Industrial Seating
Industrial seating often involves wooden seats and metal legs. Take the Industrial Barstool below, featuring a black iron base and wooden swivel stool seat. Note how these stools manage to look ultra contemporary yet blend well with warm, charming surroundings. [from FarmHouseUrban]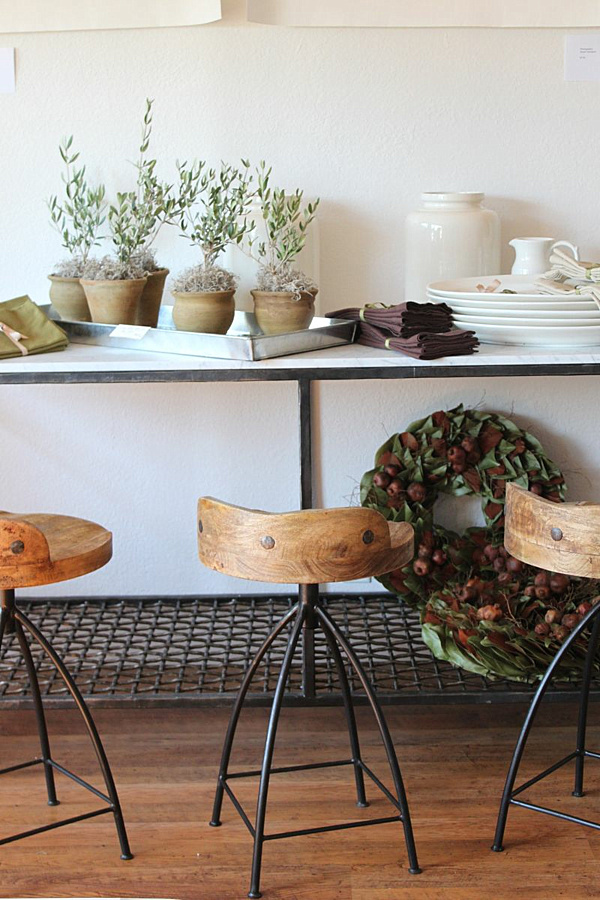 The Wright Chair and the Wright Stool offer distinct metal bases with a circular component, as well as sturdy wooden tops. [from Vintage Industrial]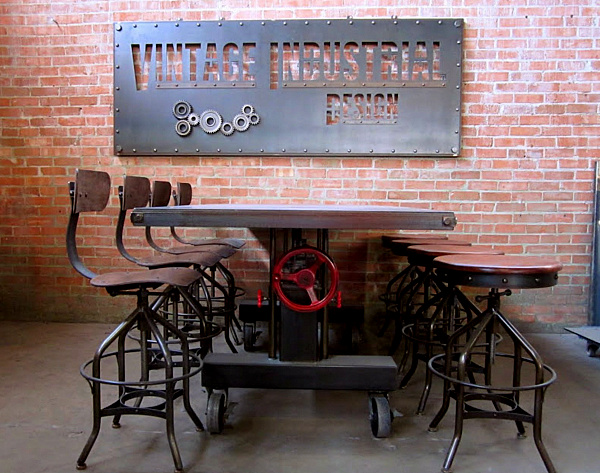 Once again, antique finds provide one-of-a-kind character, as with the Vintage Industrial Crooked Stools below. Their cast iron bases and uneven weathered seats are perfectly imperfect. [from Modern 50]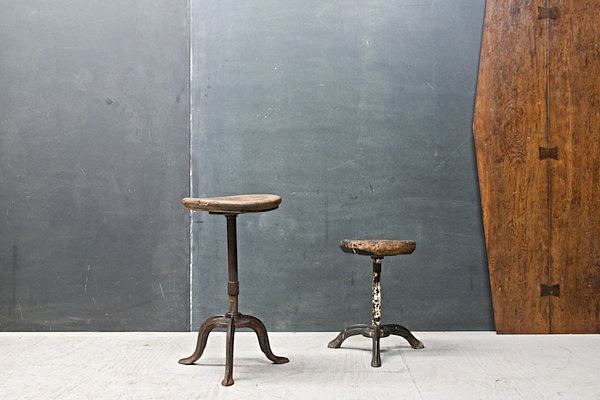 This next chair may as well be wearing wooden stockings! The Vintage Industrial Black Maple and Steel Café Chair cleverly combines its materials for an edgy take on schoolhouse seating. [from Modern 50]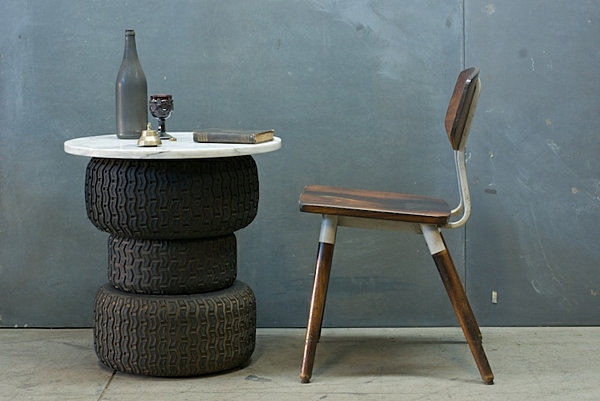 Some of the most interesting industrial seating options involve all-metal construction. Take the French Industrial Chairs below, a set of five pieces from the 1950s. Now imagine them surrounding a large wooden dining table, and the possibilities are endless… [from Modern 50]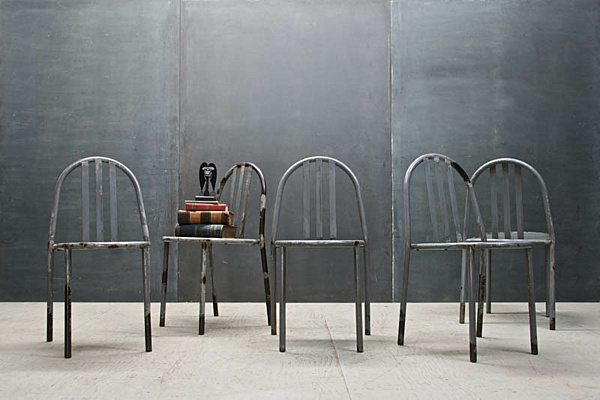 What if the all-metal industrial chair were painted? You'd have the Tolix Classic French Café Chair, based on pieces designed by Xavier Pauchard in 1934. These varnished steel items are a vibrant take on industrial seating. [from Graham and Green]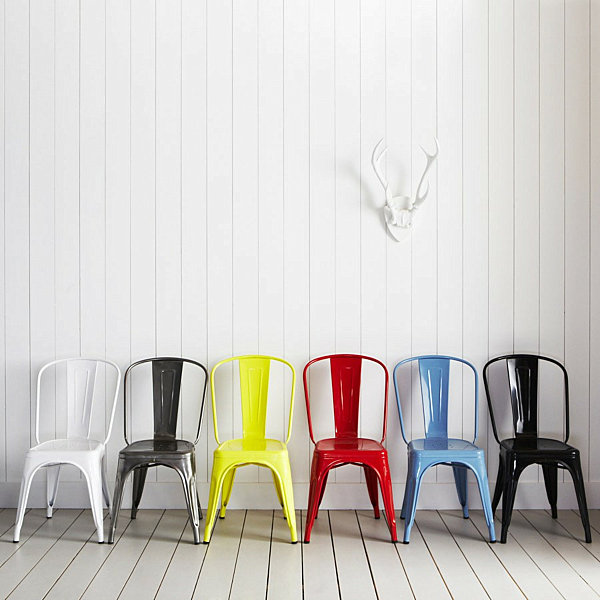 Industrial Shelves
Shelving is a natural format for industrial materials. Line up pieces side by side to create a wall of storage, then imagine you're in a factory. The Vintage Industrial Bookcase features reclaimed elm planks and distressed metal frames. Purchase several, then place them next to one another to multiply storage possibilities. [from Restoration Hardware]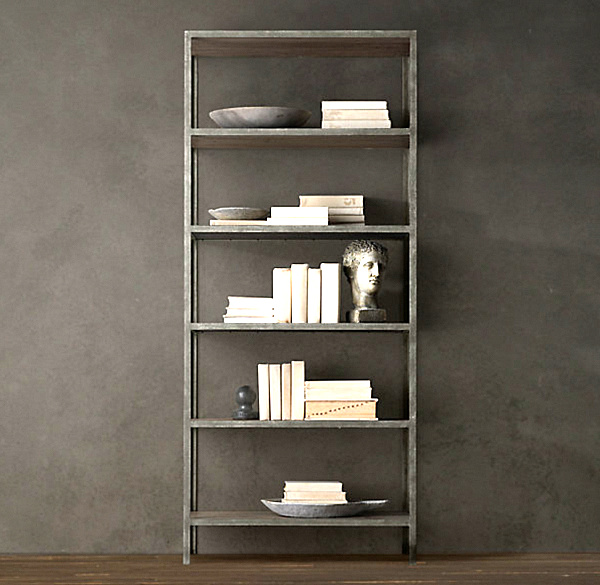 Once again, caster wheels are used for movement and style with the Dutch Industrial Etagere, crafted from reclaimed antique elm doors and a distressed metal frame. [from Restoration Hardware]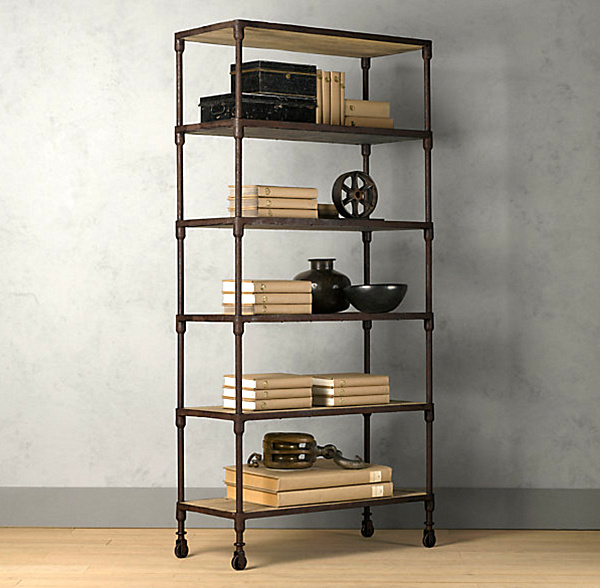 For a similar look with a darker finish, try the Industrial Chic Bookshelf, made from salvaged hardwood planks and a recycled metal pipe frame. [from Vivaterra]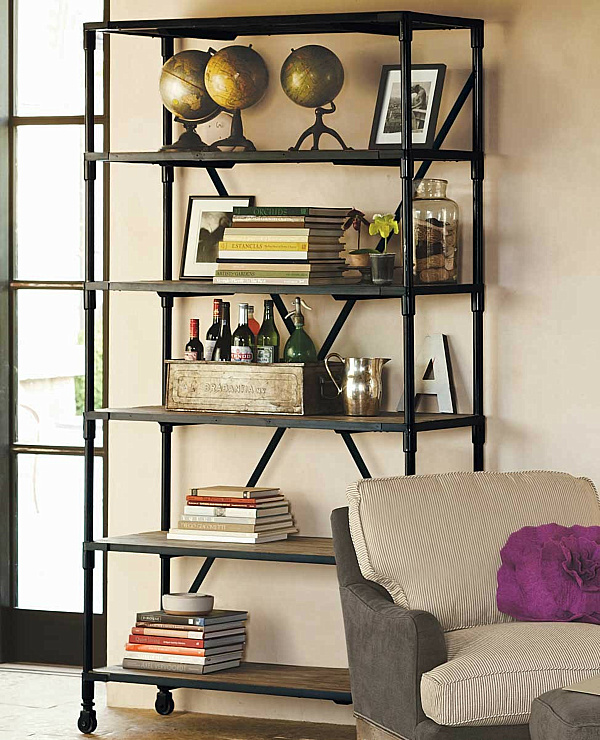 These Salvage Industrial Wood Wall Shelves are as useful as they are eye-catching. Crafted from salvaged factory molds repurposed as shelving, the pieces have a bold, unforgettable look. [from Modern 50]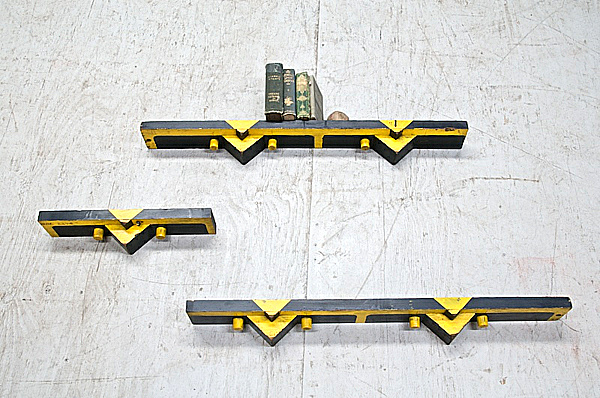 What if the shelving were made solely of piping? You'd have the Industrial Pipe Bookshelf 2 Way from Etsy shop Stella Bleu Designs: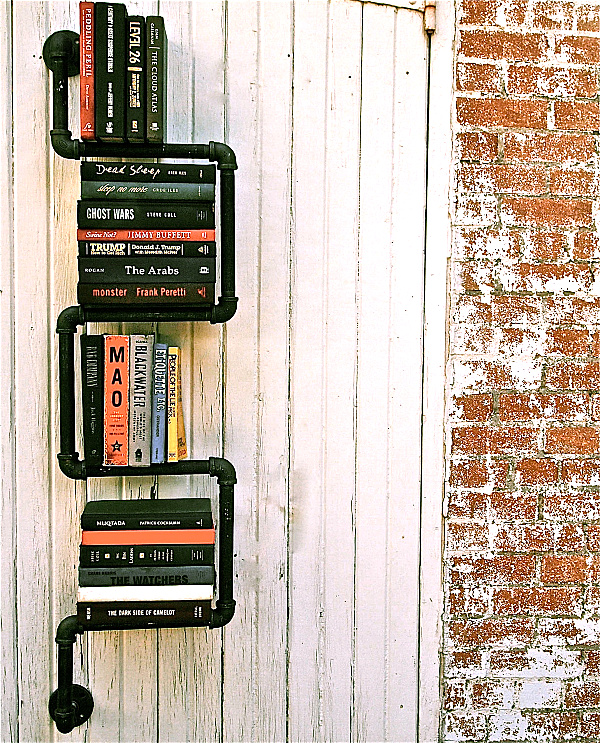 Another innovative creation from Stella Bleu incorporates reclaimed wood for a flat surface that complements layers of pipe shelving. The Industrial Pipe Shelf Level 3 Wood is shown below: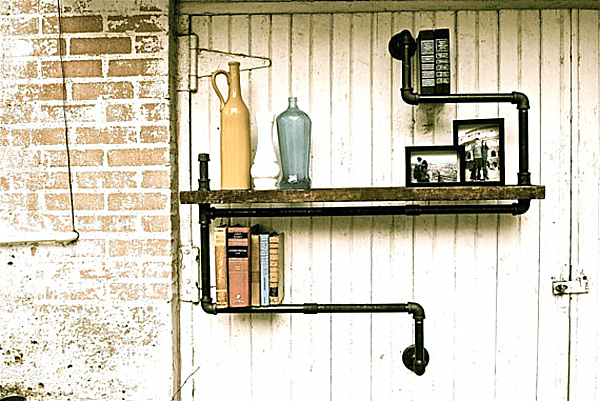 Industrial Lighting
Mimicking machinery and factory pieces, industrial lighting can create a warehouse feel or simply add a dash of mechanized style to an elegant space. The cast aluminum and brass Belgian Industrial Mixer Floor Lamp is inspired by an industrial dough mixer. [from Restoration Hardware]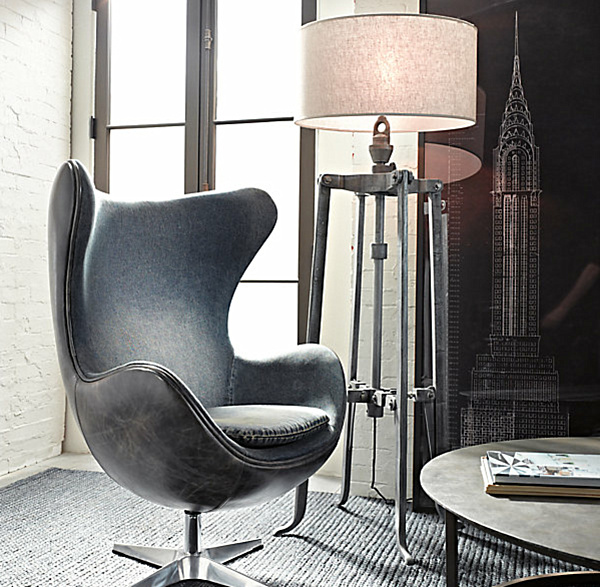 The 1930s Studio Task Floor Lamp is inspired by a 1930s British task floor lamp. Crafted of spun brass, the piece features a swiveling head. [from Restoration Hardware]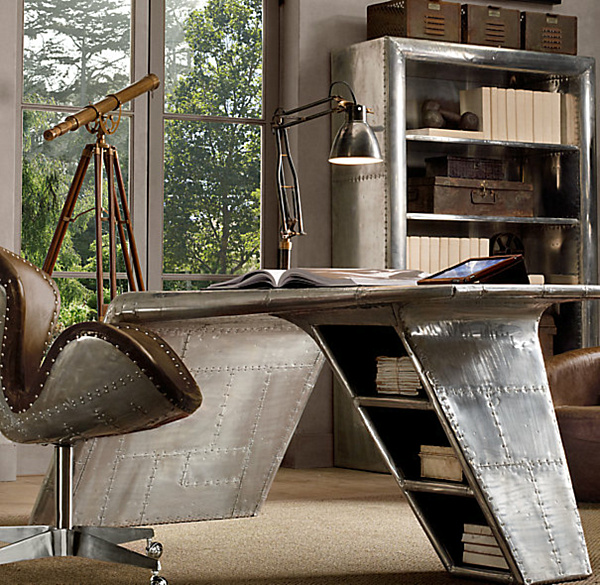 In the piece below, Lamp and bookshelf combine for a truly original industrial statement. The Industrial Floor Lamp Bookshelf from Stella Bleu Designs features iron piping and hanging pendants.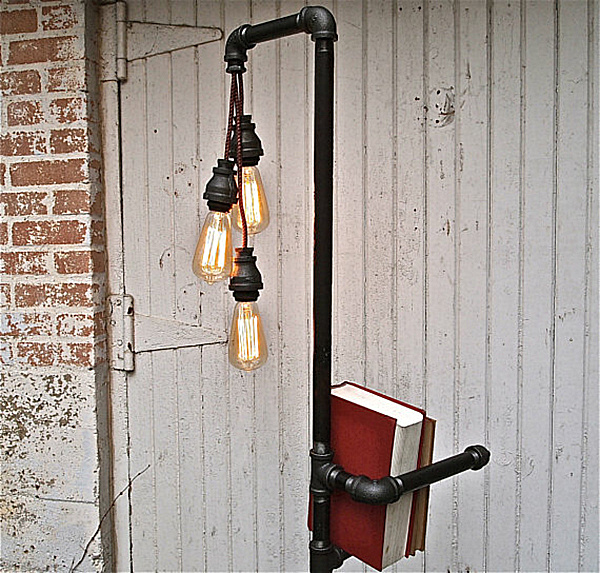 Perfect for desktop needs, the Industrial Table Task Lamp comes in an array of striking colors. [from West Elm]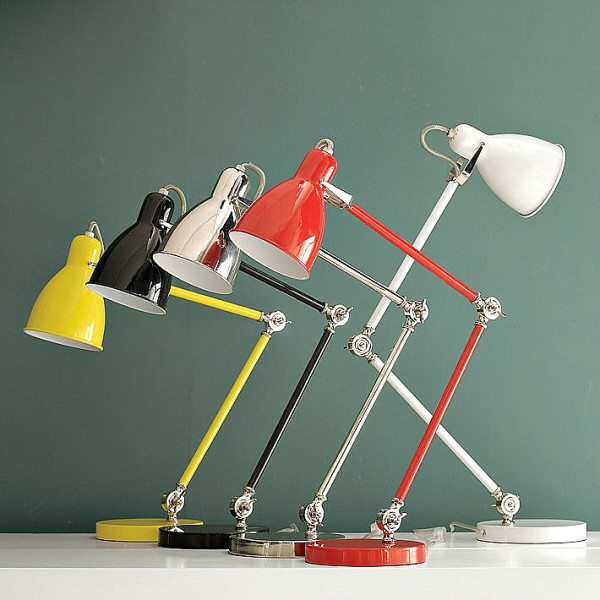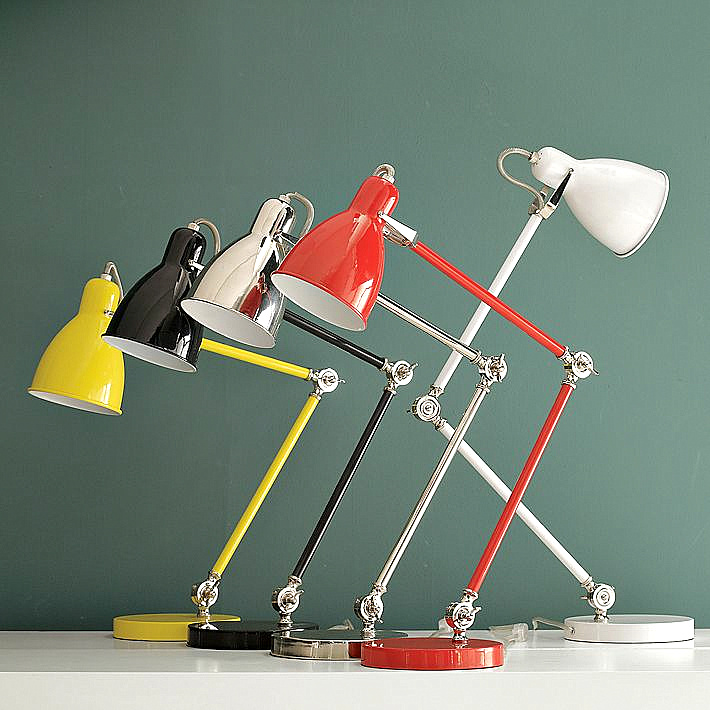 Consider the utilitarian function of industrial pendant lighting in the kitchen, particularly when placed over an island. Further examples can be found at Kitchen Distributors.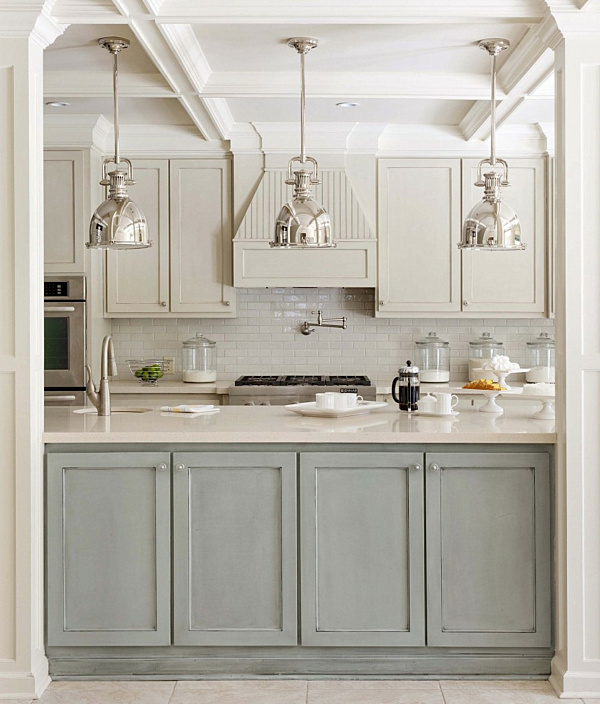 We end with the Ivanhoe Sinclair Industrial Porcelain Pendant, shown in the kitchen below. A porcelain enamel shade and drop cord fixture make this piece glossy as well as practical. [from Barn Light Electric]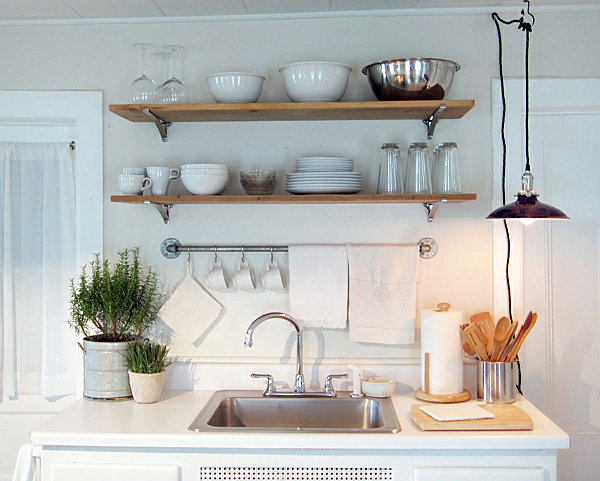 Industrial furnishings shine in rooms featuring neutral shades and earth tones. At the same time, their neutrality makes them ideal for colorful spaces where a simple wooden and metal piece is needed. Sleek yet undeniably functional, industrial items combine style and necessity to bring a dose of originality to an interior.