When living in a crowded environment, we dream of that special personal cave where you can relax, think, and have some well-deserved alone time, all the while being productive. And even though the images that come to mind when thinking "study" are leather chairs, cigars, a bar hidden in a rich wooden library, it's not just bachelors or frowsy writers that love this type of alone-room.
Fact is, if you work from home or have a job that involves even the most unpretentious level of creativity, you'll find the study room a great place to go. As there are dressing rooms and wellness-bathrooms to indulge our body to the toes, a study is almost as intimate — the boudoir for our intellect.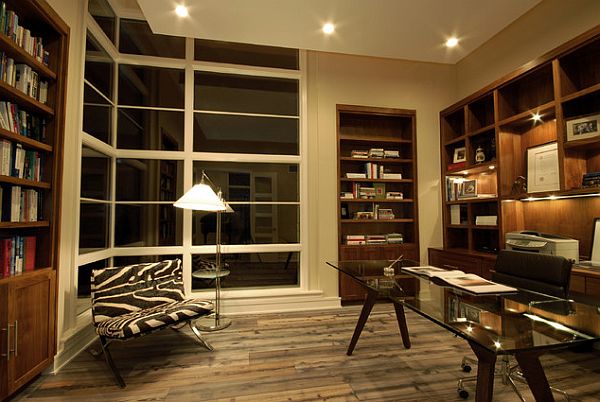 by Cornerstone Architects / Photography by Adam Steiner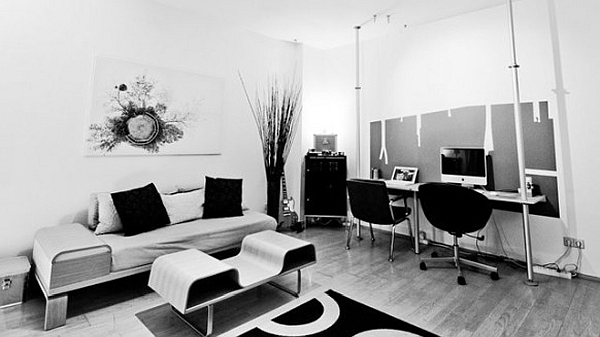 A study should be, above all, practical. Size is not as important as good organization. Your mind won't drift away as easily as in a vast salon, but a modestly sized study does need a certain degree of tidiness.
Make sure you have the right lighting. Different activities require varying degrees of illumination. If you have the liberty of choosing any space you like, settle the room orientation according to the office type you are, e.g. east for morning productiveness or south for work during the day etc. A spectacular and inspirational place for a study can be in the attic, under a pronounced gable, by a large window to the sky, especially for graphic work or technical drawing.
Pick a good pendant lamp or, even preciser, a capable desk lamp. Track lights make for flawless illumination in a workshop or studio. Remember that artificial lighting can never replace natural daylight. Large windows are therefore a key element and well-being can also come from a refreshing view of nature.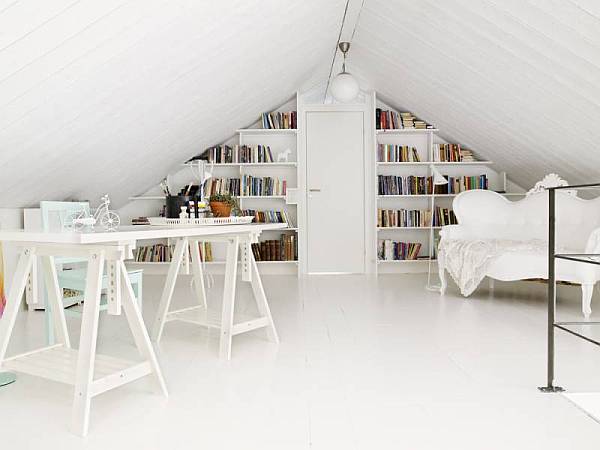 (from AnnaleenasHem)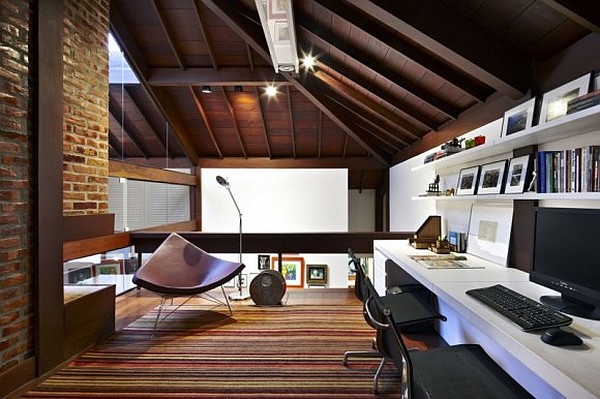 (from Zeospot)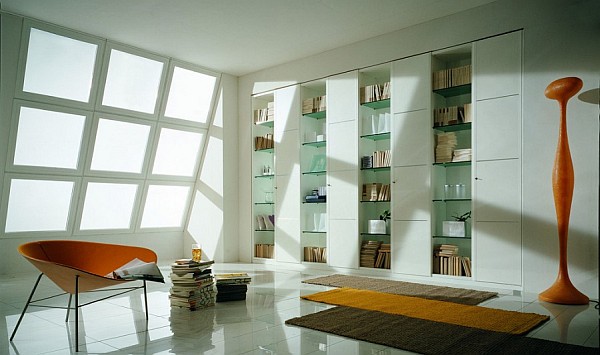 (from 900House)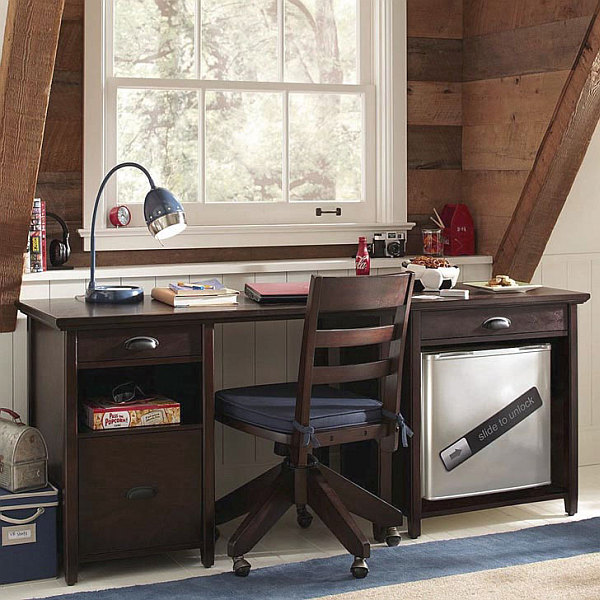 (from Snuut)
If you receive guests or clients into your study, upholstered armchairs are a must. As a representative element, an indirectly illuminated ceiling or wall is a classy way to go, especially with indirect lighting from beneath the edges. In such a room, a fireplace can be a very aristocratic addition – or a cutting edge modern decoration, if you decide to go for the minimalistic ones.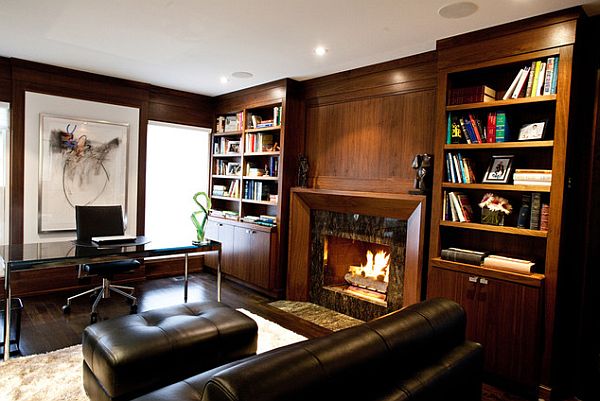 by Jodie Rosen Design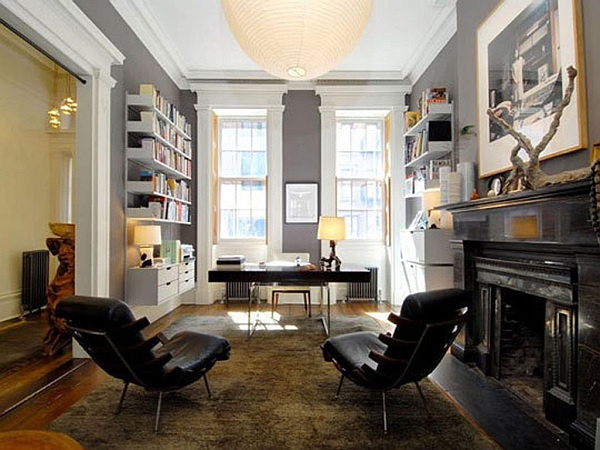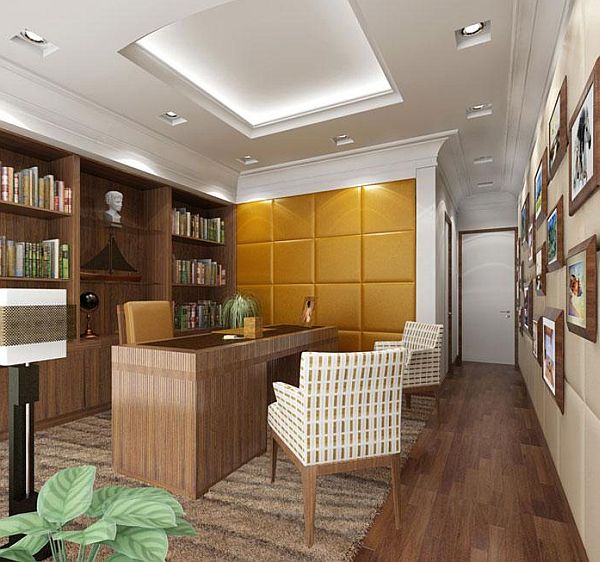 The faithful servant called adesk has to be large enough, irrespective of whether it is a bulky Chippendale body rounded around the edges or a light and minimalist structure with thin legs and a glass top. When picking it, take a seat at it, touch it, test it, consider leg room or whether you need drawers at hand – it is among the most important instruments, as is the ergonomic but comfy chair.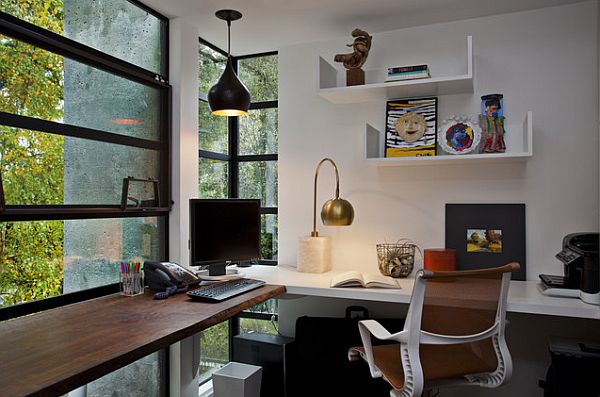 by Fiorella Design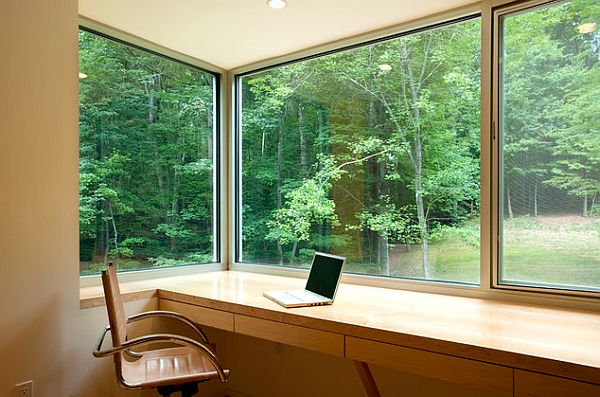 by KUBE architecture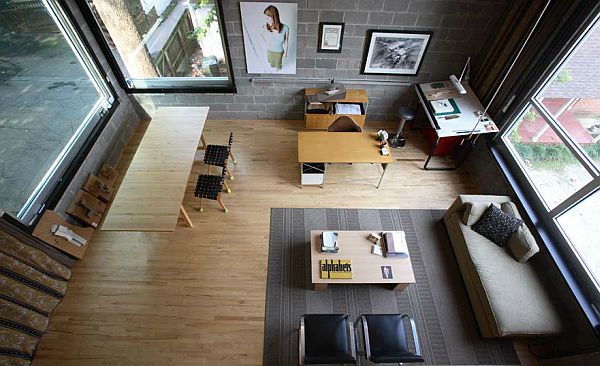 (from Lightroom.tv)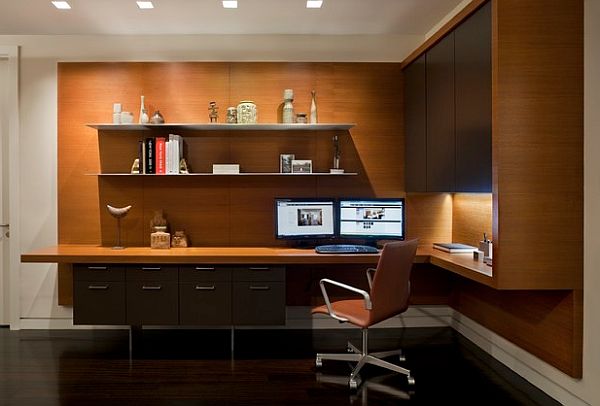 (by Ian Engberg / Photo rights Michael Moran)
If you like to indulge yourself with design, why not bring a fantasy into your productive office? A cleverly picked animal skin/fur rug or chair is an addition that adds some tasteful spice into the mix. Get a curvaceous lounge chair – call it a "contemplation" or "pensive" chair, especially if you feel the need to defend the presence of a large flat screen in immediate vicinity – and your study is downright decadent!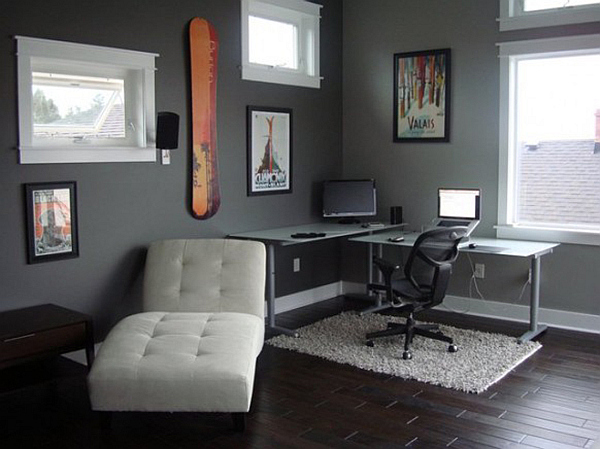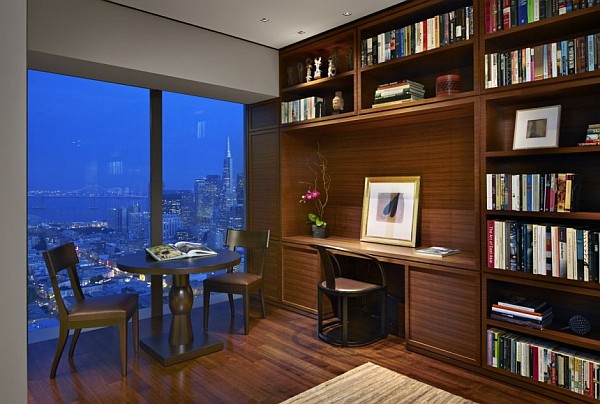 Even if you can't afford distraction, an element of relaxation can only do good. How about a Japanese living plant arrangement to provide some freshness next to your indoor bicycle? Or some fun without actually cheating, in shape of a fish tank? It's by far more harmless than a gaming console or a pool table. Not that you can't have those. How many studies nowadays lack even the slightest distraction? But stay clear of a pinball machine, those can be viciously addictive.
A study is a kingdom of books. There can never be enough space for them, since they are faithful companions we return to again and again in search of answers or inspiration. Shelves are a crucial aspect of this togetherness. Especially in a tall room, a very interesting touch is achieved through large floor to ceiling shelves, square or irregular, accessed through ladders.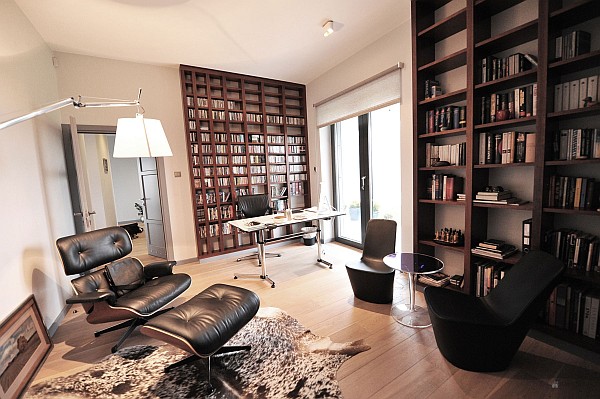 (from HausCapsule)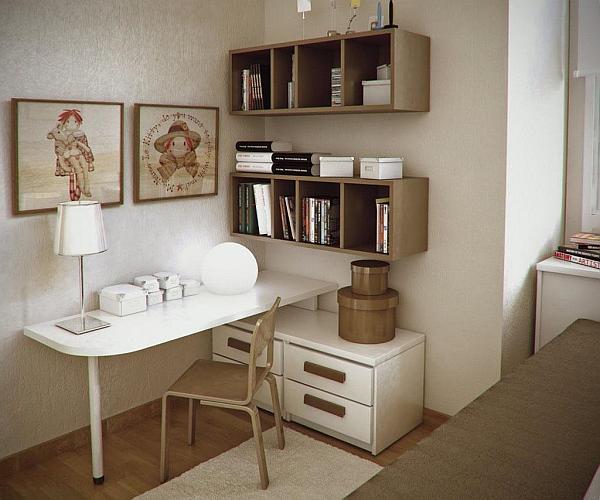 (from Archigator)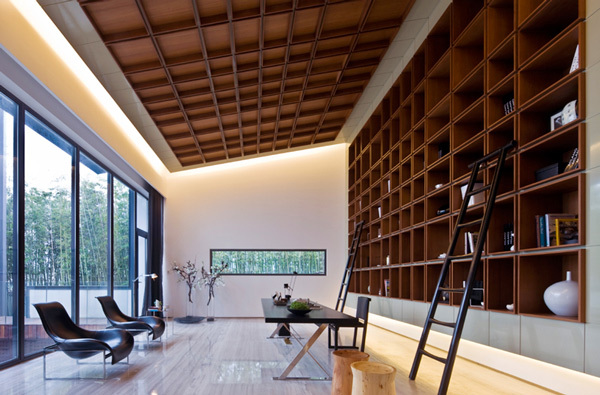 (from Trendir)
Think about those tastefully designed studies that wow us in movies. Aside from their sheer modern or flamboyantly aristocratic look, there are certain elements that clearly separate them from plain offices. These are a specific set of cultural accessories, ranging from works of art to the most eccentric paraphernalia: trophies, antiques, weapon panoplies, exotic wood partitions, earth globes and maps, statues of distant cultures, vintage scientific instruments, along with touches of symmetry and carefully picked furniture from Jugendstil over mid-century to the wake of minimalism. These are the studies that celebrate not just design, but also science and civilization.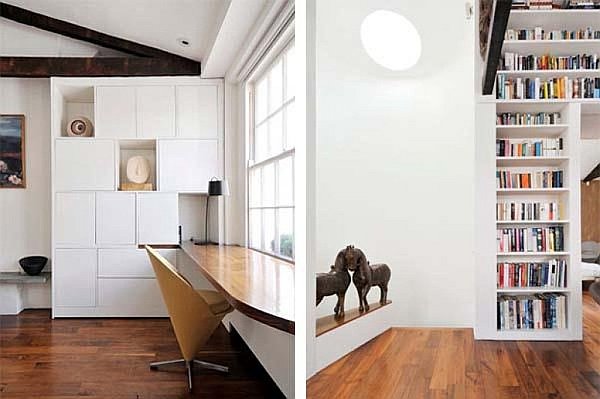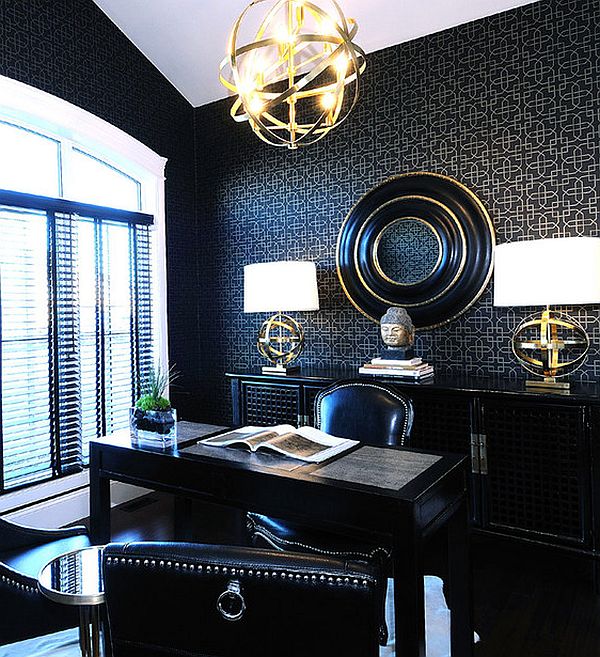 by Atmosphere Interior Design / D&M Images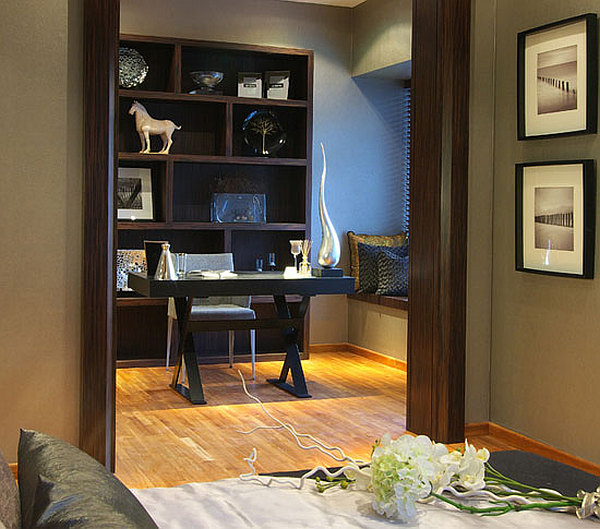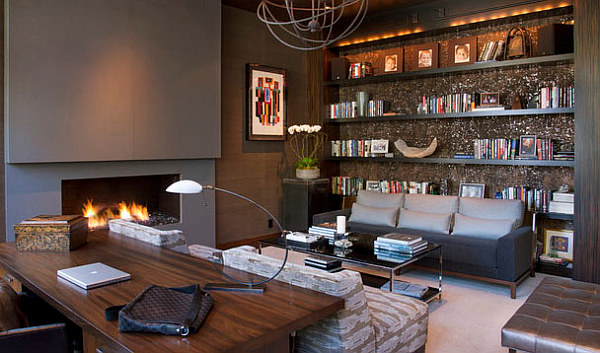 If you'd like a Japanese style study, the guidelines are simplicity and exoticism: dark and square wood furniture with Asian decorations. Hard on the knees but refreshing to the soul: add a low coffee table, some legless chairs or even pillows, as well as a small one or two-row bookcase by a window covered with thin wicker mat to filter the sunlight. Not only will you feel exotic in this seating position, but the discomfort in your knees will compel you not to linger too long over coffee and newspaper. Don't forget some simple green vegetation such as Bonsai or Aloe Vera, maybe orchids, in plain rectangular shaped pots. Katana swords on display would not disrupt the intellectual peacefulness of a study, but convey the modern bookworm – the now civilized former warrior – a rebellious and mysterious aura, as if he or she had waywardly journeyed through the ages along with these precious objects.

(SGC on RenoTalk)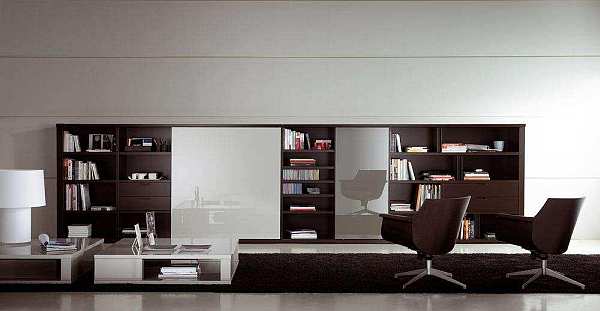 (from HyperVilla)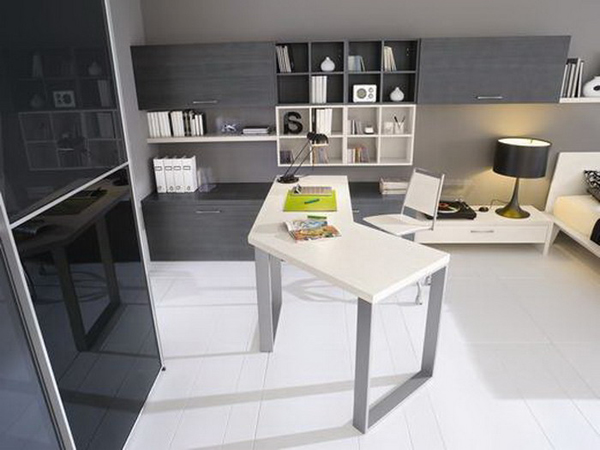 (from InteriorHolic)