How many of us haven't sighed at the rich texture of a nicely finished exposed brick wall, not knowing exactly where its rough and sophisticated appeal comes from? Could it be the refined Neo-Gothic churches? Could it be the mysterious appeal of the architecture in the Victorian age, when even the factories would receive this romantic allure in red or brown brick that ages so well to this day?
And while not all of us live in a house of bricks by default, building a brick wall as a stylish partition or giving an ordinary wall a more or less aged brick look is becoming easier with the aid of technology.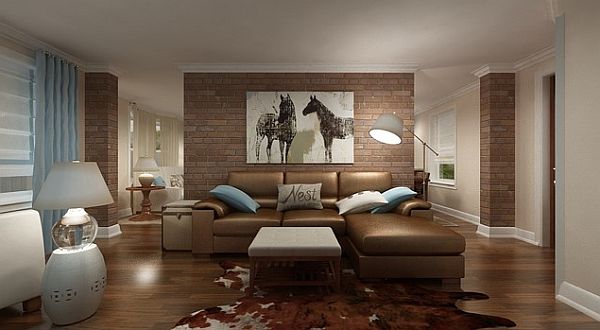 by Marie Burgos Design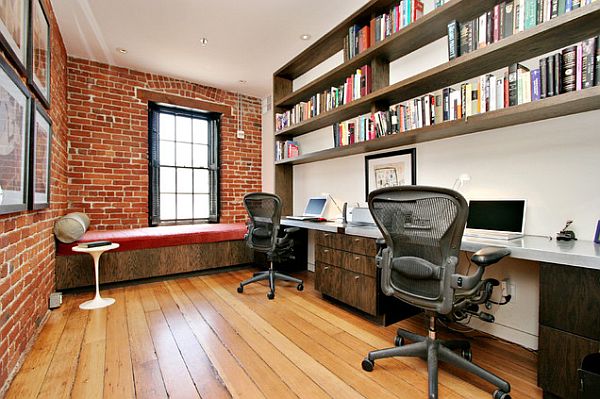 by Todd Davis Architecture
Using Real Brick
But first, let's see how the real deal is done. While erecting a wall used to be a test that would separate men from boys, technology strives to make it easier. There are tools that calculate the amount of bricks you need according to the planned size, and you can consider a good thumb rule to be a number of 60 bricks for one single-layered square meter.
The good thing about building an indoor partition wall is the fact that you don't need to dig and fill in a foundation. However, you will need to remove your floor finish to the screed. Select a good quality brick and get going. You can choose to mix mortar or buy already mixed mortar with just the right strength. If it's about being a big wall, use a concrete mixer to make your life easier and just add water. Using enough mortar and placing the bricks correctly in relation to one another is just about the whole drill.
If you already have a brick wall that has been plastered and coated, and you want to strip it back down to the sheer and rough awesomeness of exposed brick, your task will be not as difficult as it will be messy. Isolate your work environment with enough nylon sheet and use a spatula to remove the paint and roughcast. And voila! You have your wall stripped down to its glorious brick nature, which can be polished and lacquered for a smoother and more even look. Another popular approach is applying one or two coats of paint directly onto the bricks to have a monochromatic wall but still preserve the lines and relief of brick for an intriguing and retro visual effect.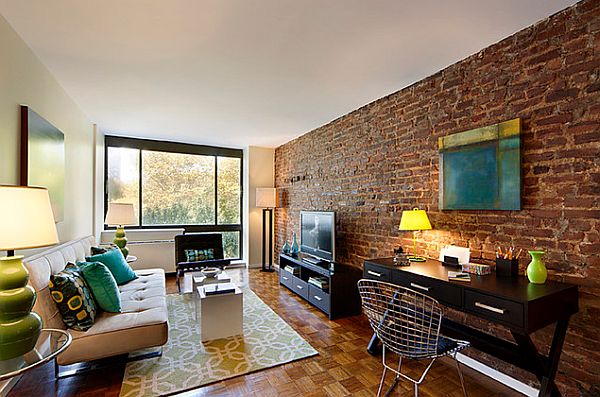 by Designed To Appeal
Brick Veneer and Tiles
For a wall that inherently lacks the gorgeous properties of brick, worry not, for there are tricks to disguise it as such. Manufacturers produce beautiful brick tiles of at least 1 square meter surface, in many various bonding patterns. Any walls can be clad in brick tile, or in its more modern relative – the splendid cultured stone – for a rich and authentic look.
Even Brick Wallpaper
A funky way to go is to add a (good quality!) wallpaper that imitates a brick texture. See it as an artificial substitute that well reflects the fast and resourceful era in which we live, or as a sleek and weightless modern interpretation of this heavy construction style. Just like a henna tattoo, it makes a statement, is fun to have and easy to get rid of. However, you might find it charming and worth keeping around for more than just a while.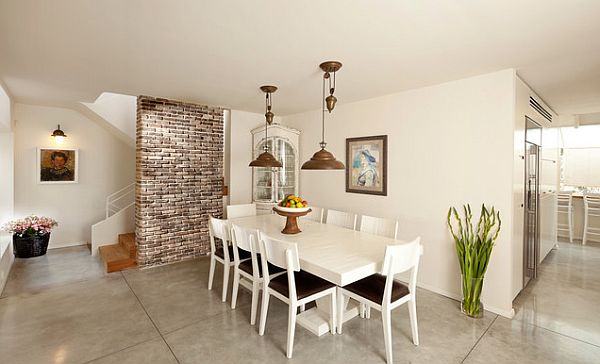 by Elad Gonen & Zeev Beech / Architect : Gili Reshef Gol (Art of Space)
…Then Customize
Add fantasies to the brick wall, if you please. You can combine it with custom made dark wood frames or even plaster to create shelves, or decorate it with mirrors and artwork.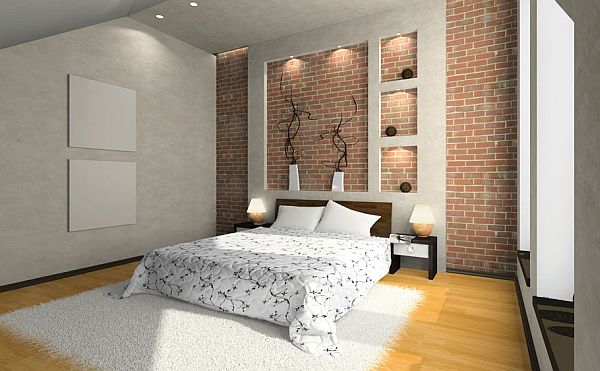 Courtesy of RealBrickTile.com
Why all this? Because aside from looking fabulous, whether left alone or in combination with wood, glass, or white paint, an exposed brick wall is loaded with meaning. It is a modern approach to an age-old traditional trade. It makes us want to run our fingers on it. It also reminds us of craftsmanship and history Its rich texture inspires stability, monumentality and authenticity. It is effortlessly decorative and sometimes says more than a modern work of art.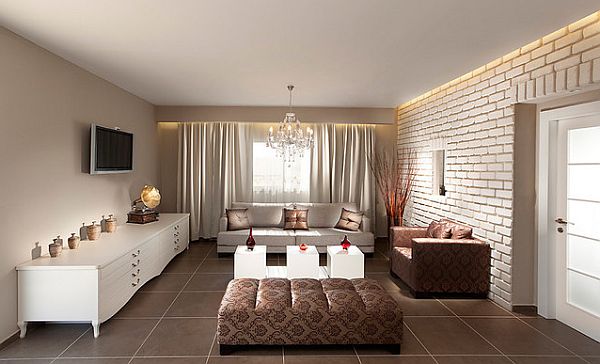 by Elad Gonen & Zeev Beech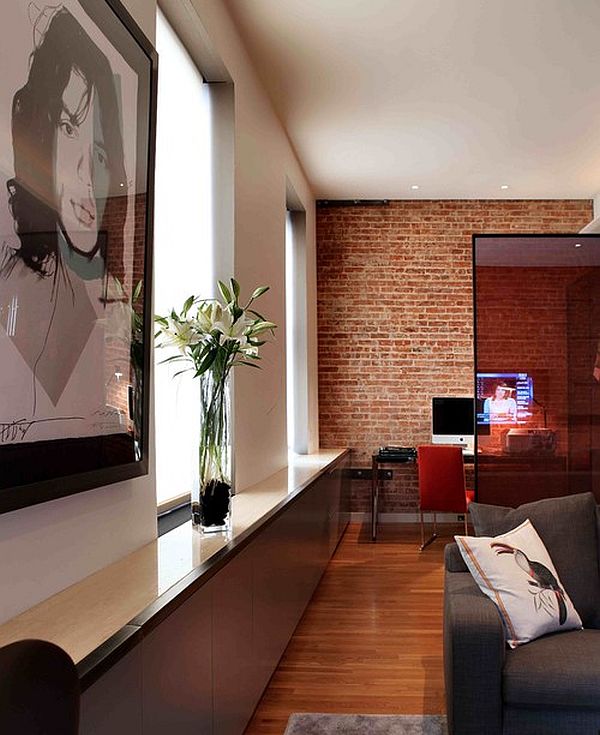 by valerie pasquiou interiors + design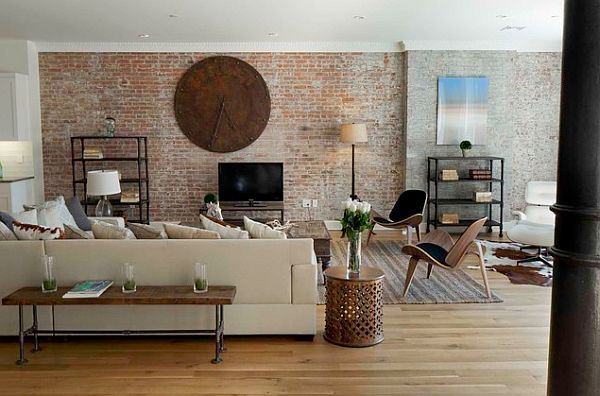 by Marie Burgos Design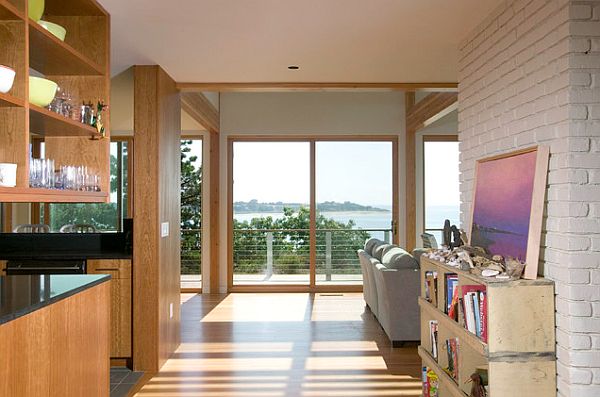 by Hammer Architects