Are you in the market for a spiral staircase? Not only is the repeating form of these structures visually interesting, they are the perfect solution for steep climbs, especially in spaces with limited room for a gradually sloping staircase that covers a lot of ground. But which design is right for you? Are metal stairs too hard on the knees? Are wooden steps too traditional?
Below we've gathered an assortment of images that showcase spiral staircases in all of their cylindrical glory. Check out the spaces in the images that follow, and see if a particular design catches your eye. Pay attention to building materials, especially if you're in a position where you can help make decisions about the construction of your staircase. At the very least, enjoy some stylish pics of amazing modern interiors!
An Overview of Spiral Staircases
Around and around it goes… Another amazing quality of spiral staircases? The spectacular view from the second floor! Really helps you appreciate the design involved in creating these spiraling wonders, doesn't it? [from Fulcrum Structural Engineering]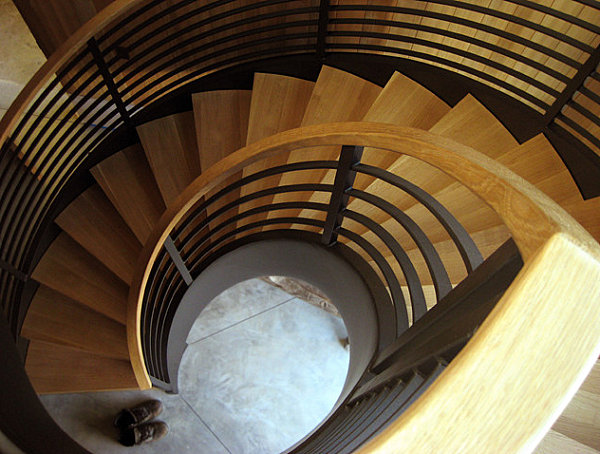 Need to move from a ground-floor 'point A' to a top-level "point B?" Thanks to spiral staircases, you can go around and around to get there! Hey, it's better than climbing a pole, right?! [from Mark Brand Architecture]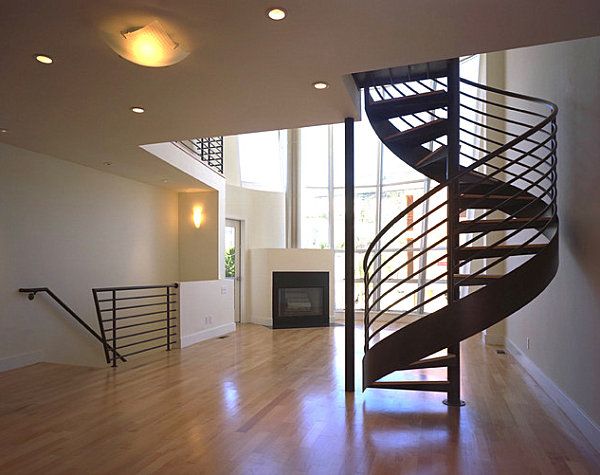 Ready to take a look at some specifics? Check out the spiral staircase designs below:
Wooden Staircases
Soft and strong, wooden staircases are solid and full of character. They can reinforce many a design style, from the ultra-modern to the warm and rustic! Below we see a staircase that walks the line between contemporary and traditional. Or should we say "walks the curve"? [from Rossington Architecture]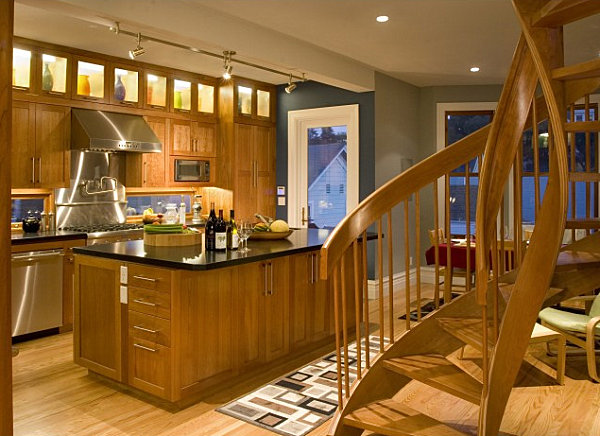 If you're looking for a way to create contrast with an all-wooden staircase, keep in mind that these structures really stand out against the backdrop of white walls, as shown in the next stunning image. [from Tali Hardonag Architect]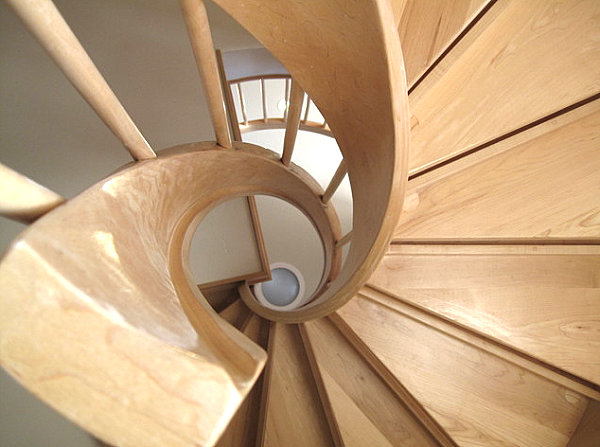 Our next featured staircase has railing that resembles the curves of a ribbon. Imagine a candy cane–all wooden of course! In fact, this staircase looks good enough to eat! [from Home Decorating Designs]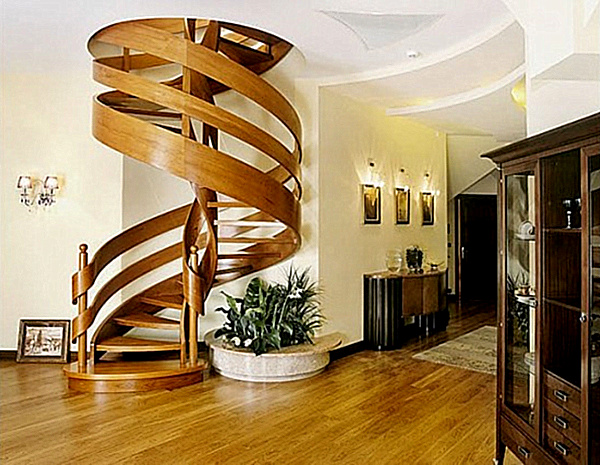 Metal Staircases
The metal staircase in the next image seems right at home in the industrial living room featured, especially since metallic air ducts are exposed for a contemporary effect. On a side note, isn't that geometric rug subtly fabulous?! [from Chris Dorsey Photography via Houzz]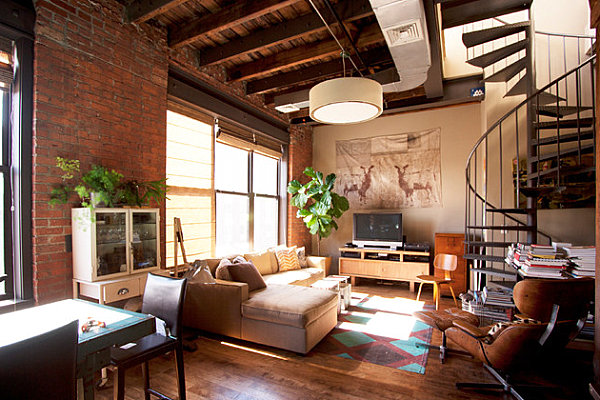 Metal definitely leaves its mark on the space below, a contemporary, cool-toned living room with an open, spacious feel. [from Maneli Wilson Interiors via Houzz]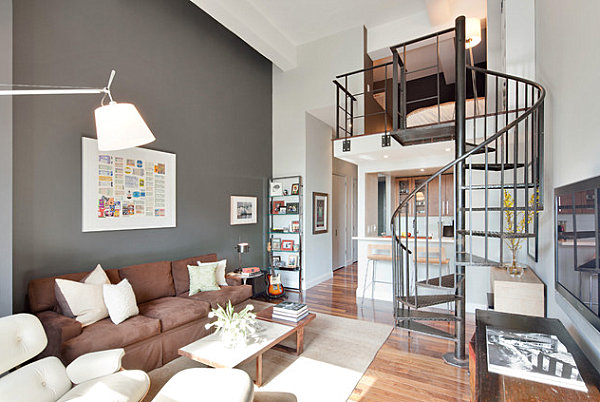 Many metal staircases have textured steps to create traction and prevent slipping. If you look closely at the staircase below, another view of the steps in the previous image, you'll see a bumpy pattern… [from Maneli Wilson Interiors via Houzz]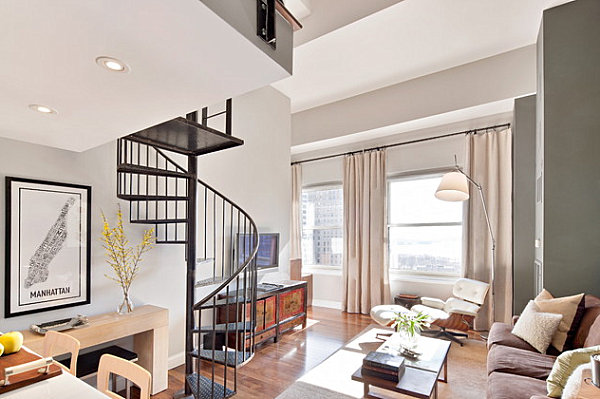 If you enjoy a monochromatic look, try matching your spiral staircase to the color of the wall! The white stairs in the next image are the perfect complement to this light and airy room. [from Ojanen Chiou Architects]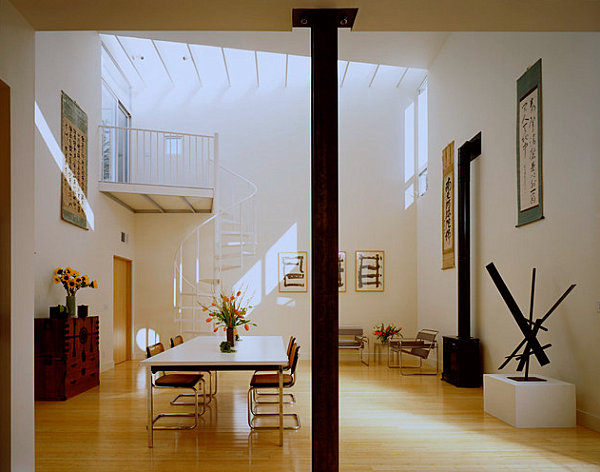 Glass Staircases
OK, so these staircases aren't crafted exclusively from glass, but glass does play a key role in the construction! Metal, concrete and wood are often involved when it comes to staircases with glass railing. Our first featured staircase is fit for a museum. Wouldn't you agree? [from Elite Metalcraft]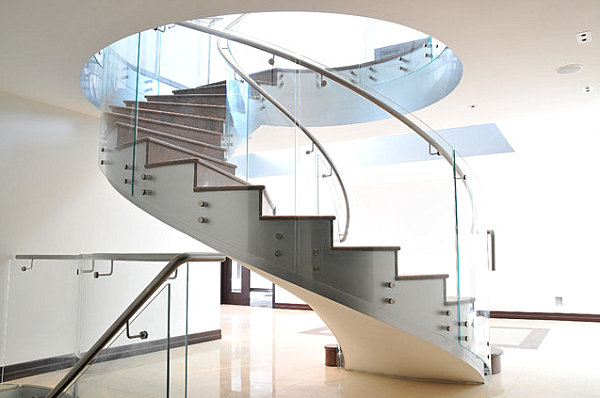 A little bit of spiral, a lot of style! This next glass staircase is perfect for a space with a view. In fact, glass staircases are often chosen for interiors with open, airy aesthetics. If you can see through them, they appear to take up less space. And why would you want to block the view outside?! [from Siller]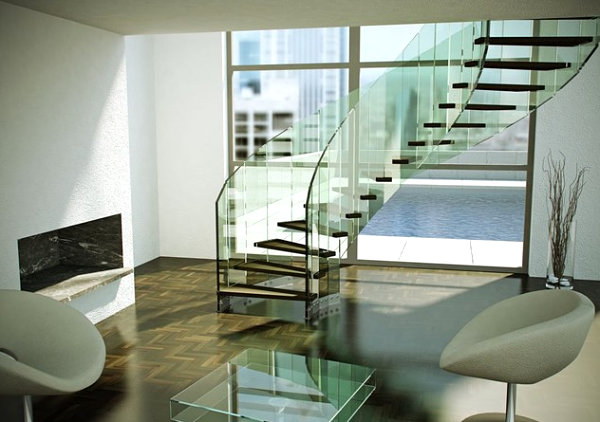 Wood and Metal Staircases
The vast majority of contemporary spiral staircases are a combination of wood and metal. A perfect blend of softness and support, these architectural wonders create contrast through the use of two very different construction materials. Let's start with a bang! The penthouse below features matching spiral staircases for double the fun. [from Sunflower Creations]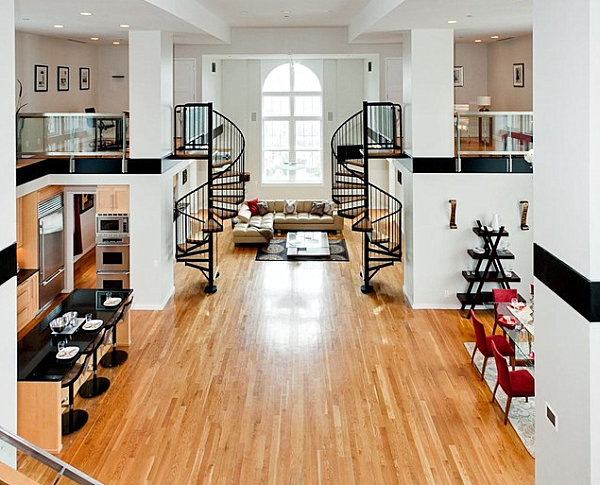 Spiral staircases are true showpieces. In the next image, we see the sweeping curves of a spiral staircase take center stage in a sparsely decorated modern home. [from Uptic Studios]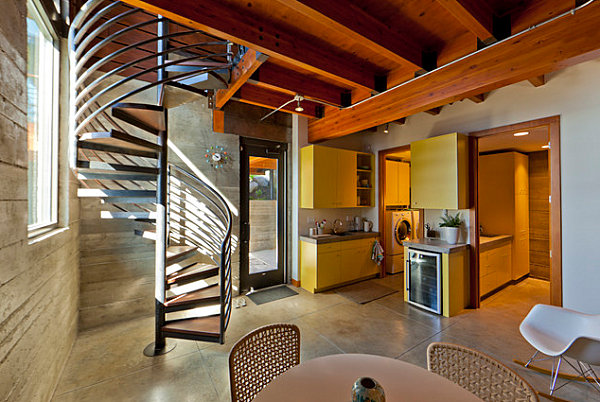 Let's hear it for the loft! We're loving the old-fashioned look of this spiral staircase in the two-story library below. And the staircase itself is wonderfully contemporary. A great blend of old and new, don't you think? [from Mark Dodge Design via Houzz]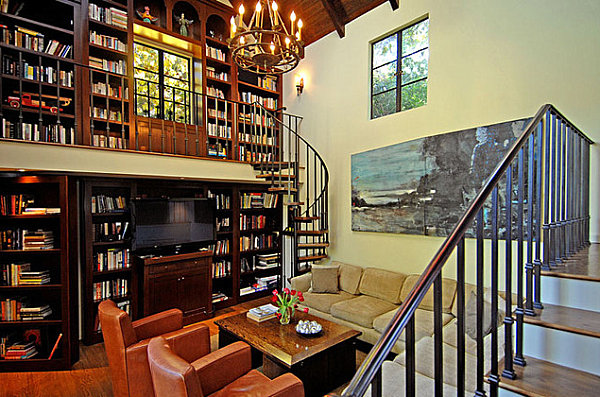 In another modern library, we see light wood and vertical metal bars beautifully combine to lead inhabitants from the ground floor to a treasure trove of books. If they're half as interesting as the artwork, they're definitely worth the climb! [from Seimasko and Verbridge]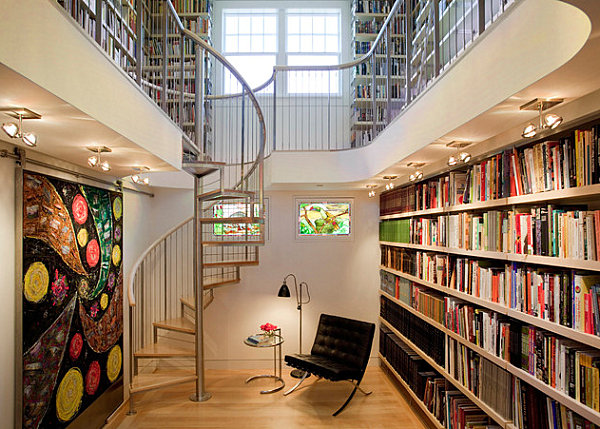 In this revealing close-up, we see slatted wooden steps, an intricate detail that makes wood and metal staircases extra interesting. Note how the horizontal lines of the stairs mirror the horizontal bars of the railing. [from Sorensen Architects]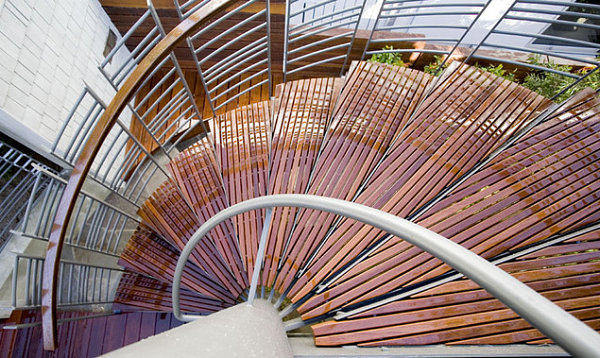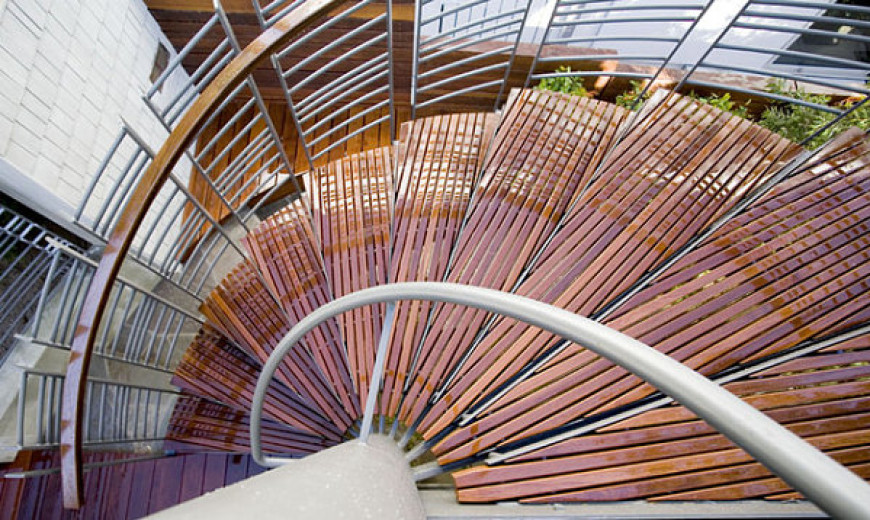 Outdoor Spiral Staircases
Spiral staircases: they're not just for your interior… They are great solutions for the outdoors! [from Dorothy Howard Architect]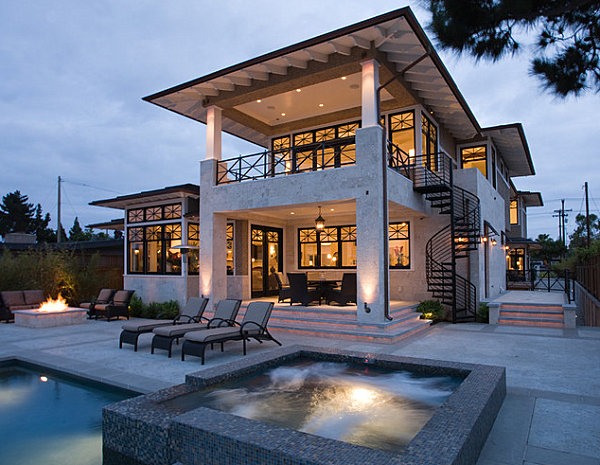 Here's a closer view of an outdoor spiral staircase. Take note of the metal construction,which is perfectly all-weather for the outdoor setting. This staircase makes one stop on the second-floor balcony, then a second stop on the roof! [from John Maniscalco Architecture]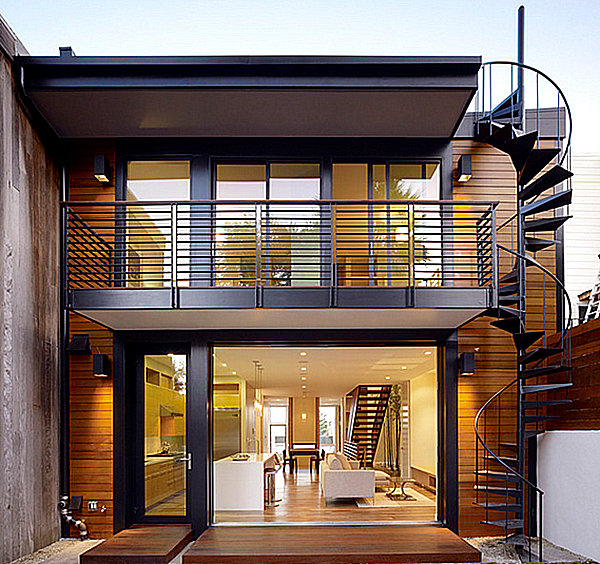 Concerned about outdoor falls? You could always enclose the spiral staircase for extra protection! Check out the extra-safe staircase below. One more fun tidbit: it leads up to a roof-top putting green! [from Design Northwest Architects via Houzz]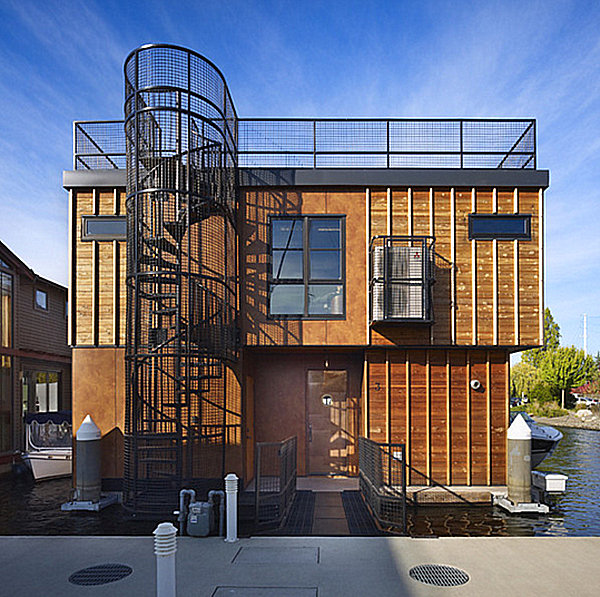 Not all outdoor staircases climb to the sky! The spiral beauty below leads to level two, then stylishly stops. We sure do like the look of it! [from Lee Edwards Residential Design]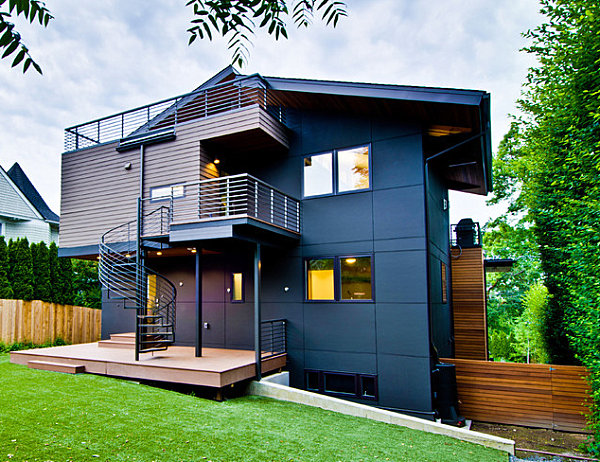 Whether your spiral staircase is a true work of art or simply a means to a vertical climbing end, there's no reason not to have a little fun with the design. With a range of options, including interesting materials such as glass, you can fashion an end result that's as eye-catching as it is functional!