This giant white beauty designed by Taller Aragones Architects is more than just a luxurious villa: it's a 1,200 sqm playground for the sun, of which Mexico gets plenty.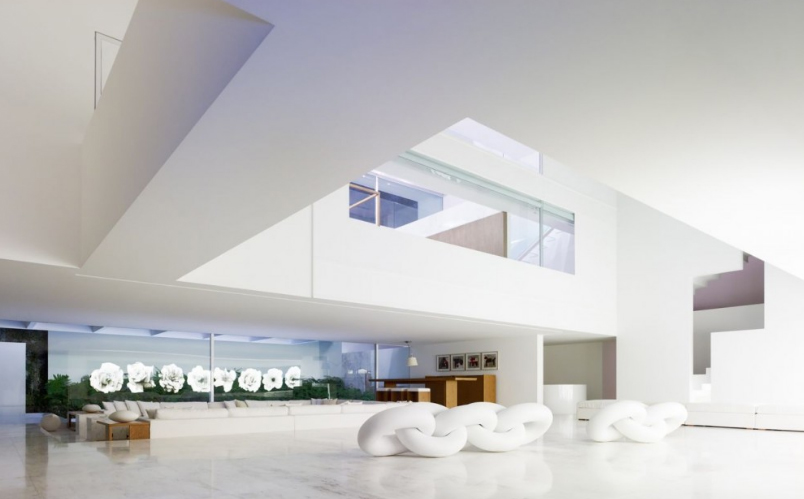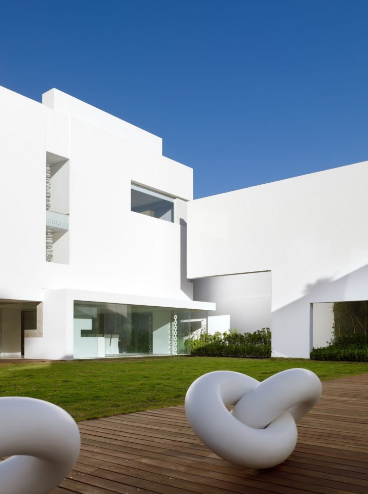 The all-encompassing white walls take full advantage of the light, on the outside as well as on the inside. Unique skylights and the majestic matt glass ceilings flood the magnificent 3 story atrium with the rich, bathing of sunlight. Ample glass windows and walls allow for more sun in addition to providing magnificent views.
The interior design pays a tribute to the sun through the use of height and spaciousness with practically no color on the surfaces. Some artistic accents added are grey patterned wallpaper strips and white abstract sculptures, in the atrium as well as by the vast outdoor pool. The chain link theme is seen in enormous sculptures inside and out as well as in the rain downspouts.
There are grand indoor and outdoor living areas in immaculate white layouts accented by dark wood flooring. Landscaped vegetation brings additional color for the eyes.
Not only do the inhabitants make spectacular use of the invigorating and therapeutic effects of sunlight, but also an RGB lighting system provides stunning color effects throughout the villa. At night, the vast white walls become a huge canvas with various hues ranging from organic and natural sunrise and sunset colors to vibrant disco tones in magenta or purple. All in all, this is an insanely cool place to live, chill and party.