How many times have you walked up and down the stairs without really paying attention to your surroundings? Were you in a stairwell at a hotel? Or perhaps you were walking up a flight of steps to reach your car in the parking garage. While it may be easy to tune out your environment when you're moving from place to place in a commercial space, it's not as easy to ignore the details of the space you call home. Every flourish counts. Which is why more and more homeowners are taking the time to choose handrails with style.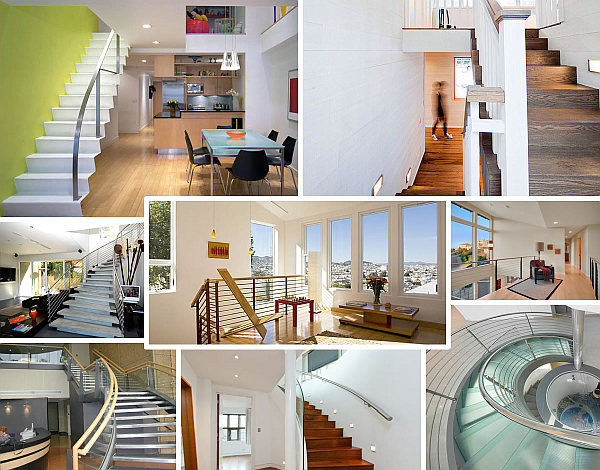 That's right — handrails aren't just for holding onto. In addition to guiding you from one level to the next, they can help set a stylish tone in your abode. Consider a minimalist modern home. Why not jazz it up with a contemporary metal and glass handrail? And perhaps you would want to match a wooden handrail to the wood on your floors. The possibilities are endless, and we've got the pictures to prove it —
Wooden-Top Handrails
Wooden handrails are classic, and they are often chosen to complement other wooden interior features, such as flooring. We start by keeping it simple. The Madrone Cap Handrail is one continuous line of light wood, yet steel accents and brackets add contrast. [from Five Twenty Two Industries via Houzz]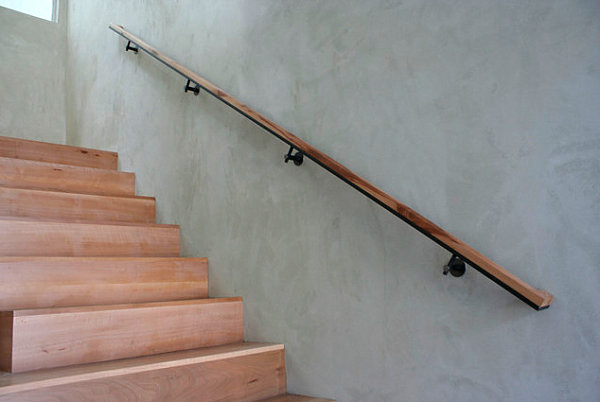 Another simple statement: a solid oak wood handrail. As you can see in the close-up that follows, metal supports gently elevate the smooth beam, letting the elegant form of the piece speak for itself. [from NYC Royal Stairs Inc.]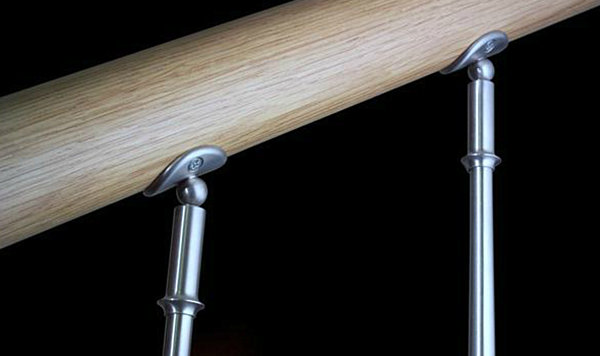 Wood can add a traditional element to a stairway, or it can be strikingly modern, especially when combined with materials such as metal and glass. Below we see a wooden handrail complemented by sleek glass panels. [from John Maniscalco Architecture via Houzz]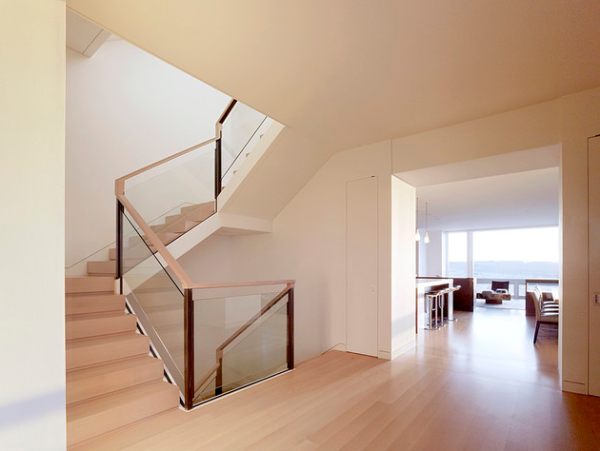 In the next image, metal is added to the mix. Yet despite the stark appearance of the glass and metal combo, the wooden handrail detailing warms the space. [from John Maniscalco Architecture via Houzz]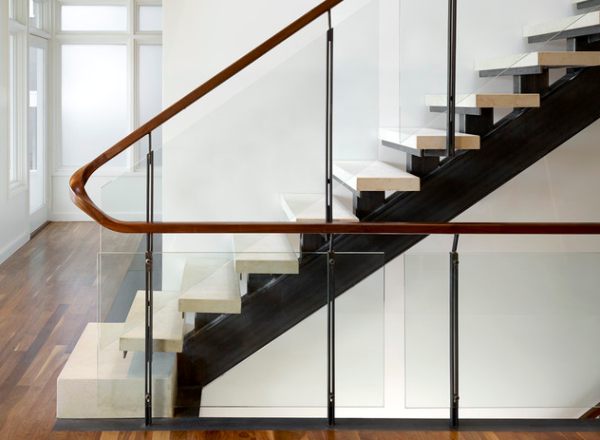 Speaking of warmth, the space below has a golden glow, thanks to hardwood flooring and a wooden-top handrail with an earthy effect. [from BMF Construction via Houzz]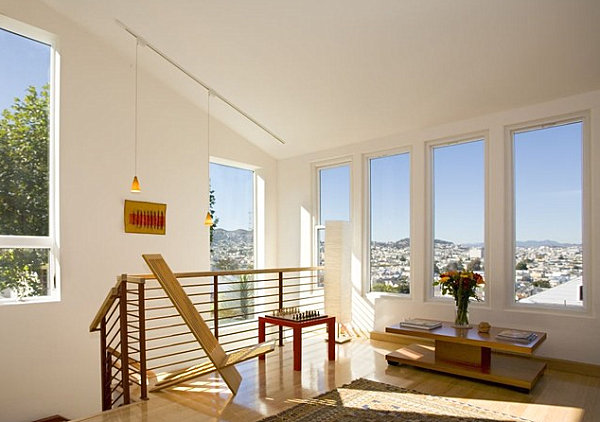 After all, isn't it divine when a handrail mirrors its surroundings? A common tactic: matching the wood of the handrail to the wood of the stairs. [from Builders MD]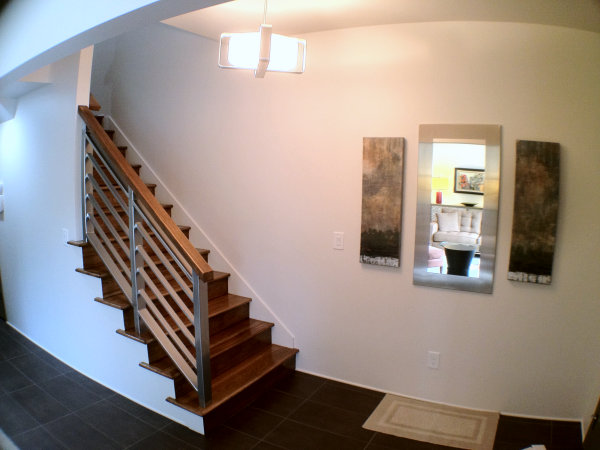 Metal and wood is a common yet stunning combo. Especially when an abundance of horizontal lines creates a modern statement that reinforces the flow of the space. [from David Neiman Architects via Houzz]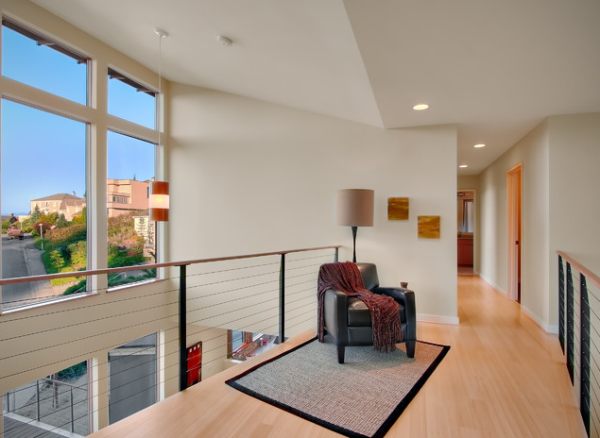 We now move from the residential to the commercial, featuring a grand wood, metal and glass staircase. Angles, lines and curves showcase a range of contemporary building materials. [from Virginia Railing and Gates]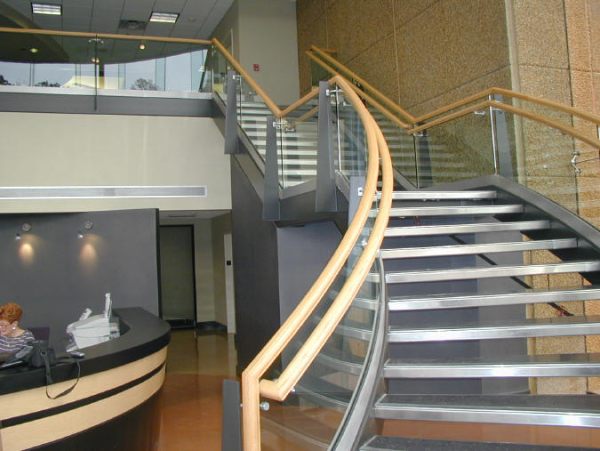 Many of the images above feature handrails with horizontal bars, yet vertical lines can be just as intriguing. While often considered to be traditional, the north/south arrangement of the bars below is anything but, thanks to a stylish configuration of clean-lined materials. [from Houzz]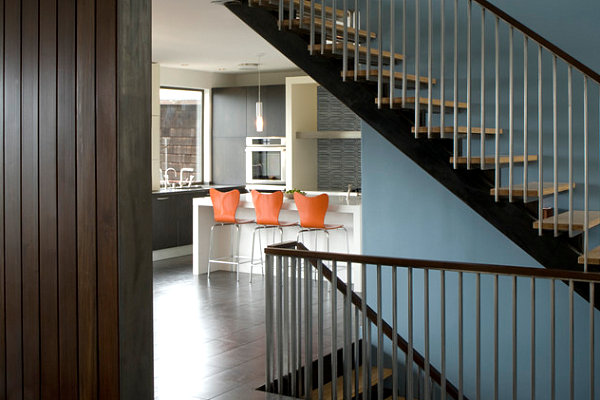 The sturdy staircase featured in the next image has a truly rustic feel. Yet a simplicity of design keeps the look modern. Anything but stark, the handrail adds earthy charm to this contemporary home. [from Peter A. Sellar – Photographer via Houzz]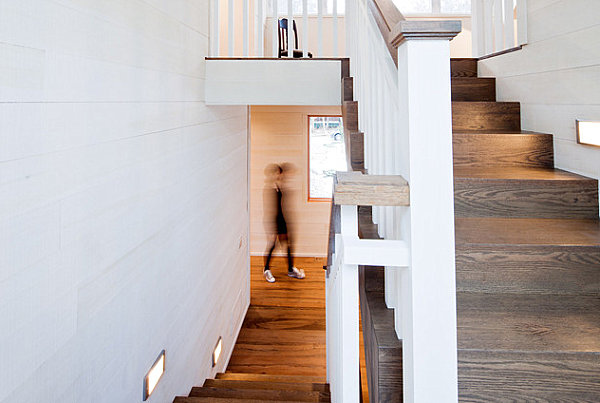 One great perk of owning a wooden handrail: it can be painted to complement the color scheme of your home. The black and white handrail below is a wonderful counterpart to the abstract wall art, don't you think?! [from Myers Design Inc. via Houzz]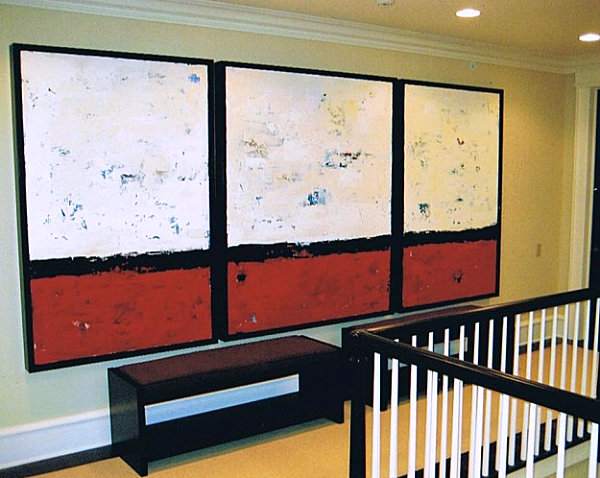 Metal Handrails
Metal handrails can create a variety of effects, from ultra modern to minimalist sleek. Or industrial, as shown by the dark rail below. Rounded segment dividers soften the effect, adding personality and style. [from Lucid Interior Design via Houzz]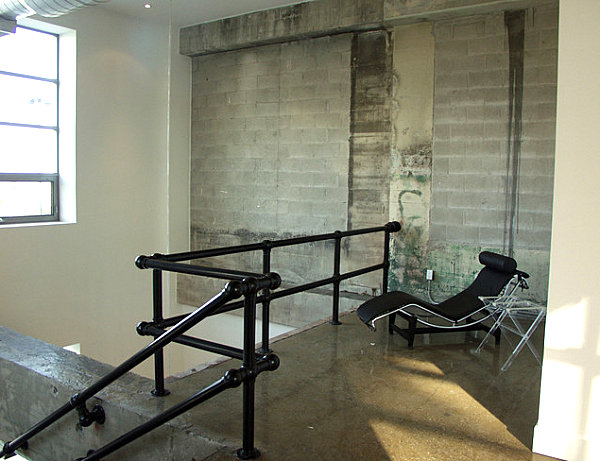 Many metal staircases feature parallel lines of tubular steel. From slight curves to straight edges, the horizontal bars follow the path of the stairs at every slope and turn. [from Creative Spaciz via Houzz]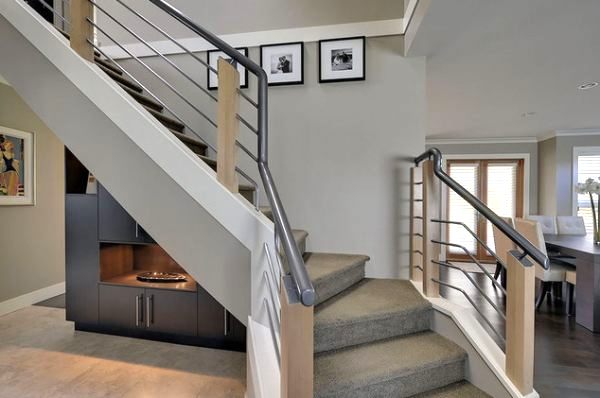 In fact, metal handrails with horizontal bars can't help but evoke the clean lines and curves of Art Deco style. In the next featured space, a prominent staircase is a true focal point, announcing the home's second level with flair. [from Martin Fenlon Architecture via Houzz]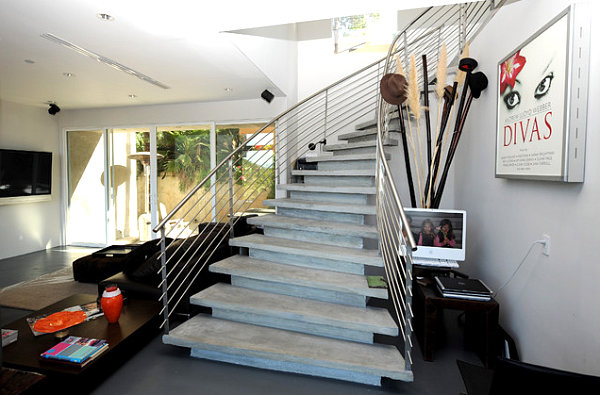 For a similar look with a stunning form, check out the next image featuring a spiral stairwell. Yes, handrails can bend and curve as needed! [from Segev Photography via Houzz]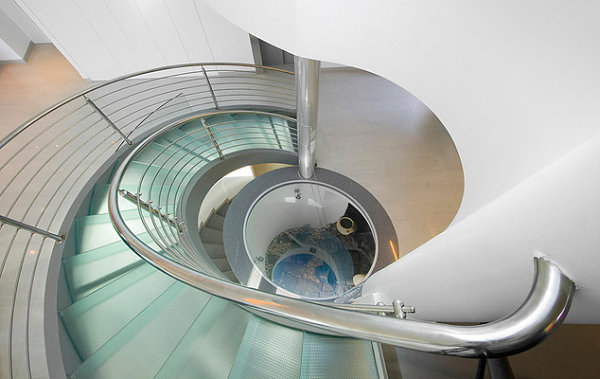 In fact, a well-appointed stairwell can be used to create drama and architectural interest in the home. Note how the metal handrail below provides a nice contrast to the wooden stairs. [from Royal Stairs Inc.]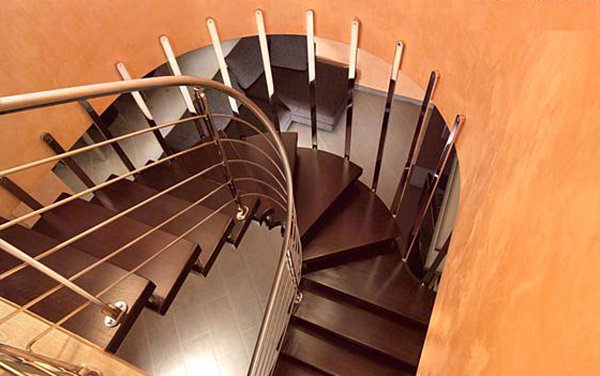 While lighter brushed metal is a popular choice for stairwells, darker metal also makes a big statement. Check out angles and slopes of  metal handrail below, which is striking against the white walls with its deep shade. [from Cary Bernstein Architect via Houzz]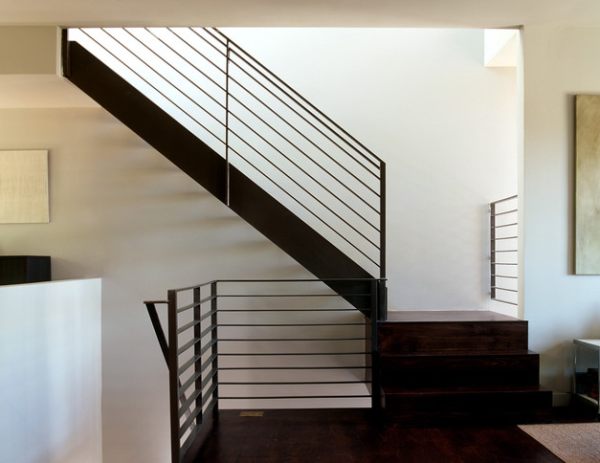 Want an extra dose of variety? Try a stairwell that features two tones. Below, a black handrail is sturdy and thick, while thin metallic supports add visual interest. [from Spore Design via Houzz]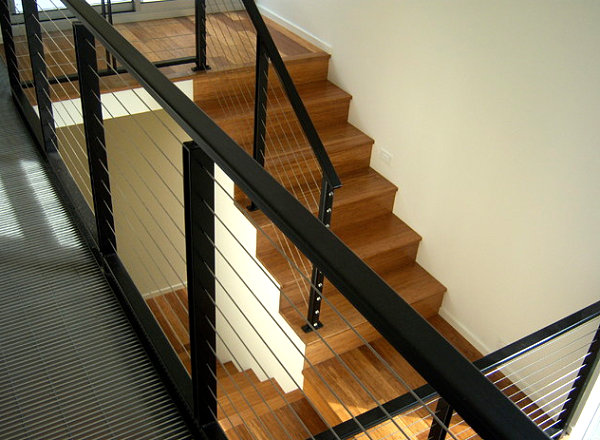 And don't forget that metal handrails can add a sculptural element to the rooms they inhabit. Below we see how wavy lines create leafy forms, an artistic take on organic style. [from NYC Royal Stairs Inc.]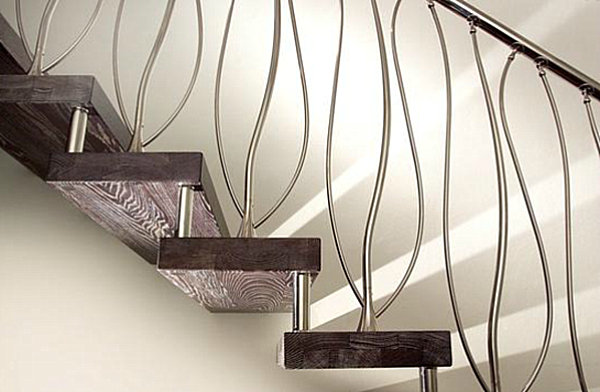 While a slew of support can be striking, sometimes a few strategic lines are absolutely enticing. Below we see a sculptural handrail that has a powerful presence in a stairwell featuring a yellow-green wall. [from Chelsea Atelier Architect, PC via Houzz]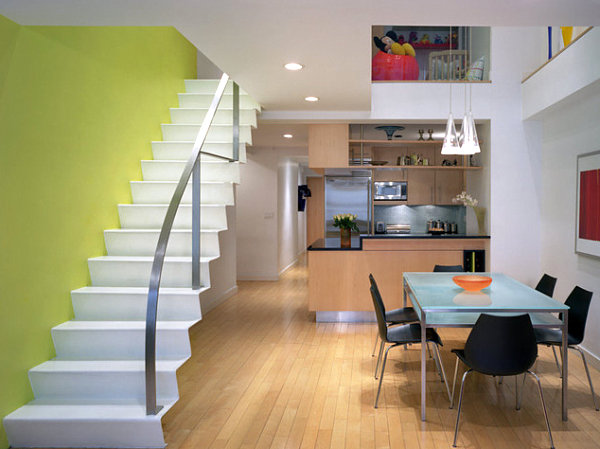 When one wall of the stairwell is glass, all you need is a simple statement, as shown by the metal handrail in the next image. [photo by Matthew Millman, from Redmond Aldrich Design via Houzz]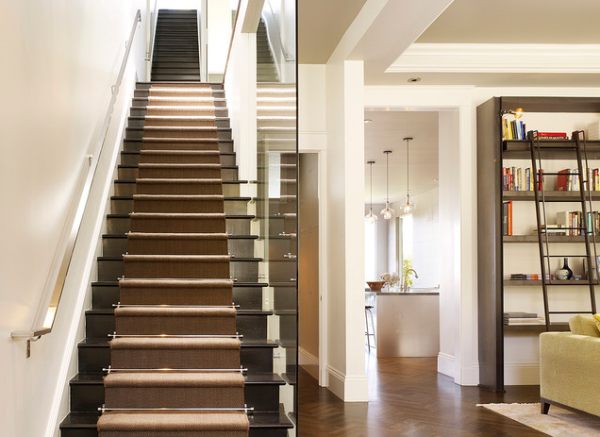 On a similar note, the metal handrail below mirrors the curve of the glass wall on the opposite side of this modern stairwell. Clean, crisp colors and materials allow the design to truly shine. [from CS Photography via Houzz]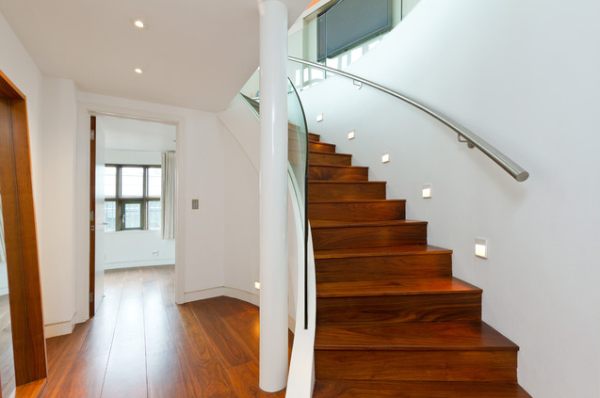 We now get back to basics with a zig-zag design that is mounted to the wall, The stainless steel handrail in the next image represents simplicity at its finest. [from Elfish Investments]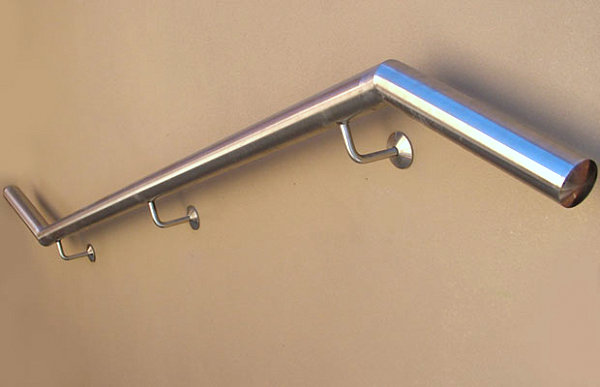 What do you get when you take a stainless steel handrail and complement it with a wooden wall detail? The metal piece below, which pops against its white background. [from Life of an Architect]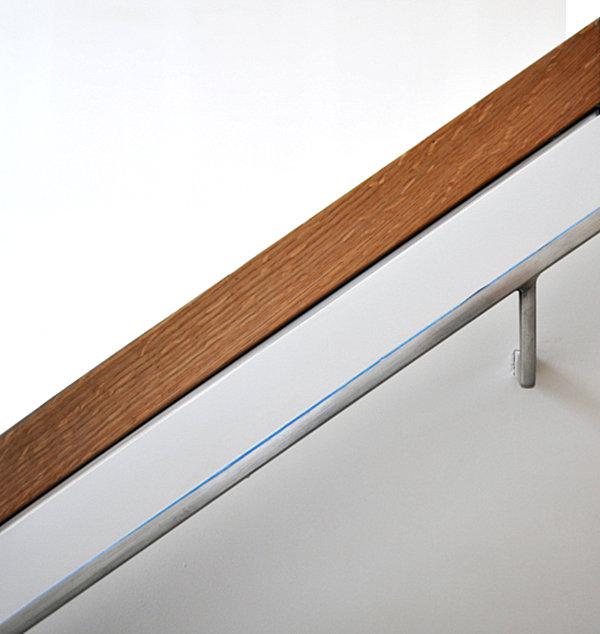 We wrap up our collection of metal handrails with a close-up of shiny loops and intersecting lines. The metal and glass staircase below is enhanced by an artfully crafted handrail. [from NYC Royal Stairs Inc.]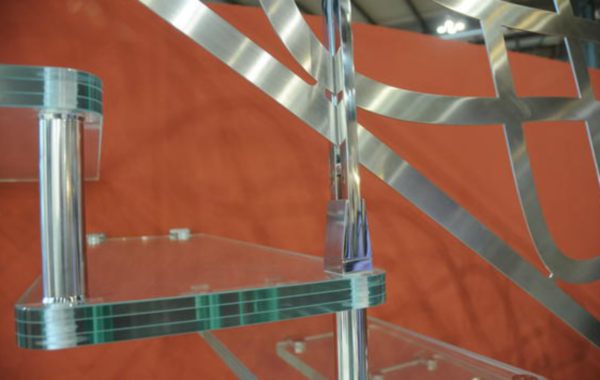 Specialty Handrails
If you're in search of the unexpected, look no further. Some handrails defy all stereotypes, and the Blind Handrail from Zoon Design does just that! Glowing beams of LED lighting shine against dark walls, as shown below. [from Inhabit]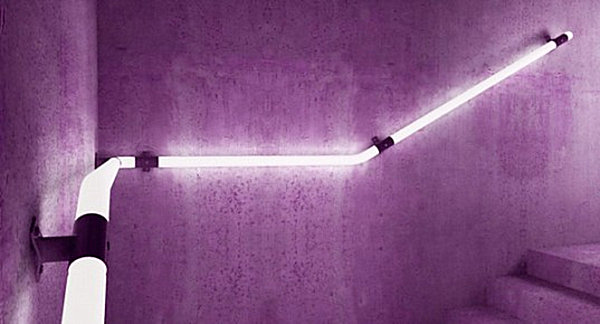 How does this handrail shine without a plug? The power is hooked into the wall supports. Not to mention, these showpieces can illuminate in many colors, and they reduce the need for lighting in dim places such as dark stairwells.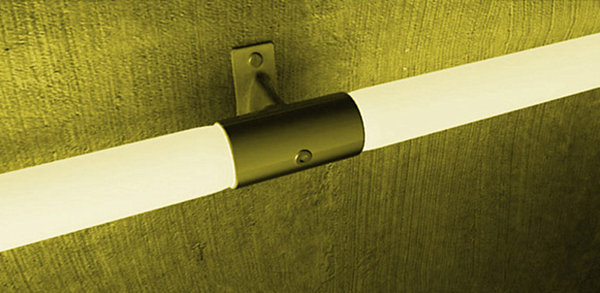 While the Blind Handrail appears to be in the concept phase at this point, you've gotta love the possibility of owning a handrail that is an LED embedded tube! And the fact that dark corridors are instantly transformed into art installations with these clever pieces…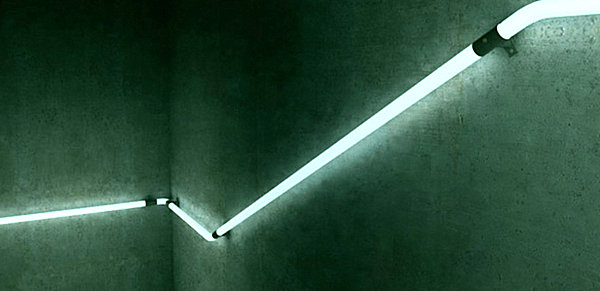 Another selection that's a clear winner? The all-glass handrail. In fact, many of these handrails are complemented by metal beams or wooden tops that are easy to grab. Not the piece below–it's transparent from top to bottom! Intriguing, don't you think? [from Nancy A. Fink]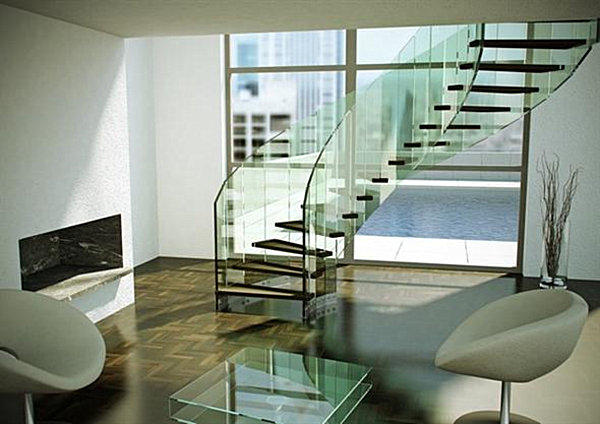 If you're looking to channel a retro vibe, don't hesitate to veer into brass territory. Yes, you heard us! Brass is making a comeback. The brass handrails in the next image reside in a church sanctuary, but we could see them putting their golden stamp on a variety of interiors, from commercial spaces that are seeking a touch of the '70s and '80s to residences that are reveling in vintage style. [from Virginia Railing & Gates]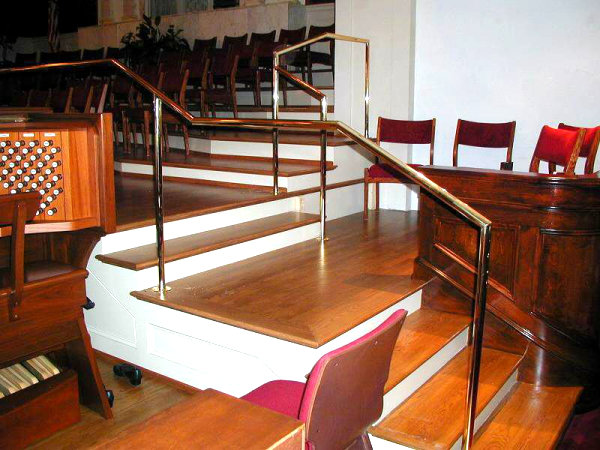 Outdoor Handrails
We can't forget that handrails are a necessity for outdoor spaces. Not to mention, they are an opportunity to reinforce the architectural style of a home, as shown by the contemporary metal rails below. [from Cornerstone Group Architects via Houzz]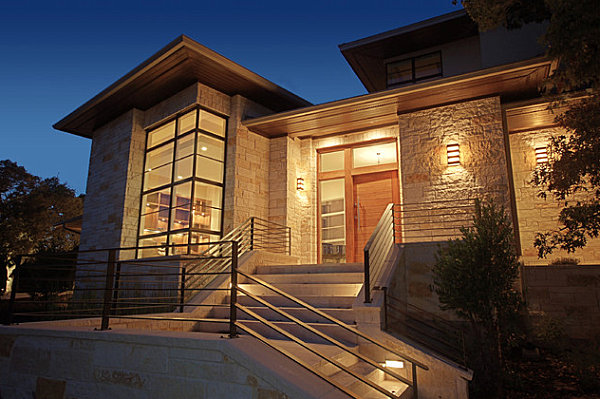 Sometimes an outdoor handrail can even mirror exterior flourishes, like the horizontal wooden planks in the next image. [from Mark English Architects via Houzz]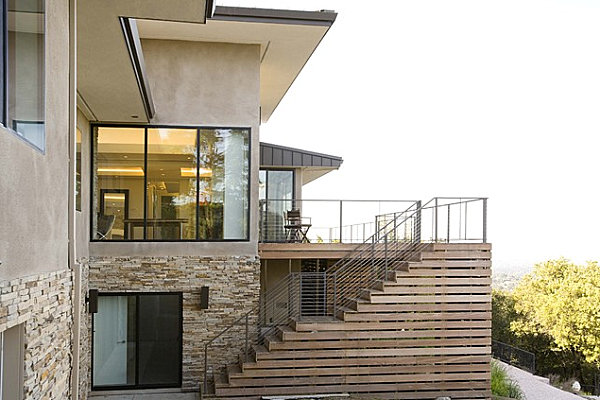 Metal handrails with horizontal bars are often seen in cement stairwells and other commercial spaces. But don't think they are the stuff of standard design. As you can see in the image below, there's nothing like the sparkle of modern parallel lines. [from NYC Royal Stairs Inc.]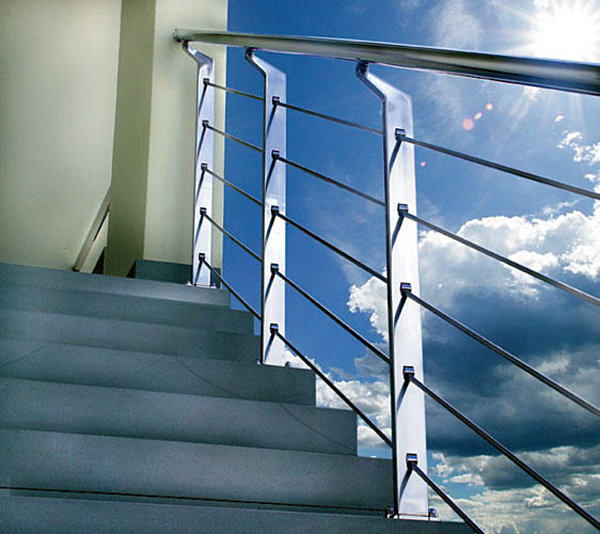 Many metal handrails are found on balconies and other above-ground spaces. They are important safety features that are as stylish as they are practical. [from NYC Royal Stairs Inc.]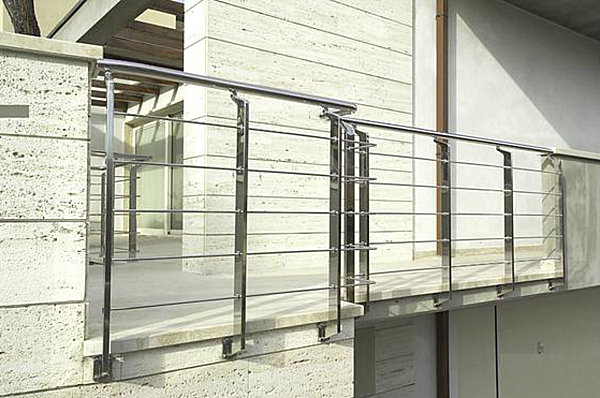 We end with the simplicity of a metal railing in a modern space. When combined with high ceilings and airy interiors, the school balcony below is architecturally interesting while serving a key function. [from Elfish Investments]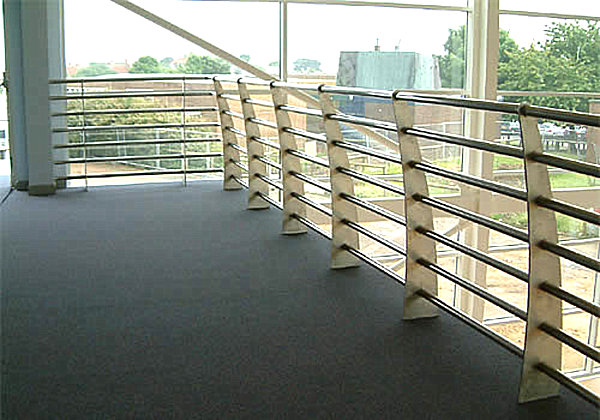 Whichever handrail you ultimately choose, make sure you don't skimp on style! And remember, fancier isn't always better. Sometimes the simplest of statements can make the biggest of impressions. Not to mention, while some prefer a handrail that serves as a subtle extension of the home's look, others delight in choosing a piece that's a true showstopper. Like a chandelier that commands attention, your handrail can be a focal point that proudly announces your home's second level. Or third…
Liked the story? Share it with friends.