Makeup, makeup, everywhere!… Is this the state of your drawers and counter tops? Perhaps you're in need of an organizational idea or two. Or twenty! Back by popular demand, today we spotlight makeup organizer tips, a Part 2 to our post on "Marvelous Makeup Storage Ideas."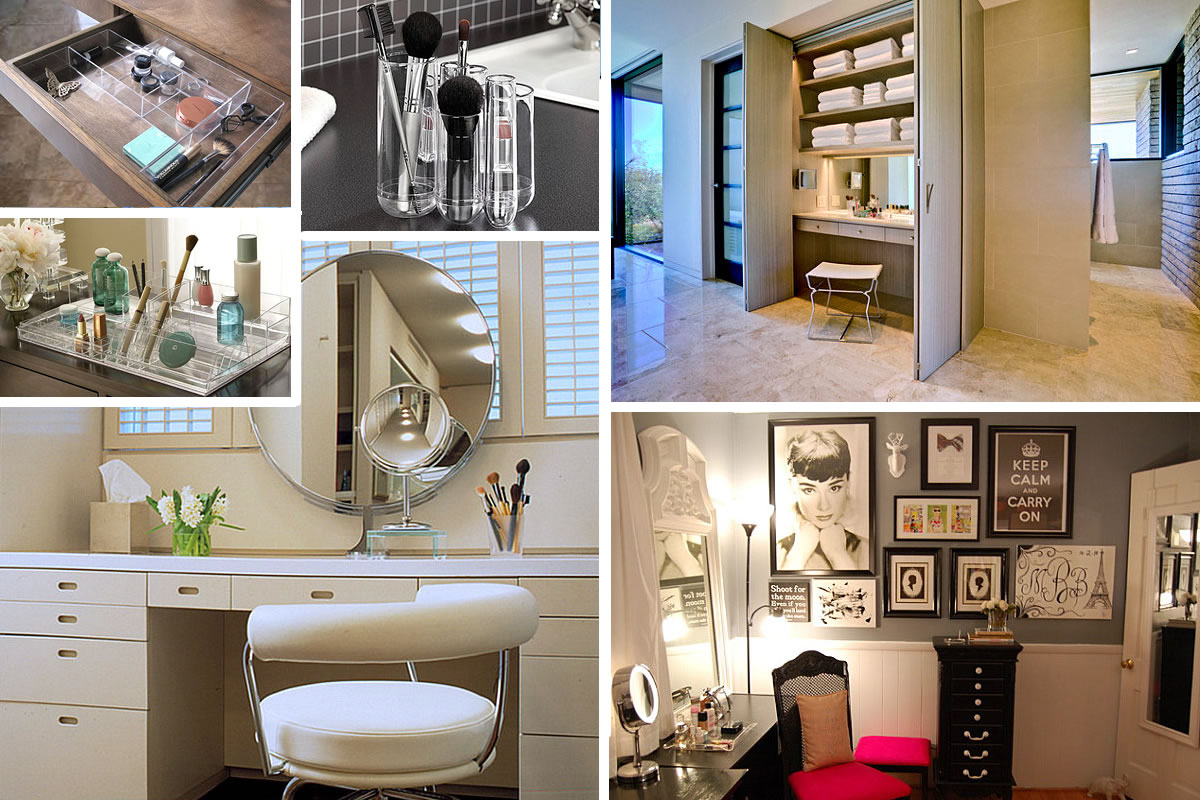 Whether you want a clean vanity surface with no makeup in sight or you're looking to create an artistic display, the makeup storage ideas below will get those tidying wheels turning. Many store-bought makeup organizers are affordable and undeniably helpful, so don't discount the idea of making a simple purchase or two. However, if you're feeling crafty, there are a couple of DIY ideas for you to consider as well. Happy organizing!
Makeup Drawer Organizers
For some, organizing a makeup collection is as simply as tidying a drawer. If your drawers don't have built-in dividers, consider purchasing a pre-assembled organizer. Many selections are offered in acrylic, so they blend well with the color of the drawer at hand. [from The Furniture Guild via Houzz]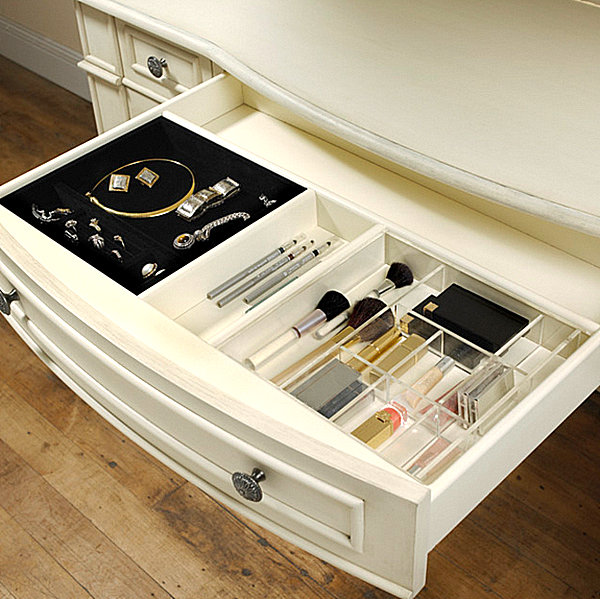 Some makeup organizers, such as the selection below, are a perfect fit for the drawer. However, don't  feel like you have to purchase an organizer of an exact size. Sometimes even a small segmented tray or two will do the trick and leave room on the sides of the drawer for other items, such as hairbrushes. [from Muebles Vimo via Houzz]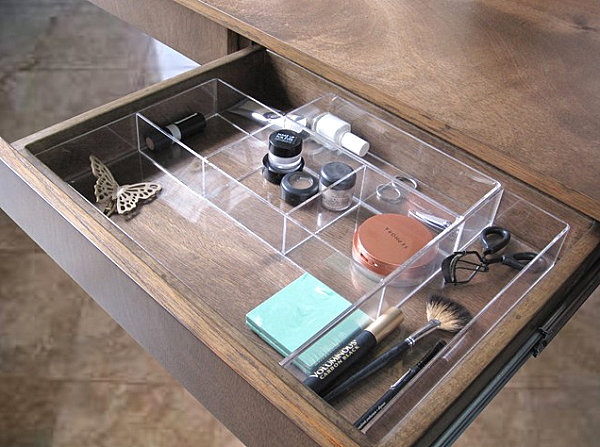 This makeup organizer from Target comes in a perfect square! Handy and geometric! [via missyareena]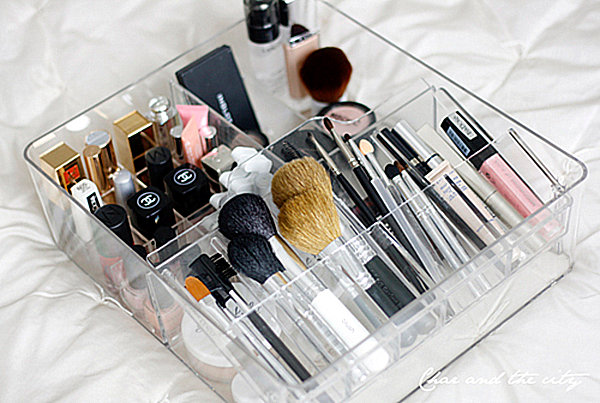 Even if you confine your makeup to a closed drawer, don't forget that you can still display a few small items on the vanity for a decorative effect. There's nothing more decadent than a simple container of fluffy makeup brushes! [from Powell/Kleinschmidt, Inc. via Houzz]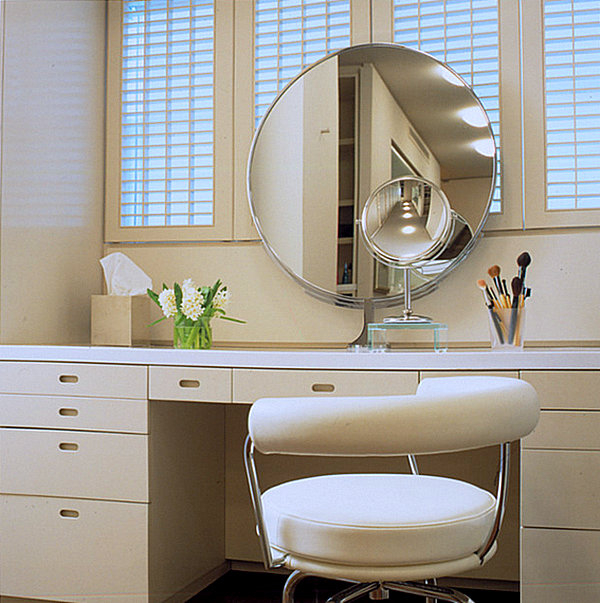 Hanging Makeup Organizers
Suppose you want your makeup to have a special spot on the wall… Why not create an artistic display, much like a collector arranges miniatures on a wall-mounted segmented shelf? The Cosmetic Organizer with Shelf below comes from Etsy shop ThingsOnDisplay. Not only does it hang on the wall, it can be set on top of a counter or shelf if desired.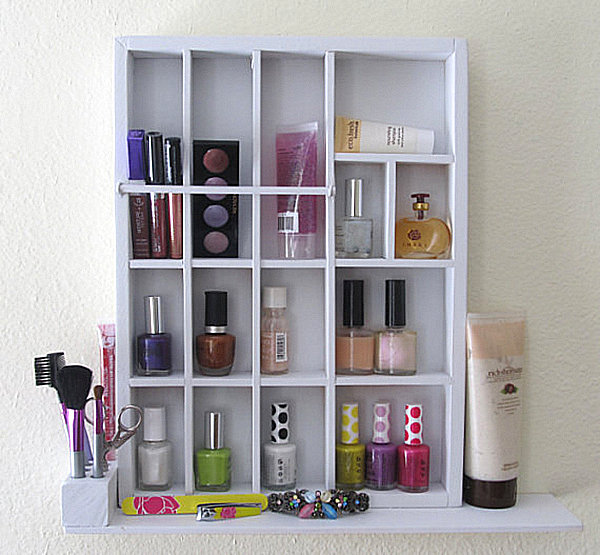 ThingsOnDisplay offers a similar makeup organizer in black, which creates an elegant, powerful contrast to white walls. Note the small support bar that stretches across the two display nooks on the left. Should your lipstick or nail files lean forward, they'll be secure and protected.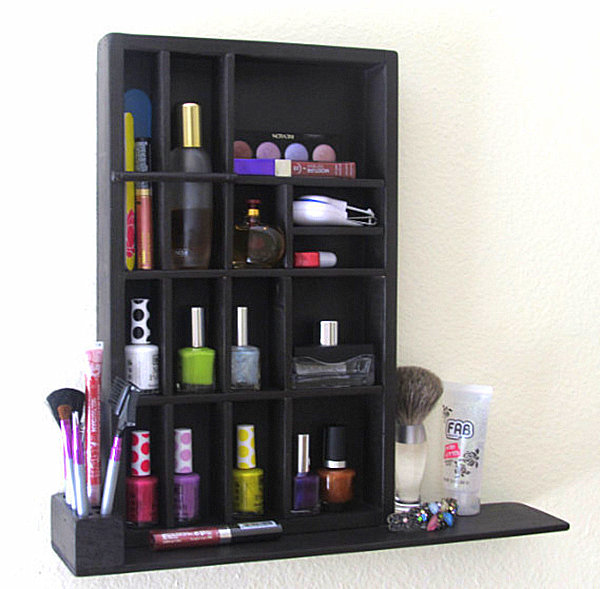 A support system is created with leather straps for the Teal Printers Drawer Cosmetic Organizer from Etsy shop BlackForestCottage, shown below. No makeup is falling off this shelf! The color is wonderfully vibrant, and this selection comes in a variety of shades for your convenience!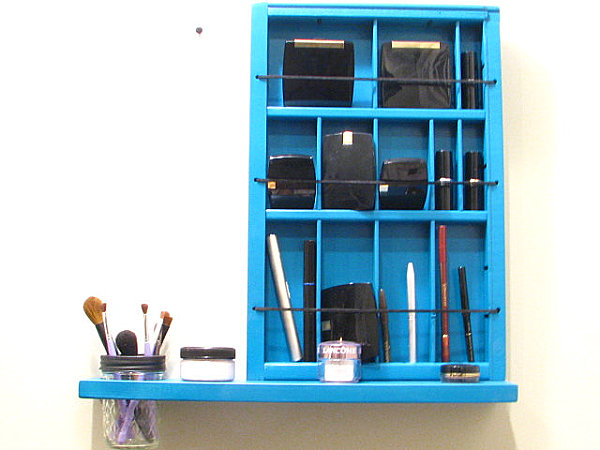 For a unique twist on the wall-mounted makeup organizer, try creating a magnetic or velcro system, then simply attaching each makeup container to a framed display. The frame makes a stylish statement, elevating your makeup collection to the level of art.  [from Liz Marie Blog via Houzz]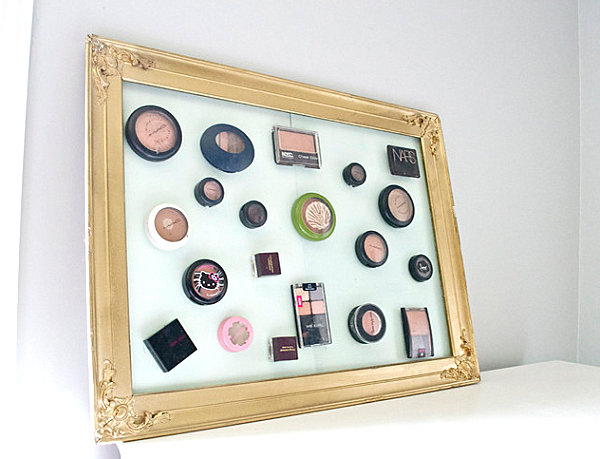 If you like the magnetic makeup storage idea, check out this DIY project idea from Sugar Bee Crafts. A magnetic board from IKEA goes a long way…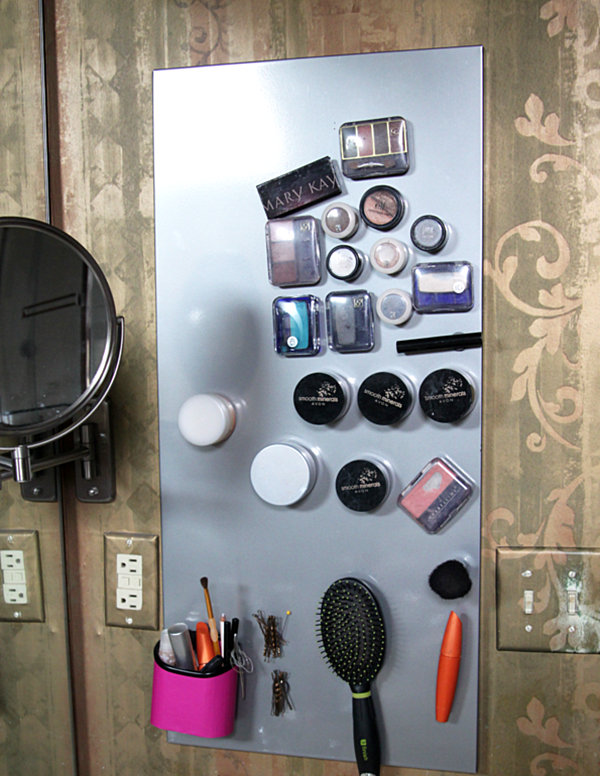 Table-Top Makeup Organizers
Sometimes you want your makeup to be on display! Perhaps you like the way it looks when it's neatly organized, or maybe you simply want easy access to your stash. Consider a clear container, like this large selection from BackyardGardener.com.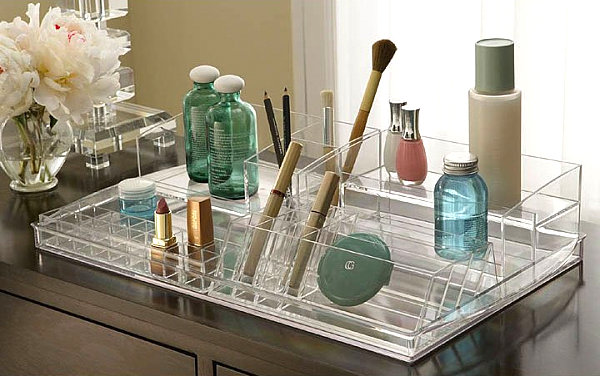 If you're not needing as may drawers, check out the Make-Up Organizer with Tissue Box Holder, which also has large sections for cotton balls and (as its name suggests) a tissue box. [from Acrylic Home Design]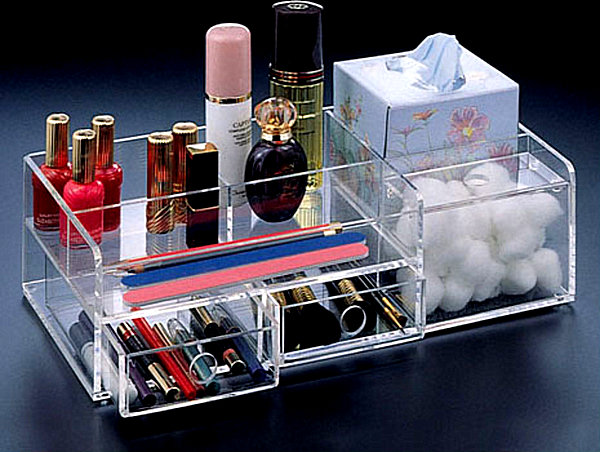 Here's an idea for a compact organizer! If you're not ready to commit to a large storage system, this cute clear item can go a long way in keeping your makeup brushes and lipstick tidy! [from The RetailMeNot Insider]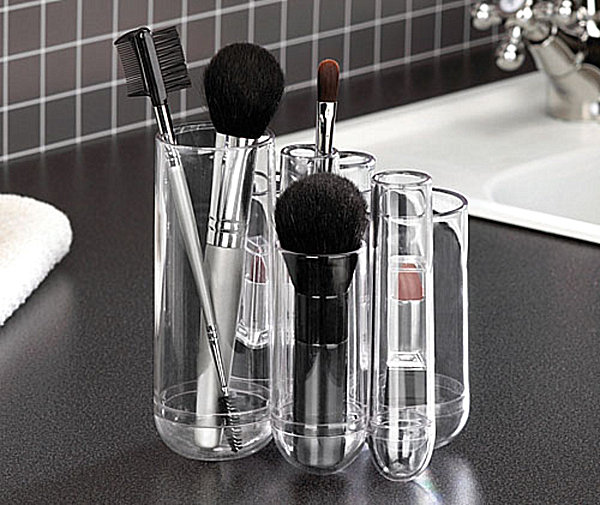 Clear organizers have a crisp, neat appearance. When done well, the makeup seems to float in tidy lines and tiers. Note the glamorous display of makeup on the vanity below. Even from a distance, this grouping of products looks anything but cluttered. [from John Senhauser Architects via Houzz]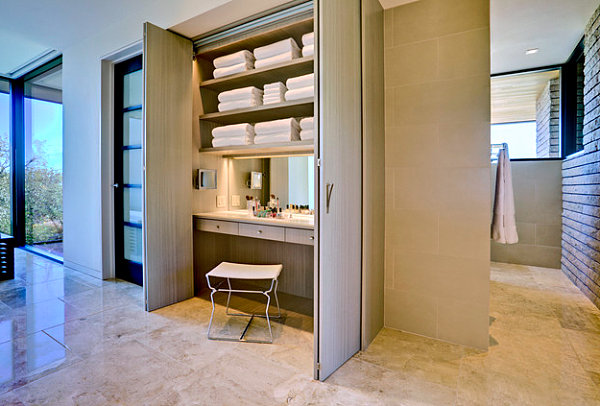 On a similar note, don't underestimate the appeal of a lovely tray when it comes to makeup organization. The acrylic tray below is simple and chic. It almost does't matter how many products it holds–its clearly delineated surface-top boundary creates a sense of neatness. [via Houzz]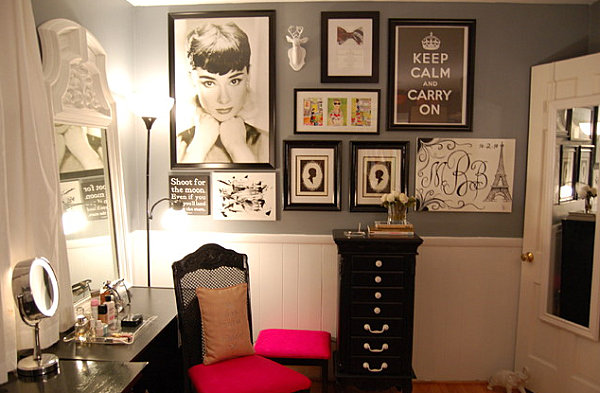 If you prefer a little color to the clearly transparent, have a little fun with your makeup display! The vintage-style organizers below are available in 1950s-style colors. The best part: a built in clock! Why be late for your date?! [from Review Retreat]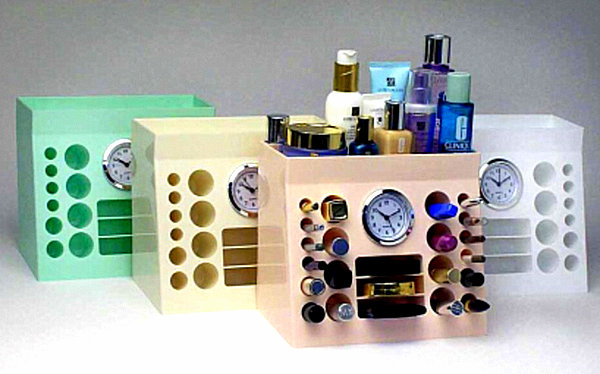 Some shelf-top makeup storage solutions have drawers as well as compartments. The organizer below features patterned-lined drawers that add a delicate touch. [from Emily Tait Designs via Houzz]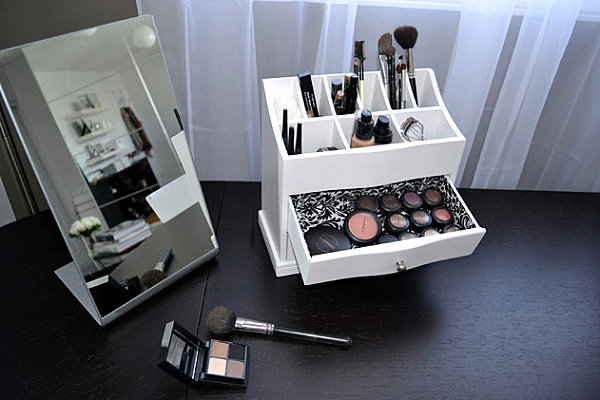 This Cosmetic Makeup Organizer comes in clear or black. Frilly and fun, it contains beauty products for a shelf-top display of femininity. [from Ali Express]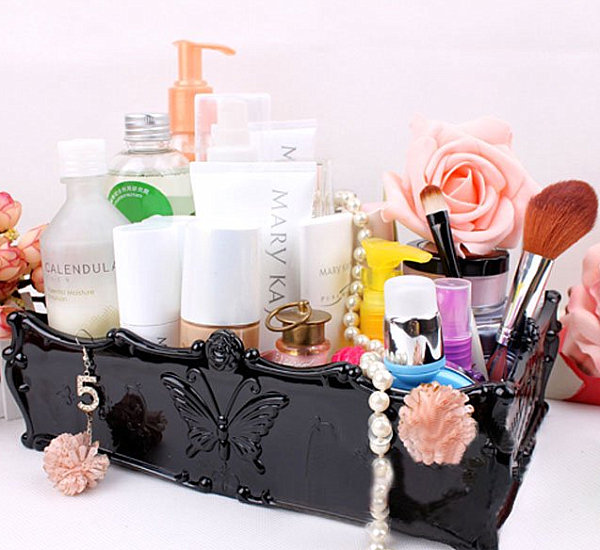 A new assortment of custom-made wooden makeup holders have been taking the internet by storm. The lipstick holder below showcases a range of dazzling shades. Tiered shelves ensure that you can see each lipstick tube that you own. [from Makeup by Ren Ren]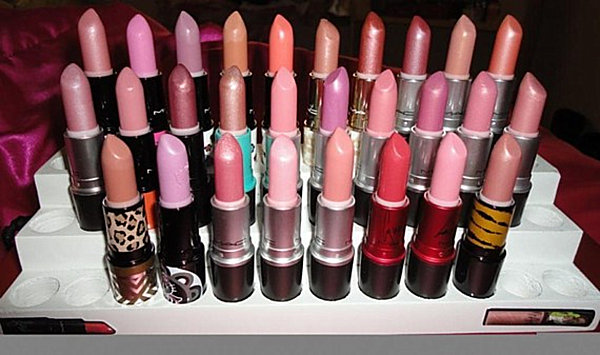 Why stop at lipstick? The Wooden Cosmetic Makeup Organizer from Etsy shop Less & More features a series of drilled holes in a beautiful slab of poplar. Perfect for lipstick, mascara and eyeliner, this display piece has a sculptural look.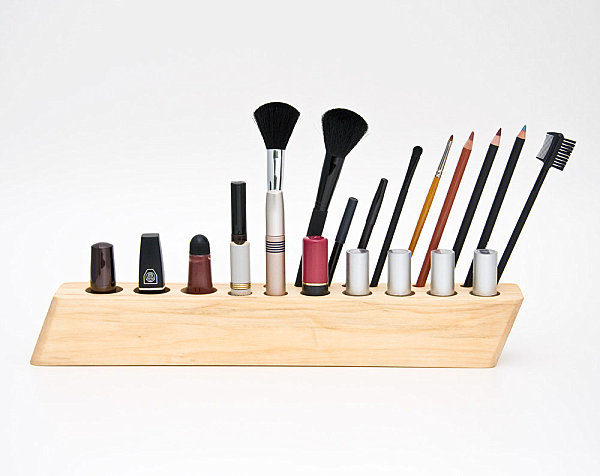 For an even more compact solution for displaying brushes, glosses and other cylindrical beauty products, check out the Walnut Vanity Organizer from Etsy shop Finds of a Kind. As you can see in the next image, storing your makeup upright ensures that all items are visible and neatly separated.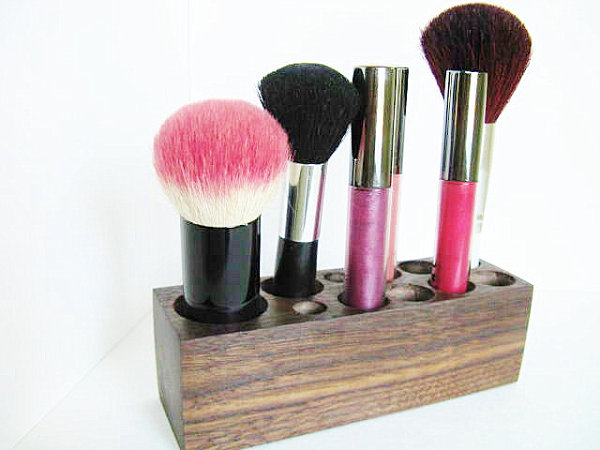 Have you tried any of the makeup storage systems above? Were they helpful? Do you prefer larger organizational pieces, or a small container or two? Share your thoughts by leaving a comment below…