Brushes and powders and lipsticks–oh, my! Collecting make-up is a lot more fun than organizing it…until now! Today we feature 20 makeup storage ideas that will inspire you to group your products and proudly display them! From crystal clear cases to creative categorization strategies, here are a few ways to make your grooming products easily accessible and stylishly contained.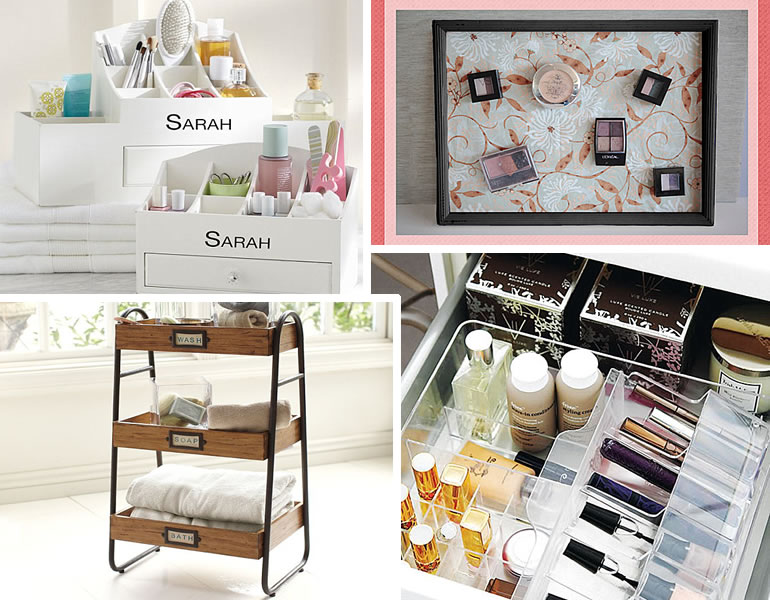 The best part: you don't have to spend the big bucks to come up with an organizational system that works for you. As you'll see, sometimes household items can even be re-purposed as makeup storage containers! On the other hand, nothing makes you want to neatly group products like a shiny new divider tray! Take a look at the pics below, and see what catches your eye…
Clear Makeup Organizers
Sometimes crystal clear is the way to go! Sleek and transparent, these see-through containers encourage tidiness by putting their contents on display. We all know it's much more appealing to view a neatly appointed compartment than one that holds clutter! For example, the Godmorgan Makeup Organizer from IKEA can fit inside of a drawer, and it has a variety of sections for both skinny tubes and more substantial bottles. [image from Style at Home via Arianna Belle]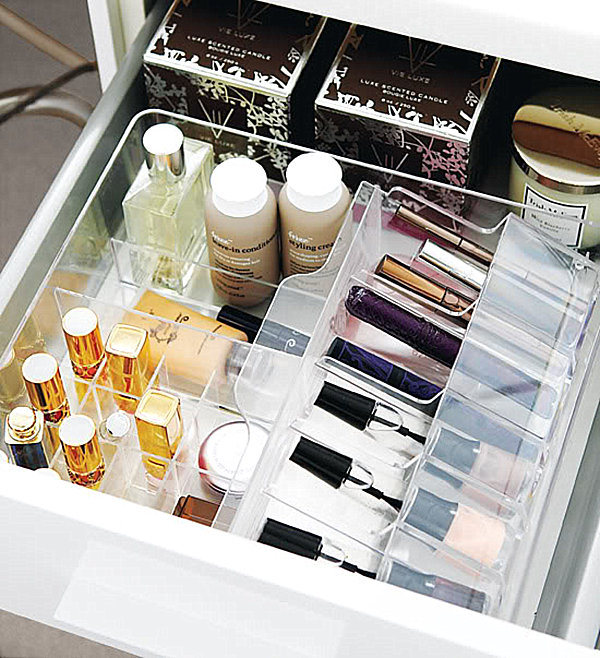 This next organizer from TJ Maxx works well on a dresser top, as shown in the image below from Miss Natty's Beauty Diary. Note the compartments for items like slim perfumes spritzers, as well as cylindrical powder containers.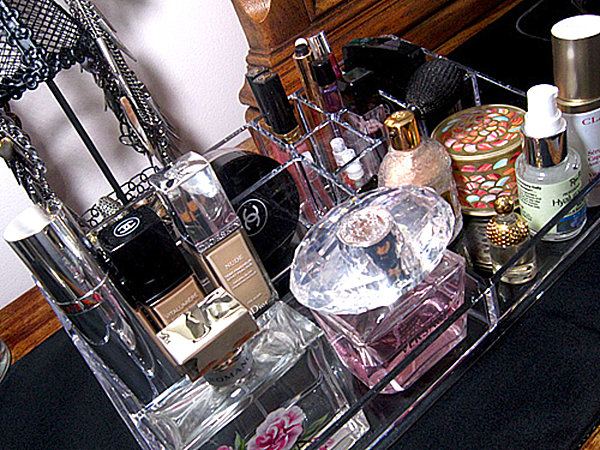 Here's another clear offering, this time from The Holding Company. This Large Make-Up Organizer has two drawers, as well as a place for items like cotton balls.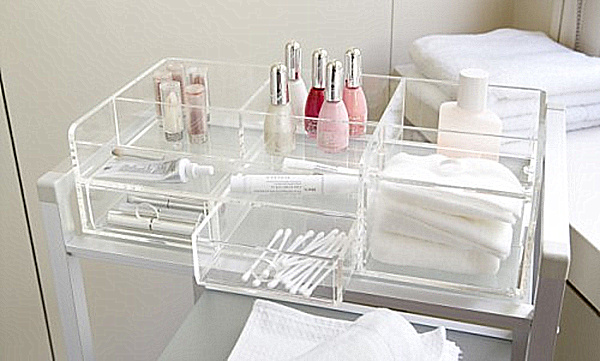 Want a tall stack of organizational help? Why not enjoy the Clear Acrylic Makeup Organizer Cube with 5 Drawers from JD Custom Designs? Besides being stylish, this item is effective in its ability to hold everything under the sun, from hairspray to bottles of nail polish. Why split up beauty products when you can put them all in one place?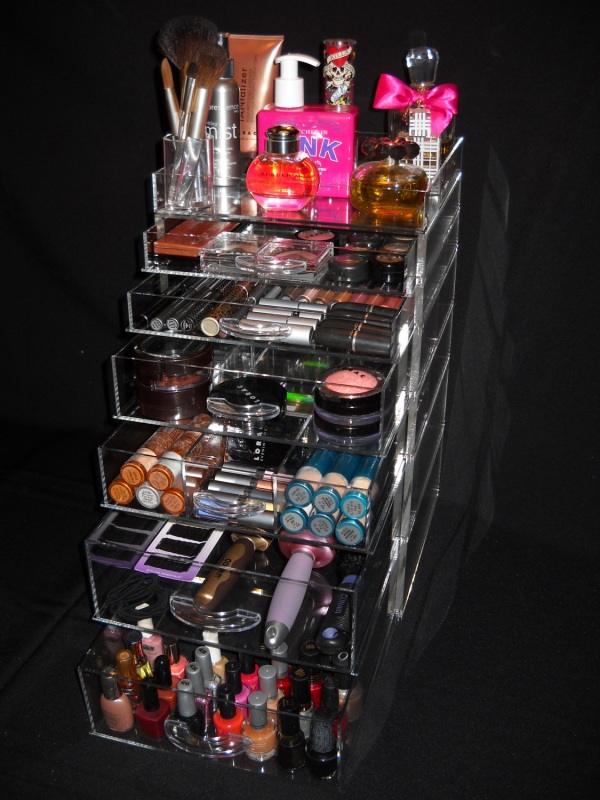 On the smaller side, consider organizing specific makeup items, such as lipstick! The Lipstick Stand from The Holding Company can hold twelve lipsticks, and it's so sleek it will make your makeup routine fun.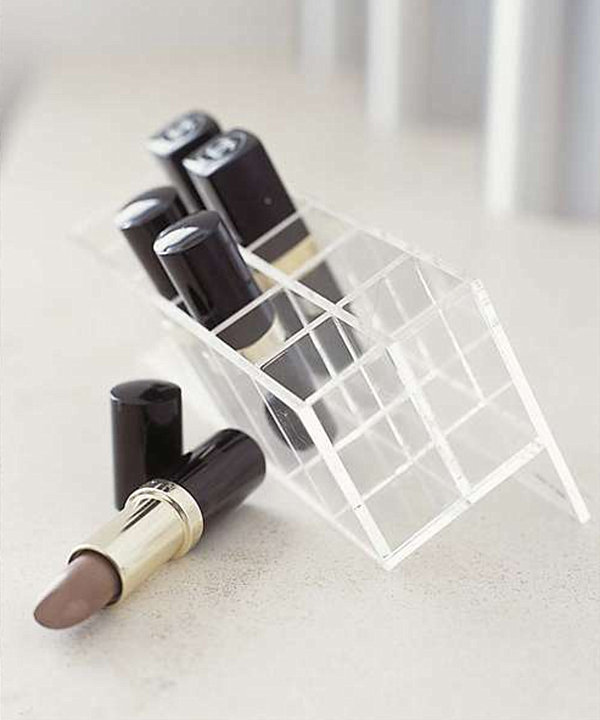 Keep things out in the open with Tiered Bath Storage from Pottery Barn in a vintage iron finish. This piece can also work for larger grooming products like lotion, hairspray, foundation and powder (with puffs, of course)!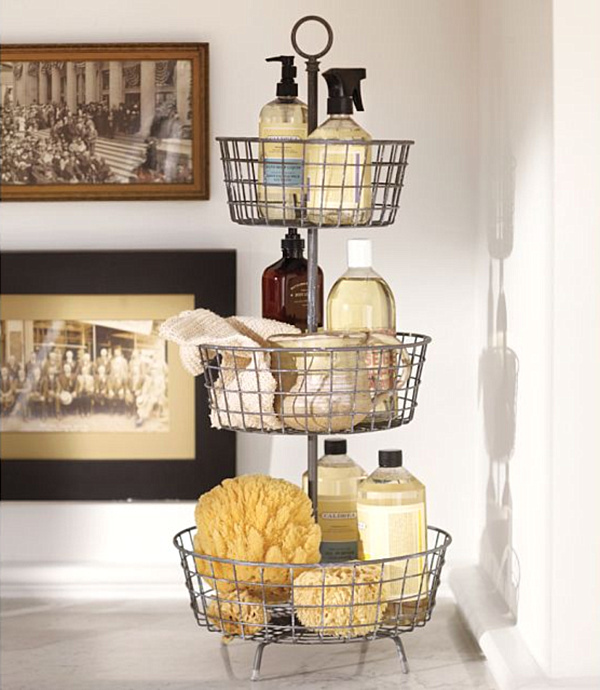 If you need to carry your makeup to and from a mirror, these Wire Caddies from Crate & Barrel may be the answer! They're available in blue, red and white, and they can haul your products or keep them neatly contained on a counter top.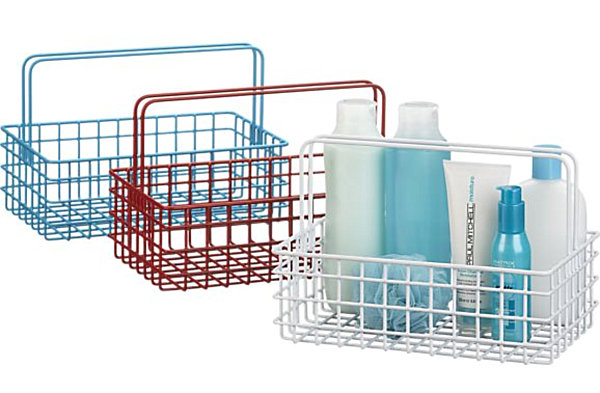 If you need a caddy for smaller items that could fall through the cracks, check out this clear Makeup Caddy from The Holding Company. This acrylic item has five sections to keep you organized.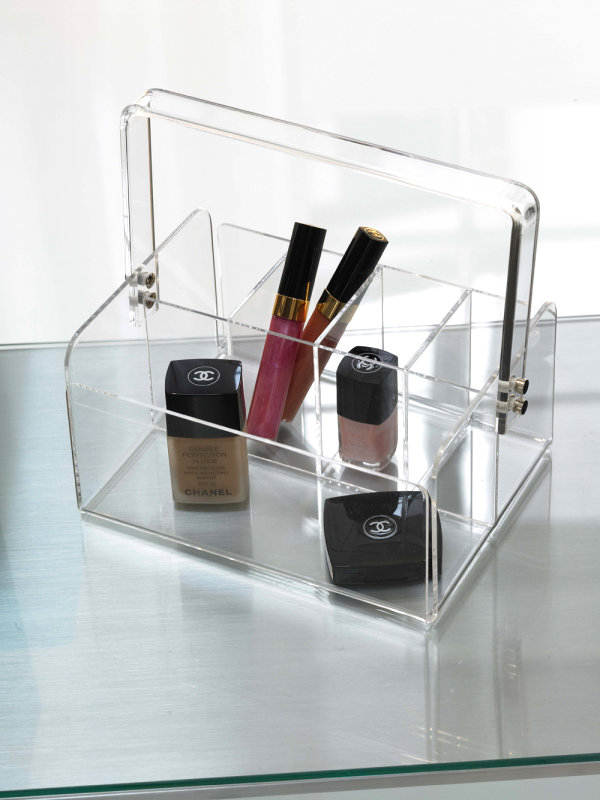 Makeup Storage That Conceals
If you want a little bit of coverage for your makeup, go with an opaque organizer or case! Not only will it give an overall tidy appearance, you can strategically find one of these solid containers to match the decor of your space. Take the Ultimate Beauty Organizers from PBteen, shown below. Not only are they crisp and classic, they can be personalized for a fun, feminine touch.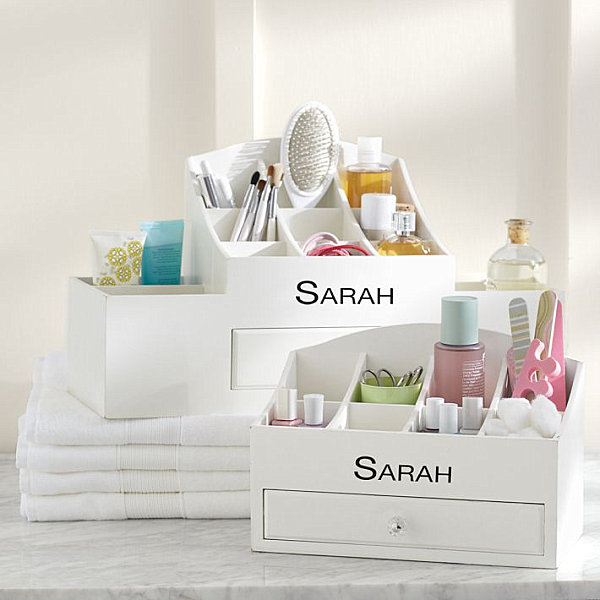 A Bubblegarm blog post reveals some amazing makeup storage ideas, including this beautiful fabric-covered basket with flowery detail: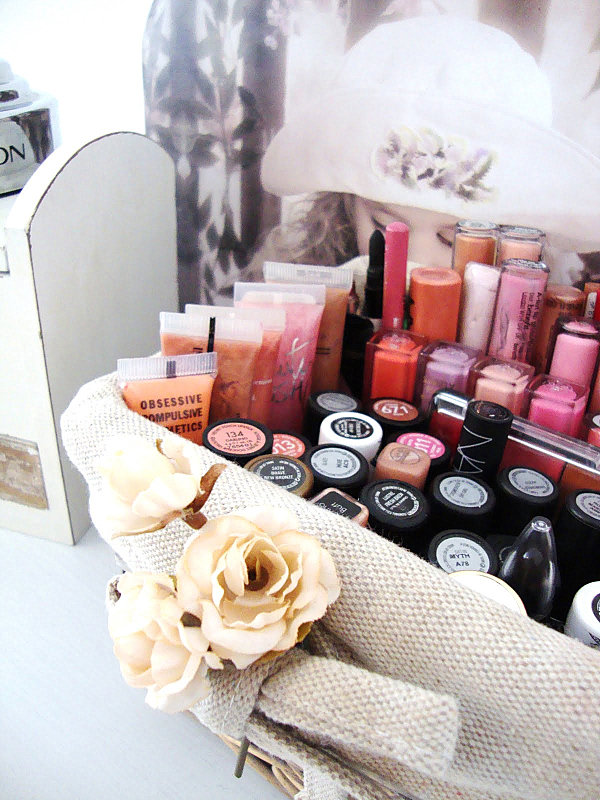 If your style is vintage industrial, try re-purposing Pottery Barn's William Floor Storage as a 3-tray makeup container! Instead of "WASH," "SOAP" and "BATH" for your labels, try "FACE," "HAIR," and "NAILS." Don't get us started on the perfume and lotion possibilities…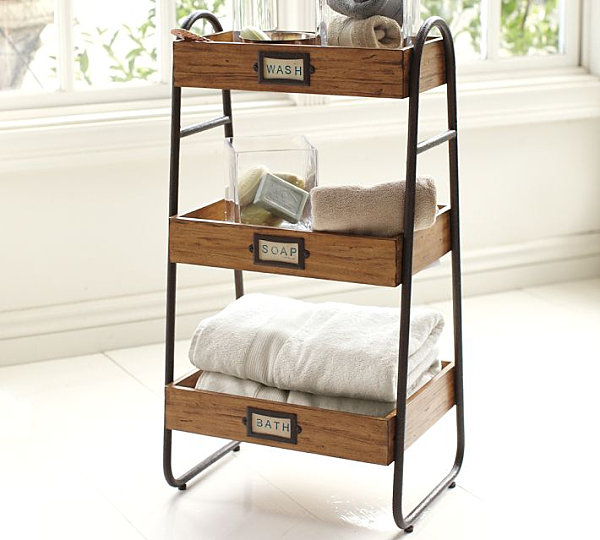 If you're looking for a storage drawer option, check out the ANTONIUS System from IKEA, which can be ordered and arranged in a variety of configurations for even the largest of makeup collections!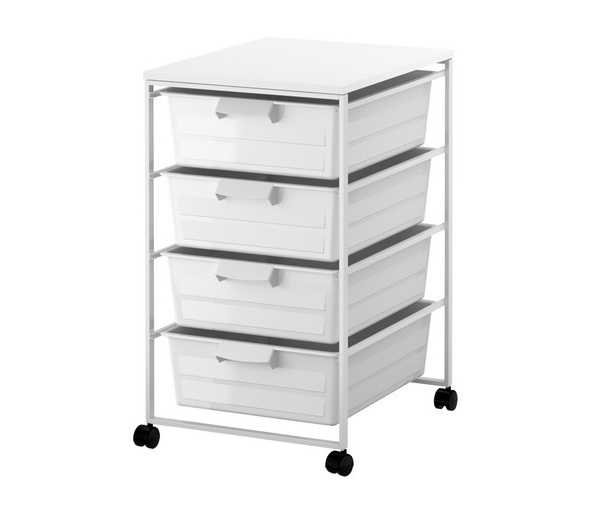 These Bamboo Drawer Organizers from Crate & Barrel are an effective, contemporary way to keep makeup neatly concealed behind closed drawers: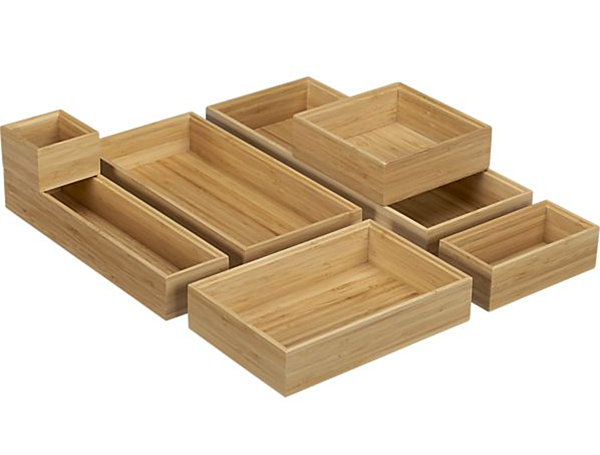 Remember Caboodles from the 1980s? Yes, these signature makeup cases are still around, and they're updated for the modern woman on the go. This pink Grande Train Case features four auto-open trays and a locking latch. Not a big traveler? No worries–Caboodles make wonderful storage containers, even if the distance of your journey is merely from cabinet to vanity! [image from The Advice Sisters]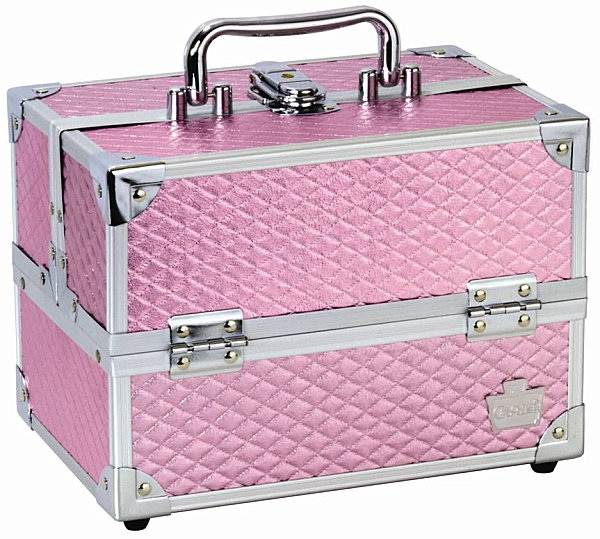 Of course, if you want to go retro, you can always find '80s-fabulous Caboodles selections, like this Totally Rad Caboodles Case from Etsy shop Queen Chlorine's Vintage Warehouse & Sparkle Emporium. And in case you didn't know, Caboodles are legendary for their pullout trays and special features! The interior storage compartments of this model are pink.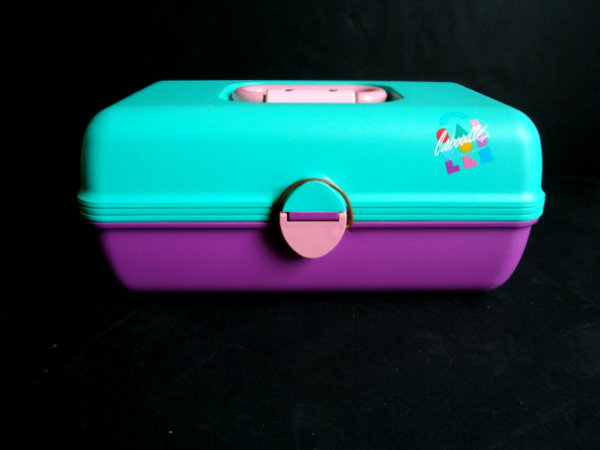 DIY Makeup Storage Solutions
Who would have thought that organization could be simply stylish? Check out these easy, creative DIY solutions for your makeup storage needs! Brunch at Saks suggests using tea saucers to hold items that are alike. A perfect solution for drawer and dresser-top organization, this method has the added benefit of introducing pattern, as shown by the green and white plate below.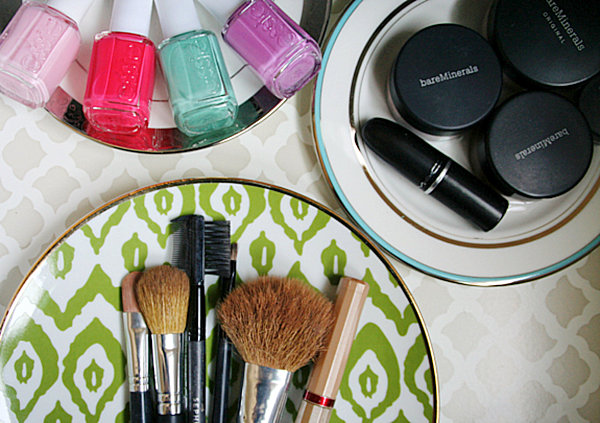 Is your makeup brush collection so large, it needs some organizational help? You'll love this tutorial from Liz Marie Blog, which shows how two square-shaped vases, some stick-on letters, a package of clear beads and a little creativity can result in brush storage perfection!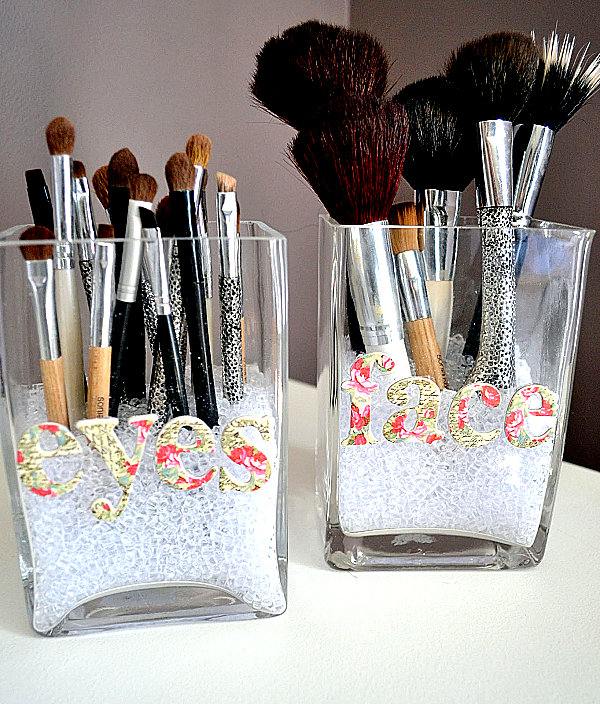 Here's another makeup brush organizer option using two jars and some colorful neon filler, thanks to the craftiness of Fabulous Kath. Kath spotted this vibrant pink aquarium gravel while at the pet store, but if you're more likely to be at the craft store, check the floral department for some vivid filler finds!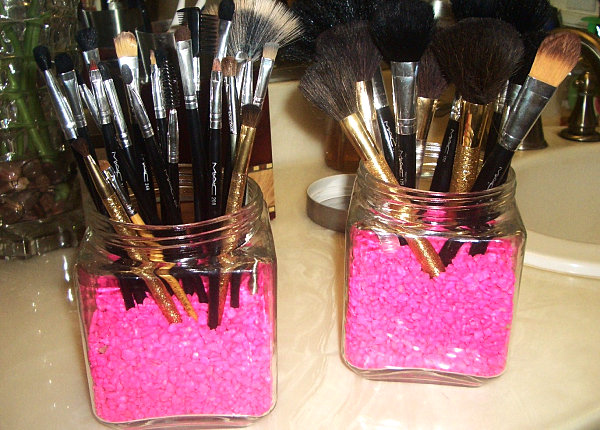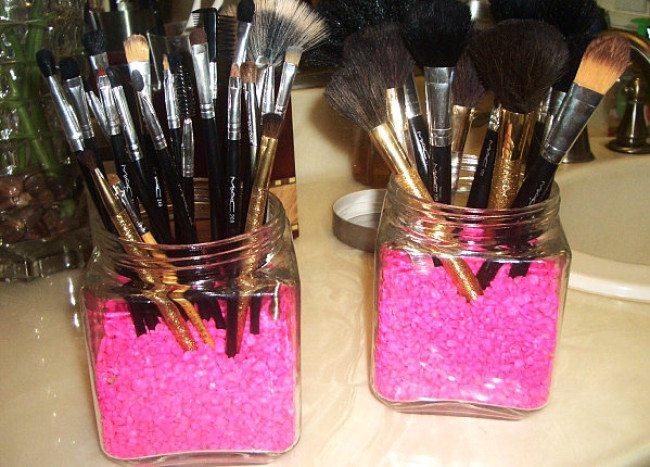 Liz Marie Blog offers another great storage idea–a magnetic makeup board! All you need is some fabric, metal sheeting, a hot glue gun and magnets. The best part of this project is the way it makes your grooming products accessible. Plus, the finished product takes on a wall art effect, don't you think?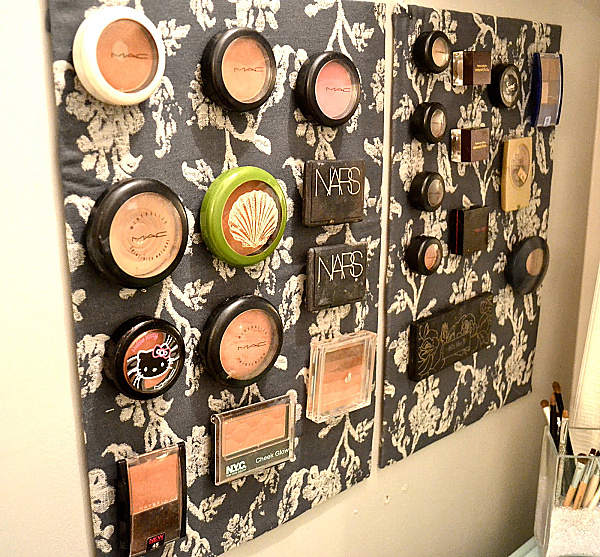 Here's a Magnetic Makeup Board with a frame, courtesy of ThreadSence and their easy-to-follow tutorial. Note how the darkness of the frame contrasts the lighter pattern of the fabric, creating the perfect backdrop for powder, blush and eye shadow.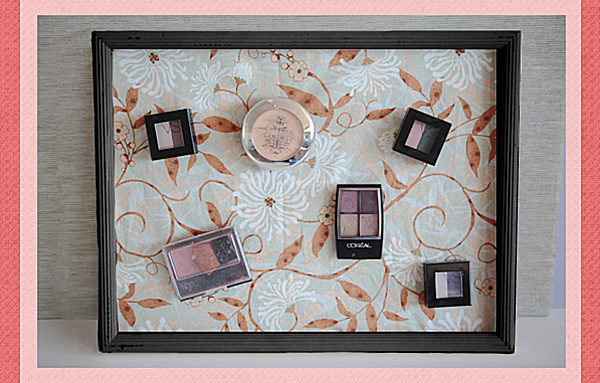 As you can see, when it comes to makeup storage, there are no set rules. Deciding on an ideal storage system can depend on many factors, such as your budget and your style. Whether you keep it clear and simple or jazz it up with a fantastic DIY project, the possibilities are endless. Filling your containers with the perfect makeup is another issue…