Laminate wood floors are a classy addition to any modern home. They bring in a sense of elegance and beauty that is hard to match and since they are available in such wide shades and patterns, the choice is endless when it comes to picking flooring that accentuates the beauty of your existing interiors. While a great laminate wooden floor amalgamates seamlessly with the décor and furnishings and sparkles with glee, one does need to maintain it in pristine fashion to ensure that the exquisiteness is not embellished by stains and dirt.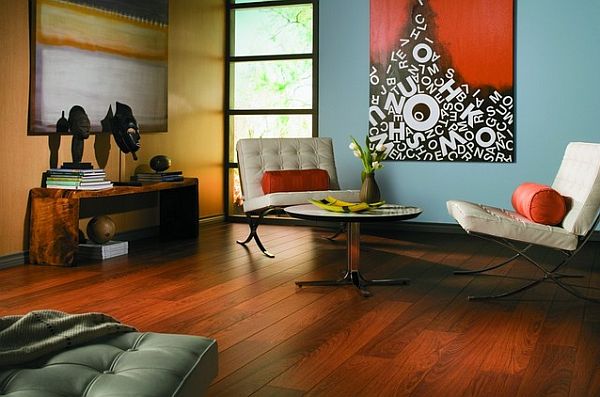 Proper care and cleaning is an essential part of the maintenance routine and one of the best ways of achieving this is by understanding completely the nature of your laminate flooring and what elements hurt it the most.
Cleaning tips
Here are a few cleaning tips to get started, when it comes to the bare minimum —
Get started by using either a very soft broom to sweep away the dirt on top or a vacuum with soft brush settings, so as to ensure that there is no damage caused to the laminate floor.
Use a broom or a brush that is as delicate as possible as ones with harsh bristles can scratch and leave ugly marks over a period of time.
Once you are done with the removal of the dirt, use a mild laminate floor cleaner recommended by your laminate floor manufacturer or a soap solution to clean the floor.
Use a sponge or a micro-fiber mop to clean up the area and work small squares that you are comfortable with, one at a time. Remember that you should never leave moisture on the surface of the floor for too long. Hence it is best to work on small areas specifically.
If the floor is not completely dry, then use a dry mop to quickly soak up all the moisture. Always make sure that you clean in a single direction and never use a regular or harsh cleaning solution.
One of the most popular and effective homemade cleaning solutions for laminate floors is a mixture of a bucketful of lukewarm water, 2 squirts of quality liquid detergent and half a cup of vinegar. Many experts vouch by this 'magic solution', so try it out on your own floor to see sparkling results.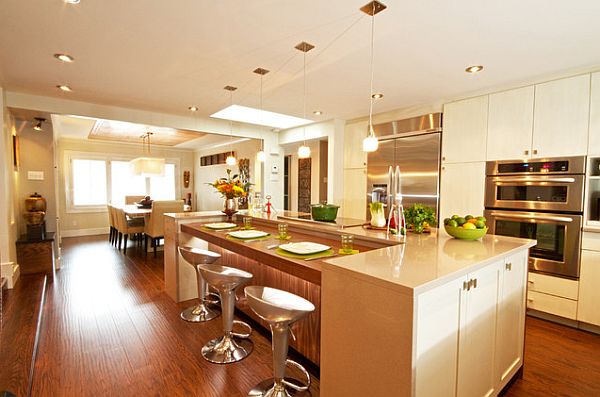 Cleaning laminate flooring though, goes way beyond just the usual and sometimes you will have to deal with stains and unexpected spills that need immediate attention. If you spill grease or oils, use an ice pack to harden them and then scrape them off ever so gently using a plastic spoon. Scuff marks can be dealt with pencil erasers while designated and specific laminate floor cleaning solutions will take care of most other stuff.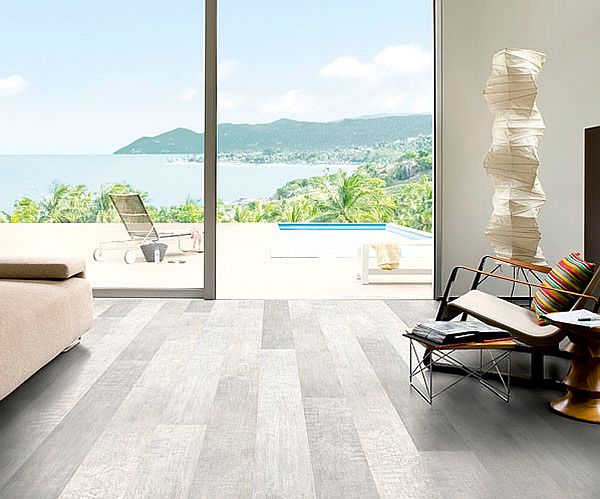 Laminate flooring precautions
There are a few precautions that you can also take to ensure that you floors always sparkle
Never use a strong detergent that contains ammonia or any kind of bleach.
Use furniture pads and carpet runners and area rugs to reduce wear and tear on high traffic spots.
There are some great deals out there when it comes to discount laminate flooring — like those from Prosource floors, but make sure that you only use the cleaners marked out and suggested by the manufacturer. Some even have a clause where your warranty goes void if you use different cleaners. Never miss the fine print.
Never allow stagnated water or spills to linger. Soak them up instantly to avoid damage.
Following these simple cleaning tips along with the necessary precautions should ensure that your laminate floor stays as good as new for a long, long time!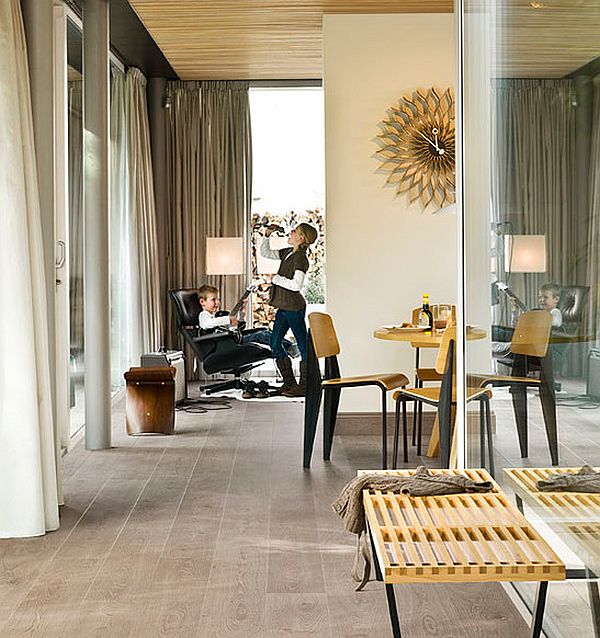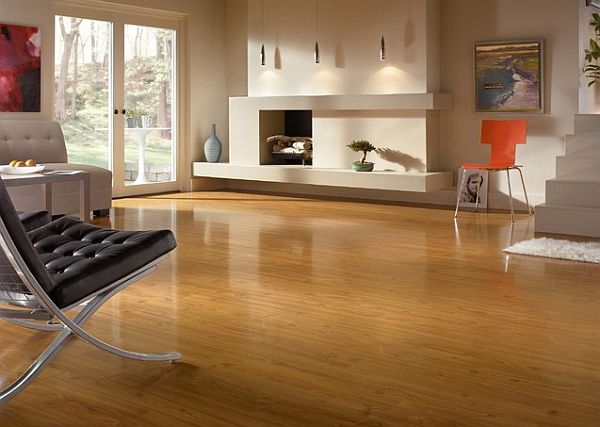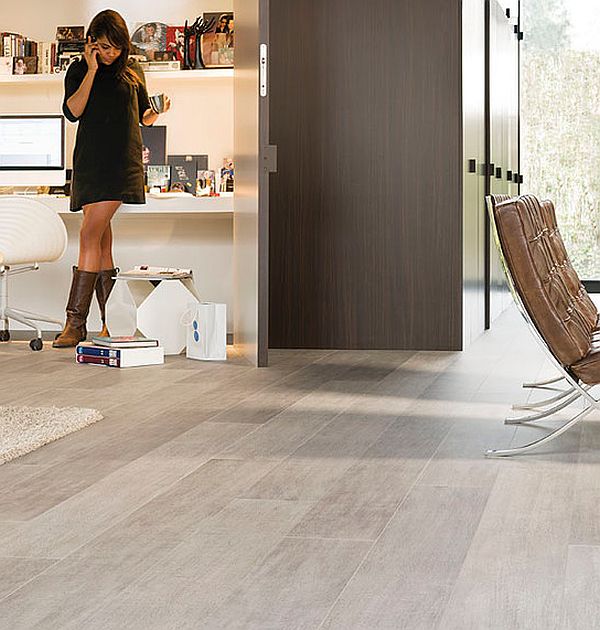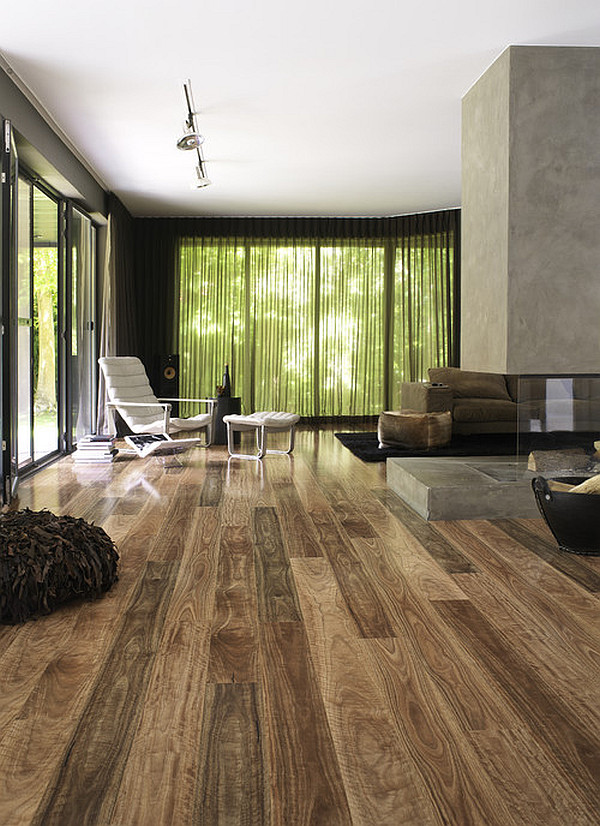 Images courtesy of Quick-Step in Belgium, Paul Anater & TOC Designs