When is the last time you've gone to an amusement park or on vacation to a children's theme park? Have you noticed all of the inspiring colors they use throughout the interiors, rides, and outdoor activities?
Color is what makes a child's life vivid, creative and fun. Why not bring some of this whimsical nature back to your home and into their bedroom? Whether your son or daughter prefers bold color blocking or prefers softer tones that look like a fairytale, help them make their bedroom the best place to retreat to in the house. Here are a few ways to inspire with color in every part of their room.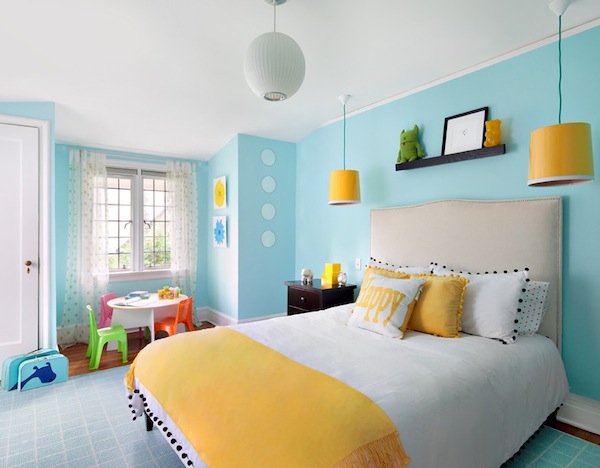 Image via
Focus on what excites your child:
Adults get to plan and decorate every room of the home and often a child's room is the only place where they have a say as to the decor and design. Ask your child what they would love their room to look like.
If they are younger, pull ideas from their favorite television characters, athletes, activities and exciting books they love to read. Carry these colors and themes into the walls with colorful paint, wallpaper, and wall murals to instantly transform their room. If you need help deciding visit your local paint or home improvement store. The paint section has a wide variety of pre-selected kids room paint and wallpaper combinations to take the guesswork out of deciding.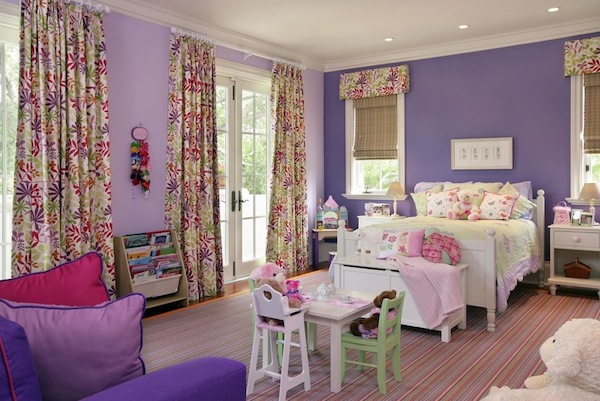 Image via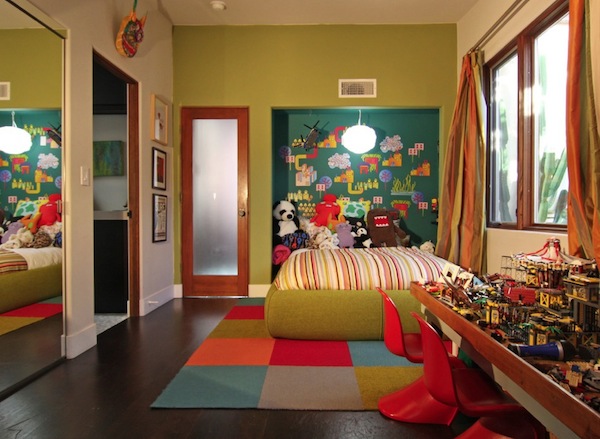 Image via
Colorful accent decorations:
Depending on your decorative style choose colorful accents to bring the room together visually. Table or pendant lamps are a great place to start. Match lampshades with surrounding decorative colors and then mimic these colors in window treatments, bedding, and area rugs.
Area rugs are a creative way to bring a burst of color and can change seasonally or whenever your little one gets them dirty! Another great idea is to take colors found in the decor and frame pictures of the same materials or colors. This bedroom has used the orange, purple, and green as the theme and utilized color blocking in the textiles as well as the wall decorations. This is a simple way to infuse colors in a multitude of ways.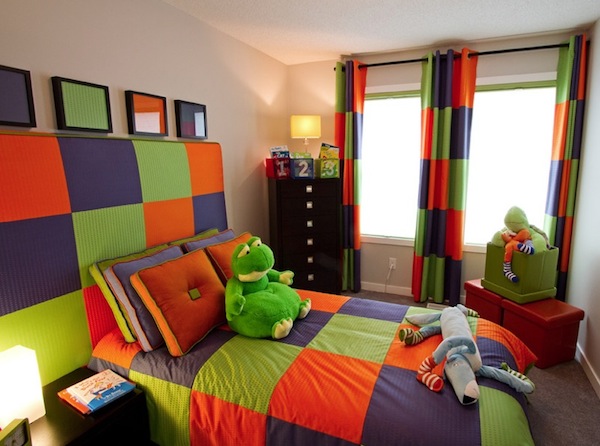 Image via
Organize with color:
You may think that organizing your child's room has to be strictly utilitarian and functional. Creative kids' organization products are found everywhere from home catalogs to your favorite big box store. Products that organize shoes, toys, and stuffed animals come in fun colors and can double as creative decor around your child's room.
Don't stop at just color, look for baskets and bins that offer see-through options for quick cleanup and use tags or small chalkboards on baskets to know what is enclosed in them before pulling them off the shelf. Bookshelves, built-in cabinets and drawers are other organization opportunities to bring out colorful options for keeping your little one's room looking great.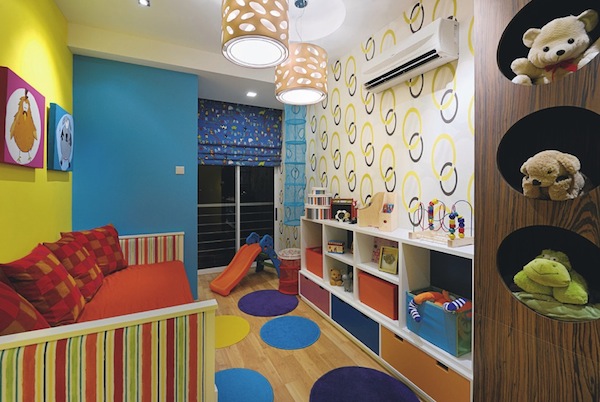 Image via
Whether you are looking to update your child's room with colorful options or your child has expressed interest in a new look, these ideas will help you pull of the look. From colorful materials and wall color, to bedding and organization products, the options are limitless to bring awesome color into your child's wonderland.