Metal wall art. Why is it so scary to commit to a substantial piece? Don't get us wrong: we LOVE metal wall art! The right piece can bring a rare element to an interior. Can you think of 10 friends who have metal wall art hanging in their homes? Neither can we. That's the point! But how do you wade through the mass-produced, over-designed selections to find the good ones?
First of all, finding a piece you actually like is important. Often we buy art because we think we should appreciate it, or because we can't find anything we truly connect with, so we purchase something that's "good enough." The bottom line: buy a piece you LOVE, and your design dilemma will be solved. To increase the chances that you'll find a piece you can't live without, we've put together a collection of images that reflect today's top metal art trends. Go simple and modern, go with letter-inspired selections, or go vintage. Just a few ideas for you to ponder… Enjoy browsing!
Modern Geometric Metal Wall Art
Sometimes keeping it simple is the answer. The purity of geometric forms and basic shapes can be just what your interior needs. Plus, metal is unexpected. In a design culture where geometry lives on pillows, rugs and sofa fabric, why not put it on the wall for a change? We'll start with a classic geometric object: the line. And what better way to feature lines than with weathered metal bars, as shown below? [from LDA Architecture & Interiors via Houzz]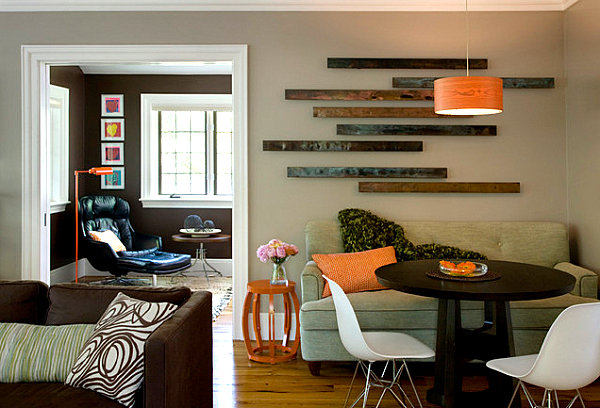 Then there's the rectangle. Perpendicular lines meet at four corners. Why not fuse them together for an industrial look? One large rectangle is the sum of many parts in our next featured piece. [from Andy Hahn Studio]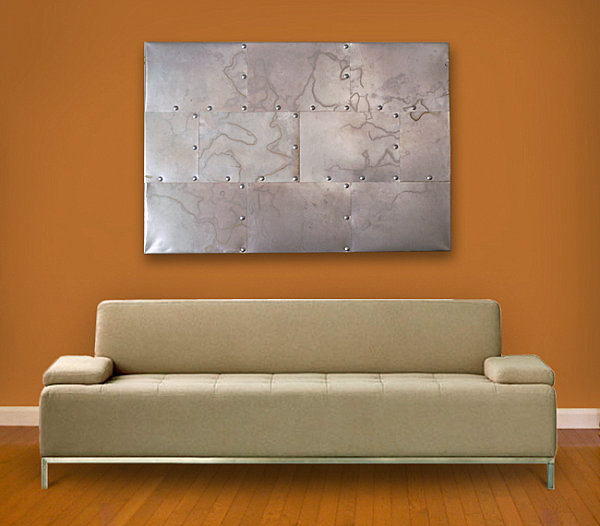 Things aren't quite so neat with the metal wall art that follows. And that's why we love it! Overlapping, sloped edges and protruding angles abound in this next original piece, shown above a dining room table. [from Andy Hahn Studio]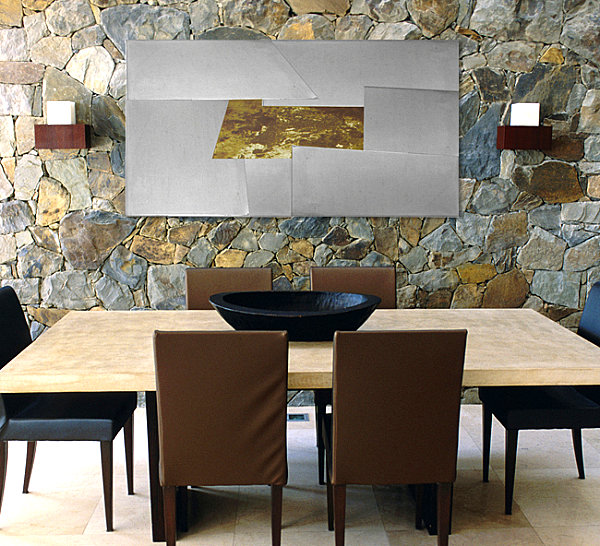 Let's get curvy with some round wall art. Geometry is alive and well in the grouping of circles below. Lines cover the surfaces of these circles, which are powerful when arranged in parallel formation above living room seating. [from Metal Decor via Houzz]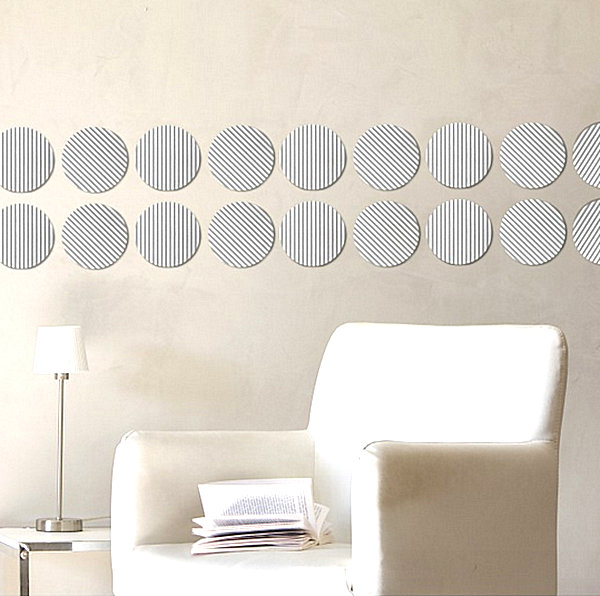 While the metal forms below aren't particularly geometric, their arrangement is. Artful pieces are mounted to the wall in lines that together create a rectangular display. Each form seems to tell a story, so this powerful grouping says a thousand words! [from Hugh Jefferson Randolph Architects via Houzz]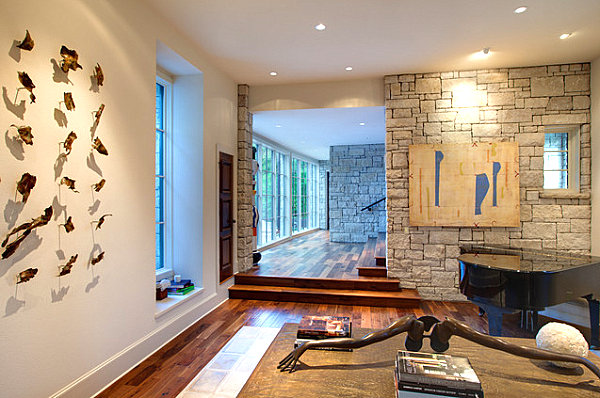 Next we feature straight lines that radiate out from a central point. The gold-toned sunburst art below is modern with a hint of vintage flair. The perfect accent for a room that gets its glamour from metallic shine! [from RSVP Design Services via Houzz]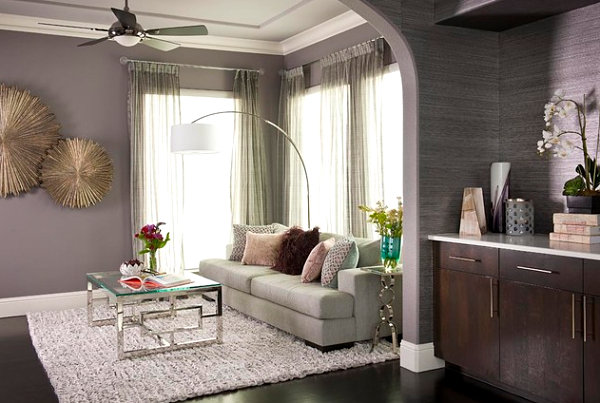 In another throwback to vintage stle, this newly-created Modern Steel Metal Wall Art from Etsy shop inspiring4u2 takes steel lines and complements them with round mirrors. Because each piece is handmade, you can choose the color and texture that is right for you when you place your order!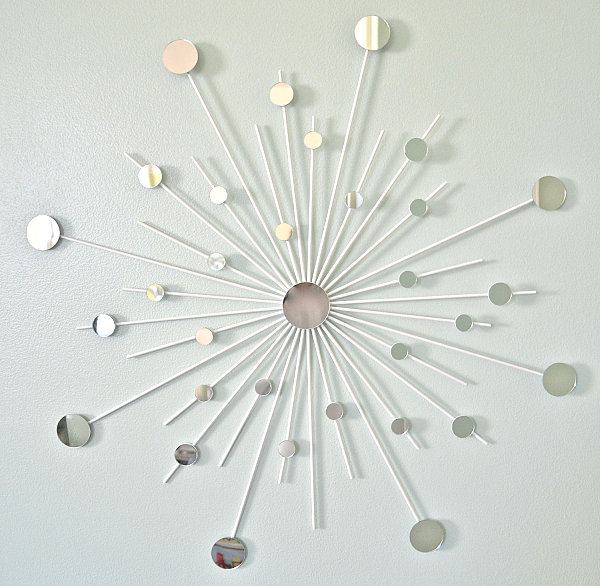 It's no secret that lattice has made a comeback in recent years, especially in the realm of Hollywood Regency style. Well, bring on the interlocking curves! The Woven Sanctity Iron Wall Sculpture is shown below in an aged bronze tone, complete with its irresistible basket weave design. [from Metal Wall Art]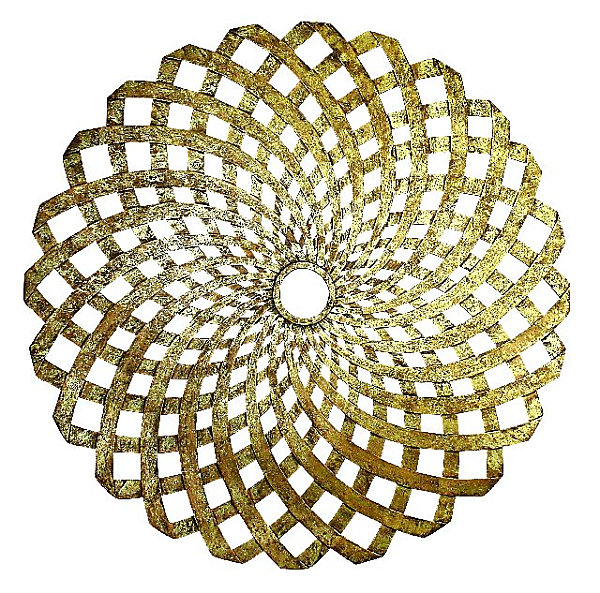 Copper is the material of choice in Thunderbird #2, an original piece by John Searles. Evoking ancient motifs, as well as the geometry of Mid-Century modern metal wall art, this new creation puts a contemporary spin on timeless style.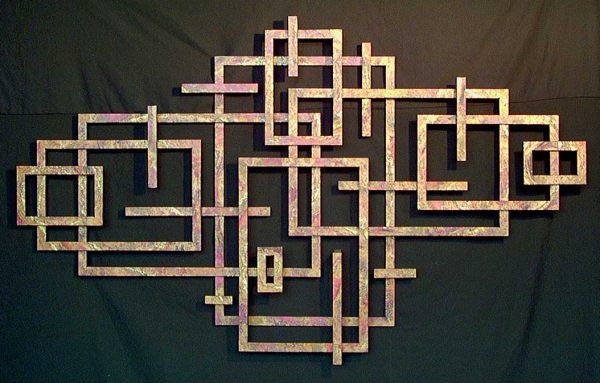 Letter-Themed Metal Wall Art
One of the biggest trends to hit metal decor in recent years? Letters! Yes, you heard us! Metal letters are all the rage, with designers using individual pieces to spell words, often combining different styles and sizes for eclectic flair. However, the piece below is cohesive in its modern style and stencil-like effect. [from Eran Turgeman via Houzz]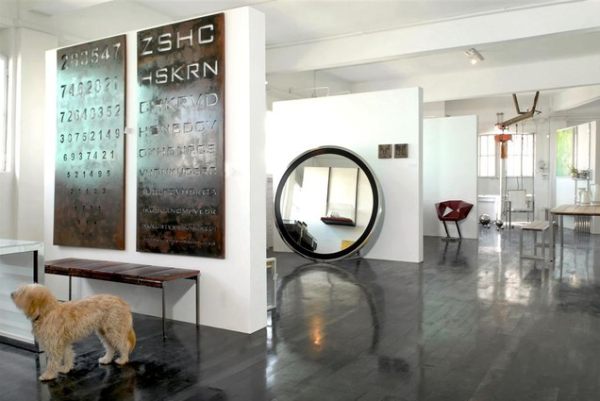 In the next image, we see metal letters in a dining room, arranged to spell "THERAPY" along two wooden lines. The scale of the letters makes them ideal for a sleek grouping. [from Bosworth Hoedemaker via Houzz]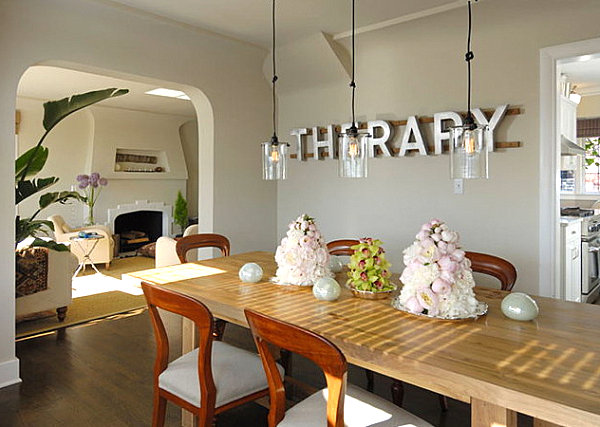 For another take on displaying metal letters, try arranging them in non-linear fashion, much as you would a whimsical group of small paintings. Mix large with small, modern with classic, and dark with light. The more, the merrier! [from papernstitch]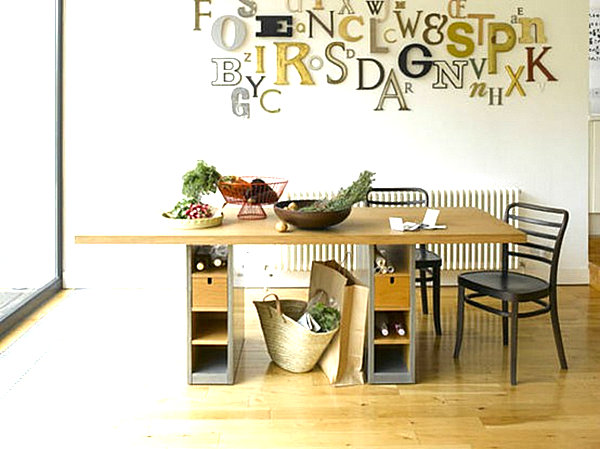 If you are feeling crafty, create your own interesting display by antiquing the letters yourself! This metal letter stencil wall art tutorial from Jacks & Kate shows how you can take super-affordable letters from a craft store and turn them into vintage-style relics. The result: modern and charming at the same time!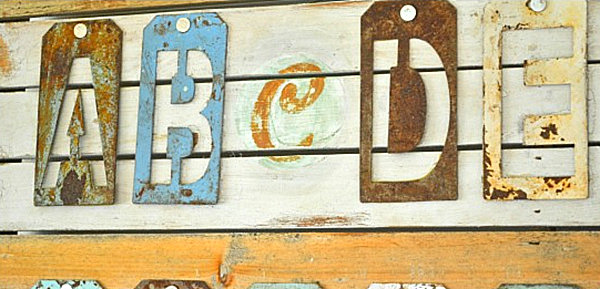 If you find vintage letters that are difficult to mount on the wall, try leaning them from a table or shelf top. Note how the colorful pieces below are the perfect dose of vibrancy for a modern white room. [from Junk 2 Funk]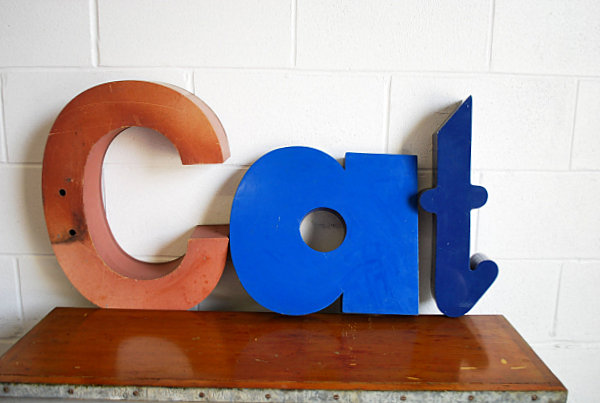 Vintage Metal Wall Art
Vintage metal wall art has made a huge comeback, thanks in part to an ever-growing obsession with Mid-Century modern design. In these retro pieces, squares, lines and circles are clustered in geometrically pleasing arrangements as intricate as they are refreshingly simple. Below we see Mid-Century Vintage Metal Wall Art from The Old Cinema London, brilliant in silver- and gold-toned hues.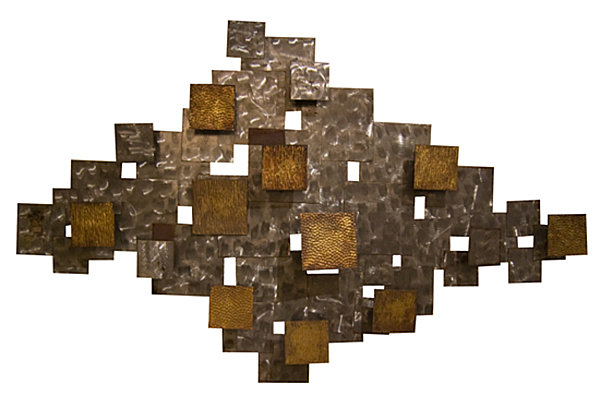 Next we zoom in for a close-up of Very Cool Vintage Metal Sunburst Wall Art from Etsy shop Dime Store Vintage. Brass spokes add geometry, while copper and brass geese prove that birds have always been in style…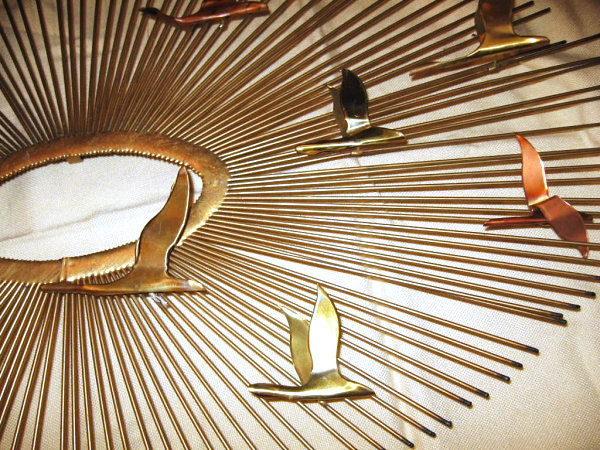 Are you familiar Curtis Jere Sculptures? If not (and even if so), check out the image below. These Mid-Century pieces by Jerry Fels and Curtis Freiler are unforgettable, combining simple forms with interesting textures and materials. True collectors' items! [from Modern Living LA]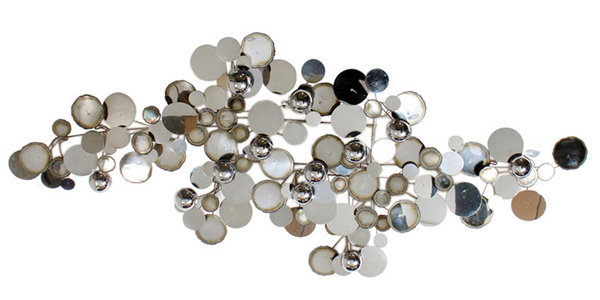 No confirmation on whether the metal wall art in the next image is old or new, but you can't deny that it has '50s/'60s flair! Plus, the gold-toned hue is perfect for rooms with a warm glow, like the glamorous interior in the next image. [from Architecta via Houzz]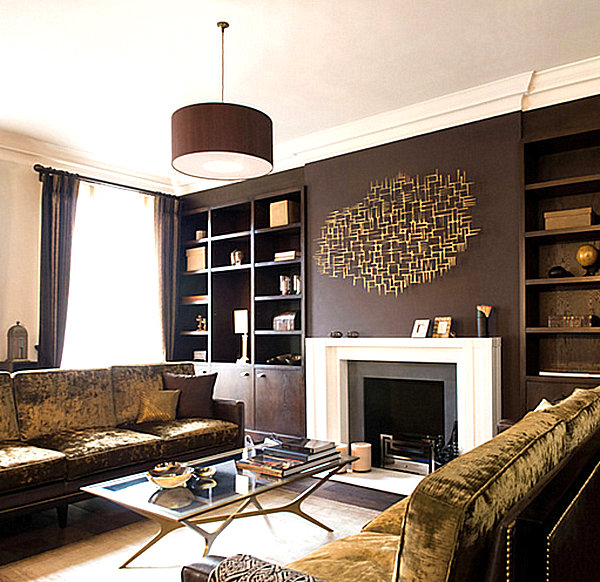 Another piece without a clear time period of origin is the leafy and fabulous vintage-style selection featured below. Its ornamental, organic look is a wonderful contrast to the clean-lined modern space in which it resides. [from Mikel Irastorza via Houzz]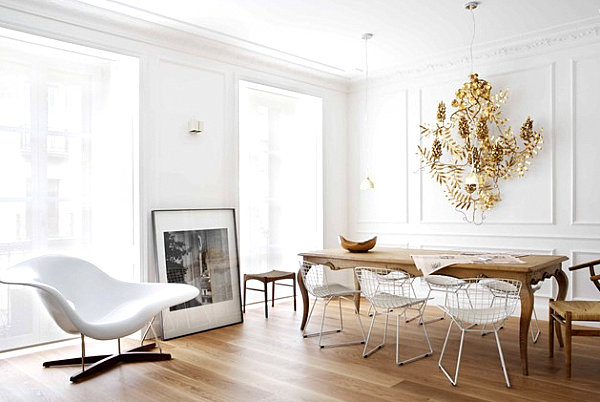 Here's another leafy piece with definite roots in the past! The Hollywood Regency Vintage Metal Leaves Wall Art Sculpture from Etsy shop Fabulous Mess is a '50s Italian selection featuring a motif of laurel leaves, as well as a neon pink hue!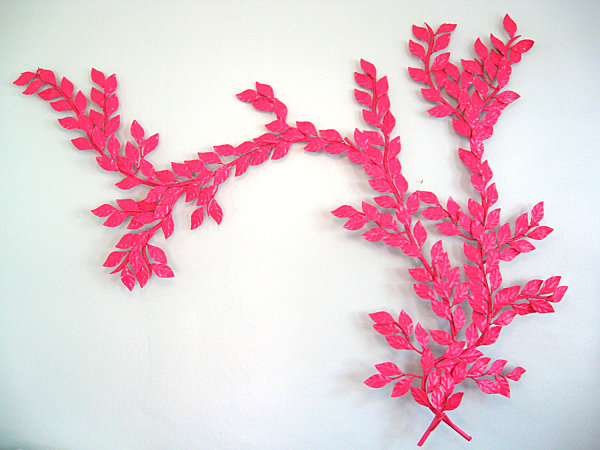 Did any of the metal wall art selections above catch your eye? We want to know your favorites, as well as any styles that were not featured above. It's no secret that vintage, geometric and letter-themed metal selections are perfect for the modern interior, but what are some other looks that make an artistic statement? Leave a comment below!