What is modern luxury? Today's post asks that very question… Is it comfort beyond compare? Is it eye-catching decor? Is it plush surroundings? Yes, yes and yes! But luxury is defined differently by each person. The images below present a variety of modern takes on luxury decor.
From over-the-top accents to surprising details, the featured interiors challenge design conventions by going one step beyond. Perhaps it's an unconventional use of color, a combination of compelling textures, or an unexpected display of decadence. What does luxury mean to you? Take a look at the pics and see what inspires you:
Modern luxury is…
Tall vases of red blossoms against a background of stripes
Are you looking to warm up a modern space? Try striped wallpaper or decorative paint, then place an urn-like vase of elegant blooms in front of it. The room below showcases furniture from the Cambia Collezione by Alta Moda, complete with floral arrangements in shades of red.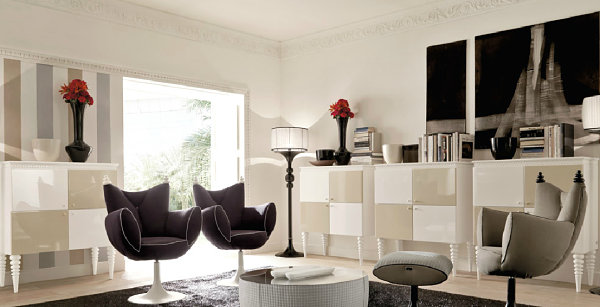 Elegant furniture in a glossy setting
There's nothing like glossy surfaces to offset antique-style furniture with gilded trim. Want to put an unexpected twist on the arrangement? Keep decor minimal, and make sure furnishings aren't packed too closely together. [from Alta Moda]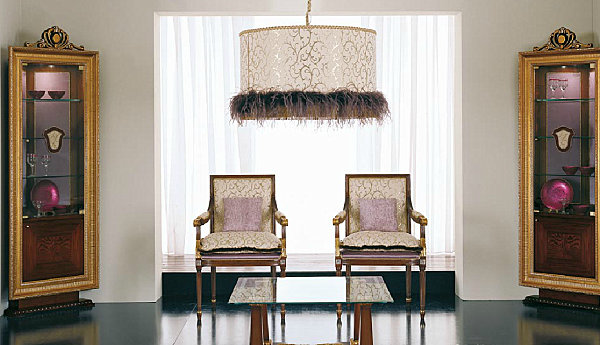 White walls and crystalline accents
Bright white walls, acrylic lamps, a shimmering mirror and an aqua crystal on the side table… These shiny touches make this bright living room designed by Jarlath Mellett anything but ordinary. [from Lonny]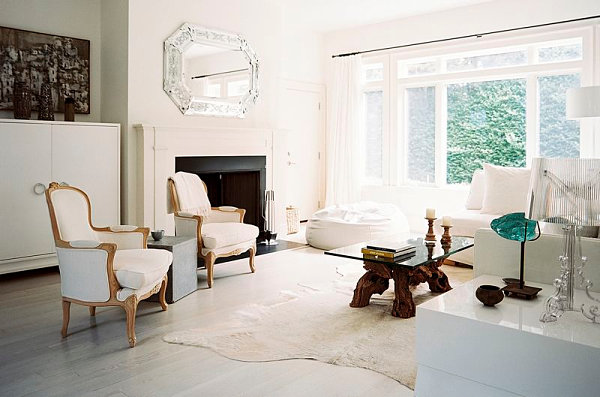 Reflective surfaces
Even on the coldest of days, the next featured space is elegant and welcoming with a series of reflective surfaces. A mirrored trunk coffee table, acrylic bench and shiny couch-side lamp all contribute to the light-enhancing glow. [from Dwelling Designs]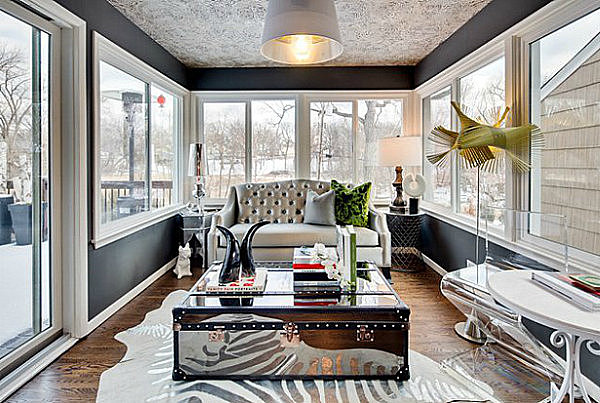 Plush Sectional Seating
It's all about the cushions in the space below. Tufted sectional seating is welcoming without being casual. Berry shades are introduced through couch pillows, while a blue-gray sofa combines with draperies in a similar hue to keep the tone cool and elegant. [from Dwelling Designs via Houzz]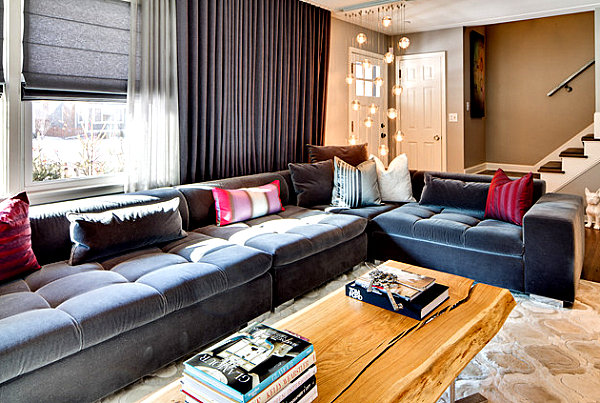 Regal shades of blue and gold
A royal palette puts its stamp on this living room designed by Celerie Kemble and Anna Burke. Just as compelling as the color combination is the way it's presented in the space. A swirly mineral-like pattern appears on architectural posts in vivid blue, while gold detailing on furniture creates a powerful impact. The two-toned geometric rug ties it all together. [from Lonny]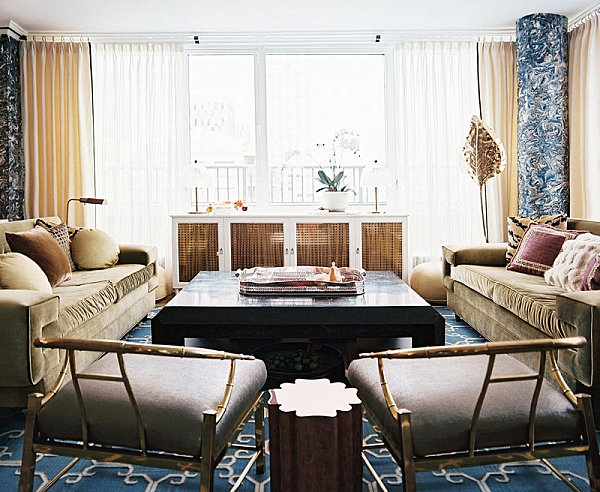 A monochromatic living room with icy details
In the next featured room designed by SHH, white is the color of choice. White seating, white carpet, white walls and white draperies. It's safe to say that there won't be a lot of red wine served in this space. But that's small price to pay for design this good. Throw in some metallic pendant lighting, round tables and a glistening accent wall pattern, and the look is complete. [from Home Trend Design]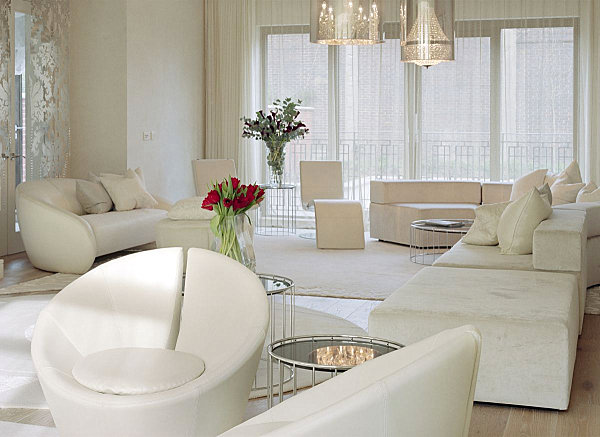 Intriguing touches that catch the eye
A fuzzy pillow. A gold side table. A black leather chaise lounge. A dash of fire-red coral. Is there an accent in this living space designed by Michelle Adams that isn't spectacular? [from Lonny]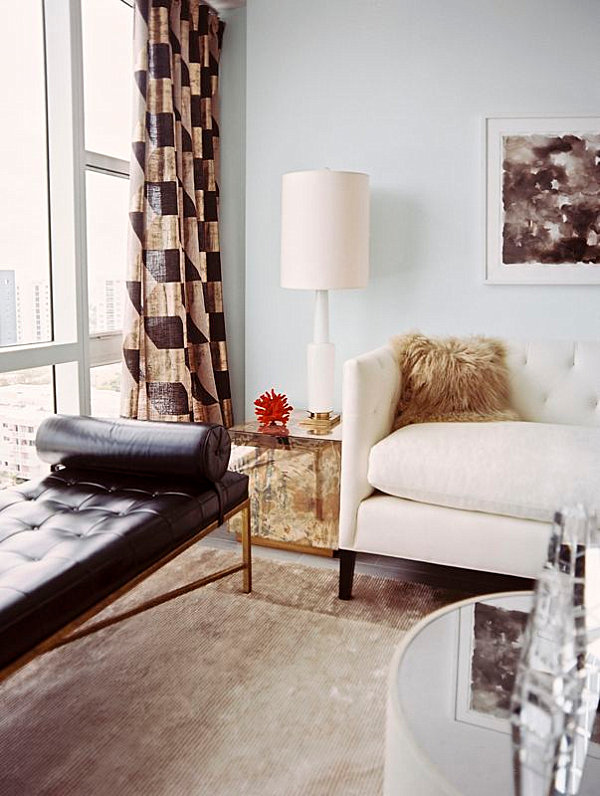 An intricate dining room in shades of cream
Rich shades of cream are the selling point of the dining space in the next featured image. Along with tasseled pendant lights, an ornate dining table and a furry rug. Textures abound, and there are more details than meet the eye. But the fact that they all share the same color keeps the decor from being overwhelming. [from Alta Moda]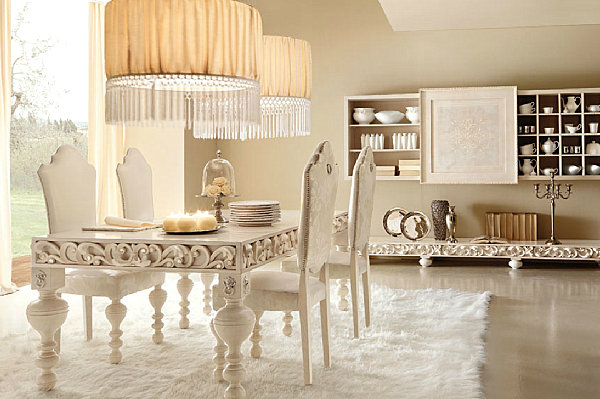 Textured walls and cushions
If these walls could talk… They'd say "I'm out of this world!" Squares and triangles combine in a modern pattern that adds dimension and depth to this dining area. Add a zebra print bench with rust-toned detail and a curved table sculpture, and this luxurious space is transformed into a gallery-like showroom. [from Mobilfresno]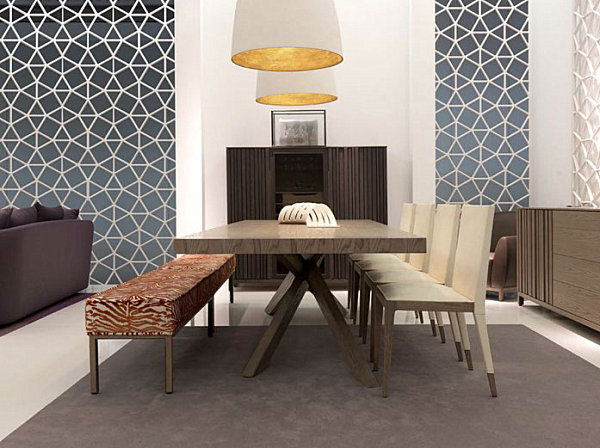 A dining room with a mineral wall
The dining space below features an accent wall with wavy bands that evoke the allure of agate and other mineral marvels. Black and white are the colors of choice in this room designed by Geometrix, but the white and tan patterned wall clearly steals the show. [from Sinbadesign]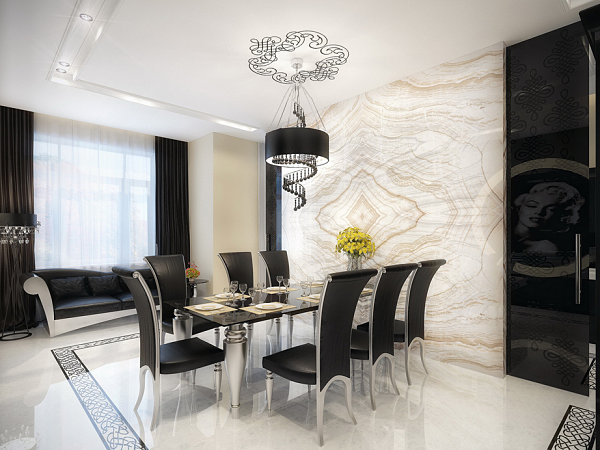 A ruby red dining room
One color can say it all… And in this case, that shade is ruby red. Dramatic furnishings from Alta Moda give this dining room a royal appearance that mirrors the richness of the room's hue. Stunning and bold!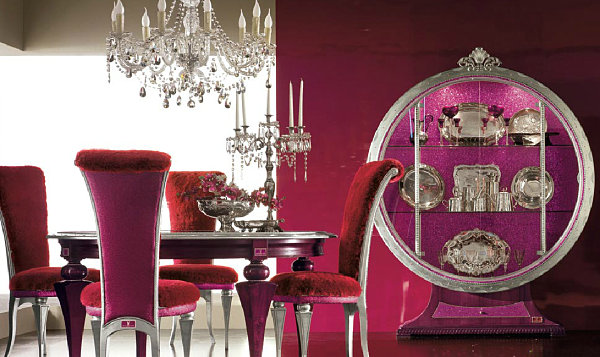 A jewel-toned room
Speaking of jewel tones, they are powerful when combined. Amethyst and sapphire are two of the featured colors in the room below. White carpeting and walls provide an ideal backdrop for these strong shades, which are strategically scattered to maximize their effect. [from Alta Moda]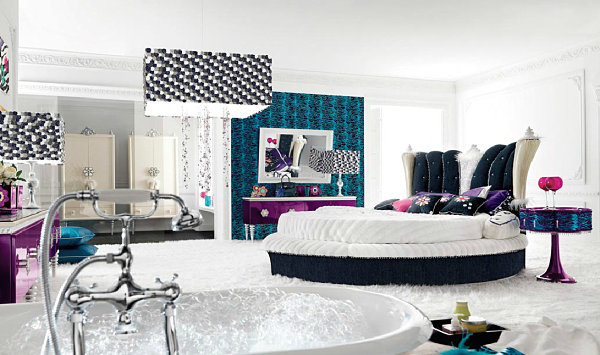 Bubble lighting
Say it with bubbles! Bubble lighting, that is. A whimsical detail that adds modern glamour to a room, this special touch certainly creates a focal point in the modern bedroom below. [from Hensley Premier Builders via Houzz]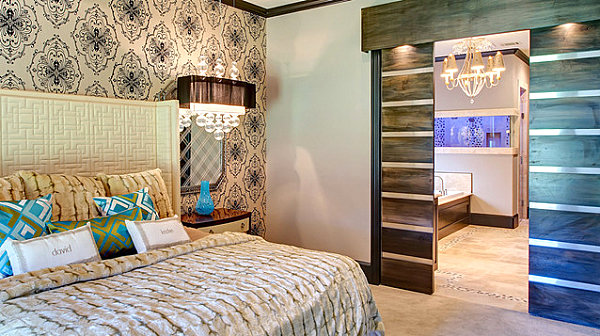 A bedroom filled with curved furniture
It's hard to say what's more striking in the next featured space–the combination of white and chocolate brown, or the fact that the furnishings come alive with unexpected curves. Modern design at its luxurious best! [from Mobilfresno]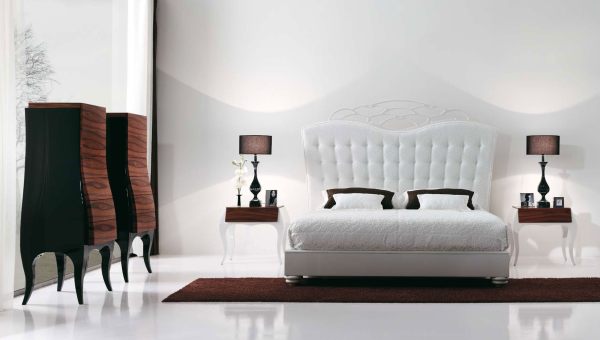 Soft geometry
A look that is part modern, part Art Deco is showcased in the room below, designed by Geometrix. The space has the look of a movie set, yet a warm softness prevails, thanks to strategic lighting and an abundance of curves. [from Sinbad Design]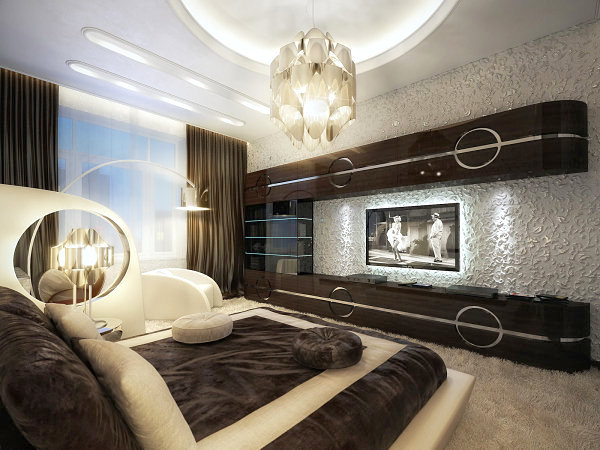 Oodles of poodles!
There's nothing subtle about the next featured space! Perfect for a teenage girl, this pink striped room is oh-so-Parisian. The best part: it doesn't shy away from being over the top. Poodles create the motif of choice, along with crisp white trim and ornate accents. [from Alta Moda]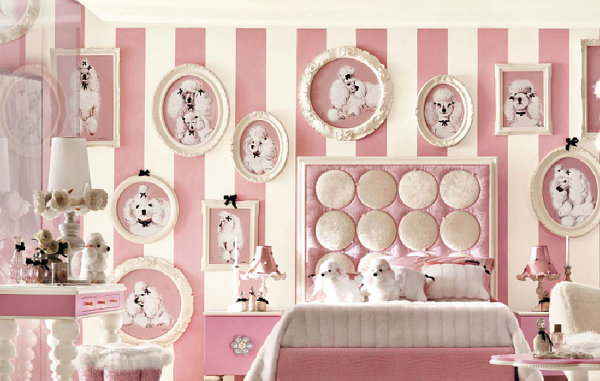 A marble bathroom with designer perfume on every shelf
The marble bathroom below may look like your typical luxury space. But the clever display of jumbo designer perfume bottles takes this room to a whole new level. Beautifully decadent, the collection of bottles creates an unforgettable artistic statement. Throw in a steam shower and a whirlpool bath, and the room becomes a true spa retreat. [from Toni Sabatino via Houzz]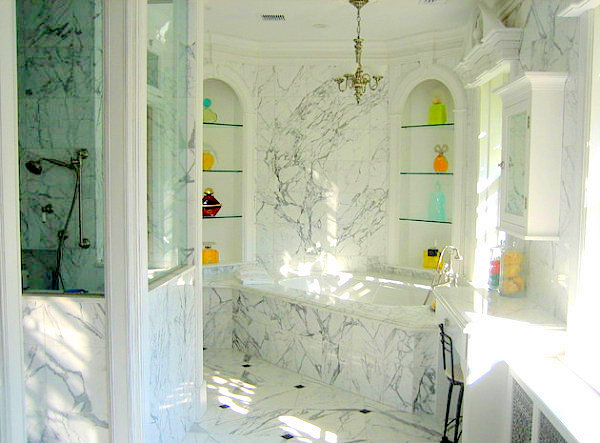 Dramatic lighting and a statement tub
When one piece says it all… The bathtub in the next featured space is clearly the focal point of the room, especially when spotlighted by recessed lighting. [from Future Light Design via Houzz]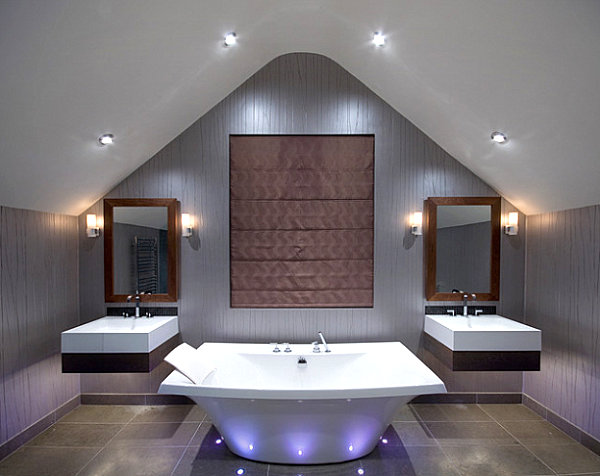 A bathroom in shades of gold, bronze and pink
Bring on the interesting color combination! Bronze, gold and rose create an irresistible glow in the powder room below. The key: gradually introducing shades of pink through special touches like towels and a gleaming counter top. No wonder rose gold jewelry has experienced a revival in recent years!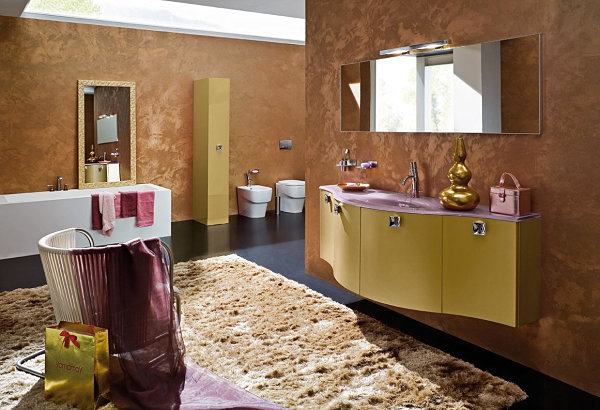 Is there an interior in today's post that grabbed your attention? Or perhaps you liked elements of several different spaces and plan to combine them to create an unforgettable room. The images above have one big thing in common: they are unexpected. And when you manage to pull that off, the results are delightfully luxurious!