Considering the flashy nature and the amazing designs that modern houses are sporting of late, it really is not easy to fabricate a home that will astonish you and dazzle with sheer splendor. Yet, this wonderful modern house in Caesarea, Israel, is really something 'special' and the moment you lay your eyes on it, you cannot but help fall in love with its well-defined plan, sleek look, amazing use of glass and daft integration of metal into the structure.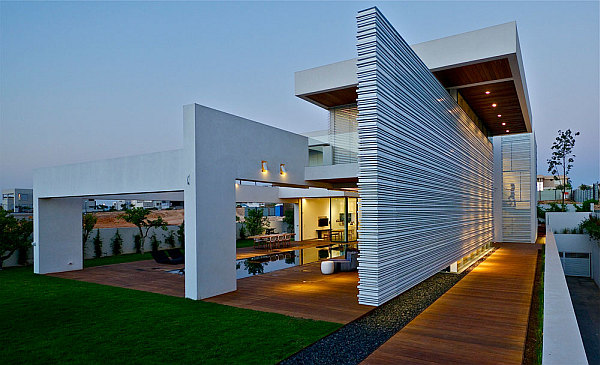 Designed by architect Maya Rosenberg, the home employs an extensive (and expensive) yet ergonomic use of glass, which ensures that the interiors stay connected with the gorgeous garden, the lavish pool and a spacious patio, promising for a wonderful evening no matter the season.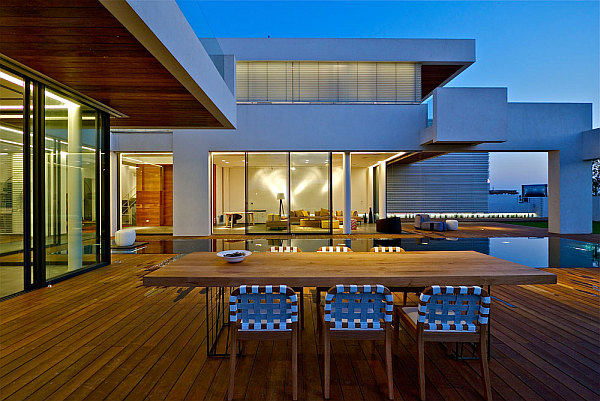 The stand out structure of the entire design is the large metal wall made out of painted aluminum that not only adds to the beauty and the balance of the home, but also provides privacy by visually shielding the interiors from the wanderers' eyes, outside. The tasteful glazed flooring and the pool offer perfectly reflective surfaces and give the home a more spacious feel.
The futuristic kitchen with modern furnishings, classy yet functional décor and perfect use of smart and intuitive lighting bring out the very best of this striking edifice. Perfect blend of form and function, art and elegance, style and sophistication, this is one home we would be glad to call our own… Legalities permitting, of course! (spotted on Xnet)