Tufted, slipcovered, sanded and trimmed… Today's featured headboards are anything but ordinary! Whether you're looking to purchase a brand new piece for the bedroom or you need a little inspiration for a DIY headboard project, the selections below are a great place to start. We've rounded up a slew of offerings with contemporary flair.
The good news: all of these pieces are available for purchase, and we've included helpful links should you decide to buy. Some standout trends: upholstered headboards and a plethora of decal headboards that are perfect for small spaces! Throw all expectations out the window and let the style overtake you as you peruse the modern headboards below…
Wooden Headboards
Wooden headboards have never gone out of style, but today's offerings incorporate an element of surprise. Take our first featured piece, a modern bed with a slatted headboard from Ceccotti Collezioni. A mini-blind effect is created by this intricate furnishing, which brings an element of high design to the bedroom.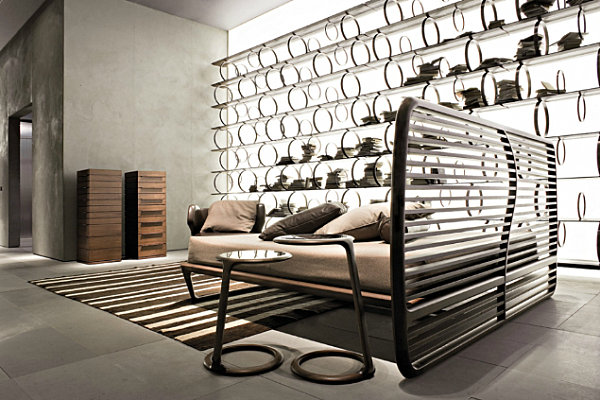 Looking for something with a lacy pattern? The Morocco Headboard from West Elm features a laser-cut design inspired by geometric Moroccan patterns: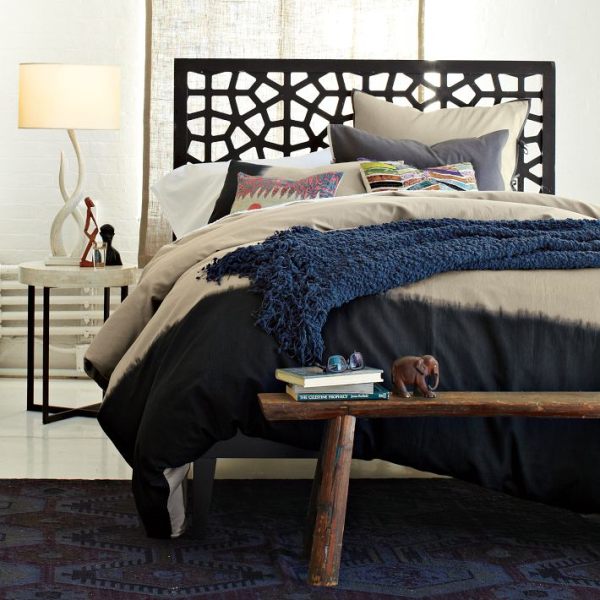 For a basic wooden headboard with a twist, check out the Low Wood Cutout Headboard from West Elm. A rectangular "hole" lets the the wall color behind the bed show through. Not to mention, the height of this headboard is adjustable for your convenience.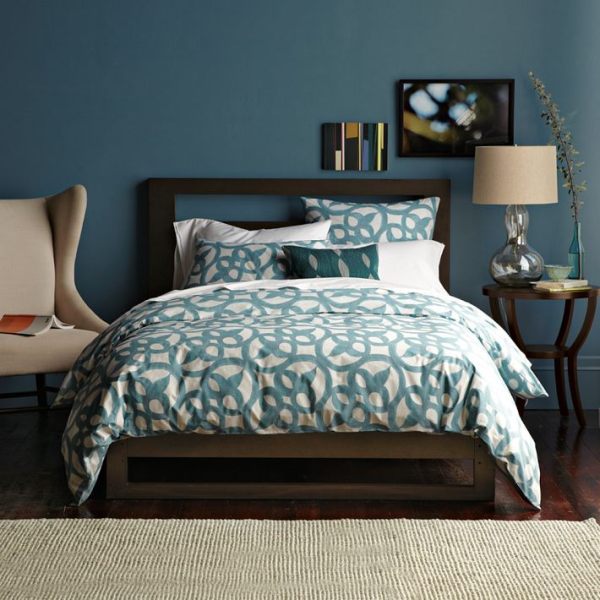 Bring on the plywood! The Long Sea Headboard/Bedhead from Etsy shop By Anonymous is super easy assemble. Its self-supporting structure is held in place by the bed when pushed against the wall. Horizontal planks and contemporary flair make this piece a modern delight.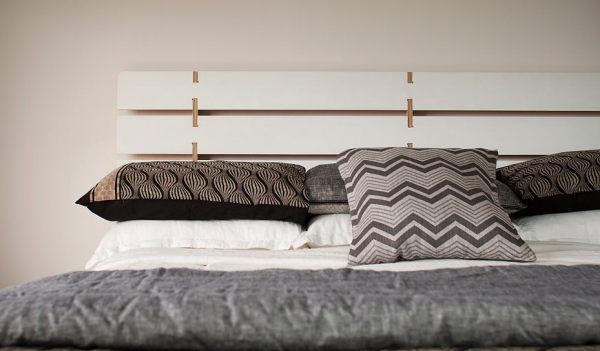 Another fabulous Etsy find is the Wood Sculpture Queen Headboard from Modern Textures. Pieces of maple, alder, cedar and poplar wood combine to create a finished product that offers a range of tones and depths. Bonus: this item can also be used as wall art!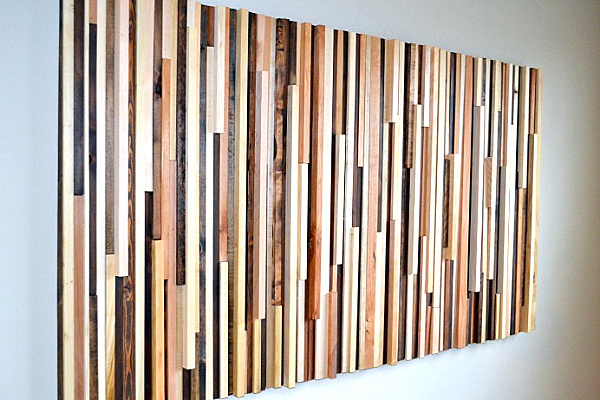 Upholstered Headboards
To say that upholstered headboards are growing in popularity is an understatement. They are absolutely everywhere, and why shouldn't they be? They add elegance to the bedroom, and their plush construction can't help but evoke a luxurious vibe. Nevertheless, some upholstered headboards manage to be clean-lined and undeniably modern. Like the Panel-Tufted Headboard from West Elm, which is upholstered from the top to the floor. Simple and chic, don't you think?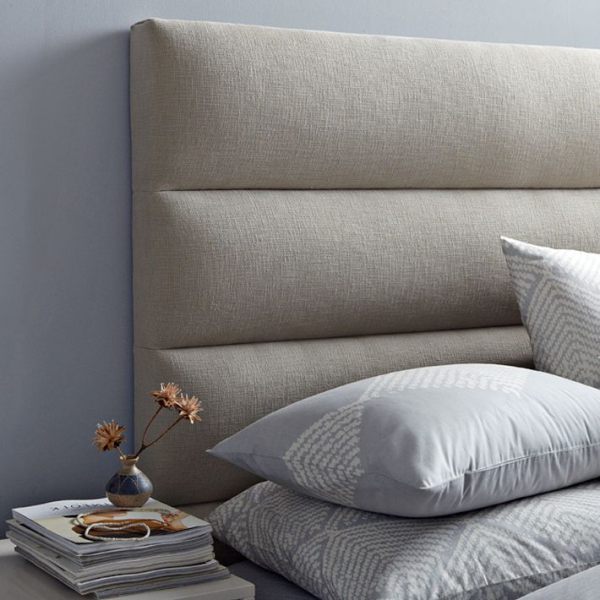 Billed as a "diamond in the tuft" on the West Elm site, the Diamond Tufted Headboard certainly makes a glamorous statement! As you can see in the image below, the piece is nicely complemented by ample bedding that is both comfy and glamorous.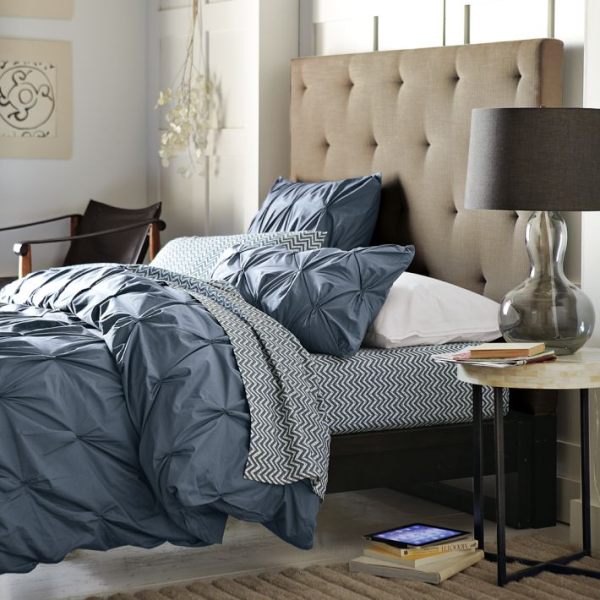 If you think nailhead trim should be confined to traditional pieces, we beg you to reconsider. Modern and rectangular, the Tall Nailhead Upholstered Headboard creates an impact with its sleek design and dramatic height. [from West Elm]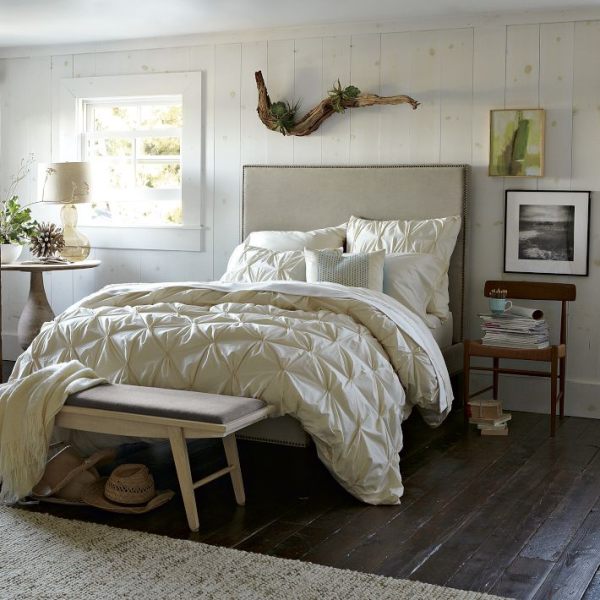 The Belgian Slipcovered Shelter Headboard from Restoration Hardware is cozy without being confining. Perfect for beds that display many pillows, this piece is available in additional colors if beige is not your ideal shade.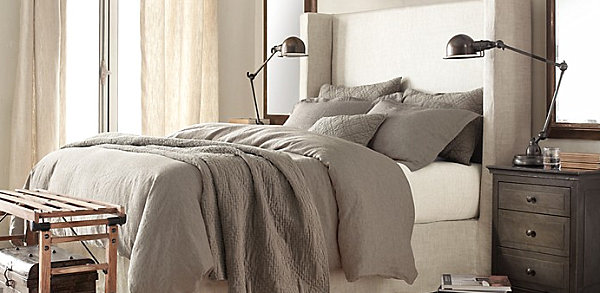 The fabricky fun continues with the Belgian Slipcovered Slope Headboard. The angles and curves of this piece make a manicured statement without being overly tailored. [from Restoration Hardware]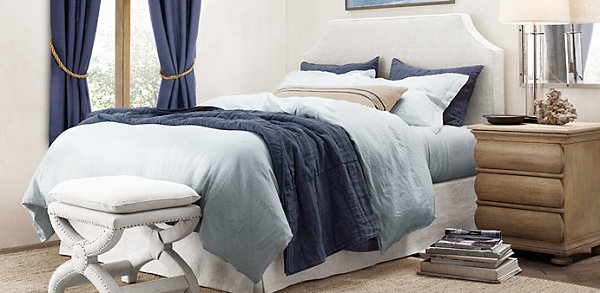 For one standout curve, go with the Belgian Slipcovered Camelback Headboard. In the image below, note how the arch of the piece is accented by a series of circular mirrors overhead. [from Restoration Hardware]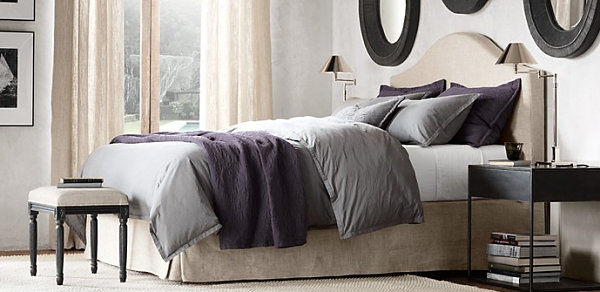 Metal Headboards
Many of today's most popular metal headboards are geometric in nature, using slim lines to create patterns that can achieve both vintage and contemporary looks. Take the clean-lined Chatham Modern Metal Headboard in Brushed Satin, available through DCG Stores. An assortment of horizontal bars in brushed satin give this piece its punch.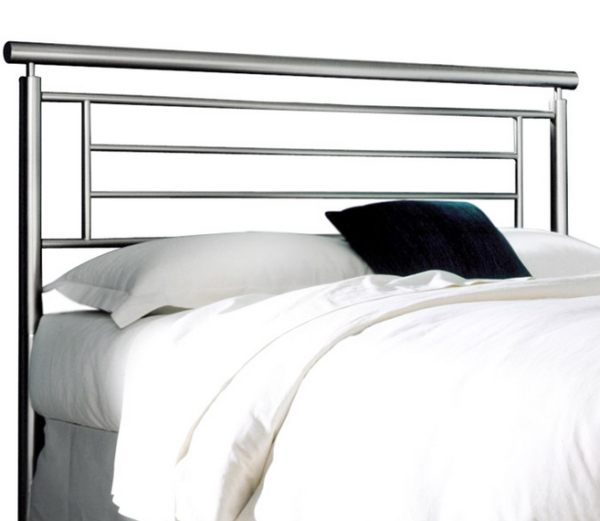 Celebrating Hollywood Regency style, the Terrace Textured Black King Headboard from Hillsdale Furniture is available through Bellacor. Right angles abound, held in place by fully welded metal: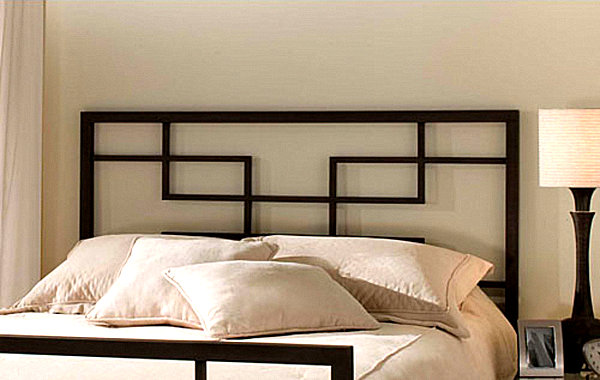 This Modern Black Metal Headboard from HB Furniture uses a weave pattern and iron construction to make a statement. Curved yet structured, this piece has a soft yet strong effect on the space it inhabits: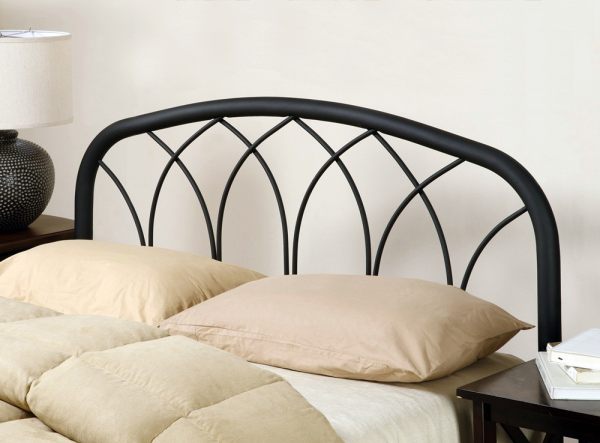 Remember the charm of childhood? So does the Birlea Chelsea Red Metal Headboard from monsterbeds.co.uk. A classic design in glossy red, this piece also happens to be a bargain. Note the way its form and finish can go vintage or industrial, depending on the look of your space!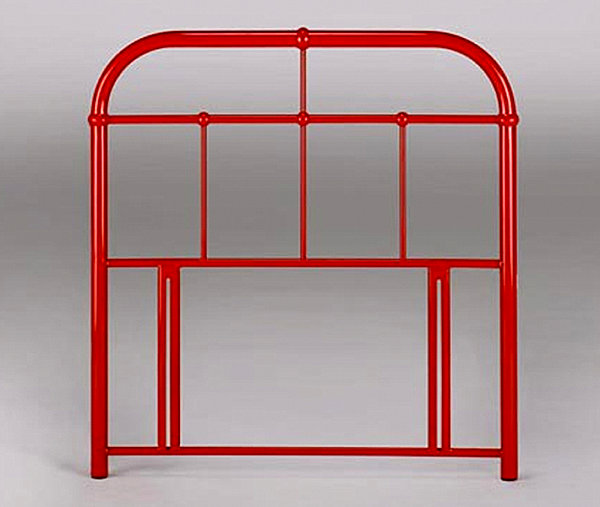 And speaking of vintage, our next featured headboard is a great reminder that many unforgettable metal finds come from the past. The  Huge Geometric Chrome King Headboard from Harris Kratz is available through 1st Dibbs. Powerful and shiny, its lattice pattern is perfectly in style!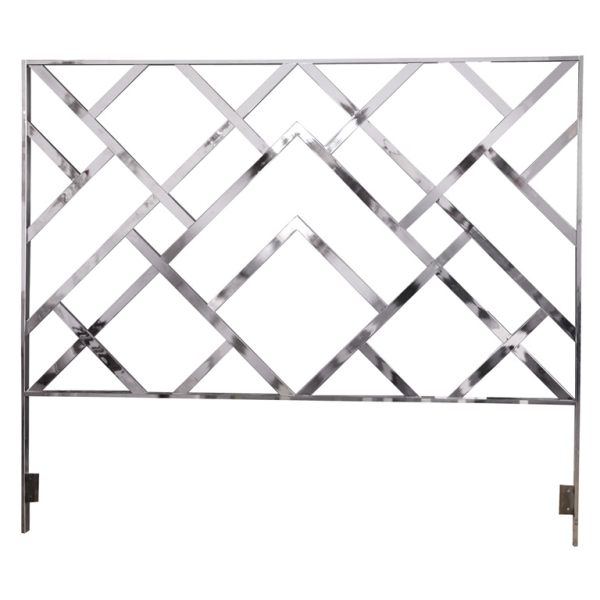 Decal Headboards
Are you short on space? No worries! Keep that bed flat against the wall by choosing a vinyl decal headboard. Increasingly popular, these wonders in graphic design bring your favorite motifs to the realm of stickers. The best part: they often come in a range of colors so you get a hue that blends perfectly with your space. The vinyl decal Coral Reef Headboard from Etsy shop Decals Murals brings an organic element to the bedroom.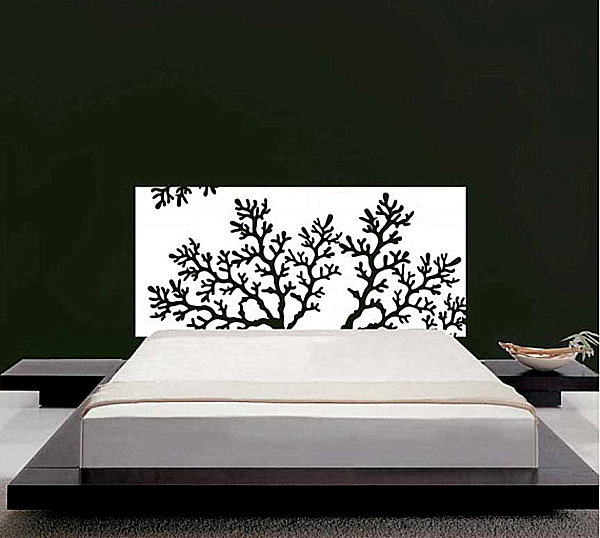 Also from Decals Murals, the Organic Leaf Headboard (shown below) is wonderfully geometric, evoking both nature and modern design at the same time!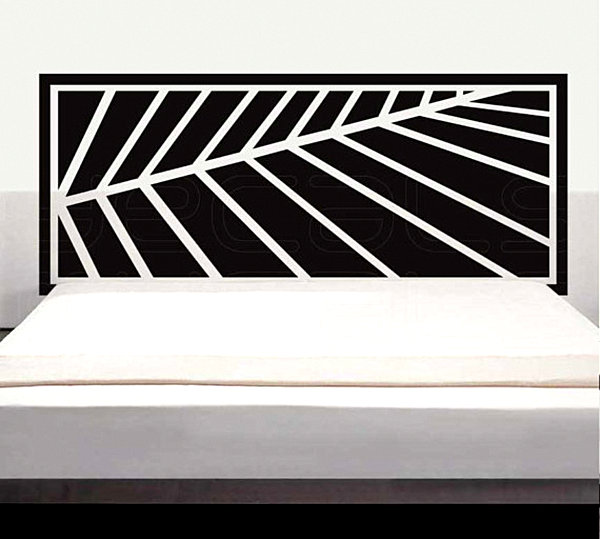 For a touch of Hollywood Regency influence, check out the Geometric Pattern Headboard from Etsy shop Pot & Kettle Studios, Shown here as a full/double, the piece is available in a variety of other sizes to accommodate the needs of your space.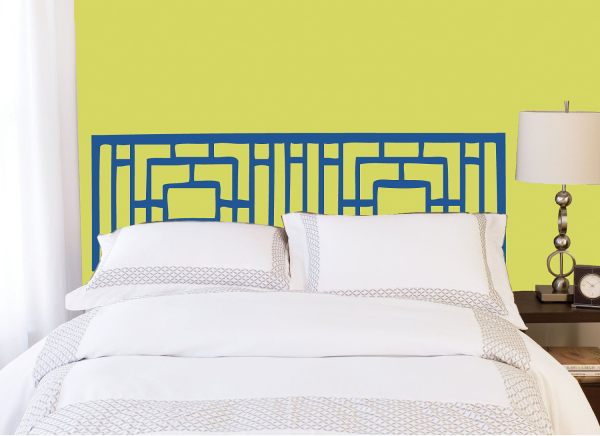 We end with the artistic Mondrian/De Stijl Style Headboard, also from Pot & Kettle Studios. As with all of the decals in today's post, this item is available in a range of colors. Go with a neutral palette, as shown below, or pick a standout shade that pops against the paint color of your bedroom.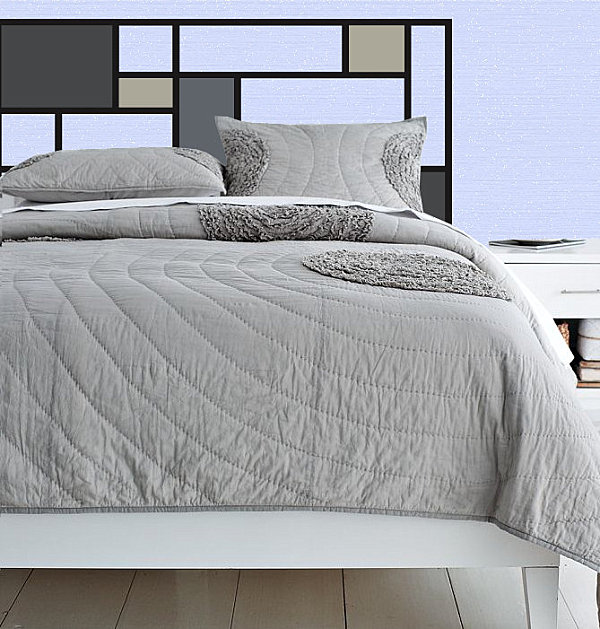 Many people forgo a headboard for budgetary reasons, but don't let your pocketbook stand in the way of good design. If a designer find is out of the question, go with a money-saving option such as the decals highlighted above. Not to mention, many art pieces can double as headboards, and Etsy is full of them! Don't forget that a range of DIY options can meet your design needs and inspire a little creativity as well. Sweet dreams!
Liked the story? Share it with friends.