Get ready to rejuvenate in a spa-like retreat, courtesy of some strategic lighting! Just because bathrooms tend to be smaller spaces in the home doesn't mean they should be any less dramatic when it comes to light and shadow. In fact, if you think about it, much of the time spent in the bathroom getting ready occurs at the beginning and end of the day. Even in bathrooms full of windows, a great deal of natural light is unlikely at these peak times, making artificial lighting all the more important!
Whether you aim to purchase a sconce or two, choose overhead recessed lighting or select a striking pendant light, rest assured that your choices shouldn't be limited to just one lighting strategy. For example, the image below shows a range of lighting options, including specialty lights that illuminate steps, corners, and even the bathtub! [from Home Improvement]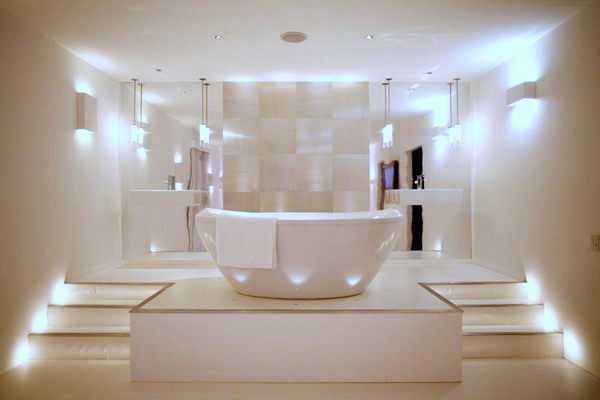 Recessed Lighting
We begin by showcasing recessed lighting, which consists of light fixtures installed in the ceiling. Why recessed lighting works: it's sleek and subtle, yet it can make a big statement, especially when used to create patterns of light and shadow on the wall. Below we see a beige bathroom with chic overhead recessed lighting. [from Houzz]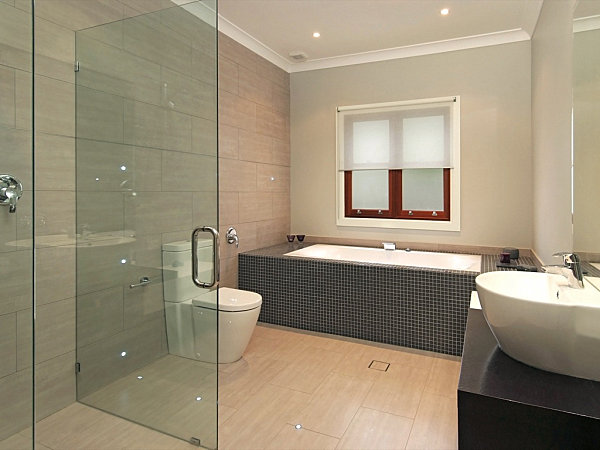 Next we see recessed lighting take a dramatic turn, thanks to a lack of bright lights throughout the rest of the space. Note the designs of light and shadow on the wall above the tub. Trios of candles are another nice touch.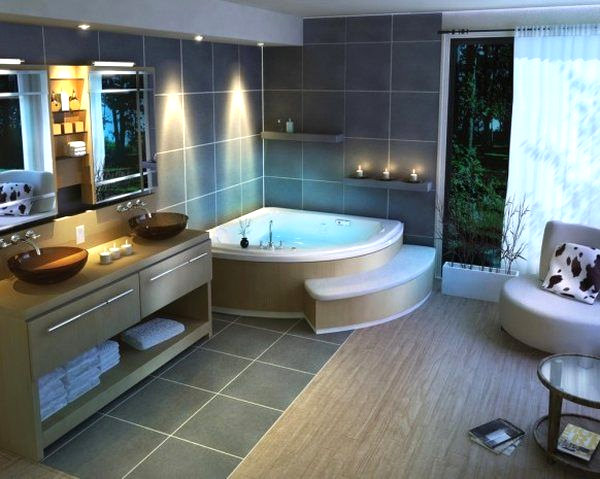 Sconces
Sconces are mounted on the wall in the location of choice, adding sophistication and style to a room. Many bathroom sconces are placed above the vanity, illuminating the space around the mirror. No need to be in the dark when getting ready! [from CW Design via Houzz]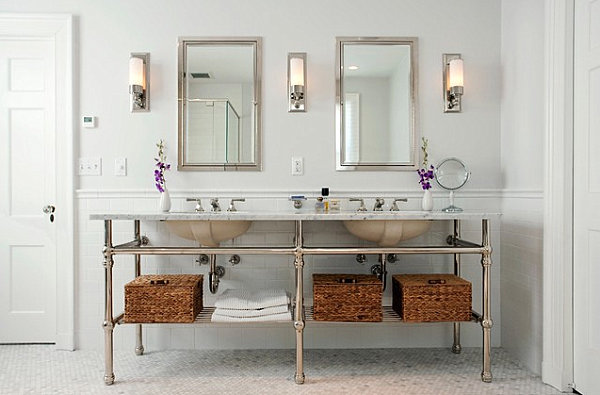 Sconces come in a variety of shapes and forms, including cylindrical and rectangular. Many sconces have metal detailing, while others are mostly clear or translucent so the bulb can shine as brightly as possible. The boxy sconces below mimic the shape of the bathroom tiles, as well as the sinks. [from Studio G + S Architects via Houzz]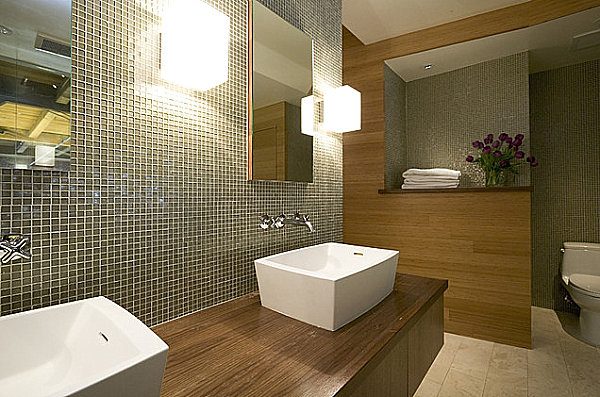 In the next featured bathroom, we see a sconce that is made of glass and metal, complete with silver-toned rings around the ends for a stunning contrast. Also note the recessed lighting above the shower. [from Rossington Architecture via Houzz]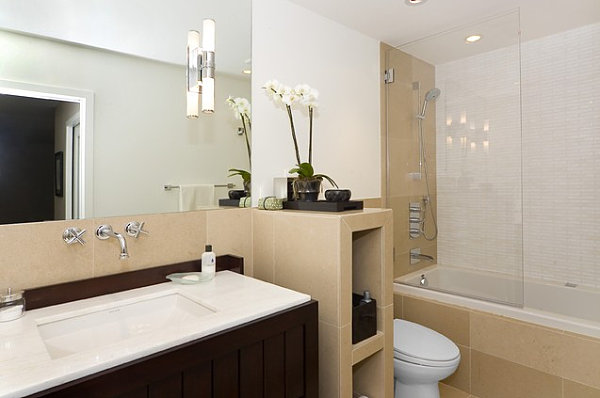 Strip Lighting
Lighting in a strip formation often takes the place of vanity bulbs in the modern bathroom. Below we see a pair of LED strip lights, which lend a contemporary air to this clean-lined space. Also note the square aperture adjustable recessed lighting overhead! [from 186 Lighting Design Group via Houzz]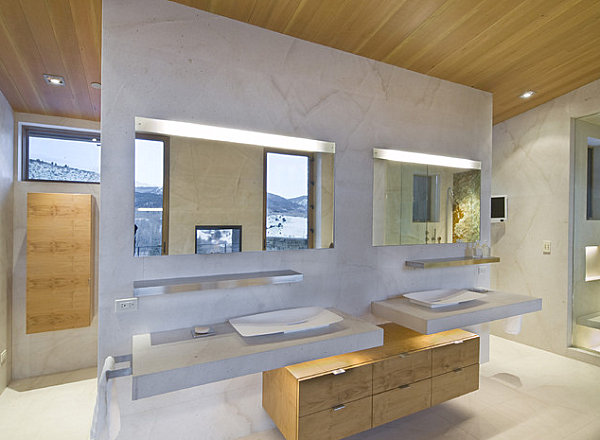 Sometimes the strip lighting is tubular, which can have a retro yet modern effect. In the next featured image, we see the Palermo 600 wall light, which nicely complements the intentionally sparse decor in this all-white bathroom. [from Sparks]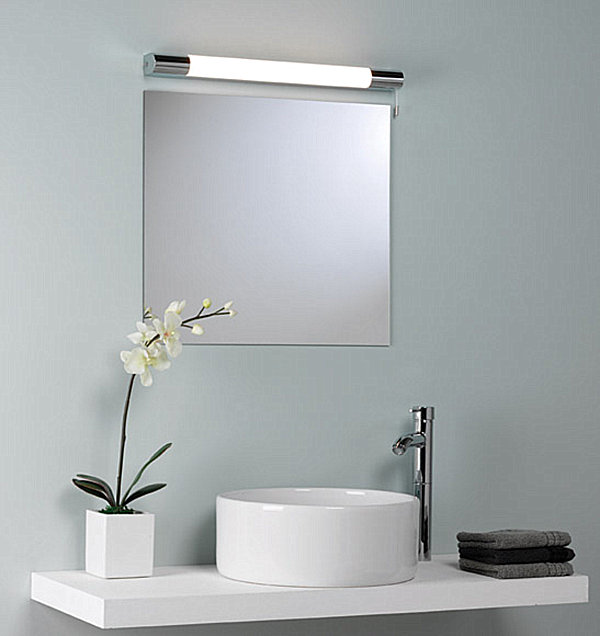 Pendant Lights
Pendant lights are light fixtures that hang from the ceiling. Like a pendant worn around the neck, these decorative yet functional gems elegantly dangle and catch the eye, at times serving as centerpieces of the rooms they inhabit. Not only do they have a sculptural quality, they can add extra lighting to an area of choice, such as the space over the sink. Below we see two modern bulb-shaped pendant lights make a unique statement in a contemporary bathroom designed by Hansgrohe. [from home-designing]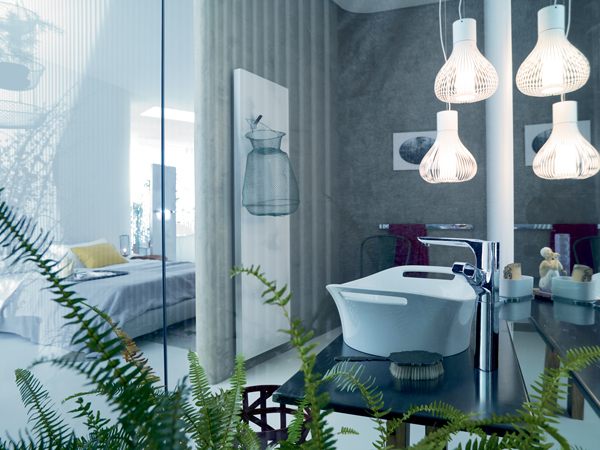 Even one small pendant light can pack a powerful punch, as shown by the cylindrical fixture below, which is repeatedly reflected in the glass of the shower door. [from HGTV.com]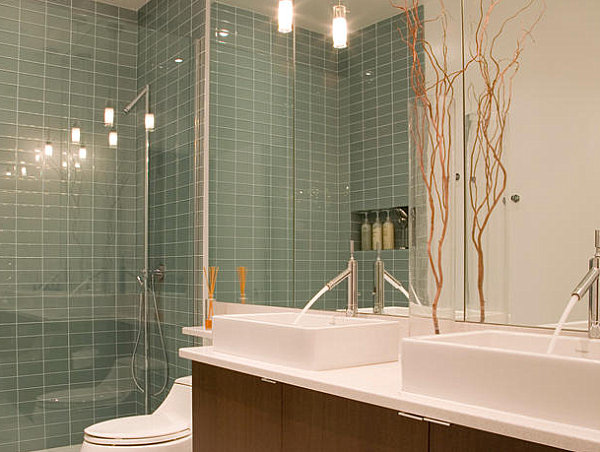 Vanity Lighting
All of the lighting featured above can be used to illuminate a bathroom vanity. However, some design enthusiasts still desire a series of bulbs above the sink, reminiscent of the circular lights that graced many an apartment bathroom in decades past. Some enjoy deliberately evoking a retro vibe (nothing says '70s/'80s like a strip of large circular bulbs), yet others seek a refreshing update. Like the square bulbs shown below! [from Studio Marler Cabinetryvia Houzz]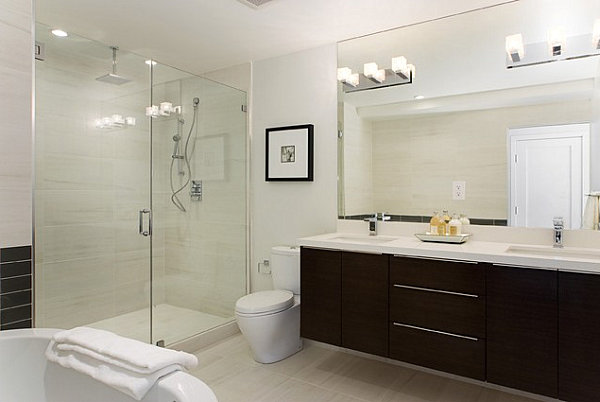 Another option: a row of pendant lights or sconces. In our last featured image, a trio of lamp shades cover bright bulbs that flank a pair of mirrors in a tiled bathroom. [photo by Christopher Covey, from HGTV.com]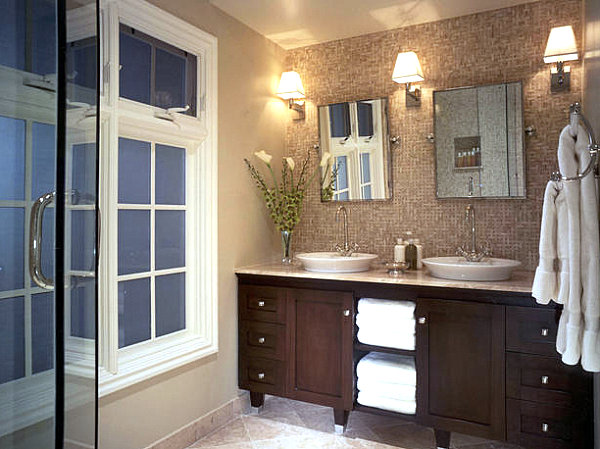 As you choose the ideal lighting for your bathroom, keep in mind that while it's exciting to collect an assortment of fixtures for a variety of effects, one significant piece can also make a big statement. This is good news if you're on a budget. Needing to get maximum style for minimum funds? A pendant light is a great way to go, and nothing beats a pair of sconces on either side of the sink. Have fun spotlighting your space!