For many homes, the stairs leading to the next floor don't get much attention. Sure, they may get decorated at the holidays with festive garland, but any other time of the year the stairs are the "stepchild" architectural feature of your home. Let's change that! After all, your stairs can become a highlight if not better – the focal point of your entryway, hallway, or staircase area. Whether you are looking to add visual interest with color, patterns, or just a simple fabric to create an experience using the stairs, here are some ideas that you may not of thought of.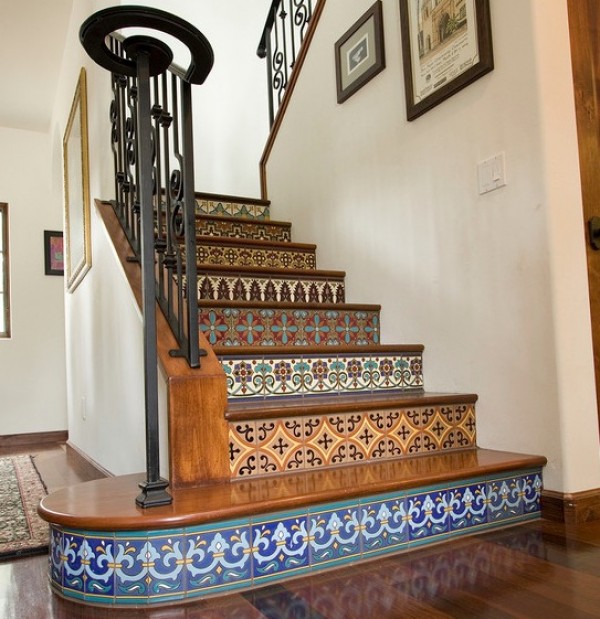 Colorful risers and treads:
Recently, there has been an interior design change to start showcasing stairs with colorful treads and risers instead of letting your stairs blend in with their surroundings. Have you ever thought of decorating them with an ombre color scheme? Ombre refers to a color scheme that graduates in colors from light to dark or vice versa. How about doing this technique with your stairs? Choose paint that you can add white or beige to, or ask your paint store to make varying shades of your favorite color!
via angie's roost & kristi and brady
Image via
Patterns that attract:
For those of you who like to make a statement, how about painting or using mosaic tile on each of your risers to give a custom design look? Try and stick with a similar color palette throughout, and look at the adjacent rooms and hallway to gain color inspiration. Use geometrics, stripes, chevrons, polka dots and more shapes to create fun patterns. If you are going to paint, ensure you use painter's tape (usually blue) to mask off the area before painting. Another great idea is using stencils or heavy-duty wall decals that you can remove at a later time. Ideal for rental homes!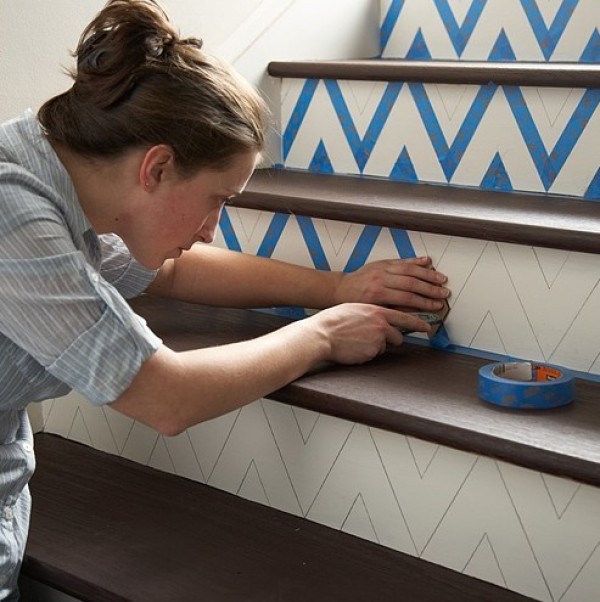 Image via
Be original:
While you may think that your stairs have to look like an interior design magazine, create a look that fits your design style and your home. These stairs from Funky Junk Interiors are so creative! Bare wood stairs are given a nostalgic twist with these vintage icons of Americana culture. With weathered painting techniques, and using paint colors that are washed out, the stairs look like you went back in time.
Another idea for showing your originality is with durable fabric that can be nailed or stapled to the stair treads and risers. This provides a way to bring softness to your stairs. Also try adding colorful rugs and textiles to your stairs. Ensure they are tacked down properly and don't cause a tripping hazard. The subtle pattern and bright color create a look that anyone would love to brighten up their stairs.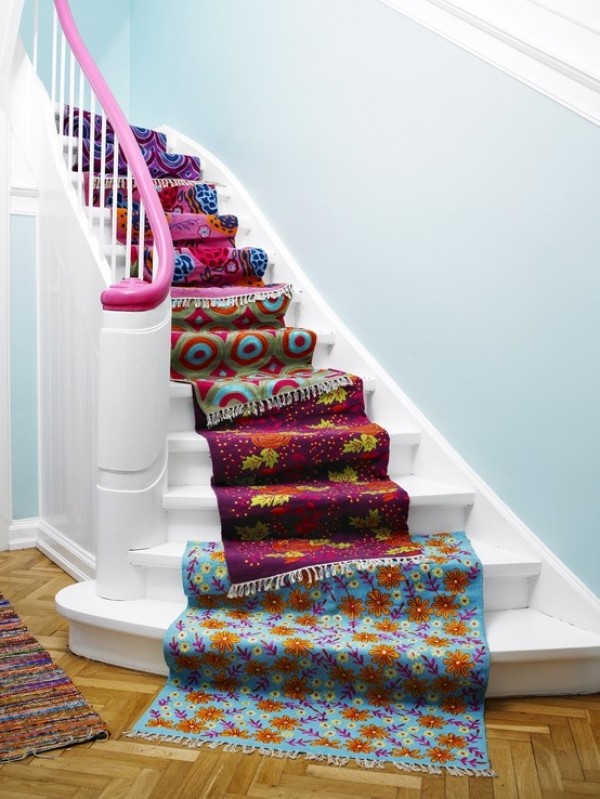 Who would of thought your stairs could be such a design element in your interiors? If you are thinking of adding color to your stairs take a look at the corresponding baseboards throughout your home. Are they white, black, wood? This will help you decide if you should go with a coordinated look, or a high contrast scheme. Whichever you choose go for it, you stairs are ready for you!