Too many pictures, too little space? We know. We've been there. If you enjoy collecting artwork, it can be difficult to find room for all of it. With an abundance of art sold online for affordable prices (plus an amazing number of vintage pieces available for just dollars at thrift stores), collecting art is easy and fun. But what if your interior can't accommodate all of it? No problem! Small-space living is a way of life, especially in large cities like New York and London. But good design can be found in dwellings of all sizes!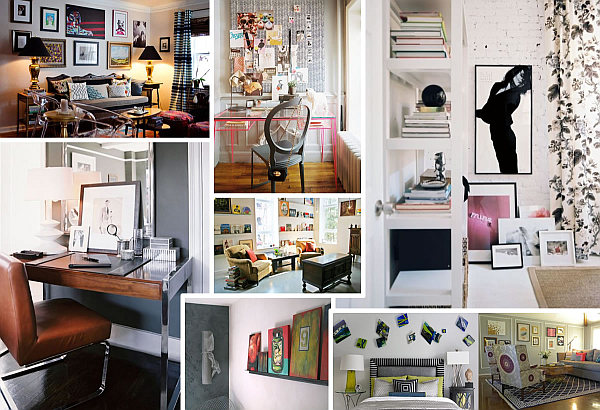 Today's post is devoted to the art of displaying art! Yes, there's more than one way to do it, and walls aren't always involved. We've rounded up the best ideas and the most stylish techniques for decorating using your prized pictures. All of them! Check out the images below, and see if you're inspired to open that closet door and dig out those pieces you were hiding until you got a bigger place. Now is the time for them to take center stage!
Incorporate Artwork Into Bookshelf Displays
Bookshelves take up lots of room. Plus, they're often tall. How can you hang pictures when such large furnishings are commanding wall space? Try incorporating pics into the display of books, then top off the shelf with some framed works of art, as shown below in a room designed by Julia Leach. [from Lonny]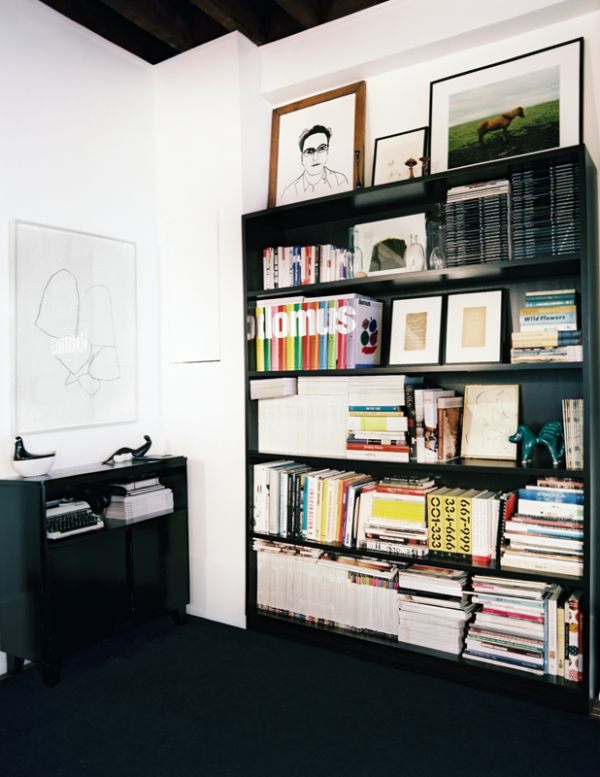 If the shelves are open, you can even hang pictures on the wall within the confines of the furnishing, and the rectangular and square bookshelf compartments will nicely frame you artwork, as shown in this next image. [photo by Rikki Snyder Photography, from David Scott Interiors via Houzz]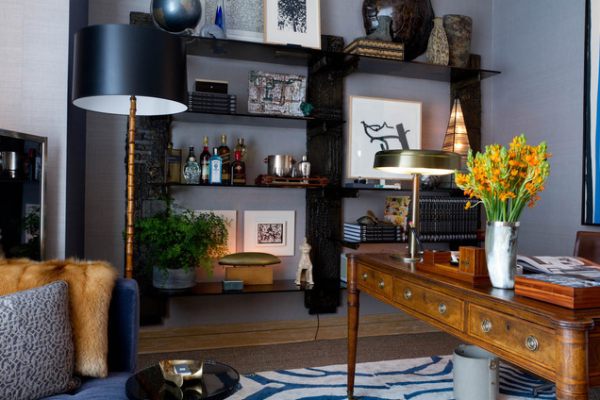 Why not hang art on the bookshelf itself? All you need is a vertical beam and a nail, and suddenly your work of art has created another layer of design in your space! [from Abbott Moon Design via Houzz]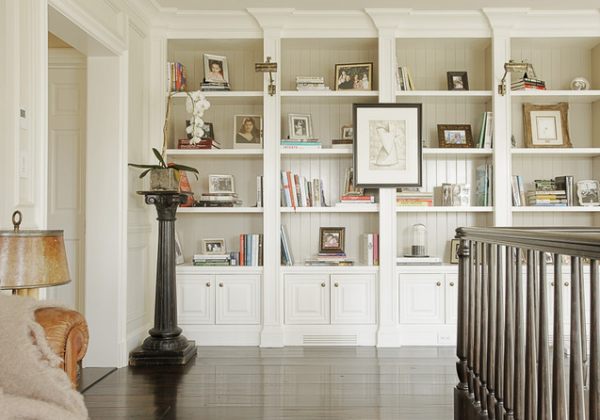 We see this same strategy used in the image below, which features bookshelf-mounted paintings on the wall to the right of the window. Also note how art has a special place on the windowsill of this room designed by Blair Clark. [from Lonny]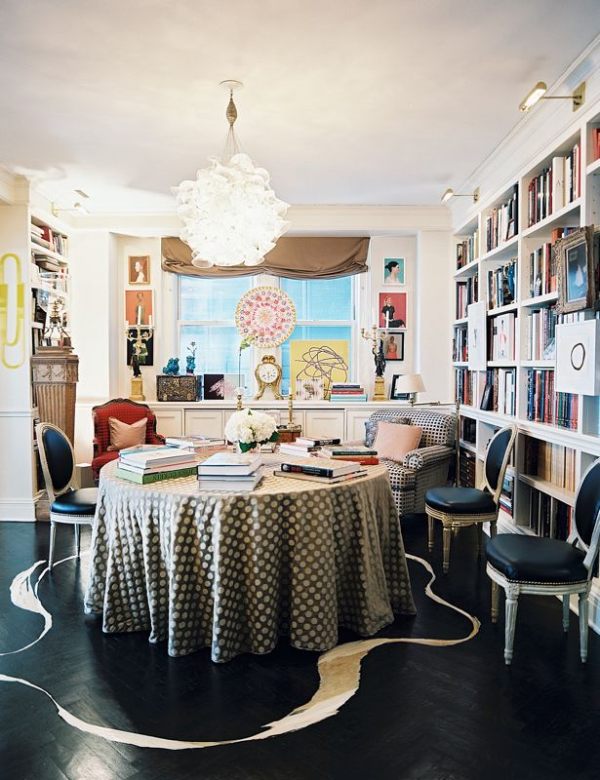 Layer Artwork in Leaning Arrangements
Need a little artwork display assistance? Lean on us for advice. Or better yet, let the art do the leaning! Who says you can't layer your pictures? The best part: no nails are required! Below we see a small framed black and white wedding photo leaning on a framed sketch, which is leaning on a large mirror. It's hard not to notice the layers of style in this space designed by Ron Marvin. [from Lonny]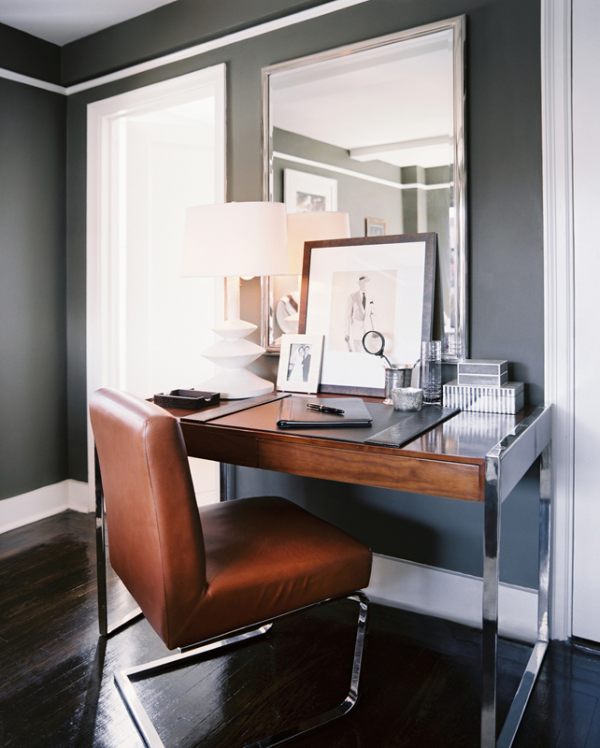 The next image also features a desktop arrangement of leaning pictures, this time in a space designed by Lonny. Note how art with similar earthy tones was chosen for consistency.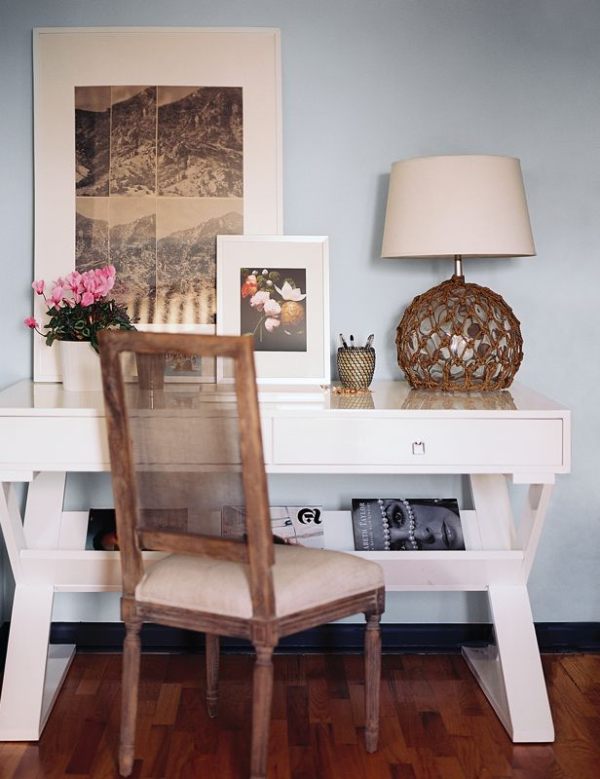 No room on the tops of desks and shelves? No worries! Set artwork on the floor and lean it against the wall, as shown below in a space designed by Michelle Adams. [from Lonny]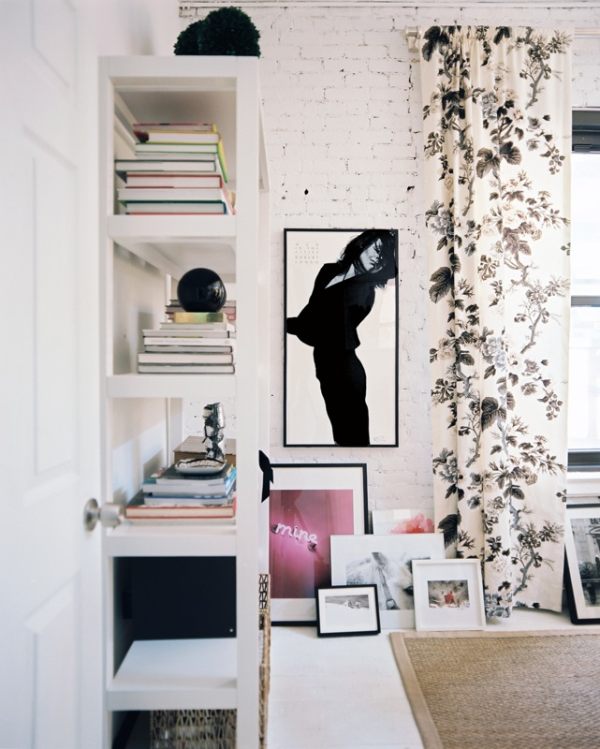 Create Artistic Wall Vignettes
If framing individual works of art will make them too bulky or break the bank, try arranging unframed pieces in a clever wall vignette. Not only will you be able to accommodate twice the pics in half the space, this unconventional design strategy will definitely get noticed, like the arrangement below in a room designed by Kelley Carter. [from Lonny]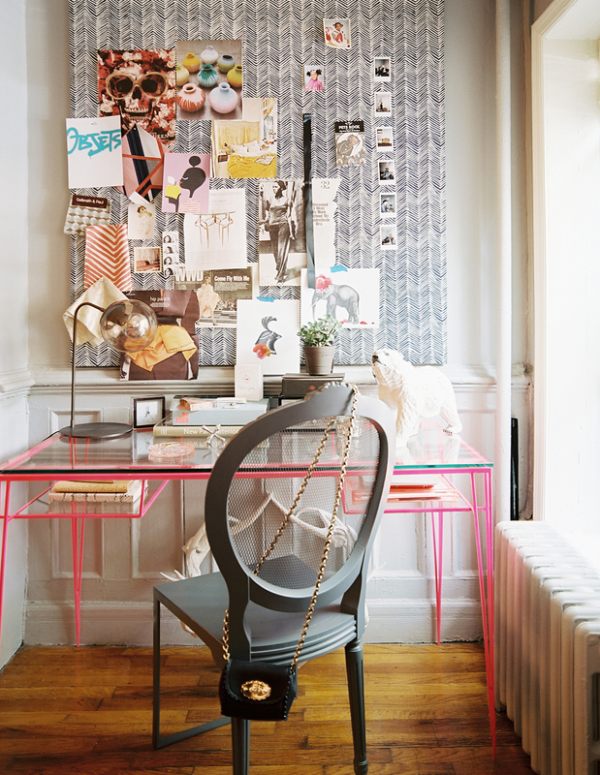 Need a way to adhere to pics to their display area? Nail clipboards to the wall, then cover them in art and other eye-catching images. Again, layers are possible. Clever, simple and stylish! [from ish & chi via Houzz]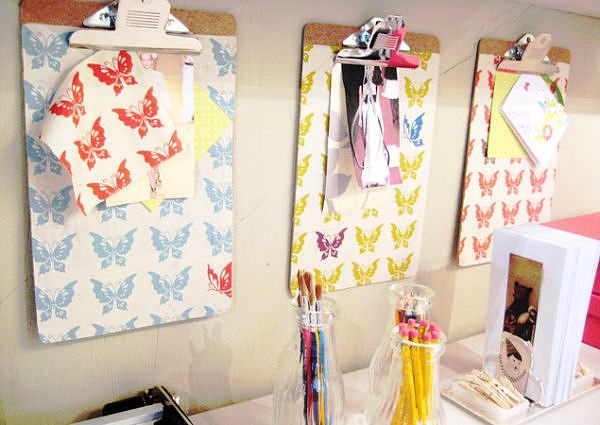 It's hard to use words alone to describe the level of originality in this next featured space… You have to see it to believe it! First, boxy wallpaper is framed, then art is tastefully incorporated into the wallpaper in strategic places. An innovative, unforgettable technique in a room designed by Lisa Sherry! [from Lonny]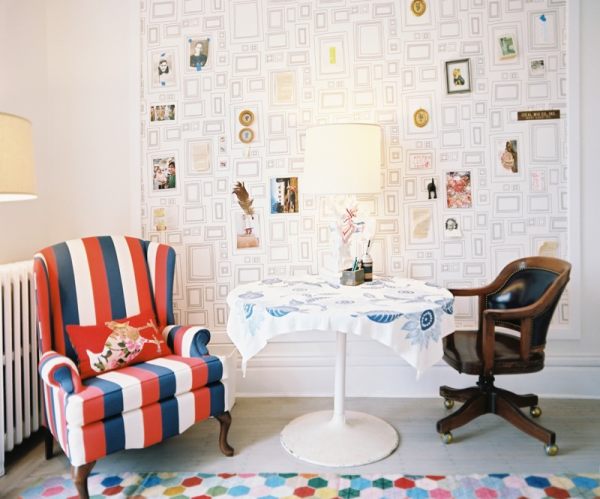 If you're looking for a structured vignette, purchase some display shelves. Below we see a collection of thin metal rails arranged in rows on the wall, then filled with artwork and reading materials. The fact that items can be placed so closely together on each rail means that more art can fit into a smaller space. Perfect for a home that's short on wall display areas! [from Sullivan Goulette & Wilson via Houzz]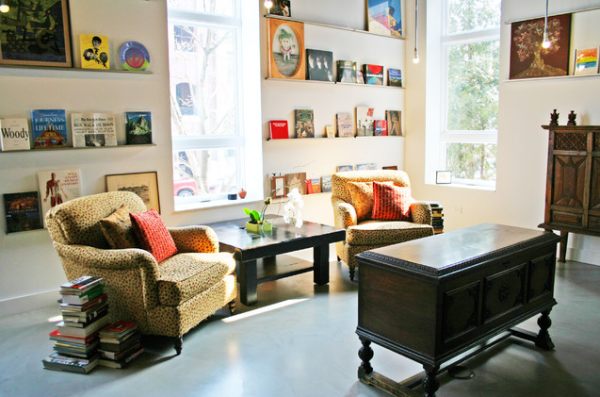 In the next image, the art of side-by-side display is seen in close-up, as artwork in shades of red, green and blue nicely complement one another on an iron rail in a neutral space. [from Fitzgerald Studio via Houzz]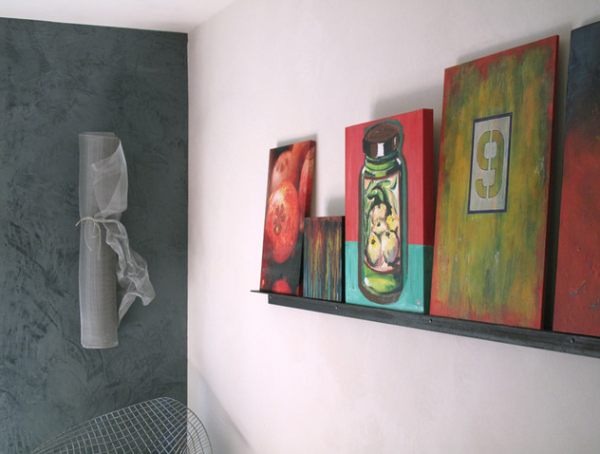 Display Artful Objects Throughout the Room
If you're looking for ways to incorporate art throughout the home, try making artistic statements off the wall as well as on! For example, in the space below designed by Jonathan Adler, pillows, ceramics and tabletops are every bit as artistic as the framed pieces on the wall. The result: a huge collection of creative items that give the space a gallery-like feel. [from Lonny]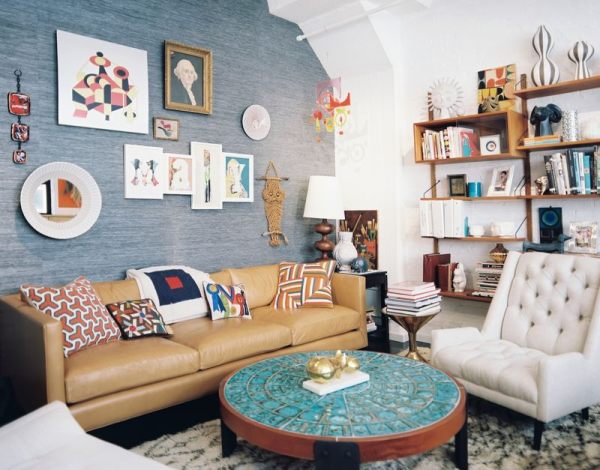 A similar effect is created in the next room, which features an abundance of framed pieces, plus stylish pillows and ottomans. [from Birdhouse Interior Design via Houzz]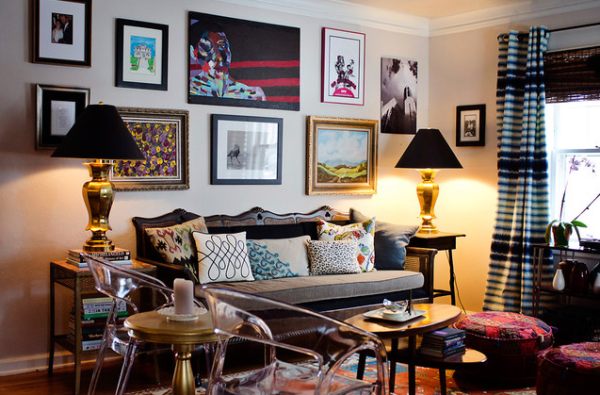 In the space below, it's hard to tell which is more artful: the framed artwork, or the pillows, rug and chair fabric that make their statement off the wall! In fact, the entire room is a work of art! [submitted by Sarah Greenman via Houzz]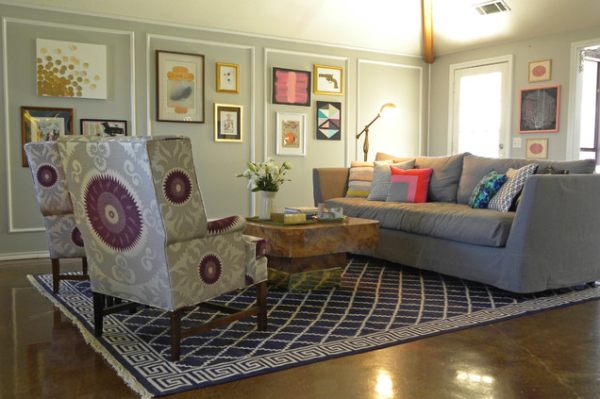 Wall art is only part of the fun! In this last featured space, the lime green, cobalt blue and black motif set by the wall-mounted pieces is continued in the headboard, pillow and lamp selections that fill the rest of the space. [from Glasbury Court at Cold Spring]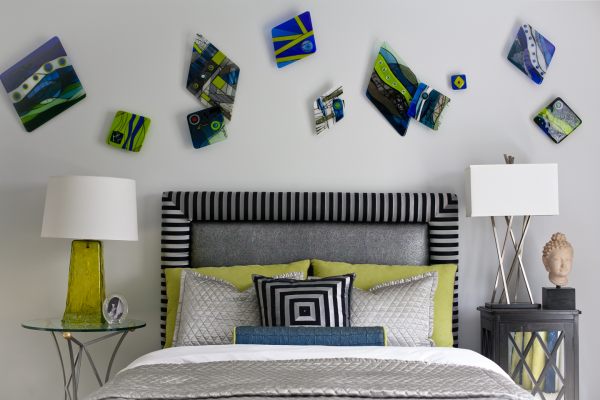 Whether you're short on wall space or your artistic cup simply runneth over, rest assured that gallery-style walls aren't the only art display answer. In fact, when it comes to art, where there's a will there's a way. Look for nooks, crannies and shelf tops where a painting can be included. Lean pieces against the wall, and layer them for intrigue. Create vignettes that maximize the space you have. And don't forget that art is more than what you hang on the wall. It can be found in collections of items that reflect your personality throughout the home!