Today's office computer desk is sleek and stylish. Gone are the days of mega-desks that take up half the room. Increasingly compact computers have broadened office desk possibilities, making smaller options a reality. Just as space-saving laptops have become a home office staple, space-saving desks have gained popularity for their versatility and their ability to offer a work surface in the smallest of dwellings.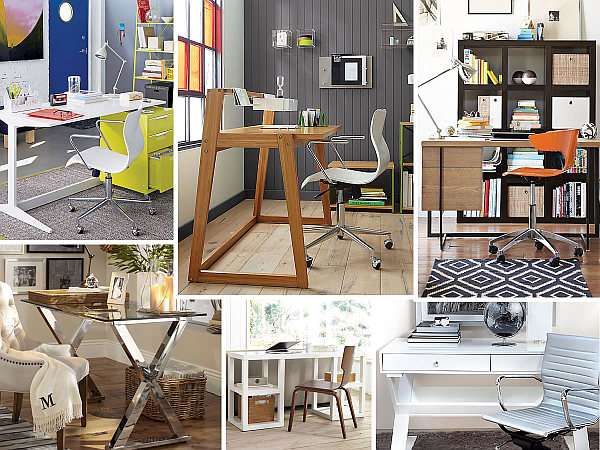 Yet some still prefer roomy desks that provide maximum storage and organization. Whether you're searching for a desk that can fit into a corner or you're looking for a substantial piece that will take center stage, check out our collection of home office desks. Wood, metal, glass and chrome have never been more appealing!
Wooden Desks
Wooden desks are sturdy and classic, and they come in a variety of colors. The TLD Desk from designer Jannis Ellenberger includes a white powdercoated shelf and lidded drawer for storage. Its oak veneer surface and solid oak open frame are complemented by exposed hardware for an industrial look. [from CB2]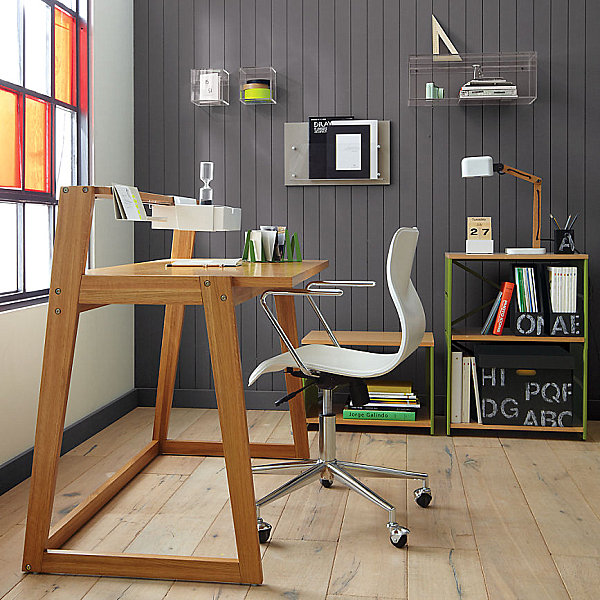 For a clean-lined piece that blends seamlessly with retro decor, try the Flat-Bar Storage Desk. Crafted of engineered wood and a powder-coated metal frame, this desk makes the most of its form. A supply drawer and a file drawer meet light storage needs without sacrificing style. [from West Elm]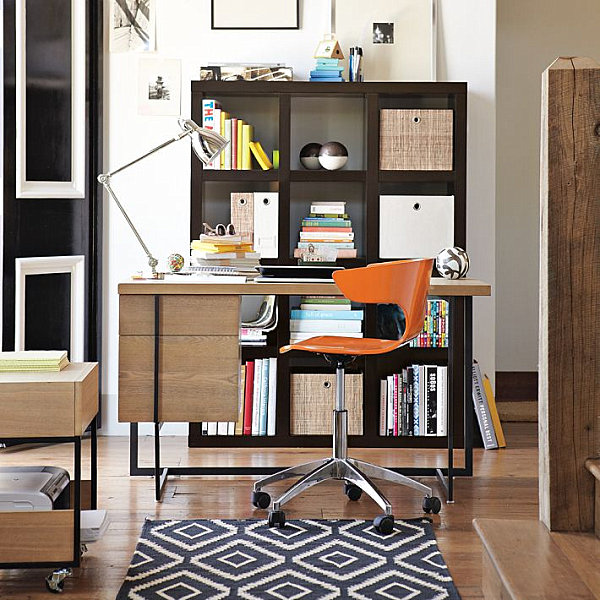 Walnut is the wood of choice for the Bulego desk by Abad Diseño for Nueva Linea. The piece is also available in white lacquer, yet there's something about the wood grain finish below that is both earthy and perfectly modern. While the desk has no drawers, a top shelf is the ideal ledge for office supplies or decorative items.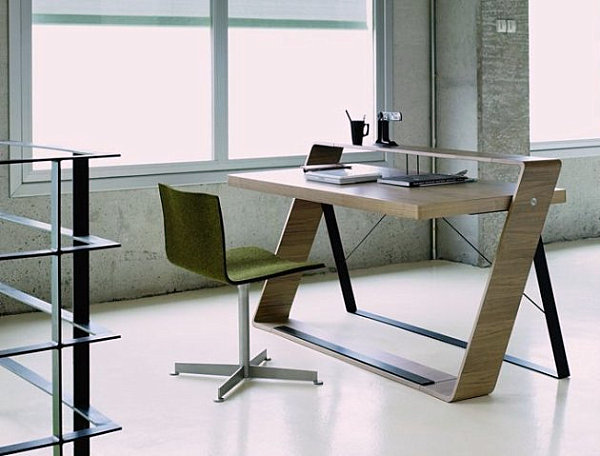 Looking for a larger piece? Try the Modular Office L-Shaped Desk Set, which includes a bookcase, 3-drawer unit and rectangle top. With plenty of surface space for a laptop or desktop computer, the piece will meet your working needs with room to spare. [from West Elm]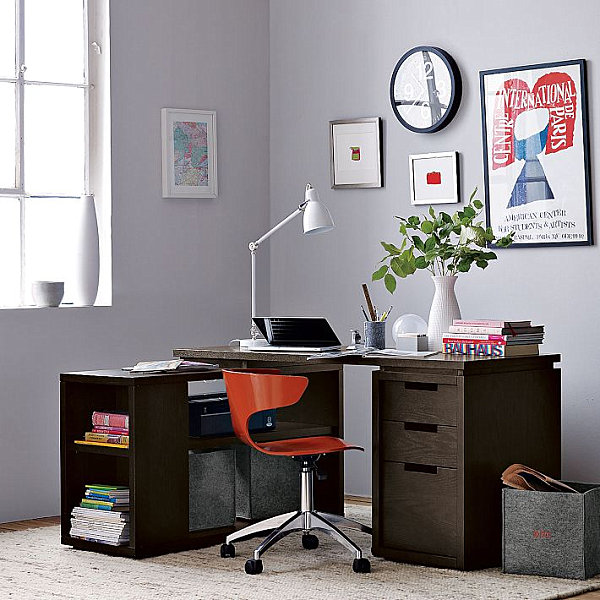 If extra large is the desk size of choice, go for the Printer's Office Suite. Inspired by a vintage printer's cabinet, this item offers compartments, cubbies and drawers so all of your paperwork and supplies can be stylishly stashed. [from Pottery Barn]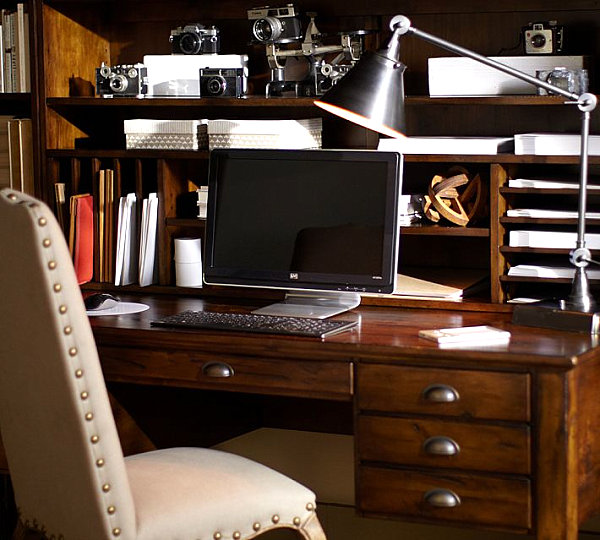 For a similar vintage look, try the Printer's Keyhole Desk. The dark finish shown below helps the piece blend well with a variety of colors and decorative styles. Classic yet contemporary, this desk provides storage in a tailored package. [from Pottery Barn]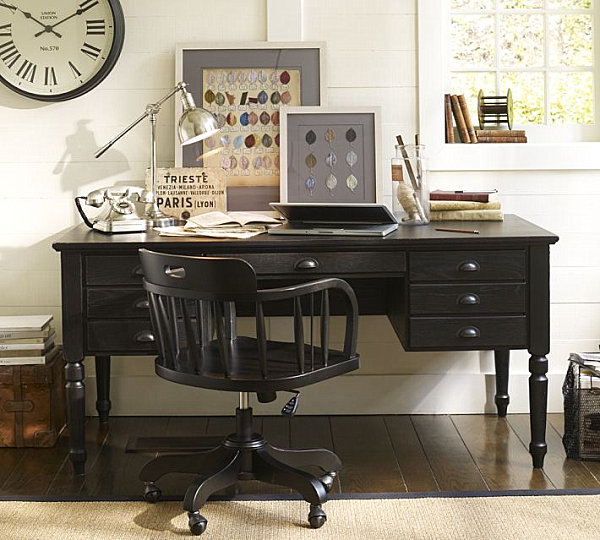 Shake things up with an unexpected computer desk, such as the antique wood and marble piece below. Solid and charming, this conversation starter can be combined with a modern chair and lamp for an eclectic look. [from Lonny]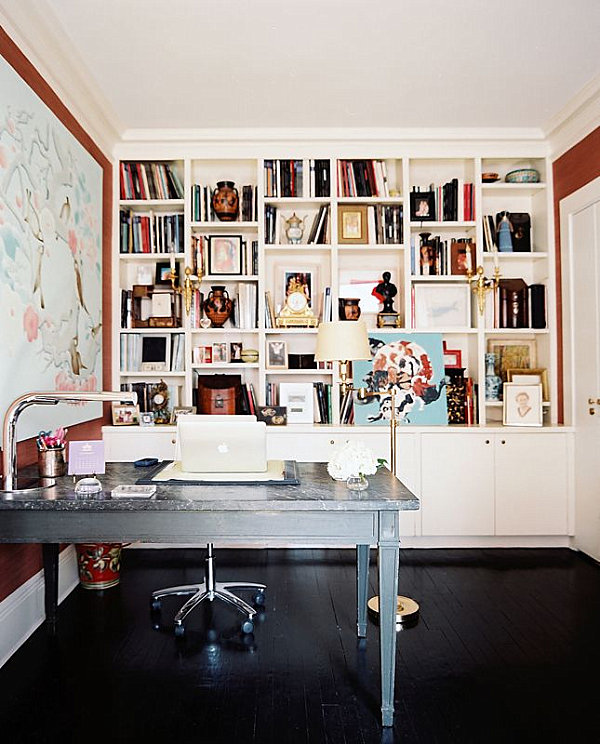 Looking for a modern piece with light and airy storage features? Try the 2 x 2 Console Desk, which includes open compartments for organizational needs or display whimsies. Crafted of solid hardwood and engineered wood, the piece is striking in its simple, boxy forms. [from West Elm]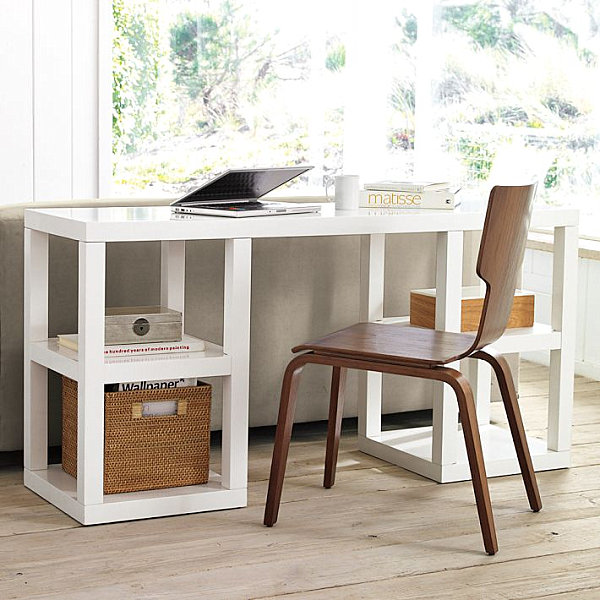 If you're in search of a small piece, the Parsons Desk With Drawers may be the answer. This update of the beloved Parsons Table features legs as thick as the desk's top. Two hidden drawers offer room to stash pens, notepads and more. Who says sleek storage is impossible?! [from West Elm]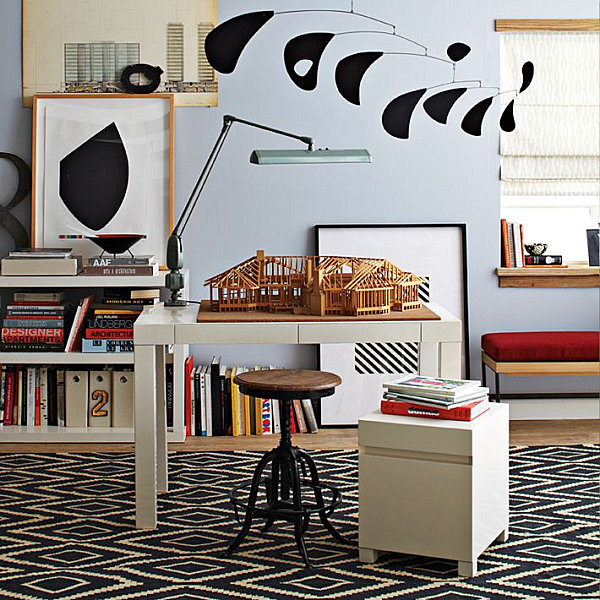 Metal Desks
Metal desks add a touch of modern flair, often with a dose of vibrant color. Take the Go-Cart Chartreuse Desk, made of steel with a yellow-green powdercoat finish. Wheels allow the item to be rolled to the side if need be. Hoping the desk will stay put? No worries–the wheels can lock! This eye-catching piece also comes in dark grey and orange. [from CB2]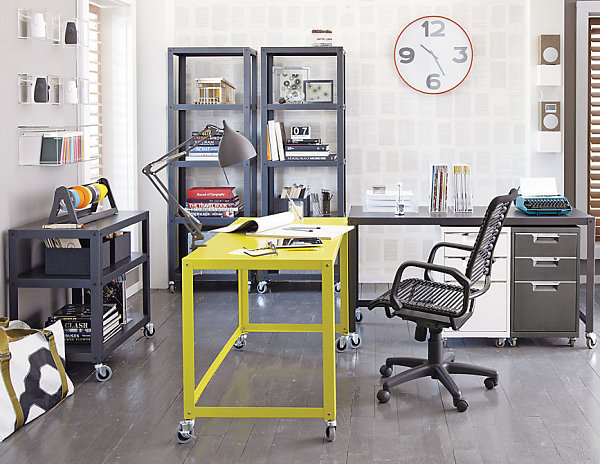 Or go tangerine with the Go-Cart Bright Orange Console Table. Similar in style to the desk above yet narrower, the piece is still roomy enough to accommodate a file cabinet underneath, as shown below. [from CB2]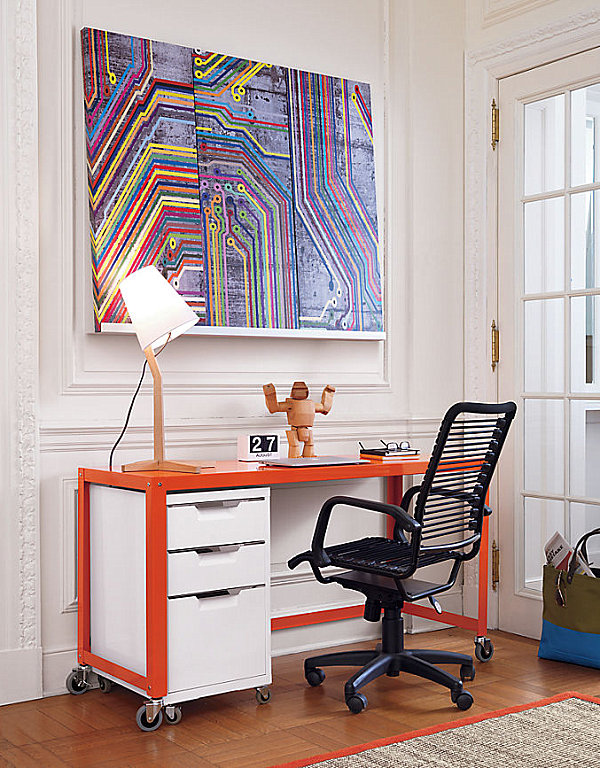 It's time to get glossy! The R2 Desk designed by Mark Daniel consists of a steel frame with a white powdercoat finish, and an engineered wooden top with a high-gloss finish. Looking for more storage? As with the desk above, try stashing a filing cabinet underneath to maximize space. [from CB2]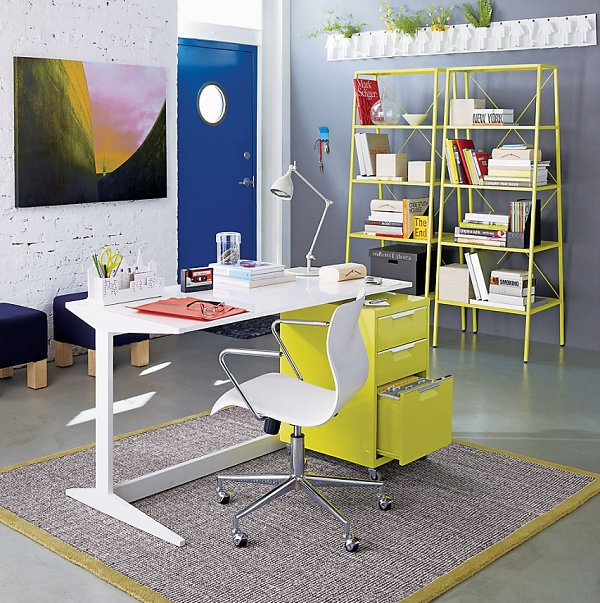 Glass-top Desks
Add a little reflection to your space with a shiny glass-top desk. These clearly fabulous pieces often have metal legs that double the gloss factor. Take the Ava Desk, which boasts a metal frame and tempered glass top. Need two more reasons to love this piece? How about its polished nickel finish and stunning geometric form? [from Pottery Barn]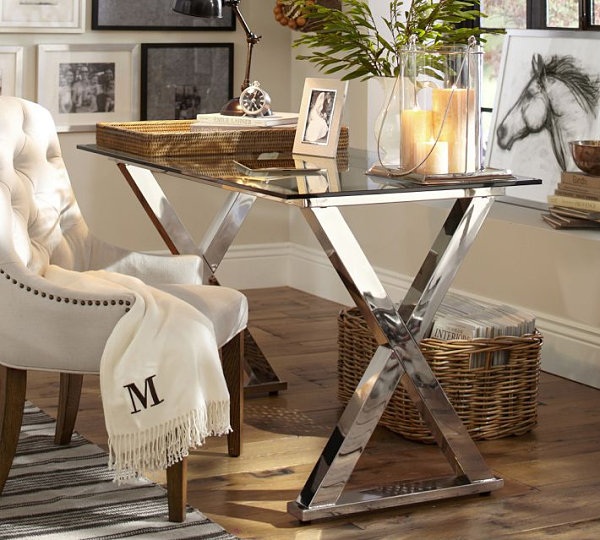 Straight lines and right angles give the Tesso Desk its flair. Designer Diana Lu paired a chrome-plated steel frame and double-Y top with a clear tempered glass surface. After all, a see-through desk top is perfect for viewing the unique architecture underneath. [from CB2]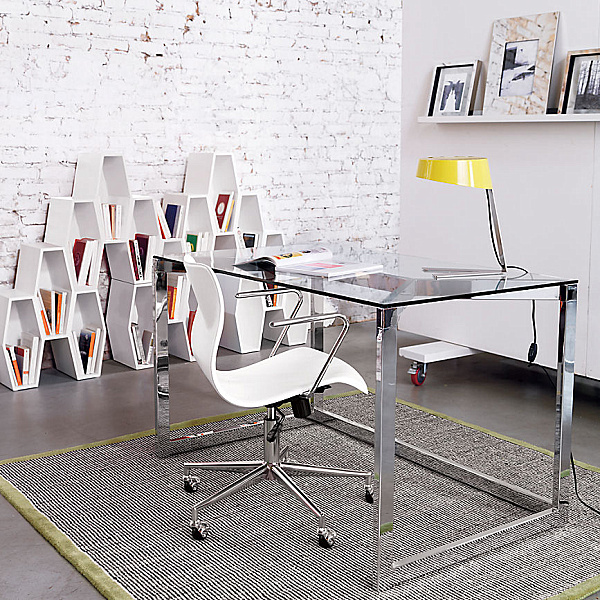 Just when you thought you'd seen it all in the eye-catching metal base arena, here comes a large desk to knock your socks off, complete with sawhorse-style legs and a long glass top! [from Lonny]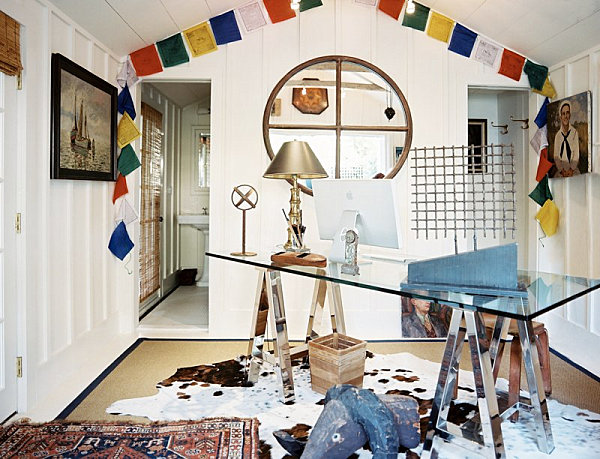 Lacquer Desks
White seems to be the color of choice for today's lacquer office pieces, perhaps because it instantly evokes modern style and lightens things up! For example, the Jett Desk below is brilliant with its white lacquer finish, nickel plated pulls, and an angled shelf underneath for storage. Too bright for you? The piece is also available in an espresso finish. [from Z Gallerie]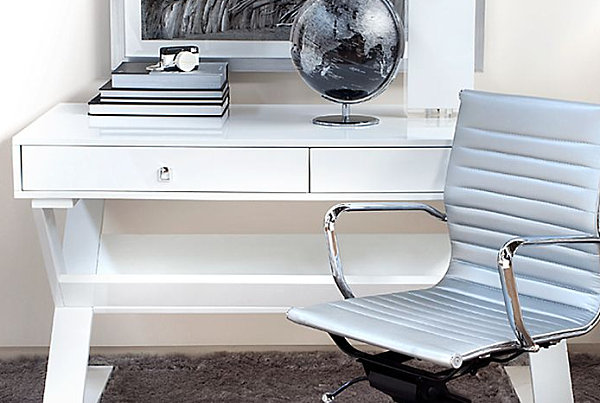 There's nothing like dark office walls and a white office desk! Especially if the desk is lacquer and has sparkling metal legs to intensify the shine. To contrast the light surface of the desk, black globes were chosen as office showpieces. [from Centsational Girl]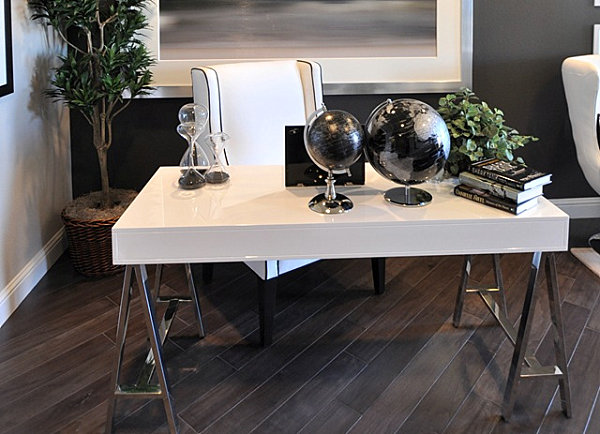 With its lacquer finish, the Paterson White Desk brings a "contemporary meets cottage" look to an office space. Traditional-style furniture has never been so shiny! Brushed nickel handles are the icing on the cake. [from Crate & Barrel]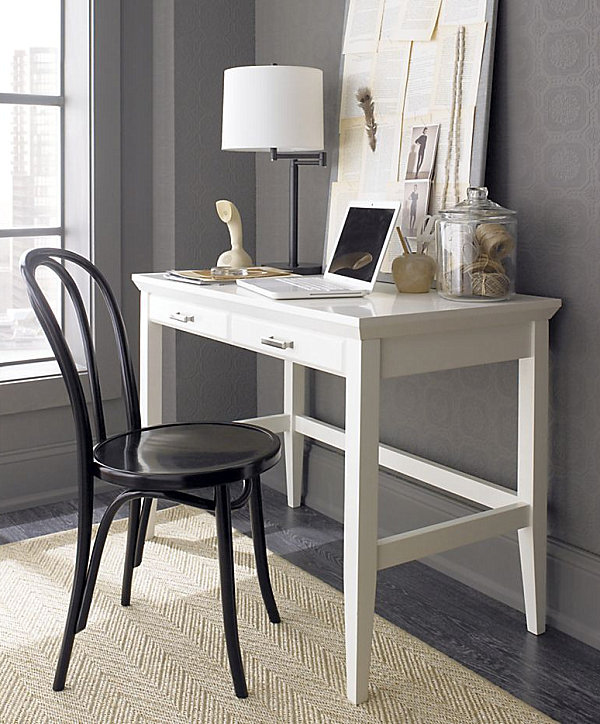 Acrylic Desks
We end with two acrylic desks that remind us there's power in the transparent. If you're challenged for space or you're searching for a large piece that doesn't look bulky, go acrylic. See-through pieces seem to float in the space they inhabit. Not the mention, they appear to take up minimal space! In the room below designed by Laura Garcia, we see the decorative power of a lean acrylic desk. [from Lonny]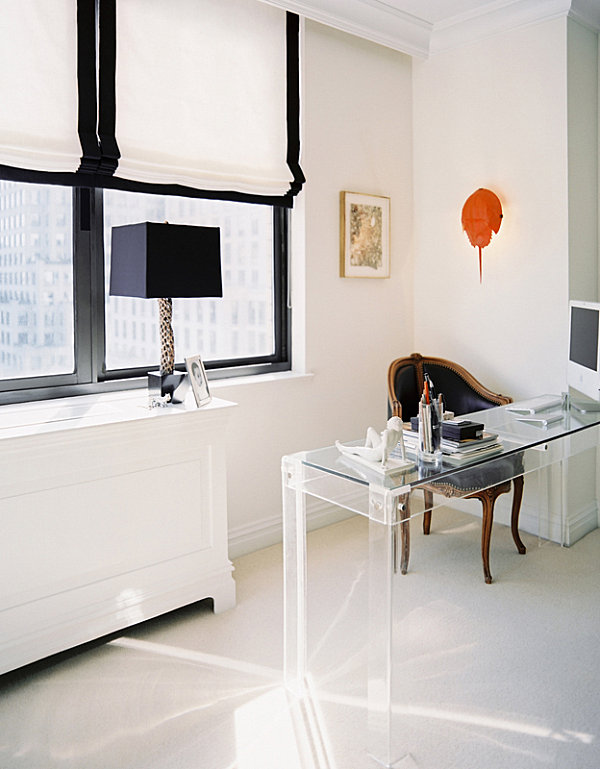 The Lucite desk in the office of interior designer Amanda Nisbet is by Plexi-Craft. Not to mention, it was featured in a previous Decoist post on acrylic office desks. A piece this bold must be mentioned more than once! [from Lonny]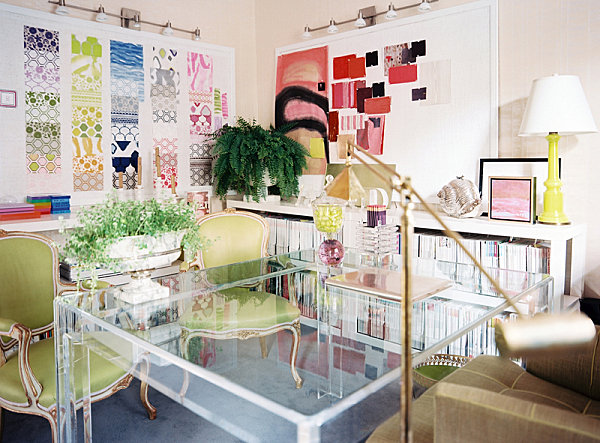 When choosing a home office computer desk, consider your working needs. Do you have a larger desktop monitor that requires its own space? Are you prone to clutter? Perhaps a larger desk that allows room for a keyboard, organizers and trays is a necessity for you. If you have a filing cabinet that holds most of your papers, you may be able to go smaller for your desk selection. In fact, a lean console table that provides room for a laptop may be all you need. Have fun choosing a home office desk that reflects your personality and style!