When it comes to office furniture, nothing clarifies your space like acrylic! In fact, clear acrylic desks for the home office are in high demand, in part because of the luxurious quality they add to a room with their icy shine, and in part because of the tidy appearance they offer. After all, the transparency of acrylic furniture gives it the illusion of taking up little to no space, which makes the room seem bigger. Not to mention, the see-through aspect of acrylic desks motivates their owners to keep them neat, especially when see-through drawers are involved!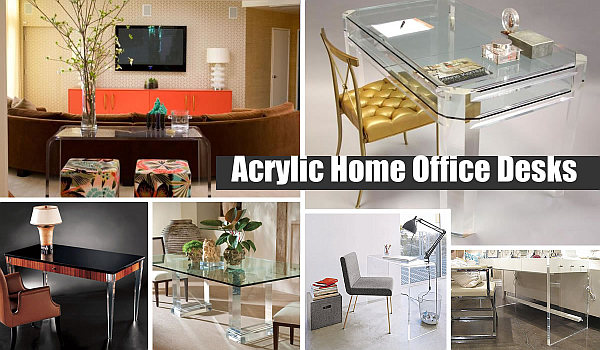 We've curated a collection of clear acrylic desks for your browsing pleasure. From pieces that are entirely transparent to lacquer desktops with acrylic legs, a variety of options awaits you. Whether you're looking for a hefty desk that can hold a large stash or a petite table that can double as a work space, you're sure to find inspiration in the selections below.
Acrylic Desks
We begin with a simple yet chic desk made of four separate pieces that slide together. This acrylic office furnishing can be customized to best suit the dimensions of your space. [from Penny Farthing Design House]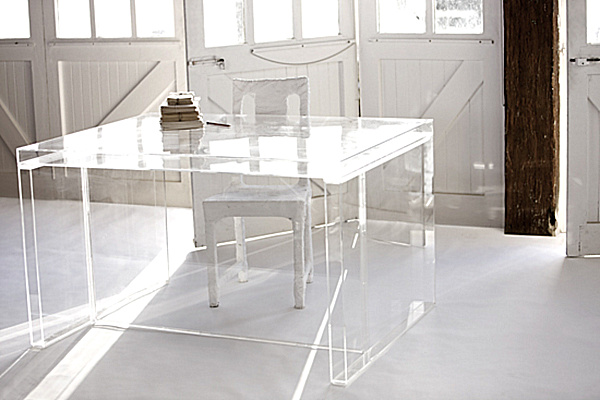 For a sleek, compact office statement, try using an acrylic console table as a desk. The Peekaboo Clear Console has a simple bent form that provides a surface big enough for a laptop and a lamp. [from CB2]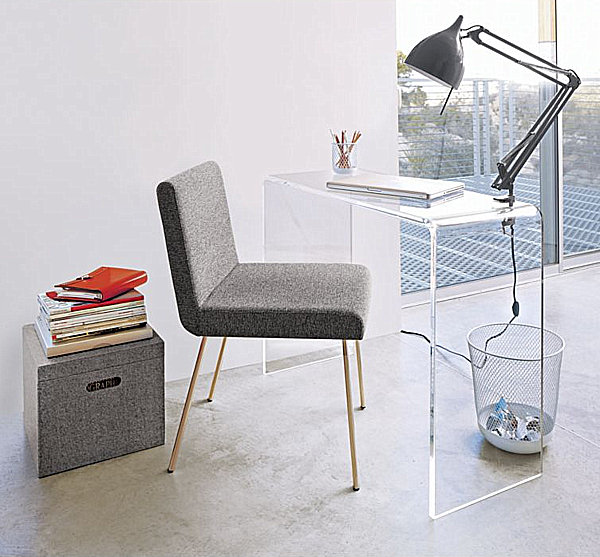 In another shot of the Peekaboo Clear Console, we see the benefit of combing wall storage with desktop space for an office vignette.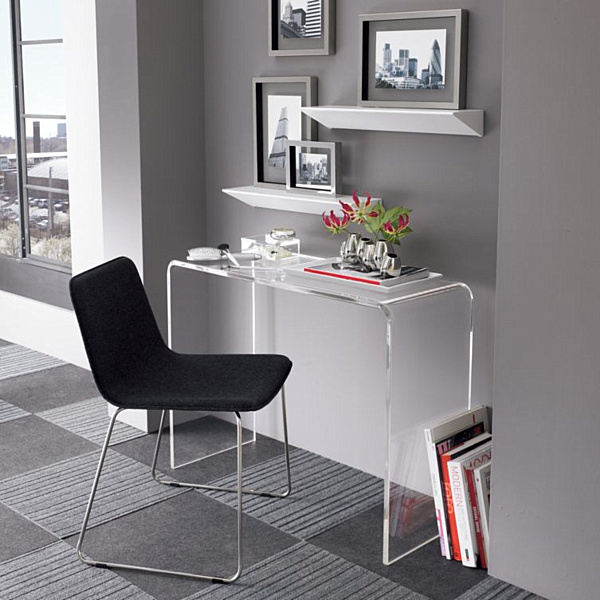 Acrylic and Glass Desks
Many acrylic pieces, such as the Lawrence Desk below, combine acrylic and glass for a sturdy, crystalline effect. The glass desktop and tray are sold separately. [by HStudio]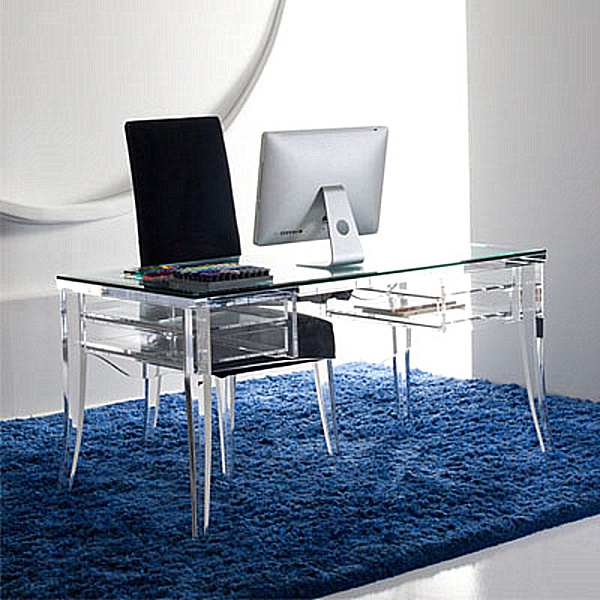 Another glass and acrylic option involves using a dining table as a roomy desk. The Atlas Dining Table brings pure elegance to the office. [from Acrylics of Naples]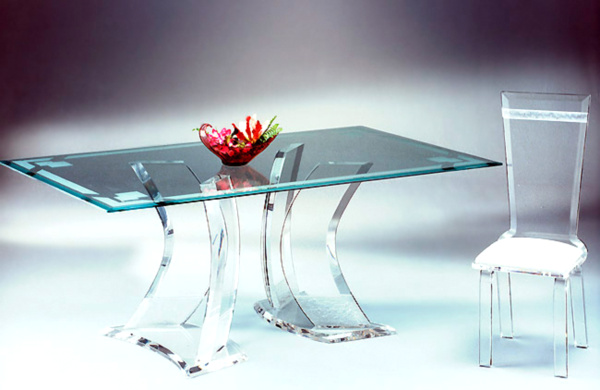 The Apollo Dining Table/desk below features acrylic pedestals that are sold in pairs. The glass tabletop must be purchased separately. [from Allan Knight]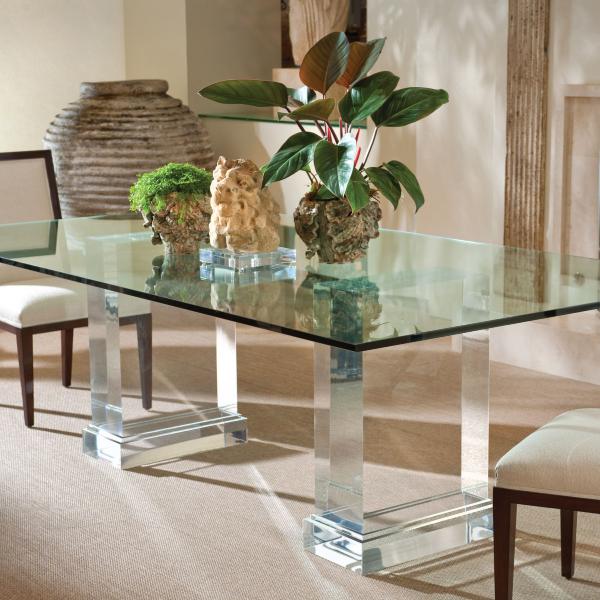 Desks With Acrylic Legs
Are you looking for an opaque statement mixed with a little bit of clarity? Let yourself be dazzled by the zebra wood and black granite top of the Lobeira Desk below. Acrylic legs keep things interesting. [from Allan Knight]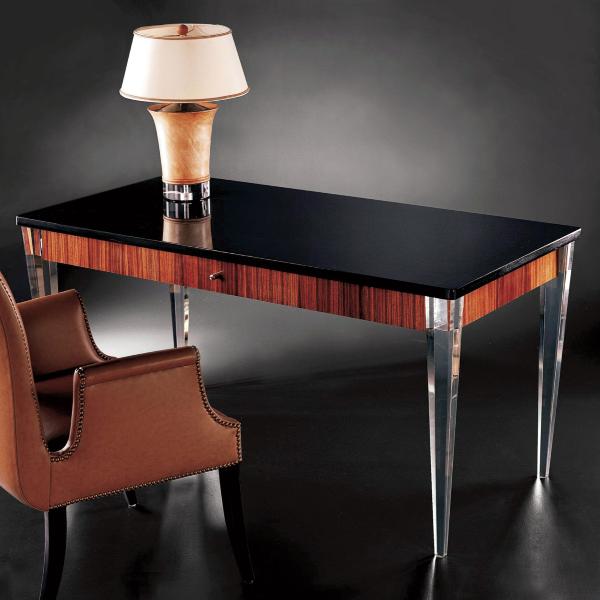 For an option that features lacquer and glass as well as acrylic, try the Three Palm Desk, which offers a shiny surface that rivals the allure of its acrylic legs. [from Allan Knight]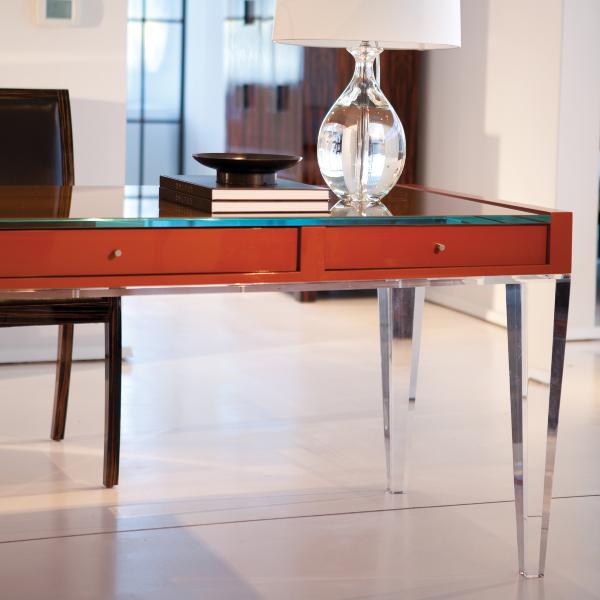 Alexandra Von Furstenberg Acrylic Desks
It's time to get colorful. Really colorful. The acrylic furnishings of designer Alexandra Von Furstenberg are known for their neon flourishes and geometric appeal. Take the Brilliant Acrylic Console Table with its lemon-lime edging. The piece can also double as a desk, which would no doubt define the office with its modern form. The picture below was snapped at Napa, California wine, art and furniture collective Ma(i)sonry. [from Katiedid]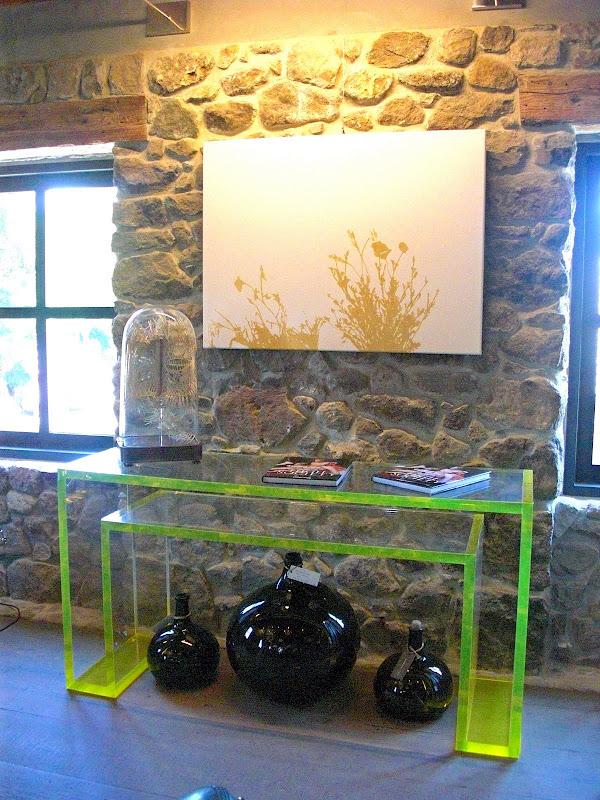 Von Furstenberg's Luminous Acrylic Desk is equally stunning with its fire-pink edging and a design inspired by the grill of a car. If see-through isn't the look of choice, the piece also comes in opaque black, opaque white, or translucent shades like smoke and bronze.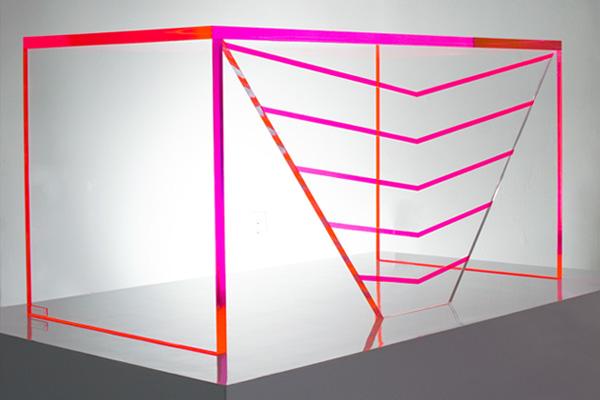 Another AVF favorite with neon detail is the Ice Acrylic Dining Table, which was featured in a previous Decoist post on acrylic furniture. But don't be fooled by its name. The piece makes a great desk, and some even use it as a console table. The legs of this furnishing are also available in blue, pink or red.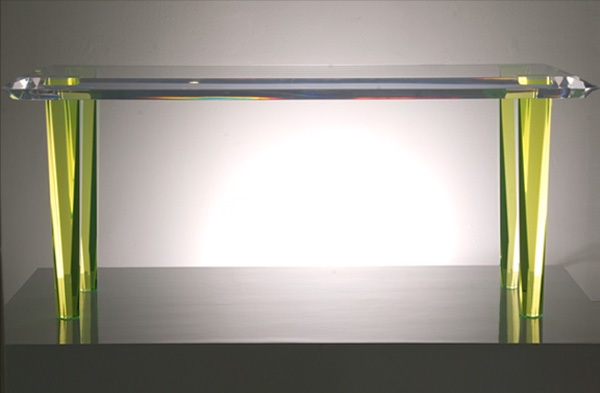 Lucite Desks
Lucite is the brand name for the acrylic first manufactured by the DuPont Chemical Company beginning in the 1930s. All Lucite pieces are acrylic, but not all acrylic pieces are referred to as Lucite. In fact, other acrylic brand names include Perspex and Plexiglas. Lucite was initially used in the manufacturing of war materials during the 1940s, but its appeal was eventually noted by fashion and furniture designers alike.
The Lucite desk below mixes the wonder of acrylic legs with the shine of a lacquer top. [from Tarnish & Tinsel]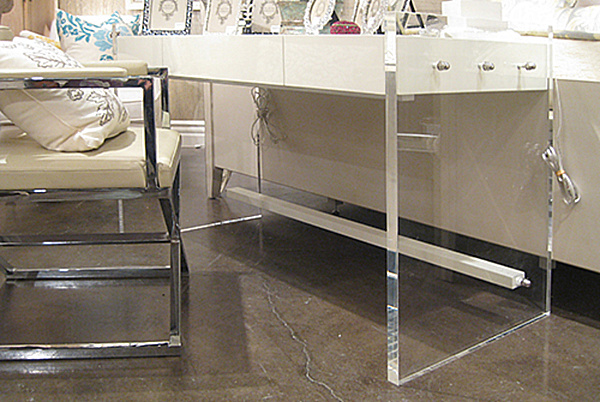 In the office of interior designer Amanda Nisbet, a Lucite desk by Plexi-Craft takes center stage without stealing the thunder of colorful wall art. [from Lonny]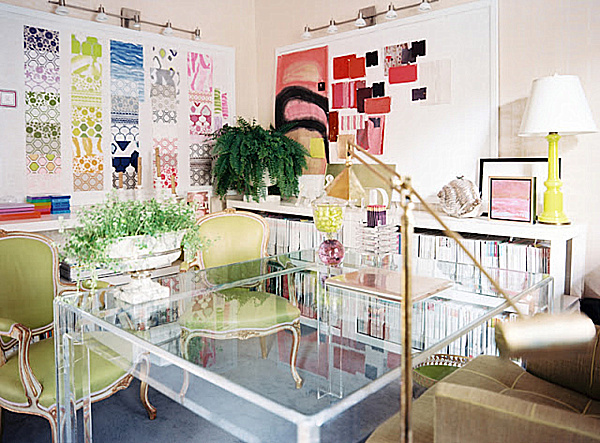 Another Lucite desk by Plexi-Craft (shown below) illustrates the company's versatility. Combining both traditional and modern styles, the piece can be customized to fit the needs of the owner, such as the blogger/customer who ordered and purchased it to be used as a vanity table. [from Sketch 42]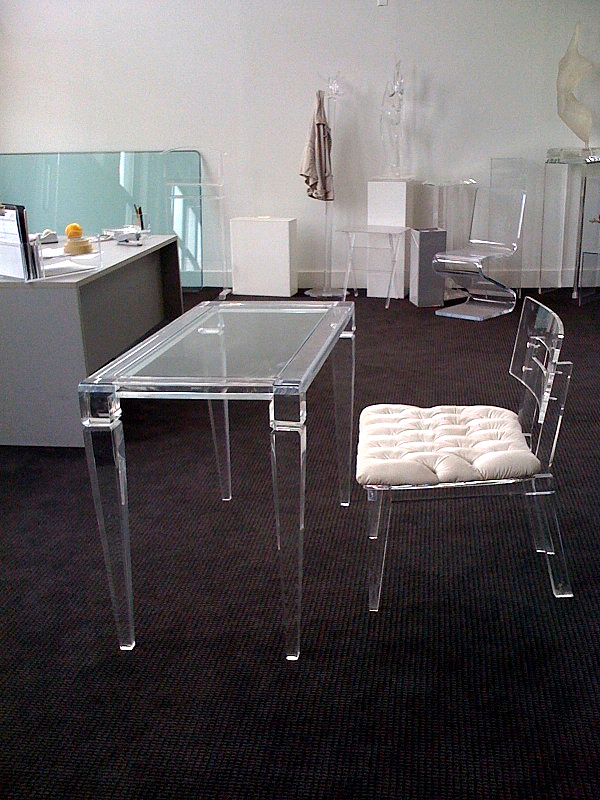 Though initially a console table, imagine this next Lucite piece transformed into a desk. Contrast and comfort can be achieved by adding a plush yet petite office chair. [from M. Design Interiors Inc.]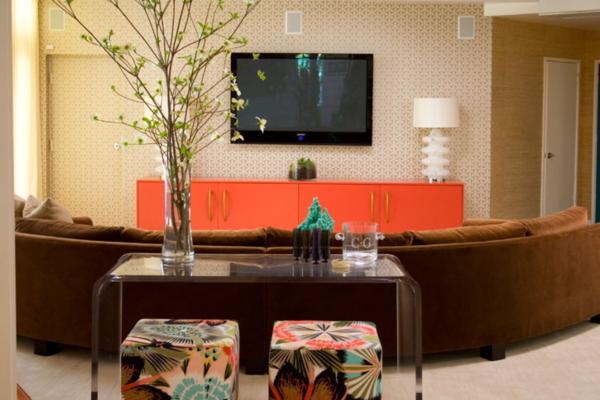 Lucite and Glass Desks
Once again, the sturdy power of glass adds substance to acrylic desks. The piece below features a Lucite base and a glass top. [from AtlantaHomesMag.com via Decorpad]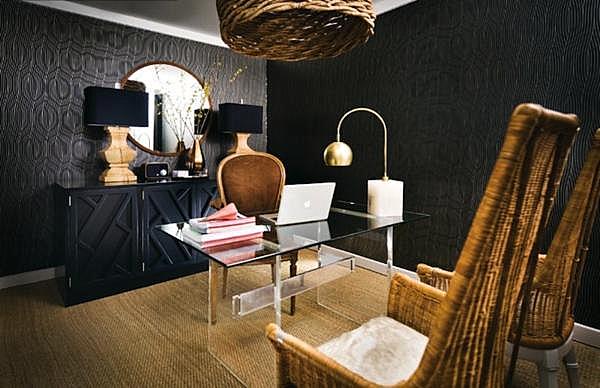 When the glass top is extra thick, a glamorous effect is achieved, especially if a geometrically interesting base is incorporated into the design. [from Modern 24/7]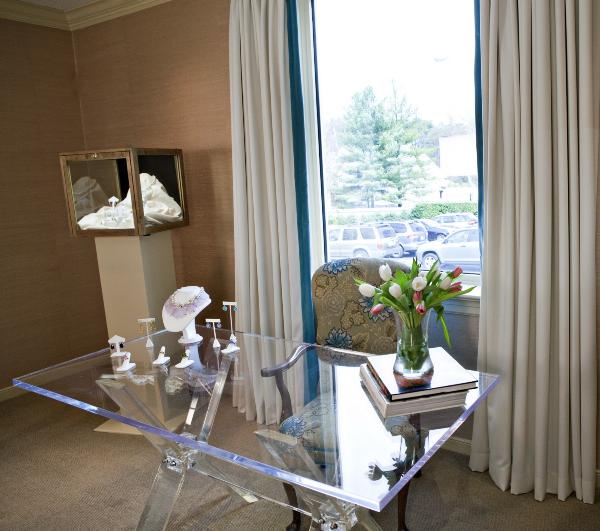 The piece below reveals the magic of vintage Lucite, as acrylic and glass from the 1970s combine with dark edging for a retro chic look. [from Janel Holiday Design]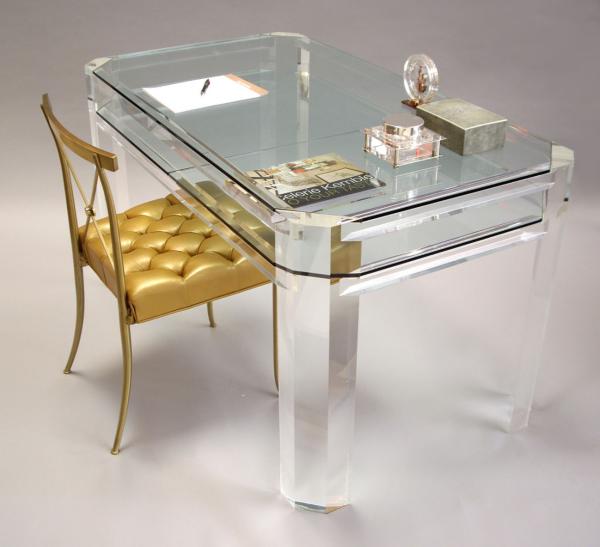 When it comes to acrylic desks, there is no set rule on size or style. Select a piece that meets your needs. If your room is small, consider using a console table as a desk. If space is no object, choose a large dining table and enjoy the ample work space it provides. Don't be afraid to take a style risk by picking a colorful item, or by selecting a piece that mixes acrylic with other materials, such as lacquer and glass. Whether your look is elegant or edgy, there is an acrylic option for you!