Rugs add dimension and color to a home. Often the cure for a hard floor, they have the power to unite a variety of decor elements in a room. Rugs also bring texture and pattern to your interior. When choosing a rug, consider the needs of your space. Are there specific colors and sizes you are after? Will the rug tie together certain hues and design themes, or will it be the one splash of color that brightens the area?
Most importantly, enjoy your search for the perfect rug. There are many amazing options to fit your needs. We've compiled our favorites, beginning with the pieces that may as well be works of art!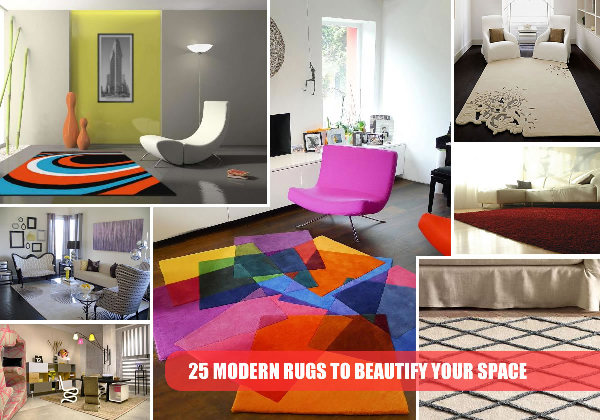 Rugs as Art
Sometimes a vibrant rug is the perfect solution to decorating a neutral space. What better way to bring color to a white-walled room than with a rug that serves as an art piece? When choosing a rug in vivid shades, it may be wise to tone down artwork on the walls so the floor can take center stage. Then again, if color is your decor tool of choice, perhaps a rainbow of a room is in order!
We begin with two selections from designer Sonya Winner. Her geometric rugs are as modern as they are interesting. After Matisse, shown below, can be ordered to fit the dimensions of your space. [from Sonya Winner]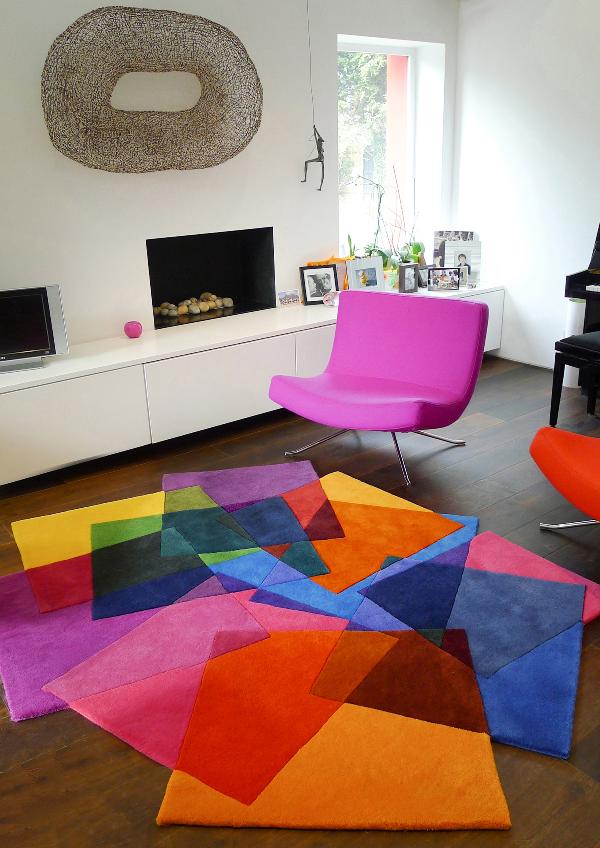 Rainbow, also from Sonya Winner, features long lines that overlap to create diamonds and triangles. While purple may not be a common color for a sofa, somehow it all makes sense next to the rug!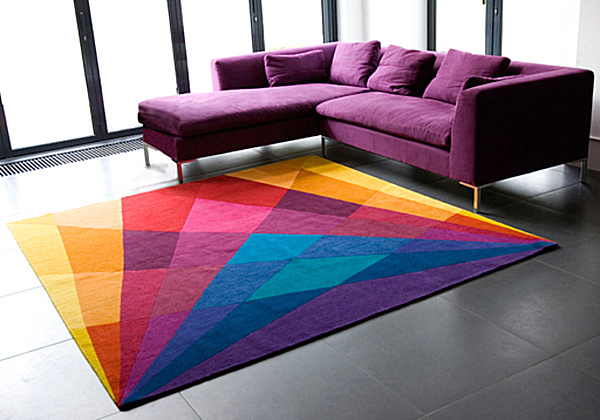 The Bughetti rug is a celebration of curves. The image below reveals how a contrasting wall color can enhance a rug's allure and broaden the color palette of a modern room. [from ThisNext]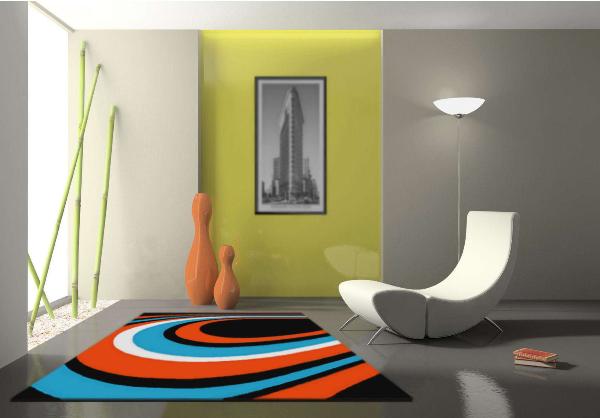 The contemporary Pixel Rug brings a digital vibe to the space below. While this piece clearly sets the tone of the entire room, grid-like artwork on the wall continues the theme. Note how the shades of the turquoise rectangles in the rug are echoed by a blue bottle on the acrylic bar against the wall. [from CB2]
Designer Esti Barnes makes a big statement with each rug she designs. The deepening shades of eggplant in her Endive Rug are as alluring as the piece's unusual shape. [from Top Floor Rugs]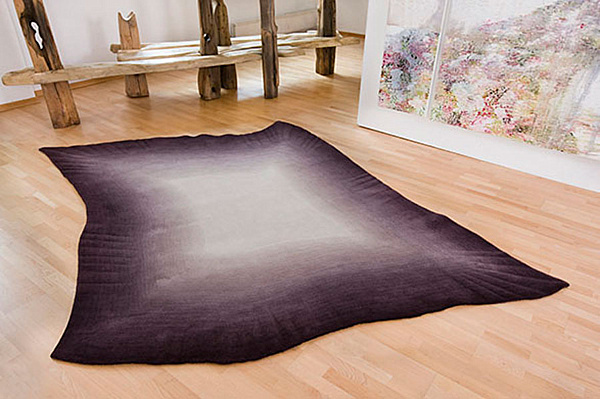 Even in an ornate room filled with detailed embellishments (shown below), Matthew Williamson's Peacock Light rug is the star of the space. [from The Rug Company]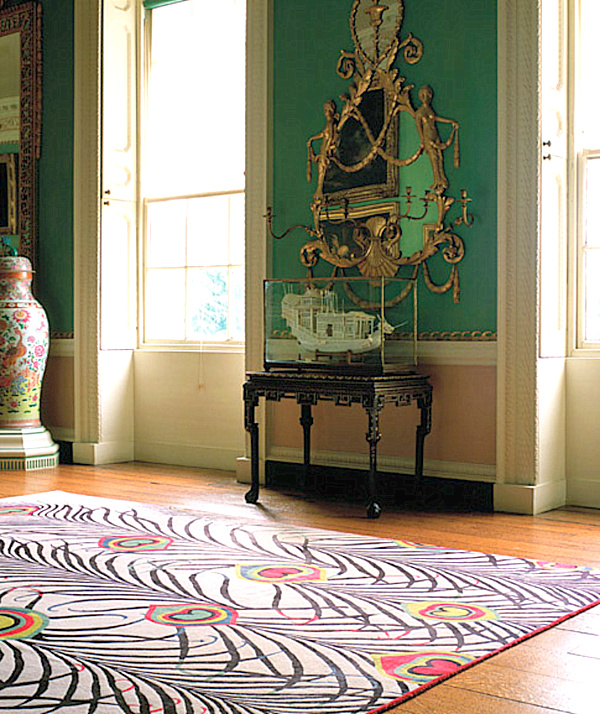 On a similar note, Williamson's Tribe Rug steals the show with its striking collection of outlined shapes. Crafted of Tibetan wool, the piece is entirely handmade. [from The Rug Company]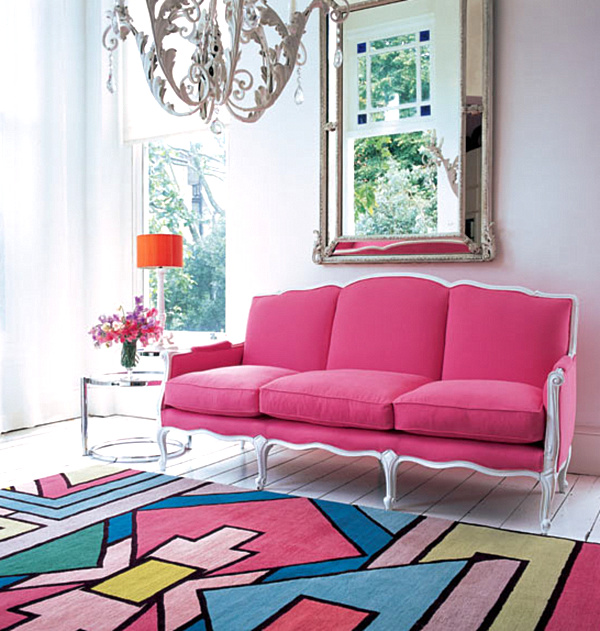 Patterned Rugs
A patterned rug adds interest to a room and anchors the space with a repetitive motif. Many contemporary rugs feature geometric patterns that nicely complement modern furnishings. With a pattern that mimics the shape of London traffic loops, The Roundabout Rug reinforces the other circular features of the space, such as the pendant light fixture and transparent, Lego-like room divider. [from CB2]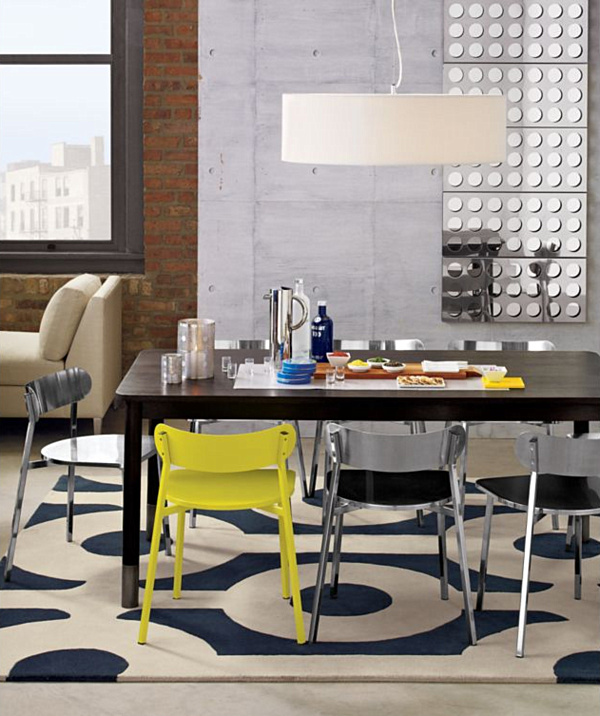 Lattice-pattern rugs are a great backdrop to other patterned furnishings. Below, a modern trellis motif from Thomas O'Brien introduces a tile-like influence reminiscent of Turkish and Moorish designs. [from Safavieh]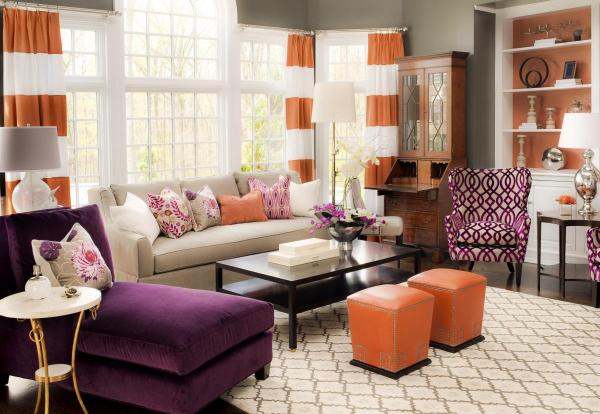 Zigzag and chevron patterns have become immensely popular in today's decor. The Zigzag Rug below, made of cotton and wool, is available in a variety of sizes. When created in black and white, this pattern is a neutral base for a modern room. [from West Elm]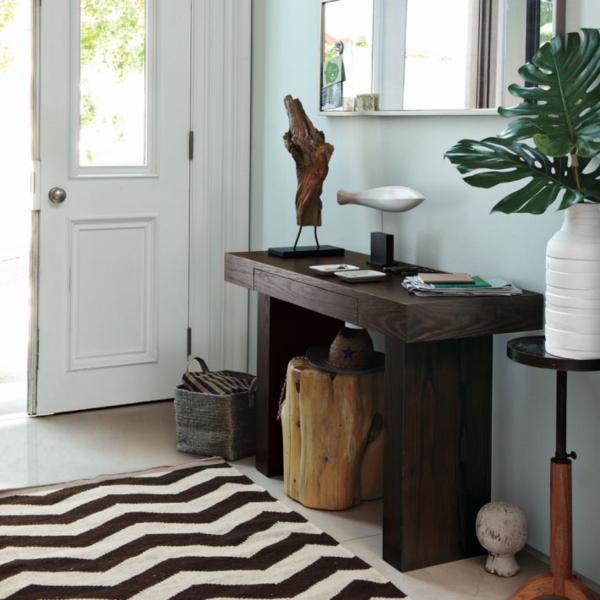 Just as patterned rugs can add a bit of interesting stability to a space, they can inject a dose of unexpected color. The Lattice Dhurrie below is a vibrant counterpart to the navy accent walls. Not ready to go so bold? This piece also comes in dark grey. [from West Elm]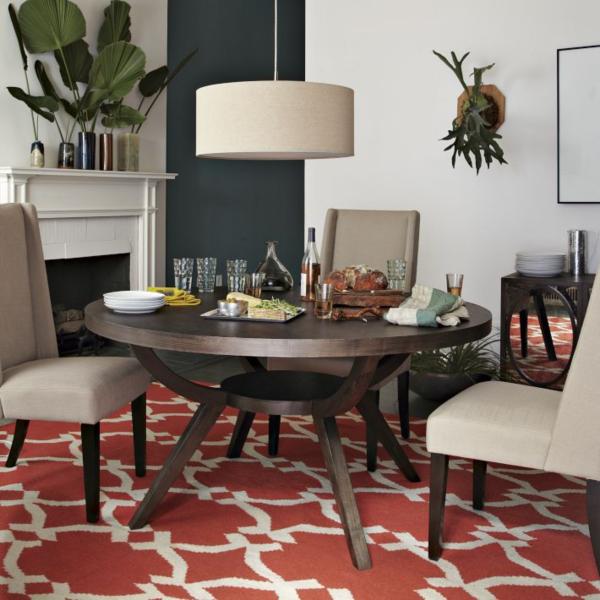 Mimicking a Turkish tile pattern, the Istanbul Rug has a slightly faded look, which keeps it from dominating the space it inhabits. [from West Elm]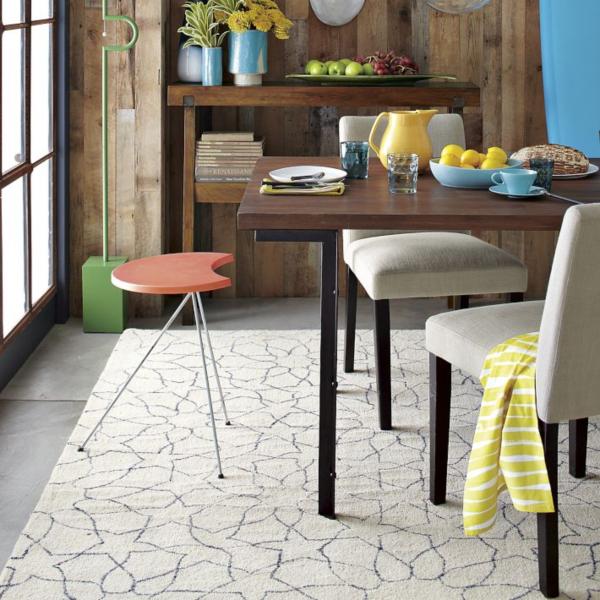 Ready to get wild? Although its colors are neutral, the Zebra Rug adds a modern touch to a traditional room. [from Pottery Barn]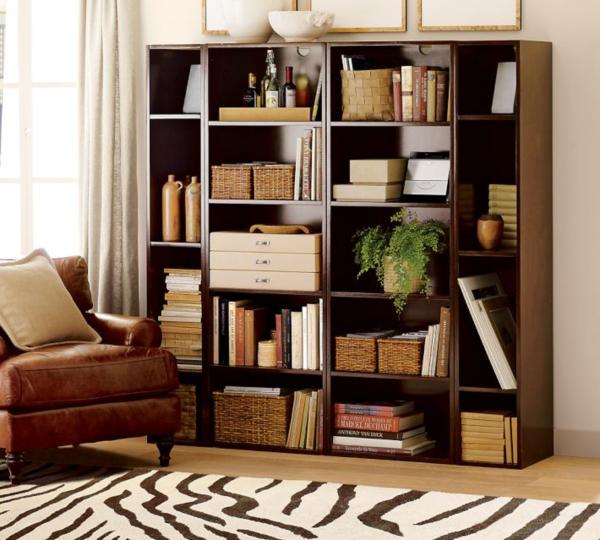 Rugs as Unifiers
There are times when a rug sets the color palette for the room, tying together various hues in one artistic statement. The Swirl Rug below introduces shades of gray, cream and citron. While the rug's golden segments mirror the color of the armchair, the gray and cream tones appear on the walls. [from West Elm]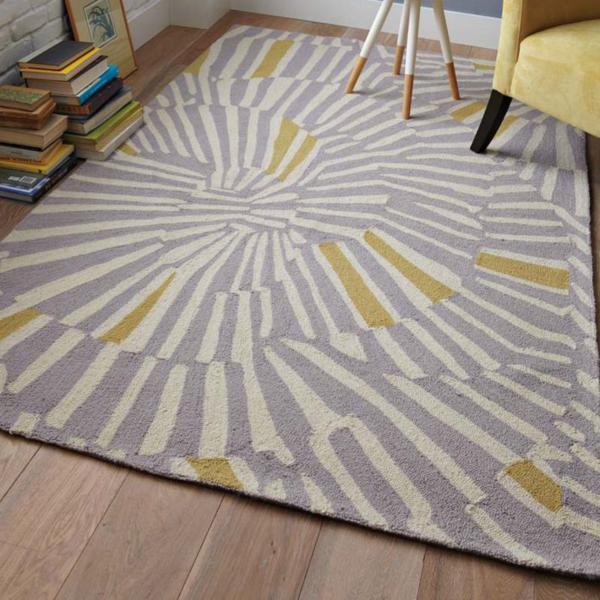 The room below is a great example of no-holds-barred color usage! The rainbow shades of the space seem anything but disjointed when united by a multi-hued tile rug. [image from Home and Decor]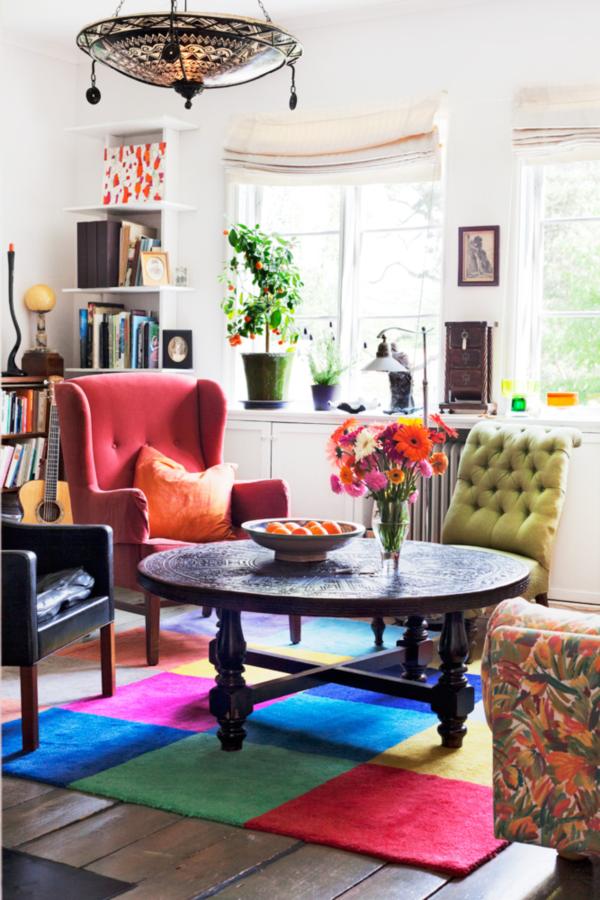 While there are many patterns present in the room below (designed by Nina Jizhar), a large graphic rug dominates smaller motifs, making room for all of them to shine in the process. [from DesignShuffle.com]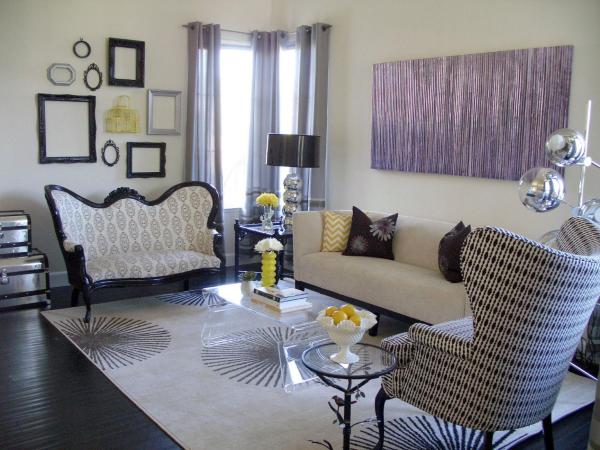 Designer Jonathan Adler loves modern patterns, and judging by his amazing interior design gallery, he is a fan of the way they unite the decor elements of a multi-dimensional space. In the room below, a cinnamon-toned rug lays the groundwork for an artful room. For a rug with a similar look, check out Adler's Brown Richard Nixon Rug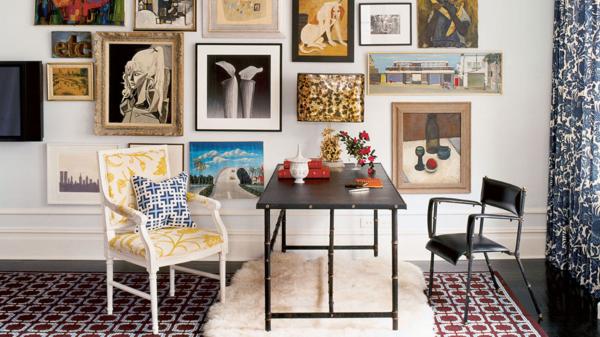 A floor filled with large geometric forms can also unify a space, as shown by the rug below, which matches the room's drapes. For another piece with sizable geometry, check out Jonathan Adler's Mother and Child Rug.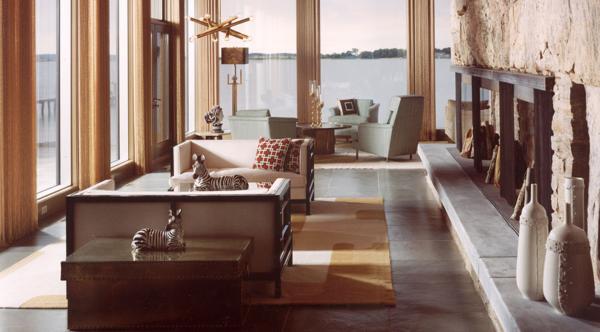 In a third room designed by Jonathan Adler, a large Peter Rug serves as a patterned carpet. Note how the pillows reinforce the rug's motif: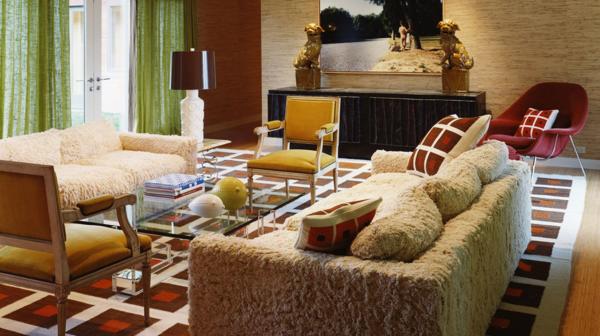 Textured Rugs
It's time for some texture! A rug can add a sensory component to a room, especially when featuring a woven pattern or other raised surfaces that really stands out. The jute area rug by Meridia is shown below in a space by the Charles DeLisle Workshop for Limm Furniture in San Francisco. [image from Open Studio]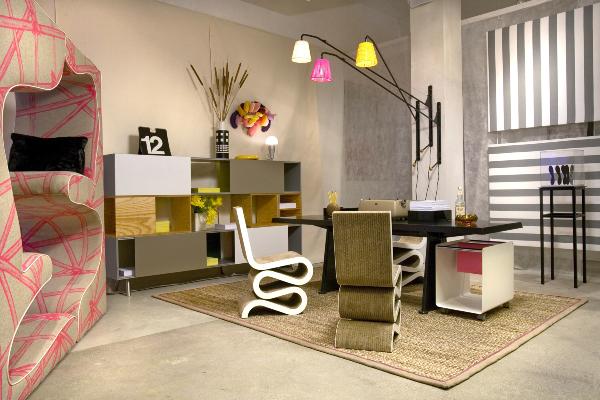 There's nothing like the feel of a shag rug under your feet, especially when a cold, hard floor is the alternative. The Bamboo Shag Rug keeps shedding to a minimum, and its deep red color is just the touch of festivity a modern room may need. [from Anji Mountain Bamboo Chairmat & Rug Co.]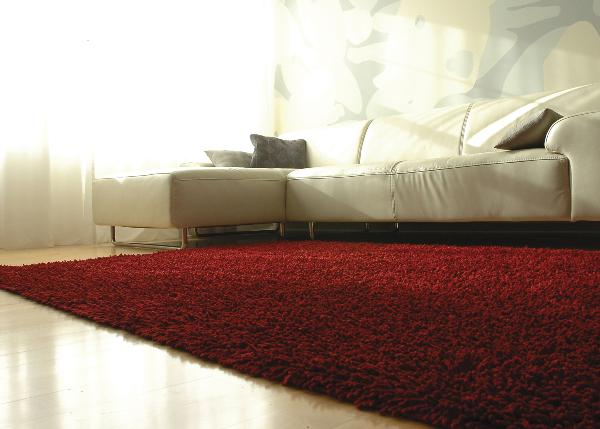 The Diamante Flatweave rug designed Ben Soleimani has a raised lattice pattern that brings a room to life. Available in shades of neutral and navy, this piece is the epitome of classically modern texture. [from Restoration Hardware]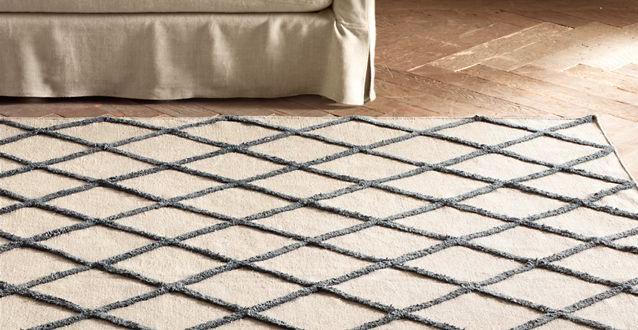 Creating texture with a series of cutout forms, Esti Barnes brings a contemporary lacy look to her Ethereal Rug. The piece's strategic scalloped edges are a nice surprise, especially in a neutral space. [from Top Floor Rugs]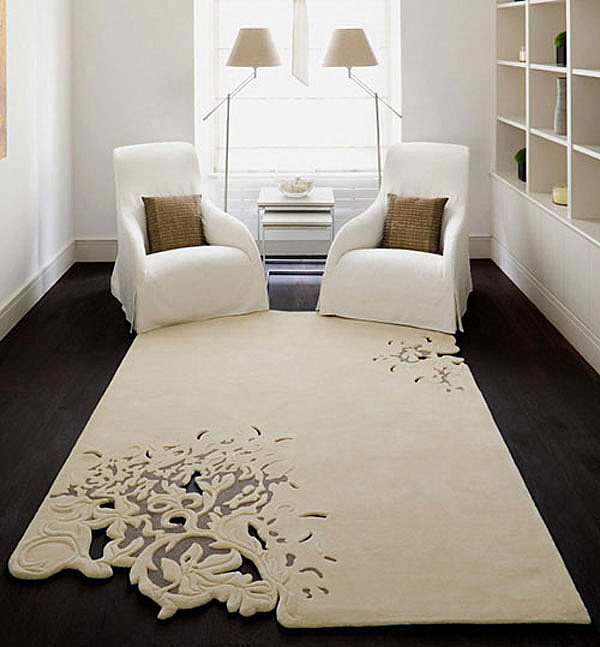 It's hard not to imagine taking your fingers and tracing each petal on the roses of the Elise Rug, also from Esti Barnes. Made of wool and silk, the piece is available in a variety of size and color options. [from Top Floor Rugs]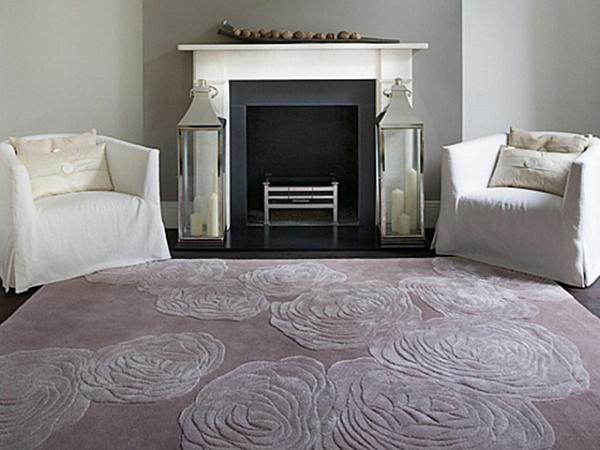 We end with yet another piece by Esti Barnes–the Princess Gevher rug, which merges color and texture with a series of raised dots that form a floral pattern in the tradition of needlepoint designs. [from Top Floor Rugs]