The decoration of this rather small apartment in the Gracia district of Barcelona, revolves very much around wood and an industrial style that adds salt and pepper from the background. Marked by details of industrial beams, pipes views and high ceilings, you're looking at a 65sqm (that's some 700 sq feet) loft that has been redecorated to suit the needs and the taste of a young couple. Therefore there's a lot of white to make things seem large and bright, there's plenty of color to add contrast and lots of modern furniture pieces that add to the overall appeal.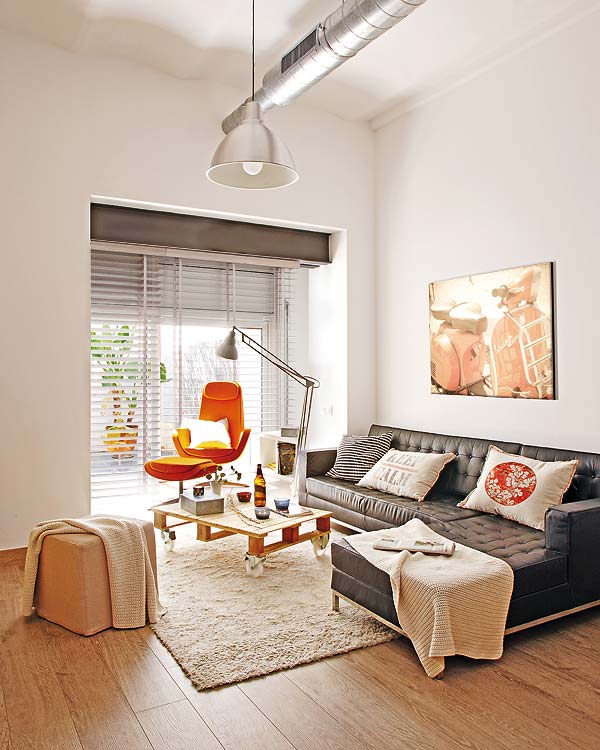 One of the most amazing things abut this small loft is its living/dining space. With sleek seats, a sofa with chaise lounge, a reading corner and a square ottoman (the sofa is from Ikea, the cushions from Lu Ink, and the coffee table was designed by the owners from a recycled wooden pallet that now has wheels and a different color), designers Jaume Rifé and Ugo Giannoti from CREA Projects have really outdone themselves.
The living room, dining room and the kitchen area are all unified — having the same oak flooring and furniture that focuses on simplicity of lines and volumes in two finishes: natural wood and white. More to it, the details in steel architectural elements and decorative lamps emphasize the industrial nature of this apartment. Just like all rooms of the loft (except for the toilet), the bedroom is also well "exposed" – with its bed that is easily accessed by a vertical ladder.
Not sure what else to say except for the fact that I'd definitely move in such an apartment. How about you?