In honor of Earth Day on April 22nd, we at Decoist are spotlighting an array of eco-friendly renovations that are great for the environment and great for your space. From reclaimed wood paneling and recycled glass countertops to formaldehyde-free cabinets and solar paneling, the Earth-friendly possibilities are endless. But don't think that any of these updates are short on style! In fact, we think you'll be surprised by the amazing possibilities below.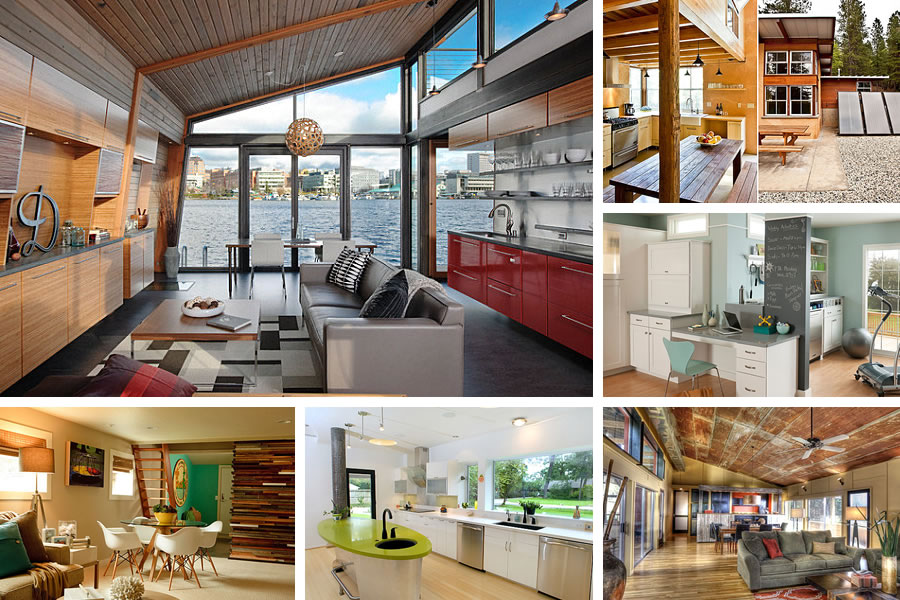 As you scan the images and think about ways to add environmentally safe materials to your home, start with the updates and features that you actually need. You can do a survey of your space. For example, does the tile backsplash in your kitchen need updating? Have you been looking to add an accent wall of wooden planks to a room that could benefit from texture and dimension? Is there a space in your home in need of repainting? You'll be surprised by how easy these updates can be, and even more delighted by the eco-friendly options that await you…
Reuse and Recycle
We begin with our first design tip…
1. Update an area of your home using recycled glass.
Many of today's most interesting renovations utilize materials such as reclaimed wood and recycled glass. For example the recycled glass countertops in the modern  home gym below come from Elements by Durcon:
In the NAHB Green Building Standard – GOLD certified home below, recycled glass called bio-glass is used in the kitchen. In fact, not only is bio-glass made of 100% recycled glass–it is 100% recyclable! Note the modern look of the icy hues. Construction and cabinetry in this space are by Woodmeister Master Builders.