Using leftover stumps helps refresh a room. They would also be a vivid reminiscence of our place in nature and our power to destroy and care for it. Tree stumps can become bedroom stands, living room plant stands, end tables or bathroom seating. They can be gathered around a large wooden table in the garden to create a welcoming social area. Limited by just your imagination, the possibilities are endless.
Electric Choices
Tree stumps have this amazing potential to become part of a mosaic that leads to a creative interior design. Just imagine a few "slices" of wood creating your garden path or maybe a couple of tree stumps that adorn your spaces with their funky appearance, like the Tree Ring Lights by Vancouver-based furniture design studio Straight Line Designs. These fluorescent lights sitting on top of split pine beetle wood and covered with mirrored Plexiglas are deliciously reinterpreting functionality – use them outdoors for a stunning effect by night.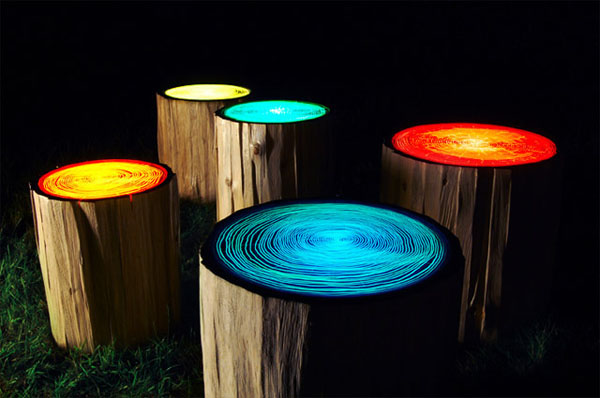 Aluminum meets wood
Abundance leading to progress is evoked in designer Hilla Shamia's Wood Casting pieces. The Israel-based product designer created a family of cypress wood and aluminum objects to use around the house. Showcasing this modern preservation of wood in sleek square aluminum "dressing" creates an imprint of burnt wood married to the liquid aluminum poured over it in the molding process. A random visual play of burnt wood and aluminum leaks creates a fabulous result, don't you think so?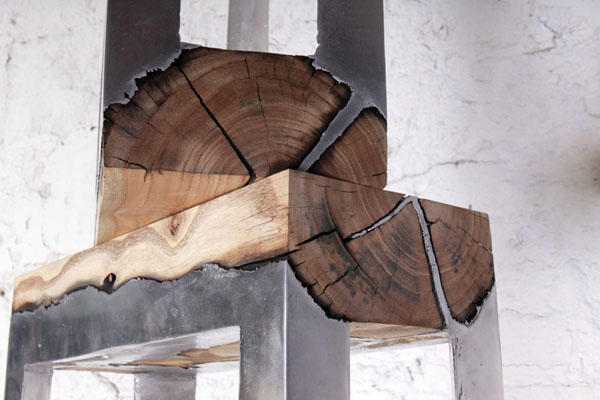 DiY tree stump furniture
Planting trees is just as important as enjoying their benefits – bringing in a piece of nature and transforming it into a DiY project can help you appreciate the importance of reusing, re-purposing and revitalizing apparently useless objects. One of designboom's readers submitted this project that shows how interest, focus and determination can can be joined to create wonderful hand-made furniture items. The person behind this project used collected pine logs to shape furniture items like a coffee table and spider-like chair. Using an axe, chisel and a wooden hammer to create the desired shape, these hand-made furniture items hold a double meaning – they're both eco-friendly and molded with the owner's passion and own hands.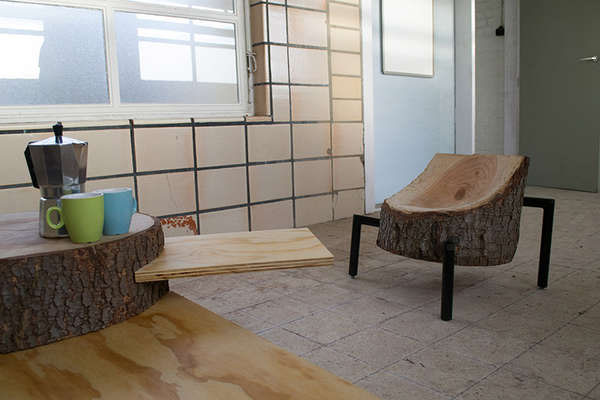 Wooden Rocking Horse
Tree stumps can become organic-looking toys if they have been skillfully transformed by inventive artists. To exemplify this, the wooden rocking horse – another creation of Hilla Shamia – is a fantastic piece of furniture that maintains the uninhibited beauty of  the original tree trunk it comes from.