20 Unforgettable Rooms With a View
Ah, the beauty of a room with a view! There's no better way to feel like you're on vacation every day than to surround yourself with the scenic allure of nature, all from the comfort of your couch. Today we feature 20 amazing rooms with equally amazing views. From oceanfront spaces to tropical havens, each featured room welcomes the outdoors with large glass windows that celebrate the wonder of forest, ocean or hillside.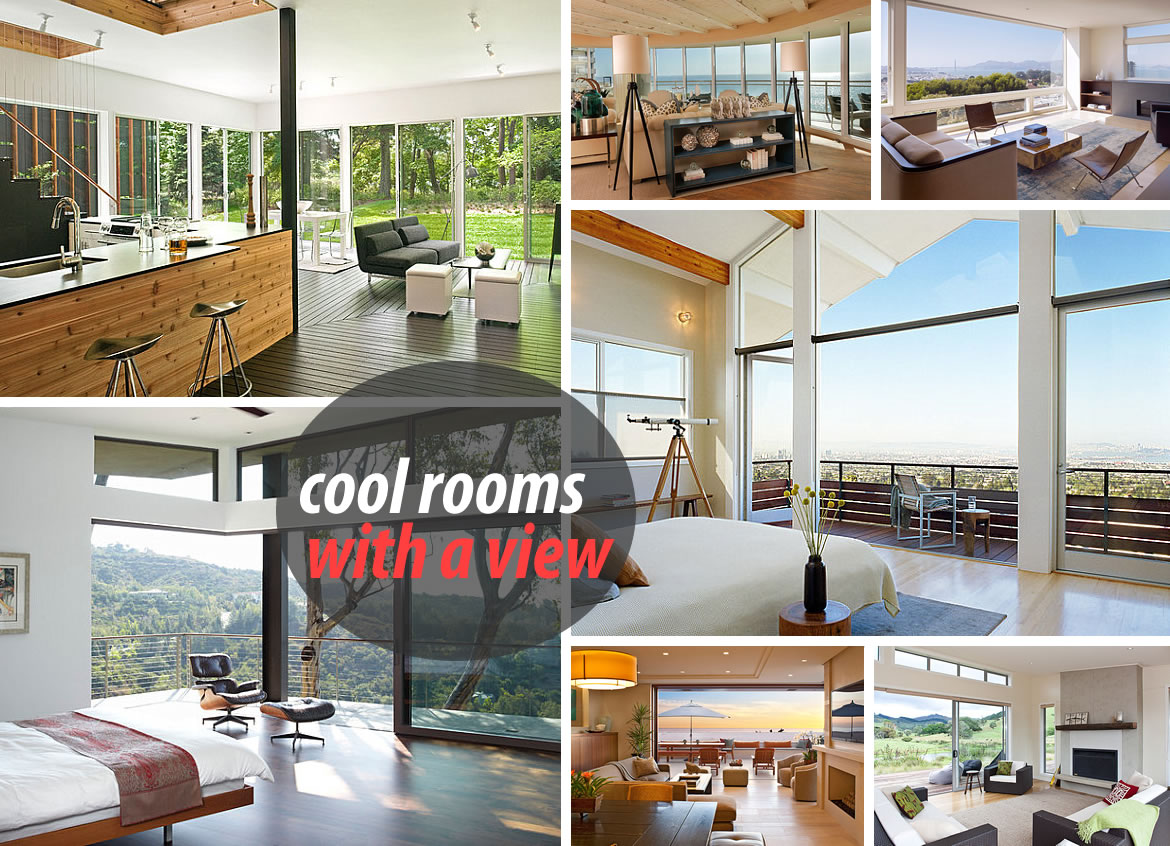 As you browse the images below, be sure to check out the views! But also pay attention to how each space makes the most of its view. Some design decisions can actually mask a great view, while others (like today's featured spaces) can strategically enhance it. Not to mention, decorating a room with a view often involves a "less is more" approach. When the window frames a stunning vista, don't hesitate to let it speak for itself.
Living Rooms With a View
We begin with a series of living spaces that put the "wow" in "wow factor"! When the world outside is stunning, how do you properly frame it indoors? There's no right way to invite a view inside, but there are some key design decisions that maximize the natural beauty. For example, why not blend indoors and outdoors by opening up the space? The room below creates a seamless transition from living space to outdoor space. [photo by Grey Crawford from McRae, Lambert & Dunn]
In fact, a sliding glass door is a picturesque way to create a wall of glass and offer access to the scenery on the other side of the panes. This contemp0rary beach house in Auckland, New Zealand brings the colors of the earth inside. Note how the pillows and the throw mirror the hues of the grass outside. [from Mercury Bay Design]
One way to call attention to the view? Obstruct it as little as possible! Glass furniture adds a see-through element to a space, which comes in handy when the real star of the room is just outside. This Los Angeles living room boasts a 360 degree view. Good thing nothing gets in its way! [from HartmanBaldwin Design/Build]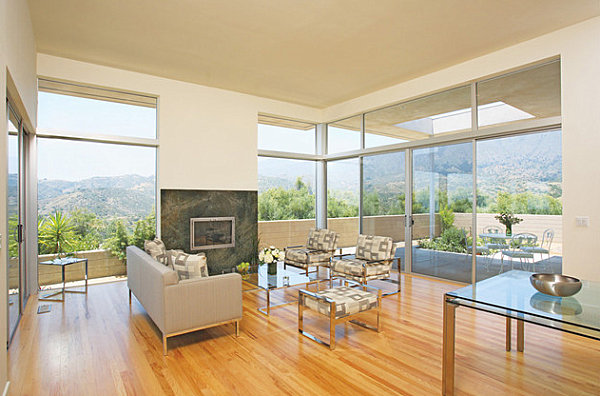 In fact, it's not uncommon to find a minimalist approach to the decor when a stunning view is part of the mix. The San Francisco living room below incorporates natural tones and clean lines that make a statement of their own without fighting the natural statement on the other side of the glass. [from John Maniscalco Architecture]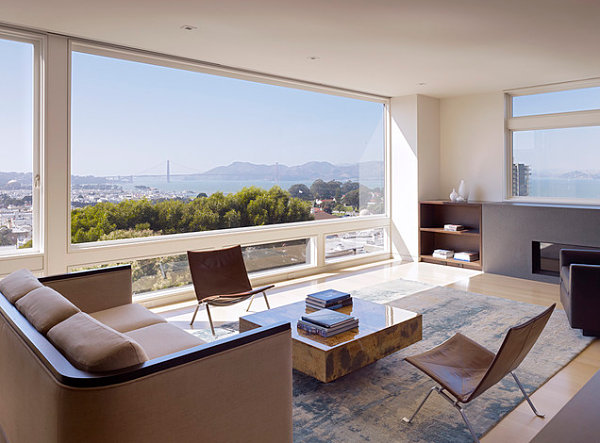 If you see plants outside, why not drop a hint of their beauty inside? The Camburi beach house in the next image celebrates the power of foliage. From verdant chairs to a vibrant houseplant, green is the word! [from Max Gosslar via Houzz]
Speaking of green, the walls below highlight the leaves on the trees outdoors. In fact, the view takes center stage in this Seattle living room with a "less is more" approach. [photo by Lucas Henning via Design Northwest Architects]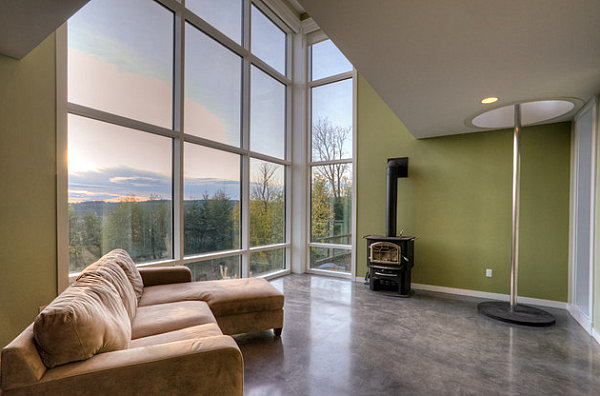 Color counts! In another Seattle living room, we see how bright accents stand out against a neutral palette. Add the blue tones of the evening view outside, and we have another layer of color in this eye-catching space. [from Garrett Cord Werner]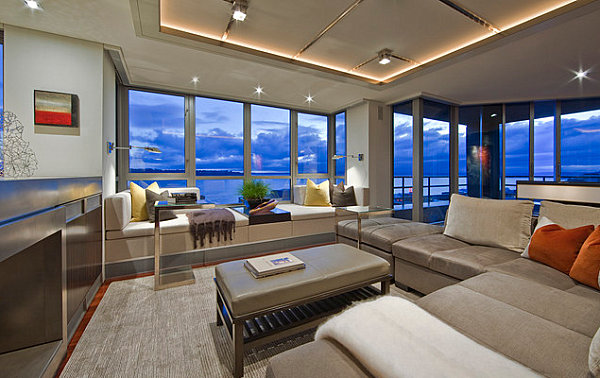 Sometimes it's all about the curve! The rounded form of the room below is matched by an equally rounded balcony that enables residents to enjoy the space to the fullest. The serene, two-toned setting outdoors is a calming background to the modern yet detailed grouping of objets d'art inside. [from W Design Interiors]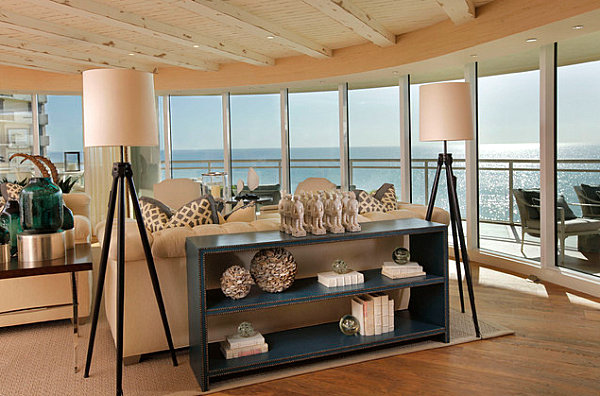 In the next featured image, we see another curved space, this time decorated sparsely so the vivid blues and greens outdoors can properly engulf this breathtaking interior. [from Fulcrum Structural Engineering]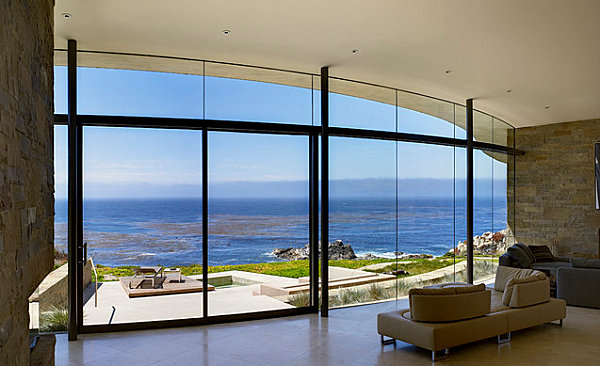 Isn't it amazing when a view can be enjoyed from the kitchen as well as the living area? This New York interior is decorated in shades of black, white and brown, yet by far the standout color is green, thanks to the lush lawn and surrounding trees outdoors. [from Bates Masi Architects]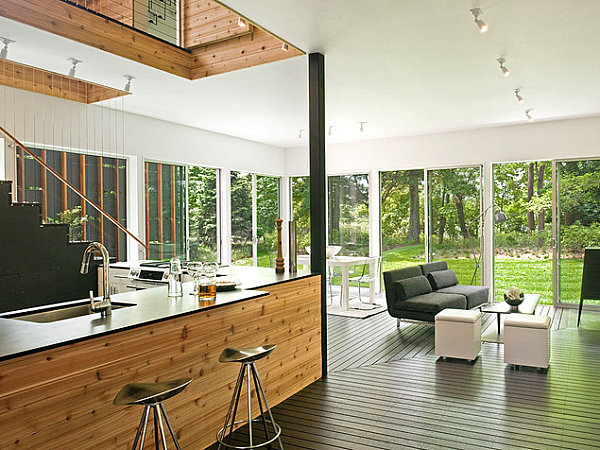 Dining Rooms With a View
There's nothing like dining while overlooking the ocean. Or the forest. Or the city! Whatever the view, the meal tastes that much better when beautiful scenery is involved. For example, this California dining room by Harte Brownlee & Associates Interior Design seems twice as spacious with the ocean spread out before it! [photo by Grey Crawford]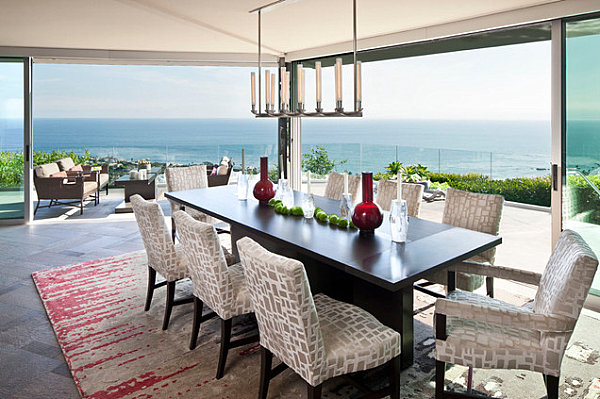 A modern sculpture adds interest to the wooded view outside of this rustic yet modern dining space. A long rectangular window calls attention to the expansive scenery. [by David Patterson Photography via West Elevation Architects]
The city is a stunning backdrop to a modern interior like this eclectic New York dining room. Outdoor shades of gray and white nicely complement the interior's colorful touches, which include Mid-Century-style finds and more ornate family heirlooms. [from Kristen Rivoli Interior Design]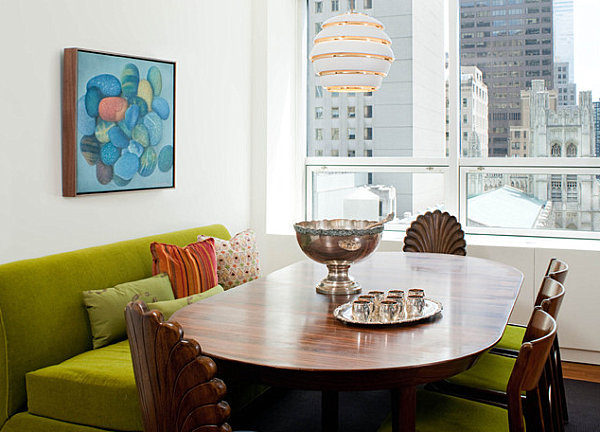 Next we see a space that's a bit more traditional… This beachside dining room has windows on all sides, meaning there's not a bad seat in the house. Speaking of seats, L-shaped window seating ensures there's more than enough space to sit back and enjoy the view. [from The Anderson Studio of Architecture & Design]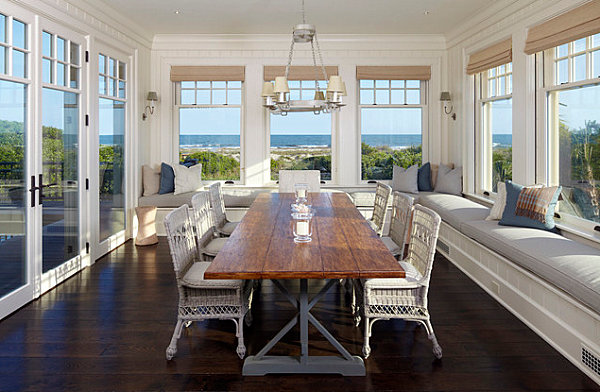 Bedrooms With a View
Can you imagine falling asleep each night with the city lights lulling you into a glamorous dream? That's the reality of life in the Houston, Texas bedroom below, complete with a skyline view. In fact, elegant is the word for this cosmopolitan space, which features shades of gray and plenty of reflective surfaces. [from MN Design by Mauricio Nava]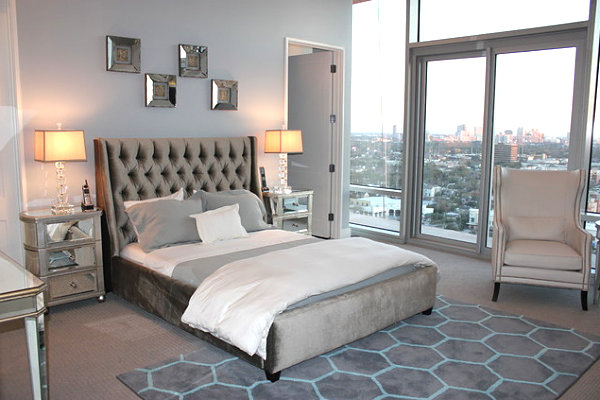 Just as the space above features a chair by the window, the bedroom below has a built-in sitting room that ensures no aspect of this amazing view is taken for granted. A chaise lounge is the perfect complement to iconic Barcelona chairs in white leather. [from SFP Architects]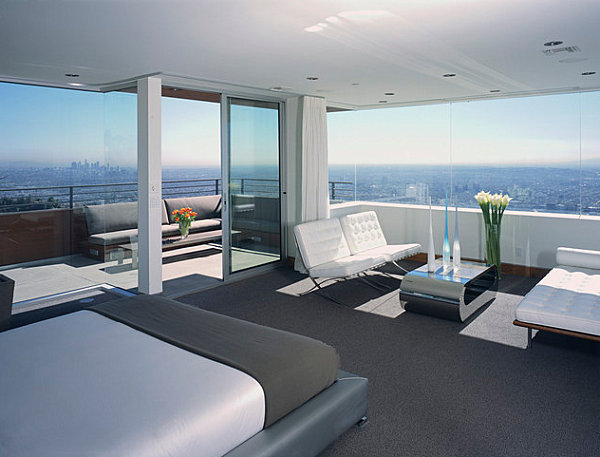 The San Francisco bedroom below features distinctly modern decor, which serves as an interesting contrast to the Mediterranean roofing on the buildings outside.  [from Cary Bernstein Architect]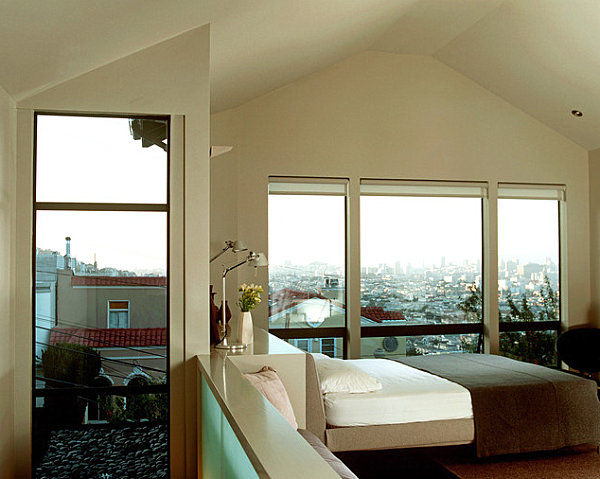 One way to ensure a good view is appreciated to the fullest? Put a telescope in the bedroom! This California room with a view includes a contemporary balcony for outdoor reclining. And of course, stargazing…  [from Malcolm Davis Architecture]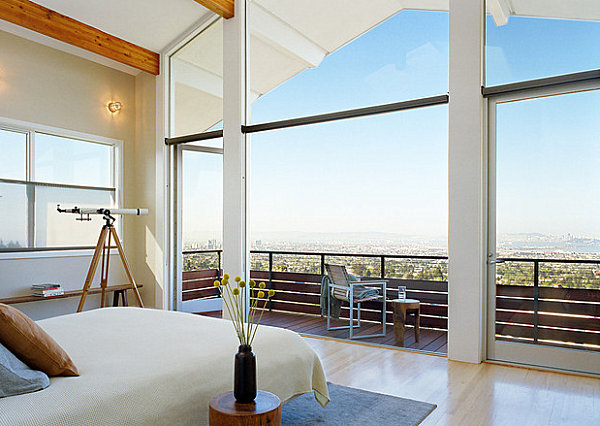 Speaking of balconies, the San Francisco bedroom in the next image features both a balcony and a sliding glass door. A chair in the "disappearing" corner window serves as the perfect lookout spot. A white interior and wooden flooring keep the look simple and stylish, letting the hilly view take center stage. [from Griffin Enright Architects]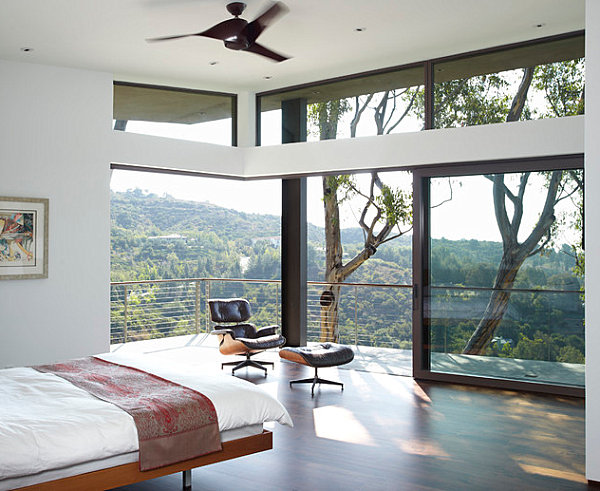 We end with a room that's as warm as the woodsy scenery outside. In fact, a golden glow permeates the space, creating a cozy feel that's anything but claustrophobic, especially when pine trees and green grass stretch as far as the eye can see through the corner window… [from Ryan Group Architects]
Does your space have a view? How have you decorated it? For example, did you incorporate a sitting area that encourages you to take in the scenery? Did you mirror the colors of the landscape in your interior? Share your decorating wisdom by leaving a comment below…