Quick survey: How many of you have ever searched a restaurant chair for a brand name in hopes of ordering your own set of chairs to bring home? I've definitely been there! In fact, one evening at a Krispy Kreme doughnut shop, I found myself strongly drawn to a set of industrial metal chairs. A quick on-the-spot search revealed their origin: Emeco, a company featured later in the post…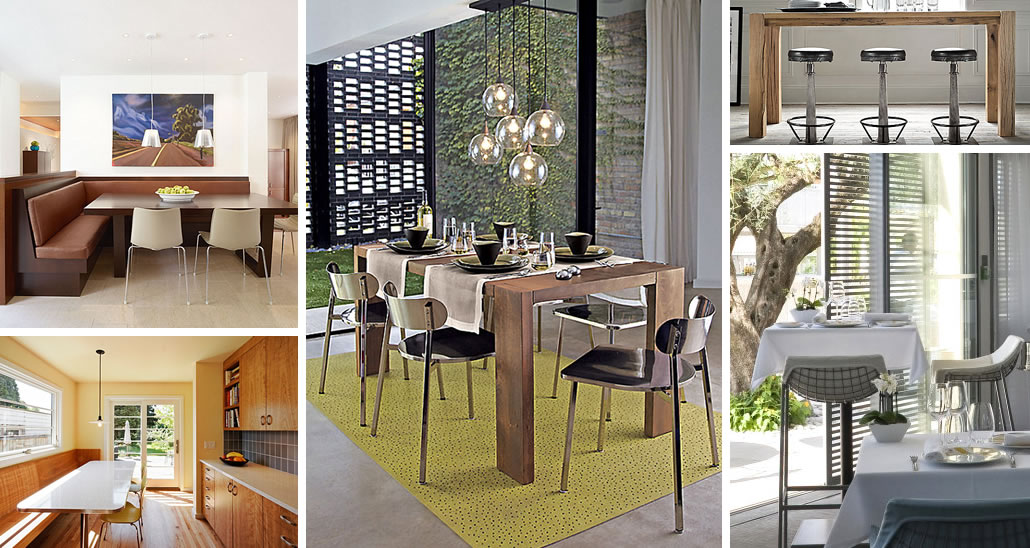 And speaking of today's post, we've rounded up a collection of restaurant table and chair ideas that easily translate to a home setting. From café-style vignettes to industrial selections, the featured items work well in modern and traditional spaces alike. And for those of you who specifically want your home to look like a restaurant, never fear! There's even a section on booth-style seating. Enjoy, and bon appetit!
Bistro Tables and Chairs
Are you a fan of the café look? Many kitchens and dining spaces, even modern ones, revel in the charm of bistro tables and seating. Below we see a French Kitchen Bistro Table featuring a white Carrera marble top. The table is paired with Vienna Black Chairs boasting a classic Bentwood design from 1859. The furnishings can all be purchased through Crate and Barrel.
Pairing bistro chairs with a bistro table is picture-perfect. But it can be just as eye-catching to mix and match styles. In the next image, we see bentwood chairs with a natural finish. But instead of a café table, they surround a modern white Saarinen Tulip table. The result, an unexpected blend of iconic styles. [from Emily McCall]
Woven bistro chairs evoke the beloved seating of a French café. Once again, a classic style is mixed with the unconventional choice of a long rectangular table with an earthy yet modern look. [from Tim Barber Ltd. Architecture & Interior Design]