When autumn hits, many a host and hostess shift into high gear in the realm of entertaining. From small gatherings of family to large parties with friends, there are a variety of events to enjoy. Whether you're masterminding a fancy event or simply having a few people over, you probably want to set a nice table, right? Where do you start? Do you have to spend a lot of money? Today we present 12 tabletop trends to inspire you in your entertaining endeavors.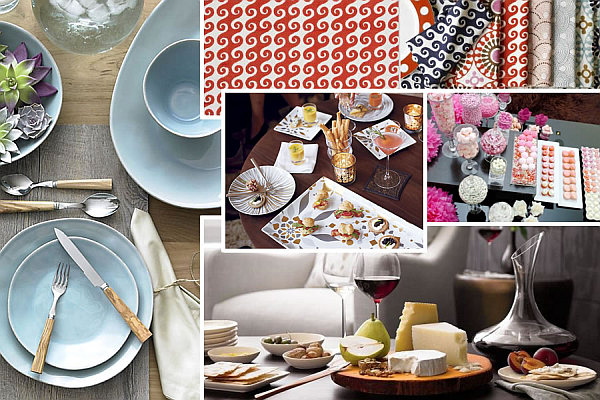 From simple suggestions to fancy spreads, today's most interesting decor doesn't have to be the most expensive. There are plenty of budget-conscious options. But if you're in a shopping mood, you can enjoy browsing the offerings of the season. More good news: tabletop design trends range from the sleek and monochromatic to a true rainbow of colors. In other words, there's something for everyone to enjoy…
1. Ombre Displays
Here at Decoist, we've tracked the ombre trend and all of its gradient-inspired glory. The idea: revel in different shades of the same color. In fact, ombre design often features an assortment of tones arranged from darkest to lightest to create a fading effect. The table display below exemplifies ombre style with an assortment of candy and flowers in rosy hues. [from Catch My Party via The Style Room]
2. A Rainbow of Options
Next we enjoy a whole range of color thanks to a rainbow party table that pairs a spectrum of shades against a white backdrop. From rainbow-hued food to the cube-like hanging decorations above, the sparse use of color keeps this spread from being overwhelming. Check out all the details at Annily Green.
3. Modern Vases
For long table settings, dust off your vase collection and arrange pieces in a line along the center of the table. Fill them with dried or fresh blooms, and watch as your party table comes to life. Modern vases can be purchased at affordable prices, so if you don't already have a a stash, try collecting a group in one hue, such as white. The result: a clean, crisp look. [from Glenwood]