There's nothing like a beautiful centerpiece to brighten a room! Yet many shy away from fresh blooms, assuming that an eye-catching arrangement of flowers will take too much time and care to assemble. Think again. Today we showcase 25 dazzling floral arrangements in every shade of the rainbow. From reds and corals to purples and violets, there's a hue for every design palette.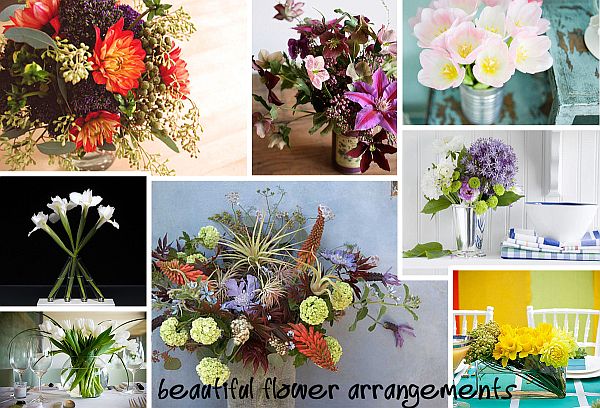 Not to mention, we've featured a variety of styles to suit a range of preferences. If your space is traditional, go for an English garden-inspired arrangement in an antique urn. Or choose a wild yet polished centerpiece in bold colors. If modern is your game, there's nothing like a contemporary vase holding flowers of the same shade. Throw in an air plant for an unexpected touch, and the possibilities are endless… Enjoy perusing the images below for a little design inspiration!
Beautiful Blooms
We begin with a traditional floral arrangement using vibrant anemones, ranunculus and mini daffodils. A modern vase keeps this bouquet from being too frilly. Check out the full tutorial at Project Wedding. [photo by Chelsea Fuss]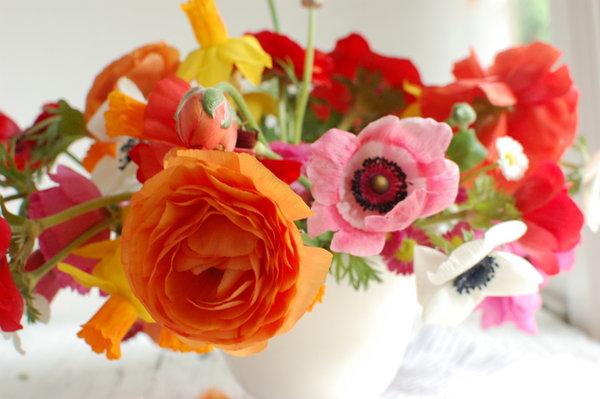 We continue our love affair with ranunculus, this time highlighting a shade of radiant pink. Also note how the flowers are contained in a milk glass compote. If fitting these cascading sprigs into a low container proves challenging, simply choose a taller receptacle. Don't forget that having the flowers overflow asymmetrically keeps things interesting. For more details, check out Camille Styles.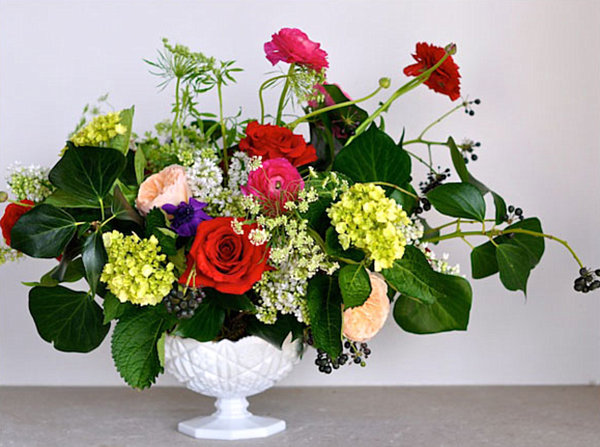 It's clear that ranunculus is a favorite among floral designers! In this next arrangement, the beloved blooms are a deep red, nicely complementing the purple lilac, parrot tulips and camelia. Also of note is the dark urn that elevates this bouquet from pretty to elegant! [from Camille Styles]