Although it looks beautiful, wood has traditionally been overlooked as a choice for bathroom walls and floors because it doesn't last long. Even with the extra cost of sealing and resealing, you still can't get more than a few years out of it. Luckily, there's a way to get the wood bathroom of your dreams without worrying about its durability. The solution is to use wood tiles. They look just like wood but last as long as tiles. They are also way easier to clean compared to wood floors and also tend to be cheaper. It is very popular in rustic-styled bathrooms, but it can be incorporated into any other style. There are many lovely wood tile bathrooms out there, so take a look and get some ideas for your own home.
1. Wood Tile Bathroom Floor And Wall
Many times, people prefer to only use wood tile for either their floor or walls. This is because they're worried about it looking overwhelming. The secret is to pick a shade you love. This bathroom has wood tiles on both its wall and floor and uses the same wood pattern and shade. It also has a wooden vanity. There is an introduction of darker colors with the shower pole and accessories, which helps to provide a bit of variation needed for balance.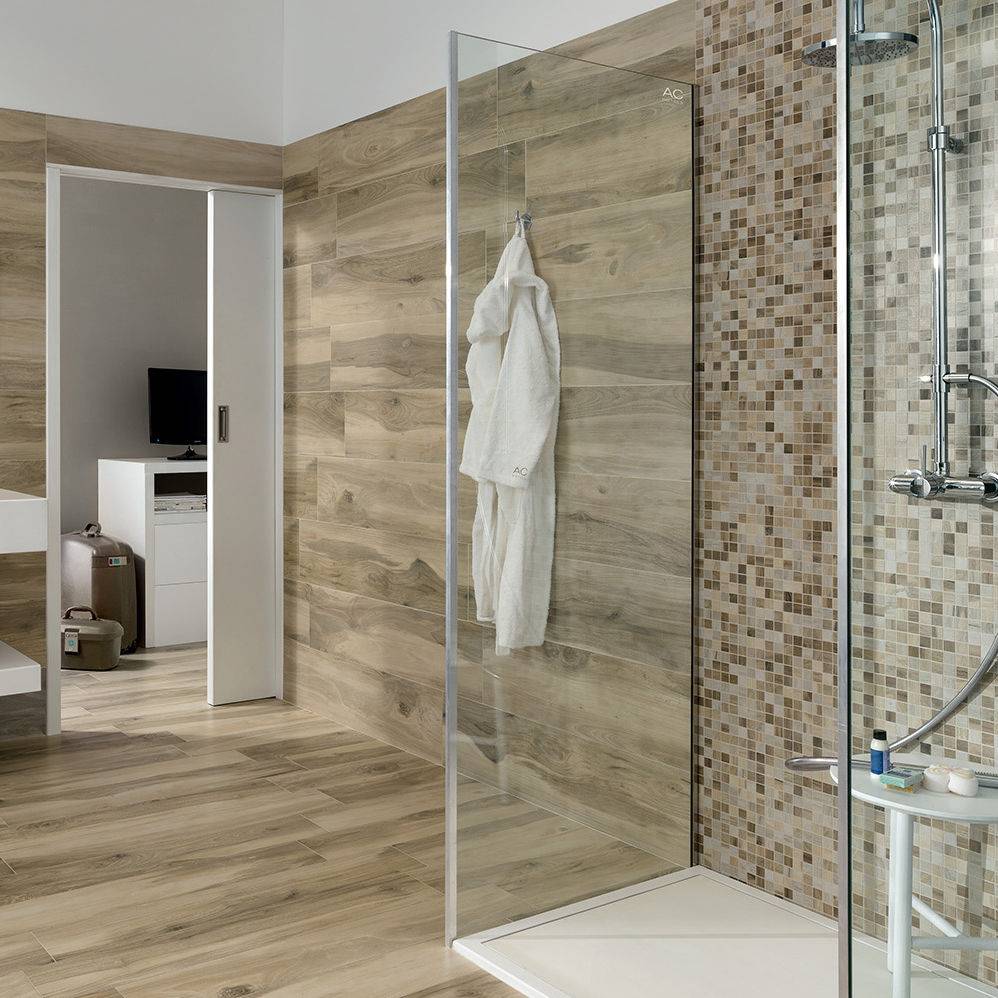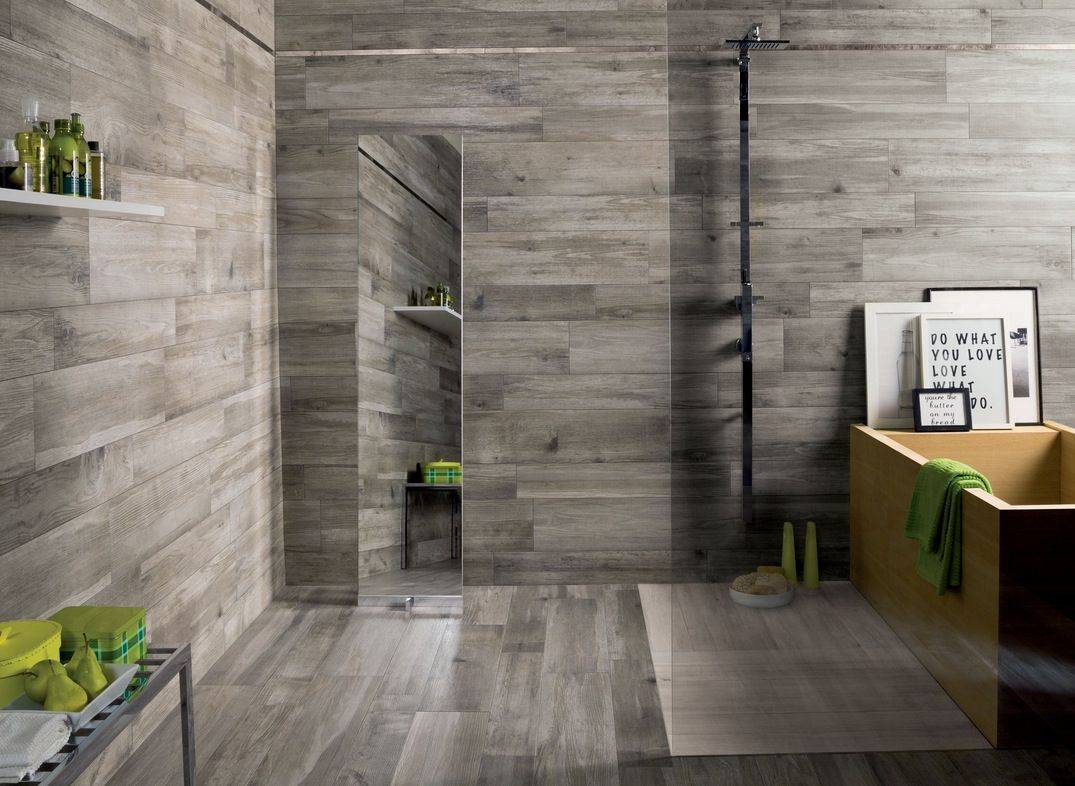 2. Minimalist Wood Tile Bathroom With Gray Marble Tile
Wood tile is a great choice for minimalist bathrooms because of its strong character. This is because minimalist bathrooms can easily start to look drab so there should be something interesting going on in the space. A deviation from the common white color provides the required special effect. Part of the walls can be covered with grey marble and, at times, part of the floor also.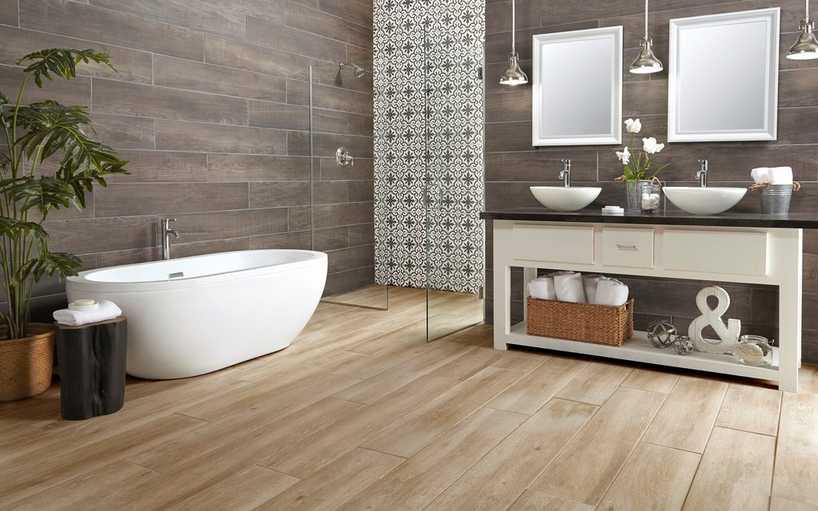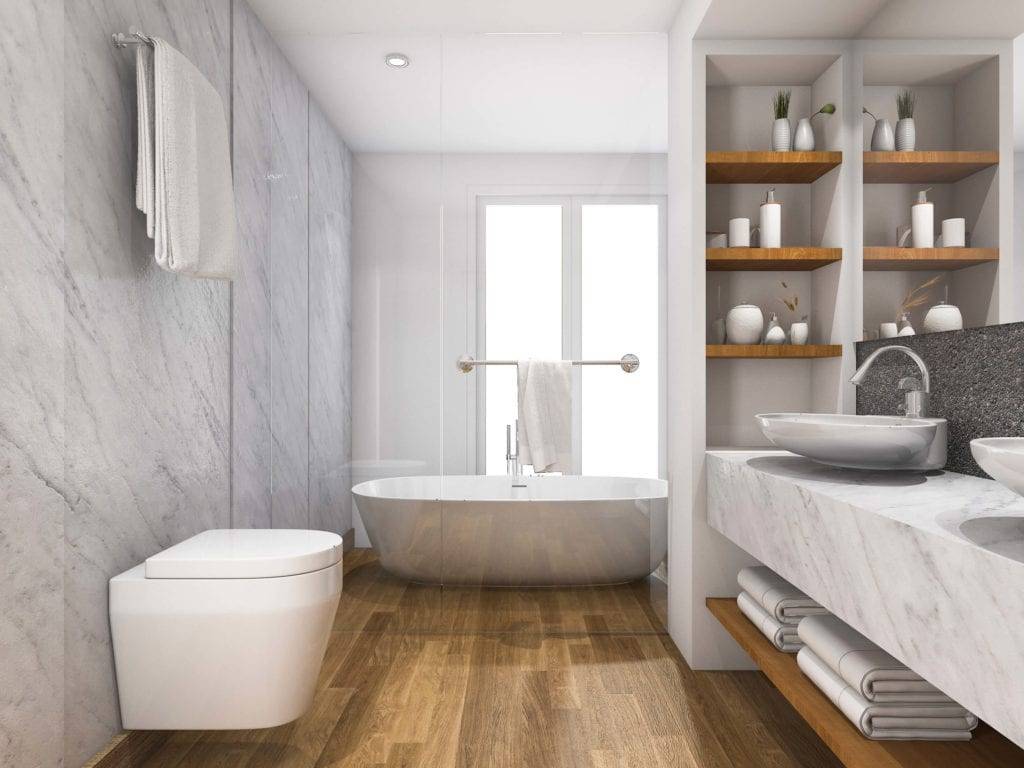 3. Bold Mosaic Floor Tile With Wood Wall Tile

Based on how popular the pairing is, it is obvious that mosaic tile looks good with hardwood floors. It also looks great with wood tiles since there's very little difference between the look of hardwood and wood tiles. The mosaic tile can have bold patterns, as wood tiles are usually simple and come in either light or dark shades. In this bathroom, wood tile and mosaic tile are used together to highlight the shower area. The mosaic is used for the floor while the wood tiles are installed on the walls.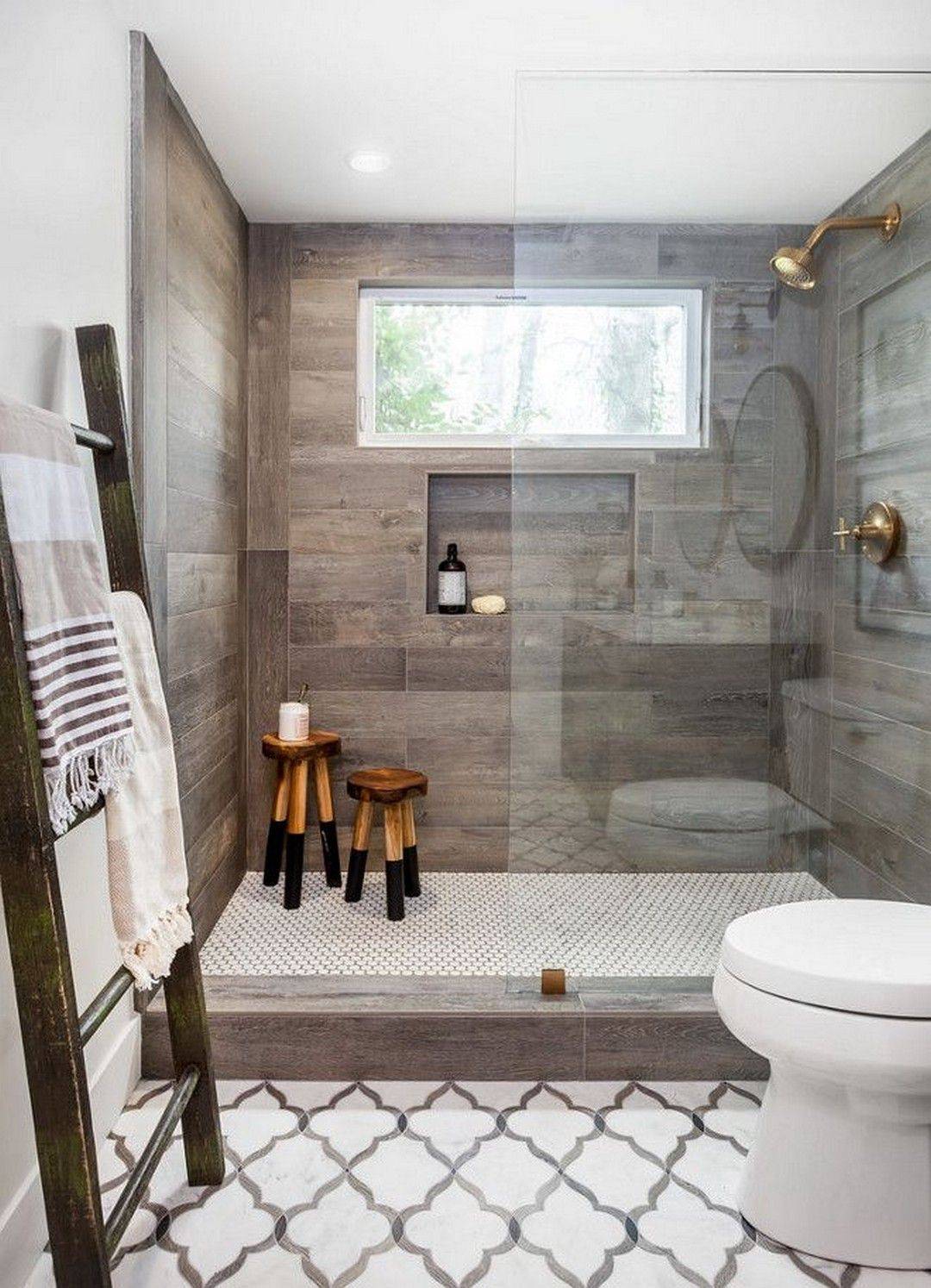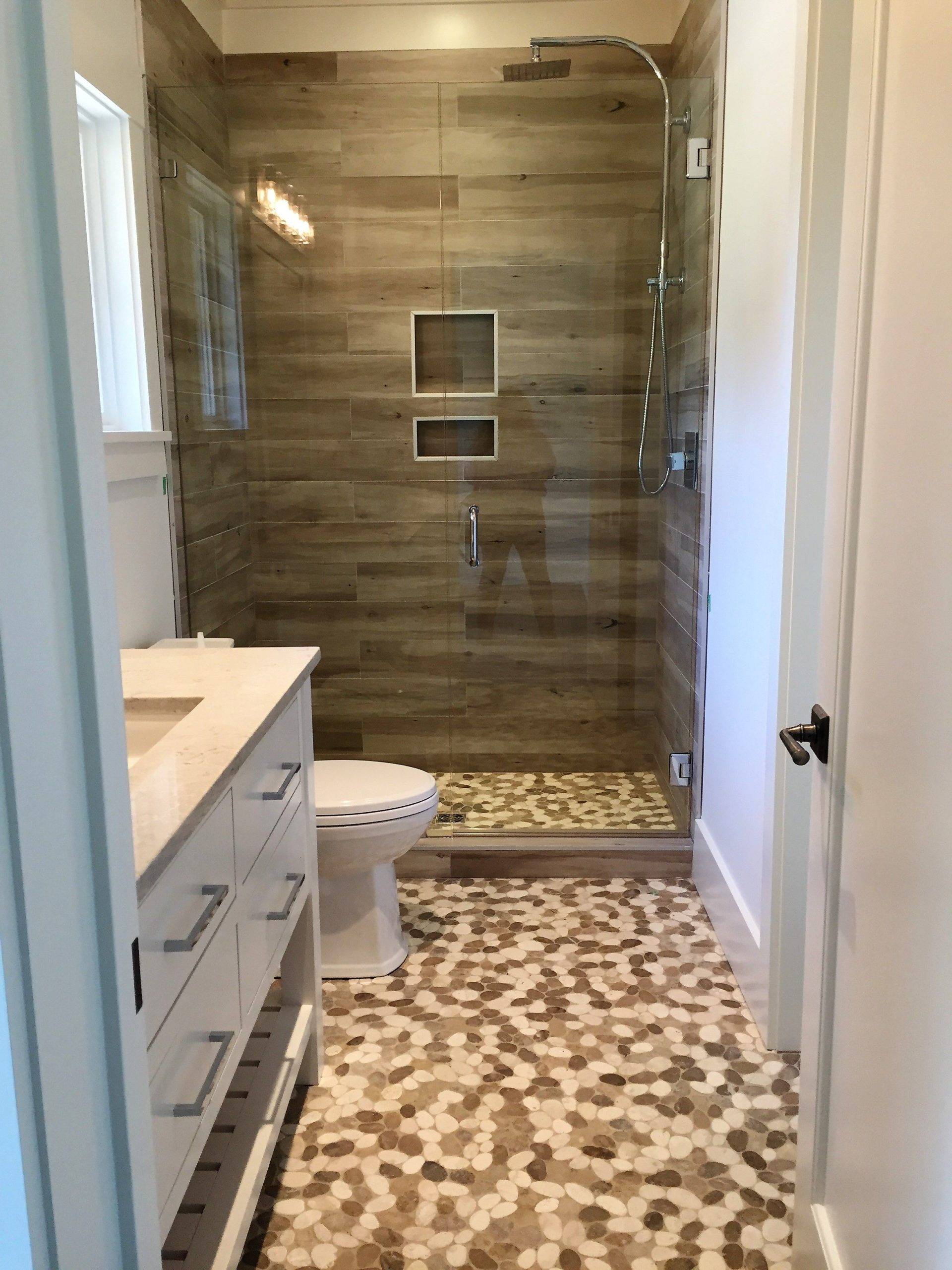 4. White Bathroom With Wood Tile Accent Wall
It is common to see bathrooms painted white and furnished with white accessories. White is a great color choice as it can make your bathroom look larger than it actually is. It helps to have an accent wall so your eyes can have a focus of interest. A wood tile accent wall would be a great addition as it adds to the classy look of the bathroom.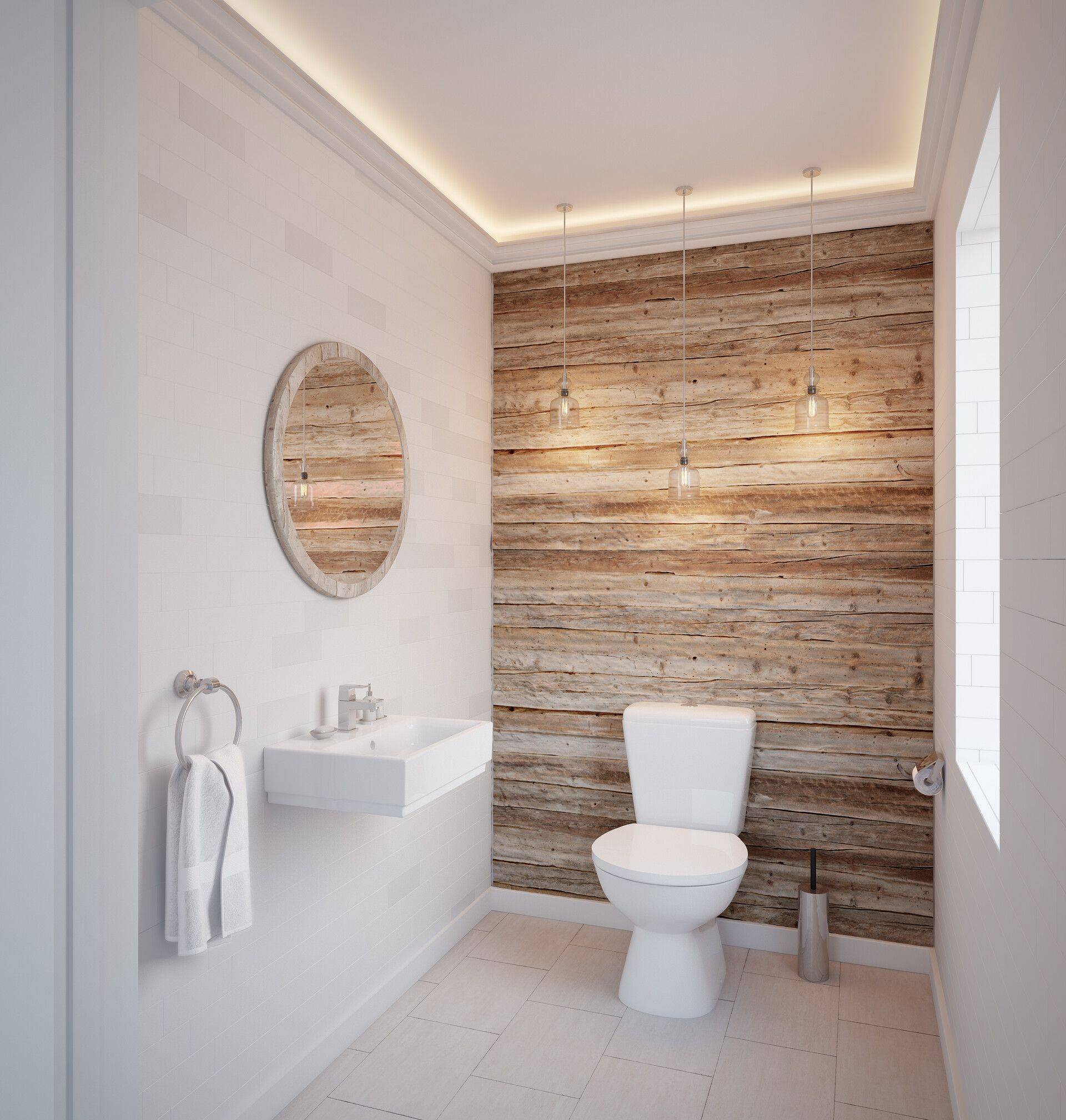 5. Charming Dark-Colored Wood Tile Bathroom Floor
The beauty of using dark-colored wood tiles in a bathroom is how it automatically provides a warm feel. It's an ambiance that will inspire you to light candles and soak in your bathtub while jazz music plays in the background. You can put in white accessories and fixtures without worrying too much about whether they will match. Dark-hued wood tiles can pair with any color of your choice.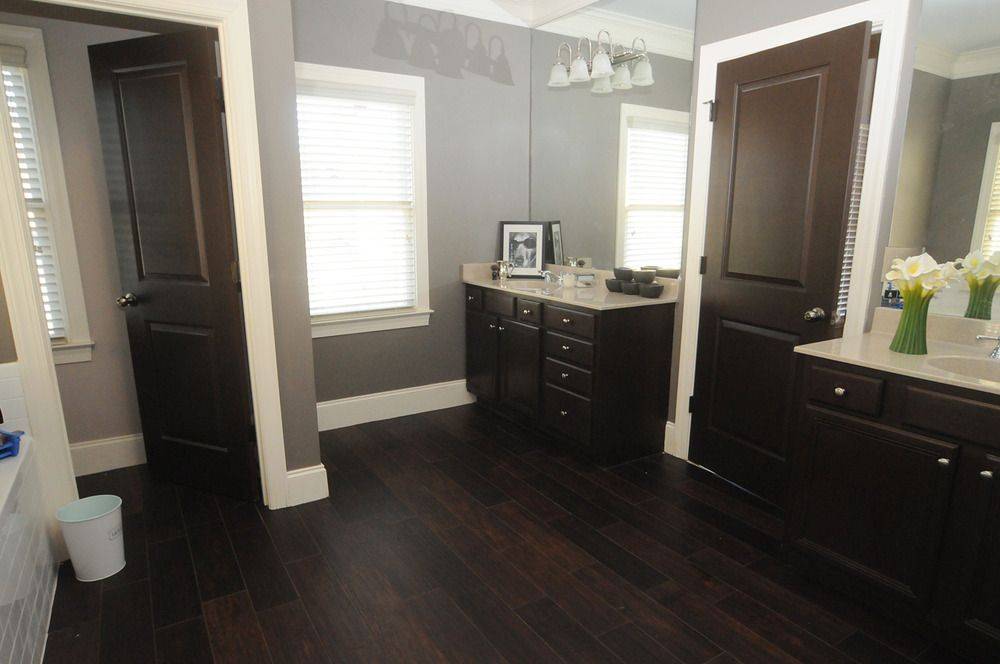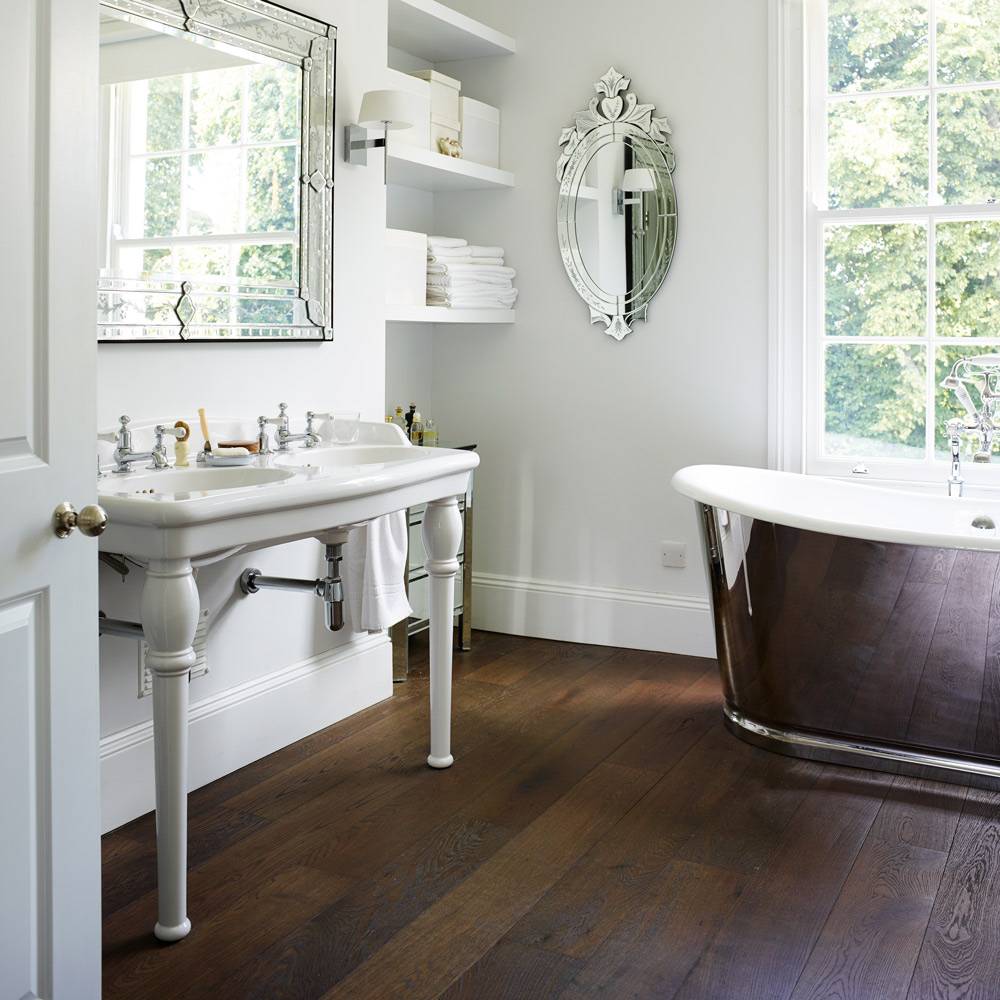 6. Full Wood Tile Bathroom With White Bathtub
If you're a fan of the rustic decor style, you'll love this one. It is almost completely covered with wood tile from the floor to the wall. This gives the room a warm feeling like a cabin in the woods. It has plenty of accent lighting and a large white bathtub.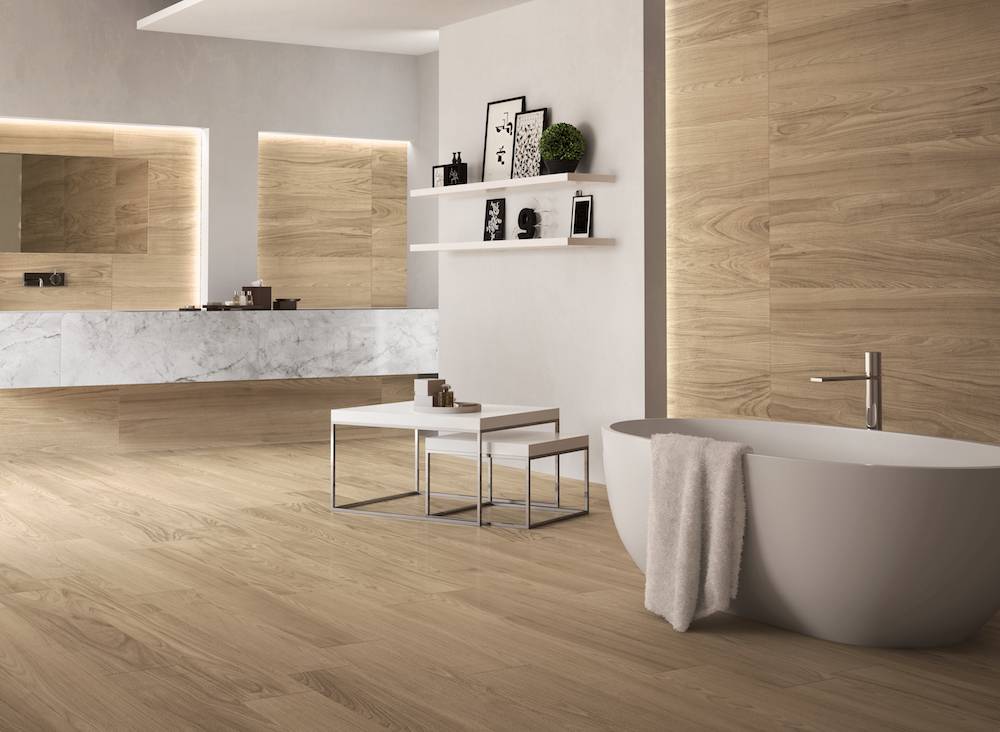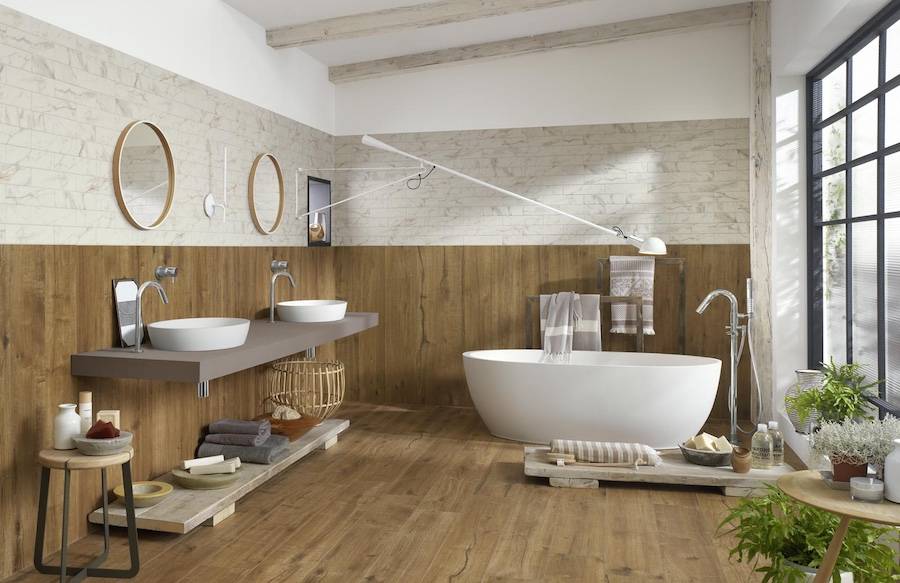 7. Plank-Like Wood Tile Bathroom
You can find any kind of wood pattern you want in your tile. It can look so real that no one would know it's tile until they reach out to touch it. It is common to see the tiles in a square shape but even better is when they are cut out in a long horizontal form to resemble planks.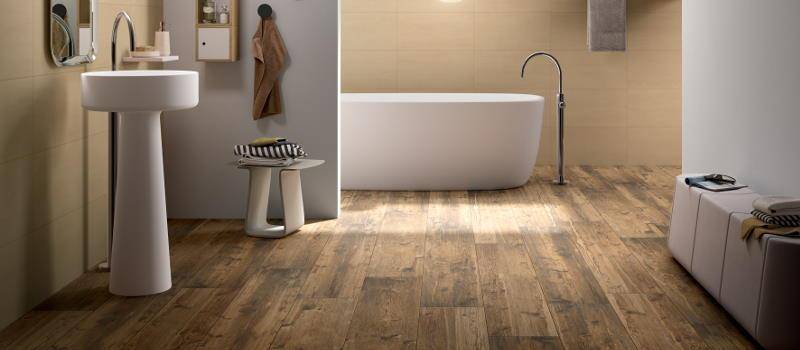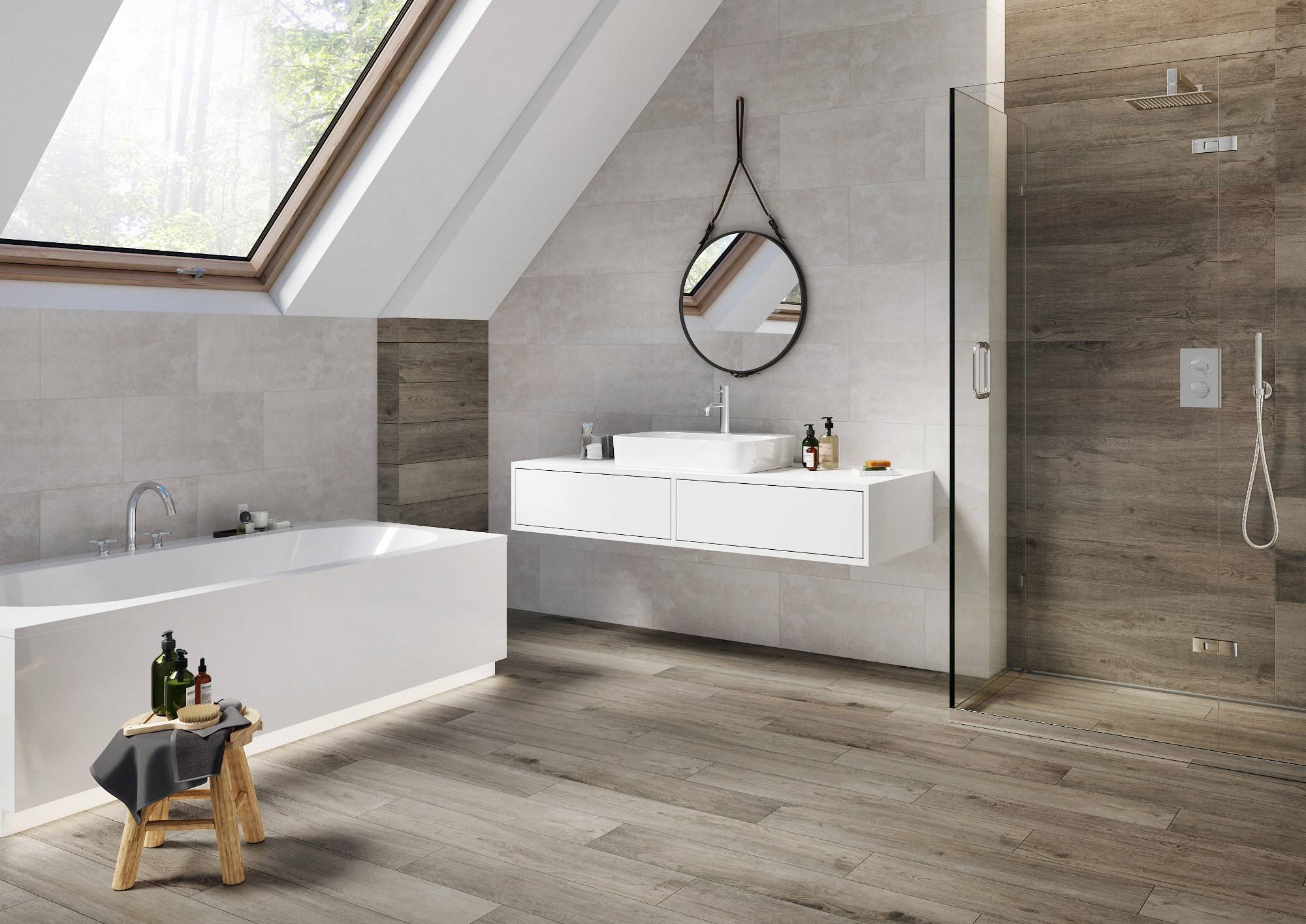 8. Wood Tiles in Different Patterns

Wood tiles in the bathroom look beautiful and can be used in a variety of ways. Creativity can be explored in the pattern and how realistic the tiles look, or by combining it with other kinds of tiles like a mosaic. Another idea for wood tile bathrooms is to use two contrasting patterns of wood tiles. These will complement each other and give more character to the space.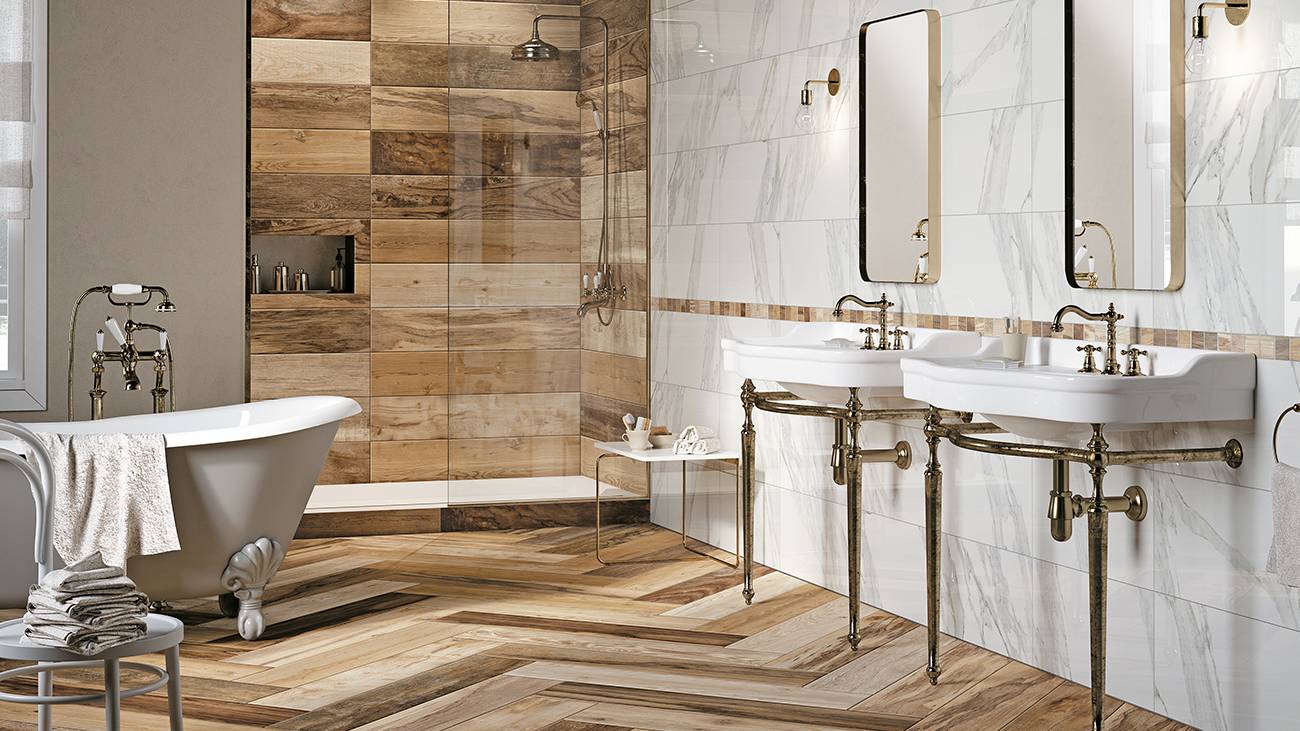 9. Warm Colored Wood Tiled Bathroom With Special Lighting
The type of wood tile used here has a rich and deep color, creating a feeling of warmth. The proper lighting makes it look brighter and sophisticated.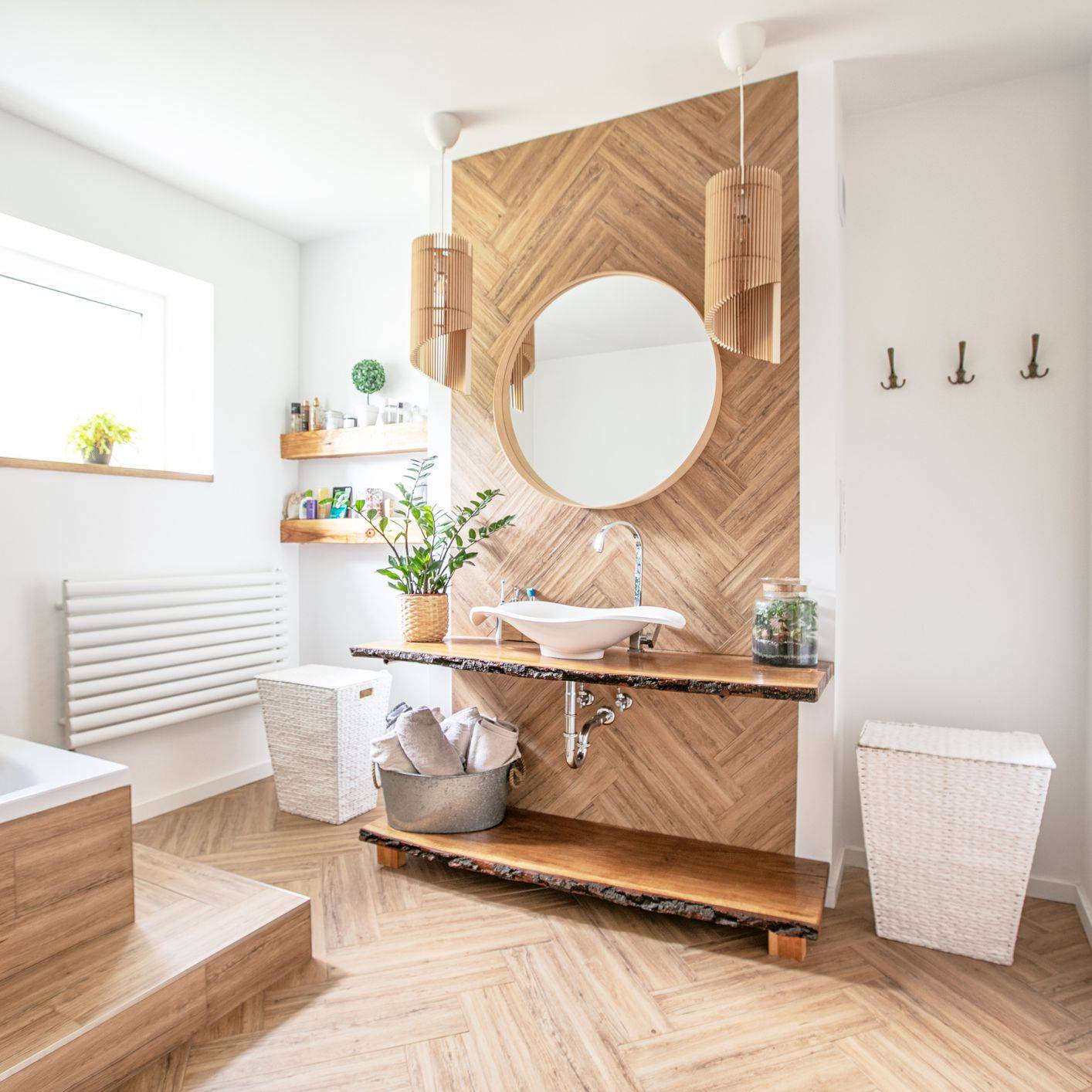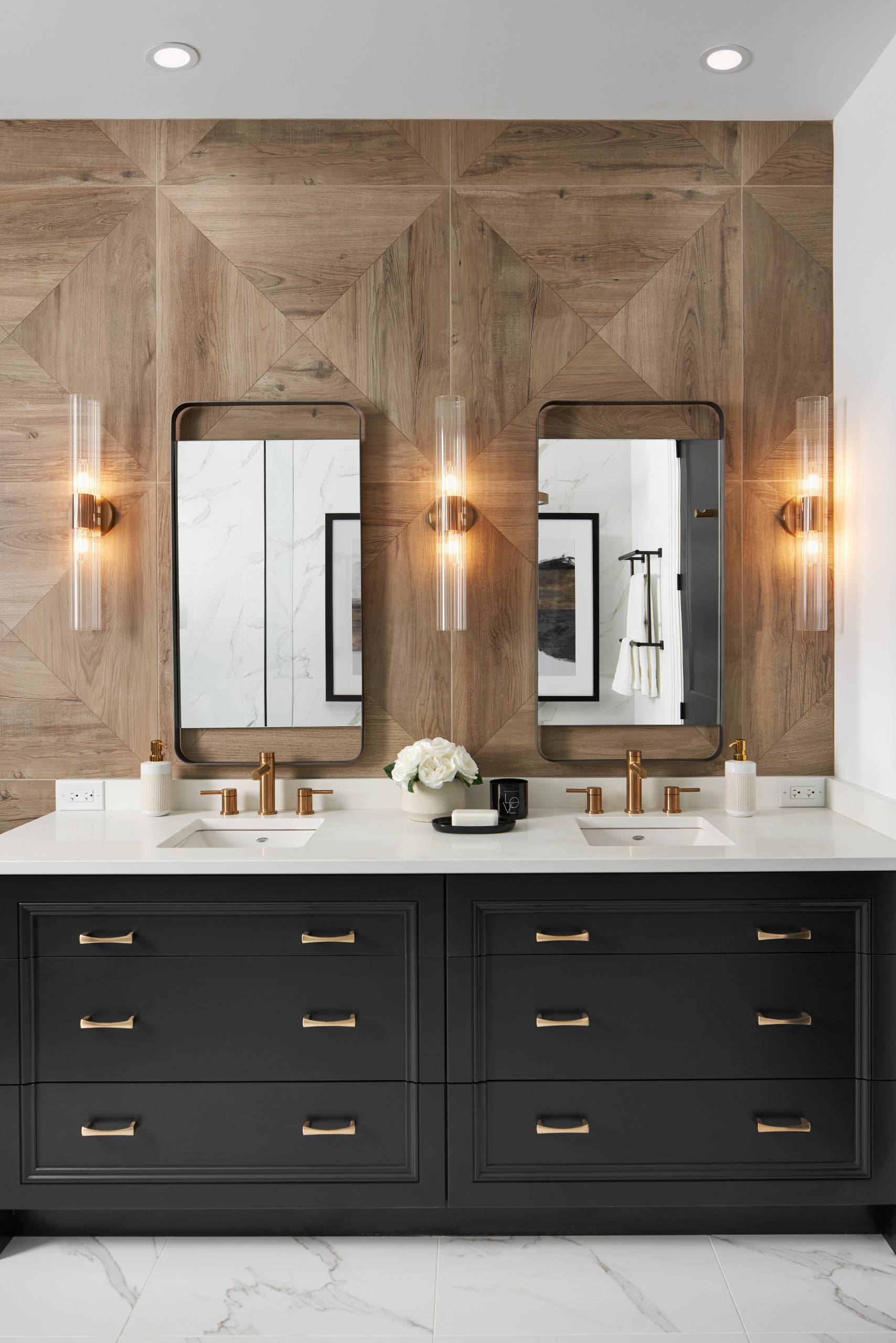 If you're a lover of hardwood floors and walls, wood tile bathrooms are the cheaper and more durable alternative. You never have to worry about moisture in your bathroom damaging the tile. All you need to do, as with other tiles, is to reinforce it to sustain the weight of fixtures like a bathtub. It is quite easy to maintain, you have a lot of options to choose from without a large budget, and it's easy to create a unique style.