Have you always dreamed of having a kitchen that looks as nice as those you see on TV? You can have it, and believe us when we say it's not that difficult to pull off. It's not about the overwhelming amount of equipment and utensils that fills those kitchens, but rather the design of the space. Your kitchen should have a well-thought-out design.
There are many design options to choose from and they are no different from the ones used in living rooms and bedrooms. You most likely spend a lot of time in your kitchen doing things other than cooking, and you want it to look appealing. You can use any glam kitchen design shared here on your inspiration board. Let's dive right in.
1. White Cabinets with Metallic Chandeliers
Many of the glam kitchens you see in magazines and on TV are white-themed. Have you ever thought about why? It's because white can make any space look good. It doesn't matter that it's a neutral color. It has a way of making a space look more appealing and even bigger. White cabinets would fit right in and with handles in any metallic color of your choice, they will look sophisticated. Add metallic chandeliers and you already have a great set-up on your hands.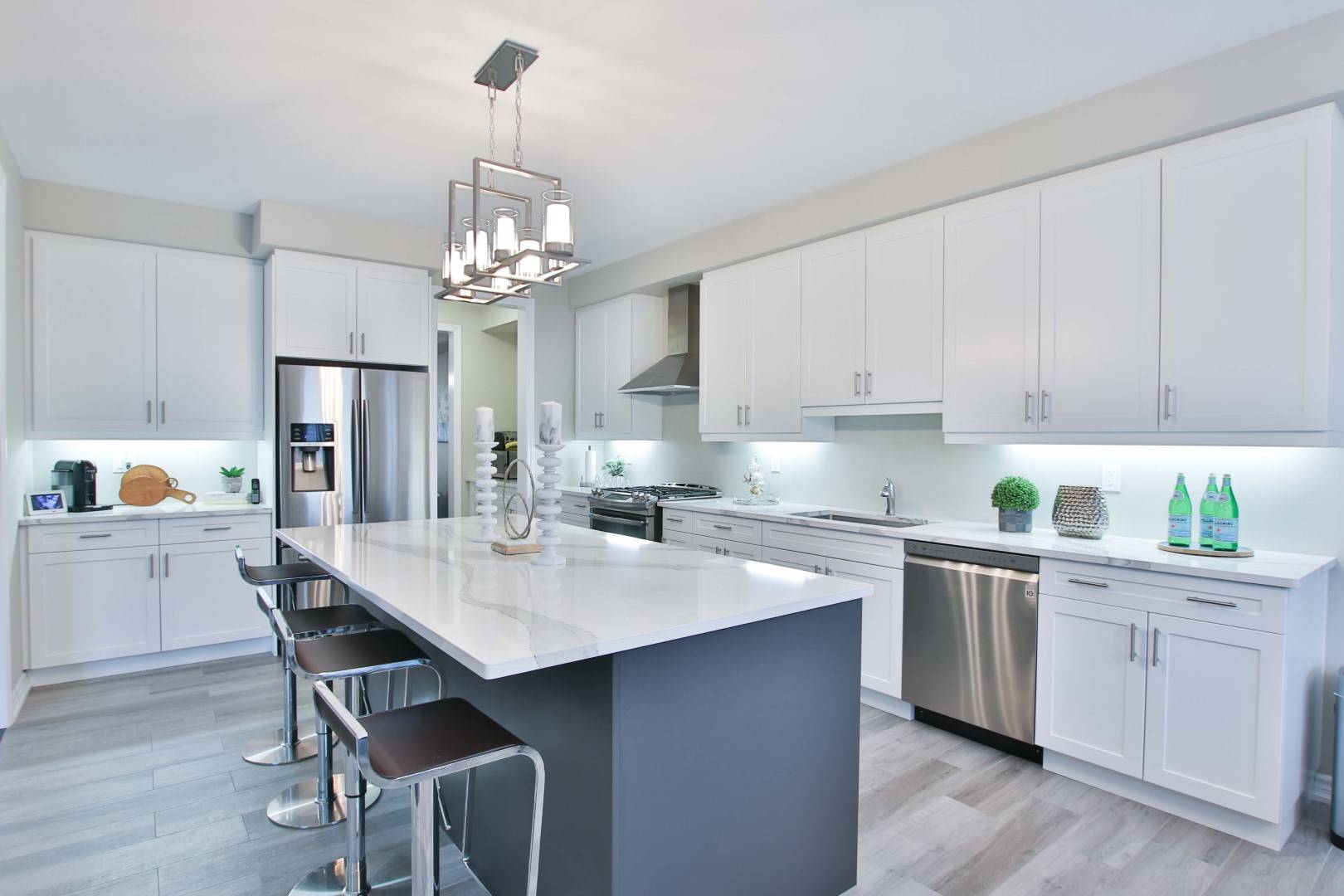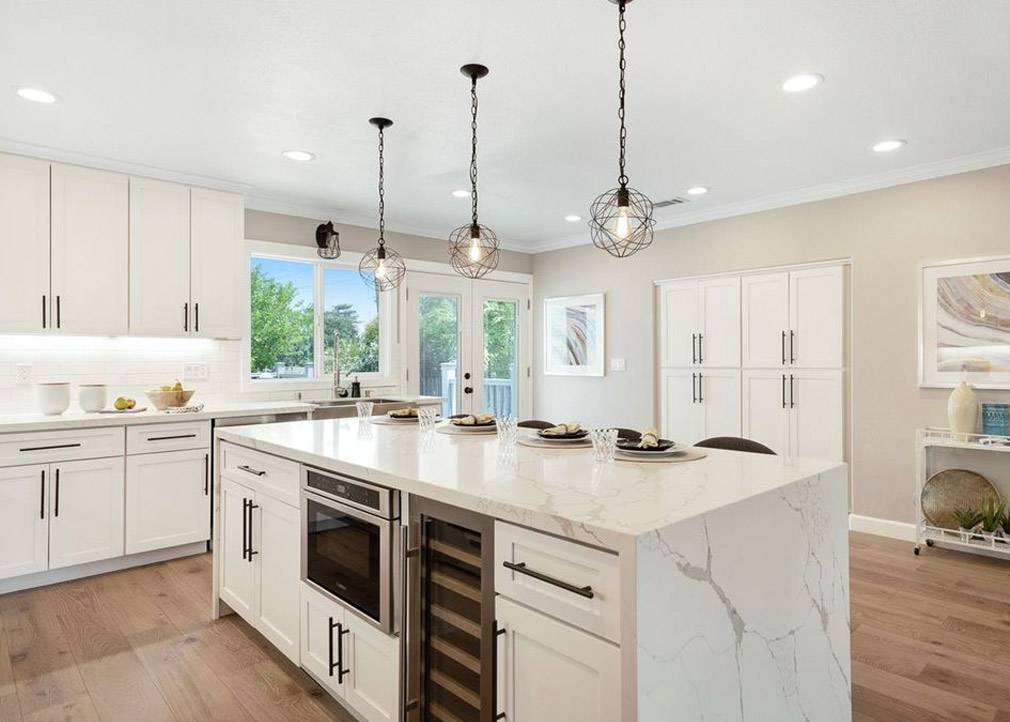 2. Chic White And Black Cabinets with Gold Accent
You can never go wrong with black and white. When you add gold accents, your design turns to gold. It's true! White and black cabinetry with touches of gold here and there can make your kitchen look instantly chic. Add a pretty chandelier or maybe two, and white stools if you please.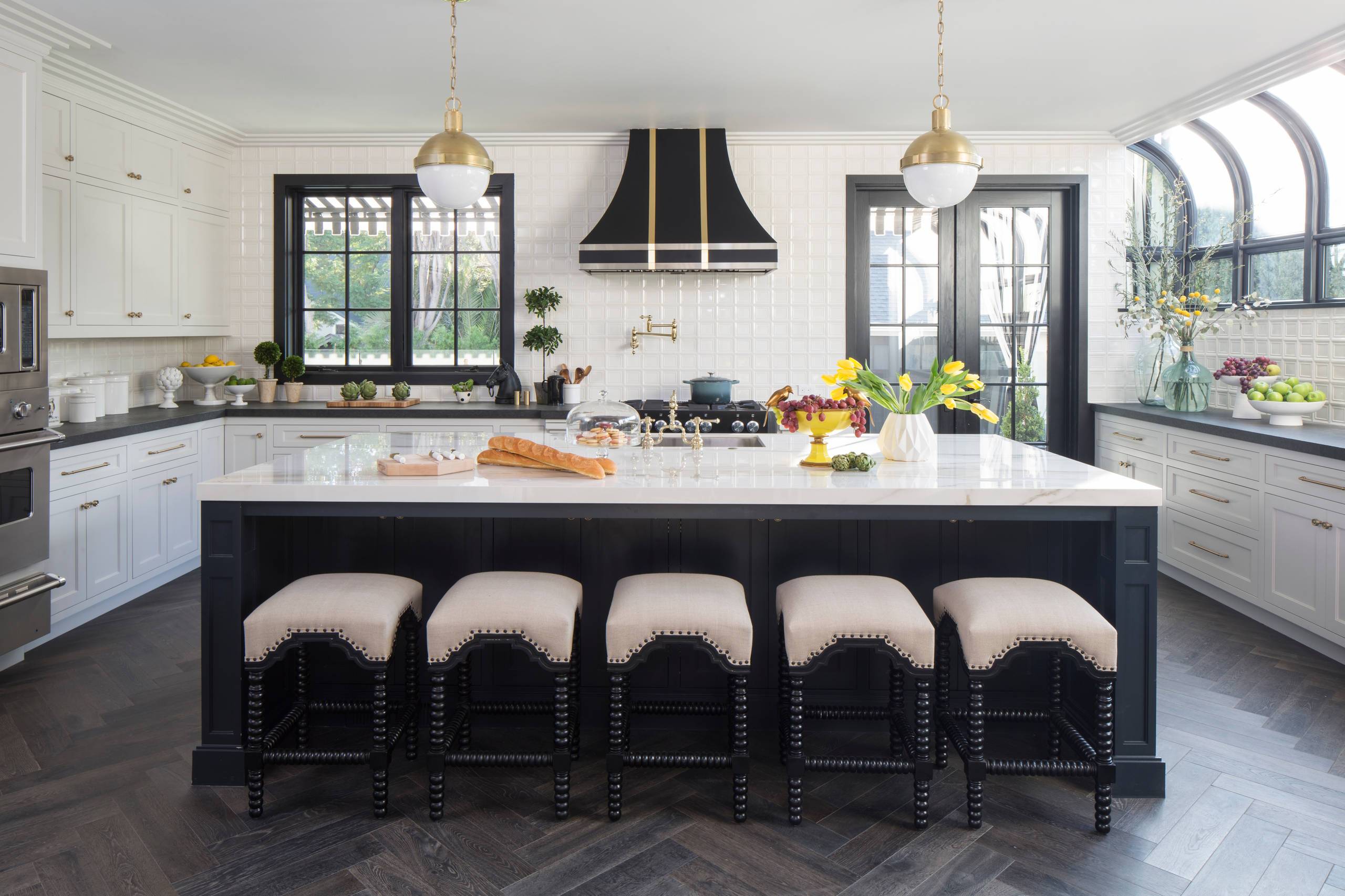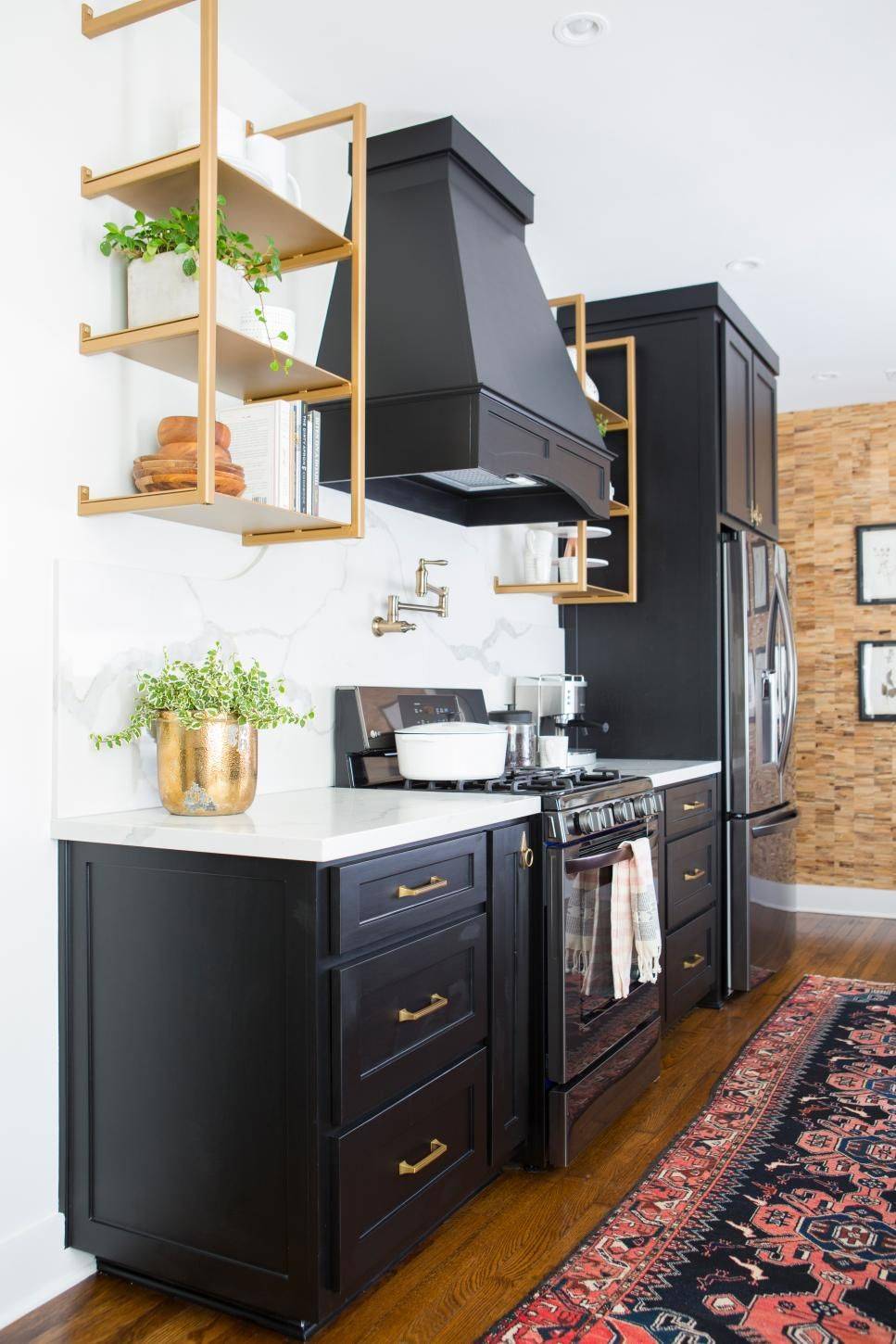 3. Vintage Glam Design with Crystal Chandelier
A vintage-style kitchen is not just about things looking old. It can also be classy and sophisticated. A crystal chandelier is vintage in style and depending on how large it is, it can be your centerpiece. The rest of the kitchen can hold small vintage chairs, a white stone countertop, and also white cabinetry with vintage detailing.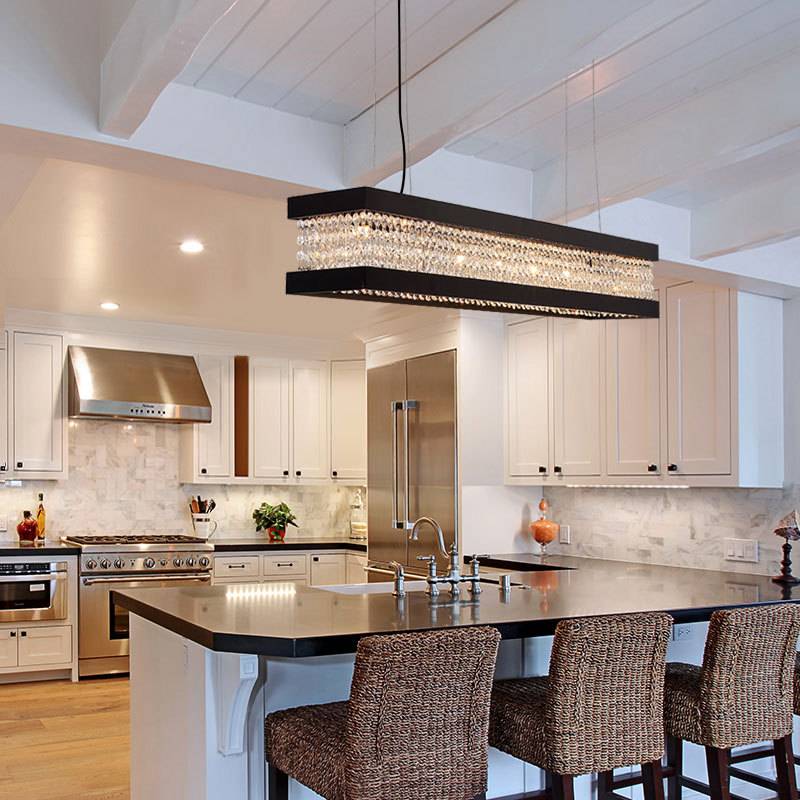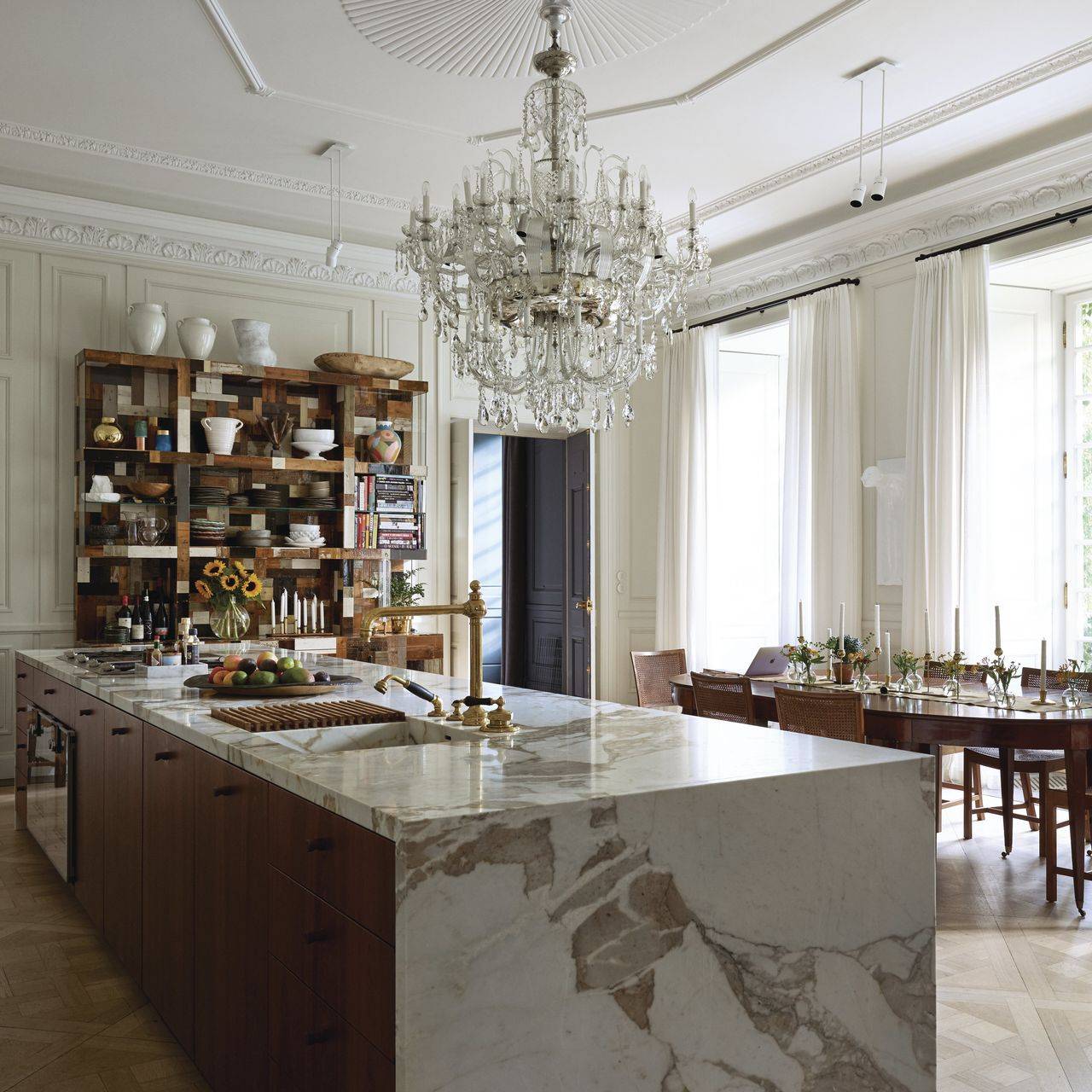 4. Dark and Gold Themed Kitchen with Dark Backsplash

A dark-themed kitchen can look glam too. You will only have to pay attention to proper lighting. The lights are not only for creating ambiance but are necessary to see clearly. Using deep colors like black or grey is not unusual and you can also use toned-down versions of bright colors.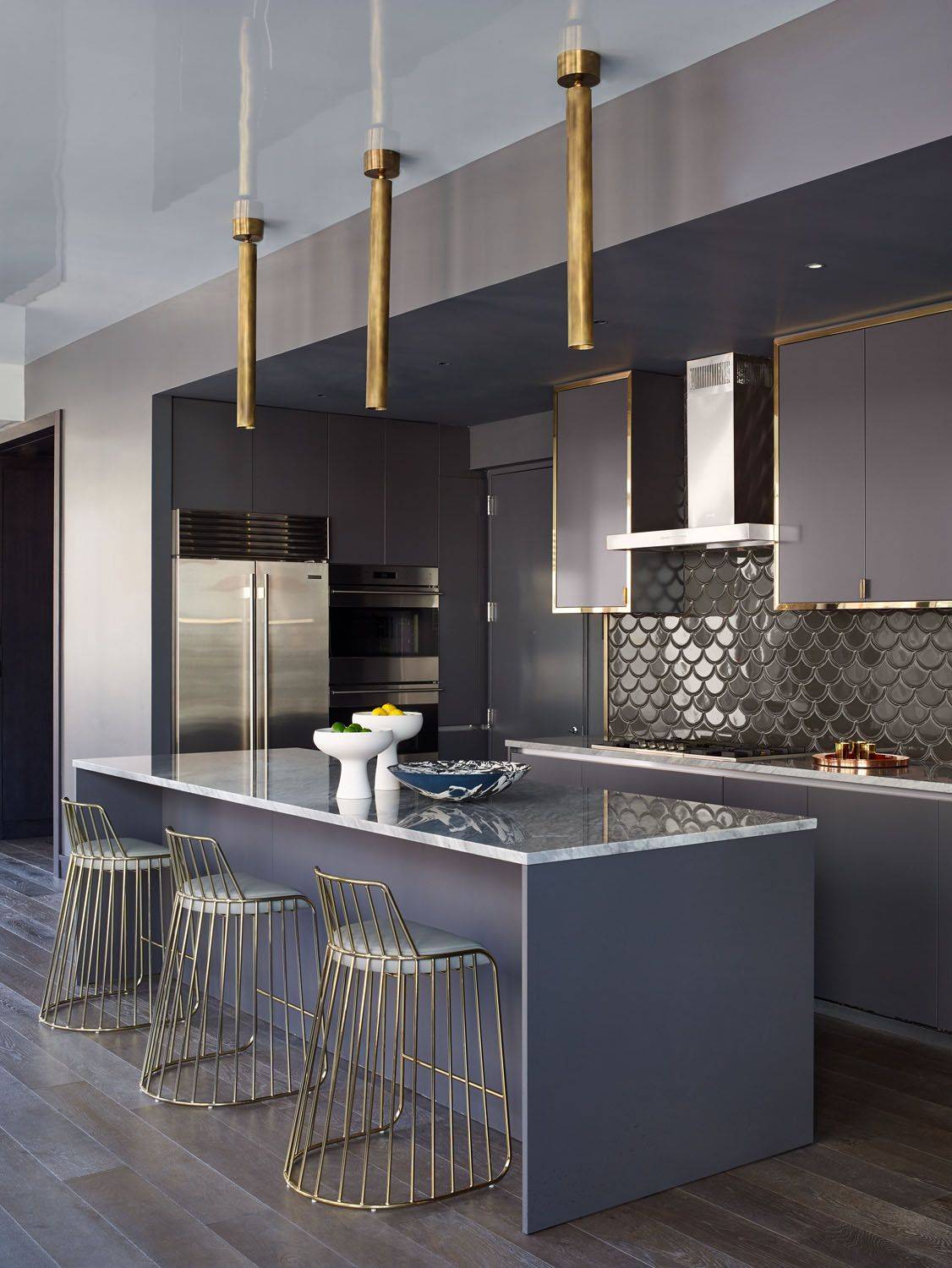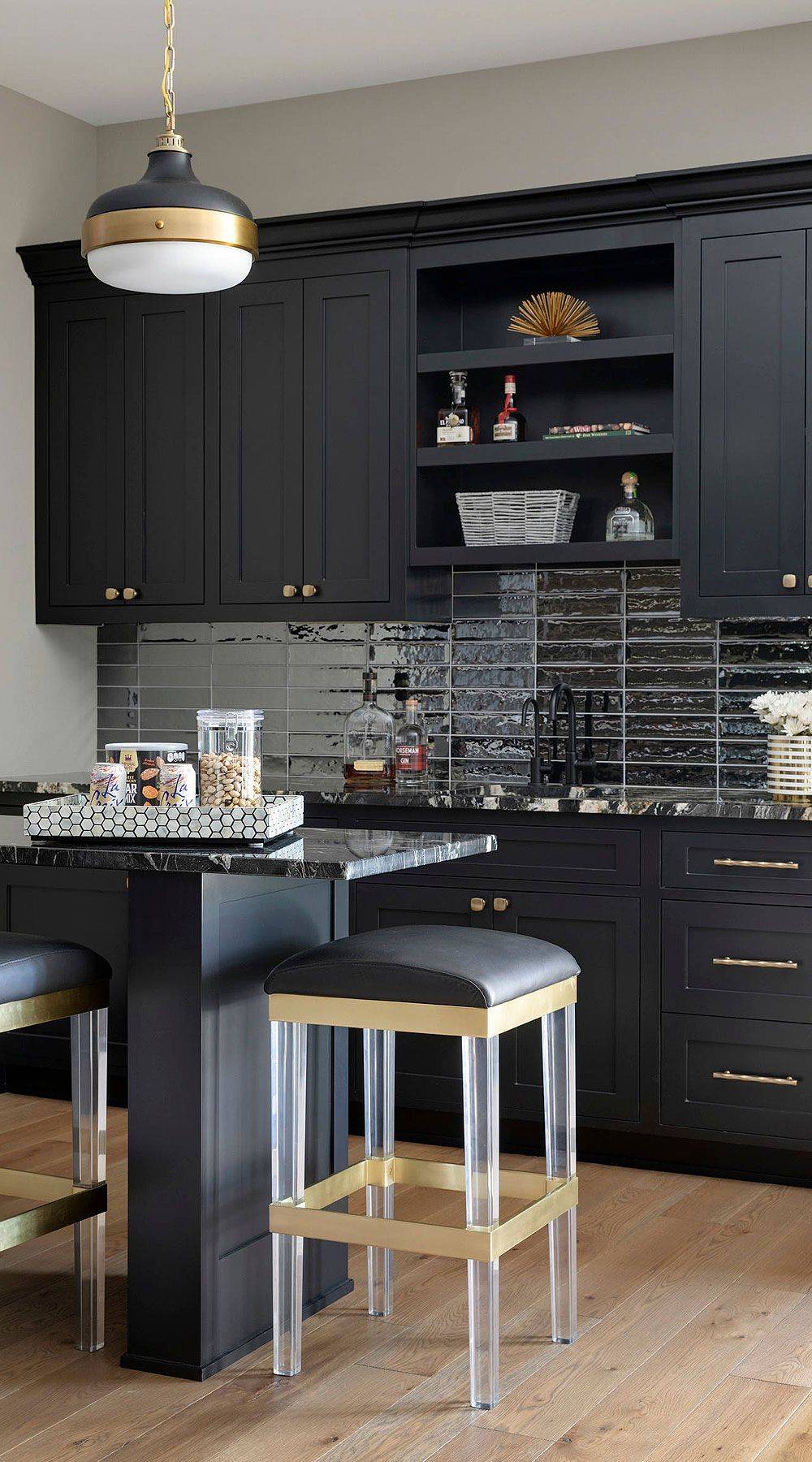 5. Dark Cabinetry with Glass Countertop
Glam kitchens are not all white and other bright colors. You can have them in dark colors and perfect lighting. Implementing a dark-colored design will start with the cabinetry. Deep brown or black colors work well. You can then have the handles in silver or gold to soften the look. For an added sleek effect, a glass countertop would be great to have.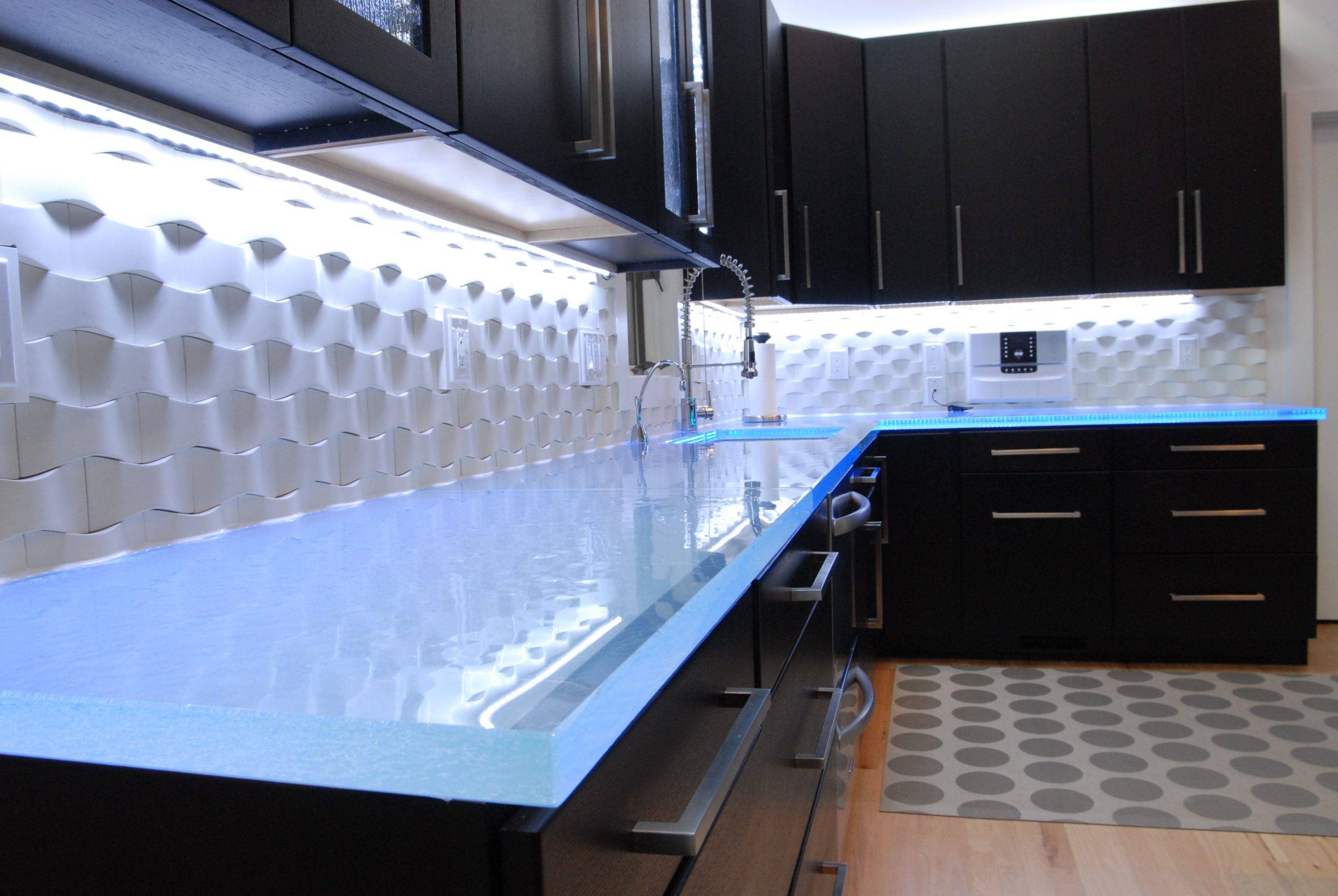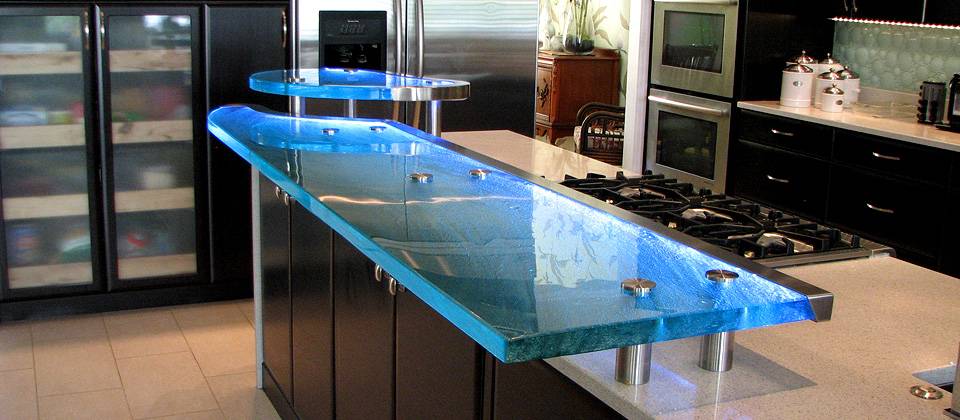 6. Tile Backsplash with Pendant Lamp
A backsplash can switch up a kitchen from drab to glam in minutes. It's not only for aesthetic purposes but it is also functional. Many people use it as an accent wall so it is important to carefully choose your style. It can also be made from different materials. For a truly glam kitchen, bright, eye-catching colors are the way to go. When you pair the backsplash with pendant lamps, it reflects the light and makes your space pop.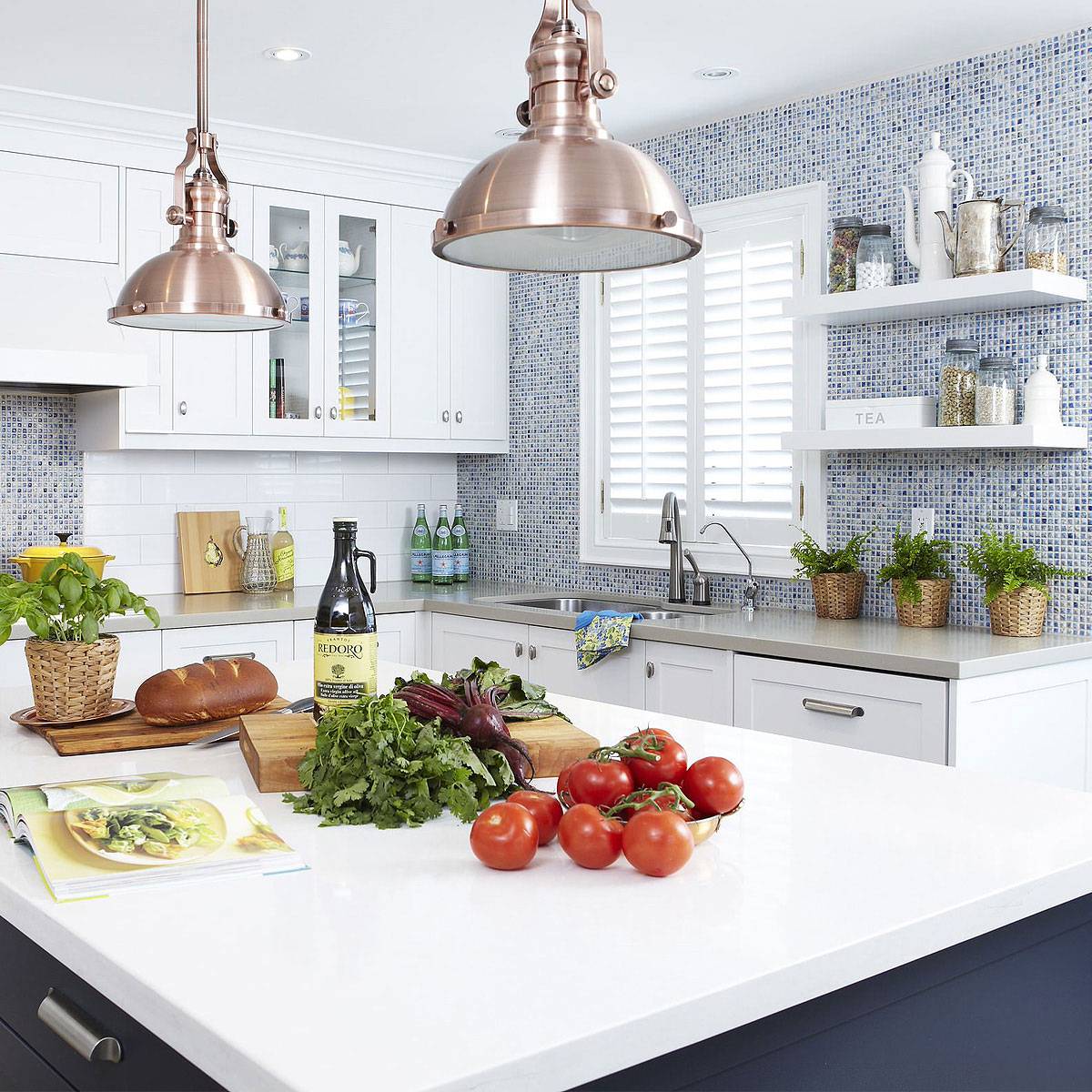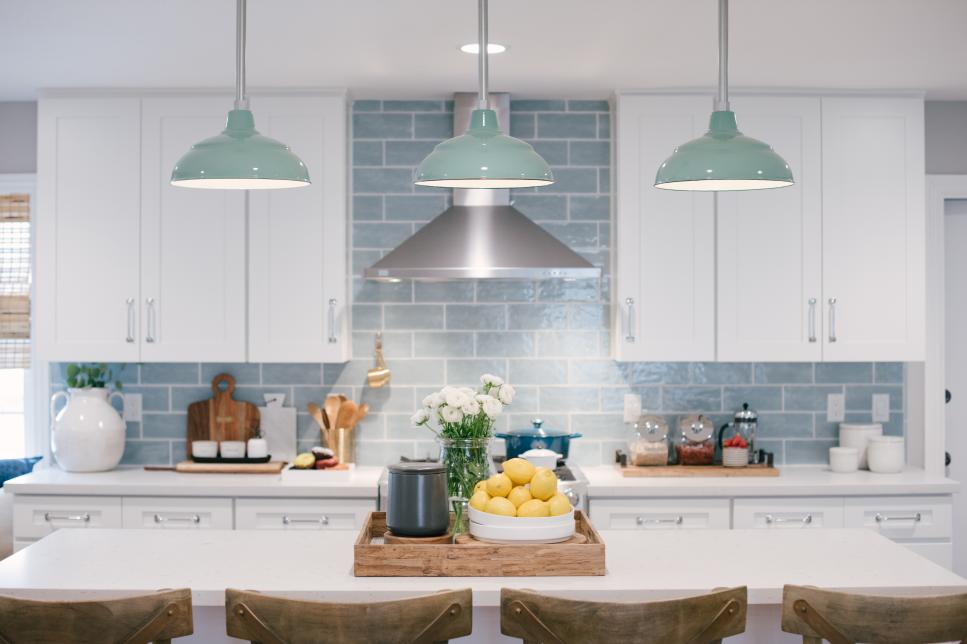 7. Modern Kitchen with White Cabinet and Brass Backsplash
For a modern glam kitchen design, you cannot go wrong with white cabinetry. It provides you with a clean and sleek look which can be hard to get with colors other than neutrals. Fixing a backsplash is also a great option for upgrading your kitchen. There are different styles of backsplashes to choose from but you'll commonly find metallic backsplashes in the kitchen. Brass is quite uncommon but very stylish.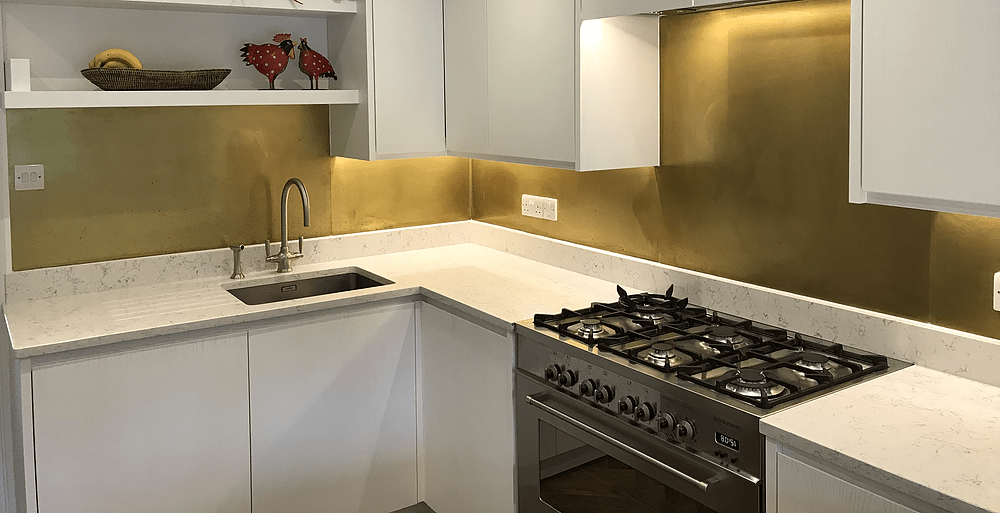 8. Pink Accents and Pendant Lamp

One thing that should not be looked over in a glam kitchen is your choice of pendant lamps. A pendant lamp can change the entire look of your kitchen and can provide the right kind of lighting. Pick out a pendant lamp with a strong character and you're good to go. A pink cushioned stool paired with a white countertop is a bold choice, something you want in a glam kitchen.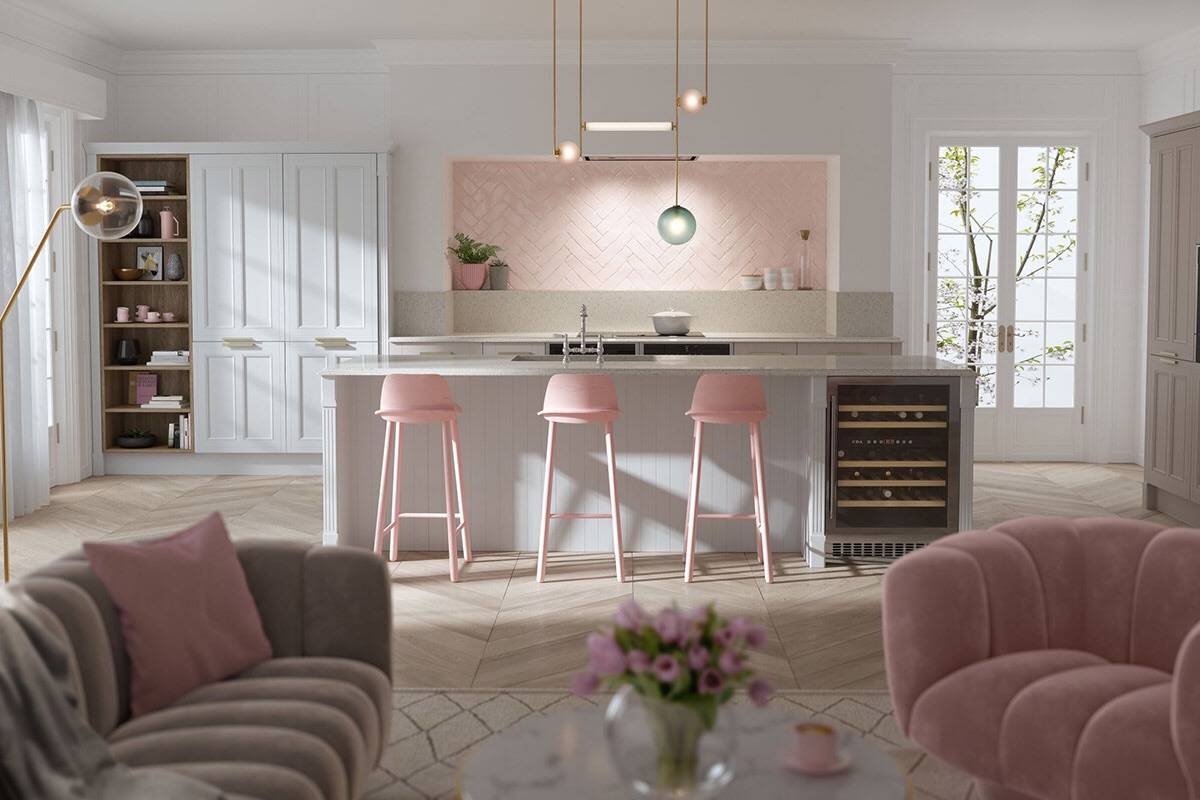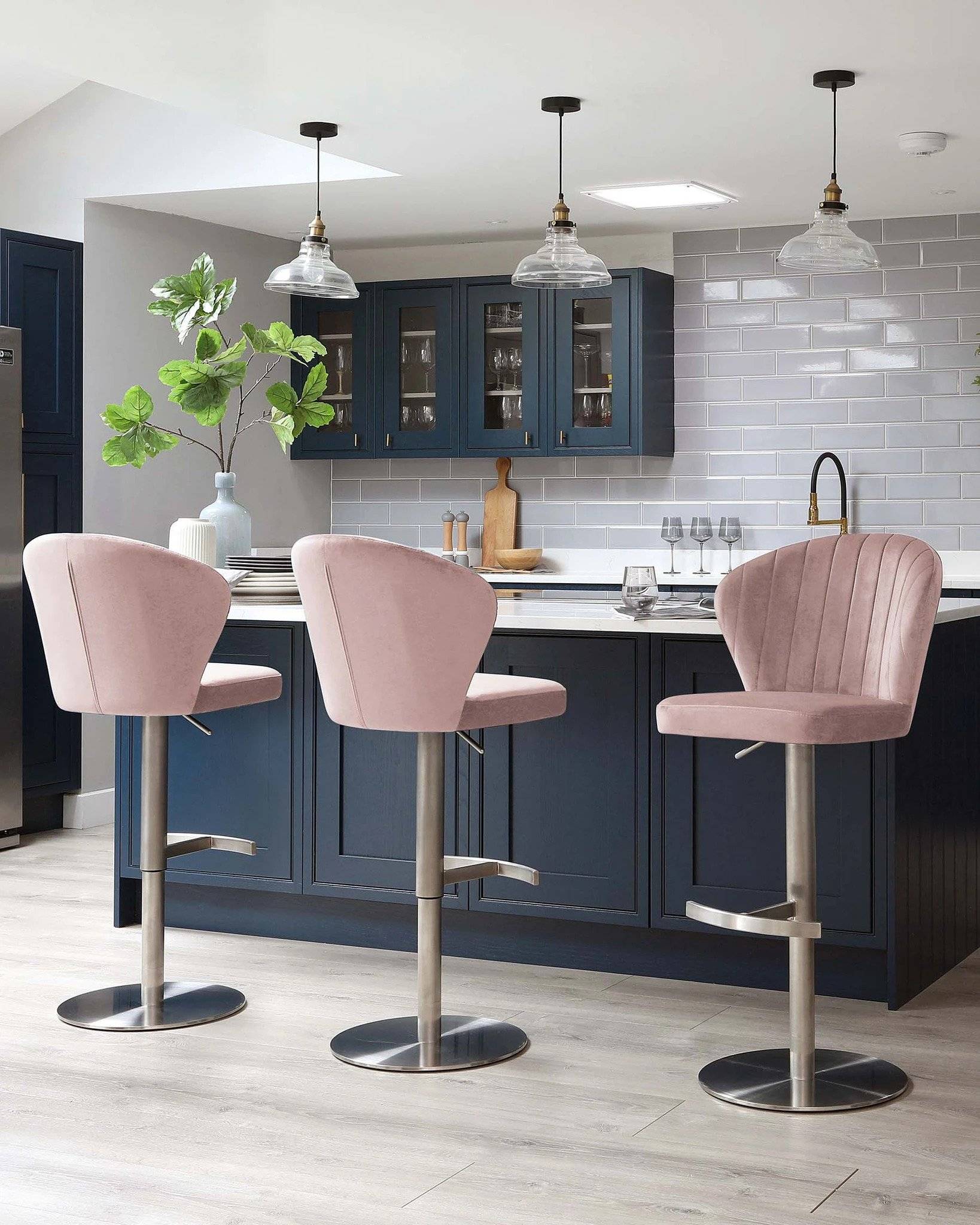 9. Minimalist Kitchen with Hot Pink Countertop or Backsplash

For a glam kitchen, you can't shy away from bright colors. You can use them as accent colors or even as main the color. Pink is one of the popular colors to use. It can be used anywhere from the backsplash to the stools and even the countertop. A pink countertop will definitely make a bold statement and in a minimalist kitchen, it keeps things from looking drab. It would be great paired with neutral colors and it can be made from the materials of your choice.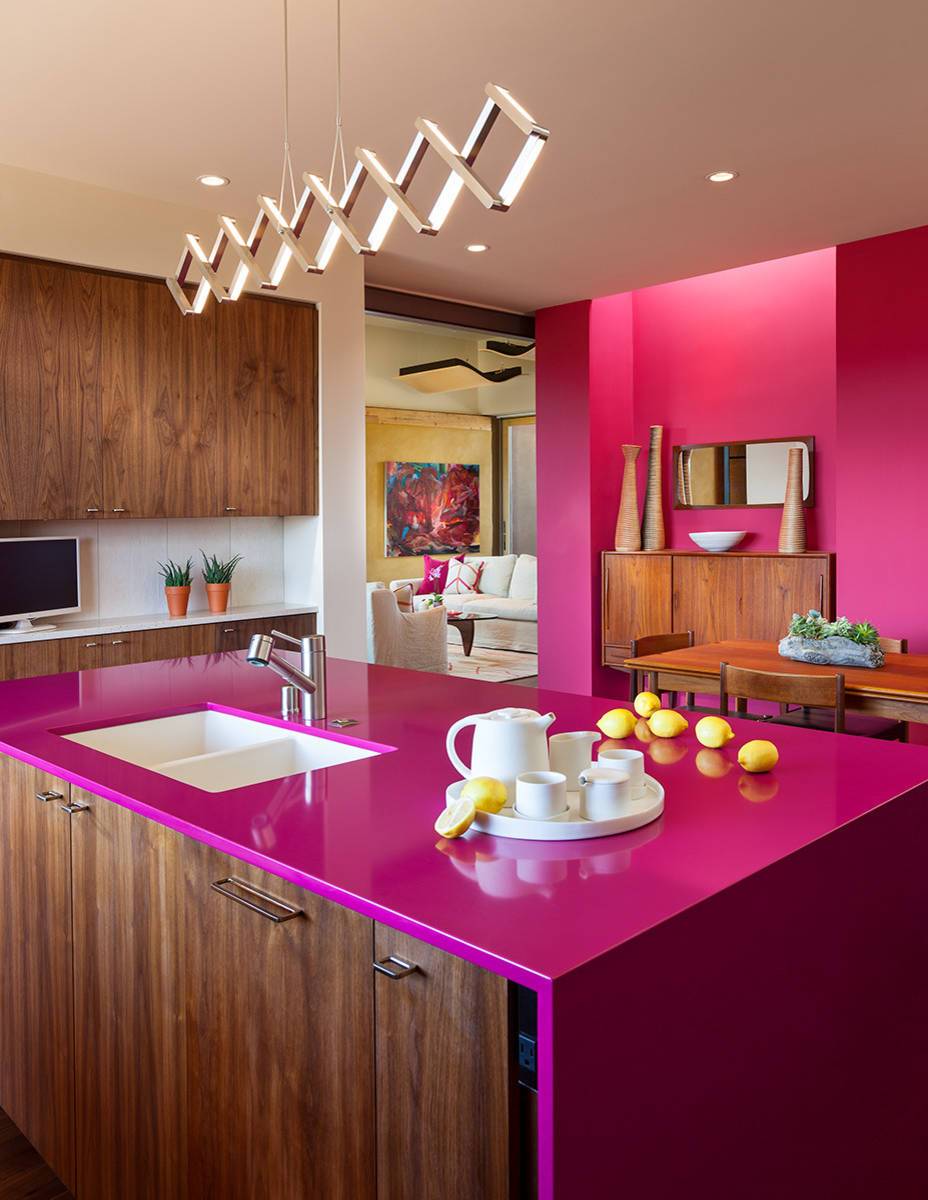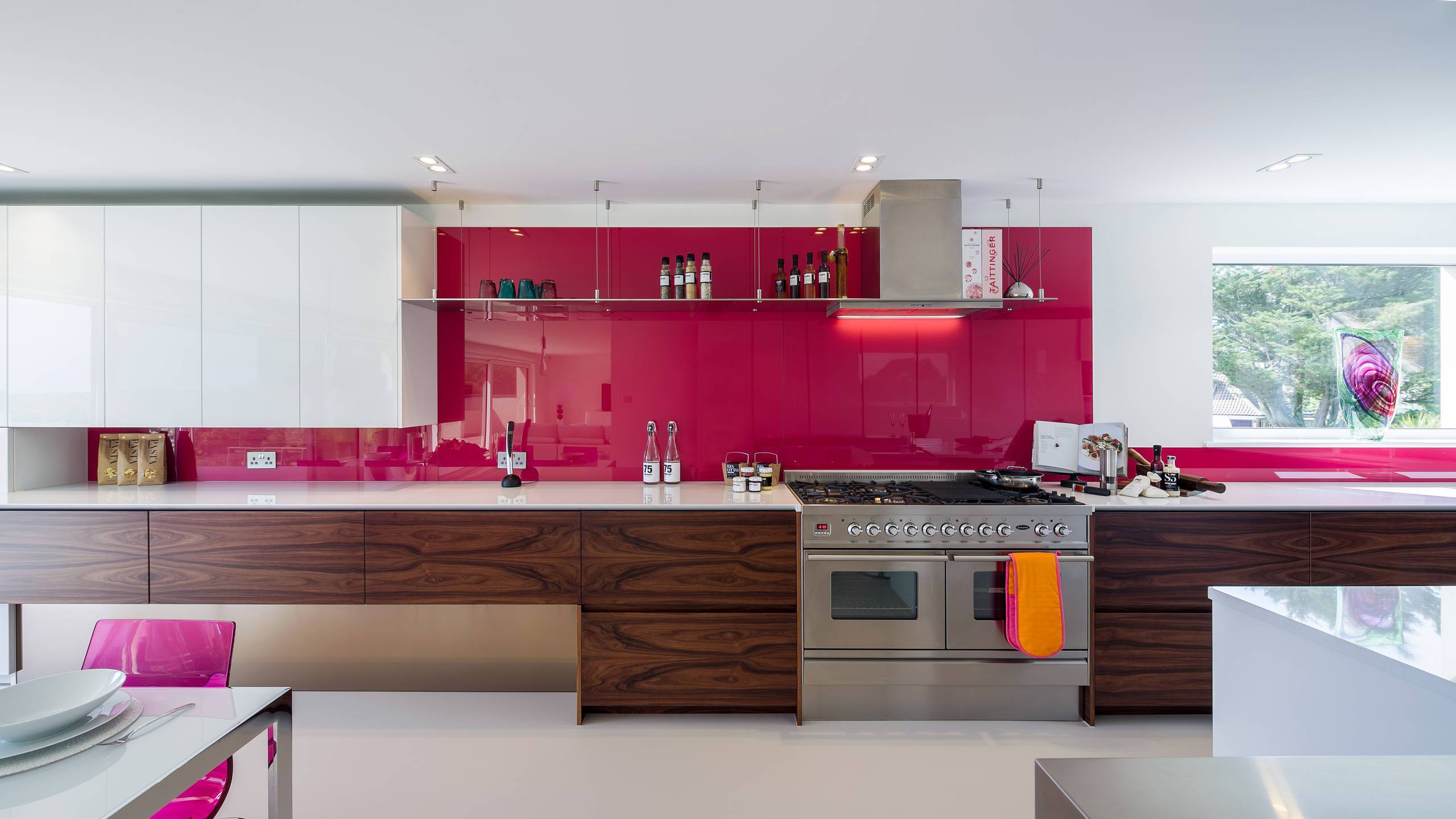 You too can have a kitchen that is magazine-worthy. It doesn't have to break the bank. You only have to sit down, look through all the pictures and decide on the glam kitchen design you like. It's not about doing exactly what you see in the picture but rather getting the idea and then simply adding your personality to the design along the way. Your kitchen is for more than the cooking experience and when it's a space you love, spending time in there is so much better.